When you watch action movies and see your favorite celebrities doing death-defying stunts, there has to be some part of you that wonders how they can do them. For most actors, their secret lies with their stunt doubles who can do all the flips and tricks while the actor is safely waiting behind the camera. From earning Guinness World Records to being Judo champions, there are so many things people don't know about the stunt artists behind incredible action scenes. These amazing stand-ins will surprise you with their incredible talents and, most of all, the uncanny resemblance to the actors they play. 
Andrew Garfield's Stunt Double Is A Professional Skateboarder
While filming The Amazing Spiderman, Andrew Garfield used a stunt double to perform all of the jumps, kicks, and flips. William Spencer, Garfield's double, is an accomplished stuntman, filmmaker, and skateboarder. Not only was he in Spiderman, but Spencer has also done stunt work for Project X, CSI: NY and The Kids Are Alright. 
Besides his work as a double, Spencer has also directed and starred in a short film called Block Attack. The film combines stunts and 1980s video game nostalgia. He has traveled all over the world for his skateboarding career as well, and Spencer makes short clips of his incredible board skills. 
Jennifer Lopez Uses A Male Stunt Double
If you look at this photo quickly, Jennifer Lopez and her stunt double look identical. However, her double is a male who happens to have a similar bone structure. For J.Lo's music video "Follow the Leader," she had a stand-in to complete some difficult stunts.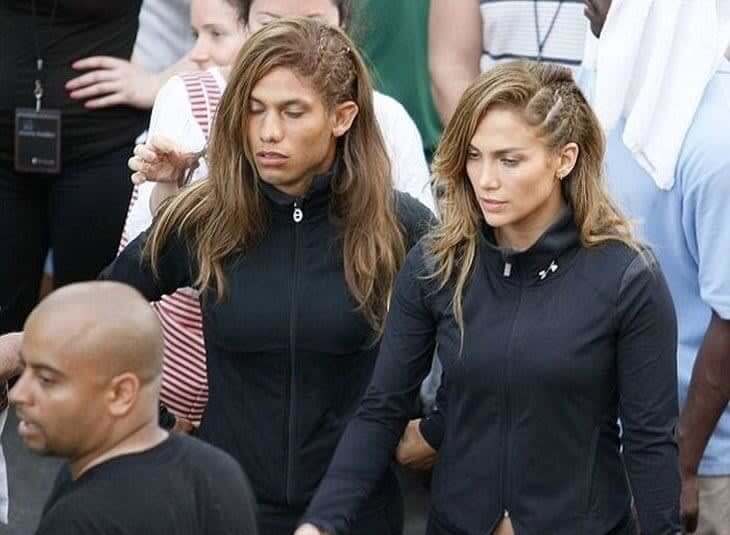 The music video was shot in Mexico, and J.Lo's double wore a matching black zip-up with the same braided hairstyle. It is actually common for women to have male doubles. In Lara Croft: Tomb Raider, Angelina Jolie had a male double for her stunts as well. 
Brad Pitt's Double Was Forced To Shave His Hands
In Quentin Tarantino's latest film, Once Upon A Time In Hollywood, Brad Pitt plays the stuntman for Leonardo DiCaprio. However, Brad Pitt ended up needing his own stunt double for some of the scenes. Phil Ball was Pitt's double in this film and in World War Z.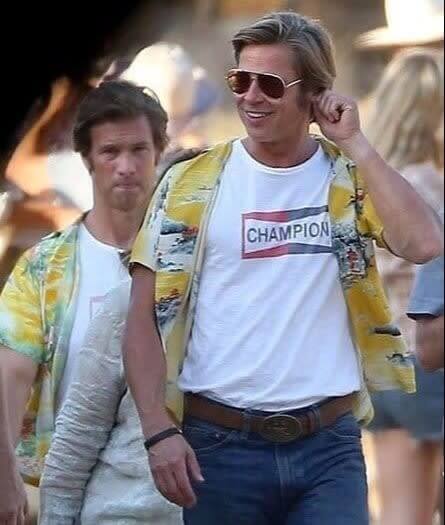 Ball described the experience as "strange and boring," which is hard to believe for a Tarantino film. During the filming period, Ball tweeted, "Just when I thought my day job couldn't get any more bizarre, I'm made to shave my hands." It's shocking that he wasn't more thrilled to work with some of the biggest names in Hollywood. 
Megan Fox's Double Once Broke Her Neck And Continued To Work
In the movie Teenage Mutant Ninja Turtles, Megan Fox's character does crazy stunts that definitely require a stuntwoman. Stacy Carino was the stuntwoman for Fox, and she also happens to be a daredevil who makes her scenes look effortless. Carino even broke her neck once without knowing until years later when she had an x-ray.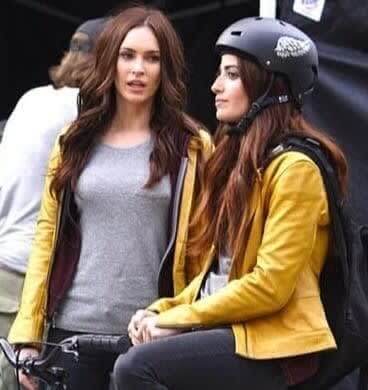 Carino thought that people who break their necks become paralyzed, so she didn't seek medical attention because she could walk. She is not afraid of anything, and it shows. Carino also said that Fox does some of her own stunts, and can handle some jumps and falls. 
The Rock's Double Is A Judo And MMA Champion
It must have been challenging to find someone who looks similar enough to The Rock to be his stunt double. When Johnson discovered Tanaoai Reed, it was like a match made in heaven. After they met, Reed became Johnson's go-to stuntman.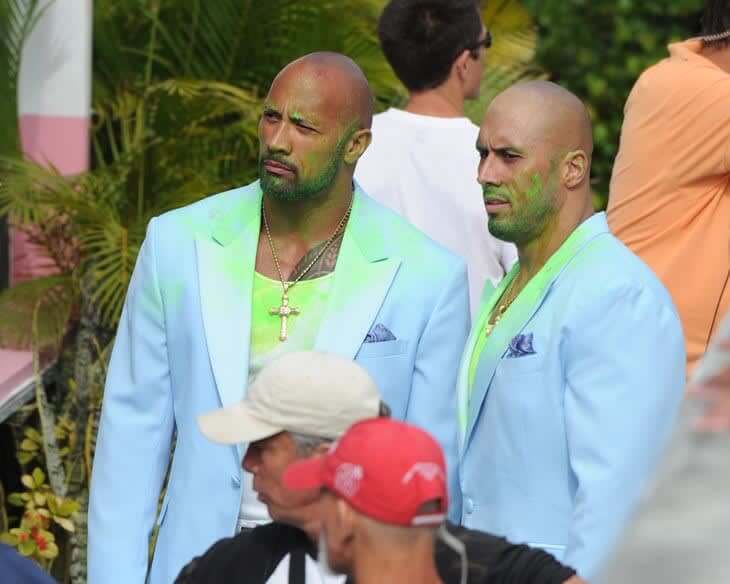 These two have the same bone structure, smile, and energetic personalities. Reed and Johnson have worked together on movies like Jumanji and the Fast and Furious movies. Reed is also a former MMA, boxer, and Judo champion.  
Emma Watson Had Multiple Stand-Ins So She Could Focus On School
Emma Watson had not one, not two, but three stunt doubles while filming Harry Potter. Although throughout the series, she had many different doubles because of how she grew from movie to movie. These three doubles were just for one movie.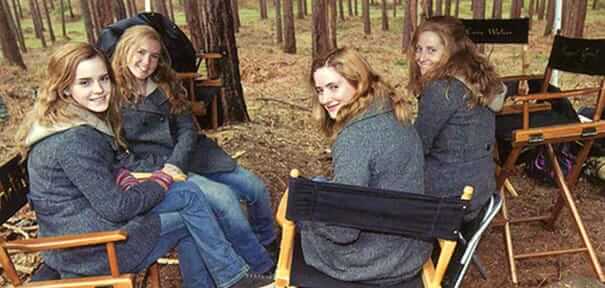 During the filming of the later films, Emma Watson was studying at Brown University, and she was splitting her time between set and school. Watson was there for the critical days, and her doubles played a significant part in allowing her to spend time studying. 
Mark Ruffalo's Double Has Worked On Over 100 Films And TV Shows
Mark Ruffalo's longtime stunt double is Anthony Molinari. They snapped a selfie on the set of Now You See Me 2. Molinari is well known in the industry as he has been a stunt artist for over a decade, and he worked on over 100 TV shows.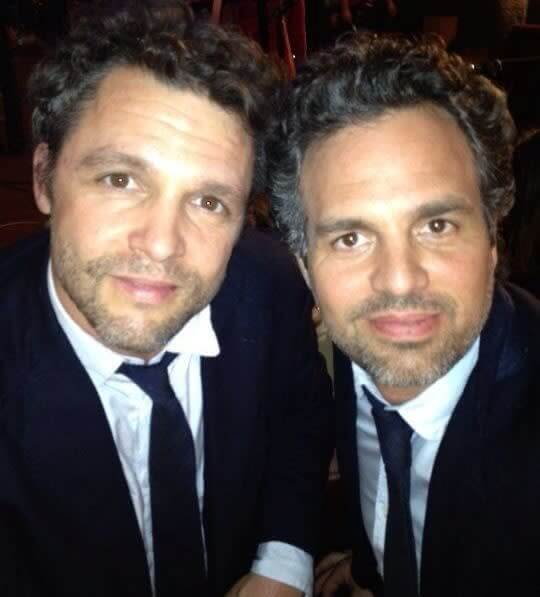 Molinari has won many awards for his stunt work, including a SAG award and a Taurus World Stunt Award for hardest hit and best high work. He picked up his love for action after playing multiple sports throughout his childhood. 
Uma Thurman's Double Went On To Become A Star
Hailing from New Zealand, Zoe Bell is a talented stuntwoman who was the double for Uma Thurman in Kill Bill volume one and two. After the director saw her talents on set, she got the lead role in Death Proof. In an interesting twist, the movie was about a stuntman. Since this role, Bell has grown to fame in Hollywood.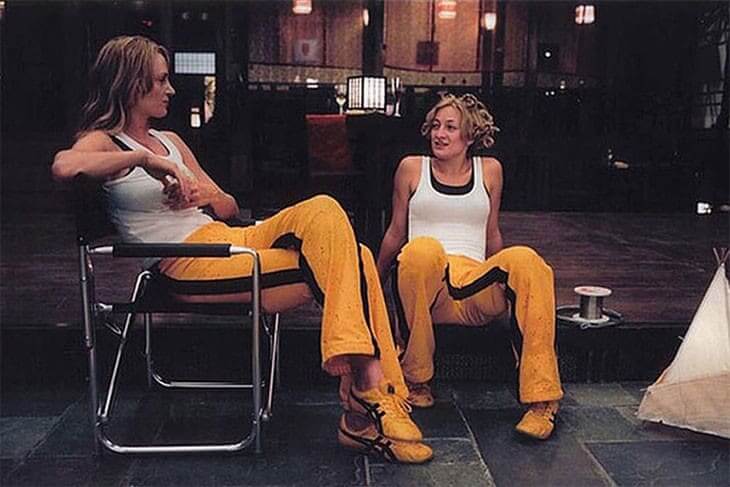 With her incredible skill and focus, Bell's career has gone further than she ever dreamed. She has starred and done stunts for movies like Once Upon a Time in Hollywood and Hateful Eight. She said, "I have physically kicked so many men's butts, and I can totally feel proud of that." 
Sacha Baron Cohen's Double Fell Out Of Buildings And Got Third Degree Burns While Working
In The Dictator, Sacha Baron Cohen plays Aladeen who doesn't want democracy to come to his country. For this movie, Oliver Keller was Baron Cohen's stunt double. Keller was born in Switzerland and he had a craving for action since he was a young child. He started out as a downhill skier and then did an apprenticeship with a German stunt professional.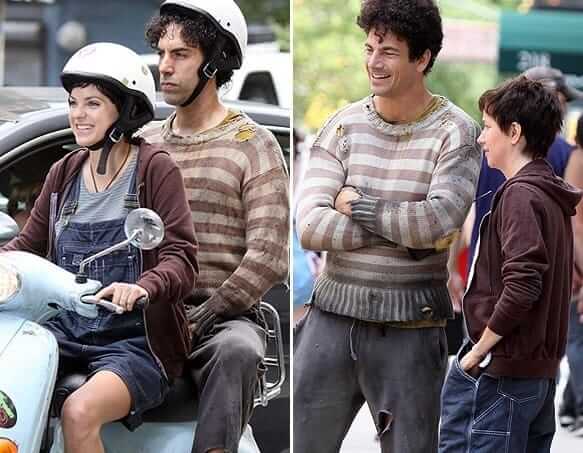 As a rising stuntman in Hollywood, Keller has worked on movies like Pirates of the Caribbean, Bruno, and Dhoom 3. While on the job Keller has gotten third-degree burns, fallen out of many buildings, and even got down to seven percent body fat for the movie Immortals. 
Natalie Portman And Crew Lied About How Much Work Her Stunt Double Actually Did In Black Swan
While many actors and movie crews give credit to the stunt doubles who do incredible work, that was not the case for Sarah Lane. She was the stunt double for Natalie Portman in the movie Black Swan. There were many reports that most of the scenes were Portman and she spent months learning ballet. However, Lane said things were much different.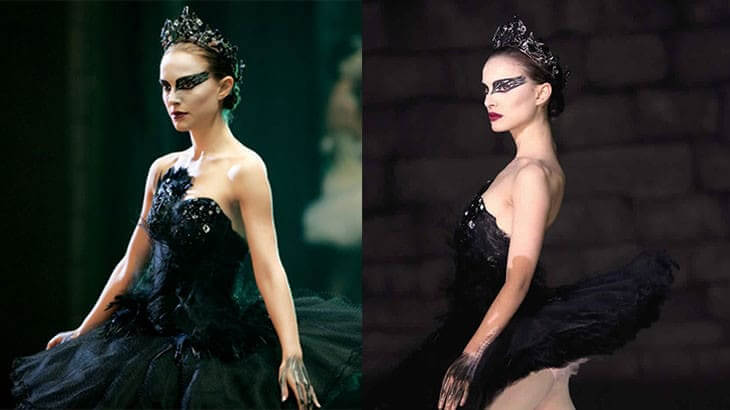 After reports came out stating the Portman did most of the dance scenes, Lane fired back and said that only five percent of the full-body shots were Portman; Lane did the rest of the dance scenes. 
Harrison Ford Leaves Messages On His Double's Photographs
Harrison Ford brought the beloved Indiana Jones to life, but the person who made the character pop was his stunt double Vic Armstrong. For the first three Indiana Jones films, Armstrong was the stand-in for Ford, and the pair had a great working relationship.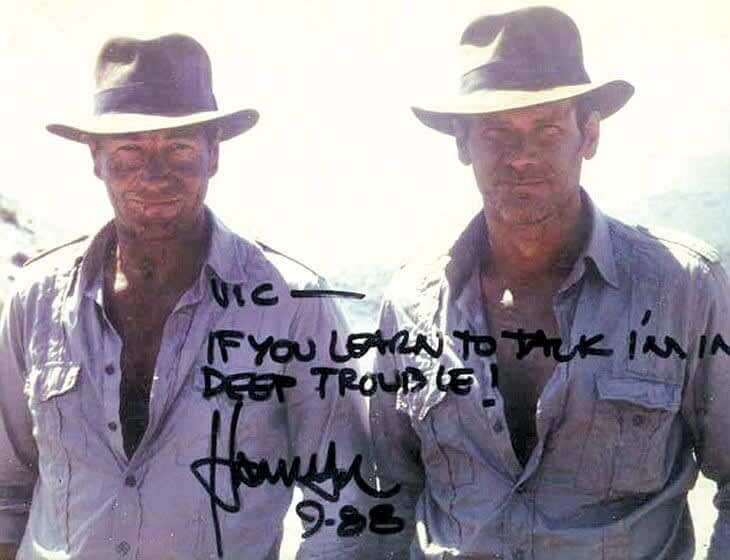 For each movie the pair worked on, Ford and Armstrong snapped a picture. Ford would leave sweet notes on the photos to commemorate their work together. On one of the photographs, Ford wrote, "Vic - If you learn to talk, I'm in trouble," and "Vic, we have got to stop meeting like this." 
Michael Douglas Has Used The Same Double For 26 Years
Michael Douglas plays Dr. Hank Pym in Ant-Man, and he uses his longtime friend Mike Runyard as his stunt double. The two share an uncanny resemblance, which makes it easier for Runyard to stand in for Douglas.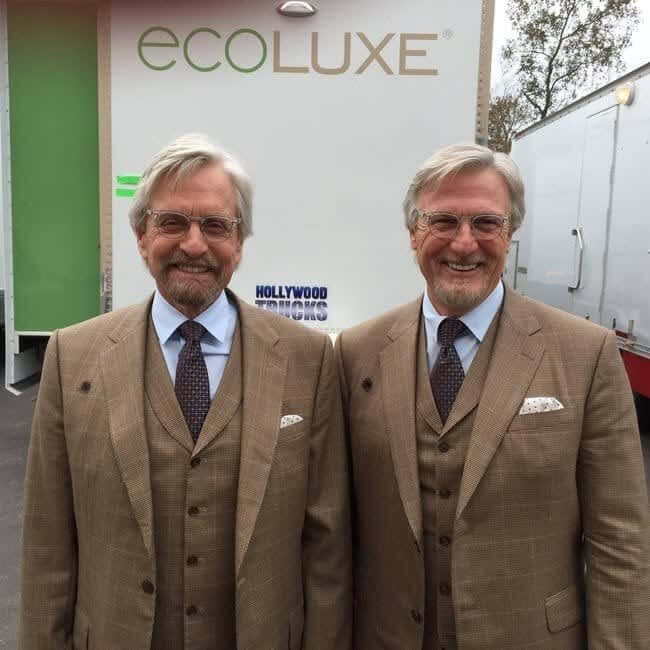 These two have been working together for over 26 years, and Runyard has appeared in many Marvel movies. Their working relationship dates back to 1989 when Runyard was Douglas's stunt double in Black Rain. 
Anne Hathaway's Motorcycle Scenes Wouldn't Have Been Possible Without This Stuntwoman
In The Dark Knight Rises, Anne Hathaway played Catwoman, and throughout the movie, her character does all kinds of flips, tricks, and death-defying stunts. Although Hathaway is a talented actress, she did need the help of a stunt double to achieve the incredible action scenes.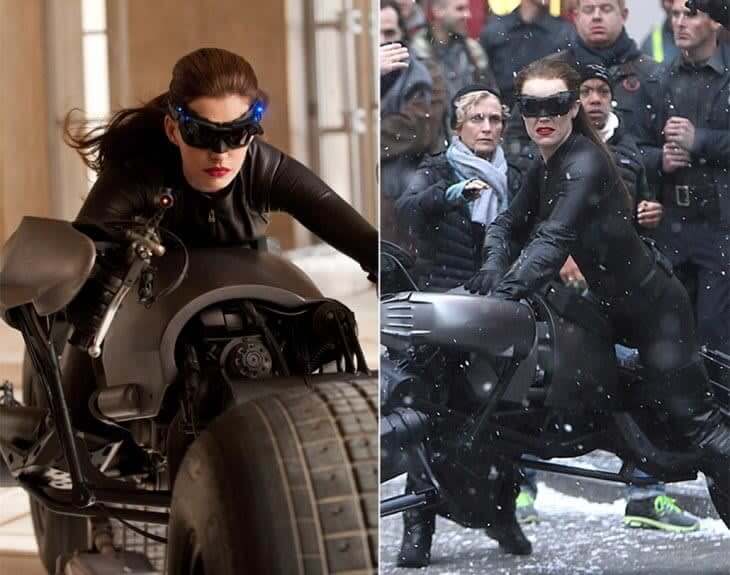 Whitney Coleman was just the stunt woman for Hathaway's character, and she performs many combat and motorcycle stunts throughout the movie. Besides The Dark Knight, Coleman has also appeared in Jurrasic World. 
Johnny Depp Leaves The Stunts To Professionals
Recently, Johnny Depp revealed that he does not like to do his own stunts, so he has a double for every movie. Depp said, "I prefer to leave the jumping around to the professionals," so for Pirates of the Caribbean, Tony Angelotti was Depp's stand-in.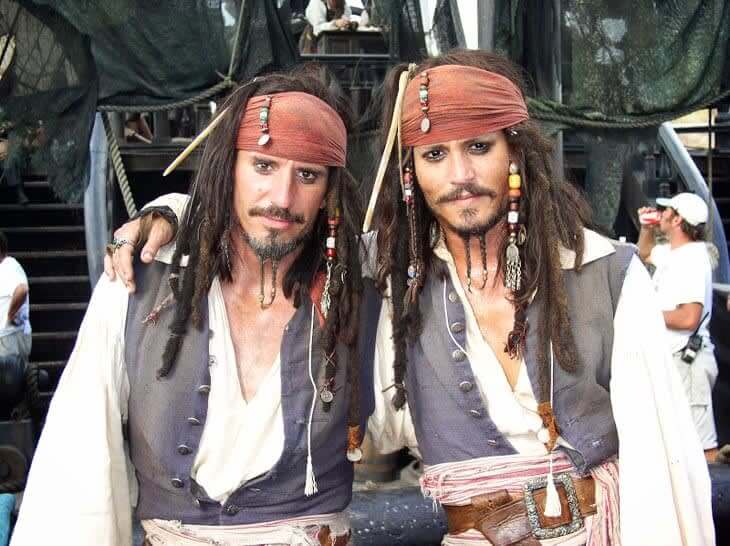 Angelotti has been a double for Depp in three of the Pirates of the Caribbean movies. He also did some stunts in The Amazing Spiderman. When he is dressed up as Jack Sparrow, it is difficult to tell the difference between him and Johnny Depp. 
Scarlett Johansson's Stunt Woman Was An Accomplished College Gymnast
Scarlett Johansson plays the Black Widow in The Avengers movies, and she has one of the most sought-after stuntwomen in the industry, Heidi Moneymaker. Heidi studied at UCLA, where she earned her degree in History, and she gained attention for her accolades in the Gymnastics program.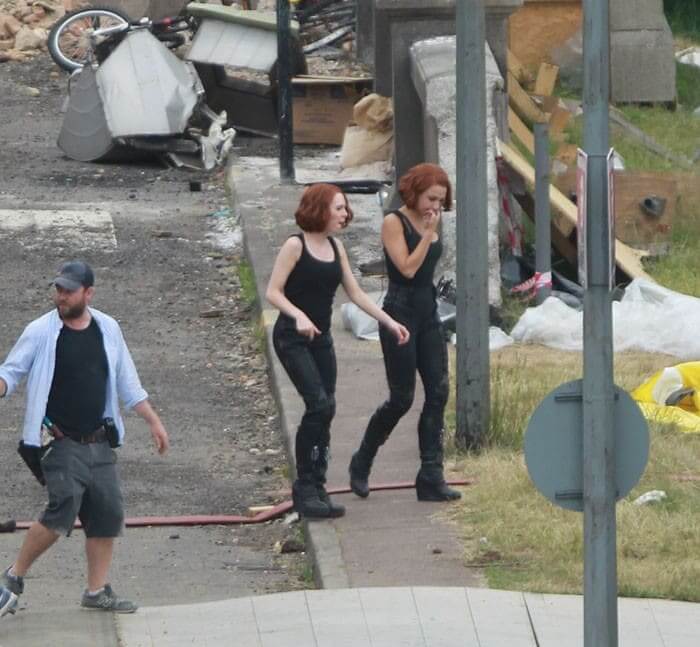 Heidi's gymnastics skills have helped her become one of the best stunt doubles in the industry. Besides Johansson, Heidi has also stepped in Julianne Moore, Ruby Rose, and Drew Barrymore. 
Robert Pattinson Forgot The Name Of His Double When Thanking Him In A Speech
Robert Pattinson and Paul Darnell have a long-standing relationship as an actor and stunt double. For the Twilight movies, Darnell was the stunt artist on Pattinson's behalf. The two worked so well together, so Darnell became the stand-in for other movies with Pattinson.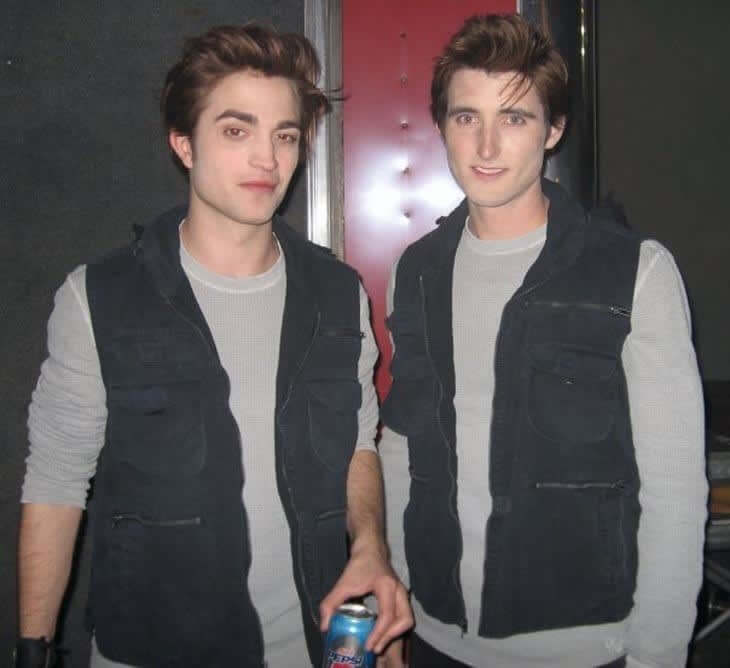 Thanks to Darnell's incredible work, Pattison won the best fight scene at the 2009 MTV Movie Awards. During his thank-you speech, Pattinson forgot Darnell's last name, making for an awkward TV moment. Although there was an uncomfortable moment, the two worked together in Water for Elephants and Remember Me​. 
Chris Pratt And His Stunt Double Can Pass For Brothers
Although Chris Pratt is a hunky heartthrob, he still needs some help from a stunt double when it comes to action films. That's where Tony McFarr steps in. He has been working with Pratt for a few of his movies, and his career started back in 2011 on the set of Bones​.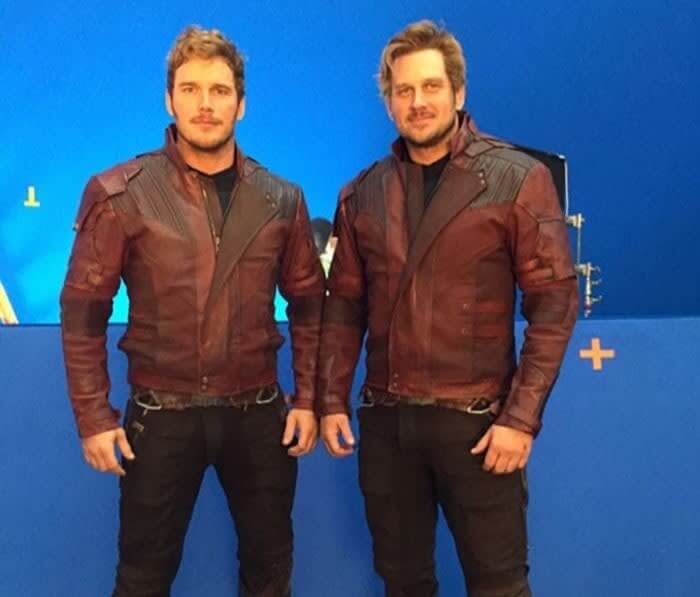 Since Jurrasic World: Fallen Kingdom, McFarr has been Pratt's go-to stunt double. It helps that the two look eerily alike, so they don't have to change much when McFarr steps in. The two have worked on films such as Guardians of the Galaxy and Passengers.
Carrie Fisher And Her Double Are Almost Identical
Carrie Fisher played Princess Leia, and her stunt double was Sandi Gross. The two are pictured on the set of Star Wars: Episode VI: Return of the Jedi, and they are both wearing the famous gold bikini. As they relax between scenes, it is difficult to tell these two apart, which worked out for the film crew.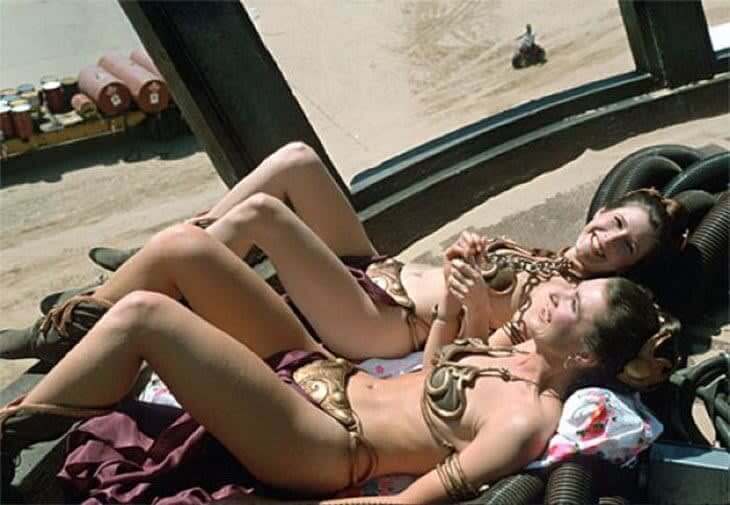 Not only did Gross do stunts for Star Wars she was also a stand-in for the movie Sister Act. She stopped working in the early '90s, but her work will forever be remembered. 
Chandler Riggs Used A 29-Year-Old Female Double
Chandler Riggs played Carl Grimes on the hit AMC show The Walking Dead. His stunt double was actually a 29-year-old woman named Emily Brobst. As the two sat together on set, it was difficult to tell them apart, which makes for a good stunt double match.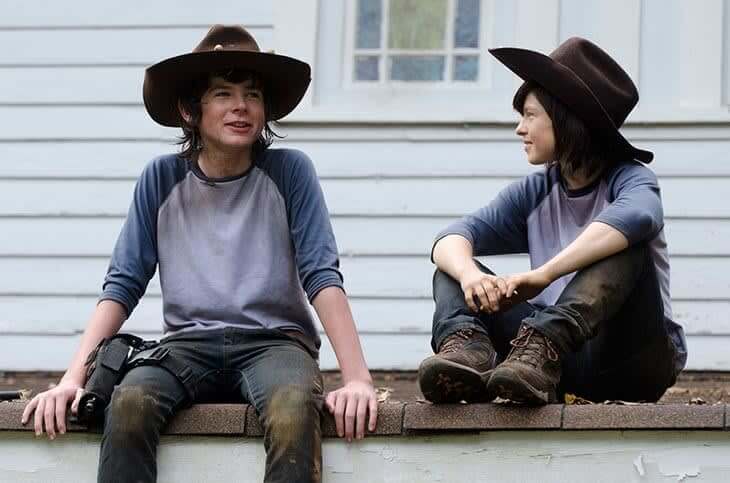 It is more common than people think for the actors to have stunt doubles of the opposite gender. In the movie Stand By Me, one of the girl's doubles was a boy because the director wanted someone skinny and lanky like the actress. 
Elijah Wood's Body Double Was Half His Size
Elijah Wood starred in Lord of the Rings wherer Kiran Shah was his stunt double. Standing at four feet six inches, Shah's height makes him a more versatile stunt double, so he has been in high demand for years. In 2003, he was named the shortest professional stuntman working in film by the Guinness World Record book.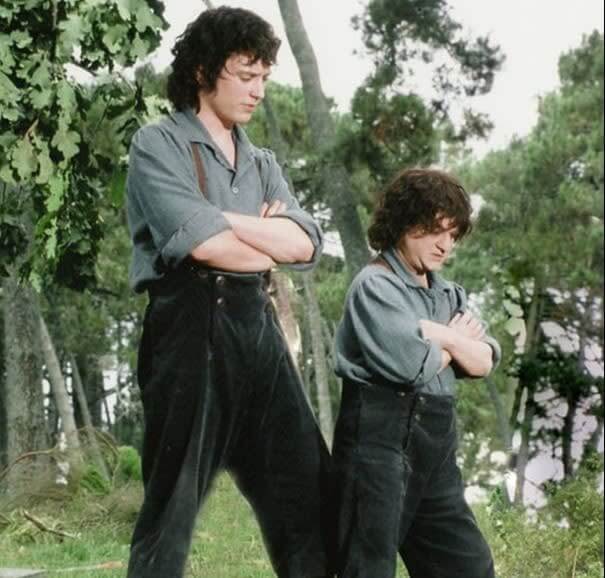 Shah auditioned for the role of R2-D2 and narrowly lost the part to Kenny Baker. He has played many notable characters, and most people do not realize how many people he has been a double for throughout the years. 
Chris Hemsworth's Double Shares His God-Like Features
Since Chris Hemsworth began playing Thor, Bobby Holland has been working as his stunt double. While it is hard for the average person to achieve the godlike looks of Hemsworth, Holland bears an uncanny resemblance.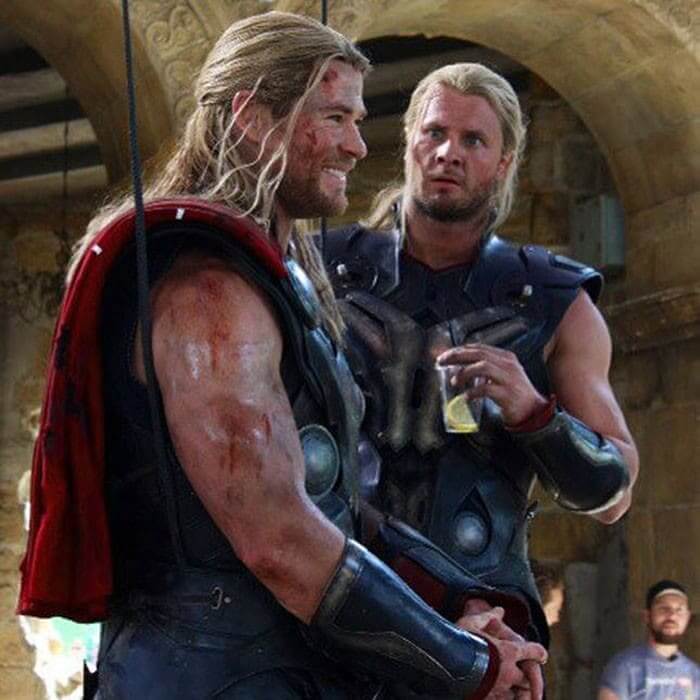 Holland has a wide range of skills that he worked his whole life to perfect. Not only was he the double for Thor, but Holland was also doubled for Batman in The Dark Knight Rises. 
Ken Stott's Double Is A Notable Stuntman In Ireland And New Zealand
Ken Stott's stunt double for Lord of the Rings was Peter Dillon. He is known for his roles in Avatar, The Hobbit, and Underworld. Dillon is a notable member of the Stunt Guild of Ireland and New Zealand.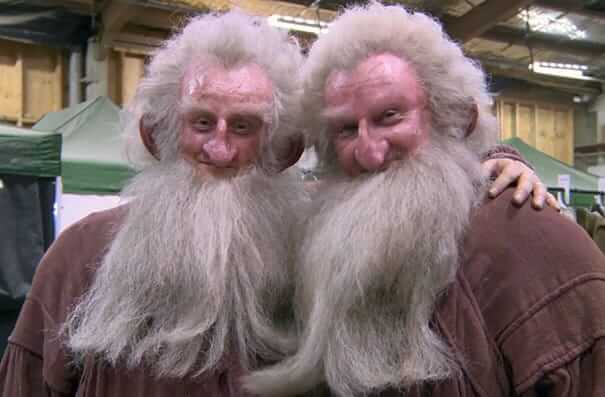 With all the makeup and prosthetics, Ken Stott and Peter Dillon were identical. People on the set of Lord of the Rings had a difficult time telling them apart while they were in costume. 
Dave Bautista's Stand-In Shares The Same Muscular Physique
Dave Bautista is a famous wrestler who turned to acting after retiring from the ring. He plays Drax in Guardians of the Galaxy, and his stunt double is Rob de Groot. He is known for his work as a stunt man in the Marvel Cinematic Universe. Luckily, Groot shares the muscular physique and intimidating size with Bautista.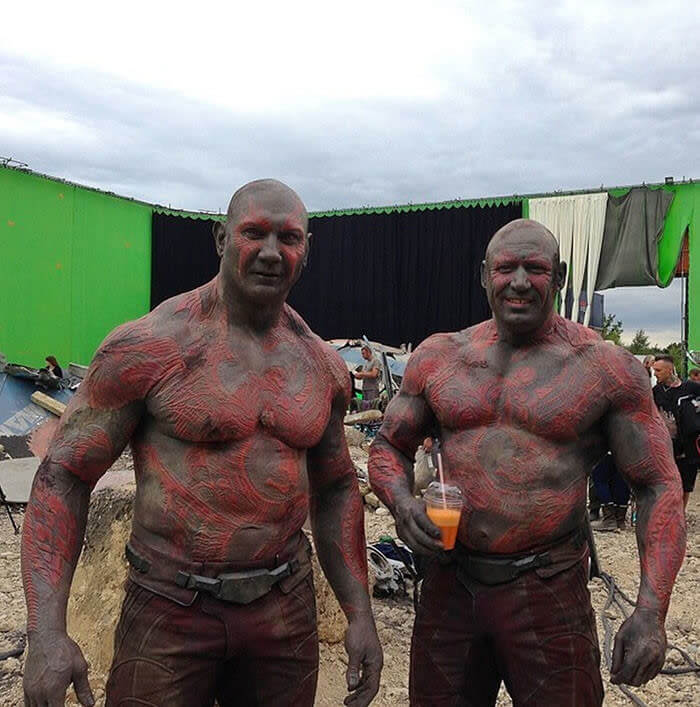 Like Bautista, Groot has to sit for hours in the makeup chair to recreate Drax's look. Although he is not the main actor, he has to look exactly the same for all the incredible stunts. 
Tom Cruise Thought Up One Of The Biggest Stunts In This Movie
Award-winning actor Tom Cruise has been known to do some of his own stunts and even broke his leg once. However, in the movie Knight and Day, Cruise uses Casey O'Neill as a stunt double. These two look so alike, the resemblance is uncanny.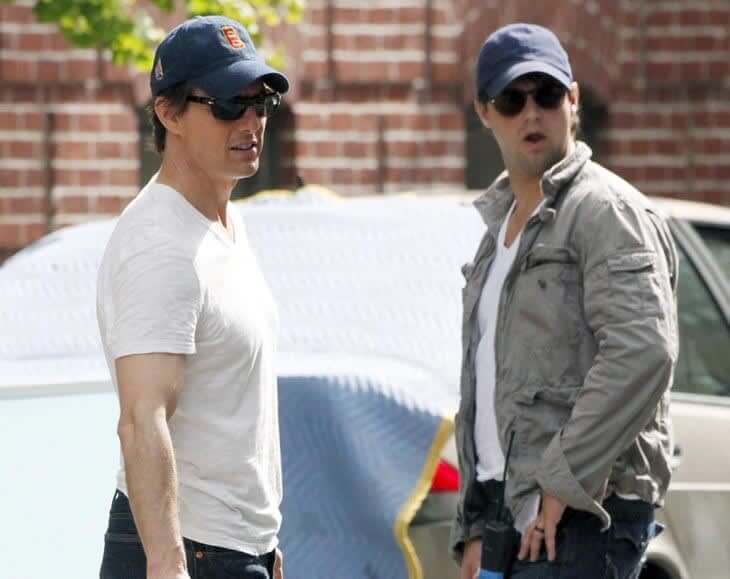 While O'Neill did many stunts for Cruise, there was one motorcycle scene that Cruise filmed himself. As an accomplished rider, Cruise thought of the stunt and asked the director to add it into the movie. 
Christian Bale And Tom Hardy Worked With The Top Stuntmen
In the movie The Dark Knight Rises, Christian Bale and Tom Hardy both used stunt doubles because the film was filled with action-packed scenes. Bale's double was Bobby Holland, who is an accomplished stuntman in Hollywood. He is best known for his work on Inception, Avengers: End Game, and Wonder Woman. Holland trained for many years to perfect his incredible skill sets.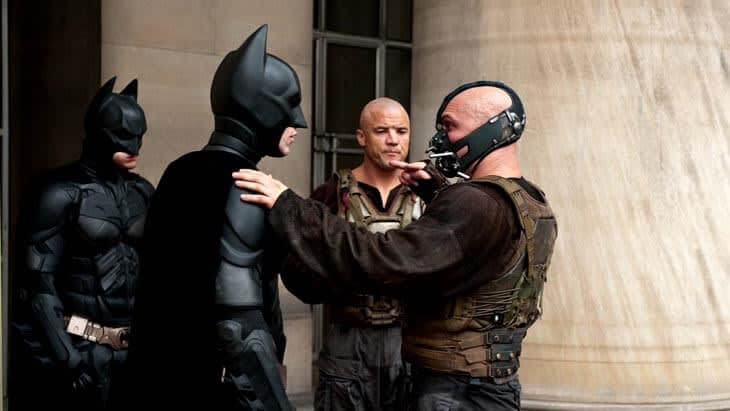 Hardy's stunt double was Buster Reeves, who began training in traditional karate when he was 11-years-old. Reeves earned a spot in the Guinness Book Of World Records for most kicks done at head height in a minute. Besides The Dark Knight, Reeves has also been a stuntman for Bourne Ultimatum and Mission Impossible. 
Cameron Diaz's Go-To Stuntwoman Has Worked On The Biggest Hollywood Movies
In the film Knight and Day, Cameron Diaz has some pretty action-packed scenes that required a stuntwoman. Her double Kimberly Shannon Murphy took on the task of making these scenes look effortless. Murphy is the go-to stuntwoman who has quite the resume.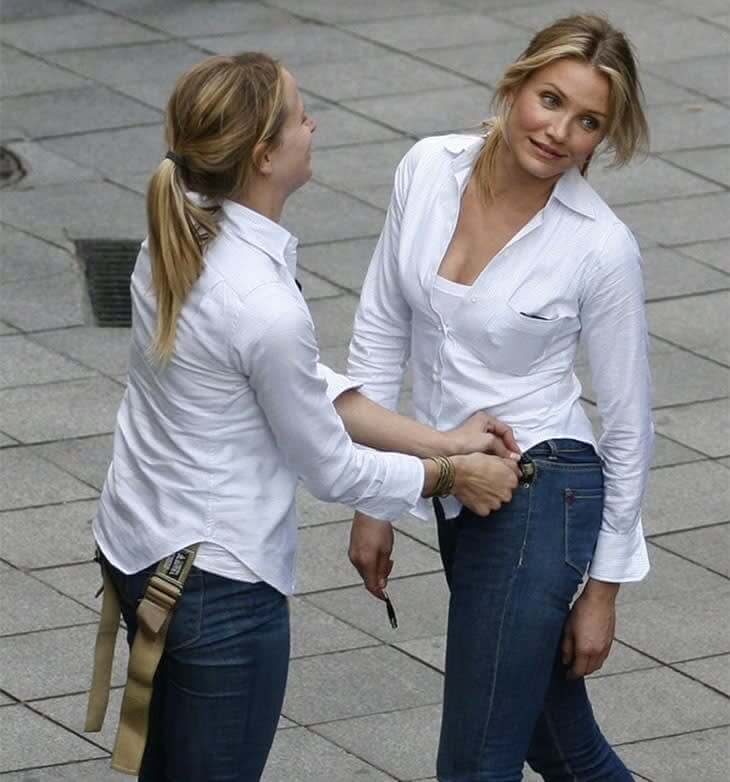 Murphy has been a stunt double in top box office movies like The Hunger Games, Men in Black 3, and Oblivion. The list goes on and on, and Murphy is going to be a double in many upcoming films. It must be interesting to be the body double for some of the biggest names in Hollywood. 
Lynda Carter Invited Her Double's Son And Classmates To The Set Of Wonder Woman
Lynda Carter played Wonder Woman in the 1975 film, and she had two stunt doubles including Jeannie Epper. Her most recent stunt credit was in 2015, but Epper had a very successful career throughout the '70s and '80s.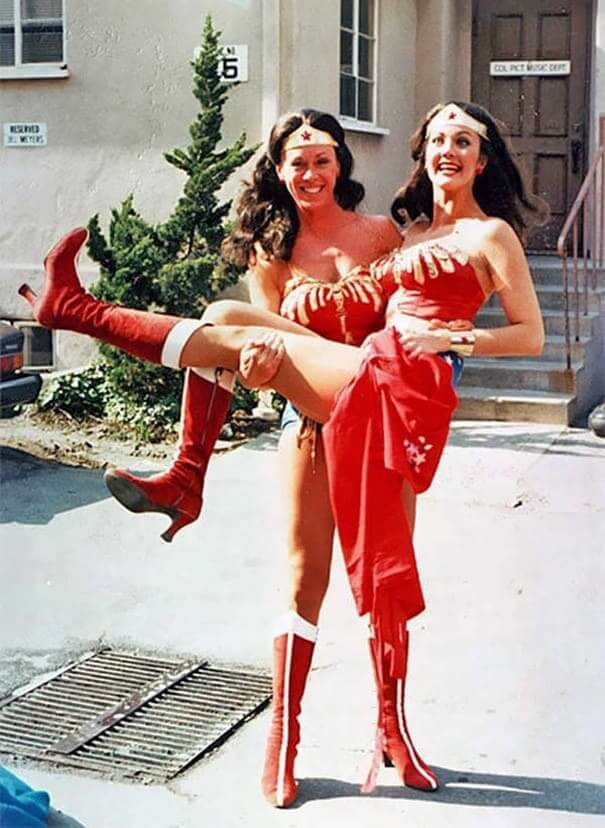 While Epper was working on Wonder Woman, her son told his classmates, but they didn't believe him, even after he showed a photo. When Lynda Carter heard about this, she invited Epper's son and all of his castmates to the set so they would know he was telling the truth. 
Tom Hiddleston's Double Found His Love For Stunt Work Completely By Accident
Tom Hiddleston plays Loki in the Marvel Cinematic Universe, and his character has many fight scenes and does numerous stunts, so Hiddleston uses Paul Lacovara as his stunt double. Lacovara grew up in California and got a part as an extra during his senior year of college.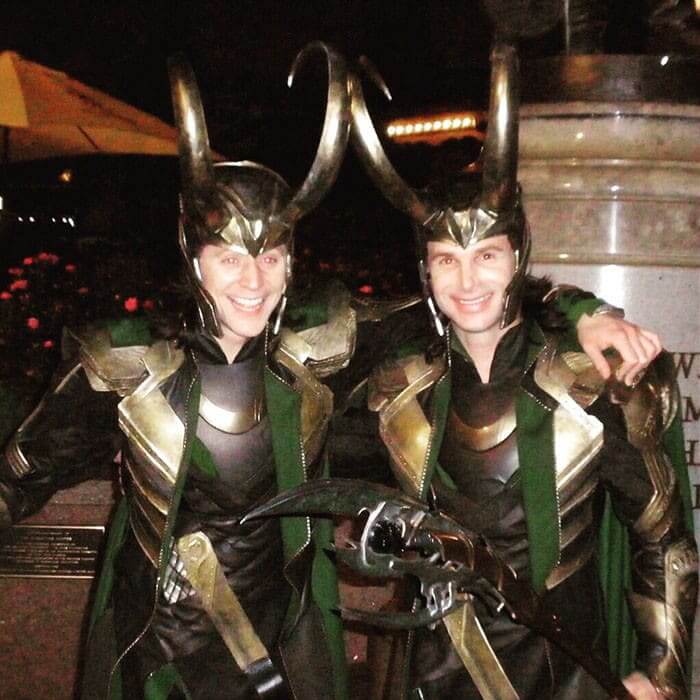 While on set, Hiddleson got Lacovara the opportunity to work as a stuntmen. After graduation, he decided to pursue a career in stunts, and he quickly made a name for himself. Today, he has over 200 credited films and TV shows under his belt, and he has worked with actors like Christian Bale, Chris Pine, and Ryan Reynolds. 
Shia LaBeouf's Double Replaced Him For A Majority Of The Scenes In Transformers
Shia LaBeouf starred in the Transformers movies, and while he doesn't have many boundaries when it comes to performing, he does not do his own stunts. Instead, Dustin Dennard was the stunt double for LaBeouf in this popular film series. There is so much action throughout these movies, so many characters' stunt doubles had a lot of work in front of the camera.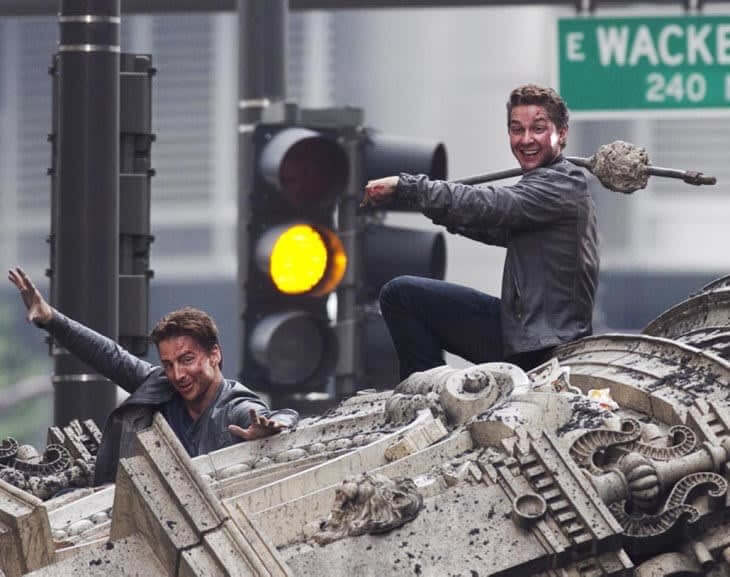 Dennard has worked on many major films including GI Joe, Gangster Squad, and Friday The 13th. From a young age he had an interest in action films and wanted to pursue a career as a stunt double. 
Bruce Willis's Double Got Into The Stunt Business Accidentally
It was an accident that Stuart Wilson became Bruce Willis's stunt double. He wandered onto the set of Live Free or Die Hard, and the directors noticed an opportunity. Since then, Wilson has been Bruce's stunt double for over a decade.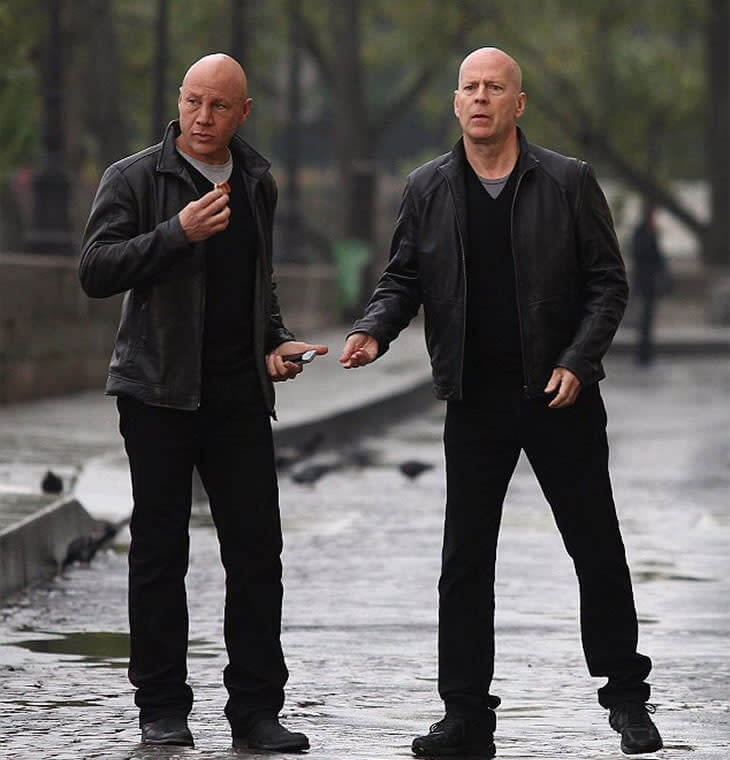 Not only does Wilson bear an uncanny resemblance to Bruce, but he also has the incredible skill set that is required for all action movies. They have an incredible friendship, and they work as a team on set. 
Taylor Lautner's Double Takes All The Punches In This Movie
As the love-hungry werewolf in the Twilight movies, Taylor Lautner might seem like he does his own stunts. However, in the movie Tracer, he sat on the sidelines while his stunt double, Gabriel Nunez, did all the heavy lifting. These two look so alike, and they work well together.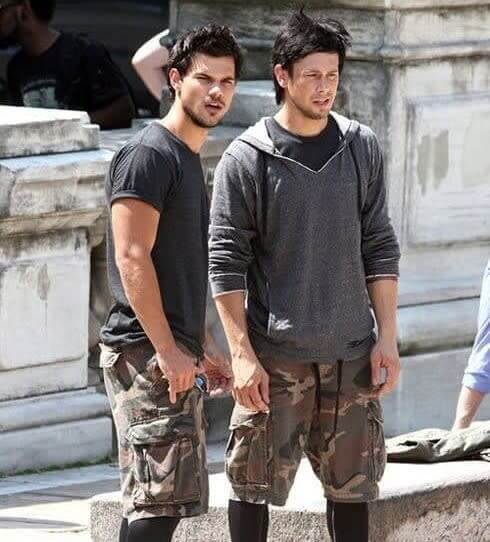 There are many photos of Nunez and Lautner on set goofing around, but Lautner gets to sit back and relax while Nunez takes all the punches. Besides Tracer, Nunez has also worked on impressive movies like Ant-Man, Total Recall, and After Earth.
Daniel Craig's Double Takes On All Of The Dangerous Stunts For The Bond Movies
Since Daniel Craig took over for Pierce Brosnan as James Bond, it only made sense for the director to hire one of the best stuntmen for the job. Jean-Charles Rousseau is Craig's stuntman in all of the Bond movies, and he has also worked on Mission Impossible and Jason Bourne.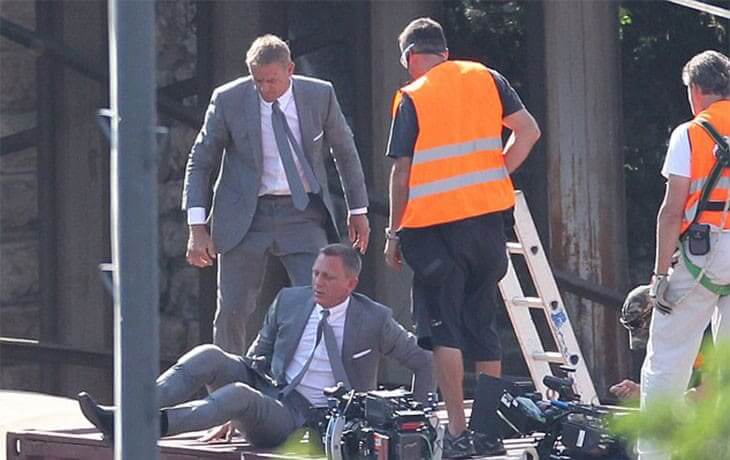 Craig and Rousseau have been working together for years, and the two have an incredible relationship. While Craig can do some of his own stunts, Rousseau takes over for the more complicated work. 
Anthony Mackie's Stuntman Is The Go-To Man For Marvel Movies
Anthony Mackie plays the Iron Soldier in The Avengers movies, and Aaron Toney is his stunt double for all the intricate action scenes.  Toney has been a double in many of the Marvel Cinematic Universe movies, including Black Panther, Avengers: Endgame, and Infinity War​.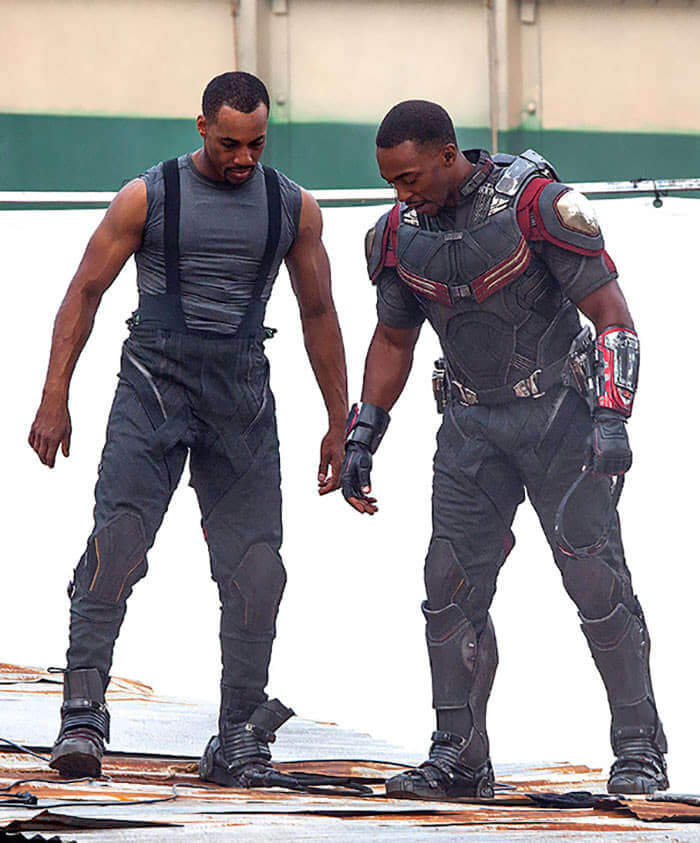 Toney has an incredible skill set that is perfect for the action-packed Marvel films. Mackie and Toney have partnered together on a few different movies, and these two have become close friends through their work. 
Sean Connery's Stand-In Was Offered A Huge Role, But Turned It Down
Sean Connery starred in the movie Goldfinger and Alf Joint was his stunt double. Born and raised in England, Joint grew up during war times, and he wanted a better life for himself; he decided to try and make a go of it in the stunt industry.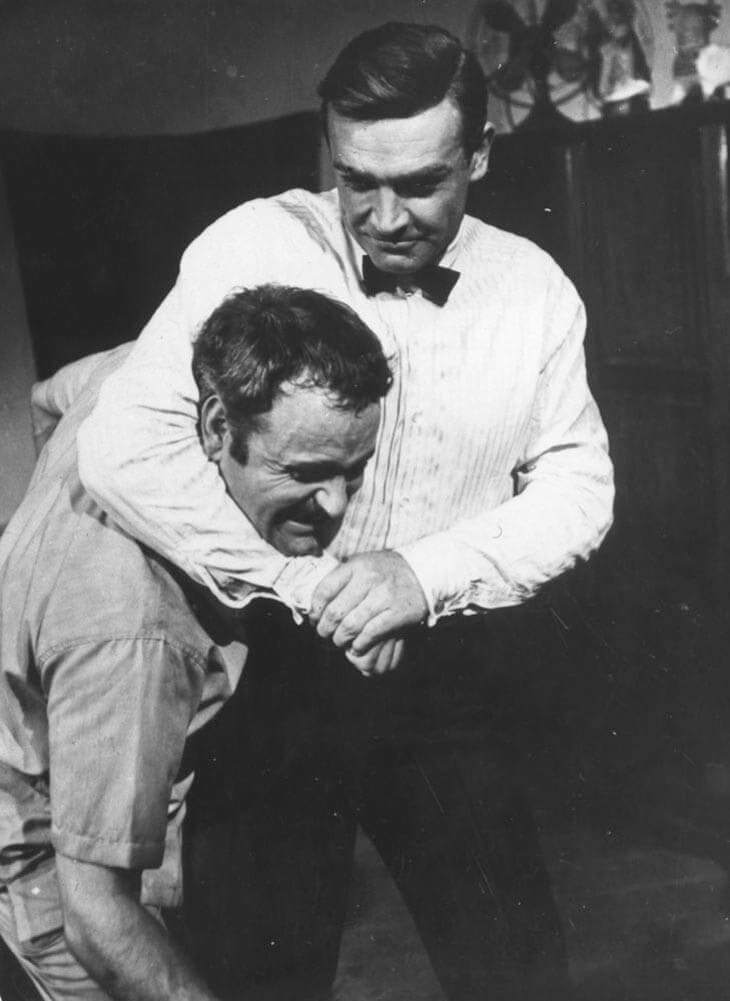 Joint's most notable roles were in Superman and Outland, aside from Goldfinger. He was also offered a part as the stunt man for The Spaniard in Dr.Who​, but he turned it down. 
Jennifer Garner Is Best Friends With Her Stuntwoman
Jennifer Garner and Shauna Duggins are not only friends, but they are co-workers. Shauna has worked as Jennifer's stunt woman for years since the days on Alias and her role in 13 Going on 30.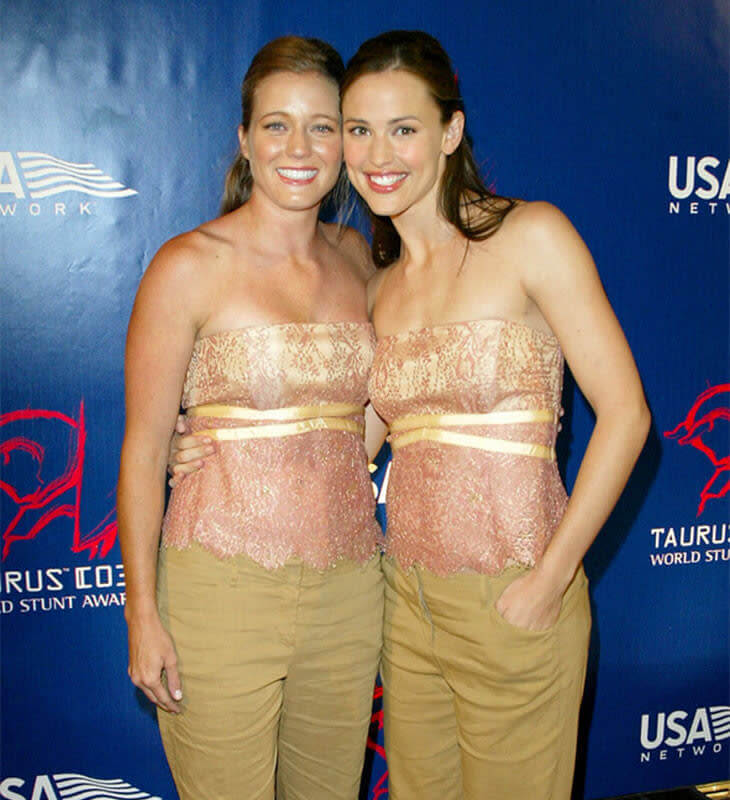 Duggins was the first stuntwoman to be nominated for an Emmy for Outstanding Stunt Coordination. She quickly became one of the most well-known names in the industry, and she has also worked with Charlize Theron, Anne Hathaway, and Chloe Sevigny. 
Patrick Dempsey's Double Is Shorter Than Him
Yes, Dr. Mc Dreamy also uses a stunt double. In Transformers: Dark of the Moon, Dempsey uses Carl Paoli as his stunt double. Obviously, Dempsey can't risk ruining his face because that is his moneymaker, so he has someone do all his stunts.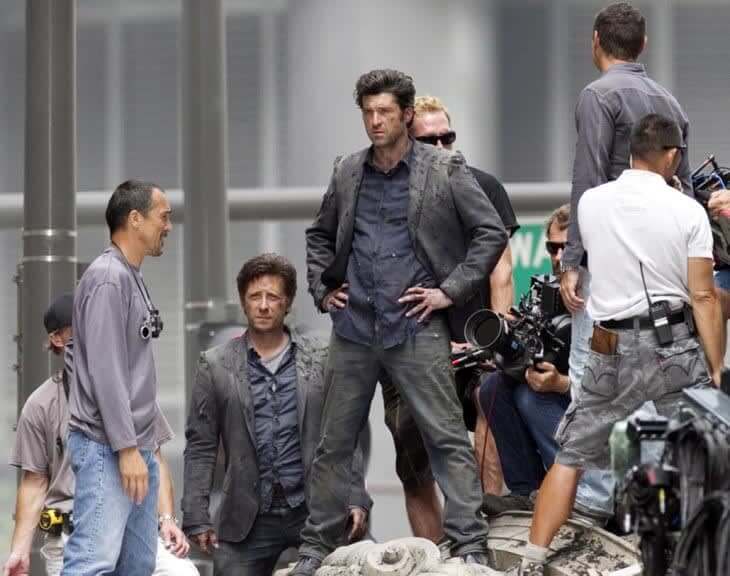 Although Paoli is a little shorter than Demsey, the two worked well together for the movie. Paoli has been in the stunt industry for more than 20 years, and his skills include motorcycles, cars, and bicycles. 
Hugh Jackman's Stuntman Is His Brother-In-Law
When Hugh Jackman played Wolverine, he was in the best shape of his life, and totally ripped. Luckily, his stunt double Richard Bradshaw was also fit for the incredible stunts. Not only is Bradshaw Jackman's stunt double, but he is also his brother-in-law.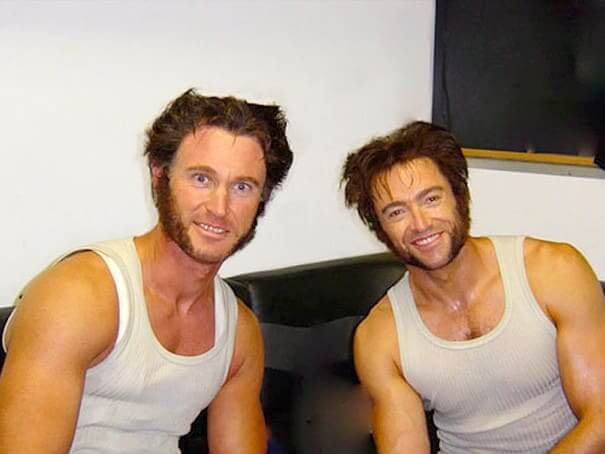 Bradshaw's skills include motorcycles, riding wires, and anything related to horses. He stepped in for Jackman on X-Men: Days of Future Past and Van Helsing. Besides Jackman, Bradshaw has also stepped in for Pierce Brosnan, Matthew McConaughey, and Colin Firth. 
Melissa McCarthy's Go-To Stunt Woman Runs Her Parkour Gym
Melissa McCarthy is one of the most hilarious women in Hollywood. In many of her movies, McCarthy is seen doing bold flips, tricks, and feats, but she has a lot of help achieving these stunts. Her stunt double is Luci Romberg, and the two have been working together for years.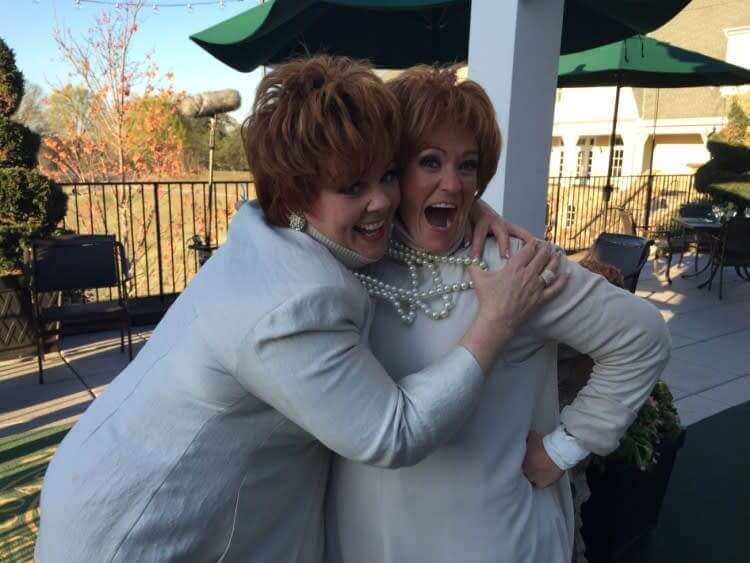 Romberg has stepped in for McCarthy in many movies including, Ghostbusters, The Boss, and Identity Thief. Romberg loves anything that gets her adrenaline pumping, and she took that passion and turned it into a business. She runs a parkour lifestyle brand that has multiple training facilities in LA. 
Chris Evans' Double Was Featured For His Incredible Physique
As Captain America, Chris Evans has many scenes involving numerous stunts; therefore, Sam Hargrave steps in as his stunt double. Not only is he a renowned stunt double, but Hargrave is also a notable trainer.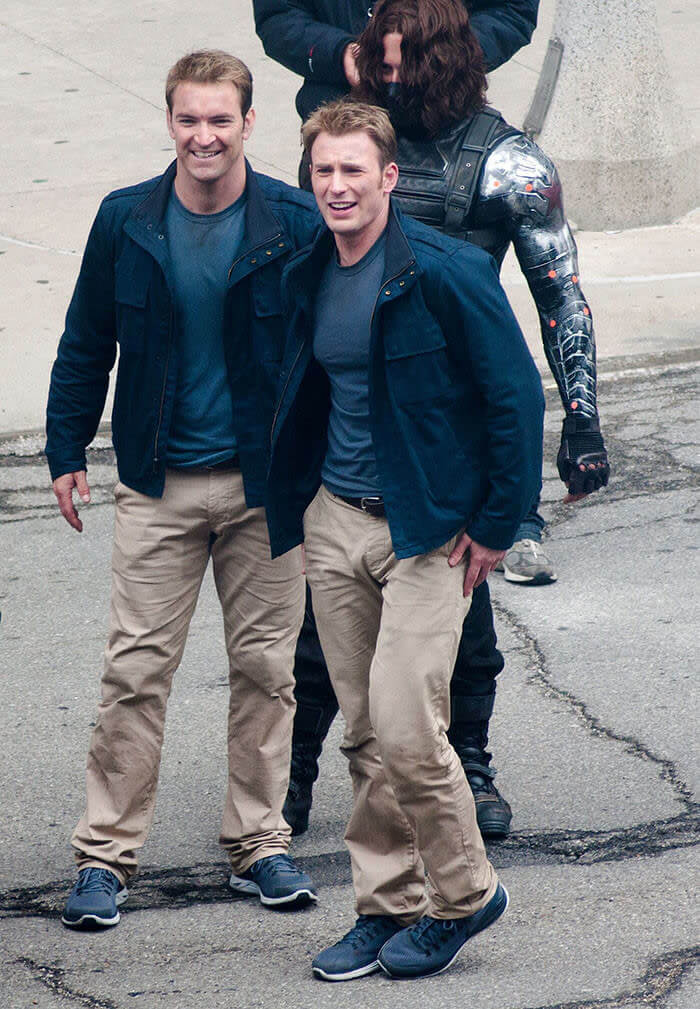 Due to his career, Hargrave has to stay in impeccable shape, which he has shown off in magazines like Men's Health. He keeps himself in tip-top shape to perform all the action-packed scenes in the Marvel Cinematic Universe. 
Mark Wahlberg's Double Looked Nothing Like Him
Although Mark Wahlberg's stunt double looks slightly older than him, he was the perfect stand-in for the movie Ted 2. The movie was the sequel to the first Ted film about the talking teddy bear voiced by Seth MacFarlane.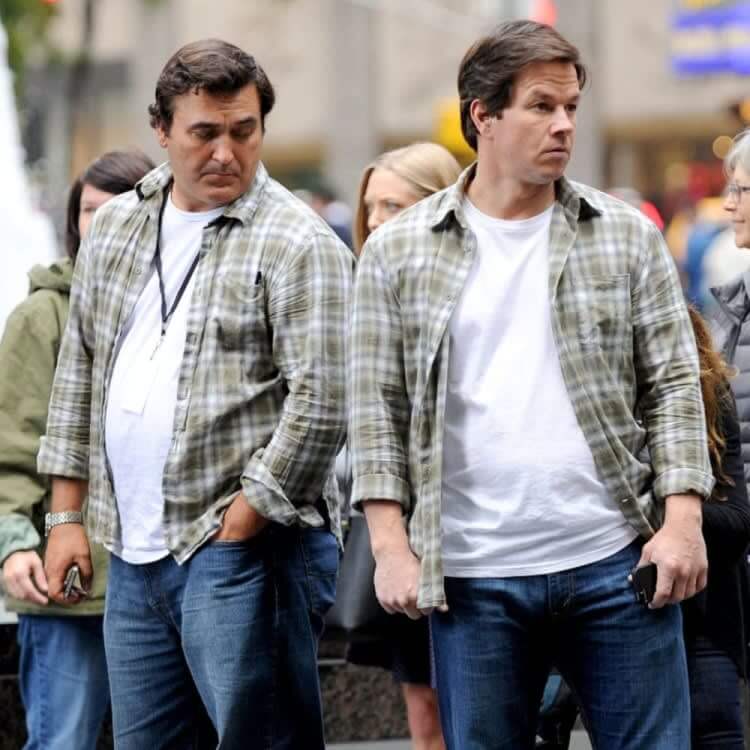 In the second film, Ted is fighting for the right to be considered as a human. The plot may be ridiculous, but it is a well-loved film by fans of both MacFarlane and Wahlberg. There weren't too many stunts involved in this film, but they still needed a body double for certain scenes.