Life is full of crazy stuff and that's what makes life so lively, fun and unpredictable. You just never know what might unfold in front of you. So, here is a list of 50 craziest things you'll see on the road. Buckle up because it will be a bumpy ride.
1. You Do What You Love
This photo is of one of the world's highest-rated Uber drivers. He believes in making the ride a memorable one for his passengers.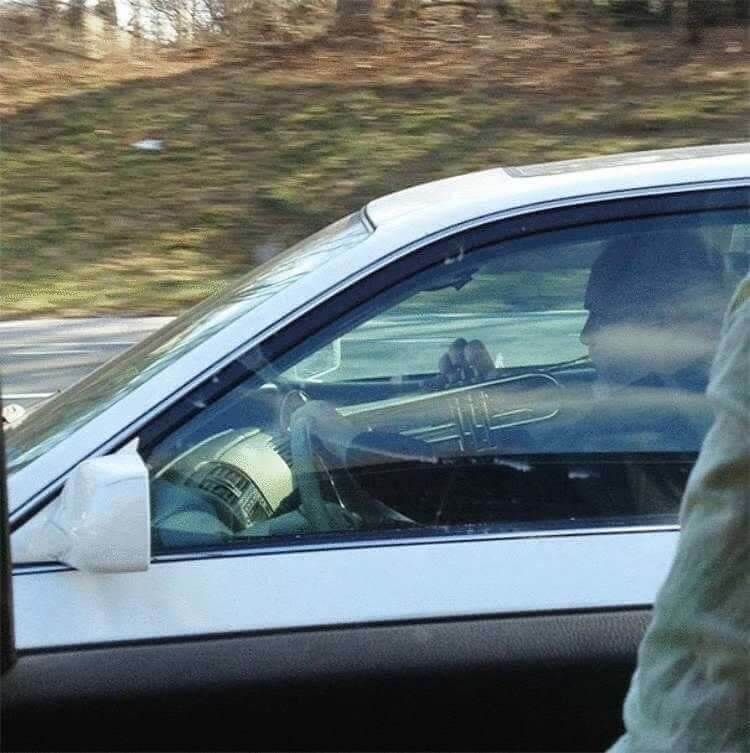 All you have to do is just sit back, relax, and let him play the saxophone for you while he takes you to your destination (hopefully not the final one). If you are not a fan of saxophone, you could ask him to play the guitar or a mini piano. 
2. Devil's Car
One thing can be said for sure that you got to have some sort of humor to drive this car. Even the number plate looks intimidating.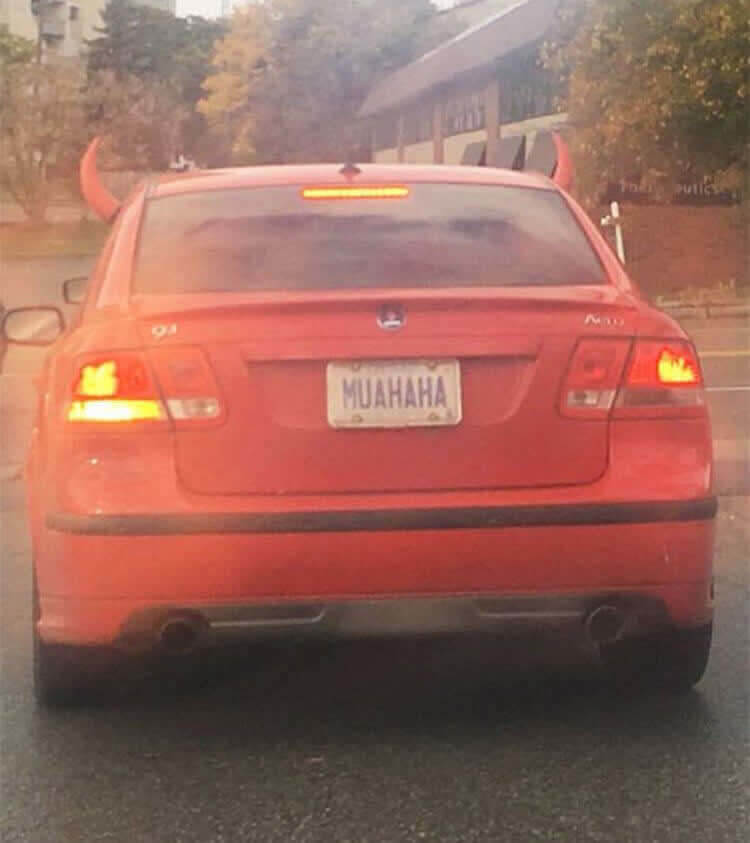 Hopefully, it doesn't pull outside of your house in the middle of the night.
3. Make Way For the Train
This picture is taken on some busy road in England. Apparently, the bus is in disguise and just wants to take the passengers to their destination.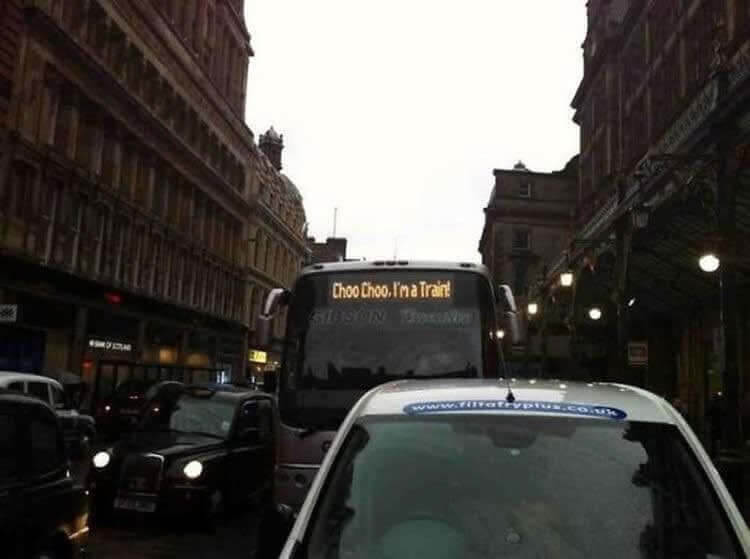 It looks like the bus driver knows it is the best way to get through this sort of heavy traffic jam.
4. Into The Road
There is absolutely nothing extraordinary here as the driver just wanted to get to his destination.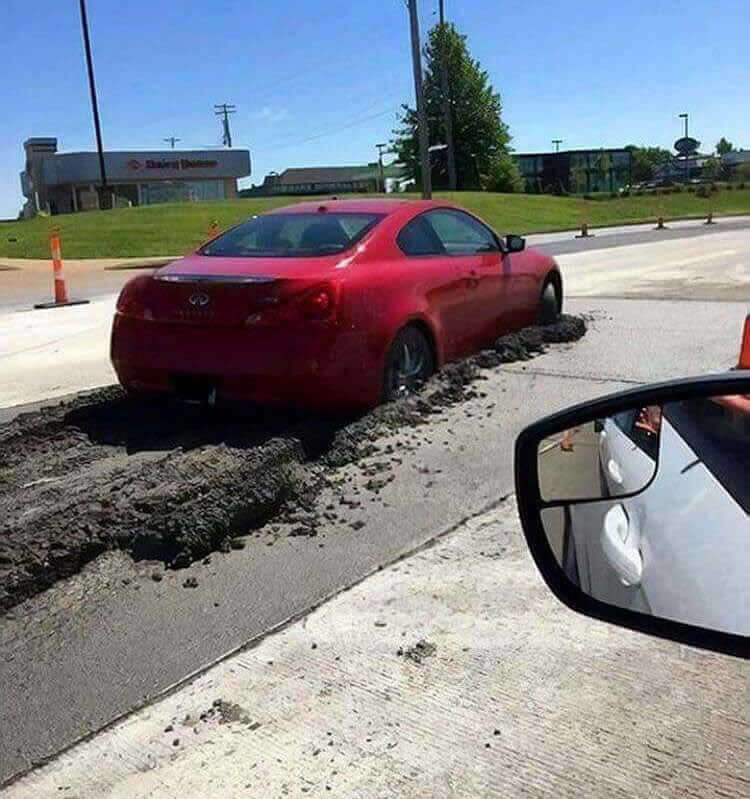 But before that, he was thinking about driving wrong on some one-way streets or about some over speeding. 
5. A Cute Speeding Ticket
"What do you mean I was zigzagging on the road?" It looks like it was an inevitable speeding ticket.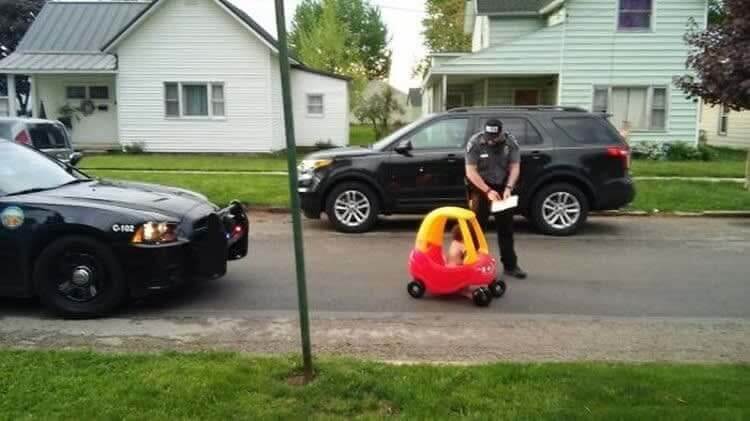 However, there is a high possibility that the young driver got out of it by calling his grandmother. 
6. Giant Minion on the Road
The smile on this minion's face hasn't looked this creepy ever before. Maybe it's because it is on the road and blocking the traffic.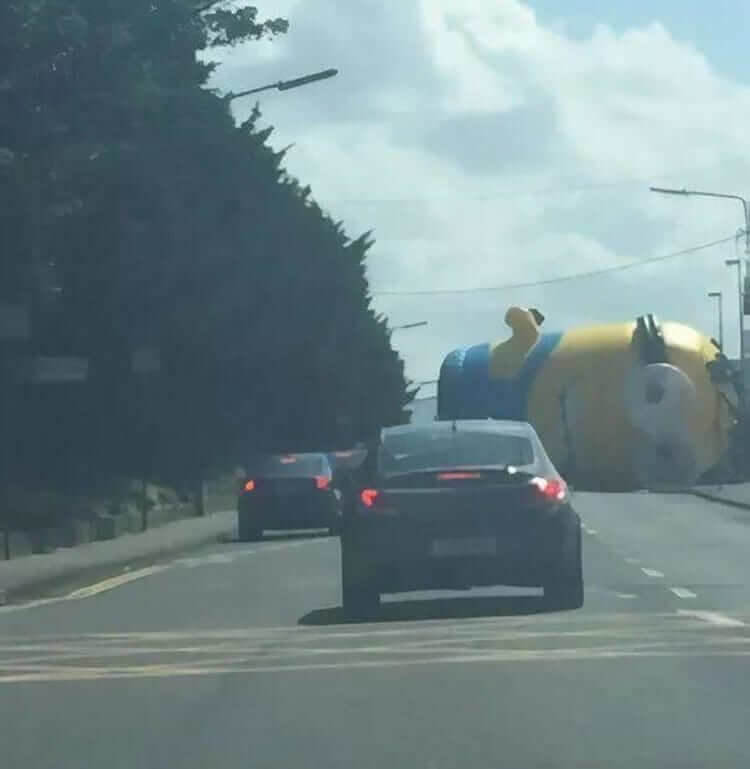 It looks quite obvious that Gru is not doing a good job here. 
7. Toy Story (Real Life Version)?
We can't actually tell what new mission their gang is going to, but we all know that we're going to root for them.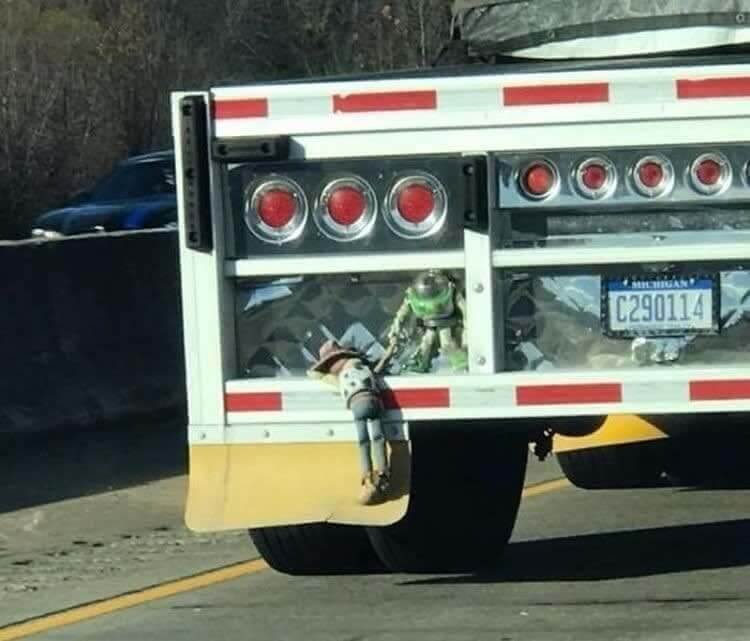 Maybe they are here for that giant minion, who knows. 
8. Dragging Something With You?
One cannot really comprehend how the driver got this far without realizing that he/she was dragging the gas pump with them.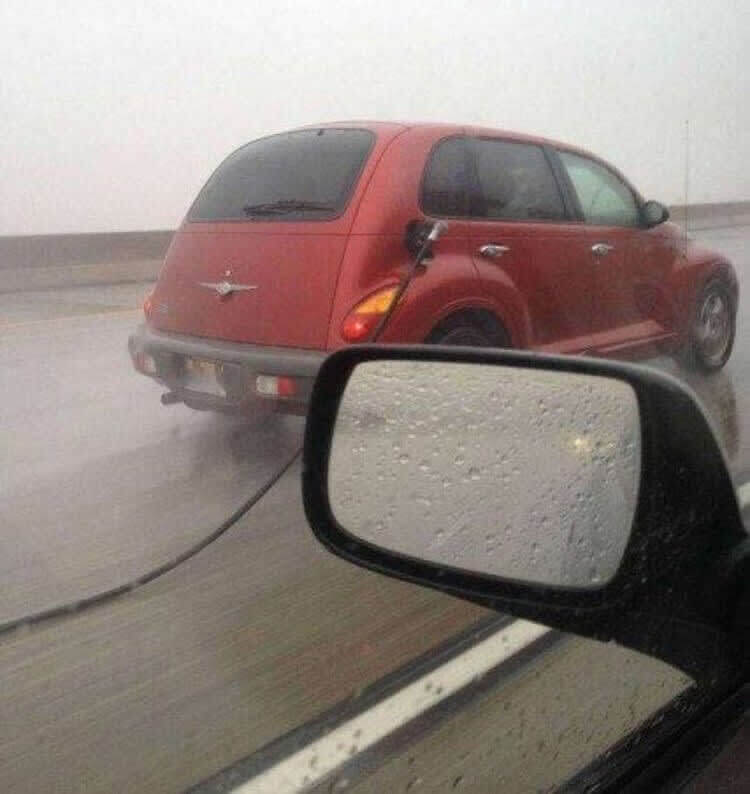 Hey, we're not here to judge as everyone can be in a hurry and it is totally understandable because it takes almost 4-hours to put the gas pump where it actually belongs.
9. Well, They Are Back!
"Hey, don't worry about Tiny here, he doesn't hurt anyone." This sight can make anyone lose their mind, but since there are no dinosaurs left on earth, you can just laugh it off.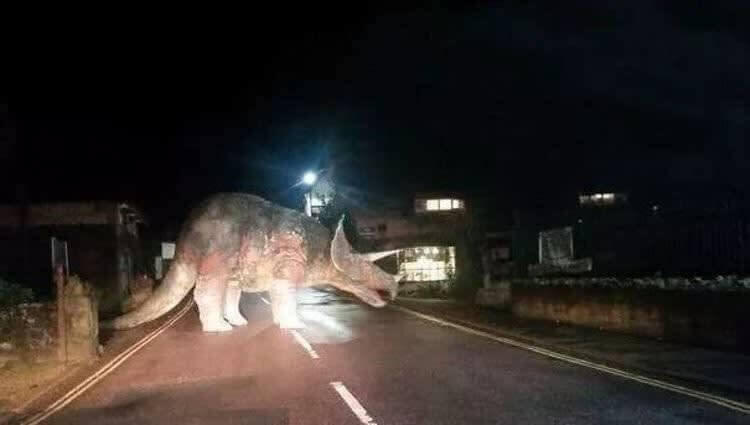 But still, it is best to not go too close to it.
10. Just Waiting for the Food
It looks like these fellas have ordered the food and are just looking for the waiter to bring it.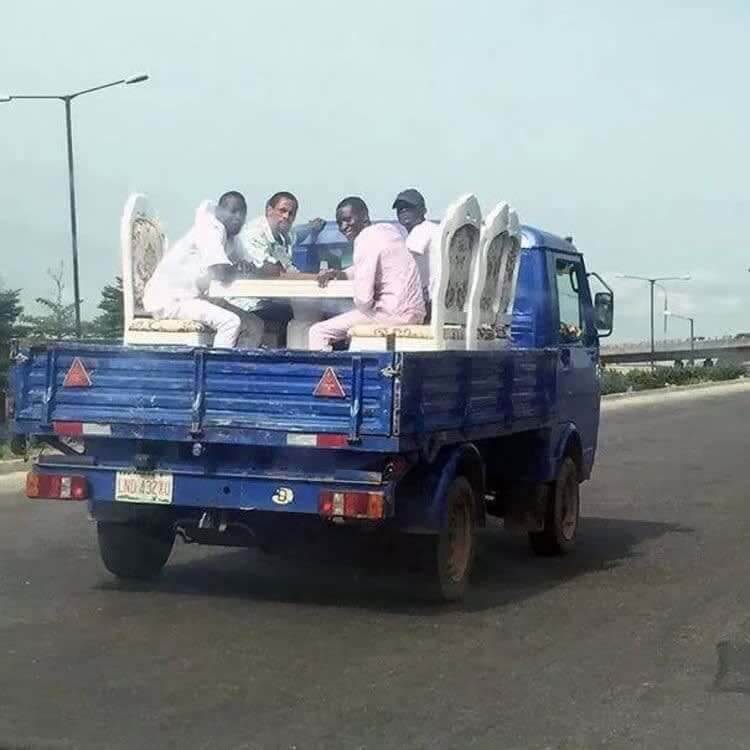 They don't seem to be in a hurry. 
12. Accident or a Marketing Strategy?
It just can't be an accident. It must be an effective marketing strategy that sent the message wide and clear.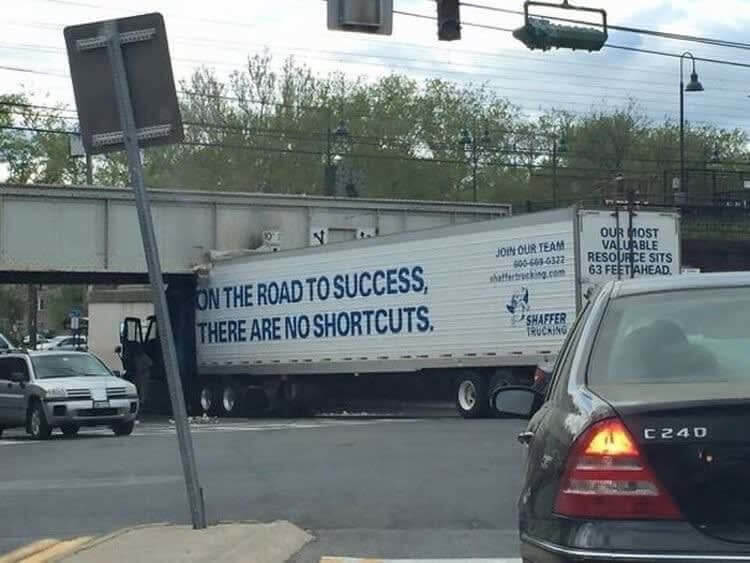 And did the marketing strategy worked? Well, you are reading it so it has definitely worked. 
11. Spending Quality Time Together
It can feel a little creepy to some people, but we believe that it is art that deserves some applause.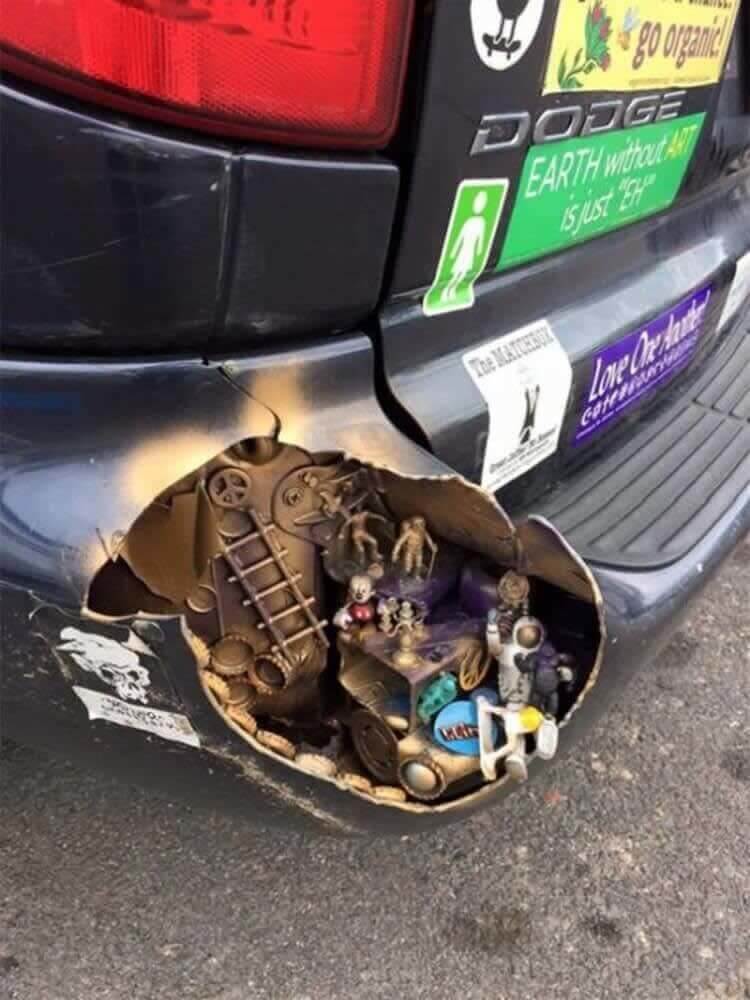 Although it is some creative thinking, one may feel that it looks like a drug-induced tea party. 
13. The Perfect Road Trip Companion
Aww, this is the most pleasant looking picture so far.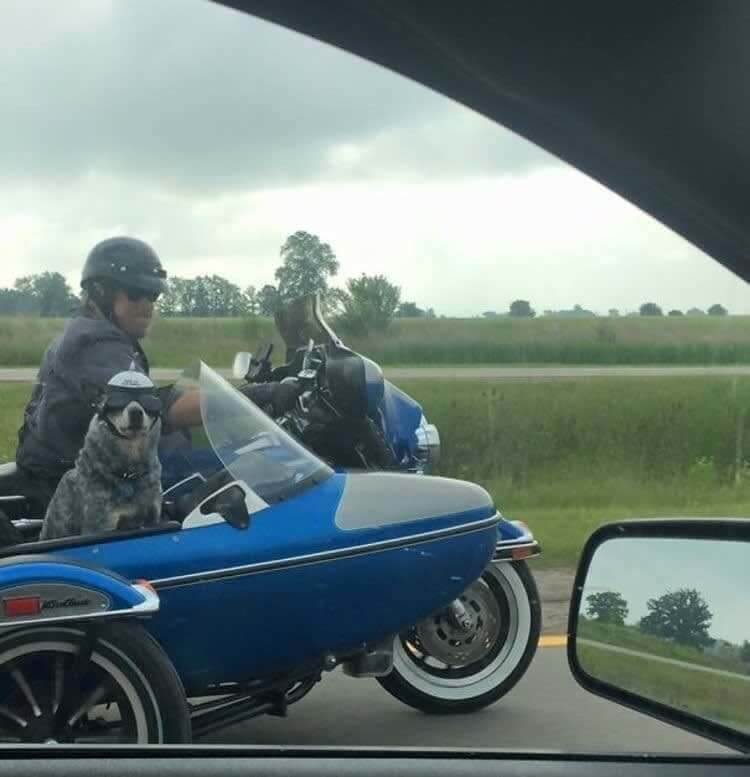 And it is not only pleasant because of the doggo, but it is also because someone finally figured out the actual purpose of these sidecars. 
14. Watch Out, Watch Out
If this is street art, it is done perfectly because it is letting everyone know that the road needs urgent repairing.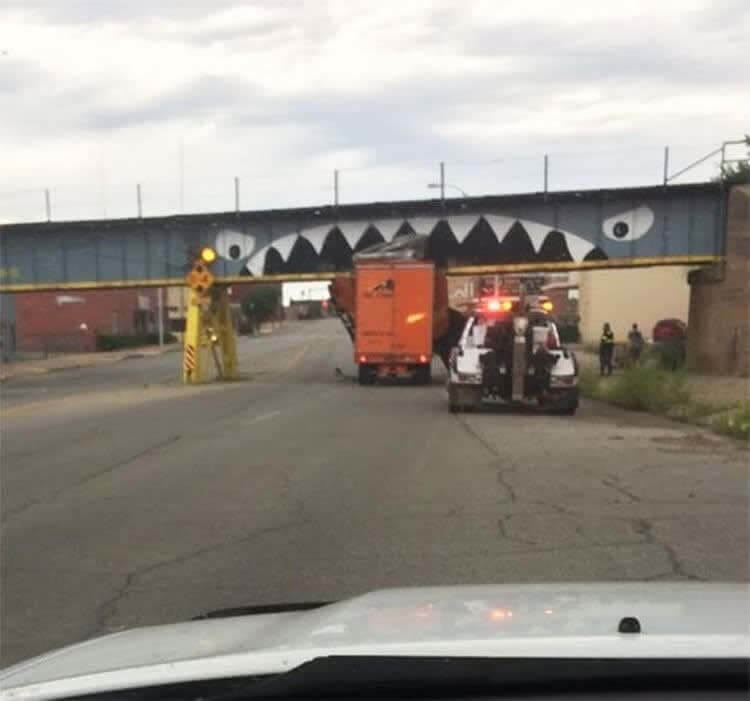 It is believed that anyone who passes under this tunnel isn't seen ever again.
15. 'Can't Get This Song Out of My Head'
This truck driver seems like a big fan of the rock band Queen.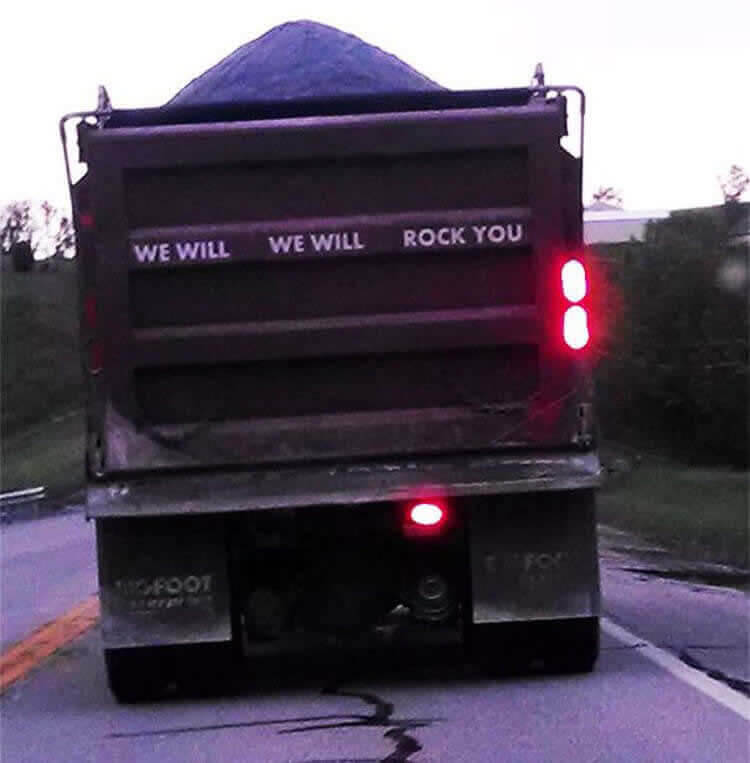 And who doesn't like a good pun, right? So, he decided to be creative and we just loved it.
16. Alien Invasion?
Movies are so misleading. We used to believe that alien invasion would be so horrifying, but this picture clearly shows that they just want to blend in with us and live a peaceful life.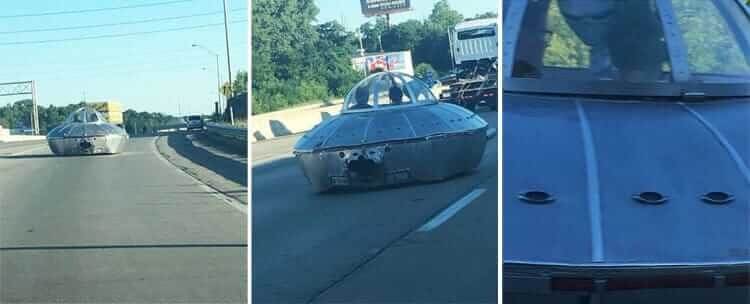 This picture shows that our extraterrestrial friends needed a tow truck for their vehicle. We just hope the mechanic didn't charge them extra.
17. Rolling Stones? Rolling Star!
Ever let your 3-year-old nephew choose the rims of your car? Well, this will happen if you do it.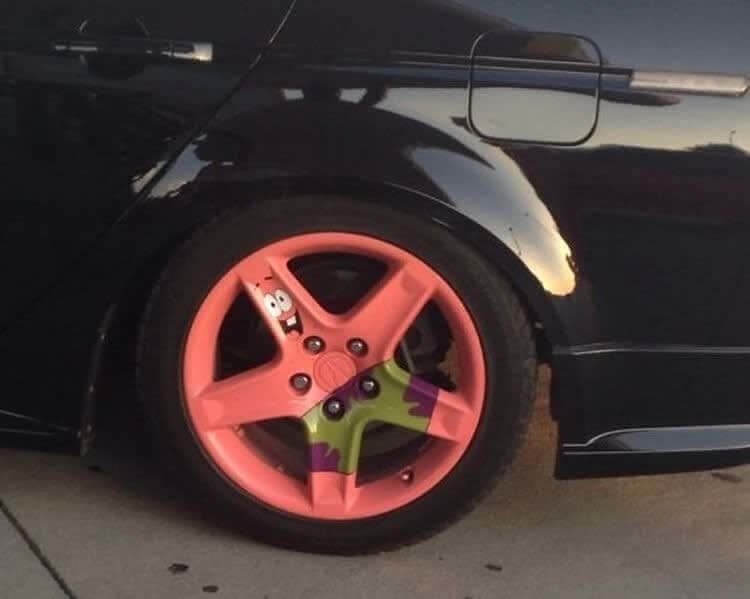 Although it looks silly, it can give a burst of good laughter to anyone whenever the car isn't moving. 
18. 'I Don't Know What to Do'
Ever got a mixed signal from someone you like? Well, you can get them while driving on a road as well.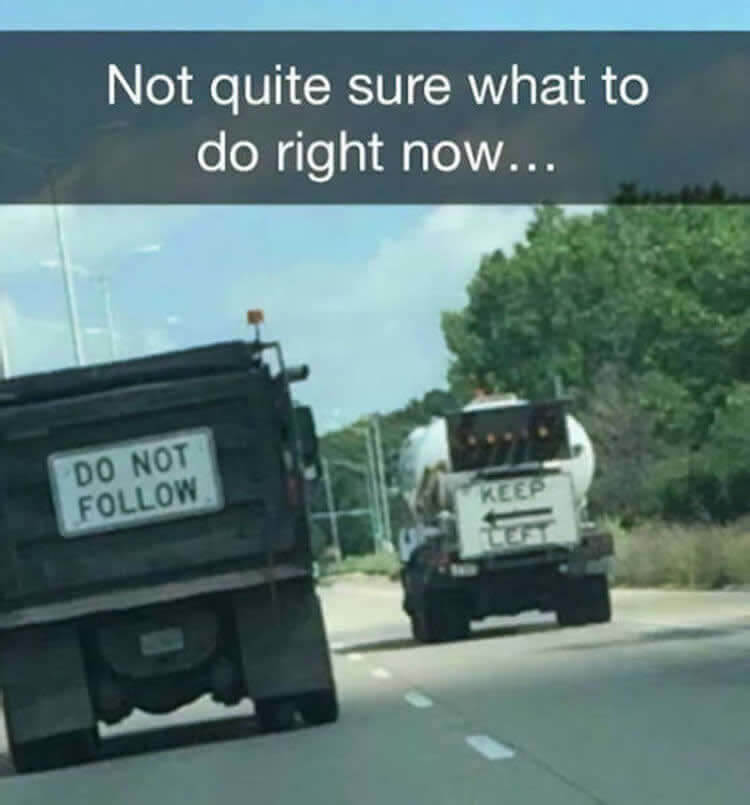 This is a tricky situation and one can feel for the driver as he/she had to make a difficult decision. Maybe he phoned a friend to get a suggestion (and got a ticket for using a phone while driving). 
19. Where's Marge?
From looking at this picture, one thing can be said for sure that Homer is not riding with Marge.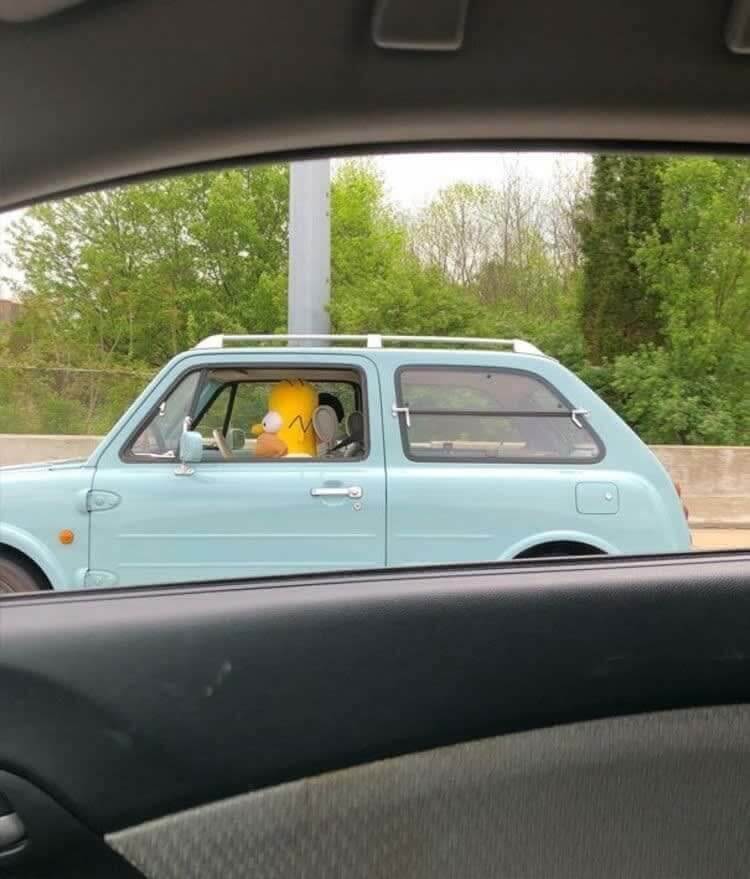 Why we know it for sure? Well, if Marge was sitting with him, her hair would've already pierced the rooftop. Nevertheless, Homer looks pretty determined to go wherever he is going.
20. Pokemon Fan Spotted
This vehicle owner just wants to display his love for Pikachu and no one is judging him.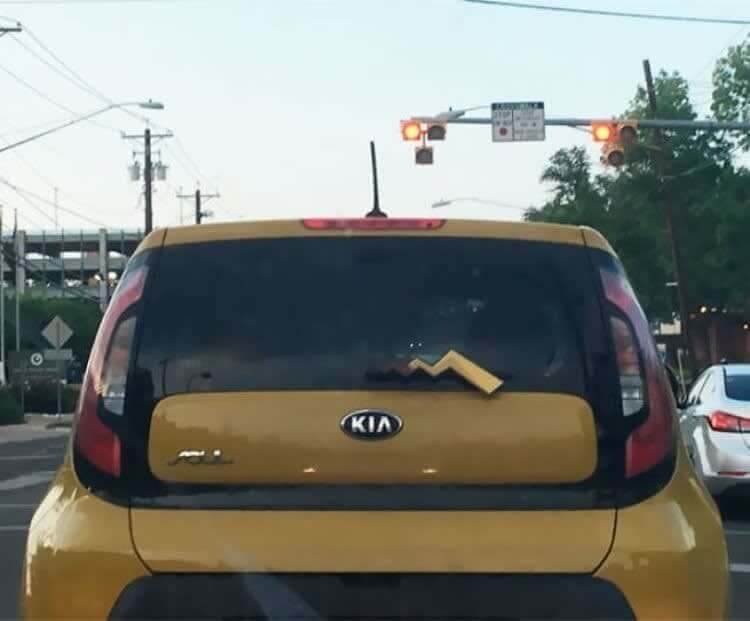 After all, Pikachu is so adorable. We just hope the car doesn't have the special power of static.
21. "Okay, I'll be waiting in the car"
It seems like his girlfriend told him "I'll be ready in just a couple of minutes." But he knows his girlfriend and that's why he came prepared to kill off boredom.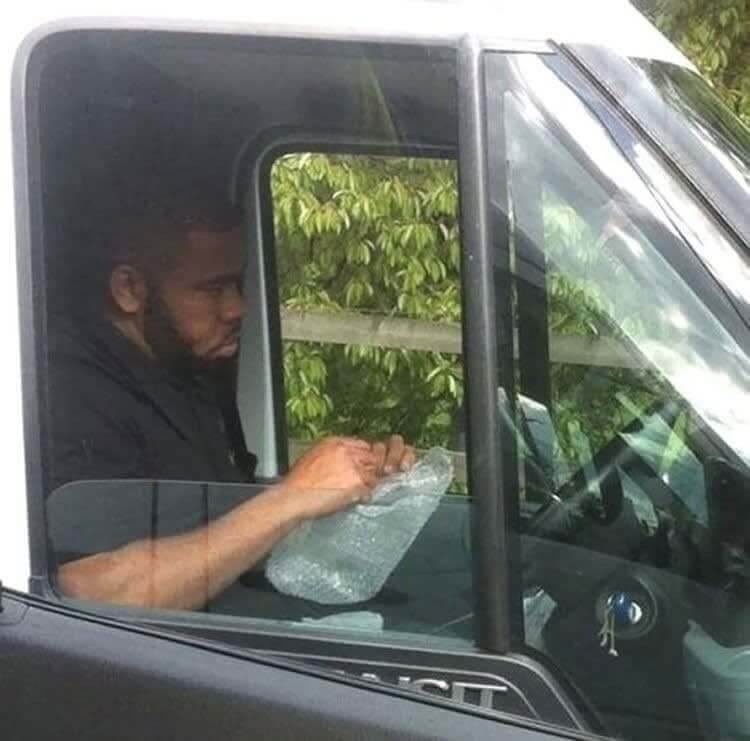 He knows it won't take a couple of minutes and he is ready to even wait for eternity. Mad respect for you man! 
22. A Perfect Trap?
Well, this picture looks fishy. You may think of it as a harmless picture after looking at the bowl of peppers.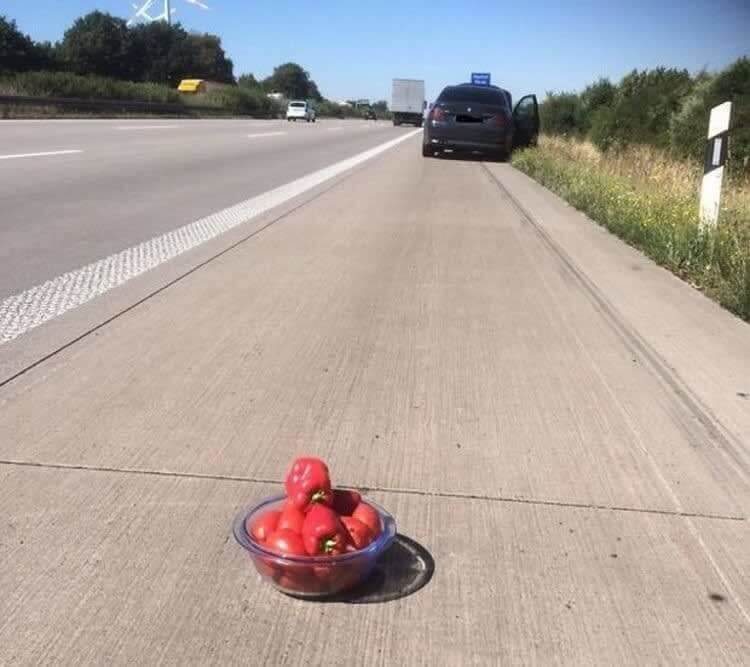 But why doesn't the car have any license plate? We just don't want to know and it is best to leave some questions unanswered. 
23. What Fragile Item?
Shifting to a new home can be really stressful.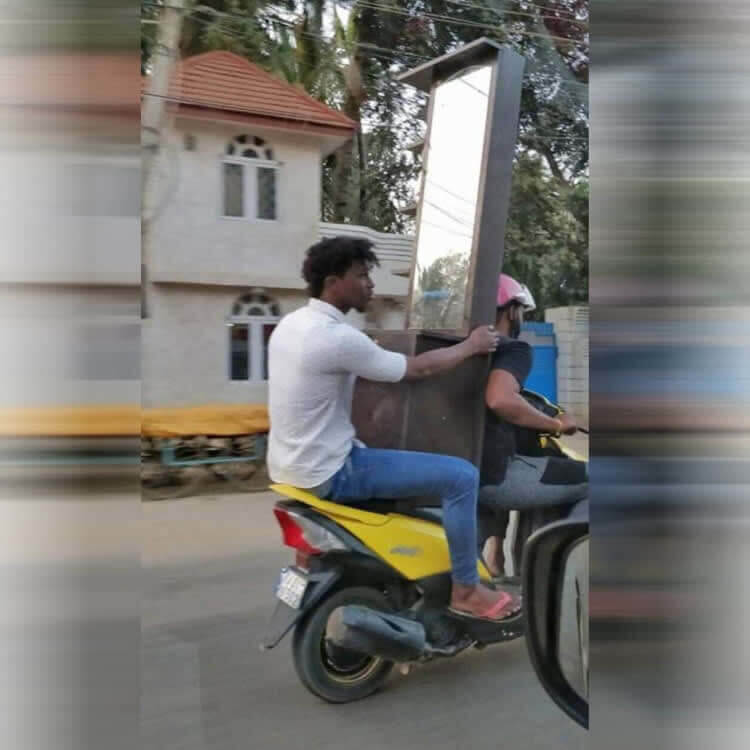 The best way to save some money is to not call the movers and just shift all the items yourself, even if those items are fragile. 
24. Enjoying The Ride
If you are thinking that it is a muzzled llama, you are so wrong. It is just an illusion and it is best you take some rest.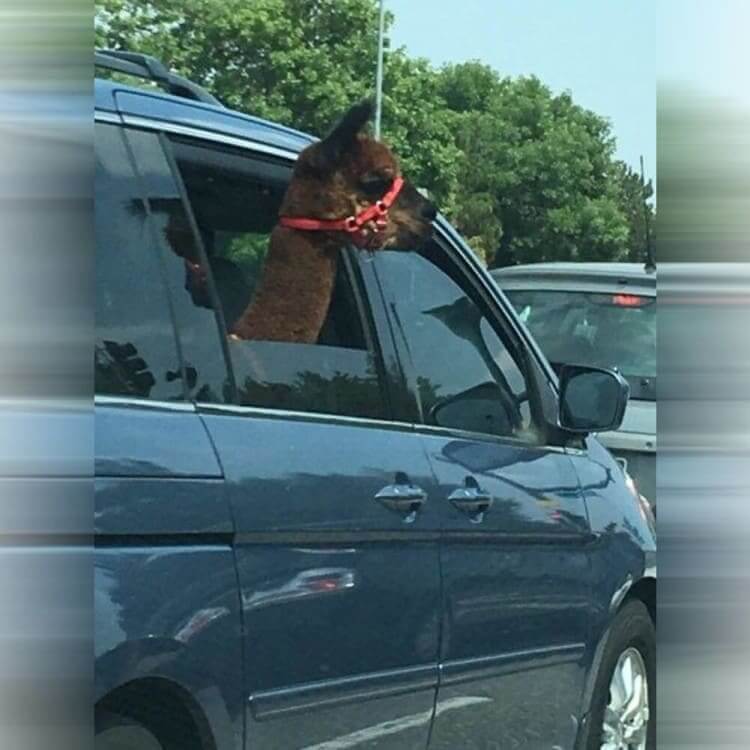 Just forget you ever saw this picture, okay. 
25. Doing Business Anywhere
You need to have the brain to do business and this is a clear example of that. It is best to set aside the legality because there won't be any police coming in such a traffic jam.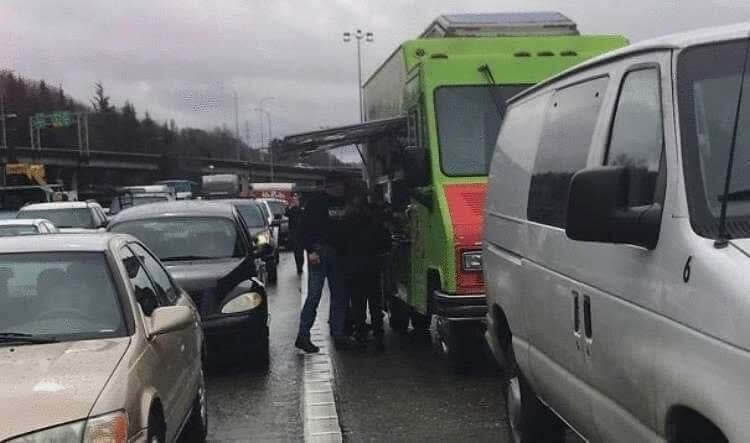 You got to make money, right? So, hats off to this good business strategy. Let's just hope that this guy doesn't wait for traffic jams to happen to run his business.
26. Buffy is that you?
Although the famous American drama series Buffy the Vampire Slayer ended in 2003, it seems as if she has decided to make a comeback.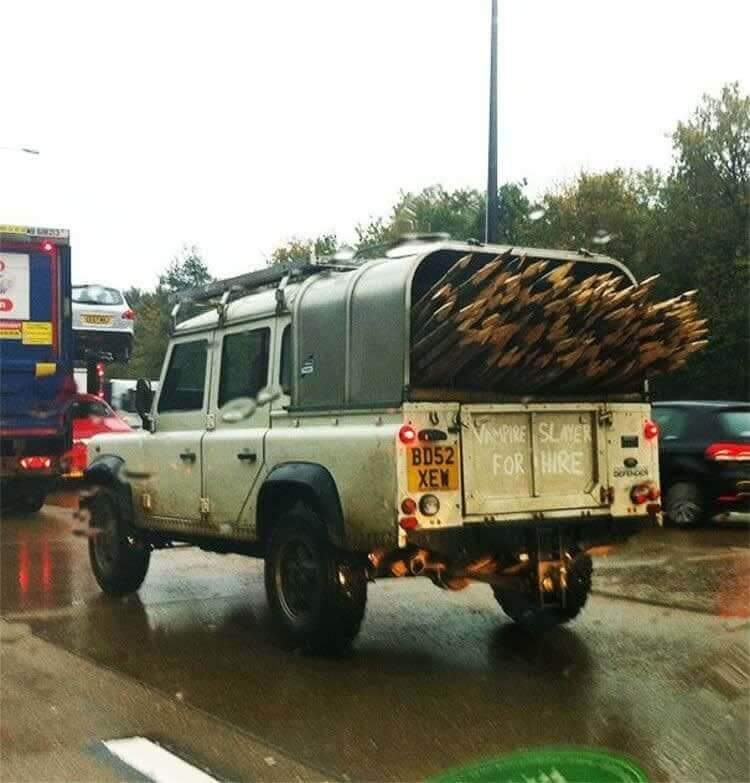 However, if you look at it professionally then one can say that it is not that safe to drive around with those spikes.  
27. Barbie Lover
Well, it is a dream of every biker to have such a hot companion. But jokes apart, it is hard to think what message this driver wants to convey.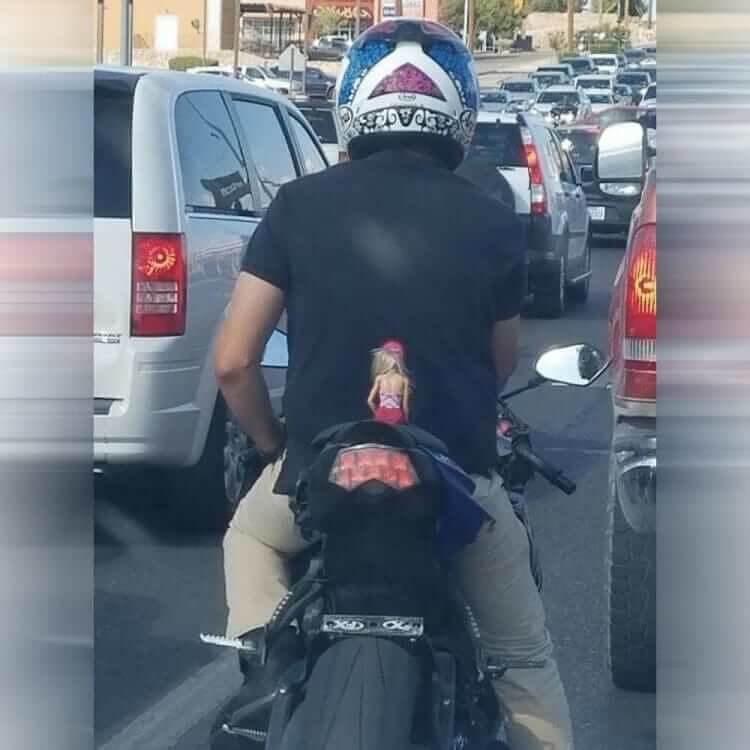 Maybe it is just to get some attention or there is a possibility that he might be lonely.
28. "You Shall Not Pass!"
By the looks of it, Gandalf isn't going to let this driver pass. So, it is best to just wait for the right moment or just pull over and wait for Gandalf to go somewhere.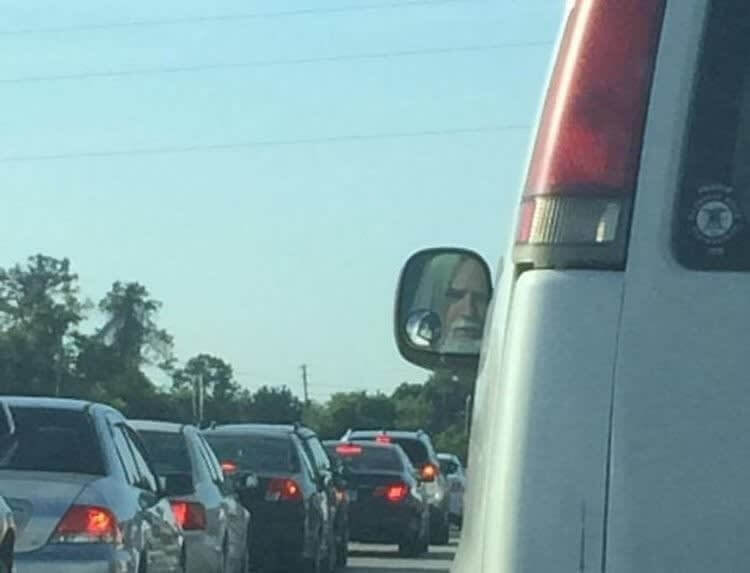 Jokes apart, this is the best wizard impersonation ever.
29. Got That, Han?
One can only wonder how many complaints this traffic crew received that forced them into coming up with this idea. They are not superhumans.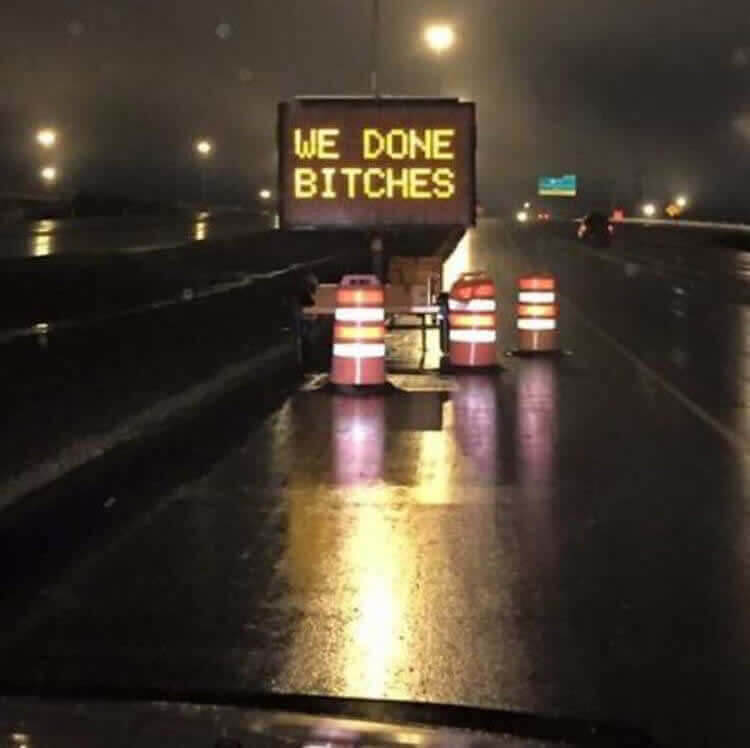 People can sometimes be so impatient. So, it seems right for the traffic crew to come up with this sign. 
30. Precious Cargo
It is said that it took over an entire week to load this enormous truck on the back.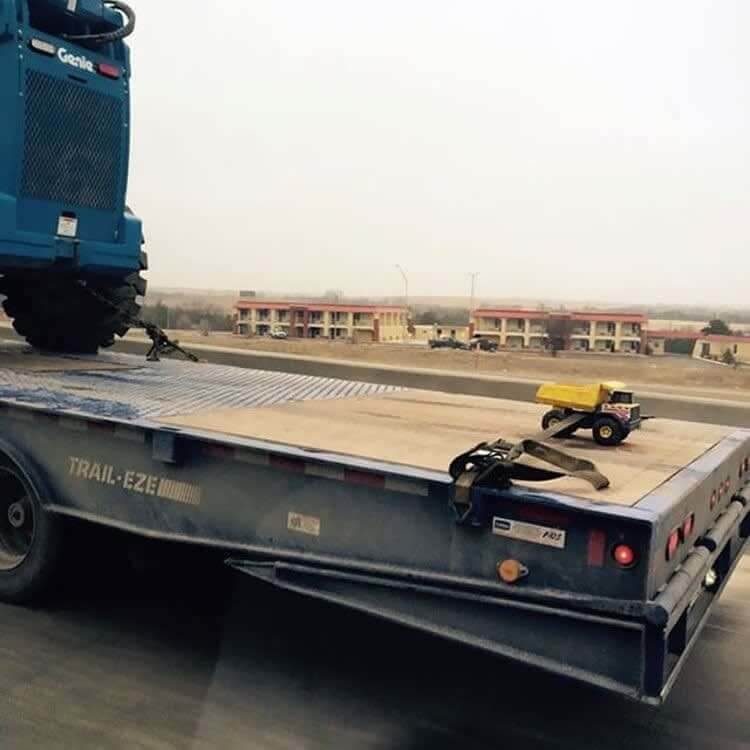 After all, it was an attempt to keep father and son close to each other.
31. Convenient Traveling
These guys understand that there is an advancement in the automobile industry, but they wanted to take things to the next level by setting a new precedent for others to follow.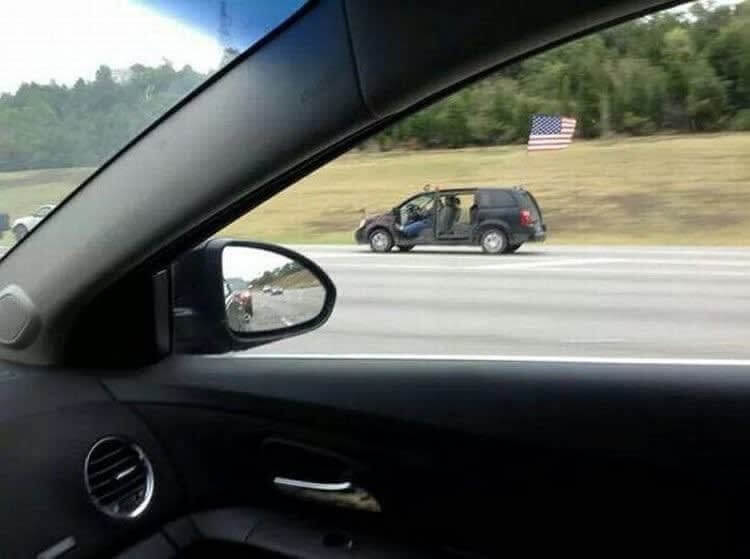 We are not sure a lot of people will follow them, but then again, people do follow some weird stuff these days. 
32. Unfinished Business
This chicken looks suspicious and although there are many theories about it, one that has been confirmed is that this chicken had some unfinished business at KFC.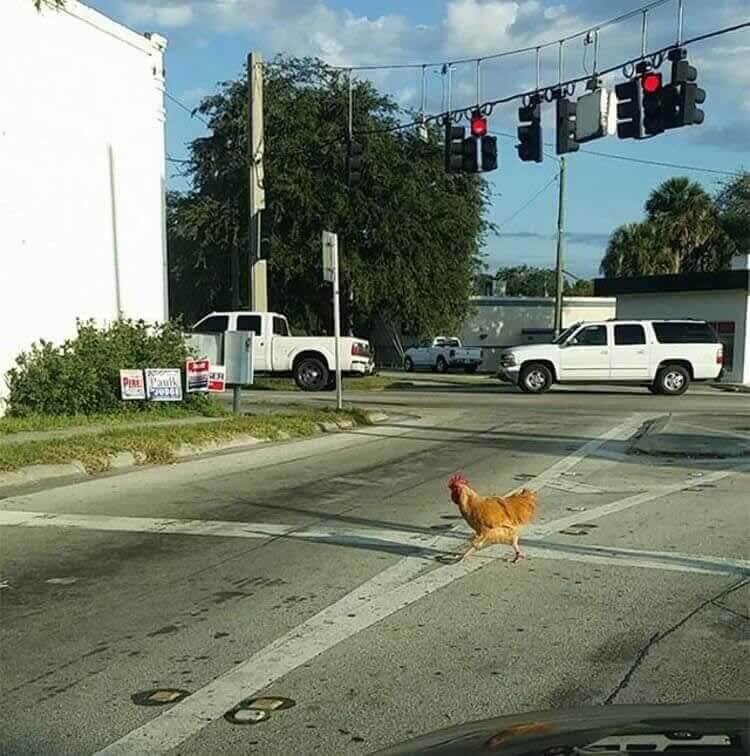 With the way this chicken is walking, one can only assume it all went okay for the chicken but not for KFC. 
33. "Don't Worry, We'll Pass Right Under It"
The driver had one basic thing to know and that was the height of the truck. We can only assume that he didn't pay enough attention to signboards.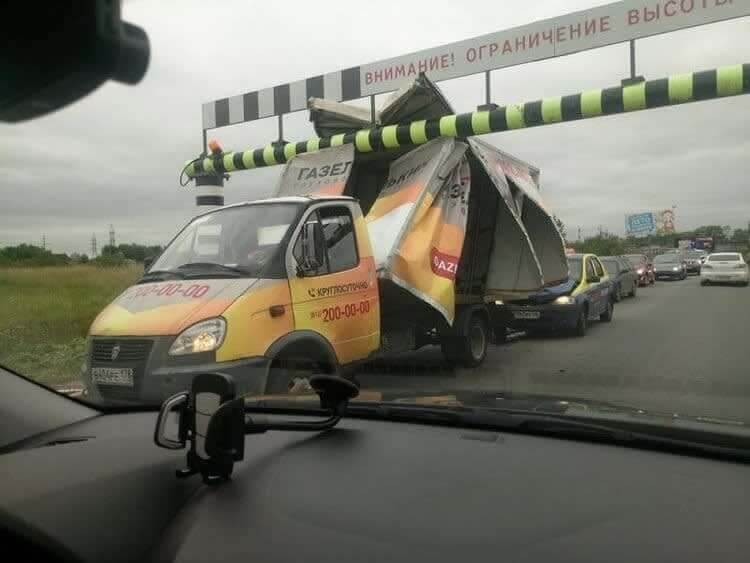 We just hope that he learned his lesson after this embarrassing accident.
34. Fresh Air is So Underrated
A fresh breath of air is something that everyone should strive to get, even if it means driving on an ice-covered highway with the top down.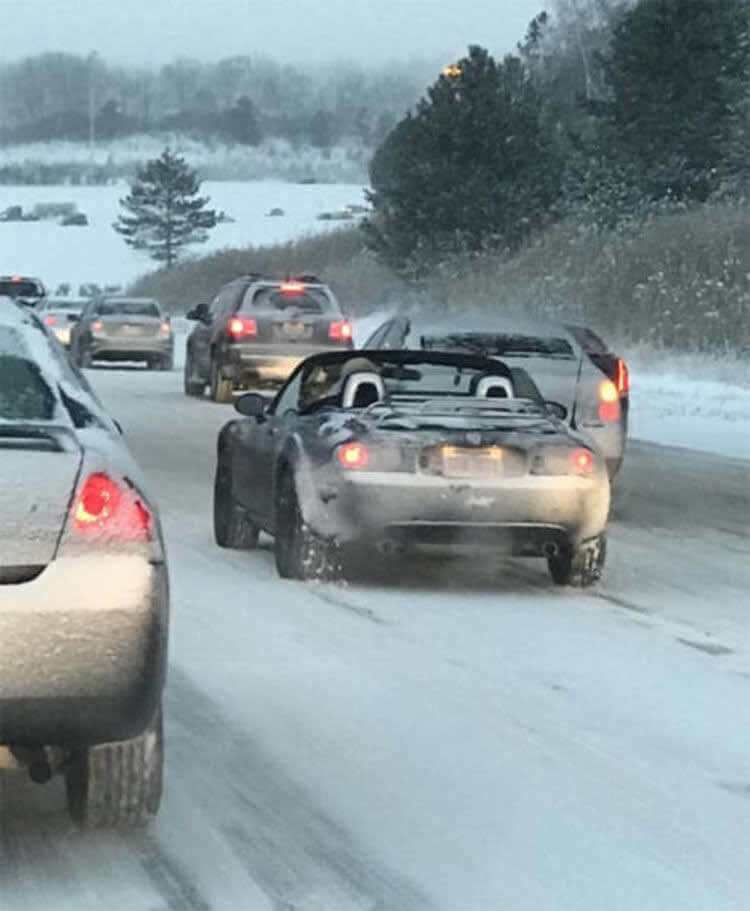 Although you may have to fight back the chances of getting frostbite, you do what you need to do to get fresh air. 
35. Different Ways to Get Cool Breeze
This guy is good-looking, rich, and a bit too tall. That explains why he looks happy. He just has to poke out his head to drive comfortably.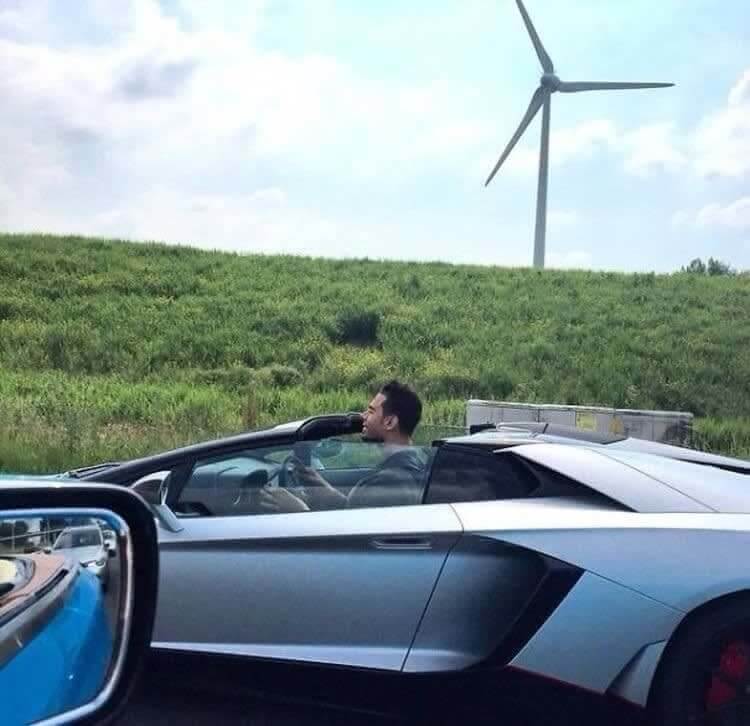 What if it wasn't a convertible? We wonder he always needs to poke out his head from the window to get a clear view.
36. Learning From Past Experiences
This guy has been pulled over so many times that he knows what's coming for him whenever he is stopped by a police car.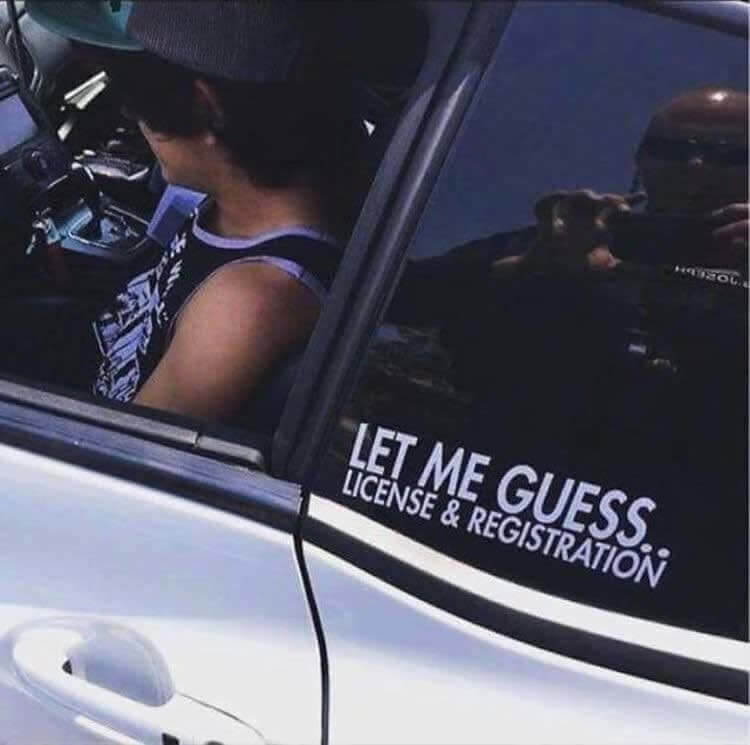 He is a guy who values time and that's why he just wants to be on his way without wasting valuable minutes on useless questions and answers. 
37. Ready For Halloween?
There are a few things you don't want to see on the road and this is definitely one of those things. 
It is still worth watching to see who they pick up next. Perhaps they're going to pick up Freddy. 
38. The comfort of the Home on the Road
This is such a cool picture because you don't find such people who don't care what others think about them and they just do what pleases them.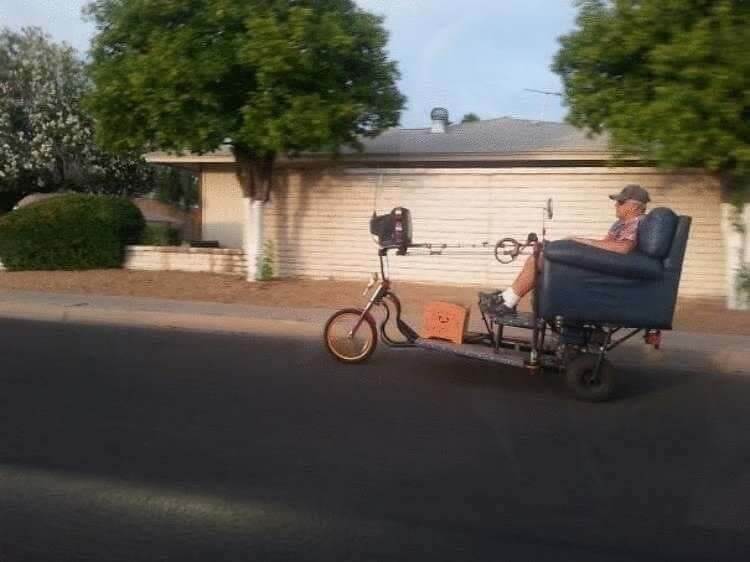 This fella is certainly riding down the road in a recliner just like the boss.
39. "Oh, There is Still Some Space Left"
It seems as if the people driving this truck wanted to complete the job in one go.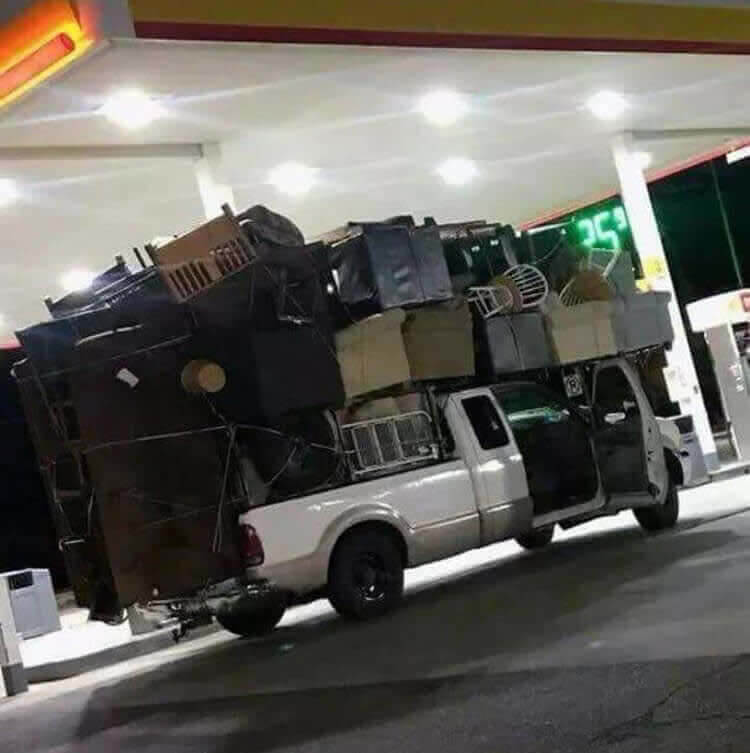 Hence, they decided to load up the truck to its maximum capacity and kept on loading more items until it started to look like this. One wonders how the truck was able to come to the gas station.
40. Who Needs GPS, right?
When you have the globe, there is no need for technology to help you get to various places. The driver actually doesn't trust the technology and nobody can blame him why.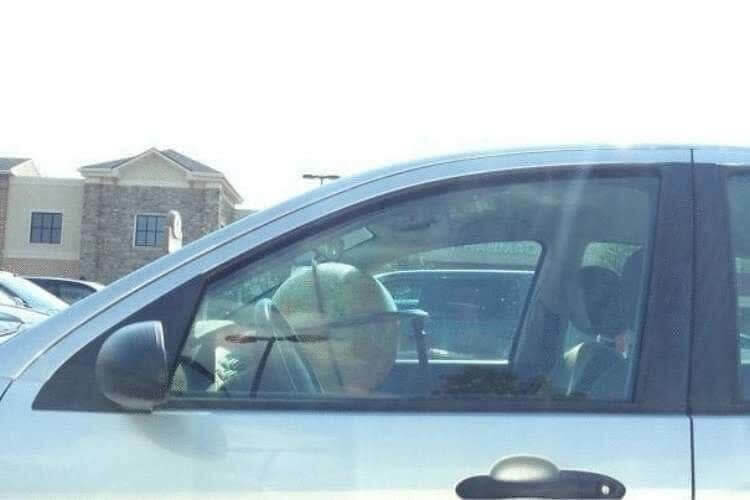 To his credit, he did get a good globe and who knows maybe it actually worked.
41. Dual Jobs
This is some next level marketing. If you have a dream to ride with a sheriff, then this is the cab for you.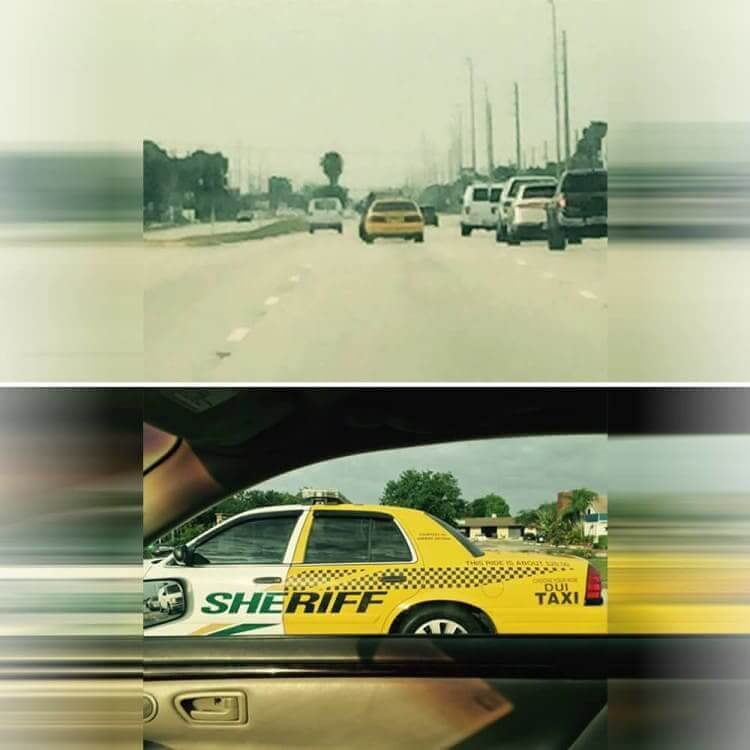 The good news is that you won't be going to the police station.
42. Good Old Days
Grandpa had this older piece with him for too long and he finally decided to astonish everyone with this blast from the past.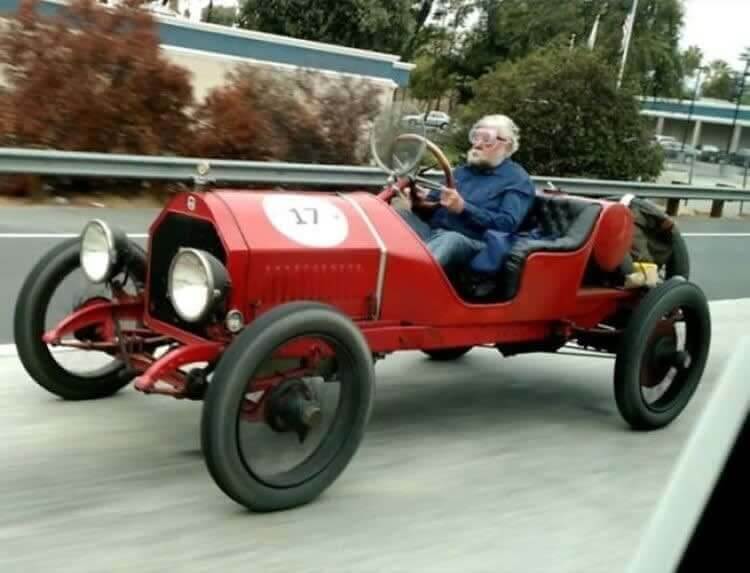 We are certain that this cool ride made a lot of people jealous.
43. Humor Can Send the Message As Well
We all love people close to us and we try to do everything to keep them safe. This picture shows how humor can be used to send a message to people who sometimes drive a bit recklessly.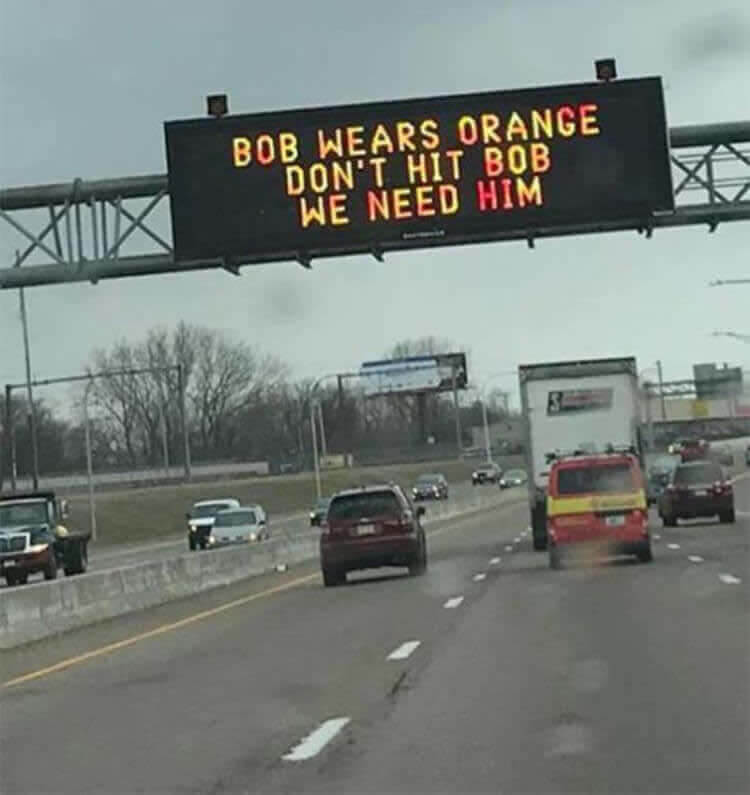 We're certain everyone made sure they drove extra carefully.
44. Pretending to Be Someone Else
You can't let anyone tell you what you should and shouldn't do. If pretending to be driving some other car makes you happy, do it with a proud face.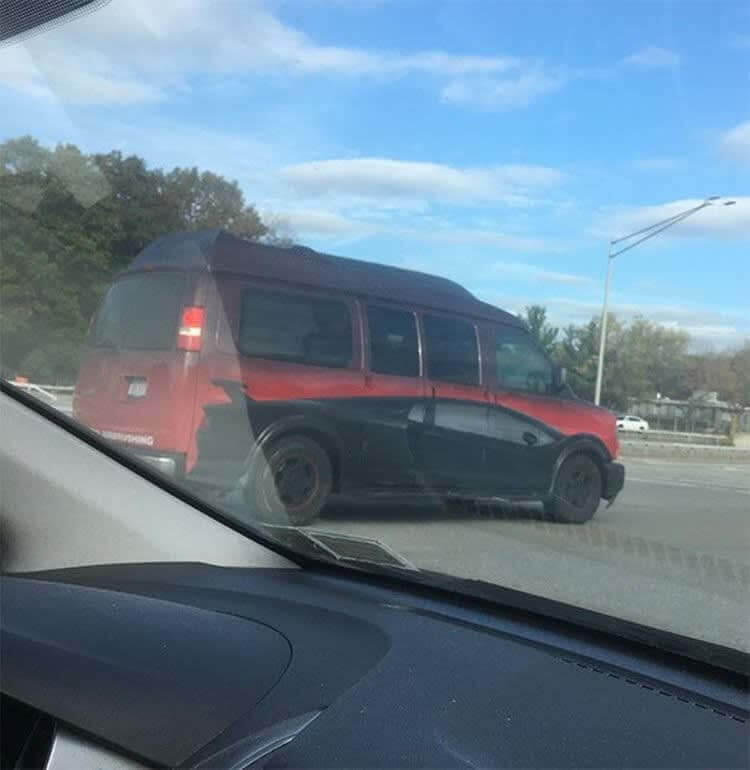 As the owner is happy to drive two vehicles, we are happy for him.
45. Most Effective Tip on How To Save Money
Everyone is trying to save money, but they are not as determined as this guy.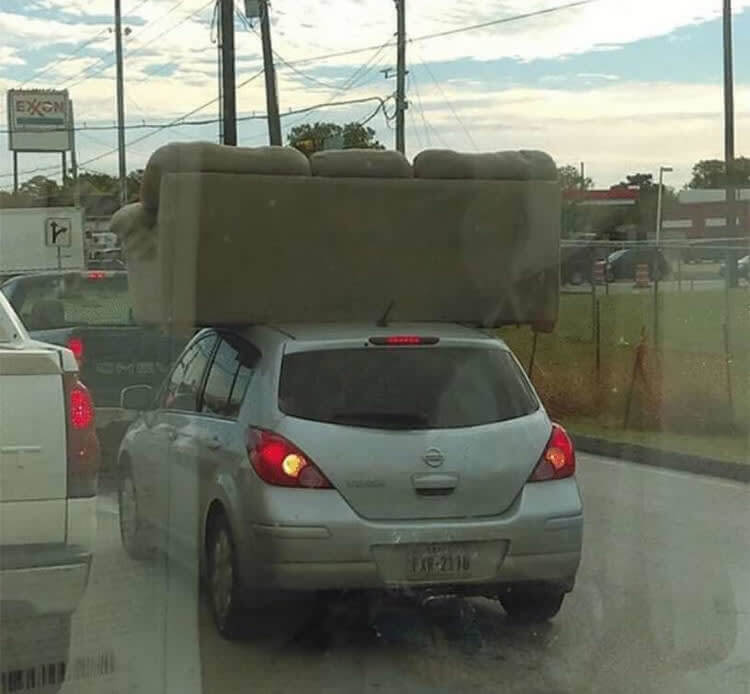 One thing is for sure that this guy doesn't want to waste his money even if it means endangering the lives of others. That's the spirit!
46. Behind you!
Look at that furry friend...
Show me what you got, tough guys :)