One thing can be said for sure: perspective is a really beautiful thing. If you truly want to appreciate something, you should do it by making comparisons with slightly altered parameters. Here we have gathered a series of beautiful photos that will shake up your perspective and reveal the world in a new light.
1. 11 Days Difference
This is nature doing a good job. What you are seeing is nature at its best because no amount of tall buildings can compete with this simple beauty.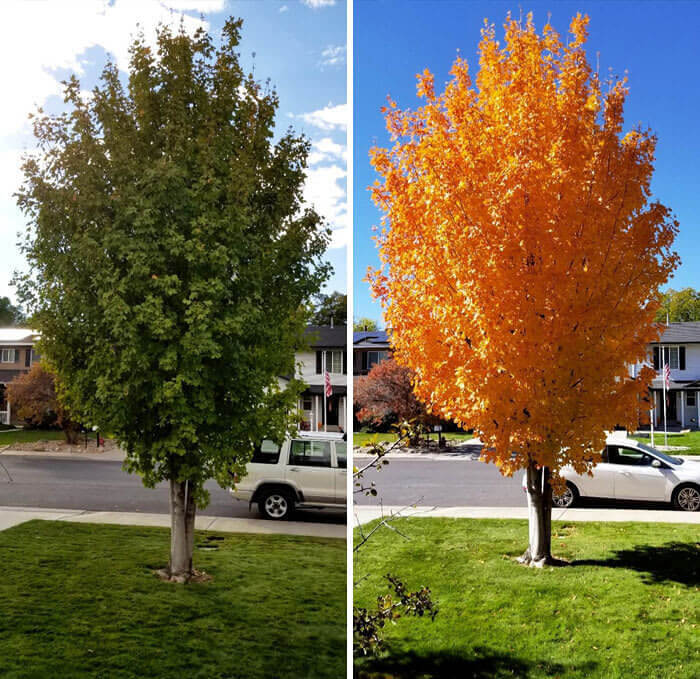 In just 11 days, the leaves of this maple tree changed their color from green to yellow. Welcome autumn!
2. Ski Trail: Summer vs. Winter
This ski trail delivers something to cheer about to all kinds of people. That's nature for you.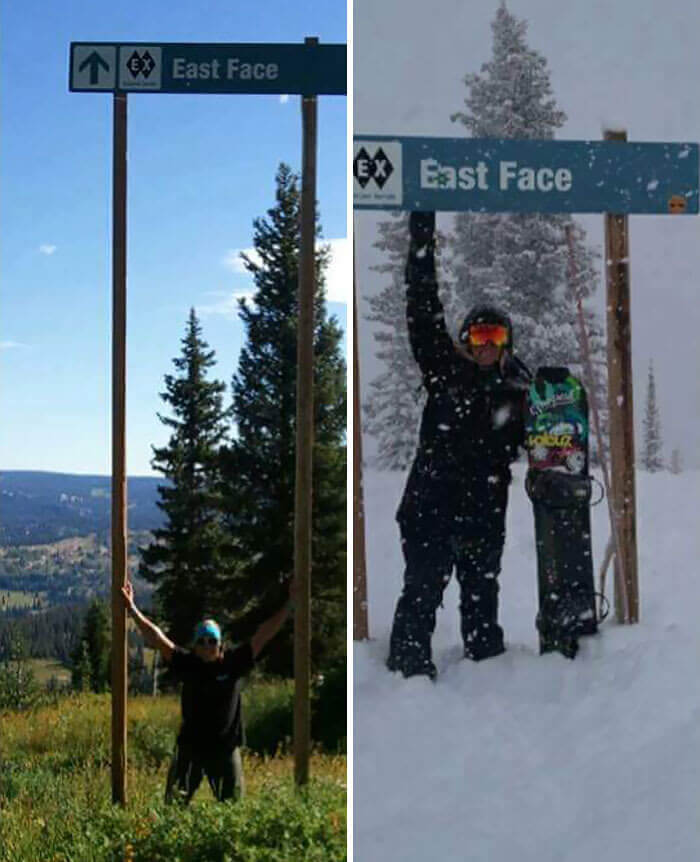 It becomes a great mountain climbing trail in summer and turns into a skiing paradise for avid snowboarders in winter.
3. Then and Now
The journey of Noah from being a cancer patient to becoming a cancer survivor is truly inspirational.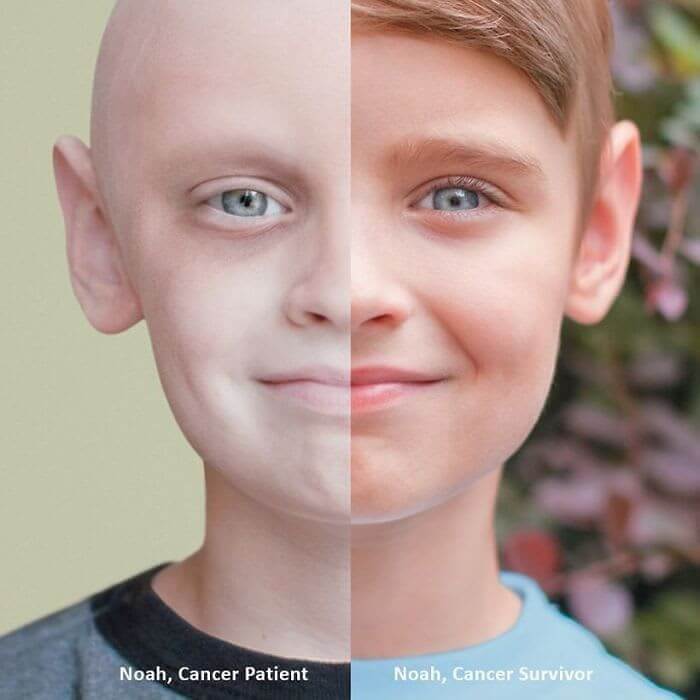 Even when Noah was going through his treatment, he had that spark of life in his eyes. Today, he looks more lively and full of hope.
4. Movie vs. Real Life
As new Lion King Movie just released, it was anticipated that someone would do this with their furry friend.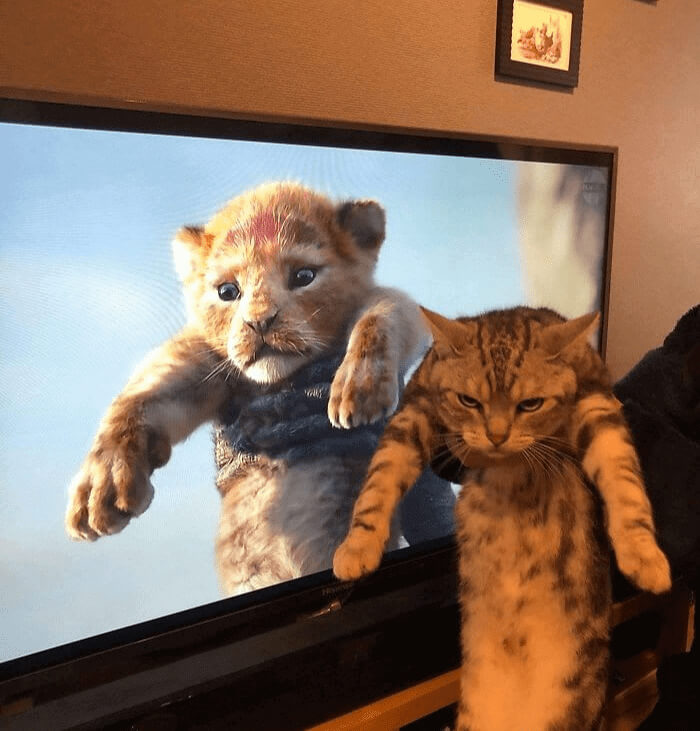 The look on this cat's face suggests that it is not pleased at all. It must be thinking "somebody going to get hurt real bad."
5. A Journey From Getting Adopted to Living Happily
This cute doggo named Asher was adopted in 2012. It looks pretty clear that he was afraid and uncertain at that time.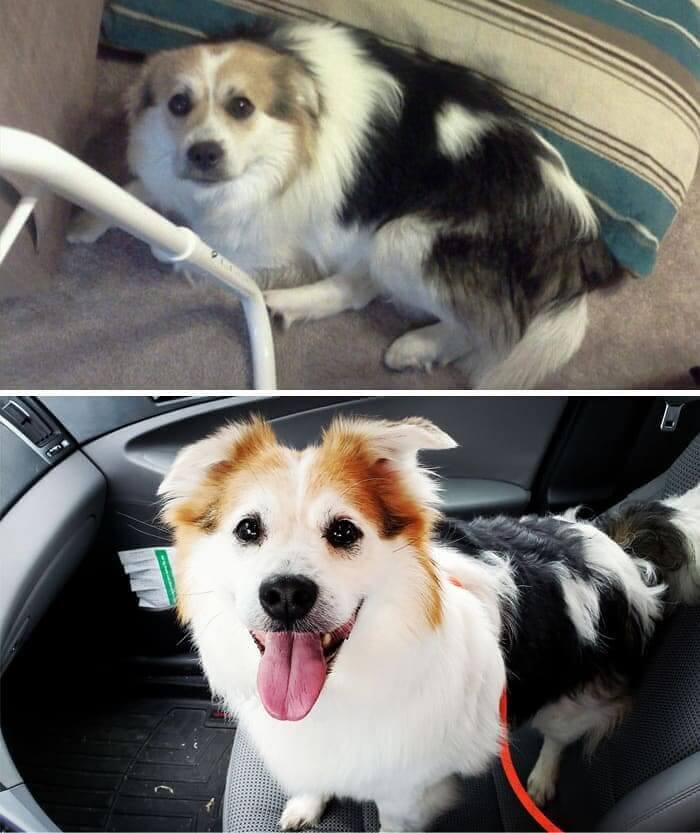 Today, he is living a completely different life. The family's decision to adopt this innocent soul changed his life. Look how happy he looks now. #AdoptDontShop
6. Two Skinny Cats, One Fat Cat
This is a hilarious comparison between two skinny cats (paw-steps on the right) and a fat one.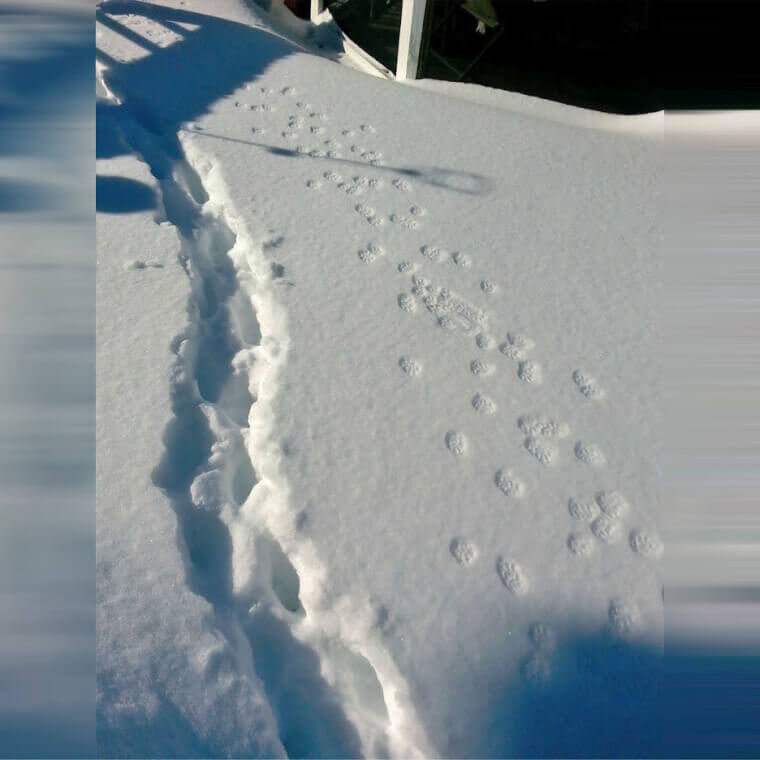 It looks as if the fat cat had to drag itself. Who knows this image motivated the fat cat to start losing weight.
7. The Striking Similarity Between Common Buzzard and B2 Stealth Bomber
The American heavy strategic bomber is one of the most feared aircraft in the world and its design is inspired by Common Buzzard.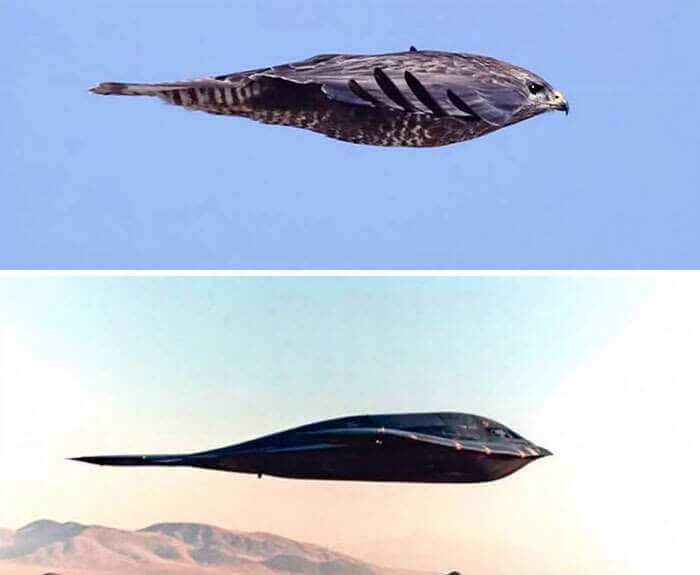 Given that the aerodynamic shapes of planes are often inspired by various Birds, this similarity is unbelievable.
8. Size Comparison of Maine Coon and American Shorthair
As one of the oldest and most popular natural breeds in North America, Maine Coons are known for their amazing size.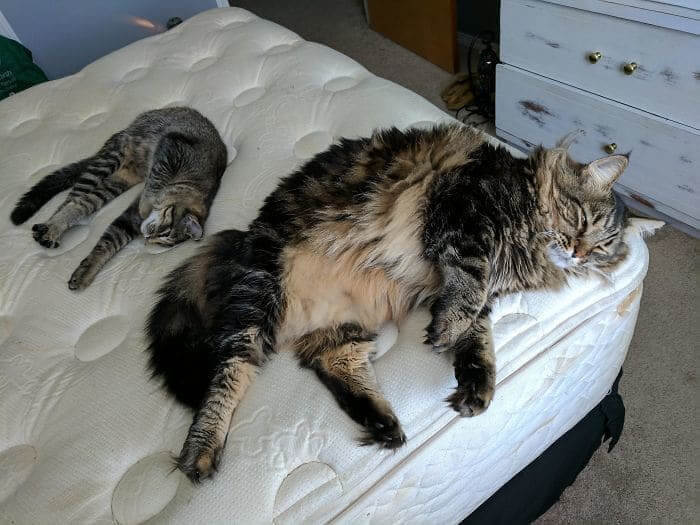 In this photo, the Maine Coon is compared to American Shorthair and the size difference is just remarkable.
9. Smiling Where It Matters
So the husband uploaded two pictures and compared the face of his wife on their wedding day to when she met Rob Lowe.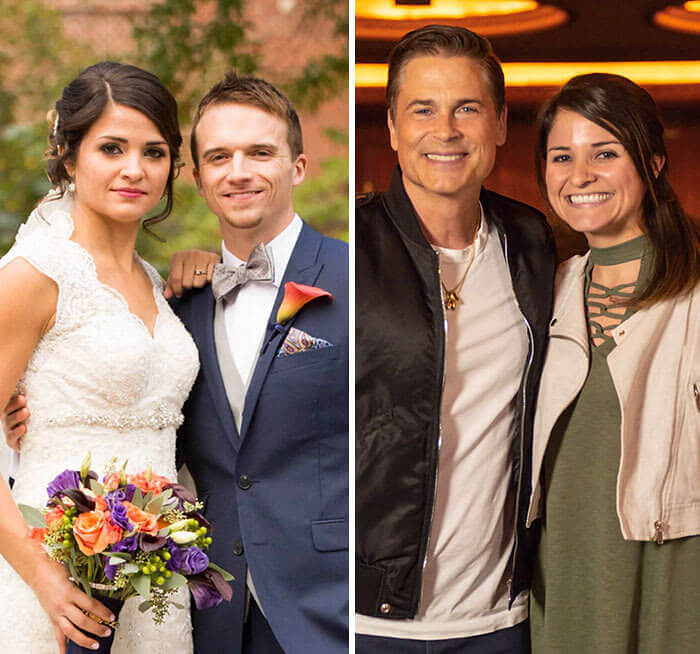 Apparently, she is a big fan of Rob and also she knows how to use her precious smile on the right occasion.
10. Friends of The Same Age
Yes, these two friends are of the same age. The person who posted this photo revealed that both her brother and his friend are 13 years old.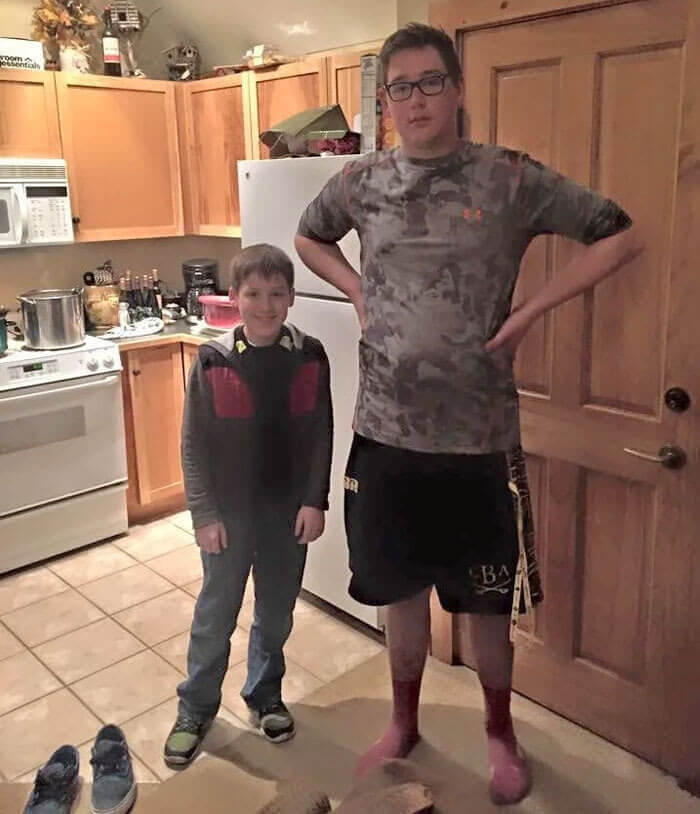 The family loves this height difference. We are sure no one messes with the little guy.
11. Smoker vs. Non-Smoker
This comparison photo perfectly illustrates the negative health effects of smoking.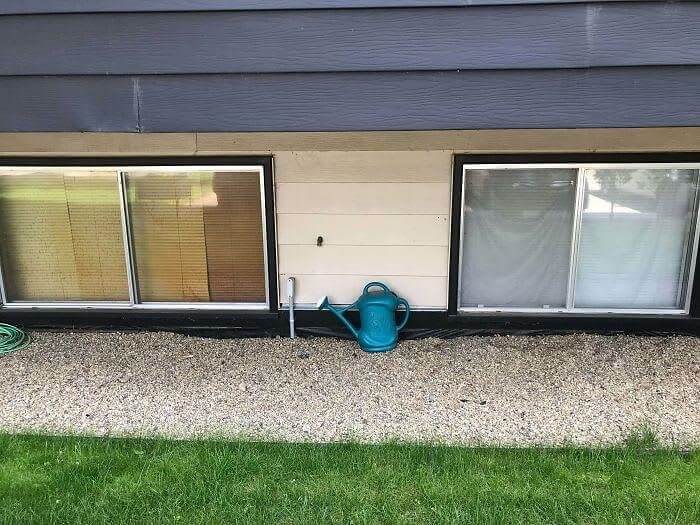 We hope this picture helps you understand why smoking is the leading cause of heart disease and lung cancer. If you are a smoker, we would urge you to quit it as it is never too late.
12. The Size of Tornado vs. The Size of Wind Turbines
Did you know that tornadoes can get around 500 feet (150 m) across on average and travel on the ground for 5 miles (8.0 km)?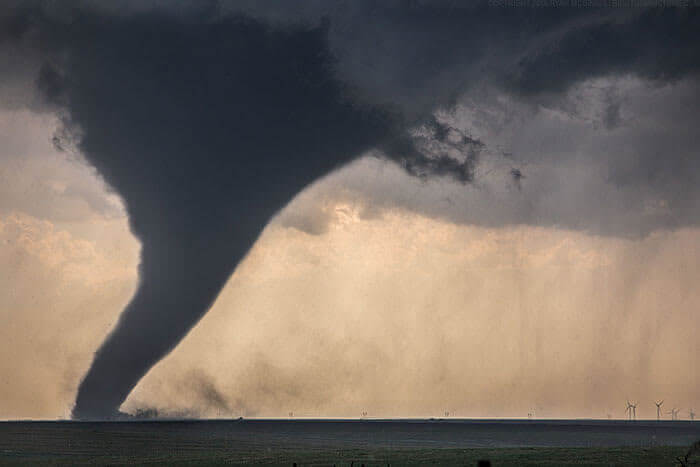 This picture shows how small wind turbines are when they are compared to a humongous tornado.
13. Fun Time vs. Bath Time
This doggo was having a great time at the beach. The left picture shows he has nothing to worry about and everything is super chill.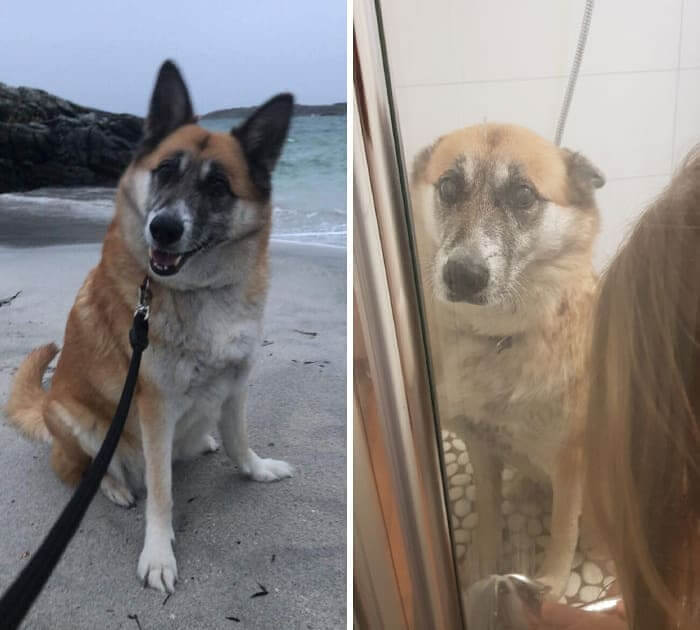 However, it all changed when it was time to clean his adorable paws.
14. The Difference in Light Bulbs 25 Years After the Fall of The Berlin Wall
The Berlin Wall was destructed in November 1991. This photo which was taken from space shows its impact.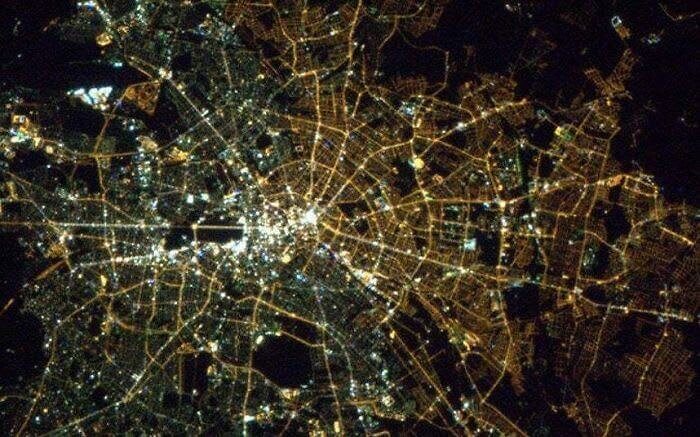 The difference in light bulbs shows two sides of the capital of Germany.
15. Ken 1985 vs. Ken 2018
Is it just us or the Ken of 1985 looks like Robert Redford?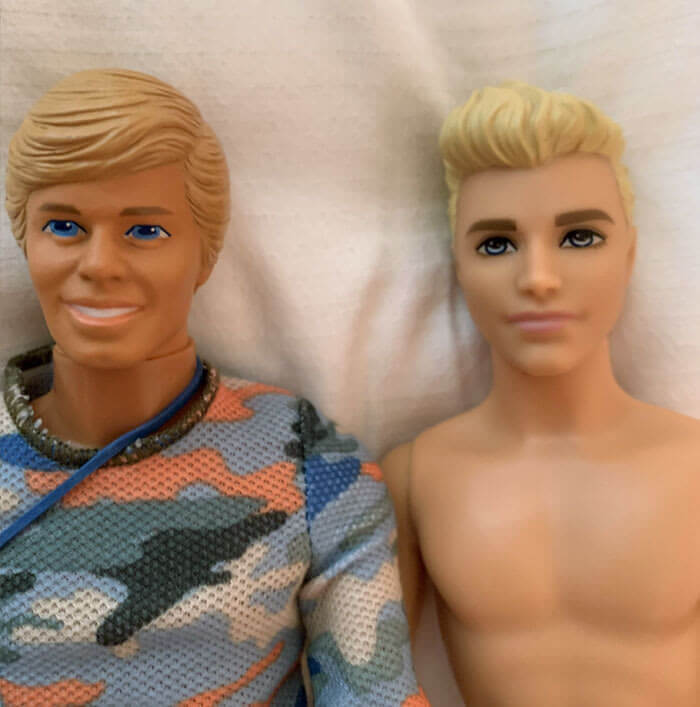 Well, Kenneth Sean "Ken" Carson was introduced in 1961 and it can surely come a long way.
16. Fluffy Corgi vs. Regular Coat
"Hello, I would like one corgi, please. And could you please make it fluffier?"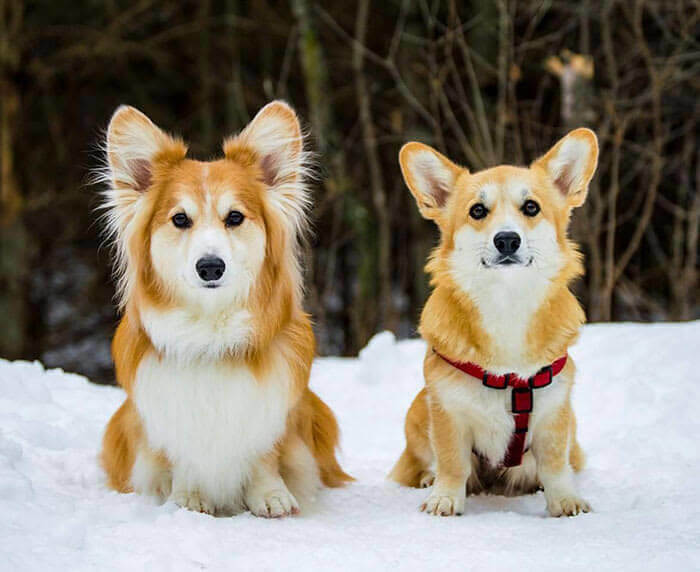 Fluffy or regular coat, we just love these adorable cuties.
17. Brain of Shark vs. Brain of Dolphin
This photo compares the brain of a shark and dolphin and shows the stark difference between the mass of their brains.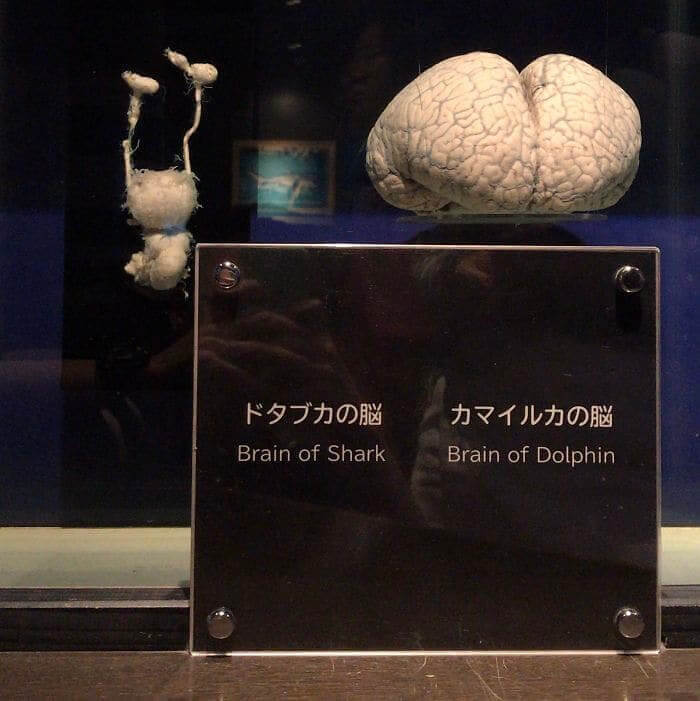 That explains why dolphins are considered intelligent creatures. Although sharks are smart as well, dolphins are just smarter than them.
18. Human Skeleton vs. Gorilla Skeleton
If you notice, there are huge dents on either side of gorilla's skull behind the eyes. Here, massive jaw muscles are located that gives them an immensely strong bite.
Thanks to the evolutionary process, humans and gorillas are related to each other. It is worth mentioning here that humans have 23 pairs of chromosomes, while gorillas have 24.
19. Bee Stinger vs. Needle
This is a microscopic look at bee stinger and needle. Fascinating, right?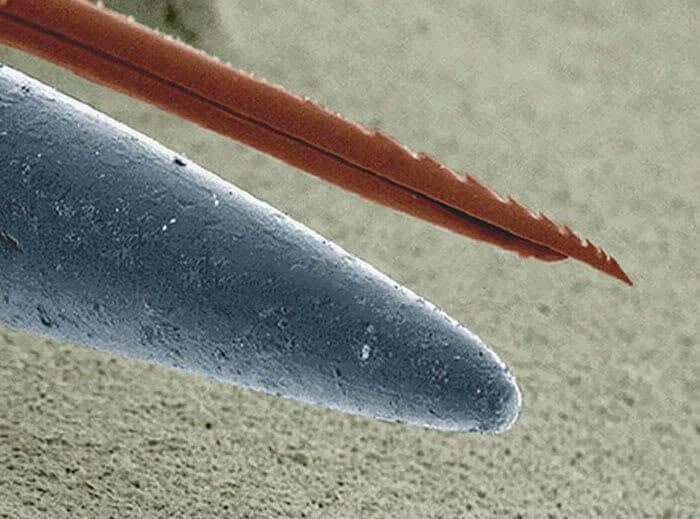 The bee sting is so thin and what makes it more interesting is that it has a venom sack that continues to pump venom into the body as it stays intact.
20. Living Next to Ocean: Outside Knob vs. Inside Knob
Given that salt is incredibly corrosive, seeing the outside knob in such terrible condition is not a big surprise.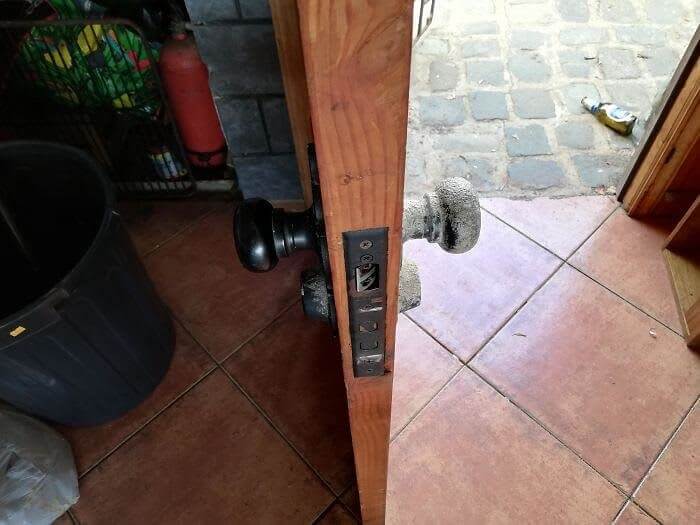 If you live next to the ocean, it is best to use A4 quality stainless steel or solid brass.
21. Barcelona During The Day vs. During The Night
Barcelona is considered one of the world's most beautiful cities and this picture shows two different sides of this city.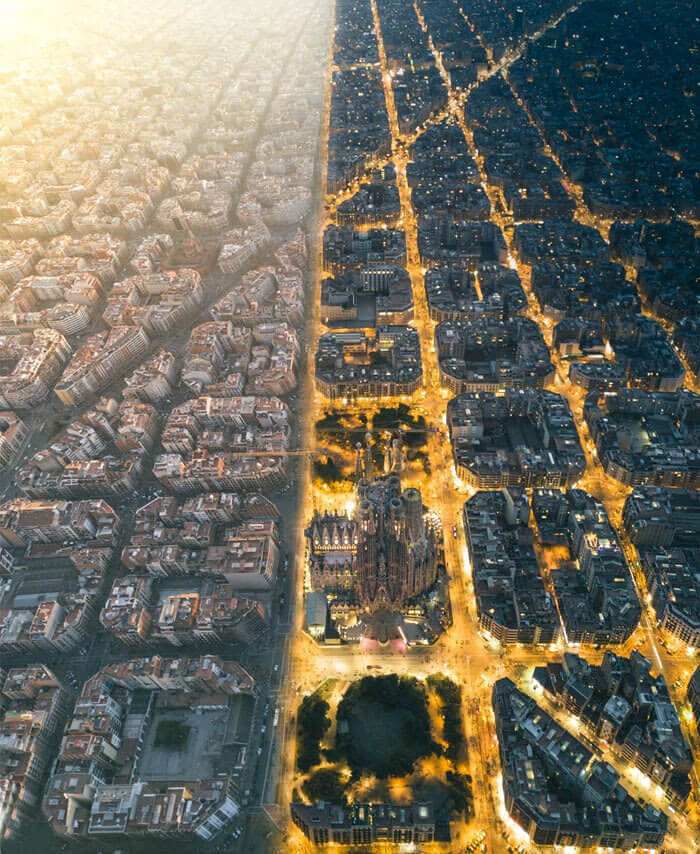 The day time and the night time of this city are different and the photographer perfectly captured them from an aerial view.
22. A Comparison Between World's Smallest Computer and A Grain of Rice
IBM announced in 2018 that it has made the world's smallest computer, measuring just 0.33mm on each side.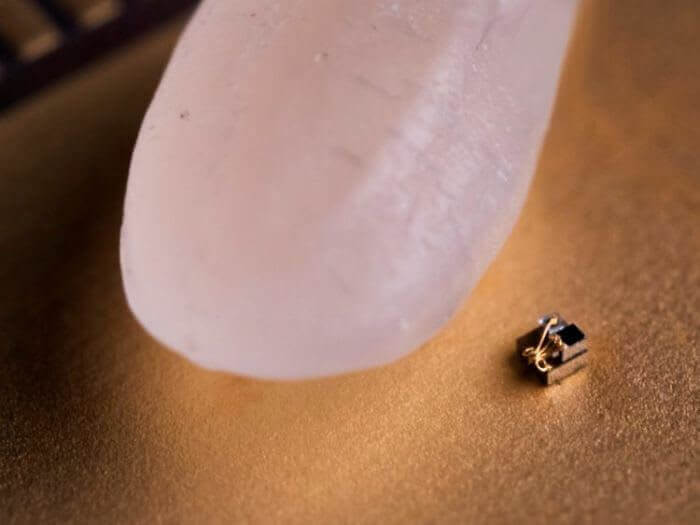 The world's smallest computer can be used for monitoring oil reservoirs and biochemical processes. Wow!
23. Tap Water and Sparkling Water in A Glass
This is what happens when you tell the waiter you want water that is "with and without" gas.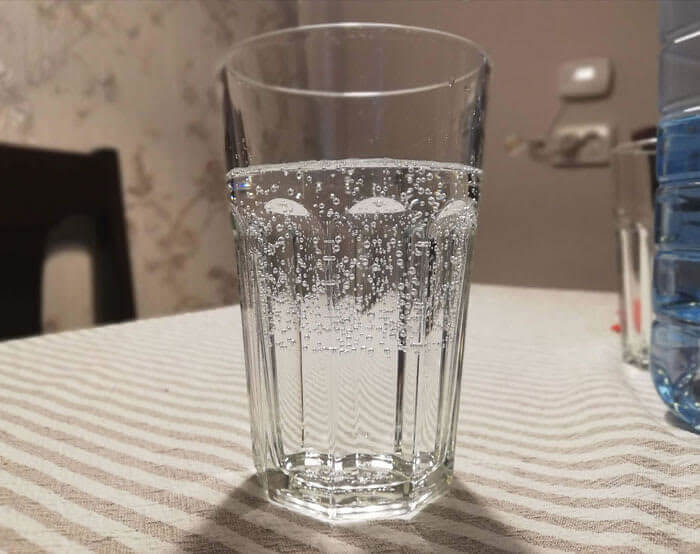 As gas tries to rise, you should pour tap water first and then carefully pour sparkling water on top.
24. A Norwegian Soldier: 75 Years Ago vs. Now
Norway adopted a variant of 1911 as their standard service pistol in 1914 and that was made at the Kongsberg arsenal.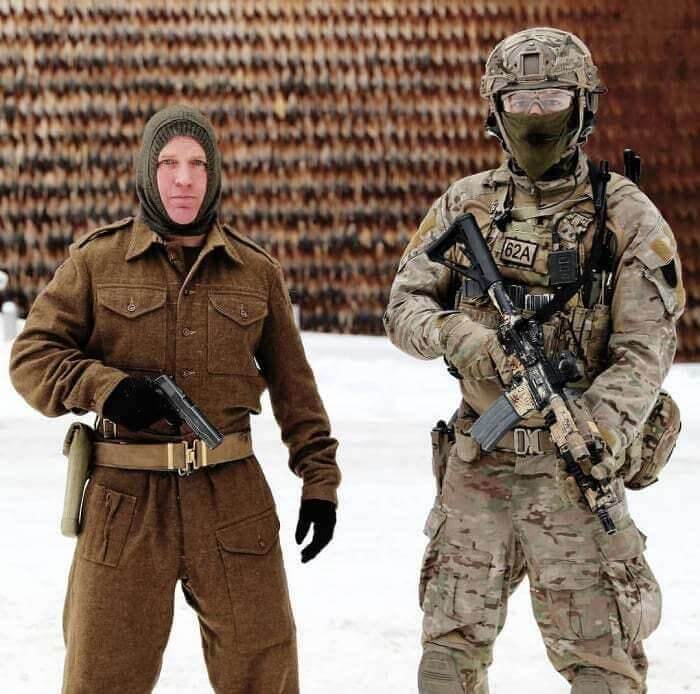 It has changed a lot over the years and now soldiers have become more tactical and advanced.
25. He is 6' 3"and She is 5' 2"
So, a guy posted this photo online to show the difference between his jeans and his wife's jeans.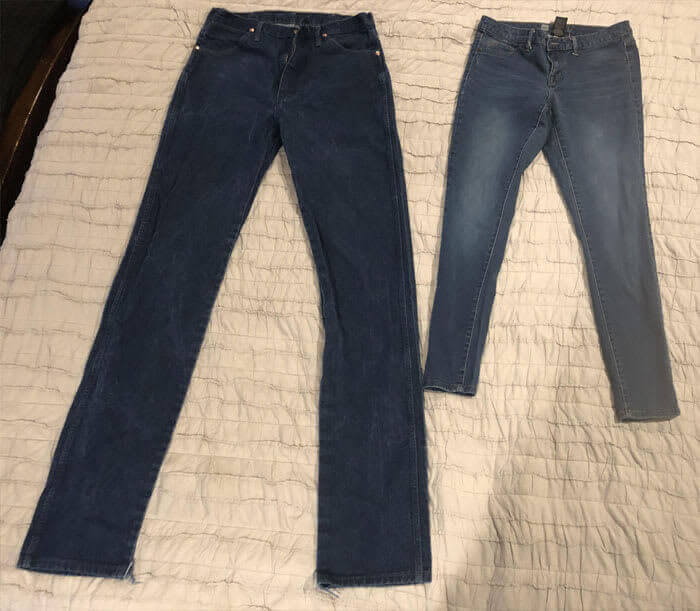 Short people are quite lucky as they don't have to go through much trouble to find clothes of their size.
26. Before And After Comparison Pictures of A Street In Surf City, NC After Florence
These pictures show that people living there are playing the long game.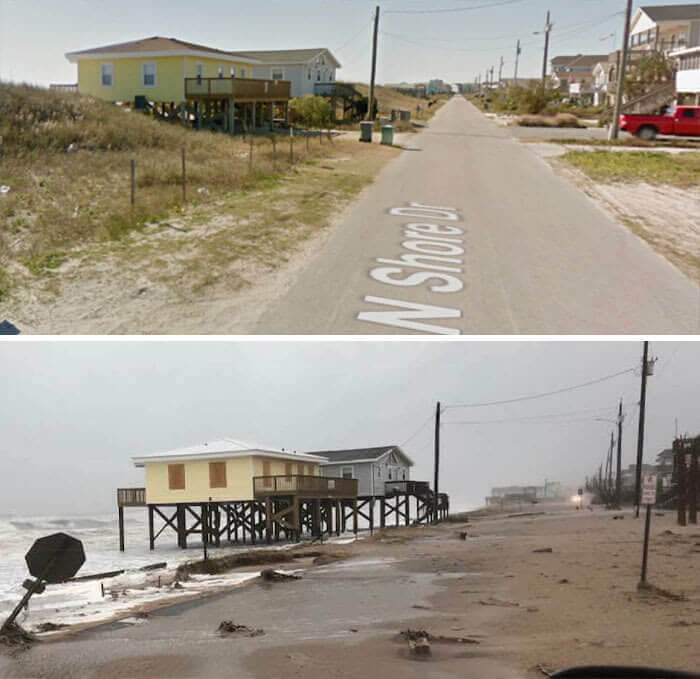 They have patiently waited for the beach to move to their front yard.
27. The Milky Way: What You See with Naked Eye vs. What Comes Out of the Camera
Many people who take the Milky Way photos are asked whether seeing through the camera and naked eye are same or not?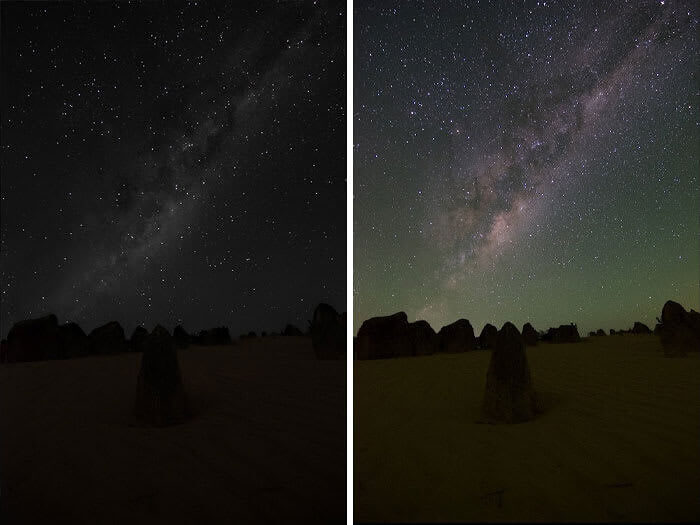 The photo on the left is directly out the camera, while the photo on the right isn't perfect representation but it is pretty close to how someone would see it with the naked eye.
28. Stairs Built in 1829 vs. 2005
Old times were the best right? Well, at least the construction material used at the time was of good quality.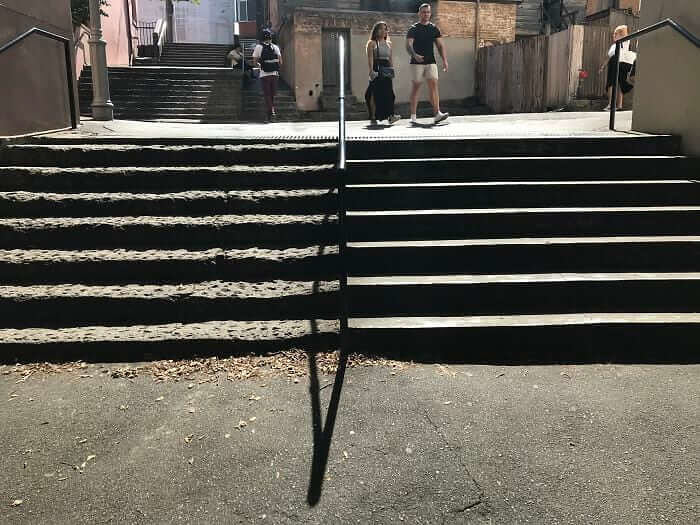 These stairs have lasted for almost 2 centuries while the stairs built in 2005 probably won't last by 2050.
29. Actors Who Starred in 'Chernobyl' TV Mini-Series vs. The Real-Life People They Played
This year Chernobyl TV Mini-Series was released and it didn't take much time in becoming the best TV show of 2019.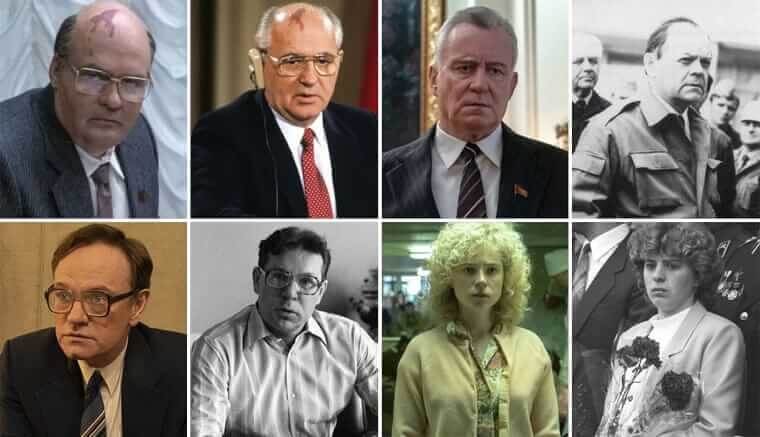 As there are many contributing factors to the success of the TV show, one major factor is how the show creators tried to accurately depict what actually happened – that includes casting those actors who are lookalikes of people who experienced the 1986 Chernobyl disaster.
30. $10 Lightsaber vs. $400 Lightsaber
If you are a Star Wars fan, you must've thought of having a lightsaber. Who wouldn't? It looks super cool, right?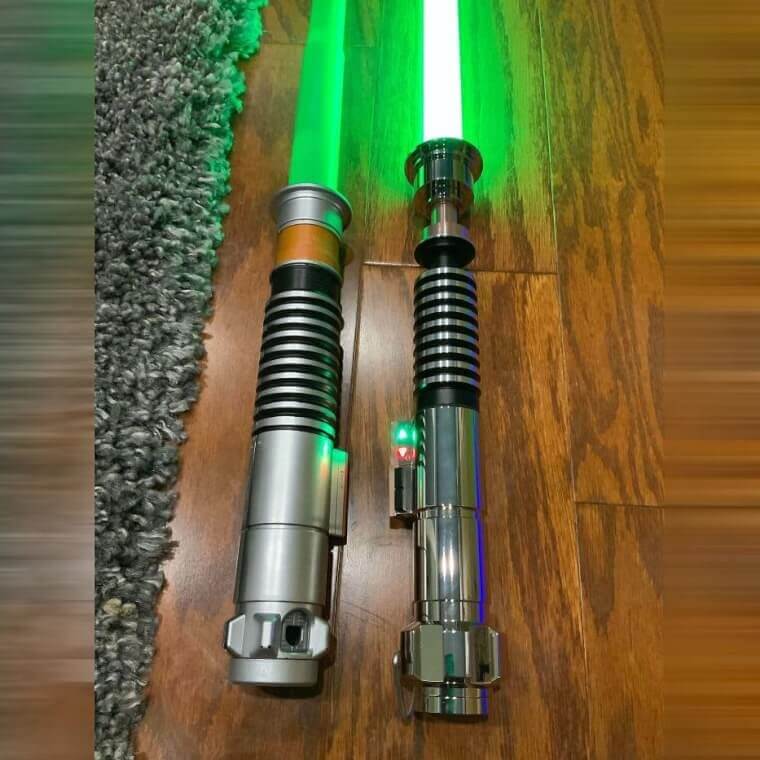 Well, if you really want to buy one for the love of this spectacular franchise, you should consider buying good-quality lightsaber. Quality matters people!
31. California in Normal Days vs. California with Fires
California's fires are considered to be bigger, deadly and more costly as compared to fires in other parts of the country.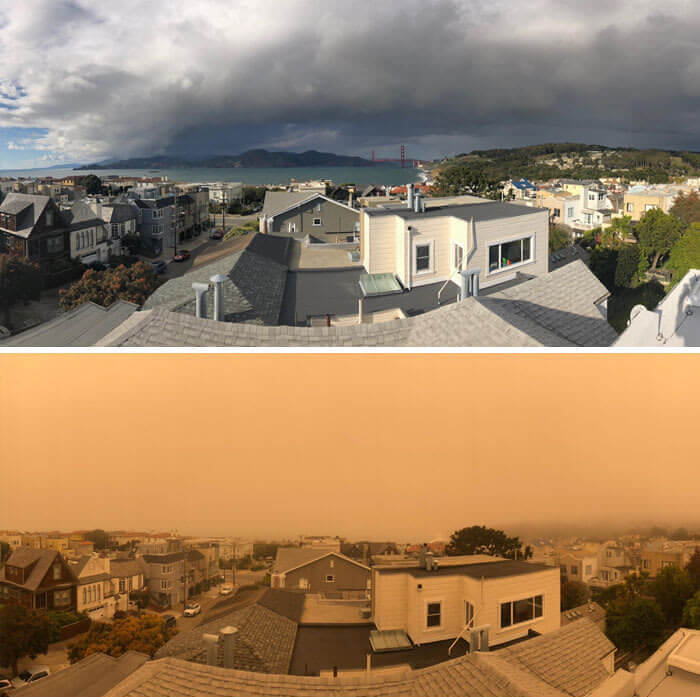 This image just shows how the entire environment changes due to wildfires. In 2018 alone, there were 8,527 recorded fires in California.
32. New Phone vs. Old Phone
Mobiles technology has definitely taken huge strides in the past couple of decades.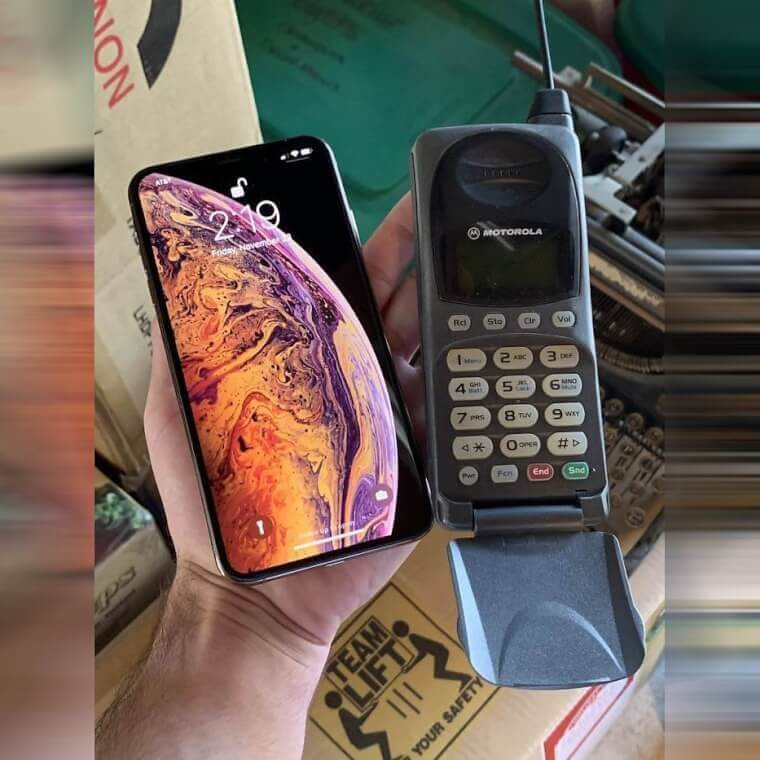 This person uploaded a photo of his phone from 2018 in comparison with his mother's phone from 1998. Seeing the Motorola made you feel old?
33. Happy Face vs. Upset Face
It is such an adorable photo that shows how much dogs love us. This doggo looks super happy in the first photo because his owner came back home.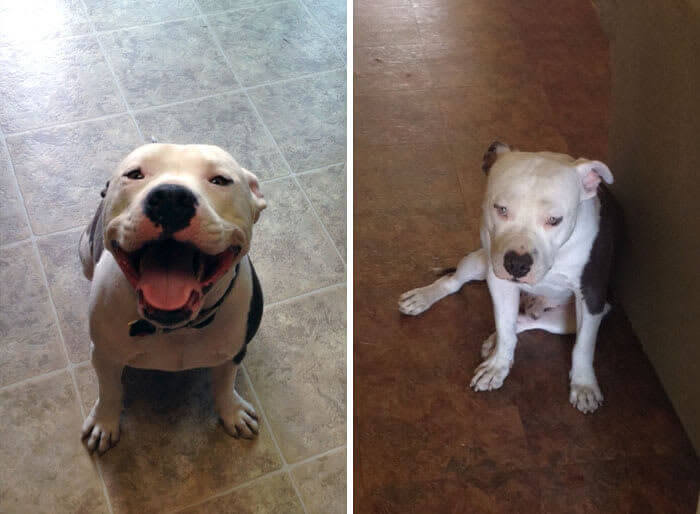 In the second photo, we can see an upset doggo because he clearly doesn't want his owner to go to work.
34. Tanned Hand vs. Normal Foot
At first, we thought some human being has placed his hand on the foot of Night King (we are still not over Game of Thrones).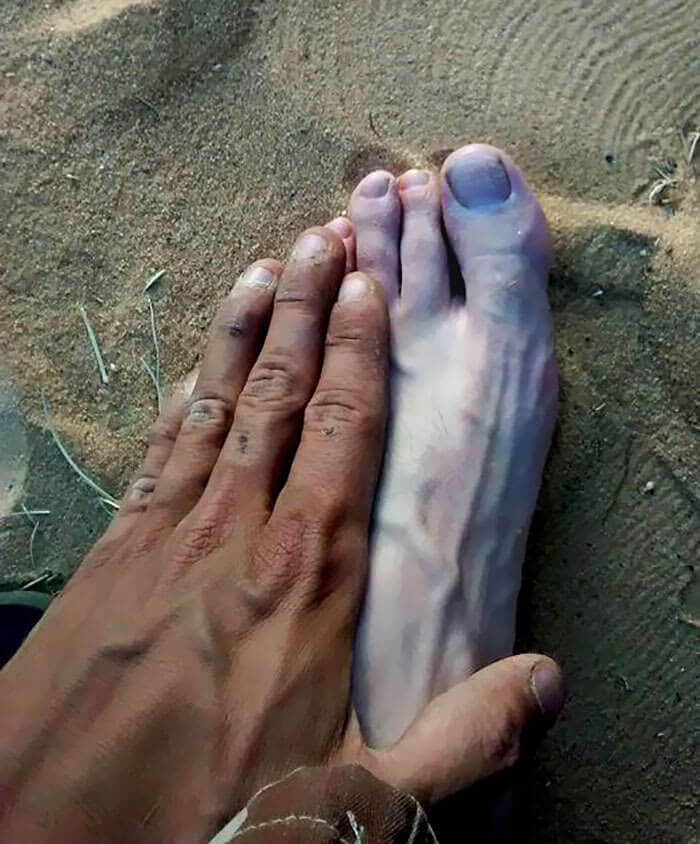 Nevertheless, it can be said that this is not some normal tan.
35. Shoe That is On The Longboard vs. The Shoe That Does All The Pushing
Given that the pushing shoe also serves as the braking shoe, that's why it is so worn -out.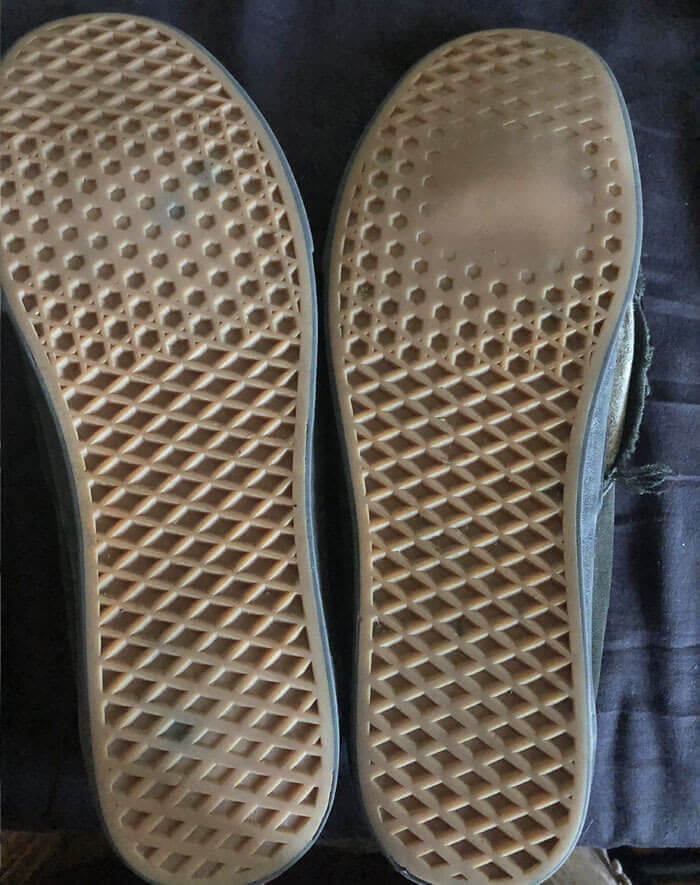 We can assume that the person who does all the pushing gets some bonus salary for all their worn-out shoes.
36. Video Games Graphics Then vs. Graphics Now
The evolution of video game graphics from the 1950s to 2019 has been really extraordinary.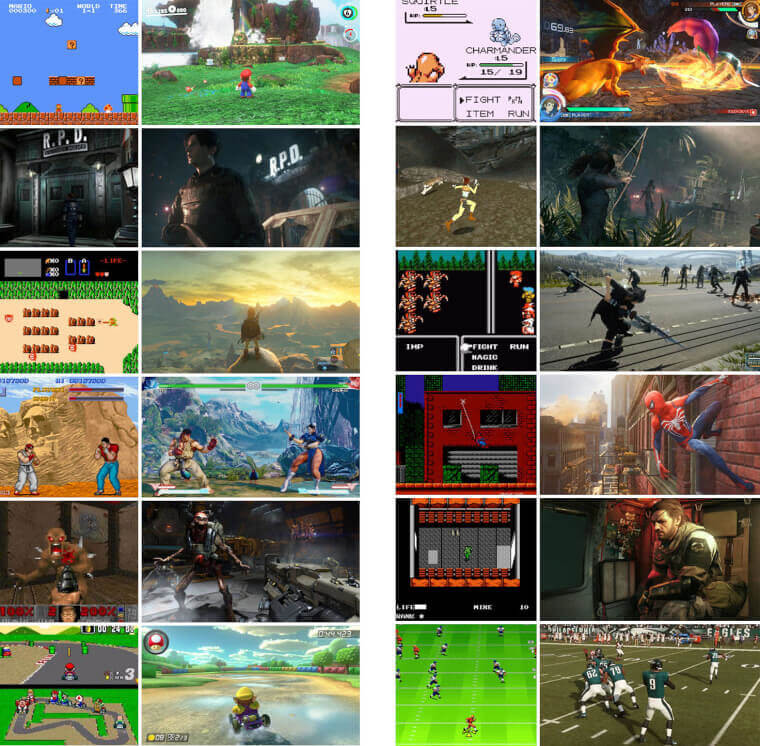 With game graphics just like most other technologies, it has been a slow transformation but it was definitely worth the wait.
37. Difference Between Urban, Suburban, And Rural
Someone shared this slide in the class presentation and we have to agree that she pretty much nailed it.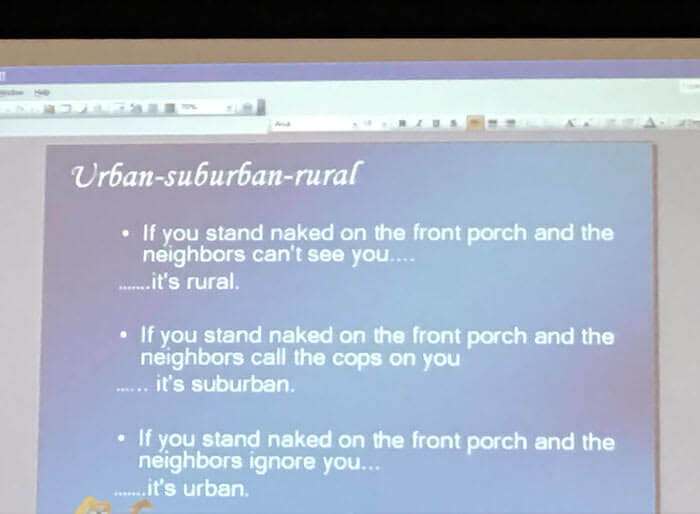 Education needs to be interesting and it is a perfect way of explaining the difference between urban, suburban and rural area.
38. Left Handed People vs. Right Handed People
Left-handed people are often considered creative and it is no surprise that only 12 percent of the world population is left-handed.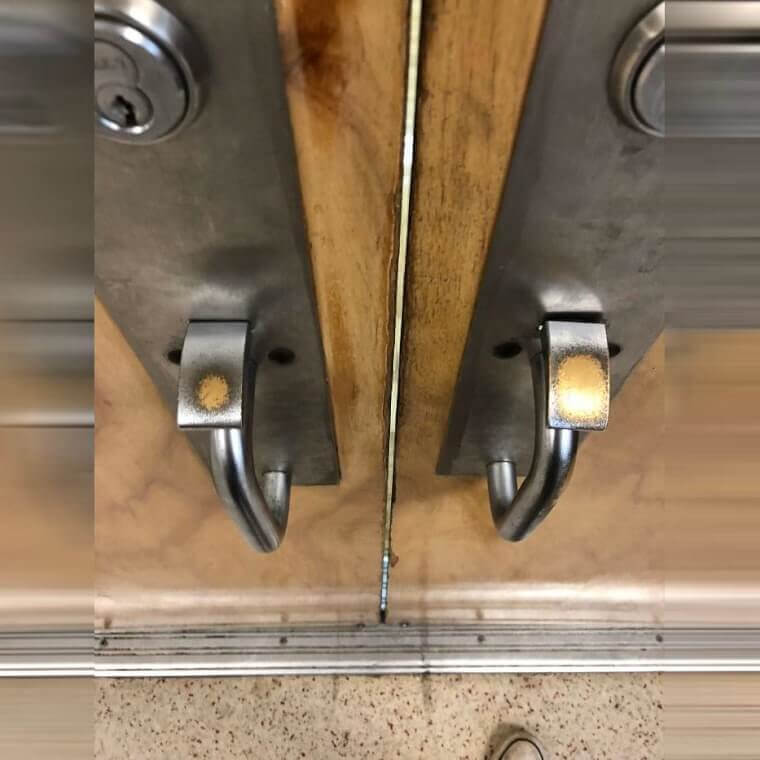 This picture taken at a high school shows there is fewer number of left-handed students in the school as compared to right-handed.
39. Ships Comparison
This photo is a comparison of Zheng He's ship to Christopher Columbus's Santa Maria.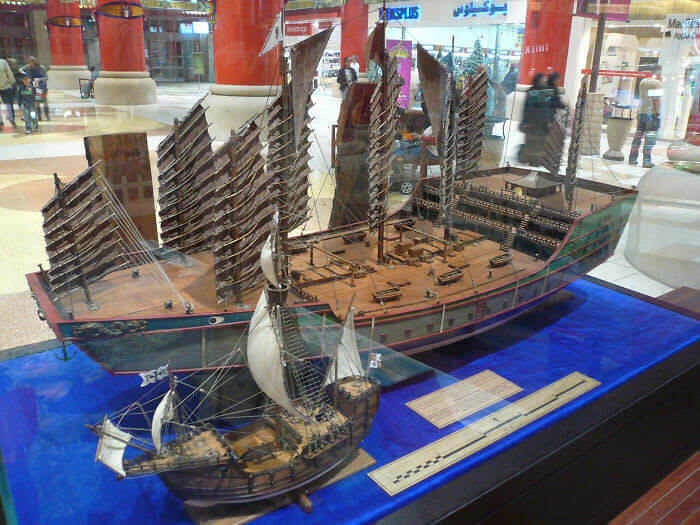 Both of them were great explorers of their time. Zheng He died in 1433 and Christopher Columbus was born in 1450.
40. Eagle Claws in Comparison With Mammalian Predators
Check the comparison picture and you will see that eagle claws are pretty big as compared to many mammalian predators.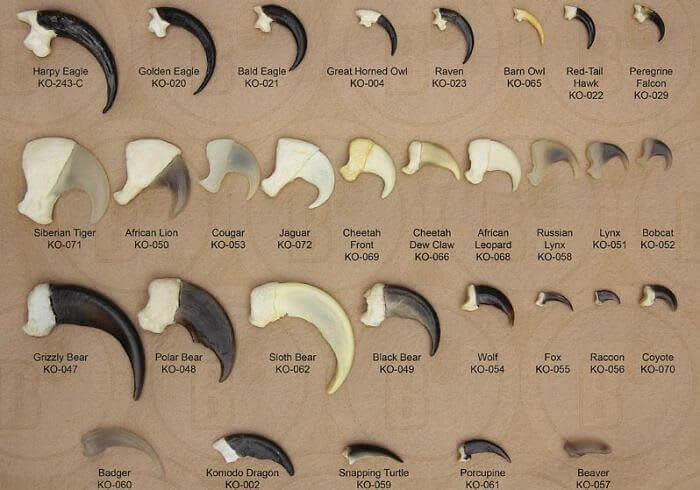 If you look at an eagle's claws, you'll find that there is a certain beauty to it. What do you think about it?
41. Well, That's What We Call The Best Comparison
Did you know that Japan's highest bridge's height is compared to Godzilla?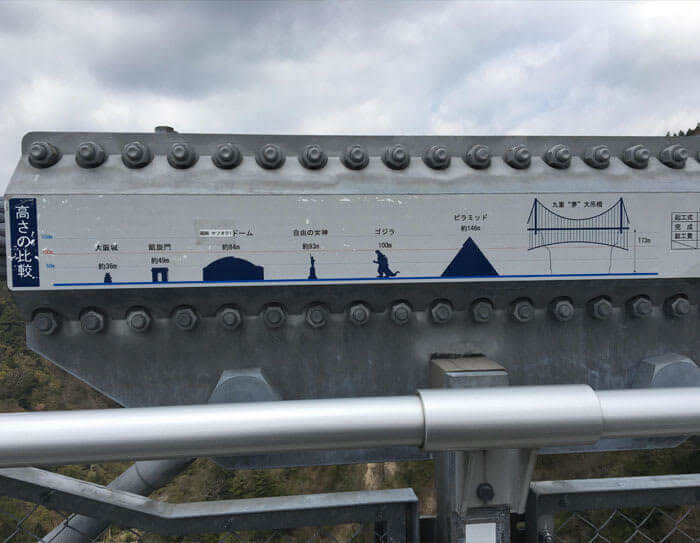 Interestingly, it is compared to The Great Pyramid of Giza and The Statue of Liberty, but they still thought of including Godzilla into it.
42. Size of Moon vs. Size of USA
The moon diameter is 2,159 miles (3,474 km), which is actually 27% of Earth's diameter of 7,901 miles (12,715.43 km) at the poles.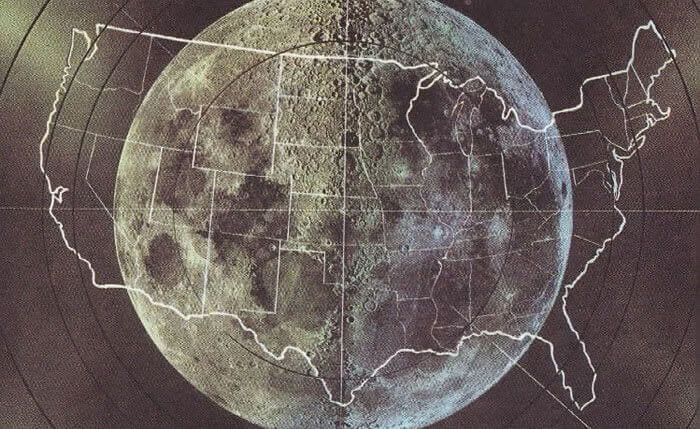 This is a good comparison since distance across the US is approximately the size of half the circumference of the moon.
43. Earth Compared to Its Air and Water
This image was created by Dr. Adam Nieman in 2003. He wanted to illustrate the volume of water and air and compare that to the volume of earth.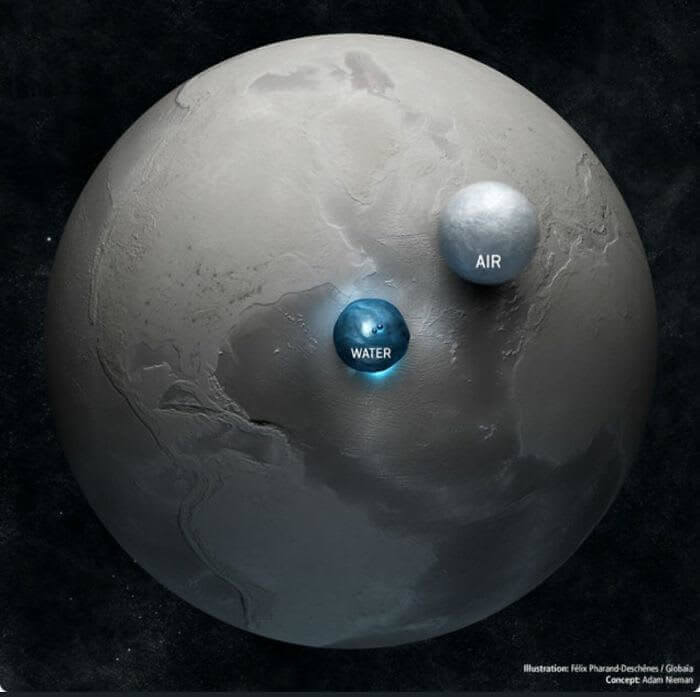 This amazing image helped Dr. Adam win the Novartis/Daily Telegraph Visions of Science photo competition in 2003.
44. Every Day Mood in 2017 Compared to 2018
There are various mood tracking apps that can help you monitor your mood. Even doctors suggest them to patients who want to improve their mental health.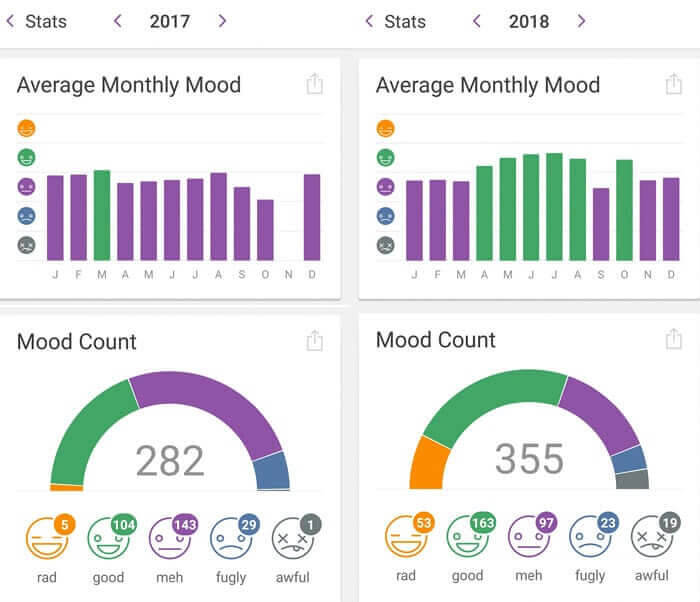 This person shared a screenshot of his everyday mood in 2017 as compared to 2018. It shows that he had 163 good days in 2018 as compared to 104 in the previous year.