Many of us have heard of Easter eggs as they relate to movies or games - you know, those hidden little with a special meaning artfully placed by the creators in clever places. But have you ever found a real-life easter egg while walking down the street? It turns out that they might actually be all around you, and all you need to do is take the time to look. We know that life can get pretty busy, but as these photos prove, sometimes it's worth it to slow down and be a bit more curious about everything, from your clothes and product packaging to street art that could be waiting right around the corner.
It Turns Out Batman Lived In... Idaho?
We know plenty of people who aren't very familiar with what's in this photo. It's a phone book, and believe it or not, people used these to look up the numbers of others around the county. Anyway, someone discovered something in this phonebook from Ketchum, Idaho, that was pretty clever. Either a resident or the phonebook company listed a man named Adam West, which is the name of the actor who played Batman back in the 1960s.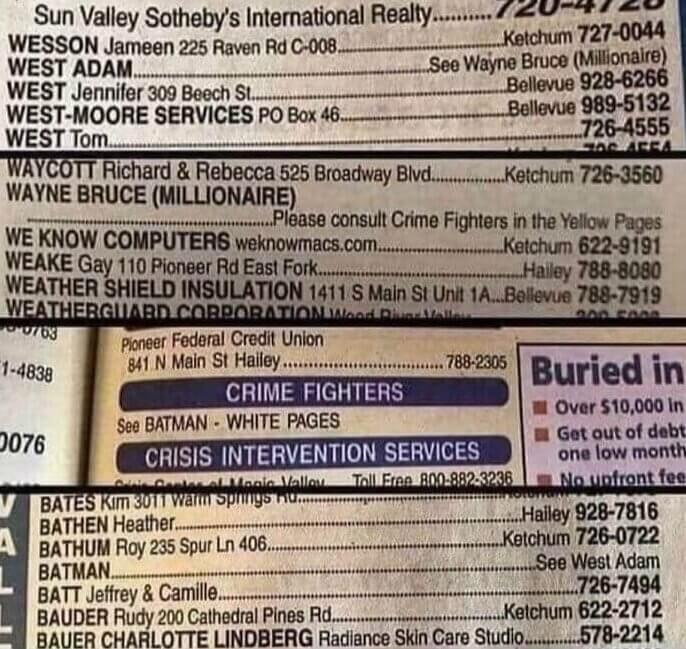 The phonebook never actually gives out his phone number. Instead, it directs you to a mister "Bruce Wayne" and eventually a section on "Crime Fighters," where you can find "Batman."
Just a Little Man and His Telescope Living in a Brick Wall
This one is pretty creative. Someone probably saw that this wall was missing a brick and decided to make their own little transparent brick with a man inside. If you look closely, you can see that the man is staring out through a telescope as if he's looking up at the stars. Like all of the other Easter eggs on this list, someone would really need to be paying attention to find this one.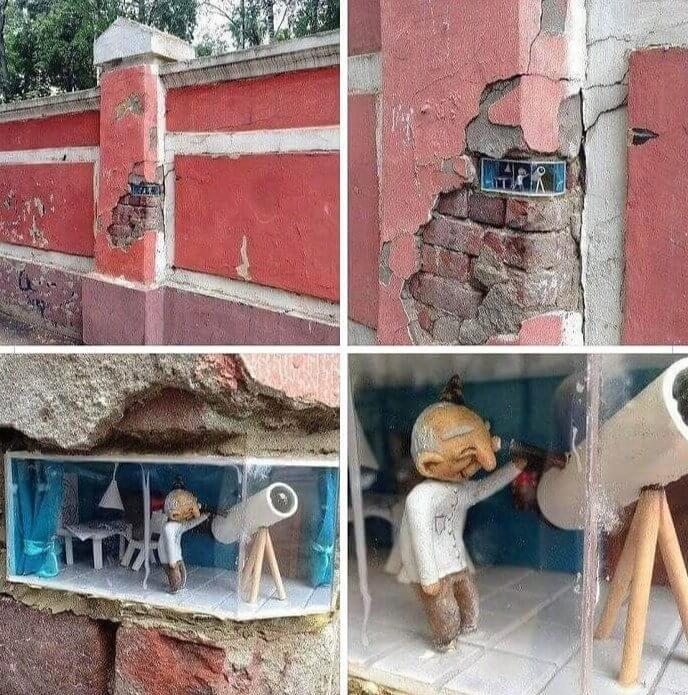 The observatory is even complete with some furniture in the background, and it might just be the most adorable Easter egg on this entire list. We just wish we knew where it was at.
Only Students Who Really Read the Syllabus Found This Extra Credit Easter Egg
We don't envy teachers. Getting students to pay attention in class can be extremely hard, but this teacher seems to have found a pretty clever way of doing just that. On her syllabus, she included instructions to send her a photo of an otter for extra credit. We imagine the instructions were hidden away somewhere inside a block of text that would've required the students to actually read the entire syllabus.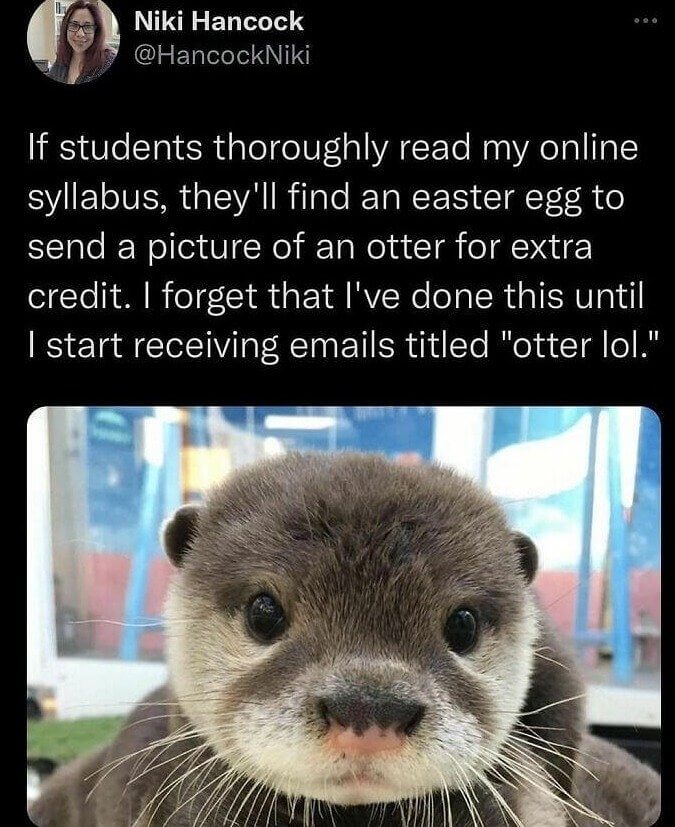 In any case, they must've been hidden pretty well because even the teacher forgot about the assignment until she started receiving photos like this one, with the title "Otter" in her inbox.
The Kind of Emotional Support We Need When Trying to Open Coffee Beans
This Easter egg is rather fitting. This coffee company suspected that some of their users might be tired when they first woke up and went to open their product, so they added a cute little message on the bottom of their bag. It reads, "Oh honey, you must be tired. Try the other end. Hugs." Honestly, we could think of plenty of worse things to wake up to in the morning.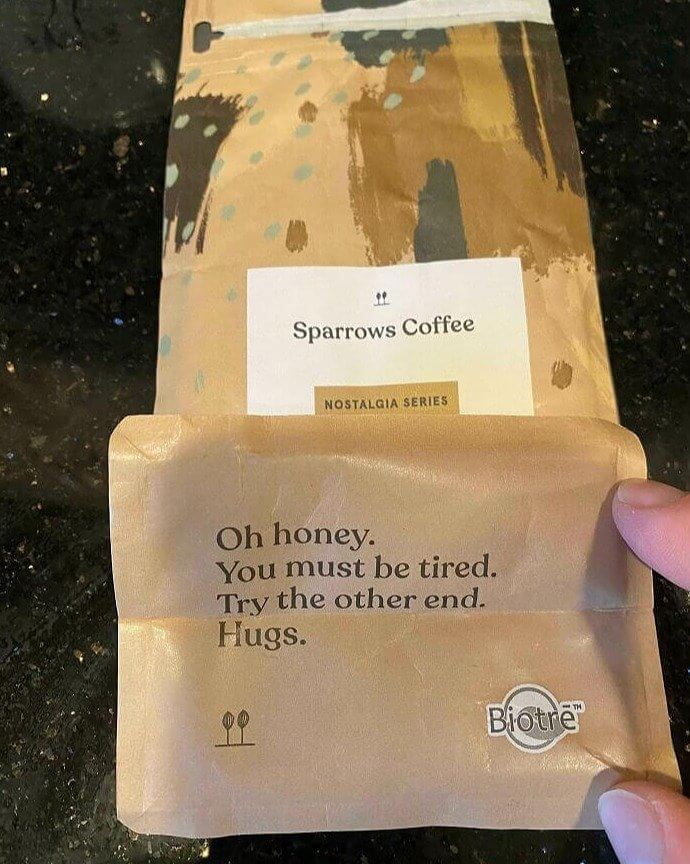 It's nice that someone at the company thought far enough ahead to add a little motivational message to their packaging for when users try to open it the wrong way.
An Average Rock Turned Into Magnificent Street Art
This artist seems pretty talented because most people probably would've looked at this rock and just thought it looked like any other rock. However, someone looked at it and thought, "You know what? That rock would make a great dinosaur." Not only that, but they even added a little mouse there at the dinosaurs' feet to keep them company. The entire thing is pretty adorable if you ask us.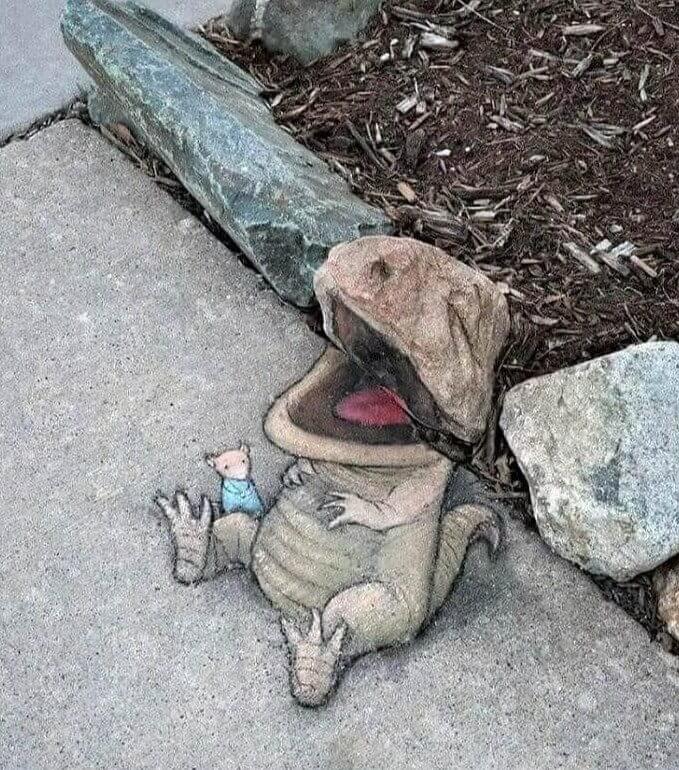 This Easter egg might not be too hard to miss when you're walking up to it, but it sure would cause your brain to stop for a second to try and figure out what you were looking at.
This Cardboard Is Recyclable and Cat Friendly
You would probably have to have owned a cat to appreciate this one. For whatever reason, cats just love a nice cardboard box. They're like little kids, and they'll just hop in and sit there for as long as they can. This parent bought their kid a toy, and after getting everything out of the box, they noticed that next to the traditional recycling emblem, there was this image of a cat.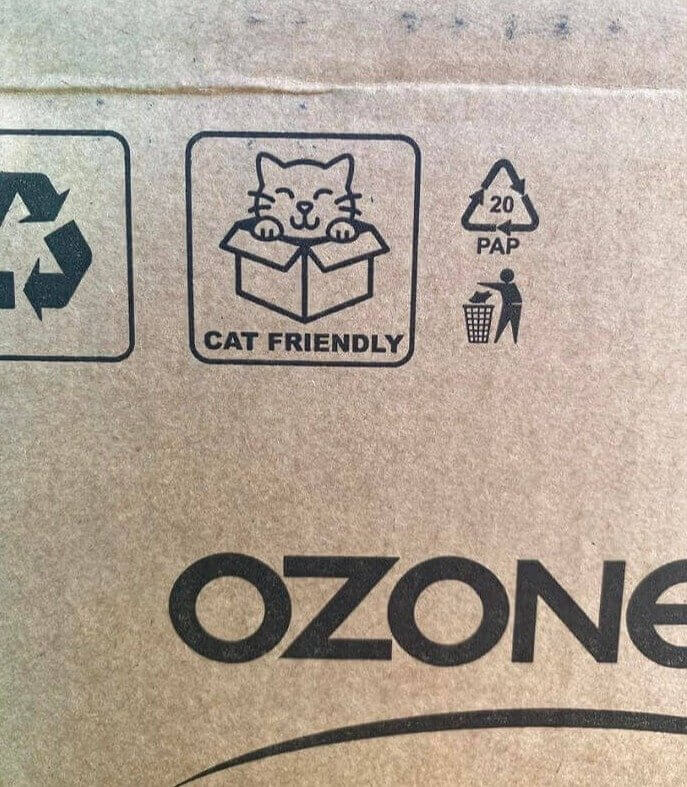 Unfortunately, we aren't sure if the family actually owned a cat, but we're sure if they didn't, then their child probably got just as much fun out of the box as a cat would.
Someone's on a Mission to Make Safety Fun
It doesn't matter what kind of job you're in; unless you're the safety person, rules and regulations can seem like a chore. That might be why someone designed and made this sign. It's got the same rules you'd probably see listed in most warehouses, but they're written in a pretty humorous way. For example, the sign about protective footwear has an image of a lady wearing bright red high heels.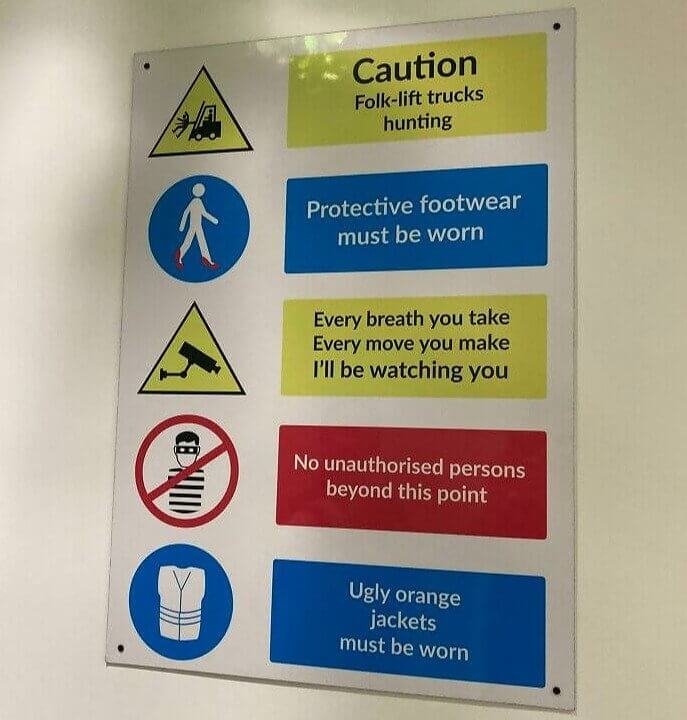 Personally, our favorite just might be the text about the ugly orange jackets. Seriously, nobody likes wearing those things, but it's nice to know that the safety person is in agreeance.
The World's Only Mouse Barbershop Is In Sweden
Someone found this barbershop, which is apparently for mice, in Malmö, Sweden. It looks to be at the bottom of a brick wall, and it'd probably take a little bit of searching to actually come across it. Whoever made it also had to put in a lot of work because this is one of the more detailed Easter eggs on this list. Not only that, but they probably had to cut away at the wall.
It's complete with its own little mouse-sized window stickers, an apartment off to the side, and even what looks to be a newsstand with tiny publications bearing the image of different mice.
"Game Over, Your Dog Won, Discard This Squeaker"
The Easter egg in this photo might just be our second favorite part of this image. The look on this dog's face is honestly priceless, especially with its ears perked up like they are. This is him after he completely tore his toy to shreds. His owner found the squeaker he was trying to get to, or at least what was left of it, and it contained a funny little message.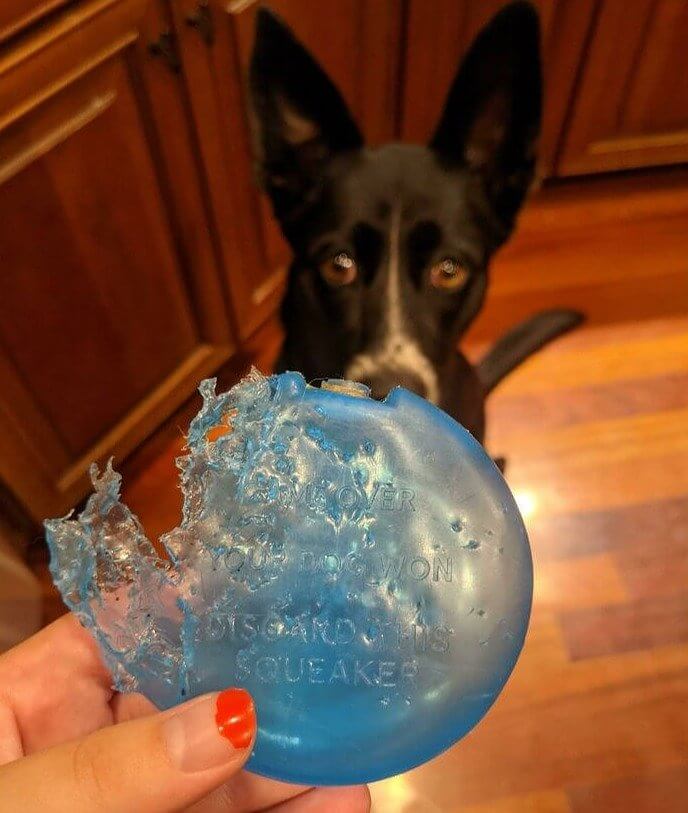 The message on the squeaker reads, "Game Over. Your Dog Won." It looks like there might actually be a bit more to the message, but the squeaker is so destroyed that it's kind of hard to tell.
This Zipper's Wise Word's of Wisdom: Be Careful, You Only Have One
There are plenty of Easter eggs on this list that exist purely for aesthetic reasons, but this might be the only one that actually offers the finder some pretty sound advice. This message was found next to the zipper on a pair of pants. It warns wearers to be careful, or else they might end up in a situation that could cause bodily harm and/or embarrassment. We'll let you figure out exactly what the message is referring to, though.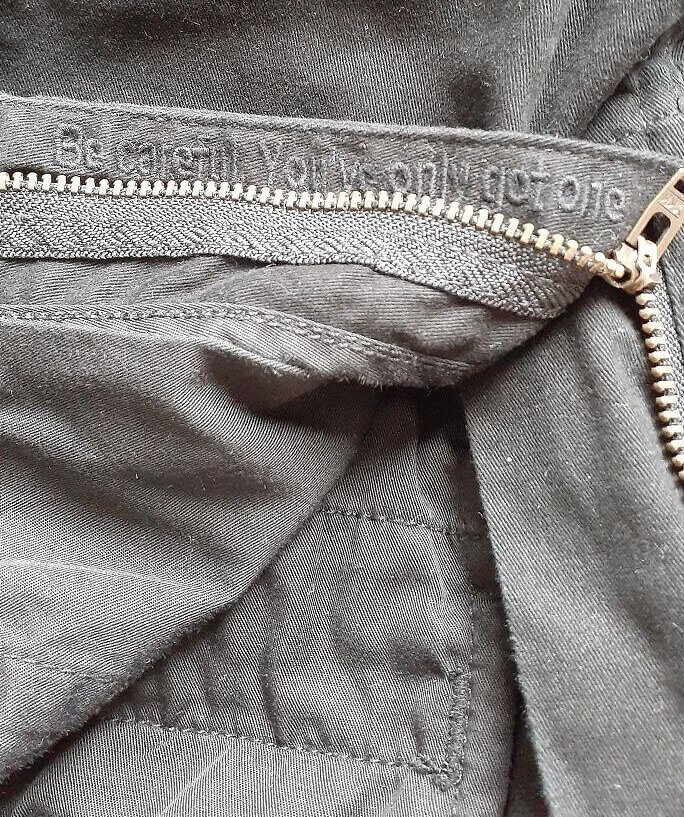 That said, it's a pretty clever message that makes us wonder what brand of pants these are. We're also kind of curious about the person behind the Easter egg and what their inspiration was.
Where's Luigi?
If you've ever painted anything, then you know how much of a pain it can be. So, it's kind of cool to see this. Someone had just finished painting their wall and decided to leave a little surprise for whoever came along and painted the wall after them. It's a little figurine of Mario. Also, it could still be sitting there today since it's not very often that most walls get a fresh coat of paint.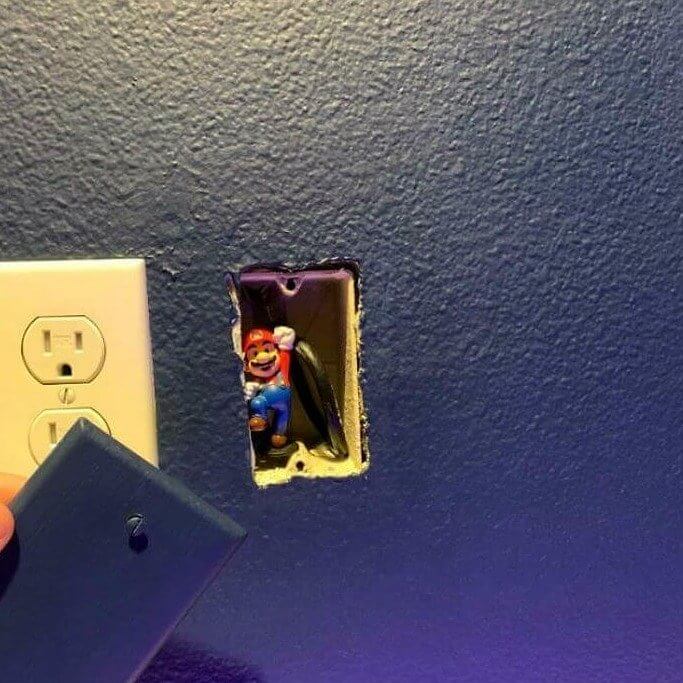 Hopefully, this makes the next painter's job just a little more enjoyable. They could probably use all of the enjoyment they can get because there's nothing like watching paint dry.
Dogs Deserve Libraries, Too!
You've probably seen photos of small public libraries and book drop-offs hidden away in a mailbox or an old newspaper stand. Well, this might have all of those beats. It's a "Dog Library," and instead of books, it provides dogs with a stick they can pick up and carry with them as long as they bring one back. We're sure this is a pretty big hit in this neighborhood.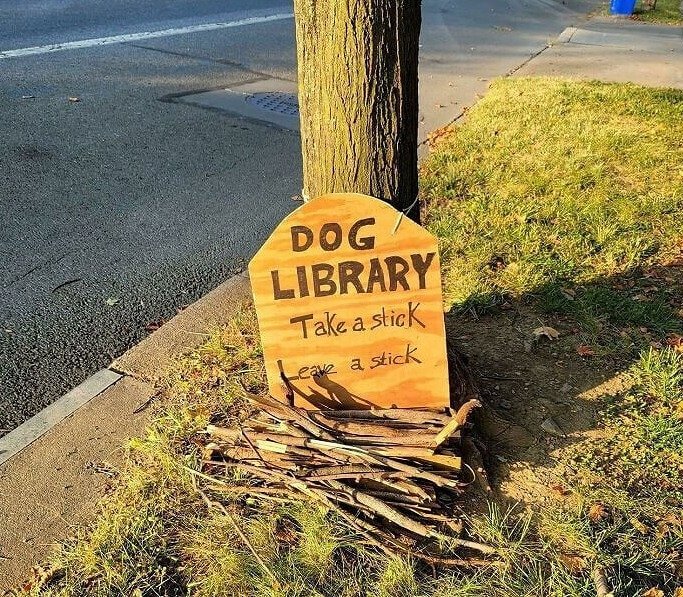 However, if any of those dogs are anything like ours, then we imagine there's a lot of indecisiveness going on here as dogs struggle to figure out what stick they want or if they can carry the whole bundle.
Because Healthcare Workers Are Heroes Without Capes
This is a really sweet Easter egg. Someone in the medical field posted this photo online after finding the words "Gracias Heroe" on the inside of their medical uniform. It means "Thank you, hero" in Spanish, and it's appropriate for all those medical workers who work long hours and don't get enough in return. We just wonder if this was done by the company that makes the scrubs or an individual there.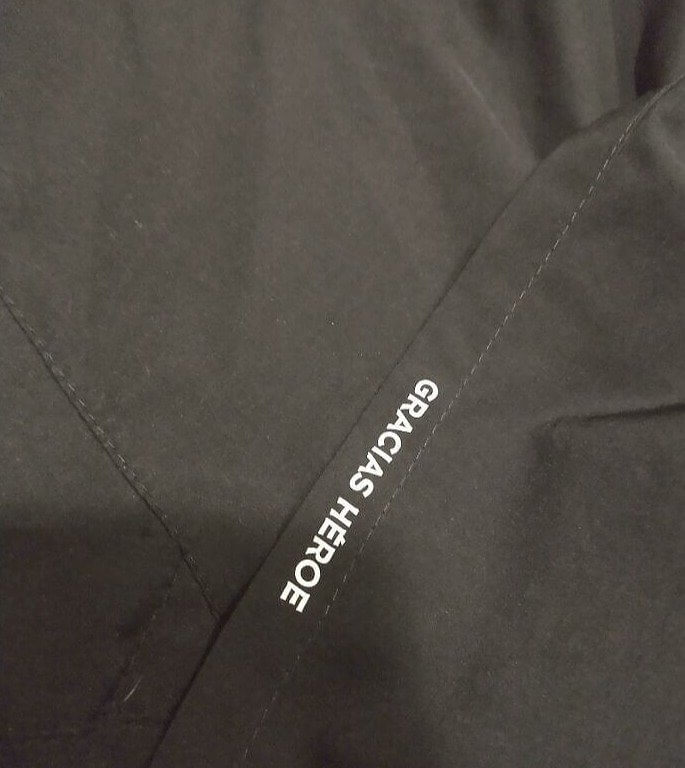 Either way, it's a really nice tribute, and we're sure that it brightened this person's day. These are the types of Easter eggs that we like to see.
Cat Owners Need to Be Aware
Here's another funny little Easter egg concerning cats and their weird love for cardboard boxes. This owner ordered some cat food from a cat food subscription company, and when it came in, the box had this message written on the side. It says, "Warning: If left empty and unattended, this box will contain a cat." We're sure this particular box did, in fact, eventually contain a cat once all the food was taken out.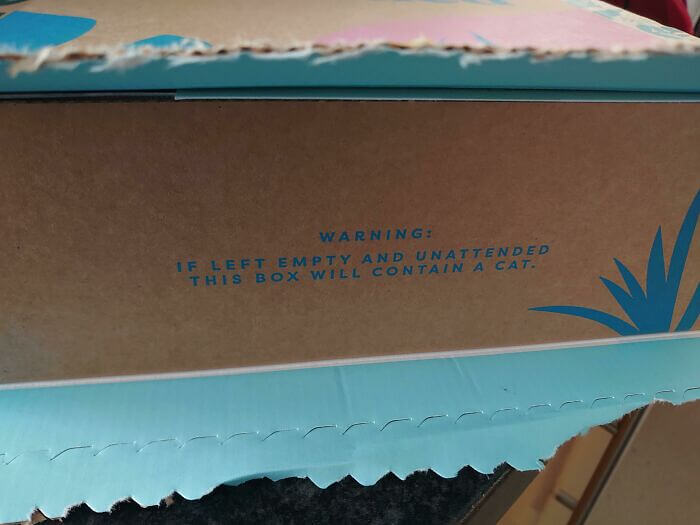 You can tell that some of these companies have a lot of cat lovers working in their midst, and we're pretty glad that they do, or else we wouldn't get these awesome Easter eggs.
Only One Cup Away From World Domination
Everything about these instructions is great. They're basically just instructions on how to properly steep your tea, but the team behind them managed to spice things up a bit by adding a step that includes world domination. Also, they have a pretty hilarious warning about using caution around hot water. We're not sure what brand this bag belongs to, but whoever is behind these instructions certainly deserves a raise.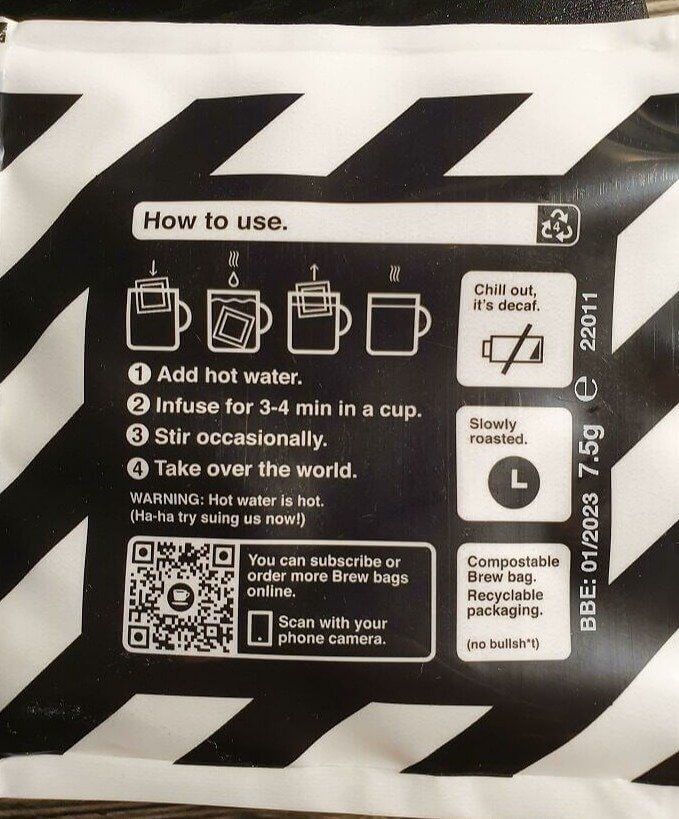 If you look really closely, you might also be able to spot another funny little message on this packaging that we're not going to repeat here. Hint: It's in the bottom right corner.
Nature's Influencers
If you've ever looked up anything online, then you've probably come across suggestions from companies or Google. They look a bit like the sign in this photo. This is reportedly supposed to be somewhere in New Zealand, although we're not entirely sure which mountain it actually is. The names of the mountains on the sign are also pretty hard to make out, but we're pretty sure the one on the far right is in Australia.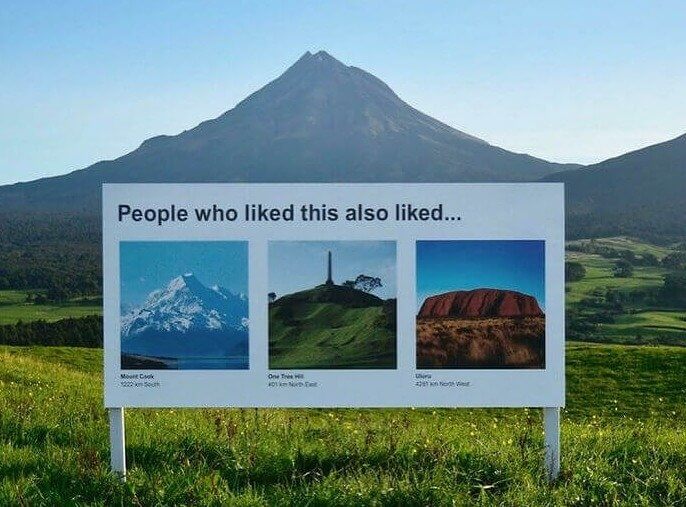 Either way, if we stumbled across a sign like this, we'd probably immediately start planning our next trip to one of the three locations or suggestions listed on the sign.
When the Dog Poop Bags Run Out
Here's a pretty clever Easter egg, and it can only be found if you reach the end of a roll of dog poo bags. This person got to the end of theirs, but they didn't really find much in the way of encouraging words. Instead, they found a message that told them they'd have to use their hands from here on out. We hope they packed an extra roll in their bag.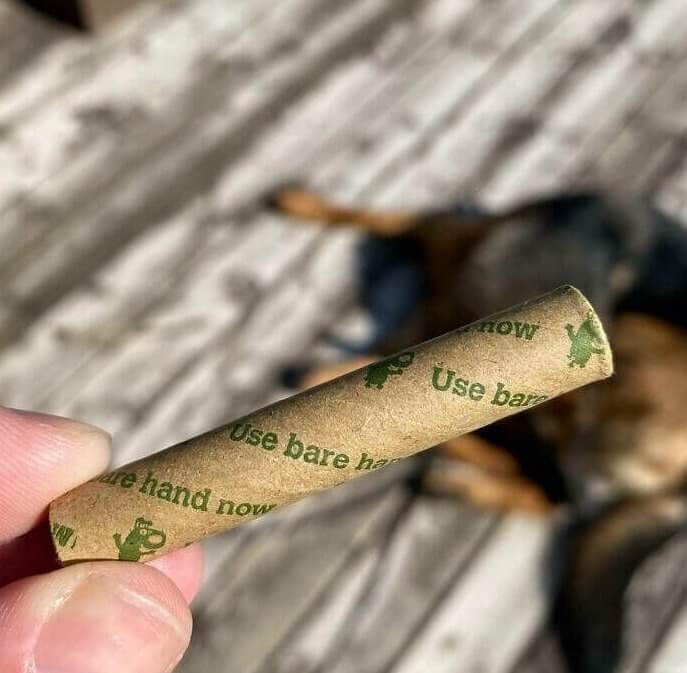 If that's not the case, then they better start looking for a plastic bag because while we love our furry friends, we don't see ourselves doing that for them.
This Water Bottle Has a Message for Any Naughty, Wandering Eyes
The next time you buy a bottle of juice, try looking for an Easter egg somewhere on the bottle. That's what this person did, and when they flipped the bottle upside down, they found this message. It reads, "Stop looking at my bottom." And if you're curious what brand this is, apparently, it's from a company called Innocent, which actually aligns pretty well with the message on this bottle.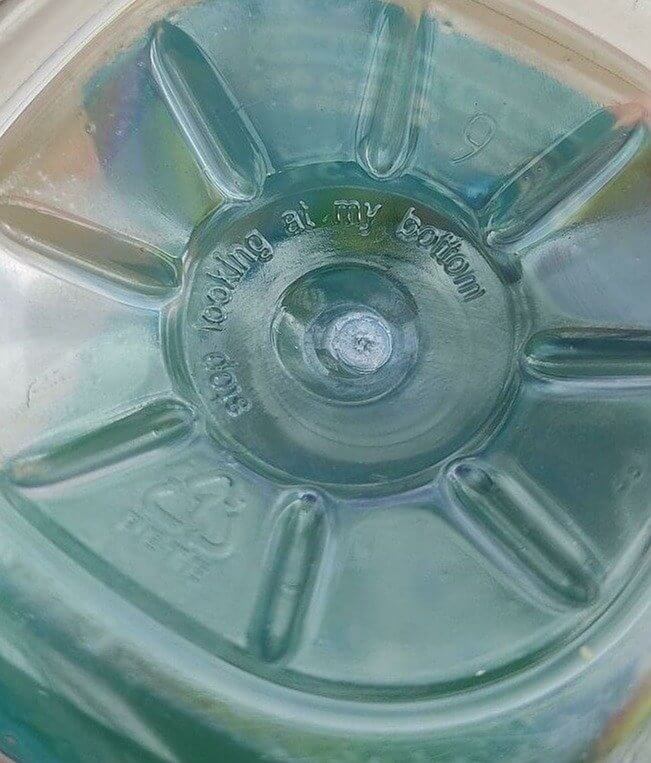 They're also pretty well known for all of the hidden messages they put on their packaging, so check those juice bottles the next time you come across one.
This One's for the "Notting Hill" Fans
You may have heard something similar to this message that's written on this cardboard box, but do you know what it's actually from? Well, it's actually a quote from a 1999 movie called "Notting Hill," but the line was memorable that pretty much anyone can still recognize it today. The actual quote went something like, "I'm just a girl, standing in front of a boy, asking him to love her."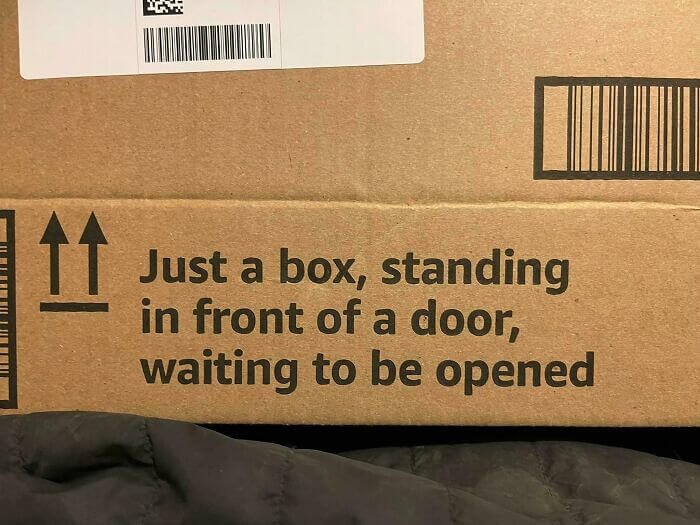 So, you can probably see the similarities with this little Easter egg written on this box. Honestly, it's a pretty clever and funny reference, even if you've never seen the movie.
A Tag With an Afterlife
It's always nice to see some environmentally friendly packaging, but this tag might just take that idea to a whole other level. After buying a pan, this person discovered that the tag on the back could actually be planted. Not only that, but it contains thyme seeds, which is pretty cool, considering you can actually use them in your kitchen. We wonder if they have tags for other things though, like basil or oregano.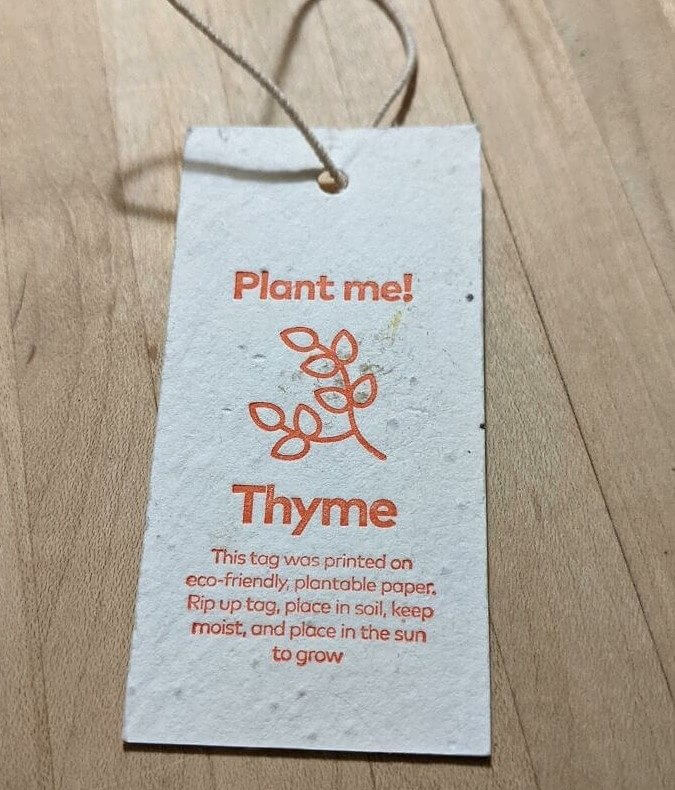 Either way, this is a pretty nice little Easter egg to come across, especially if you weren't expecting it when you actually bought your pot or pan. You could start your own little garden in your kitchen.
It May Not Be Hundreds of Years Old, But It's Still Very Cool
We're not sure where this photo was taken, but we do know that it was taken somewhere in Mexico. It looks like someone who was working on the street took it upon themselves to make a miniature recreation of the country's famous pyramids. And they didn't do a bad job. In fact, this probably would've been pretty difficult to pull off using concrete, which means they had some talent.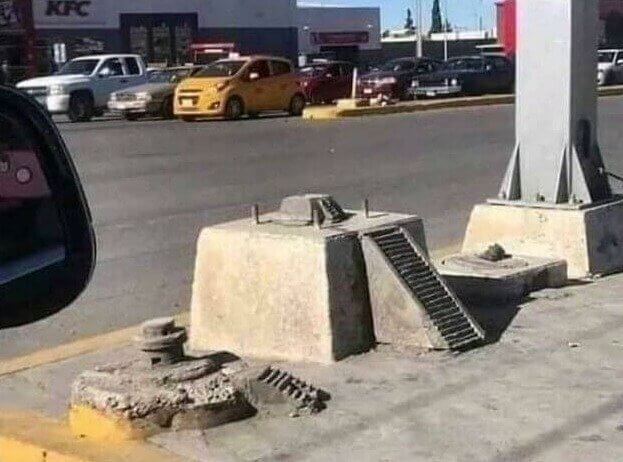 We just wonder if the local city government was as thrilled as we would've been after coming across this since it looks as though the original block of concrete could've been removed.
That's Some Hard Reading for a Toddler
These shoes are pretty great. The person who posted this image said that these were their first shoes from around the early 1980s. As you can see, they have instructions on the sole advising you on how to put on your new shoes and take some of your first steps. However, we're pretty sure that the parent would have to be the one to read this to whoever put the shoes on.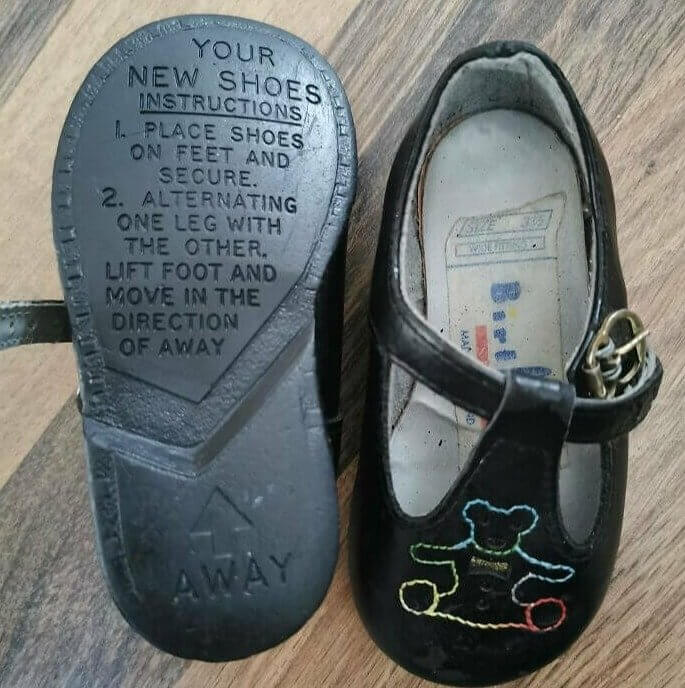 Still, it's a clever and sweet way to get a little kid excited about having to put on shoes. We also very much enjoy the matter-of-fact tone used in the text.
Documenting History, One Sauce Bottle at a Time
You'd probably have to live in the U.K. to know this sauce company, but it's called HP. And apparently, they updated their packaging when London's famous clock tower was undergoing repairs. They added scaffolding and everything to their image, which is pretty cool. The tower is currently back in order, so these were likely only made for a limited time and can't be found or bought as of writing this.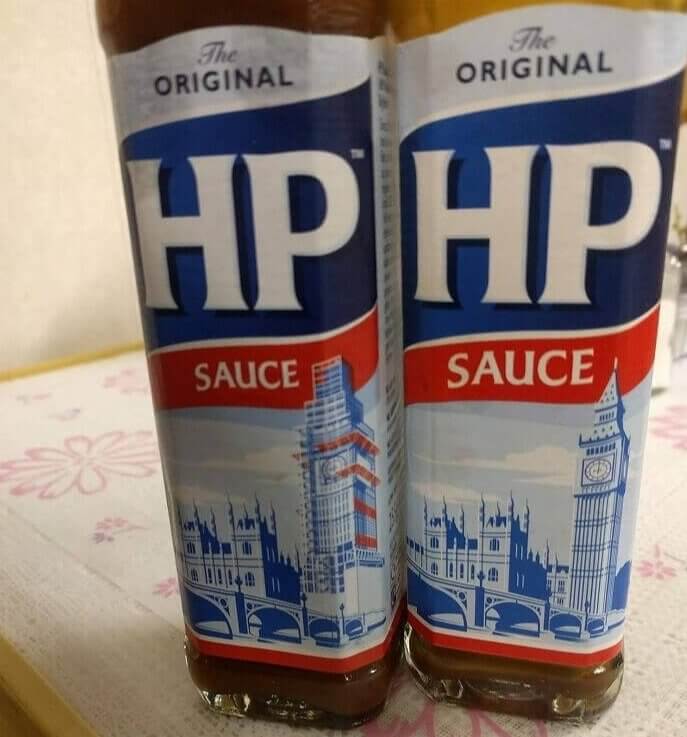 The work to the tower was completed around 2022, so that was probably the last year they made sauce bottles with the scaffolding, but it would be cool to keep around if you had one.
Not That Bored Now, Thanks
Here's another clever little message found on the bottom of some packaging. Someone posted this photo and said that this was on the bottom of a drink that they had finally thrown away after a year. Why they waited a year to actually throw it away is anyone's guess. However, we're glad they decided to take a peek at the bottom, or else they might've missed this Easter egg.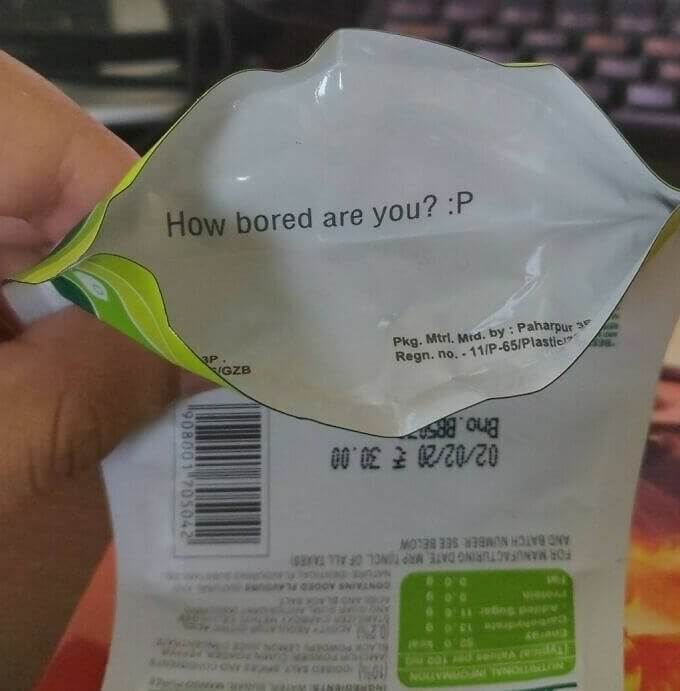 It's just a simple acknowledgment that someone must be pretty bored to be looking at the bottom of a random package, but it'd still be pretty cool to find, even if it did make us question our productivity.
It's Really Not That Noticeable, Man
Hats off to whatever company decided to put this message on the tops of their trucks. It can only be seen from above, but it's a pretty hilarious request for whoever can read it to stop looking at the truck's bald spot. We weren't even aware that vehicles could have bald spots, but apparently, they can. Maybe a bald spot just means any lack of roof racks or added lights?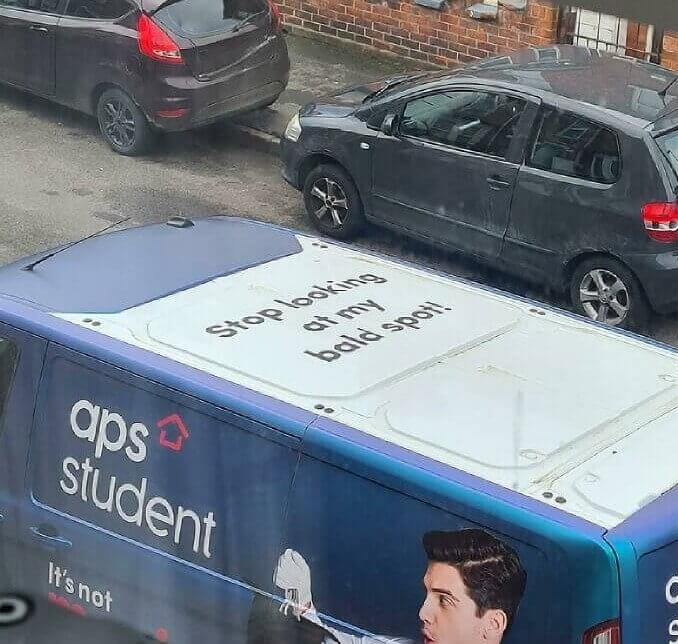 Either way, we can't help but feel a little bad for this truck now that we know it's self-conscious about the large bald spot in the middle of its roof.
These Furniture-Building Instructions Know What's up
It's not every day that you come across a suggestion to make nachos. And it's probably even rarer to see on something that's usually as plain and boring as furniture assembly directions. However, we're really into it because you can work up quite an appetite when you're assembling furniture, and what better to snack on than some nachos? We've also heard that there are some assembly guides out there that include how many beers you should've had by each stage of assembly.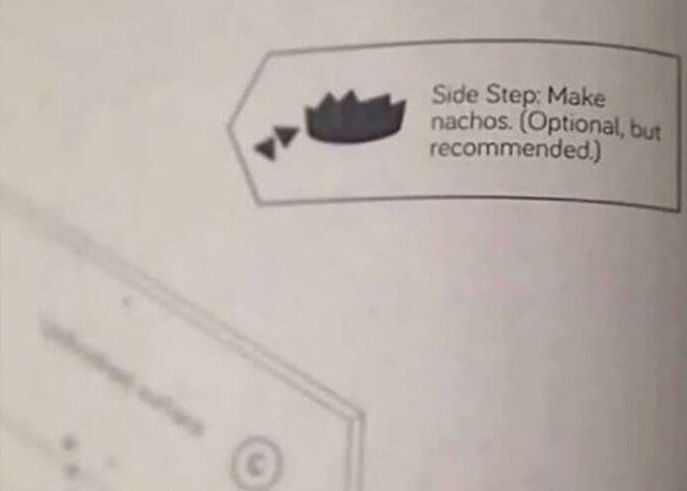 So, the next time you have to put something together, remember to take a second to look around the instruction manual in case you need an excuse to have a beer or some other drink.
This Sounds Like a Pretty Dangerous Mattress
You might expect to find an Easter egg on the packaging concerning something like coffee or clothing, but would you ever actually take the time to look at the packaging on a mattress? For some reason, we just couldn't picture a mattress company with a sense of humor. That is until we read this label that someone found on a newly bought mattress. It advises whoever is opening it to hand it to someone responsible.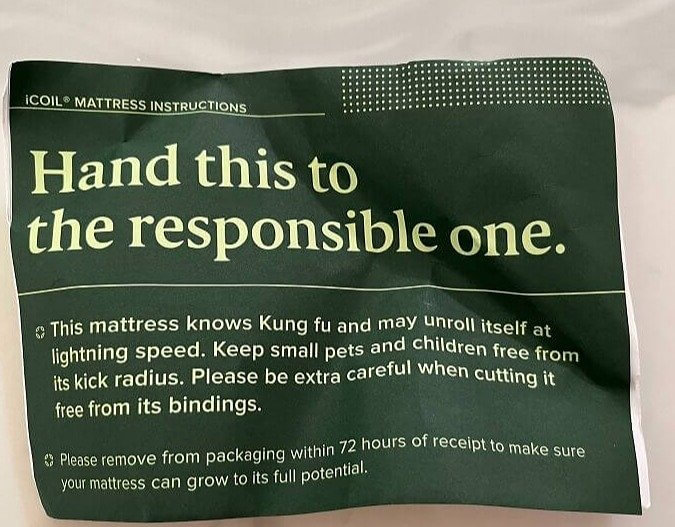 If you don't have another responsible party around you, then you're probably going to be out of luck because this mattress was trained in the ways of kung fu.
One of These Things Is Not Like the Others
These directions seem like any other directions you might find on clothing, except for when you read the last item on that list. For some reason, the makers decided to add an extra step warning people against slapping pandas. We hope this isn't some kind of crisis that we've never heard of before, but if it is, then people need to get it together and stop slapping pandas. What have they ever done to us?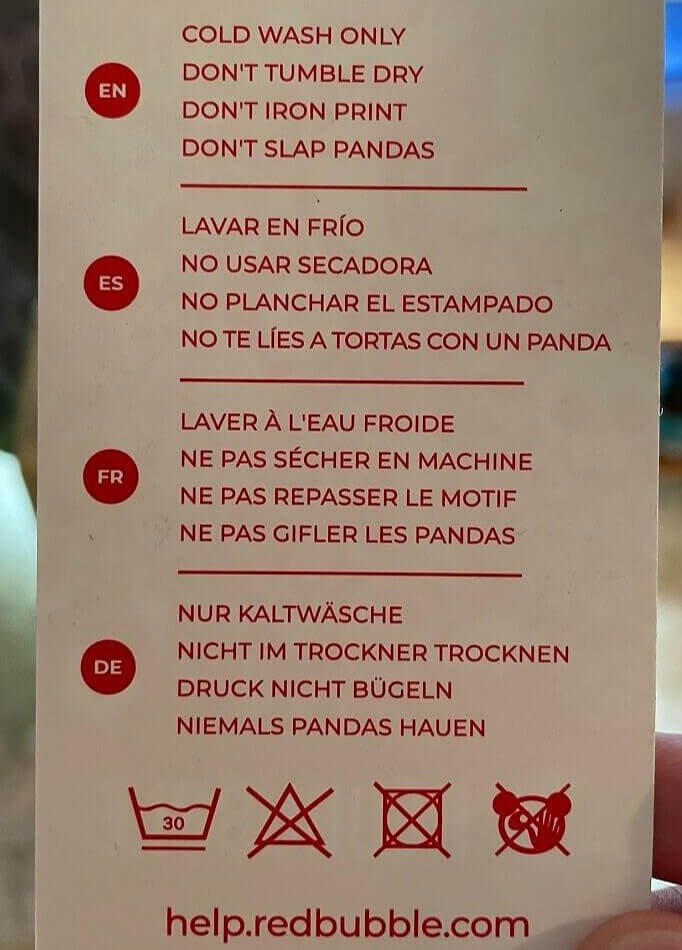 Seriously though, we'd probably have to take a double look after skimming over these directions because this tag looks like any other you might come across at first glance.
Alright, This One Feels a Bit Too Personal
There's dark humor, and then there's being personally attacked. We're not quite sure where this tag fits on that scale. Either way, it's pretty clever. The tag reads like any other, but after the normal directions finish, it says, "so you don't ruin it like everything else in your life." Of course, it's just a joke, but if we were having a bad day, we can't say for certain we'd want to find this Easter egg.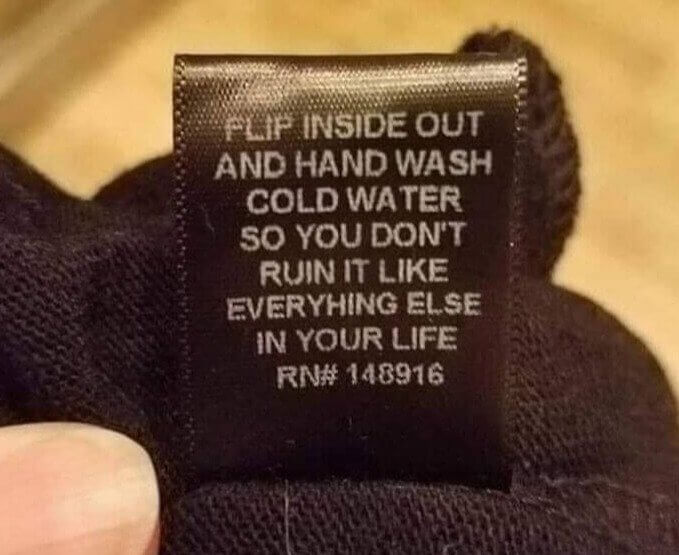 On the other hand, if you're someone who enjoys dark humor, you'd probably get a really good laugh out of something like this if you were to find it.
Turning Urban Decay Into Artistic Masterpieces
You'd really have to be paying attention if you wanted to spot something like this on the street. At first glance, this mural looks like just another crack in the wall, albeit a structurally scary crack. However, when you walk up to it, you can actually see what appears to be a painting of people walking around, all clumped up into a group as if they were walking in a line.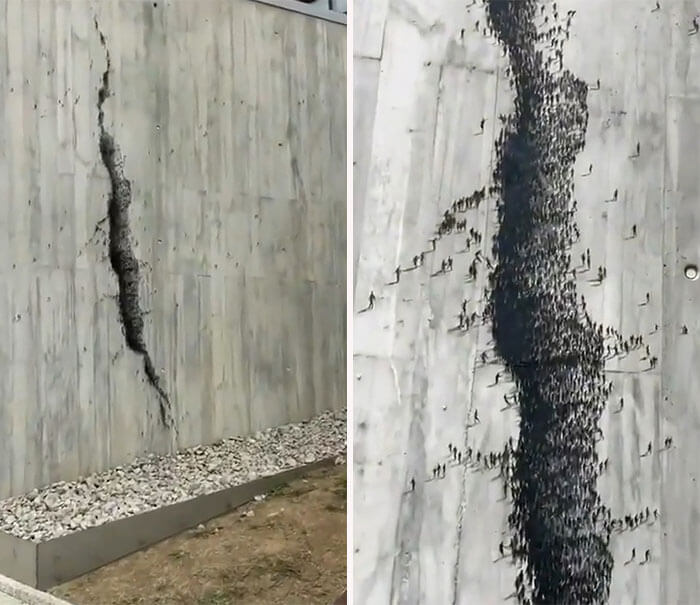 This would be really cool to come across on the street, especially if you were just passing by, glanced over, and happened to notice that it was, in fact, an amazing piece of art.
Adulting Isn't Easy
Adulting can be pretty hard, and we're not even talking about things like paying rent or parenting. We're talking about the little things: the tiny decisions you have to make throughout the course of the day. That's why we really enjoyed this Easter egg. It's just a little pat on the back for using this microfiber cloth to clean a pair of glasses, as opposed to using a shirt or rag.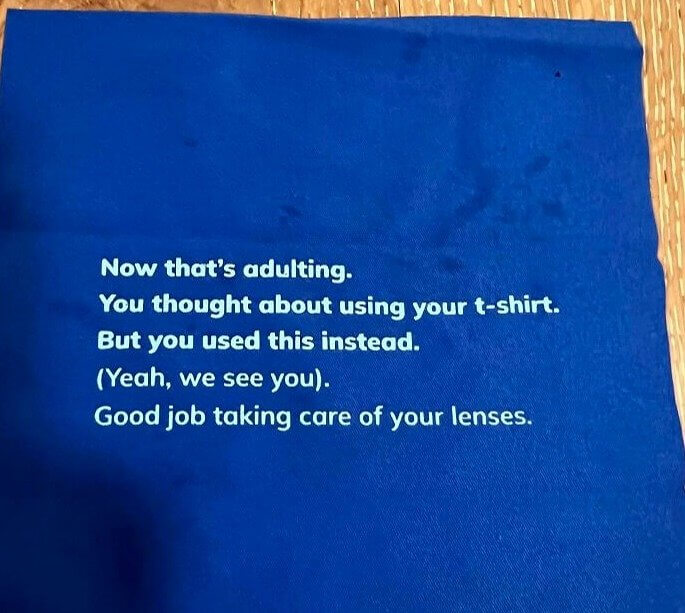 Sometimes it's just nice to be acknowledged for the small things in life, and whoever made this cloth totally gets that. Now if only landlords and credit card companies sent out messages like this for paying on time.
But How Does It Know There Was No Fire?!
This is pretty hilarious. Of course, whoever made this sign knows that people are going to be people, and if they make a mysterious but charming sign like this, they're going to raise the flap. That's what this person did, and they came across another sign with a message telling them to wait until there was a fire. However, this does make us wonder what's actually behind or under this sign.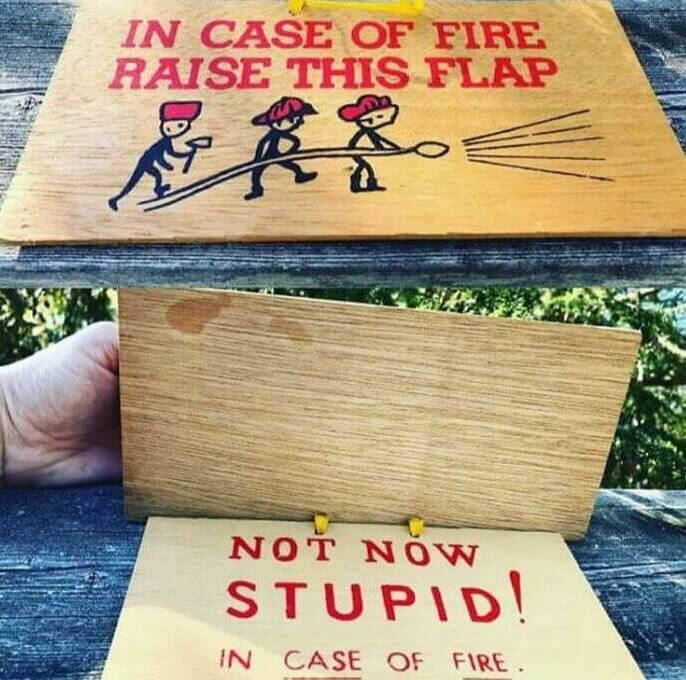 It looks like it'd be pretty hard to hide a fire extinguisher under there, and the image contains three people holding a hose, which makes us think of a tiny firefighting brigade.
A Can With Some Real Words of Wisdom
This can might look like any other you'd find at a grocery store or in a coke machine, but it actually contains some real words of wisdom. If you look closely at the bottom, you can see that there is some text with the usual "Keep fresh" or "Drink cold" directions. However, there's also another line on there that we'll let you read for yourself. Suffice it to say; it's advice to live by.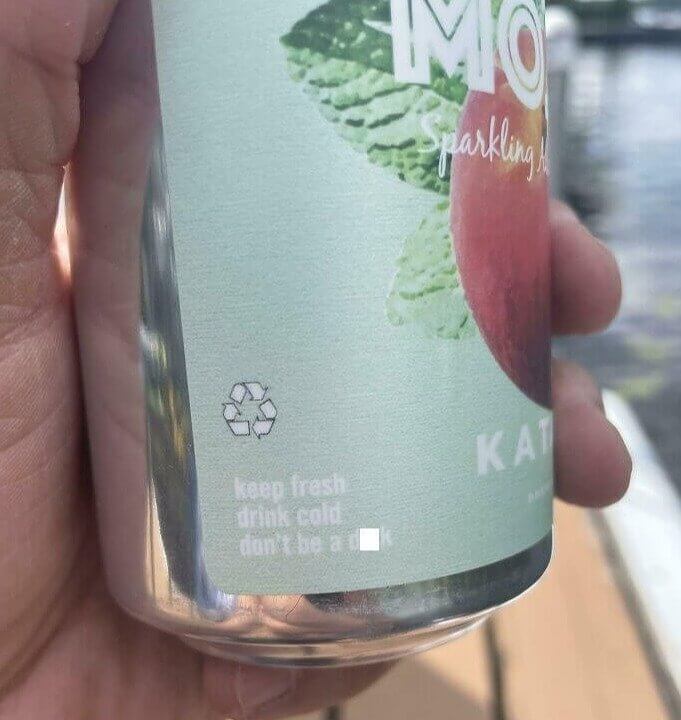 We also like how the rest of the can just looks like normal branding that you'd find on any other type of drink, and then there at the bottom is this.
Good Thing the Rabbit Is Optional - It's Not as Easy to Find as a Medium-Sized Elephant
You'd have to have a keen eye to spot this one. Someone broke out an old cookbook from 1979, and when they were scrolling through the recipes, they came across one that looked a bit odd. It's a recipe for elephant stew, and the directions are pretty hilarious. We wish we could've been there when the members of this church were adding the recipe to the book because we're sure there was a lot of laughter.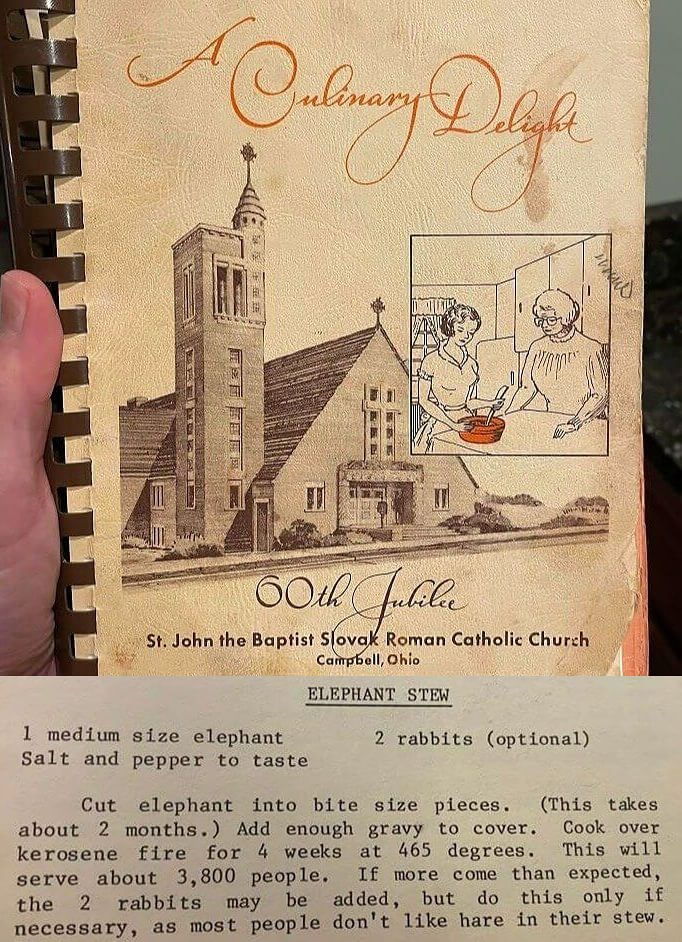 We especially enjoy the little comment in parenthesis that tell the reader it might take them around two months to fully cut up an elephant into bite-sized chunks. The hares are a nice touch, too.
Well, Hello There
This one is pretty random, but then again, all of these are pretty random. This person decided to take a look at the bottom of their can of this container and found that it actually read, "I just wanted to say hi." It's a small detail, but it's just adorable for some reason. Apparently, this can, or container also had hand soap in it, which makes it kind of fitting.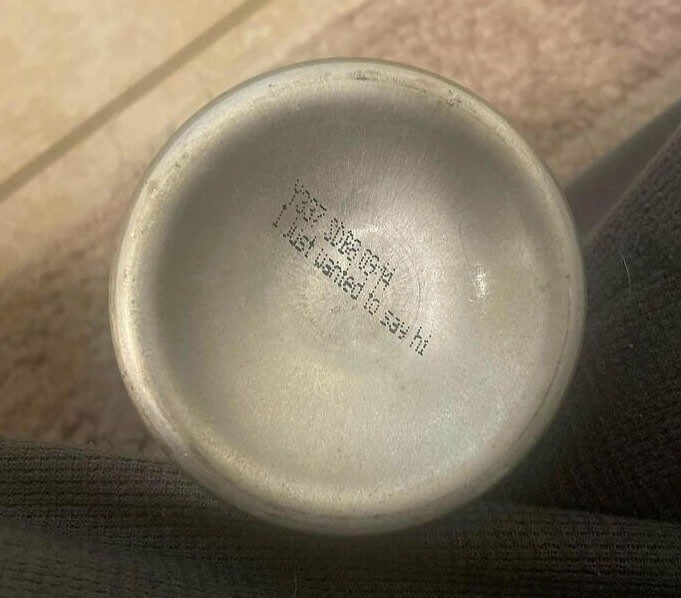 We don't know; for whatever reason, we're just suckers for small comments on different packaging, and we're guessing that if you're looking at this list, you probably are, too.
Petition to Help This Ice Cream Container Get Reincarnated Into a Book Cover
Here's another pretty heartwarming Easter egg. This is the packaging on a container of coconut yogurt. We'll let you read it for yourself, but we honestly probably couldn't think of a more convincing way of encouraging someone to recycle if our lives depended on it. Hopefully, the packaging on this container got its wish and ended up becoming a book cover because we'd be severely disappointed if it didn't.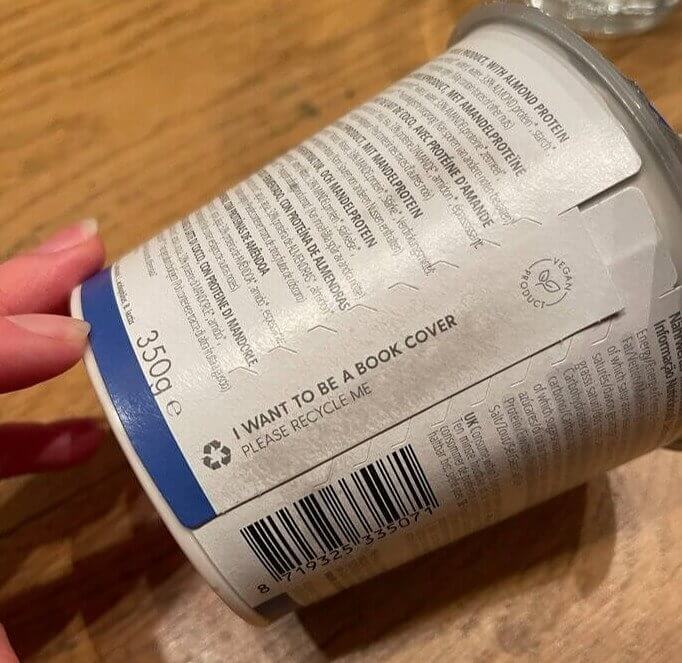 We're sure at least one of those containers out there somewhere ended up being recycled, and who knows, maybe it did end up getting its wish to become a book cover.
Make Sure to Always Look up - You Never Know What Treasures You'll Find
At first glance, this kind of looks like a mural on a building. However, it's actually a small figure that someone made and placed on top of this gate. The small boy looks like he's trying to walk across the beam while balancing with a rod, which is extremely cool. It also probably took someone a good bit of time to make since we don't imagine they sell these at the store.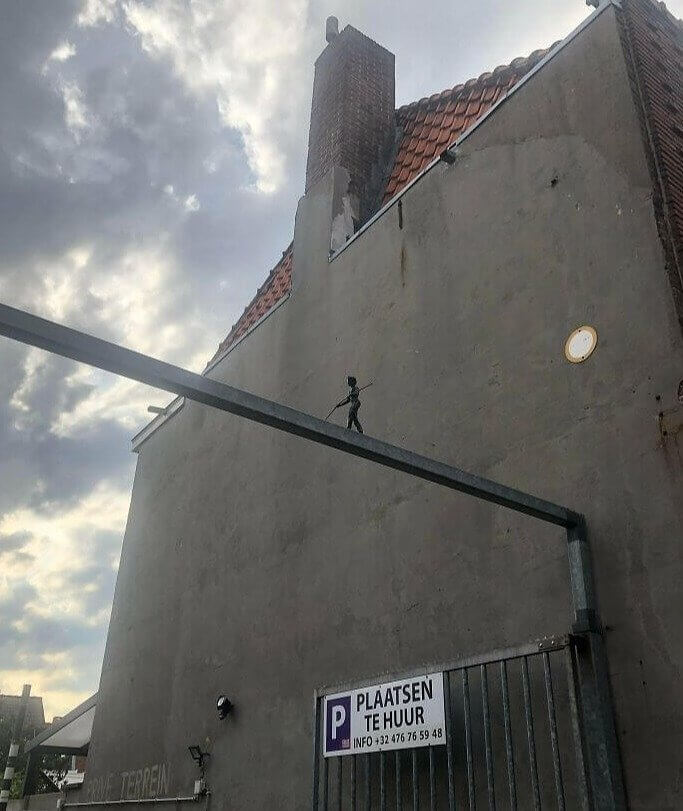 The figure is so small that you'd probably have to really be paying attention in order to see it, but it'd be guaranteed to brighten up your day if you did.
We'll Tell Your Boss It Was Intentional, Don't Worry
Here's another little hidden message on the back of an Innocent drink. This one is a bit longer than the other one on the list, but it's just as clever. Unfortunately, the message doesn't read when the drink is not upside down, which would've probably been too hard to pull off. Still, it's a nice, humorous little message from the people at the company saying that it's definitely not a printing mistake.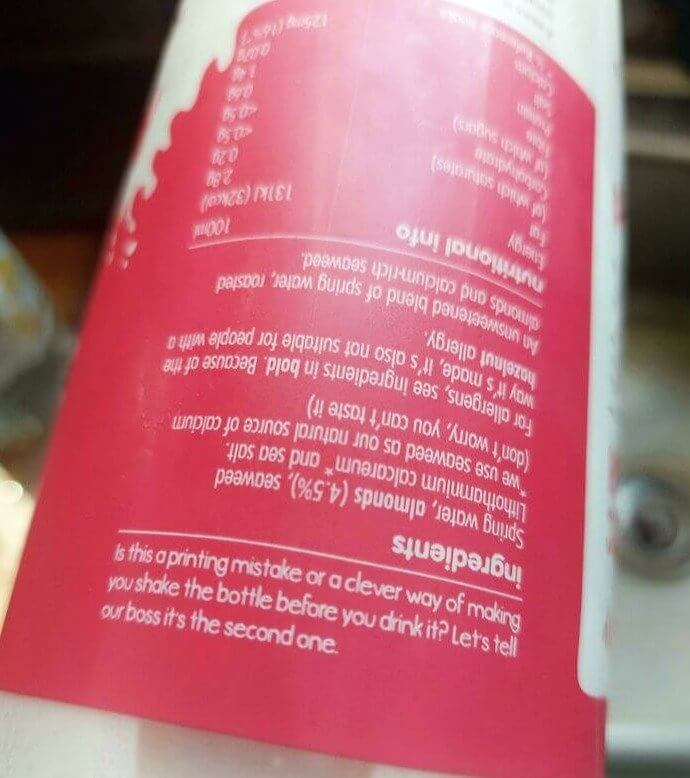 The text is indeed a way of getting people to shake the bottle, or at least that's what they say they're going to tell their boss when he finds out.
Okay but It Depends on Who You Ask
This Easter egg really just called out an entire group of people. Sometimes, guys will flip their underwear inside out instead of washing it (not all guys, just some), and apparently, whoever took this photo noticed a tag on their underwear advising against doing that. It's a pretty funny little reminder, but probably one that we wish wasn't necessary. Hats off to the person at this company that thought of this Easter egg.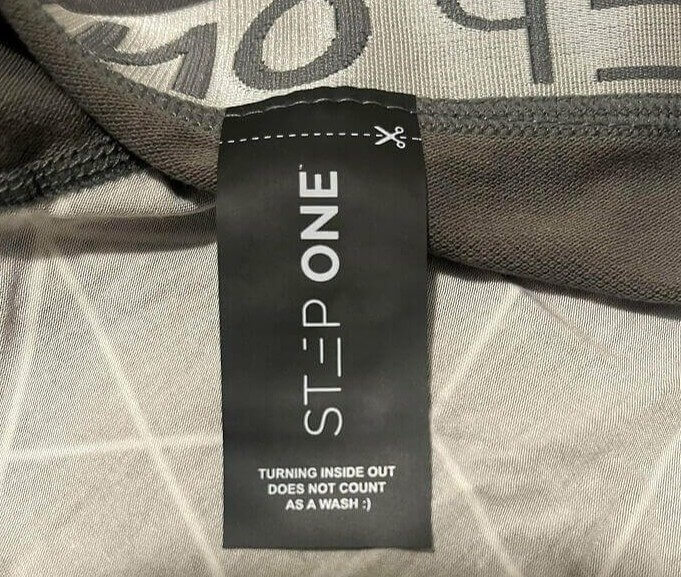 We're also pretty sure that plenty of people have probably found this tag, looked at it, and laughed right before flipping their underwear inside out and continuing to wear it.
The Perfect Little Surprise for When Your Day Starts Off on the Wrong Foot
Here's another friendly message hidden on the bottom of a bag of coffee. This must seriously happen a lot because there's another similar Easter egg on this list. Anyway, this message reads, "You must be tired. Other side, friend." If you're unlucky enough to start your day like this, at least you have a warm message to cheer you up, we suppose. Now the coffee just has to be good.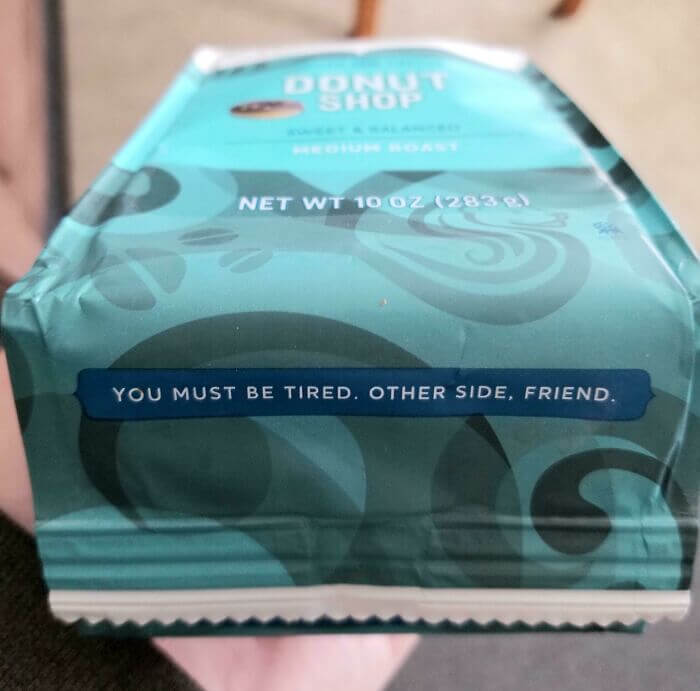 Of course, there's also nothing wrong with just opening the bag from the bottom if you like a little chaos in your life, but we'd honestly feel bad after seeing this message.