Signs at the supermarket, a local business, or a random road aren't usually the most exciting things in our day-to-day lives. They're typically mundane or even threatening, but they're hardly ever funny. That's why when people come across hilarious messages, they usually take notice. Whether these signs were intentionally amusing or no one noticed the mishap during design and printing, encountering them in the wild was so entertaining that people just had to snap a photo.
What Could Possibly Go Wrong?
We're not sure who was in charge of planning and decided to put a nuclear power plant and a spider farm side by side, but they should be fired immediately. We're also pretty sure we've seen this story in every horror and superhero movie out there. A spider walks into some nuclear material, and next thing you know, the world is on the verge of destruction, or we have a teenager swinging around the city in spandex.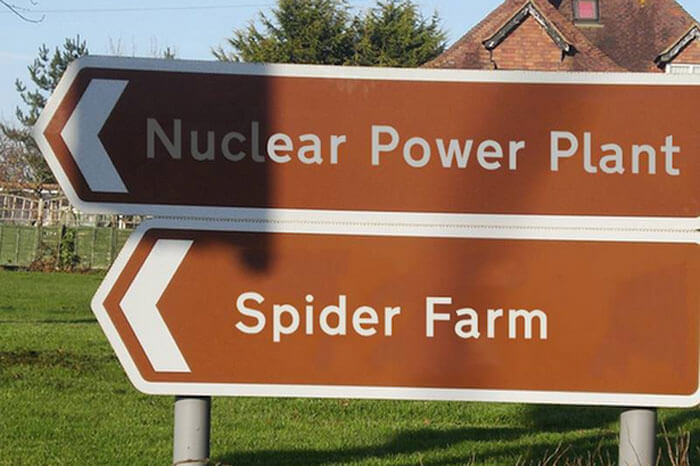 Whatever ends up happening in the next few years, just know that it probably all started here.
Can We Get an "Amen"
Someday humanity will have figured out how to program robots to perform almost every menial task imaginable, and the only thing left for humans to do will be to put up our feet and relax. Until that day, we have this sign. It's there to remind us that we're not alone in dreading the workweek. And with an end to lockdowns and most people returning to work, this sign hits a little bit harder.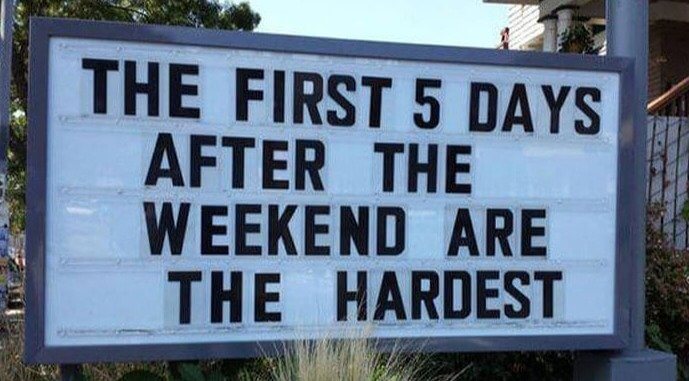 Luckily, some places are now considering four and three-day workweeks. That means this sign could change to "The first 4 days after the weekend are the hardest."
Leave the Poo Where It Is and Throw Out the Pup
Sometimes a sign doesn't mean to be funny but accidentally turns out hilarious. This is one such sign. Due to a little something called grammar and sentence structure, this sign is accidentally telling pet owners to throw out their dogs rather than their dog's poo. And while we can appreciate this dog-owners enthusiasm and his willingness to follow the rules, this might be taking it a step too far.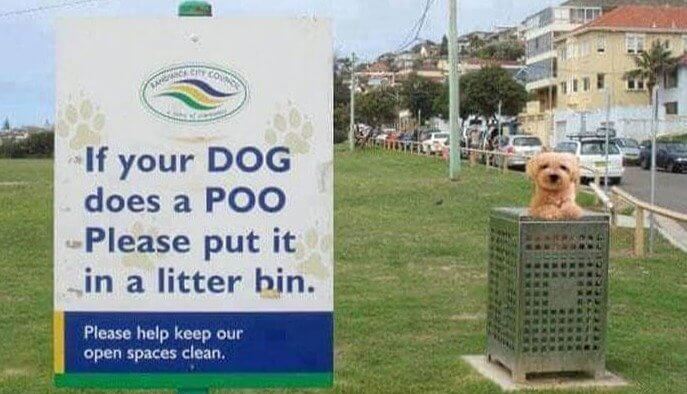 The worst thing is that the pup looks like he's expecting to be given a treat for following directions, and to be honest.
The Parents Need It More
We're not sure who came up with this aisle layout, but they're either a madman or genius. Who wouldn't want to quickly pick up all the essentials when out shopping, especially when you have children? The last thing you want to do with kids is to spend more time than necessary in a store. On the other hand, it's probably not the best idea to encourage buying beers and wines in the same aisle as baby stuff.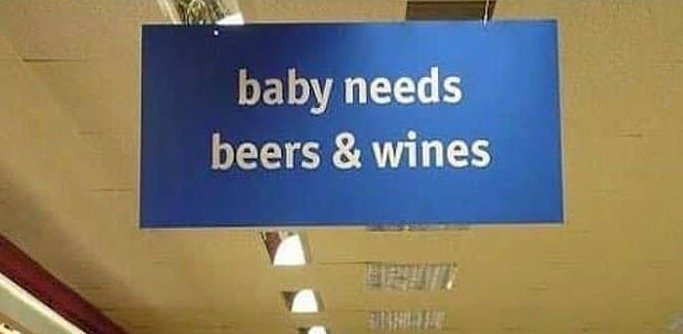 But one thing's for sure: they should've put some sort of punctuation mark or bullet points to separate the two. Now it just reads, "Baby needs beers and wines." Talk about unhealthy advice.
Just Like The Good Old Days
Believe it or not, smoking used to be pretty common in public places. Of course, that was before people figured out that it causes cancer and that planes weren't the best place to have tiny little fires. However, we live in a world that is much different from then. Smokers don't really have all that many places to light up when in public. That is unless you take a trip aboard this boat.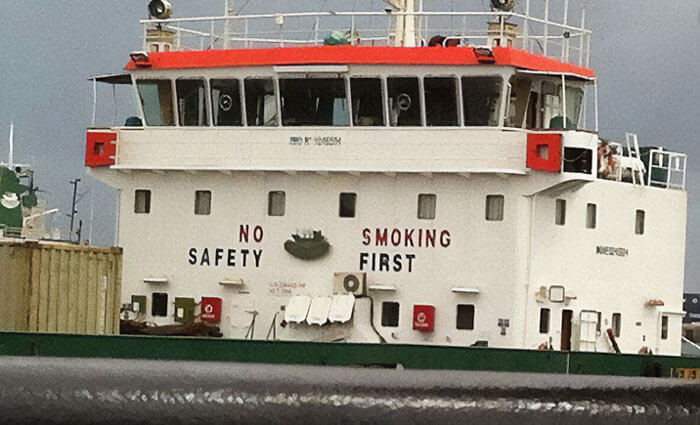 Whoever painted this could've just used either "no smoking" or "safety first" alone, and the message would've been clear. Now, anyone caught smoking has plausible deniability since this says, "No safety, smoking first."
Gas Prices Got Us Feeling Like
With gas prices the way they are right now, we're pretty sure many would agree with this sign. A gas station is probably one of the last places people have wanted to visit lately. It looks like this is a Shell, but for some reason, they don't seem to have all their lights on in their sign. However, it's fitting, considering the one light that's off transforms the station's name to "hell."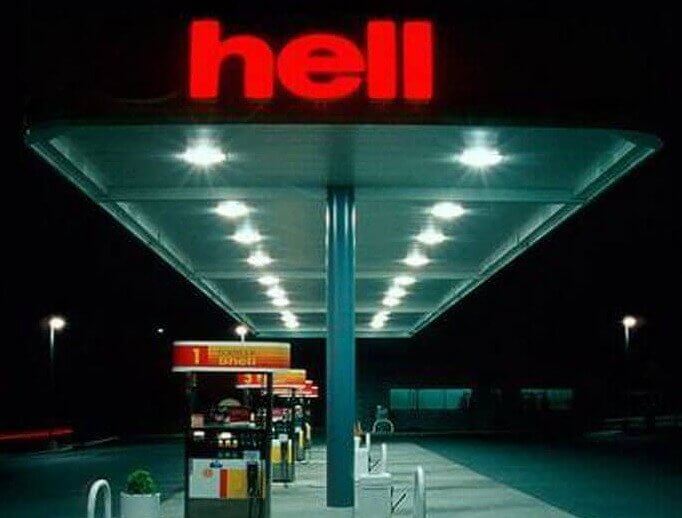 The lighting and the dark parking lot also make the whole scene look a bit eerie. It all looks like a scene out of a cheap horror flick. 
Laughing Saves Lives
Ah yes, the first thing they teach you in swim class: always make sure to "lol" when you see someone else drowning. Only after you finish should you call 911 or a lifeguard. Seriously though, as hilarious as this little stick figure is, what good is calling 911 going to do for someone who's drowning? It's not like this is someone who just had a car crash; people tend to drown pretty quickly.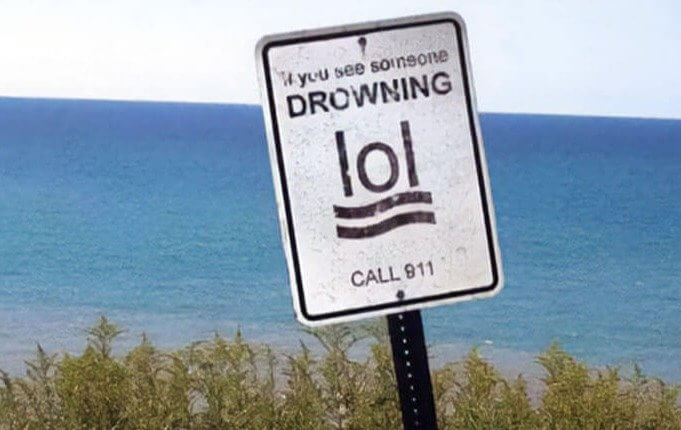 We suppose it's a better move than just standing there snickering, taking a photo, or even jumping in yourself.
You Sure About That?
There's something about the combination of seeing this poor decision and unfortunate branding that makes this photo an instant classic. Looking closely, you can see Wefit's motto, "We go the extra mile." That's also kind of fitting (no pun intended), considering they are, in fact, not going an extra mile in this photo. In the driver's defense, though, that height sign is pretty much placed at the point of no return if you're driving a semi.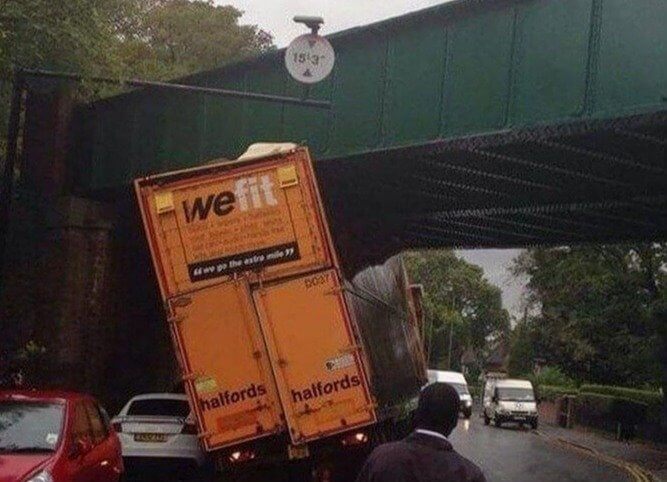 Also, in the driver's defense, they almost made it through. Their trailer would've been banged up, but at least they wouldn't have been holding up traffic. 
Teaching Those Helmet-Less Riders a Lesson
We have a theory about this photo: they wanted to make helmet-less riders regret their decision. The other possibility is that the bike lanes were placed by people who'd never learned how to ride and were still bitter about it. After all, what other reasons could anyone have for placing the lanes right in the middle of a sign? It'Ands like planting trees right in the middle of the sidewalk.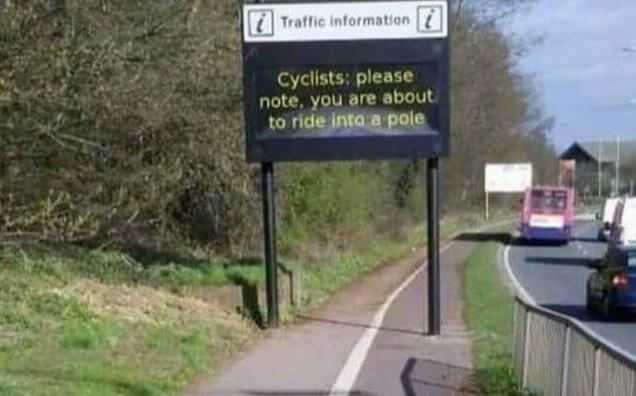 And the worst part is that the sign seems to serve no purpose other than to warn bikers that they're about to hit the sign's pole.
Every Villain Ever Be Like
This one sign fixes half the plot holes in any movie involving a supervillain. We aren't sure where this photo was taken, but we can assume this sign was or is a joke. Nobody would be stupid enough to make a sign leading to their secret nuclear bunker, right? Well, you'd be wrong. This photo was taken in England, and that sign really does lead to a "secret" nuclear bunker.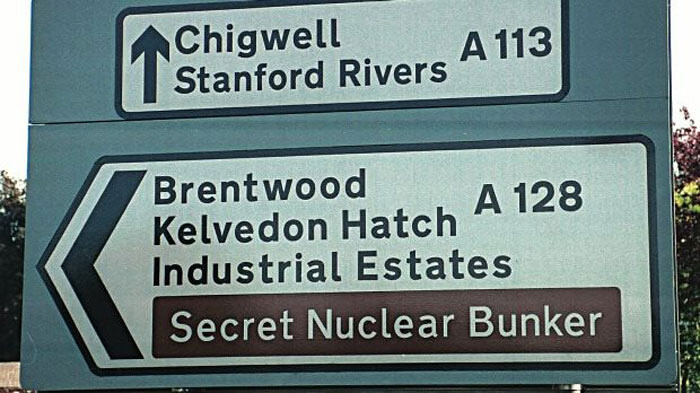 At least it used to be secret when it was built during the Cold War. Today, the sight pretty much just serves as a tourist destination, hence the sign. 
When You Want to Attract a Specific Kind of Customer
If you ever find yourself looking for a sign from God or the universe, look up at the nearest neon light. The odds are you might find just that. Someone found their sign when they snapped this photo at Morrisons. And their experience teaches us a valuable lesson: the universe's message might not be what you expected. Also, if you aren't sure what Morrisons is, it's a chain of supermarkets in the U.K.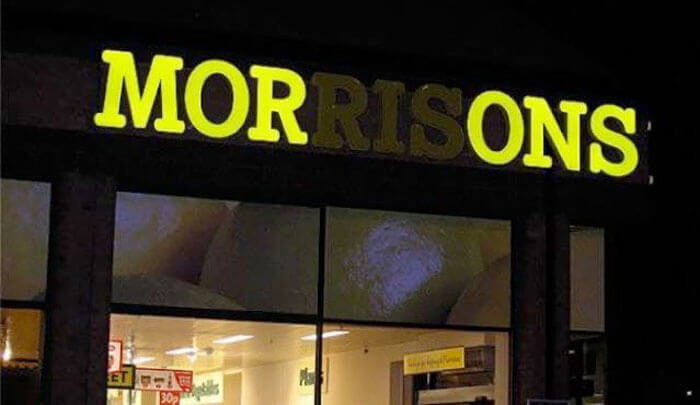 We're pretty sure nobody likes being called a moron before even walking into a store. We've got a feeling this mishap lost them some customers.
We Think the Husbands Should Pay for Their Own Drinks
We're no experts, but we're pretty sure they call what this sign is referring to a "pub" in the U.K. You have to give enormous credit to whoever does their marketing. This sign is simple yet effective. The strategy here seems to be based on the ancient Roman marketing principle: give the people what they want. Men generally want to go to the pub or bar, and women enjoy their time to themselves.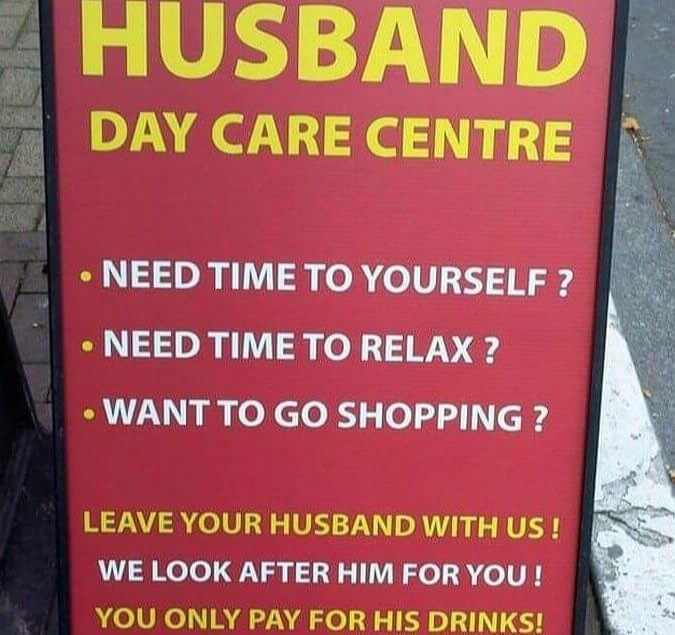 Then again, we're pretty sure not many people will be happy about getting stuck with their partner's bar tab after they come and pick them up from "daycare."
You're Welcome
Sometimes signs are just in the wrong place at the wrong time. You can't really blame them for it, either. This sign just happened to be minding its own business and thanking people for driving safely when someone decided to flip their car right behind it. Interpretations of carefully also differ, so it's not entirely the driver's fault, either. The worst thing about all this is that this area is probably prone to accidents if they felt the need to put a sign there in the first place.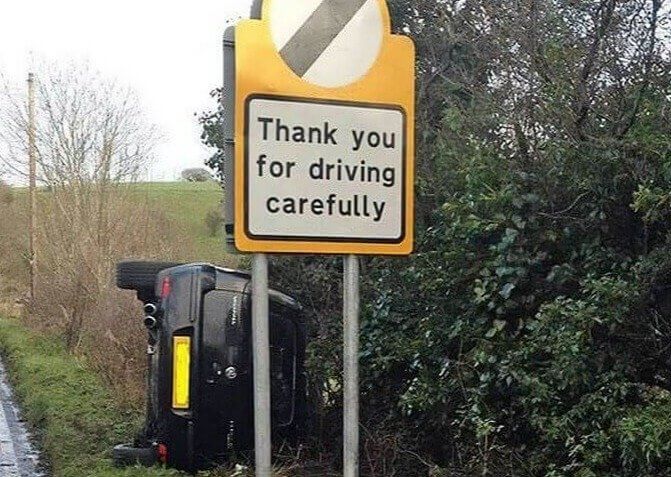 Luckily, the wreck doesn't look that bad. Maybe the driver was just trying to prove a point.
Our Next Road Trip Destination
It's got to be hard coming from a town called Dull or Boring. Before you even meet someone, they probably have all these preconceptions about you. That's why places with names like Dull and Boring must stick together. This sign from the U.K. announces to the world that it's paired with its sister-city in the U.S., Boring, Oregon. And according to a commenter, Dull is also now paired with another place called Bland in New South Wales.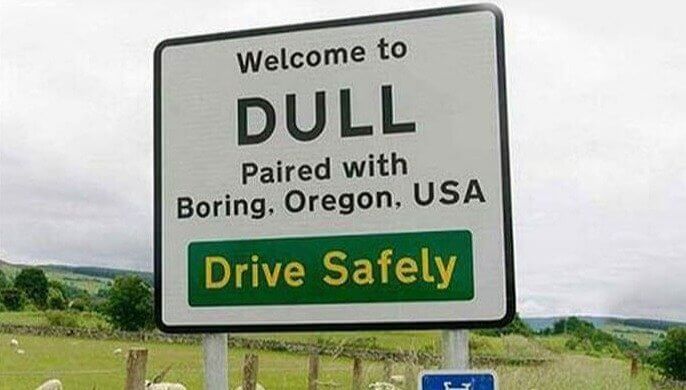 The worst part is the people from these towns probably feel extra pressure not to be boring, dull, or bland. Oh, the labels the world throws at people. 
More Like "for Your Inconvenience"
We're not sure what the backstory on this sign is, but it may be just a mistranslation. Why would anyone joke around about their elevator being in China? The sign also looks a bit last minute, as if the elevator just went out, and someone quickly ran and printed out a sign saying as much. However, if this sign is legit, that brings up a slew of other questions.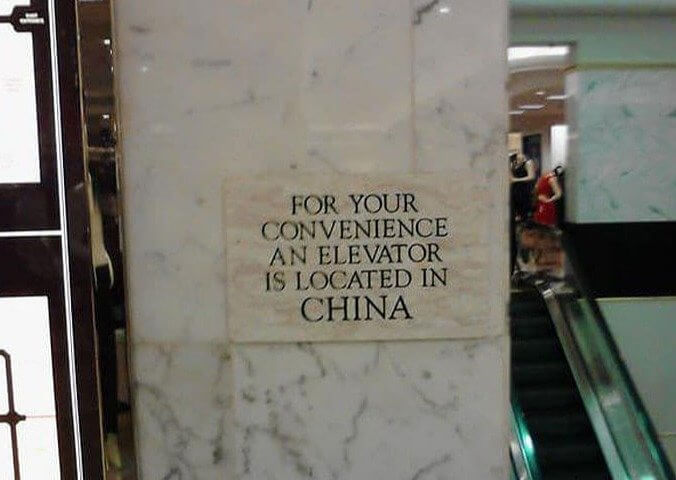 For instance, where are the stairs? What about the parking garage? Will the escalators take us directly to China? What if we want to grab a buggy? So many questions and no clear answers.
Traffic Lawyers Will Be Sure to Use This in Court
Coming across a sign like this is like coming across a get-out-of-jail-free card. Of course, the stakes aren't quite as high when it comes to fines, but you get the point. This sign is like someone giving you free rein over the parking lot. Want to park annoyingly crooked? You can do that. Want to park in a reserved spot? You can do that. Want to park in a handicapped area? Don't. That's still messed up.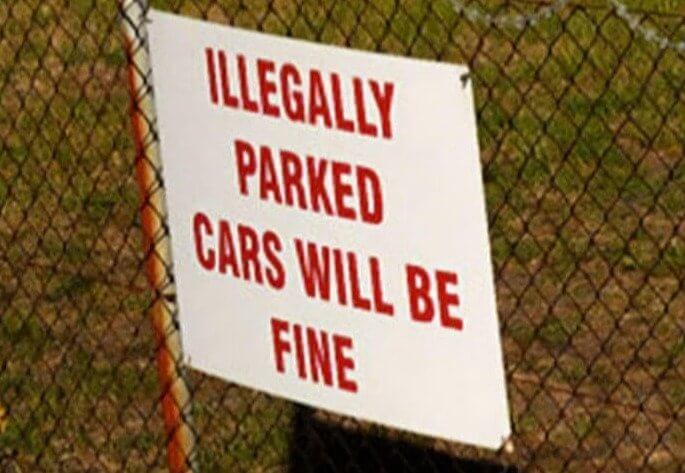 We're not too sure how this sign made it past whoever ended up placing it there. It's not hard to see that there should probably be a "d" to fix the sign that now reads, "Illegally parked cars will be fine."
A Real Life, 1-Star Review
If someone ever asks you what the definition of irony is, you should probably show them this photo. This aisle contains fasteners, but the sign has come off the holder. However, to be fair to the fastener, it wasn't its fault. If you look closely, you can see that the fastener is completely fine. The sign just tore and came off. Although, this still doesn't mean you can trust this store.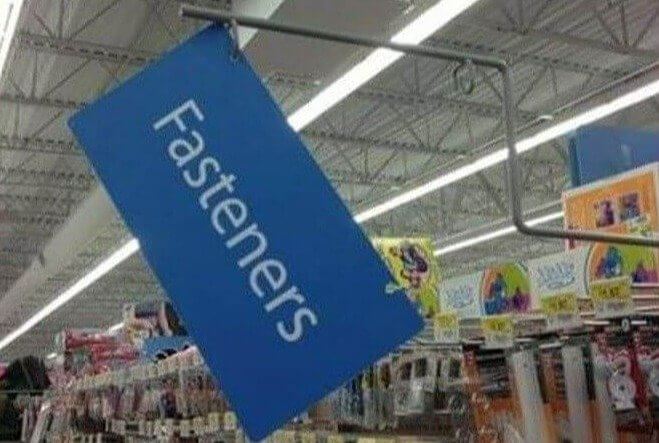 This is the definition of an in-person review, and it's not good.
No Trespassing Here
Here's another example you can show someone if they ask about irony. However, how this one came to be is a mystery to us. What's also a mystery is what happens if that gate was to be opened. The sign looks pretty menacing, and someone even went through the trouble of chaining everything up. We're sure probably nothing would happen, but there's some little scientific chance it leads to another dimension.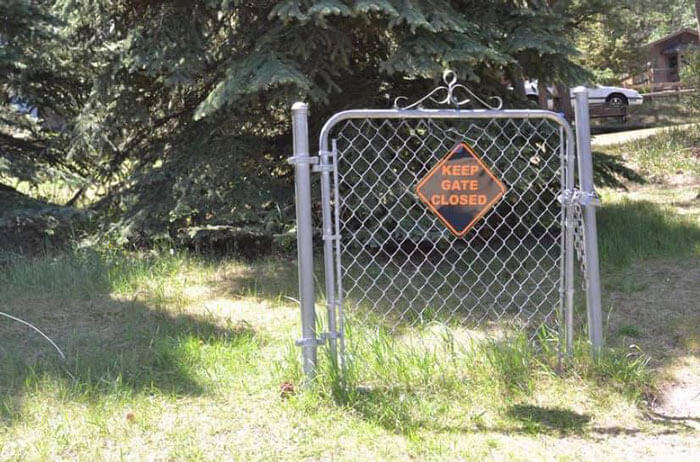 So while it's hilarious to see a fence door that warns passersby to keep it closed, all the while having no fence surrounding it, we're also a bit creeped out.
That's A Good Thing, Right?
It doesn't take much in the way of a spelling mistake to quickly change the meaning of a sign. In this case, someone meant to write the word "order" but instead spelled "odor." It's not a significant change, most might even say it's a change for the better, but it's still unclear what someone should do next when they see this. If we saw this sign, we'd think, "Right on! Finally, a nice-smelling bathroom," and walk right in.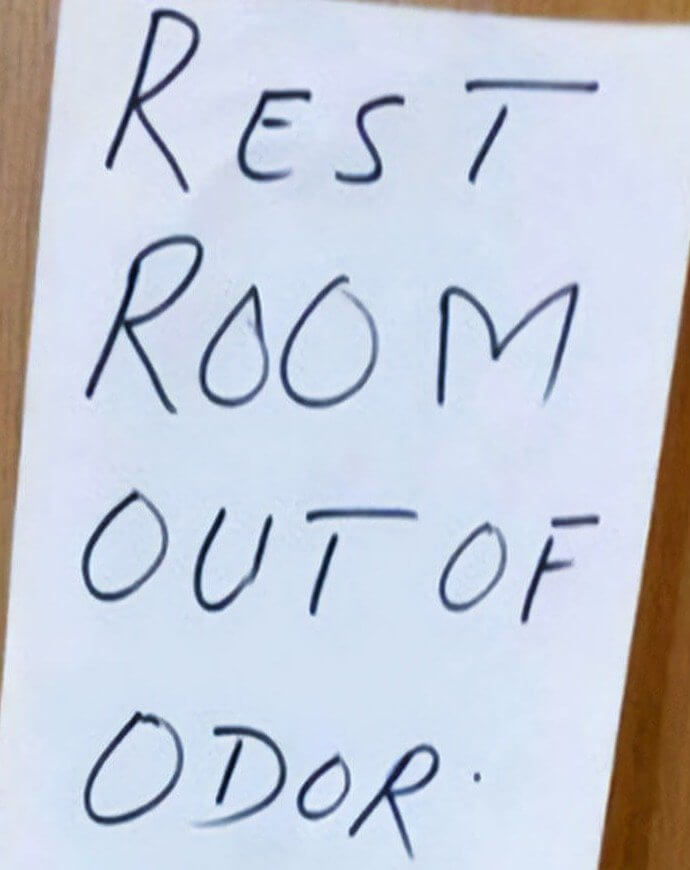 If the whole thing is out of order, then walking in and expecting no odor is probably not a fun experience.
That's Usually How That Works
We're not sure what the back story behind this sign is, but after reading it, we'd really like to know. Either Wiley E. Coyote went zooming through it one day, or Casper the Ghost keeps bumping into people. Why else would they bother writing, "Please open door before leaving?" It's a pretty weird sign, but it's also pretty reassuring to know that we've been doing it right all along.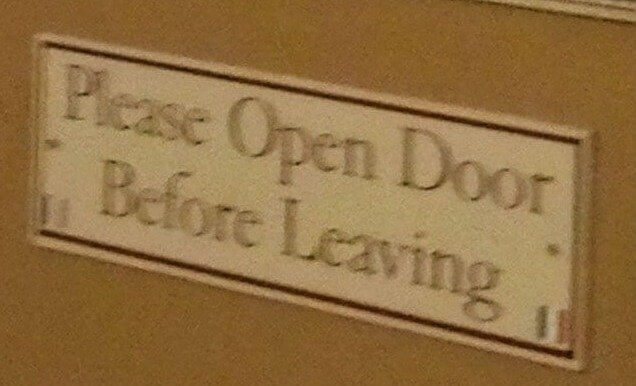 Alternatively, the sign could be asking people to keep the door open when leaving. If so, then that might make sense, but the wording here is still really strange.
The Aliens Are Out There
As if people needed more proof to believe in aliens after the recent hearings in the U.S., now we have an actual sign. It's not a crop circle, but it just might be a government employee trying to spread the message. It also might just be a fortunate sign placement. But, we're going with the first theory. A higher level of intelligence had to be the one to come up with something so clever.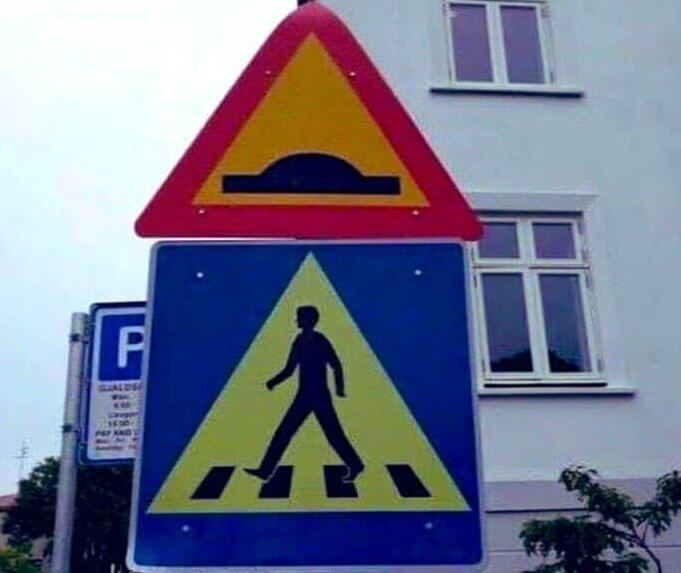 Jokes aside, we can't help but hear the old theme song of the X-Files when looking at this. There's just something about that tune that works perfectly with this sign.
Correct Spelling Saves Lives
We had to do a double-take when we first read this sign. The latter half of it is fine, but the spelling of "tong" seems to be a bit off. Instead, it's telling customers to use their tongues to pick up bagels. We're pretty sure the food inspector might have a thing or two to say about that. Hopefully, nobody took this sign at base value and started bobbing for bagels.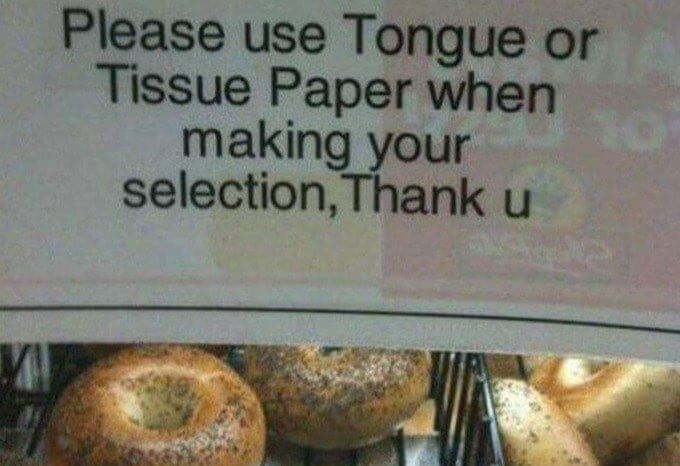 That'd be pretty gross, especially with a little thing called Covid going around. Then again, whatever floats your boat, we guess. Just keep the tongues away from our favorite bagel spot. 
Our GPS Be Like
This sign shows what looks like a traffic circle in the U.K. However, because it's so confusing, someone went ahead and added a couple of apologies to the sign. Commenters quickly pointed out that the apologies are photoshopped, but they still seem right at home, considering the confusing nature of the sign. Many commenters also noted that this is what Americans do when facing a traffic circle.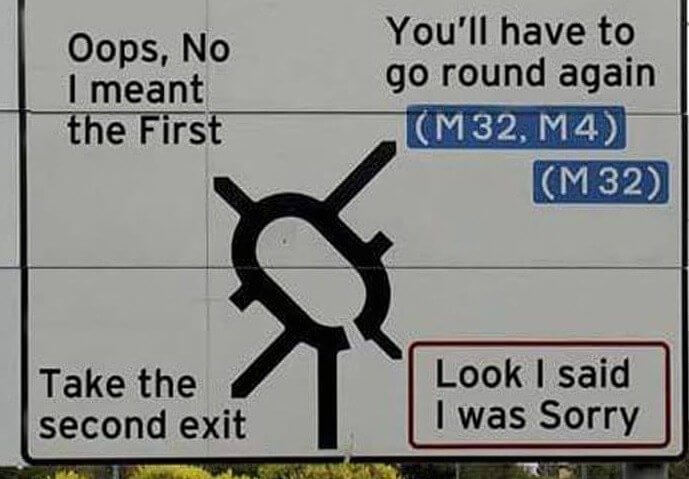 Those points aside, we think it says something about Apple that we keep reading these apologies in Siri's voice. Make it work, Apple. You've had long enough. 
The Grocery Store Putting Us Through the Ultimate Test
We're not sure who was responsible for putting up this sign, but what a sick, twisted game they came up with. They listed the worst, health-wise, things you can buy at a grocery store, and then right there in the middle, they included items for healthy living. It's almost as if this entire aisle was put together as a social experiment or something. But, it wouldn't take a study to figure out that most people would probably fail. 

Then again, we could be going about interpreting this sign all wrong. It could just be a way of encouraging people who find themselves on the aisle to be healthier. 
Nine Out of Ten Times, That's the Answer
After being bombarded with ads all day, it's refreshing to see some honesty in marketing, even if that honesty is coming from a bar. Instead of plastering some kind of clever saying or using some cheesy marketing tactic, this fine venue decided to get straight to the point. All most people want to do is drink on Valentine's Day, especially if they're spending it alone.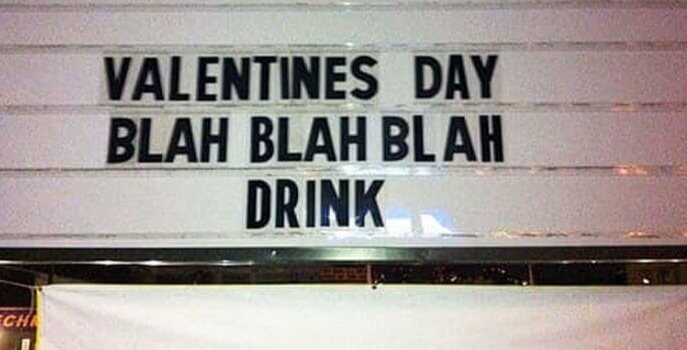 They're basically using the same marketing tactic as the last pub: give the people what they want. That isn't too hard when you own a bar and pretty much serve something that's been making people happy for centuries.
Unless Your Aim Is off
We've only played golf a couple of times, but after reading this sign, we now know that people trying to grab your club and give you pointers is a common occurrence on the course. Apparently, it's so common that this golf club put up a sign in the men's bathroom. As reassuring as this sign is, some commenters noted that you were still likely to get judged while in the bathroom.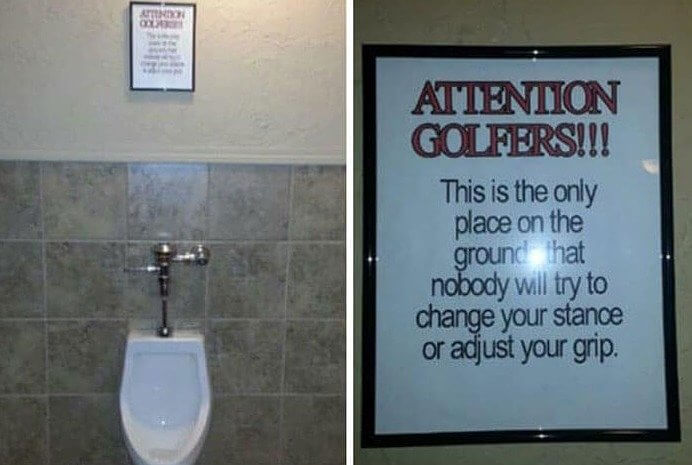 But, it's still nice to know that country clubs and golf courses can have a sense of humor. At least, we hope this sign was put up as a joke. 
Great Use of Taxpayer's Money
This photo shows what can happen when you give people meaningless quotas to fill. You end up with a sign that's not really a sign or doesn't identify as a sign, or whatever you want to call this—just thinking about if this sign is a sign or not actually hurts our brain. On the one hand, it looks like a sign, but on the other, it doesn't contain any helpful information.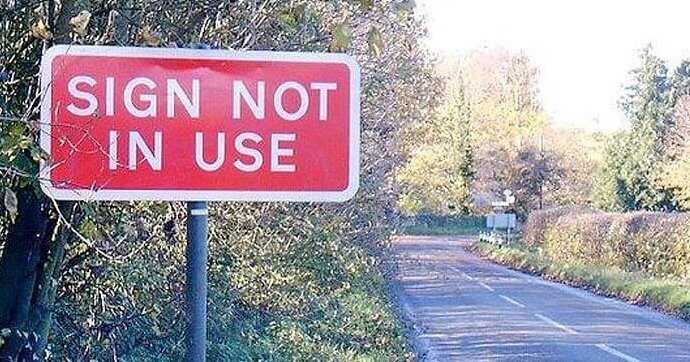 Like the ironic signs we've already looked at, you could probably show this to whoever is asking you to explain Shrodinger, and it would make sense. Then again, at this point, we're not too sure about anything anymore.
Is This Reverse Psychology?
Sometimes is enough to encourage people not to do something, like the spider farm sign we looked at earlier. Other times, a sign practically begs you to disobey whatever it says. This is one such sign. We're not sure why but after seeing it, we want to touch the edges to see if they're sharp or not. Also, the fine print should probably be a tad bigger.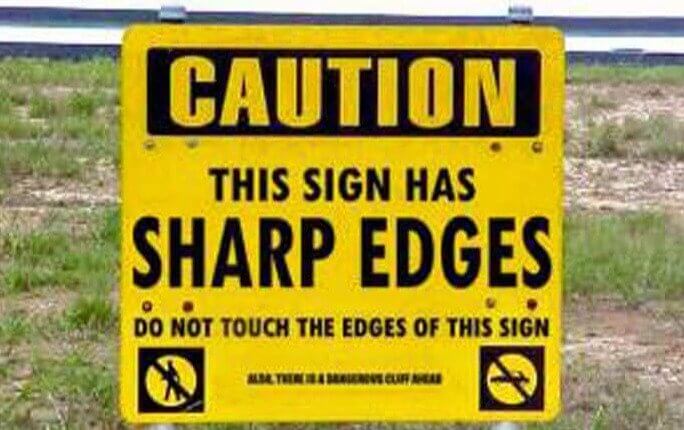 We're no experts, but it would seem like a fall from a cliff would cause more damage than touching the edges of a sharp sign. However, that makes us wonder what was going on before to make them emphasize not touching the sign.
The Wind Speeder Ride Got Intimidated
This is what happens when deceptive marketing meets reality. Sure, you're not actually seeking the wind when you go on this ride, but the name still implies some level of danger. In all seriousness, though, this isn't that reassuring in terms of ride safety. Fair rides already don't have the best track record for that kind of thing. If we saw a sign like this next to a ride, it'd make us think that the thing was held together with duct tape.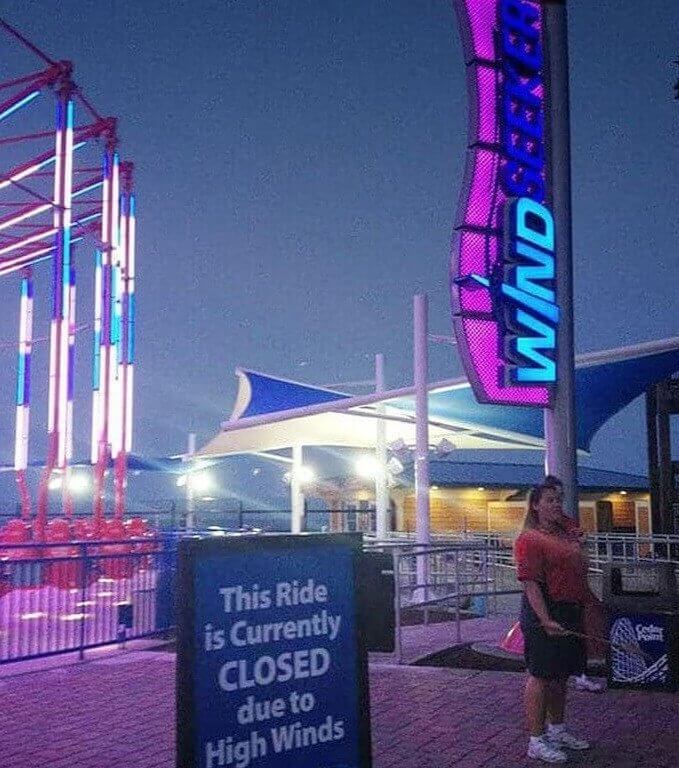 But, it is reassuring that they decided to shut everything down instead of risking someone's life. It also made for a pretty funny photo or lesson in irony if you like. 
Caution: Skiing Kangaroos and Wombats Ahead
Lesson one for those who've never been to Australia is to keep looking for wombats and kangaroos on skis. They're really into winter sports there despite the extreme heat. There is a possibility that this sign is referring to kangaroos and wombats crossing the road, but we prefer to think that some Aussie just trained a bunch of animals to ski once upon a time, and now they just roam around.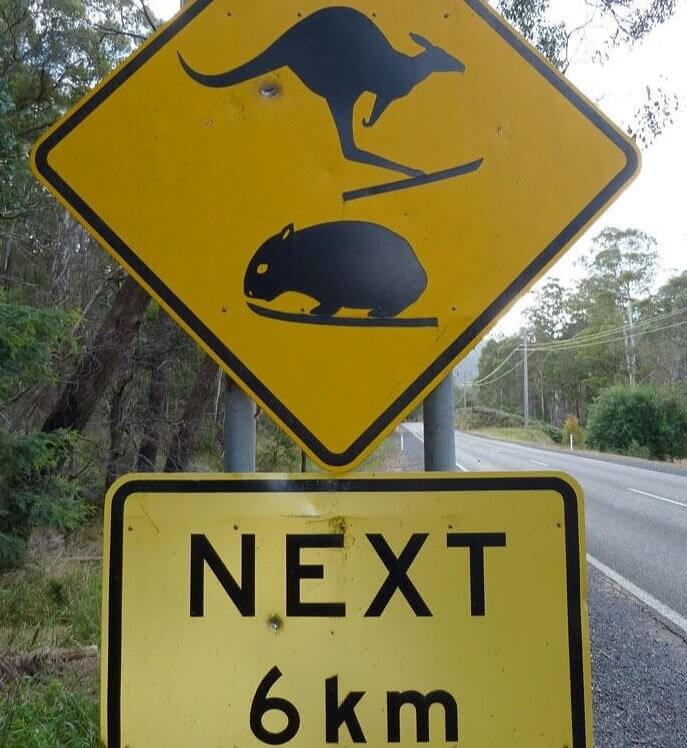 Also, if the signmaker was referring to roads, then they wouldn't have made them look exactly like skis. The wombat's ski even has a little curl in the front, which is honestly kind of adorable.
The Best Place to Get Shoes
While this might make for a good strip club sign, it's actually advertising for a shoe store. The store's actual name is Super Shoes, but they're probably getting more foot traffic with one of their letters out, to be honest. The new name just rolls off the tongue in a way Super Shoes doesn't. It'd also make a good name for a motel.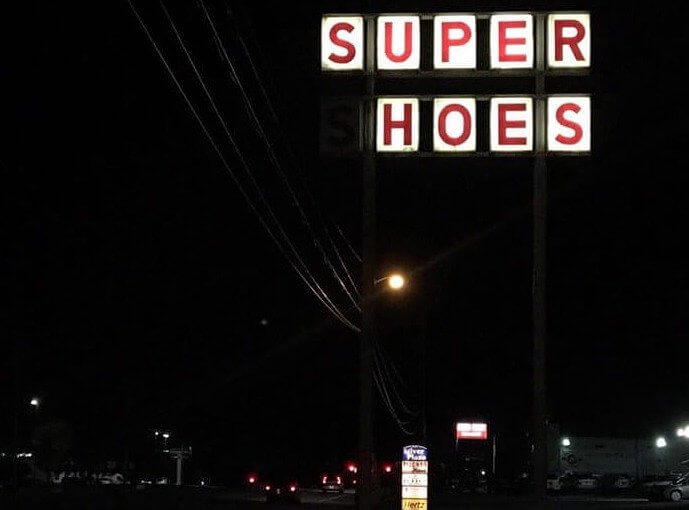 People who saw this sign and weren't previously familiar with the shoestore probably pulled over and faced a disappointing (and confusing) sight.
This Generation's Biggest Philosophical Debate
We never thought a storefront sign would pose such an existential question. But, Are Feet Shoes does just that. If you think about it, feet are just shoes for your skeleton, making your hands gloves and your legs pants. It also seems fitting that a store called Bare Feet Shoes would be asking such a question, considering their name doesn't really make sense, either. But hey, whatever works for them!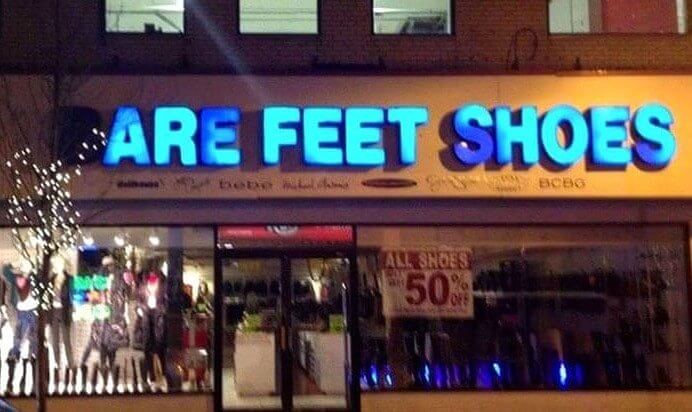 What exactly are bare feet shoes? Maybe you could include flip-flops in that category? But from the storefront's look, this place sells boots and other fancy footwear. 
Duly Noted
There's nothing like looking at a tag and receiving a piece of advice you never thought you'd hear. In this case, the label is on a piece of clothing, and the recommendation is to keep children away from fire. Because you know there's an issue with encouraging children to play with fire these days. This tag makes us wonder what the item is because the only thing that makes sense is a firefighters outfit, and we don't think Mark & Spencer sells those.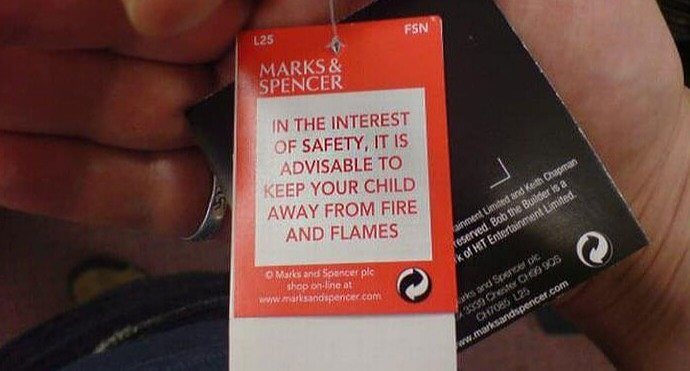 Even if they did, we're pretty sure this warning label was thrown in there by some overcautious lawyer because, once again, most normal people aren't plotting a way to get their kids to play with fire. 
Big Brother Really Gives Us No Privacy
The British have officially lost the ability to criticize anyone else about their English after showing up with this sign. Probably the best thing about this is that the directions underneath still technically make sense. Those are indeed all things one would want to do to help keep their pubic spaces safe. However, they probably don't need the government telling them to keep their hands away from their face to do so.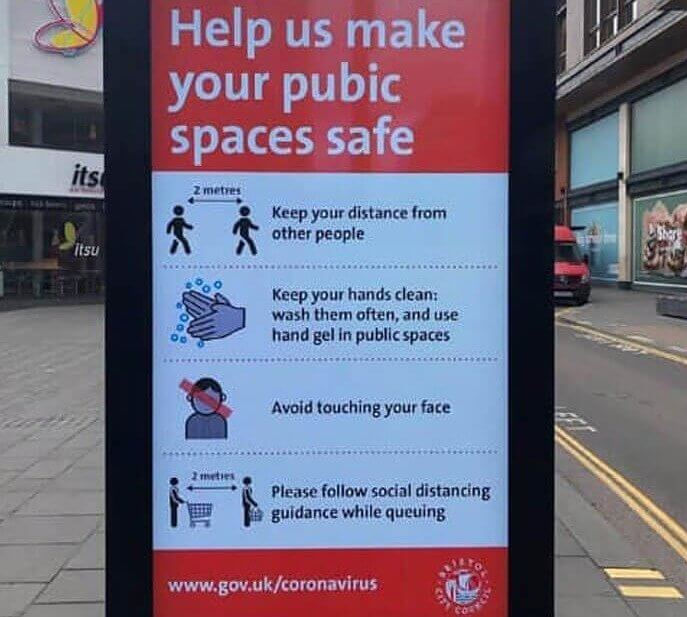 We're also curious about how this made it past so many people. This sign had to touch at least ten hands before it was publicized. 
Save the Planet or Drive off the Bridge
Environmentalists are getting pretty aggressive these days. Just take a look at this funny sign telling drivers to take their cars and drive into the water. With rising temperatures, we can't really blame them, but some people still have to commute. We're not sure if the city put this sign up, but it's probably a bicyclist's dream not to have to share the road with traffic and honking horns.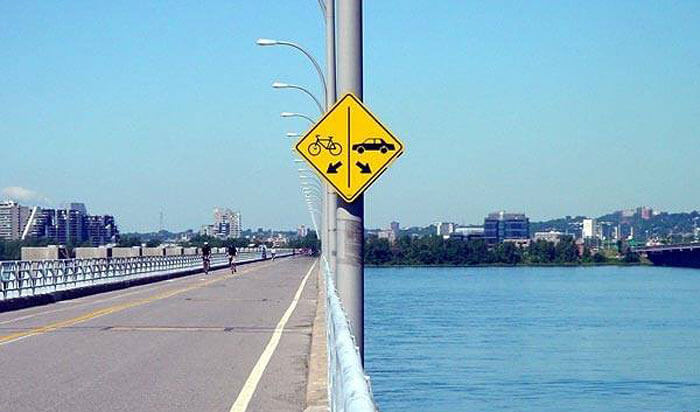 Maybe one day we'll have electric cars that can fly or drive in the water, but for now, maybe don't take this sign's advice and drive straight into the ocean.