Sometimes it feels like our feeds are all perfect smiles and stunning scenery in this social media era. But the truth is, influencer life isn't all that glamorous, especially when a photo opportunity takes a (hilariously) wrong turn. From downright embarrassing behavior to inappropriate timing, keep scrolling to see what happens when influencers take "Doing it for the Gram" way too far.
This Influencer Who Got Exposed By Her Own Dad
The influencer world is full of competition. It's difficult to find a way to make yourself stand out enough to get a large following and make a decent living in the industry. This girl found a way to make herself memorable... she decided to tell all of her followers that she has heterochromia, a unique condition that can create different colored eyes. In her case, one blue eye and one hazel eye.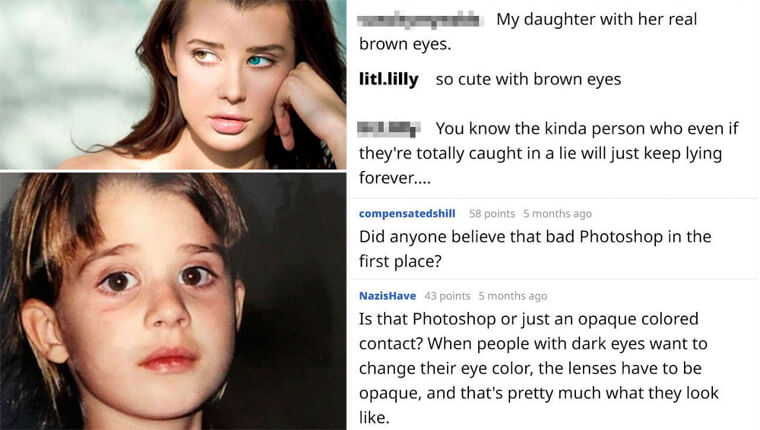 The only problem is that many childhood photos of her prove that she does not have this condition at all. Even her father exposed her two brown eyes in a public post!
Photoshoots That Are Best Done in Private
There is no need to shame people for taking all types of pictures - to each their own. As long as they are not harming other people in the process, let people live their lives. But these women probably should have been a little more considerate when it came to photographing in such seductive poses at a public pool. The little kids are all watching them, and we bet many of the parents didn't love it.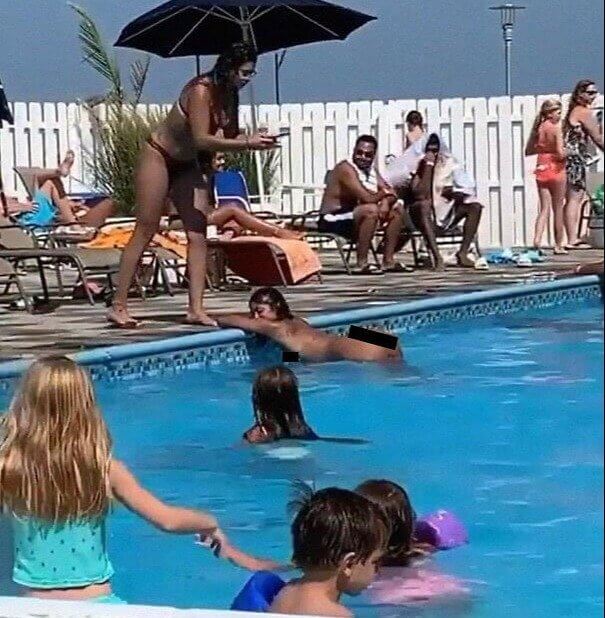 There's not much that can be done to avoid seeing such photo-taking sessions, especially when it comes to beaches and pools. Public photoshoots have become such a standard part of life at this point. 
Maybe Put Your Phone Down Before Scattering Ashes
It was a beautiful sunny day when she went to complete her loved one's final wishes. Still grieving the loss, she wanted to smoothly and sentimentally put the ashes to rest. As someone took a video of her throwing the ashes to the ocean, things took a turn for the worst. A strong gust of wind came out of nowhere and blew the ashes right back into her face.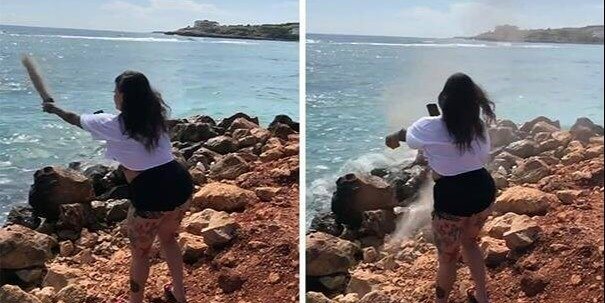 Of course, no one deserves this. But did she seriously need someone filming her while also filming it on her own phone? We can't help but think this incident could've been avoided had she not multi-tasked like an influencer.
She Took Rubbing the Buddha's Belly to Another Level
This is just one of those photos that had the internet rolling its eyes and thinking, "Really?!" Maybe these dedicated influencers forgot that the Buddha is a very important religious figure to so many people, and their inconsiderate actions could be seen as blatant disrespect for another culture and religion. It is already inappropriate to sit on the Buddha while fully dressed, but even more so in tiny bathing suits!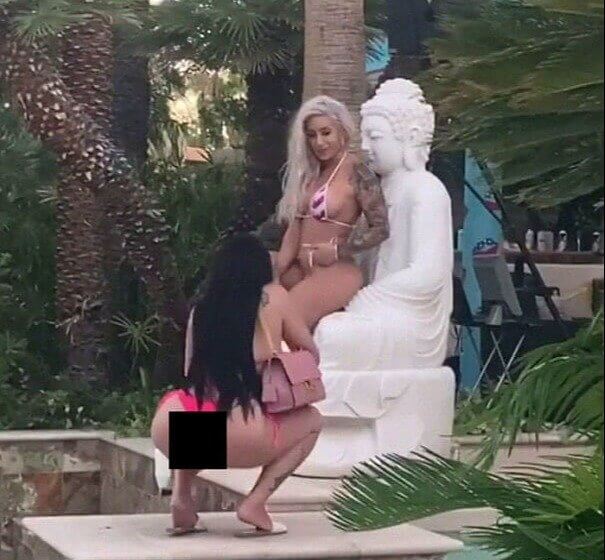 What was the purpose of this photo in the first place? Where would they even post it without receiving extreme backlash for their inconsiderate behavior? So many questions, so little patience.
A Lesson on How to Get Security Called on You
Taking a nice little visit to a botanical garden is always a fun way to spend an afternoon, but one of the most important things to remember when visiting is to make sure the plants stay safe and unharmed. This influencer didn't seem to care too much about the plants at the conservatory and trampled all over them just to get her photo. The staff and other visitors asked her to stop multiple times, and she ignored them all.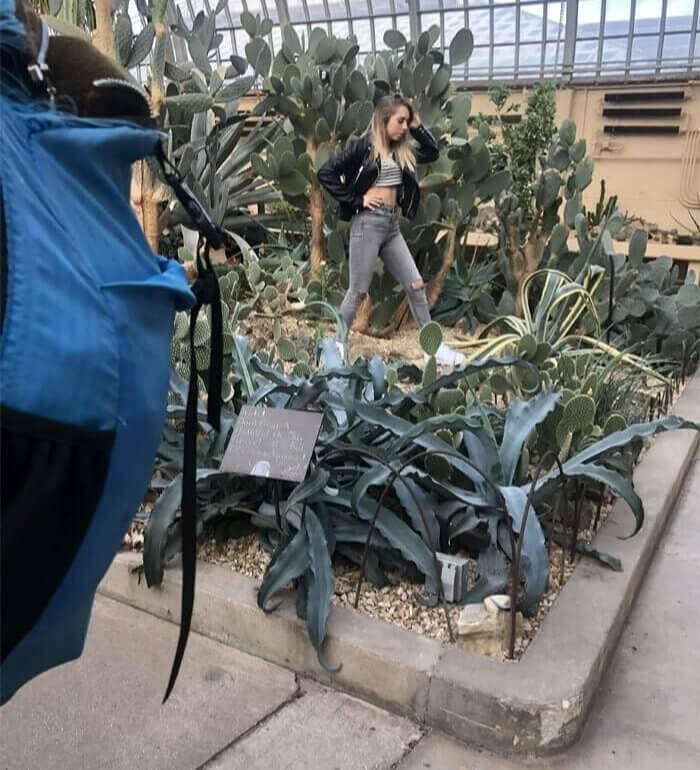 The only way to get her to stop destroying the plants was to bring security in to escort her and her photographer out of the conservatory physically. 
They Took Pictures Frolicking at a Concentration Camp
Auschwitz is not the place to take a happy-go-lucky photo or a smiling selfie. It is where over 1 million innocent men, women, and children were murdered. These influencers clearly did not think to respect the memory of the people who suffered and were killed at this site and chose to take "cute" photos there instead. What are they smiling about while visiting this place? The site's official social media page even called them out!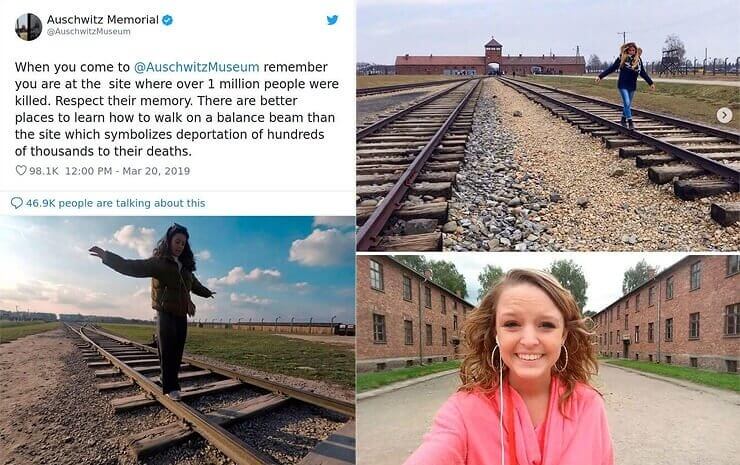 Hopefully, their followers also called them out on their inappropriate behavior, and they were able to learn from their mistakes and are now doing a better job respecting historical sites.
Child Labor Laws Need an Upgrade in the Influencer Era
Becoming a parent doesn't mean you should give up on all of your passions and hobbies, regardless of whether others consider them "inappropriate" for a mom or dad. But that doesn't mean you have to get your child involved... It seems like everyone from your typical aspiring influencer to Kim Kardashian has their kids taking their photos. Hopefully, they also teach them that this is not the most important thing in life!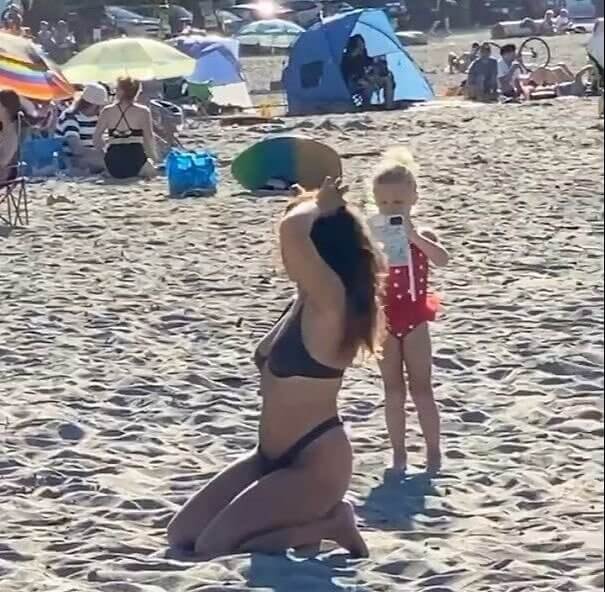 On the bright side, her daughter will probably learn some great photography skills from a very young age! We just hope she was also allowed to play in the sand during this beach visit.
The Influencer Who Thought It's Ok to Do Yoga Literally Anywhere
It's difficult to imagine that some people in the world think it is perfectly acceptable to pose happily at a memorial for horrendous tragedies. This influencer posed doing yoga at this Holocaust memorial in Berlin with the caption of "yoga is connection with everything around us." If you think maybe she didn't know that it was a Holocaust memorial, think again. She then posted her photo's exact location, which explains what this memorial is.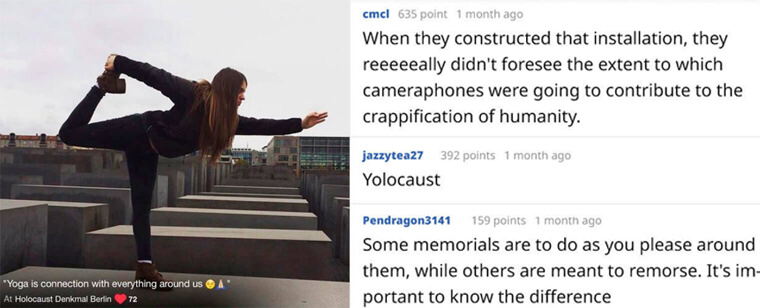 There are certainly many other places that she could have chosen for her yoga photos. This somber memorial should not have even been a consideration. 
Posting Thirst Traps Along With Condolences
How are thirst traps and sexy photos related to wildfires? According to this influencer, the wildfires offer the perfect caption for her latest clickbait Instagram post. Maybe if she truly wished to show her condolences and "send prayers" to the victims of the wildfires, she should have considered a more appropriate and less self-centered photo to portray that. As the internet pointed out, it just does not seem to be particularly relevant.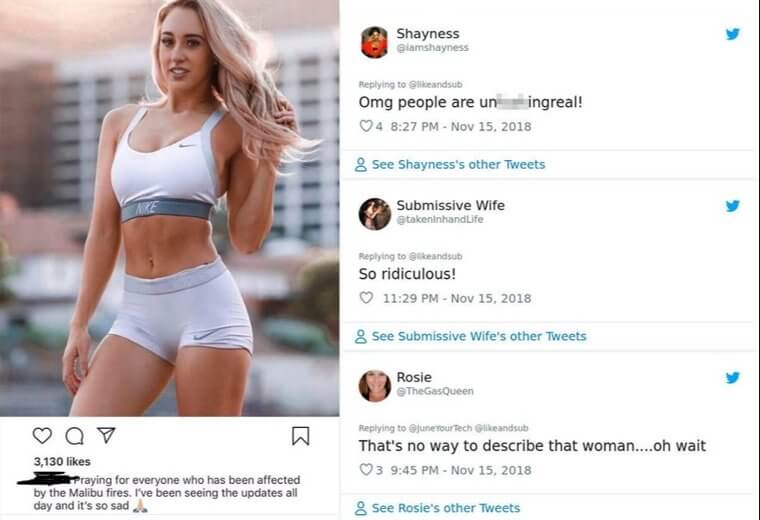 Despite the strange caption, these photos still managed to get tons of comments and likes from these influencers' followers, which is both sad and disturbing. 
Risking Her Life for the Likes
Everyone loves a cute photo showing affection between themselves and a loved one, but not everyone is willing to go to such extreme heights to get that photo. This couple decided to take a particularly risky shot of them kissing off the edge of an infinity pool. How far is the drop if this woman's boyfriend's grip slips and she goes tumbling off the edge? It seems almost as endless at the infinity pool.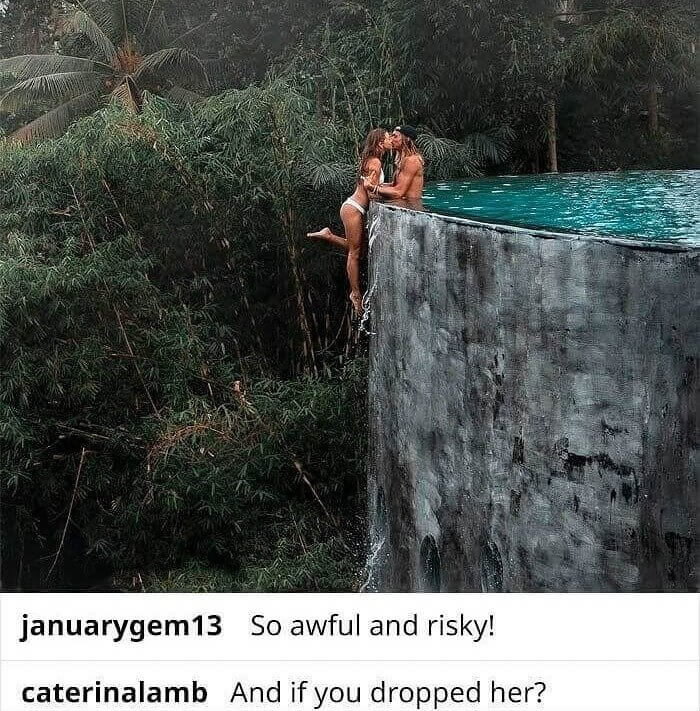 Even if this couple were able to capture this photo harmlessly, not everyone who follows in their footsteps would be as safe. They are setting a dangerous example.
When Influencers Walk a Mile in Someone Else's Shoes
Despite the fact that posing in front of a field of rice in a bathing suit is probably a bit inappropriate, this influencer took things even farther by being completely insensitive to the workers in the rice field. As she photographed herself looking out over the rice fields, she commented, "Thinking about how different my life is from the man picking in the rice field every morning." It doesn't seem like the kindest thing to say.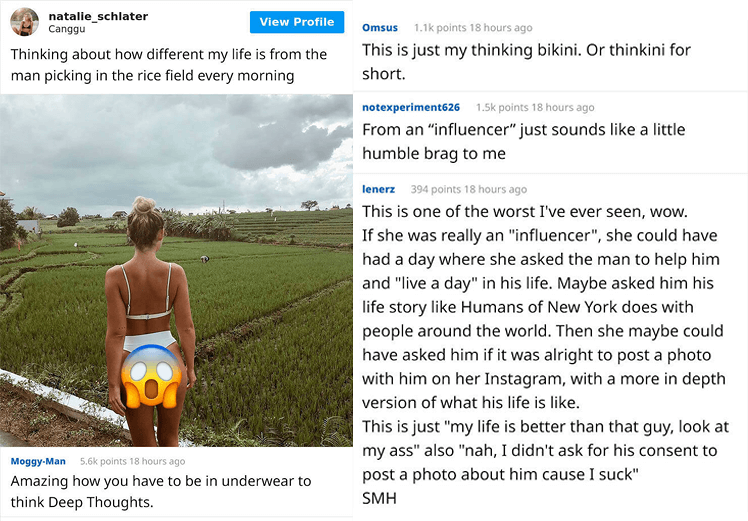 Commenters were not too happy about this insensitive comparison and suggested it may have been more appropriate to ask the worker to take a photo with him instead of sounding privileged and entitled. 
Looks Like the Elephant Doesn't Care About His Follower Count
You never know what will happen when you attempt to take photos with animals. They are unpredictable and wild, and anything can happen. This girl was not ready for what this elephant ended up doing. When he decided to take a sniff at her bathing suit top, she struggled to free herself from the trunk's grasp. Safe to say, it can be dangerous being so close to such large animals.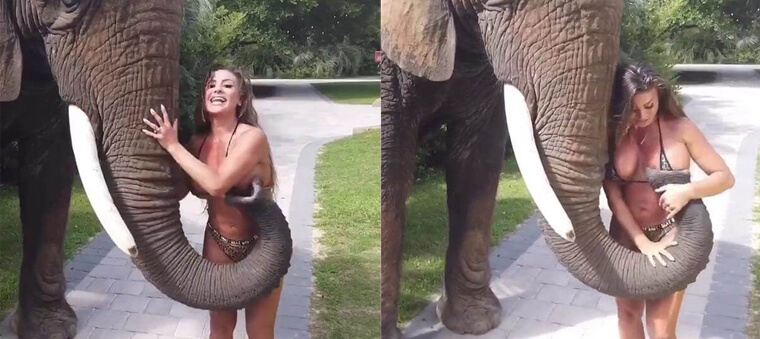 On an unrelated note, that elephant seems to have some extremely white tusks. Do you think they are photoshopped, or he just has natural pearly whites? 
Because a Dance Pole Is a Normal Prop for the Beach
At first glance, it is not very clear in the least bit what is going on here. All you see is a woman in a bathing suit and tall glass heels standing on top of a circular platform and dancing around a pole. Although that sight could be expected in the right context, she is in the middle of the beach, posing in front of an enormous garbage truck.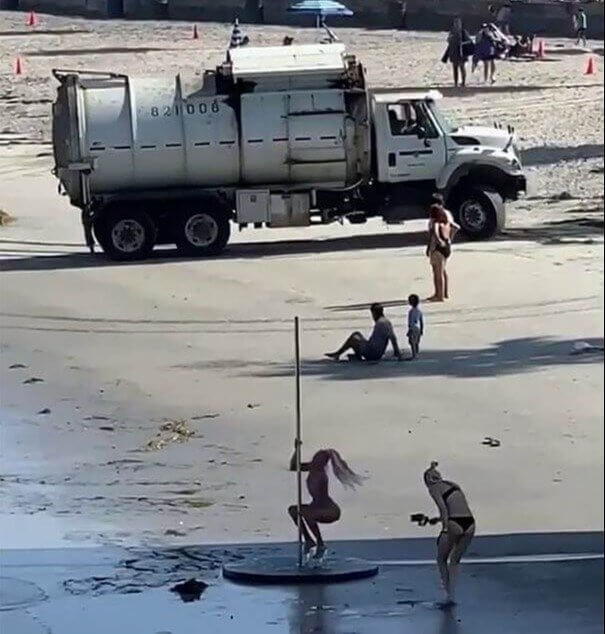 This photoshoot couldn't have turned out as she hoped unless she was going for the grungy, strange vibe. What exactly was she thinking here, and how did they even get them set up onto the beach? Was it with the help of the garbage truck?
Risking Radiation Exposure for the Likes
HBO created a remarkable film when they released Chernobyl. The world was impressed, shocked, and intrigued by an otherwise almost forgotten story. No one expected one of the results of the show's popularity to be groups of influencers flocking to the location to take photos at the ruins. Most of the time, they take dramatic photos but usually do not offer any context or explanation of their shooting location.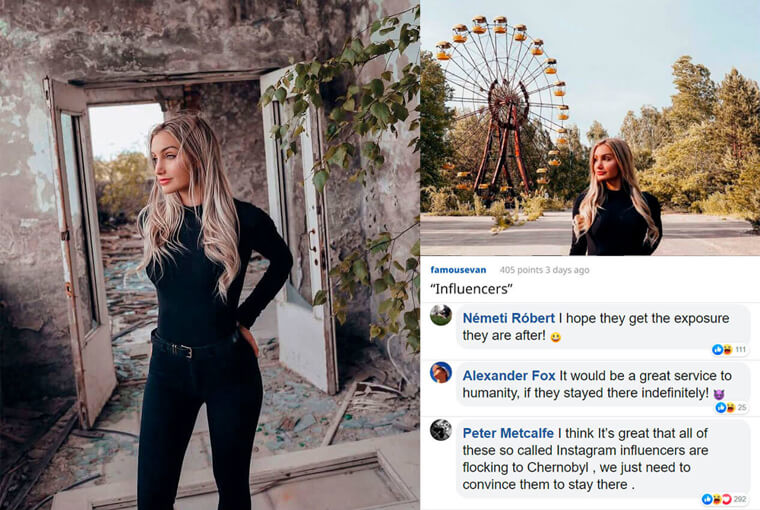 Commenters were not impressed by this influencer's photos in the abandoned city and made countless jokes that these influencers are hopefully "getting the exposure they are after" after sharing these photos of Chernobyl.
That Must Be One Special Hamburger
Either this is the most beautiful hamburger in the entire world or the ugliest. Whichever it is, the picture better be worth the effort that went into capturing it. Maybe they are doing a marketing campaign for a burger chain as that is the best explanation for such an exaggerated endeavor to take a good picture of a burger. If he is a regular blogger, this may be an example of things taken a little too far.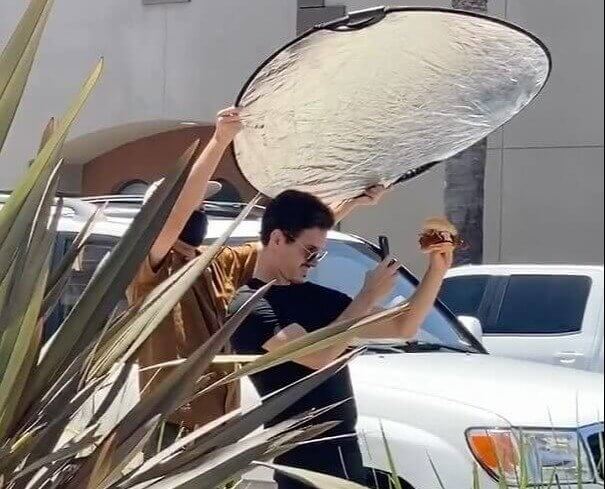 You can only hope that the burger still tasted good and was nice and hot by the time he was finally able to eat it. But we have a feeling that never even happened.
Caution: Do Not Try This at Home
Life is full of taking risks, but it seems like this couple took things to an entirely new level. Although it may seem romantic to capture a photo of the couple kissing as they lean outside the doors of a moving train, it is certainly a bit on the reckless side. The internet is full of people capturing photos from the window of trains in Sri Lanka, but this leaning, kissing trend is a new take.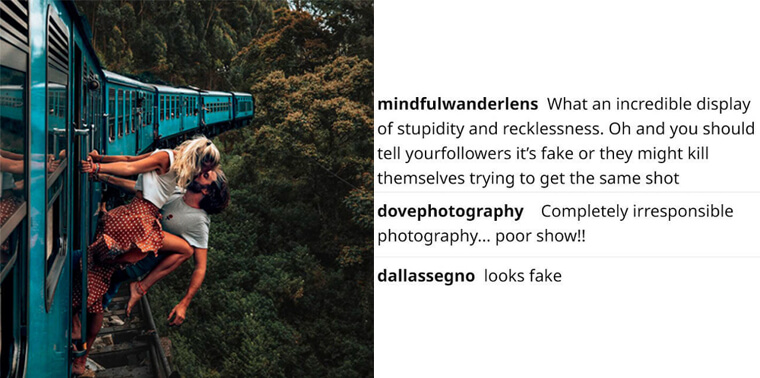 You can see people in the background of the photo taking similar (although the safer version) of this popular (if not unoriginal) photo op. Hopefully, everyone taking such a risky photo will be safe in their attempts! And if this is photoshopped, maybe they should make that clear before others try this at home.
Killing Flowers Is Worth It for the Gram
There's nothing wrong with enjoying some time in nature and stopping to smell the flowers. The most important thing to keep in mind during that process is to ensure that you don't destroy nature. Experience and photograph the wildflowers, but make sure not to trample them, uproot them, or destroy them. It is possible to fully experience the wonder of these beautiful flowers without killing them in the process!

There is nothing wrong with photographing an incredible natural occurrence; just do it consciously! Sadly, these influencers weren't being considerate when they decided to lay down and effectively kill these poppy flowers.
Maybe Leave the Live-Streaming for Dry Land
Although many would choose to use the first picture as their new insta profile picture, the second one is more unique and actually shows more character. Who wouldn't love to take a look at this cute and funny picture of a photoshoot gone wrong over the staged picture at the top? Although we're guessing this influencer wasn't happy that her photo or livestream opportunity got interrupted by that wave.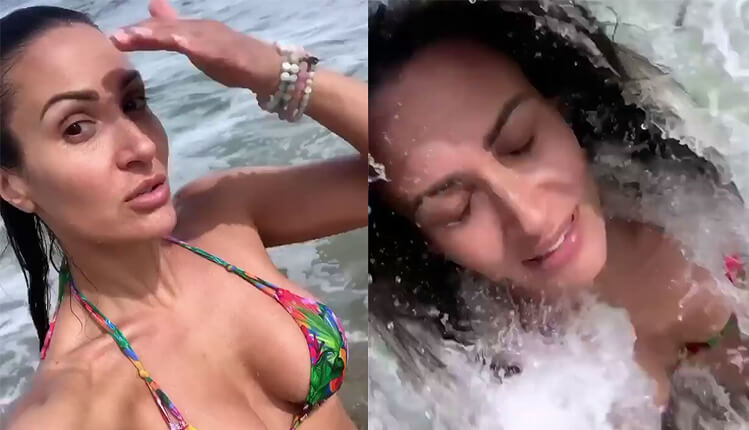 Sorry, influencer, you might have plenty of influence over the online world and what we buy online, but nature can't be messed with.
Can't Travel? Why Not Just Photoshop Yourself in a New Destination
It's not enough for some influencers to only show the good side of their lives, with the smiling, happy moments and lavish living. Some people go so far as to downright lie to their followers. Photoshopping is already a risky business, but this influencer took her photoshop skills to the extreme (and didn't execute it well). Her followers quickly realized her photos were not genuine and even accused her of faking her entire trip to Paris!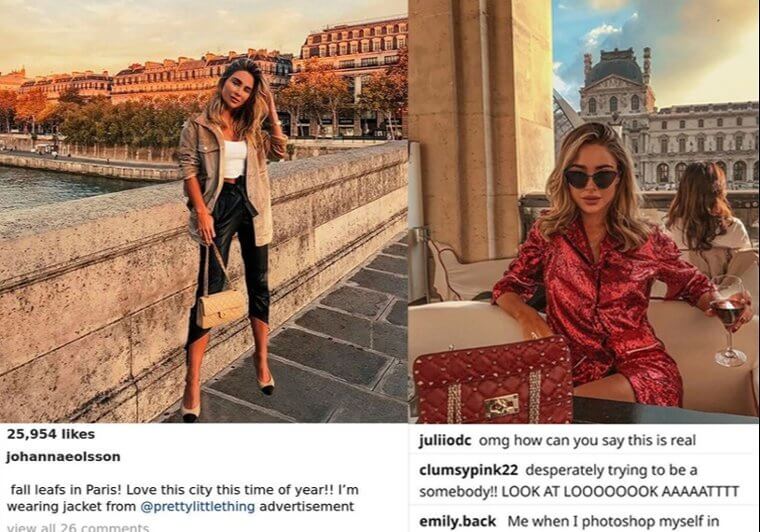 Although she denies faking the entire trip to Paris and ensures her followers that she did indeed travel there, she did admit that the photos were photoshopped (although not very well).
The Wave Wanted Some Instagram Fame, Too
Who doesn't want a nice picture of themselves at the beach, with the turquoise blue waters and white sands? The answer is that just about everyone wants a picture just like that to show off to their friends back home. The only problem is that some people take their attempts a little too far and get just a little too close to the waters and the unpredictable waves. For example, the influencer below.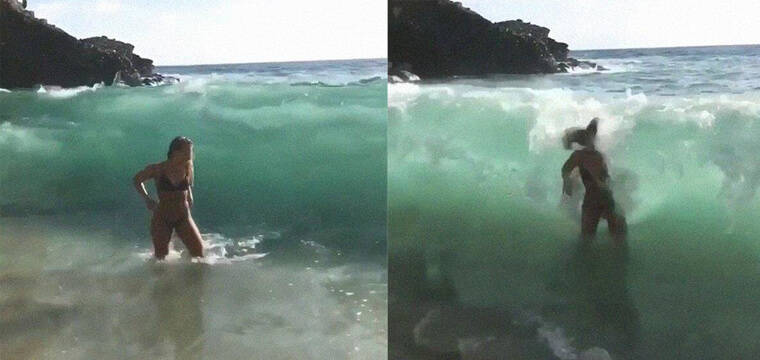 To be fair, that didn't look like the biggest or strongest wave at first, and yet it still managed to sweep her up and pull her under into a little mermaid-type experience. We can't help but wonder why the photographer didn't warn her.
An Easy Way to Pay off Some of the Wedding Expenses
Although most people certainly do not picture themselves taking advertising photos on their wedding day with energy drinks, this influencer seems to be an exception. She posted pictures of her posing with Bang energy drink in her wedding gown, complete with her bouquet and all. Although it is not the most romantic activity for a wedding day, if it helps pay the bills and she is happy about it, then why not?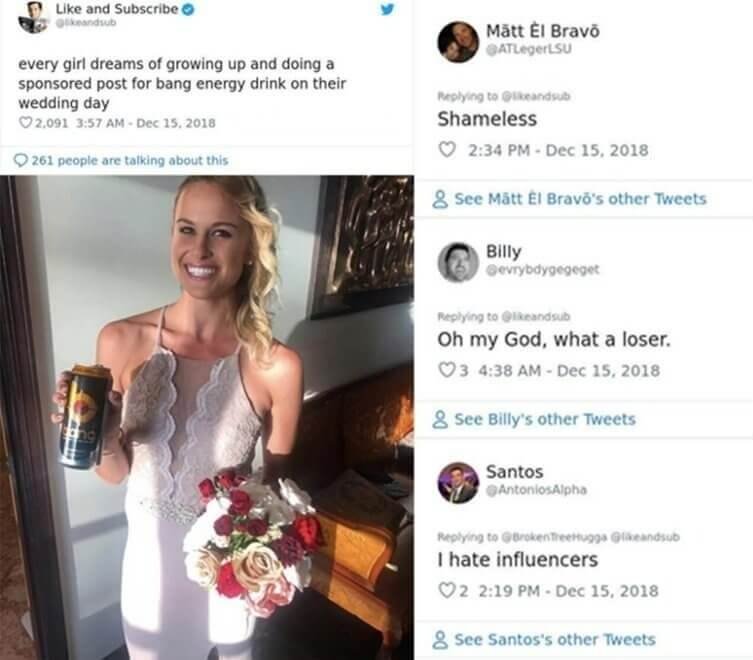 Maybe she (and others) are concerned about being too tired to make it through their busy wedding day, and she is suggesting trying this energy drink to help them along.
Taking a Tumble
What better way to get a beautiful picture sitting in a tree over the lake than to sit on the edge of an unsteady branch? It's hard to tell if she just toppled off the branch, if it cracked and broke, or if she just somehow got stuck in the tangles. Regardless, it seems like fate would have it that she would take a dip in the water. And we're not exactly mad about it.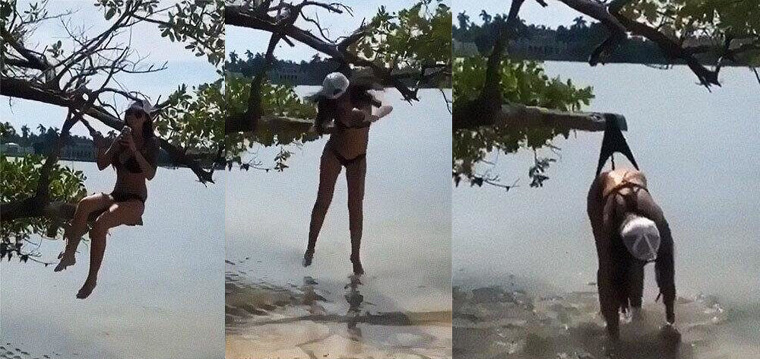 That bathing suit seems to be quite sturdy, considering it somehow manages to hold her up. Although she is dangling very close above the water, it keeps her from falling in face first. 
A Photo-Op Gone Incredibly Wrong
Ah...the challenges of taking photos never seem to end. The initial pose looks painful enough to the neck and back, and then to top it off, she tumbled right into the fountain afterward. There was probably no way the photographer or any onlookers were able to keep a straight face in the process. Well, at least she was able to wash her hair in a public fountain...that was probably a first.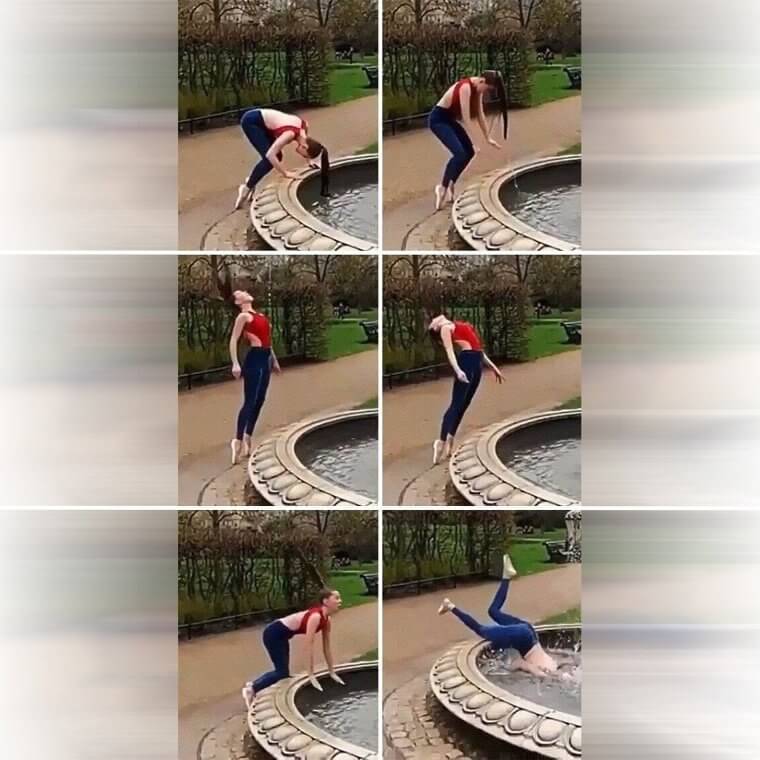 It's unclear what kind of photo she was attempting to capture in this process, but hopefully, she was able to get the picture she was hoping for despite the result!
There Was No Good Way Out of This
Everything about this picture and the pose is screaming "impending disaster." There is no way the photographer thought there was a chance in the world that this could end well. The only thing that is unclear is if she opened the door herself by mistake or if someone decided to sabotage her photography attempts. Either way, the results are both comical and sad but somewhat inevitable with this strange pose.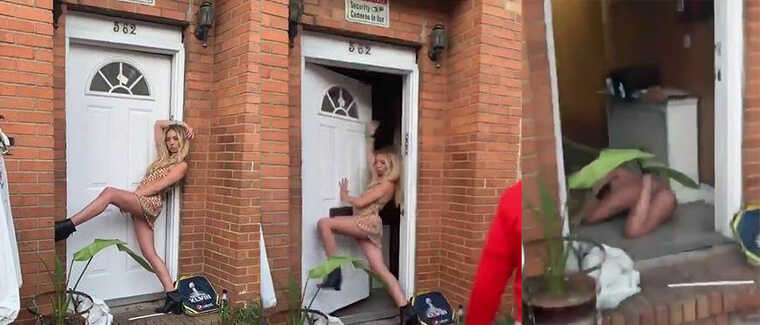 Hopefully, she was not hurt in this process! It doesn't look like this ended very well; it seemed like quite a nasty fall. We hope the likes were worth it.
She Went Just a Little Too Close to the Bear
Although everyone in the world would really love to just run up to a fuzzy, cuddly bear and give it a big hug, most people know and understand that that is not the best idea. This girl didn't seem to get that memo and even tried to feed the cute-looking bear. Things didn't go as planned, and the bear turned around and lunged at her to attack in response.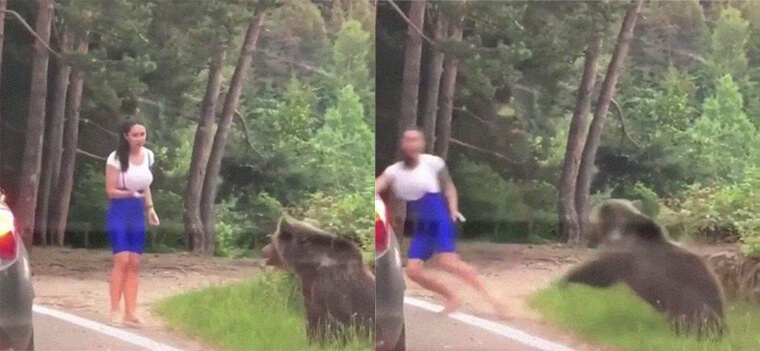 Hopefully, this woman was able to make it to safety in time. This bear doesn't look happy in the least bit and is eager to grab some more food as soon as possible. 
If These Mermen Aren't Influencers Already, They Soon Will Be
Despite how ridiculous this posing might seem to all the onlookers nearby, it is actually quite funny. It would be hard not to laugh at the sight of three men dressed up in mermaid tails and costumes, posing seductively on the beach. However, they did nail the pose, and it would be pretty funny to see the results. You can't argue that they at least put a lot of effort into this!

If they weren't influencers before this photoshoot, they almost definitely will be after. This is exactly the type of content that makes people go viral and become internet sensations. 
What Not to Do Around Wildlife
You would think people would have learned from others' past mistakes and too-close encounters with wildlife that they should consider executing more caution when approaching big, dangerous animals. Without a care in the world, this man stood there as a massive moose approached just to get a good photo. Despite the clear irritated stance of the moose, he hardly budged or moved a muscle. Only when the moose charged did he start to run for his life.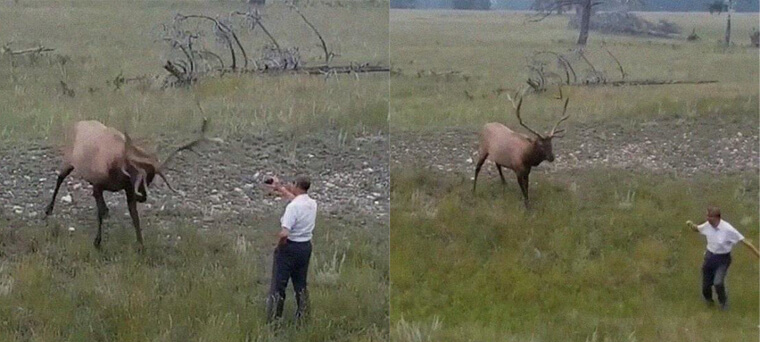 You can only hope that he didn't realize too late that this moose was not his friend. Moose can be one of the most dangerous animals, especially when they are angered.
Almost Swept Away by the Sea
It looked like the perfect photo op at first glance. The sand was clean and sparkling; the waters were blue and picturesque, the entire scene was just asking to be captured. This woman took her opportunity and jumped into the scene for a photo. After all, who doesn't want tropical photos to show off to their friends? The only thing is that the waves had another plan, and it just took one strong wave to almost wash her away entirely.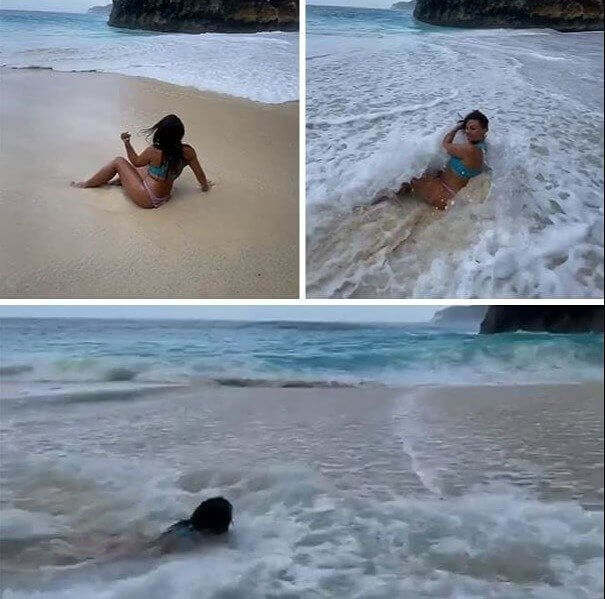 At least it seems like she was able to capture a nice picture, as she was hoping to before the waves overtook her and destroyed her chance to take a photo. 
We Thought She Was Having a Health Crisis
You might be a bit worried when you first see this sight. It almost looks like a naked woman is lying on the beach unconscious with someone photographing her. Upon further investigation, she is clothed in a swimsuit, and she appears to be posing for a seductive, lying on the beach photo. At least she stayed far enough away from the waves to risk being swept away by them.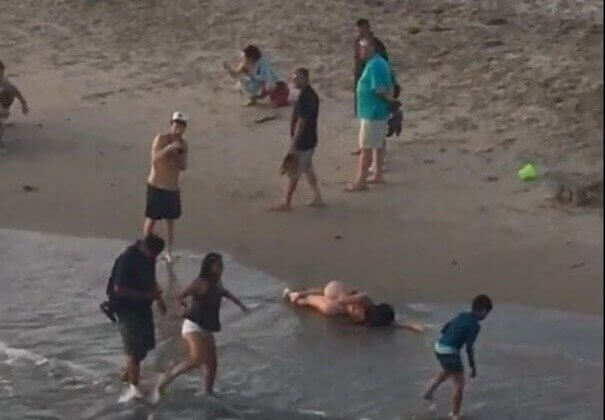 This appears to be a pretty popular place to take photos as you can see at least two groups of people taking their pictures in this one photo. It seems to be a pretty basic beach, but maybe it is actually a special place.
Influencers in the Wild, Wind Edition
Although most of these influencer-fail photos have been shared on an Instagram page entitled Influencers in the Wild, it looks like this photo needs to be captioned "Influencers in the Wild Wind." It probably would have been a really nice photo of her overlooking the beach of the Cape of Good Hope, the wind took over and sent her tumbling to the rocky, sandy ground below. Hopefully, her photographer was able to catch her in time to break her fall!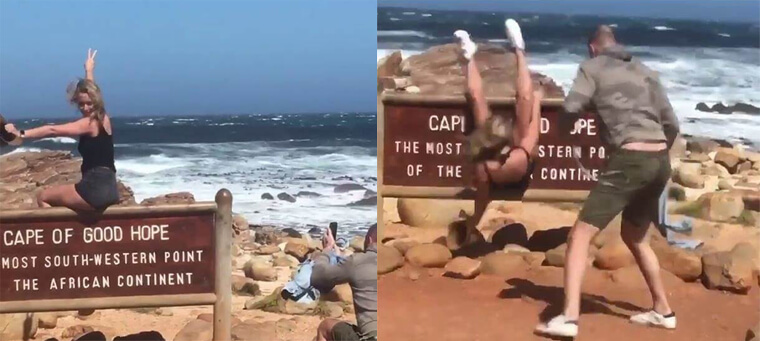 She was really struggling not to fall off that ledge right from the beginning, but nature and gravity were just too strong for her. It was 1-0 for the wind that day.
Cowboy Meets the Sea
It would certainly be difficult not to take a photo of such an iconic look. After all, it's not every day that you see such a strange combination of styles on one person. What exactly was he going for here? Some people say it is the perfect combination of Jack Sparrow and Kid Rock. Others think it looks like what their offspring would look like if they chose to have children with their genres.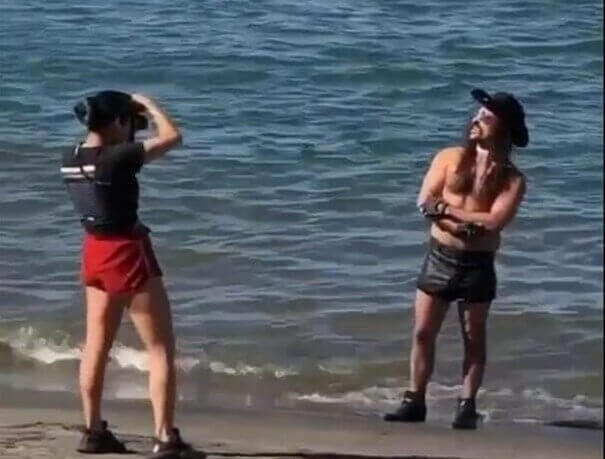 Whatever look he was going for, it seems that he is rocking it and pulling it off quite well and happily. Perhaps that makes this more of a success than an influencer fail.
This Was Doomed From the First Moment
No one can deny that this looks like a very fun activity and these two boys seem like they were planning to take full advantage of their fun day on the water. They may, however, have taken things a little too far. There is no way they could have thought that there was any situation where this could possibly end well for either of them. Well, at least they seemed to have fun anyway!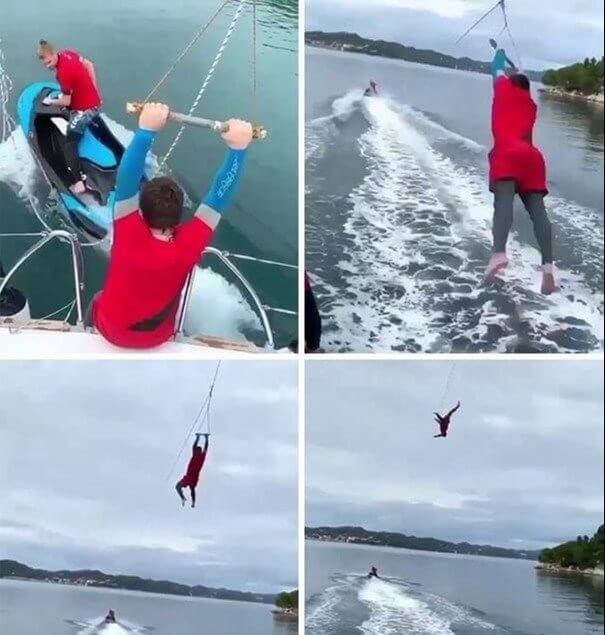 How did they even manage to stay on as long as they did? They are lucky they weren't harmed more than they were; this looks very dangerous!
They at Least Put Their Full Effort Into This
You can just picture these girls standing together at Coachella, trying to come up with a creative idea for a photo. Why not stack up on top of each other's shoulders and hope we can balance long enough to capture it? They certainly tried, but things didn't go very well for them (not surprisingly). Although they did manage to stay balanced long enough to capture a photo, the pictures also show them tumbling down on top of each other shortly after.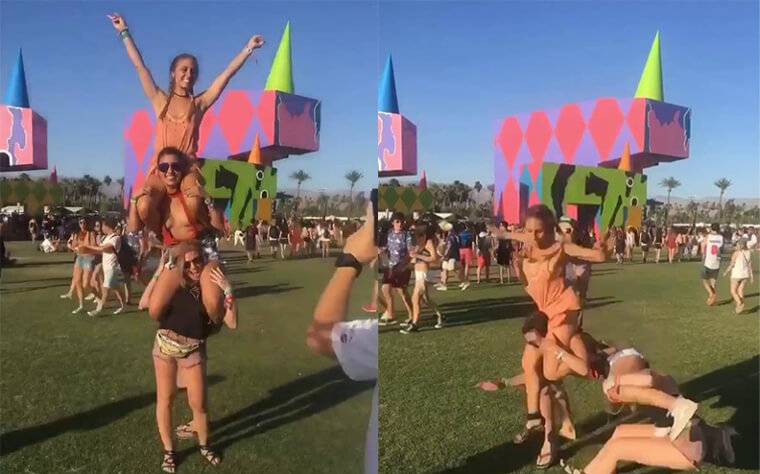 The poor girl on the bottom of this stack was fighting a losing battle with this pose from the very start. It's surprising they lasted like that as long as they did!
A Series of Unfortunate Events
What started out as an innocent attempt to take a clever photo by the side of the pool was doomed to fail from the start. Her stunt did not go as planned, and in an effort to save her products and her photos, somehow, things got even worse. As everything tumbled to the ground, so did she, and it was only a few seconds before she fell, face first, into the pool.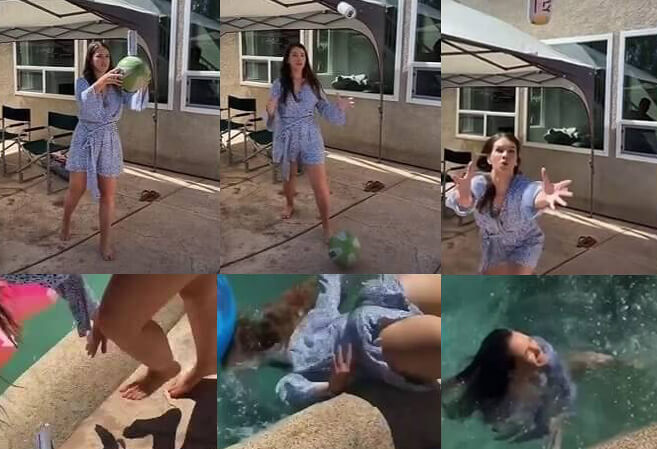 You can see that she is still smiling and laughing even after she fell fully clothed into the pool. At least she has this awesome photo series that captured this entire event. 
Hopefully He Didn't Freeze in the Process
No one is surprised to see influencers going to extremes to get the extra photo that they are looking for. However, this may be one of the most extreme examples that have been captured. No one can deny that he looks great in this photo, and he certainly has an epic background; there's just one catch. It was freezing outside, and there was a good chance he could get hypothermia in his photo-taking attempts.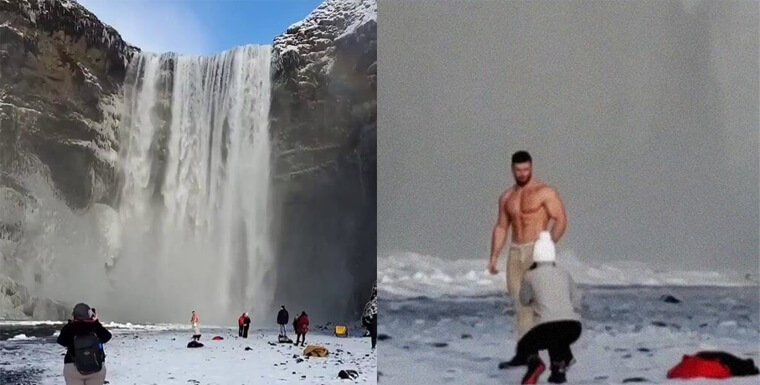 Hopefully, he put some warmed clothes on right after he got the photo he was looking for. No one wants to see the headline "influencer freezes to death in photo attempt." 
The Cat Had Different Plans for the Day
Setting up your phone with a tripod to capture a photo or video of yourself in your home can be quite a challenge in and of itself, without the added concern of your pets coming to sabotage your photo-making attempts. This woman was simply trying to take some innocent photos in her house, but the cat had entirely different plans. You can see the cat's foot appear in the second photo.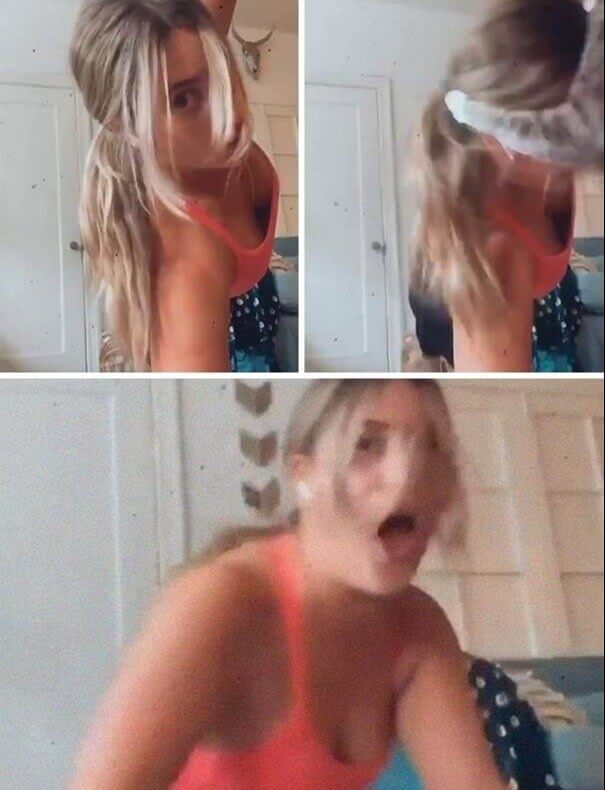 It was only a second or two later that you can see the sadness and shock on the woman's face when she realizes what her cat has done. 
How Did She Even Fall There?
If you didn't see the second photo in this series, you would never understand how this was an influencer fail. Everything seems normal, with no risk for falling or dangerous wildlife nearby. But somehow (and it is very unclear exactly how), this woman still managed to fall back dramatically into a steep drop. Despite how funny it may look, it seems to be a dangerous fall, and hopefully, she was ok.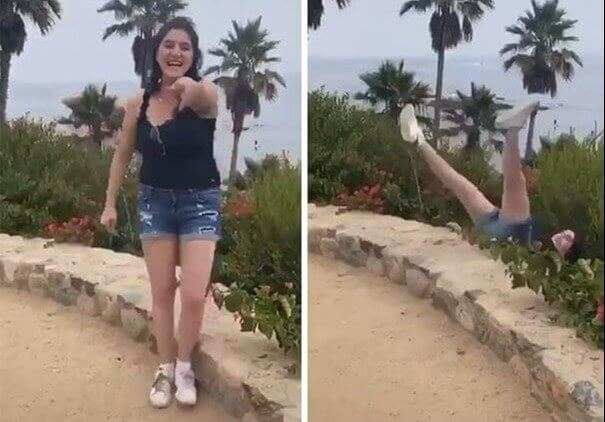 It would be funny to see one more photo of the end result in this series. Also, that seems like a very interesting way to fall, with legs straight up in the air.
More Mermen Aspiring to Be Influencers
What an exciting moment to capture such a remarkable sight in the wild. Although most of these photos are epic fails, this influencer seems to have great potential. Who couldn't love a multi-colored mertail dangling from the edge of a boat? It looks like the definition of how to make someone's day. The only disappointing part of this is that you cannot see the end result of his picture.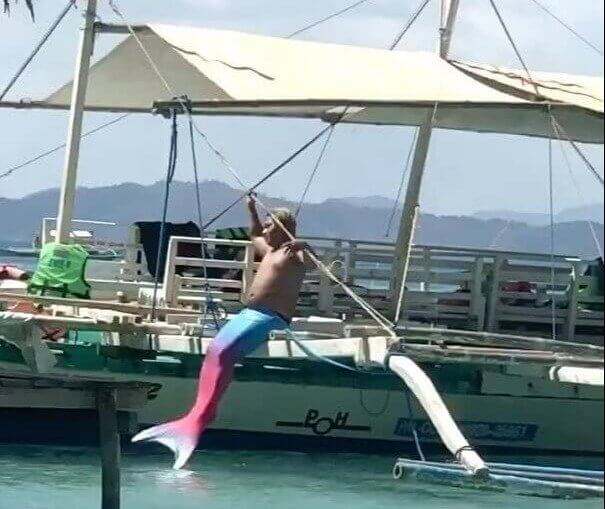 Do you think his friends dared him to do this photo shoot or was it a picture taken for Halloween or something else entirely? Whatever the reason, the photo probably turned out great.
There Are so Many Disturbing Things Going on Here
There are really just so many things going on in this picture it's difficult to fully understand what is going on (or maybe you are trying to ignore what is really going on because it is so disturbing). Either way, it's even more difficult to understand if this is an influencer in the wild or if he is just an ordinary person with a strange outfit and an even stranger pose.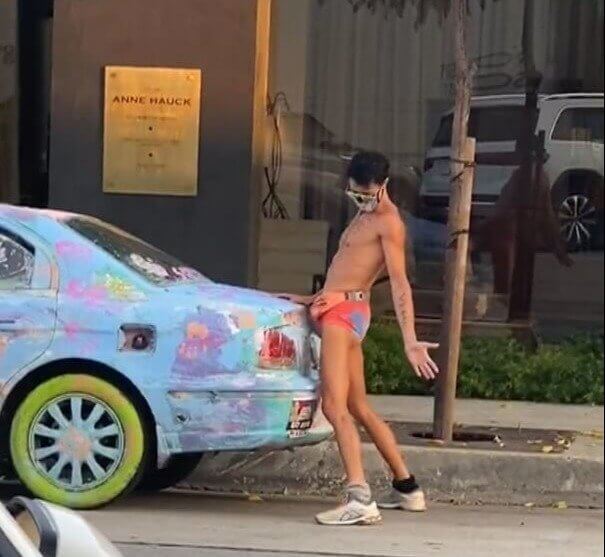 The only good thing about this picture is that retro pastel-colored car...even though this man seems to be defiling it quite a bit with his perverse actions. 
Bringing a Ring Light to the Airport
Traveling can be a difficult and stressful experience. One of the most stressful parts of it can be deciding what to pack, so you aren't bringing what seems like an entire house along with you on your trip. This woman didn't seem too concerned with having overweight luggage and even found room to include a personal ring light and a tripod in her baggage. At least she'll know that her vlogs will turn out perfect with amazing lighting!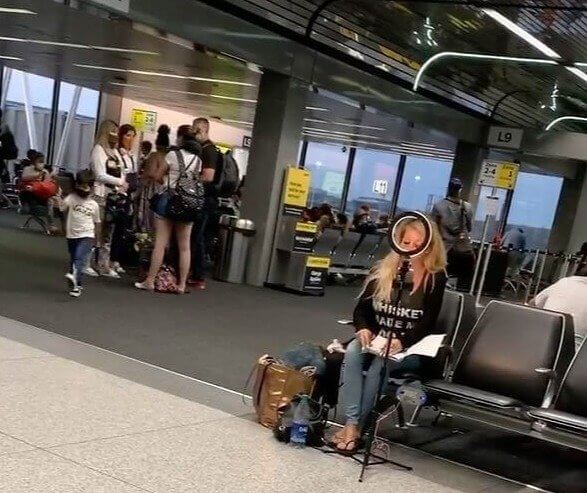 The airport lighting is not the most flattering, so perhaps at the end of the day, it makes sense to bring along some personal lighting, especially if your business depends on producing high-quality videos.