The holiday season is a time to shine for anyone who's a prankster-at-heart. From yard decorations and home accessories to gift sales, there is plenty of opportunity to serve Christmas joy with a big slice of sense of humor on the side. And these funny gift-givers prove there's no shortage of outrageous and witty stuff to buy or create. So if you're a jokester looking for inspiration or just a holiday lover looking for laughs, you've come to the right place.
She Asked for a "Nintendo Switch"
Have you ever heard of the Nintendo Switch? If you somehow haven't, here's a rundown: the device serves as an at-home console for playing video games on your television. But it also doubles as an on-the-go device where you can play games on the console alone, thanks to its little screen. So it's hardly surprising that this Nintendo classic has remained popular. Sadly, the Nintendo Switch is not what the girl in the photo below holds.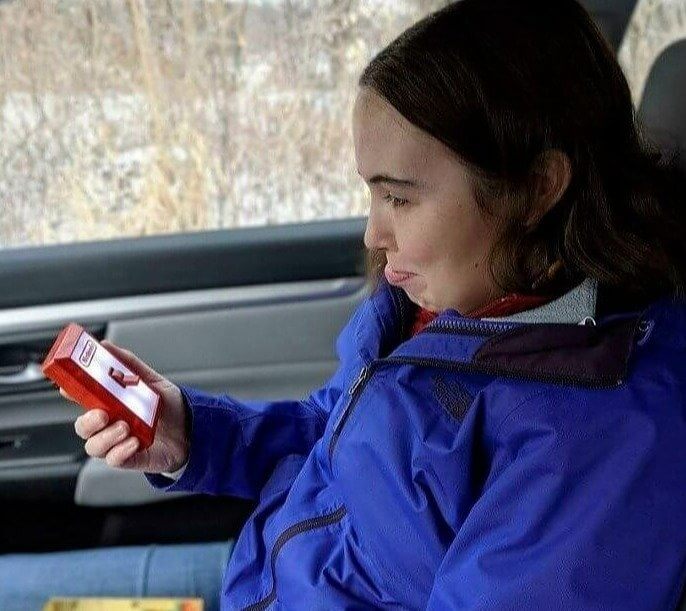 She asked her boyfriend fo a Nintendo Switch so he got her a Nintendo-themed light switch. Not cool, dude!
Shirtception: The Gift That Keeps on Giving
When you've been dubbed the most annoying sibling, why not live up to your title by investing in the most annoying but genius of presents? As you can see, pictured here is, quite literally, the gift that keeps on giving. With each year that passes, you can ensure your sibling's style choices are immortalized in this trendy tee. But why stop there when you could level up the prank factor?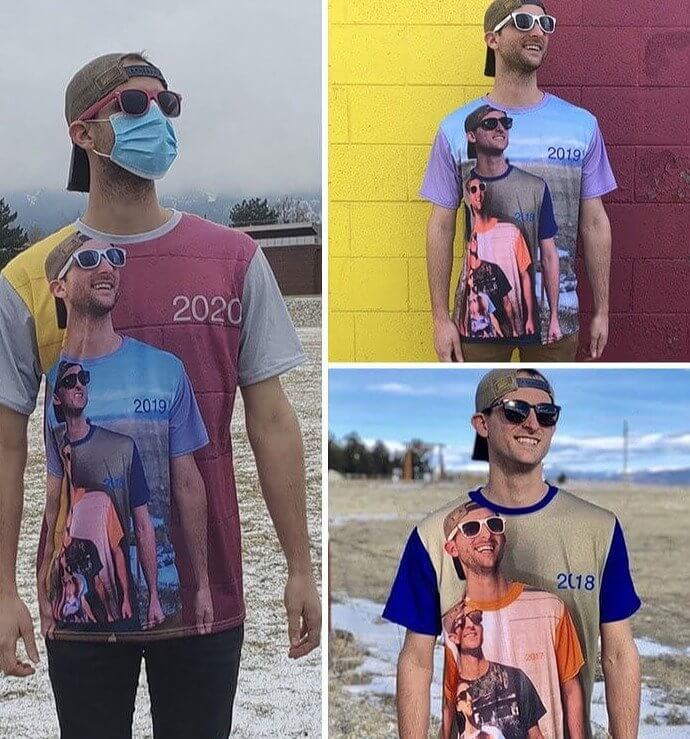 You could try forcing your sibling to wear this t-shirt as part of a holiday tradition, especially if they're bringing home a special someone for the holidays. That way, future spouses are fully aware of your sibling's past outfit disasters and can act accordingly!
"Merry Christmas From The Jackson Five"
The more mature generations will appreciate this crafty gift. Gone are the days of the cash-in-a-card gift when, instead, you could give this DIY delight: the Jackson Five. As you can see, five twenty-dollar bills have been transformed into genius origami creations, with the face of Andrew Jackson replacing the faces of the Jackson Five members. This clever play on words is bound to bring a smile to your recipient's face!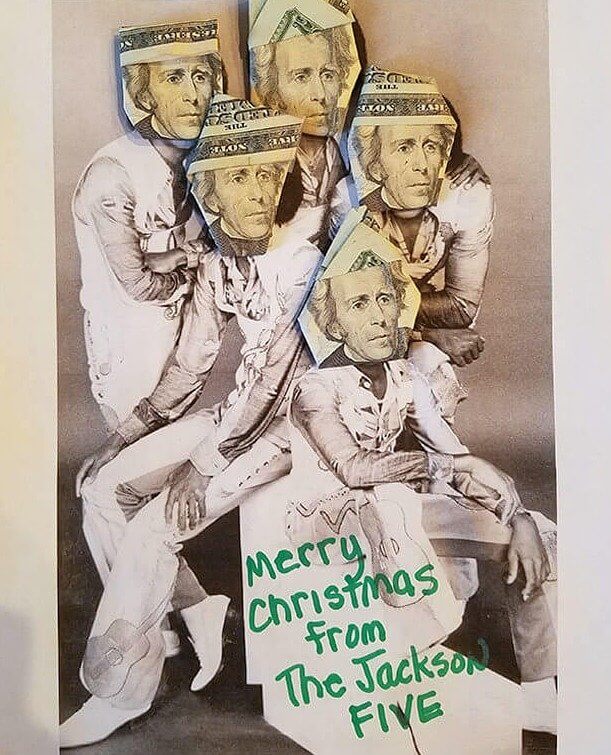 We think this is a thoughtful, funny way to gift someone $100. Pro Tip: If you want to up the design factor, use glossy paper for a higher-quality look.
She Told Her Boyfriend She Was Gifting Him a Burger This Year
This ingenious gift certainly has both creativity and cravings at its heart. Why not delight the burger-lover in your life by going the extra mile? Skip the McDonald's queue and instead wrap up some surprise gifts with the necessary food-themed wrapping paper, and stack your gifts to emulate a burger. Voila, you now have a set of presents that's bound to bring a chuckle to your loved one - and maybe some mouth-watering too!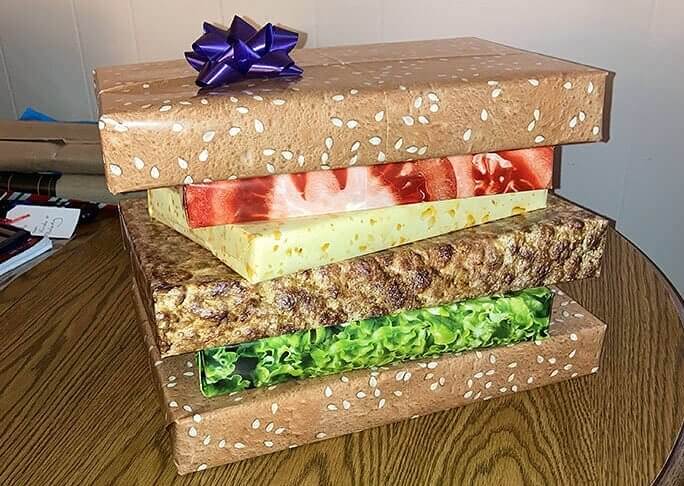 This humorous prank rivals any Dad joke, and we will be creating our own versions of it every year.
The Perfect Gift for Those Travel-Loving Family Members
Are your folks about to embark on a well-deserved retirement cruise? If so, you could take a leaf out of this son's book and send them off with a gentle reminder of your devotion - as their favorite child. To nail this hilarious gag gift, head to your closet and find your most hideous shirt. Then, photoshop yourself onto a desirable landscape - or wherever they're heading off to, and voila! You've got the perfect photo to plaster onto a custom-made suitcase.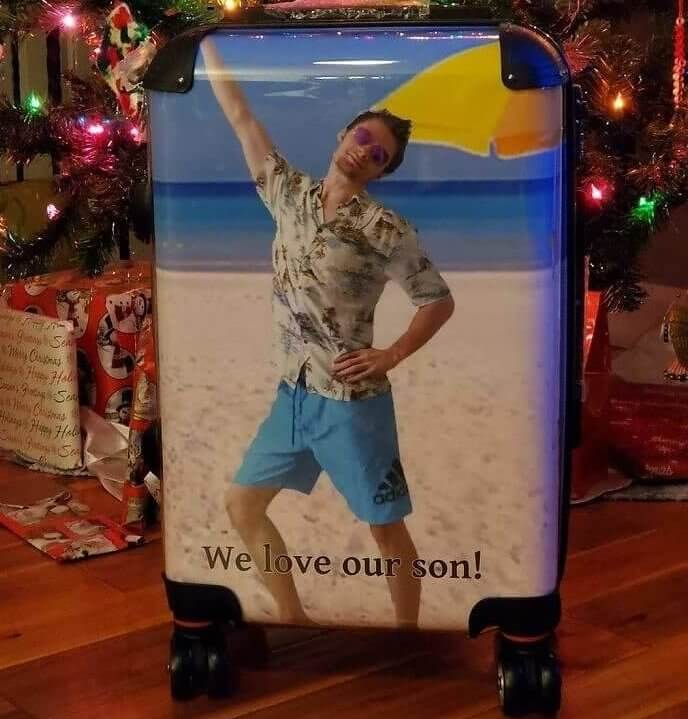 We think it is safe to say that this guy certainly knows how to work the camera, so be sure to use him as your inspiration! 
Make Everyone Blush With This Hilarious Box Label
If you want to one-up the biggest prankster in your life, this should do it. Pictured here is a label that reads 'for people that like to do weird freaky gross... stuff.' Apparently, this label was created by a sister who is also a graphic designer. For a laugh, she made this hilarious design and plastered it on the box she used to send her sibling's Christmas present in.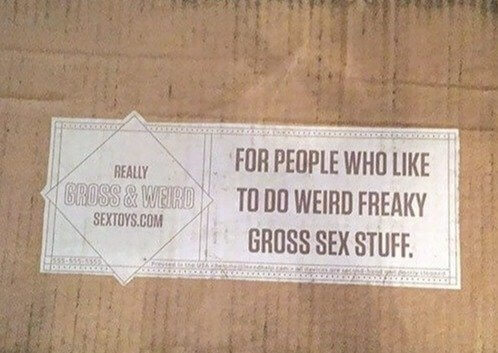 We bet this saucy sticker will have the recipient hiding behind a curtain as soon as the delivery driver approaches! It's a ten out of ten from us for this gift-givers ingenuity!
She Thought All She Got Was a Plank of Wood
Another hidden present! However, this time the recipient looks a tad underwhelmed. We're sure that living with a relentless prankster can take its toll. Here is a picture of a woman whose partner took a plank of wood and drilled a hole that was just big enough for a ring box to fit snuggly inside. He wrapped the wood to disguise the actual gift. The gift giver has been described as a 'master of disguising gifts.'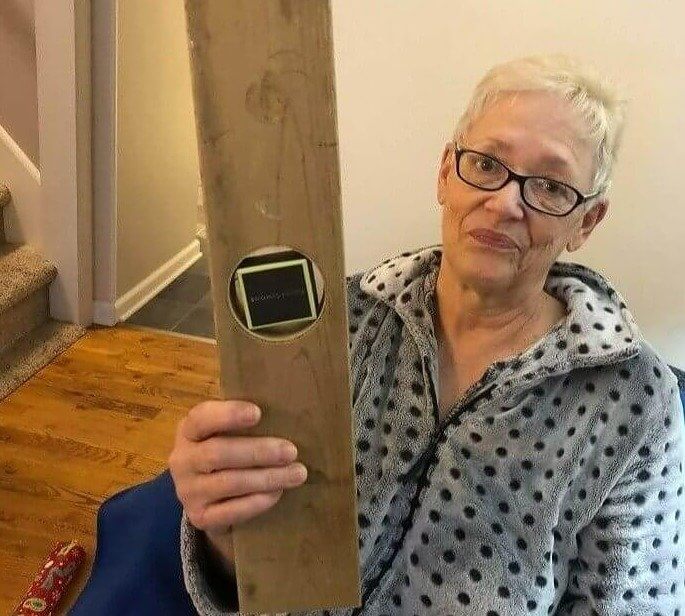 So we bet this woman has received a few disguised gifts like the one pictured here. She clearly doesn't think it's as funny as her partner does!
Something to Memorialize the Time She Caught Her Dad Falling Through the Ceiling
This creative hero has successfully managed to turn a tragedy into a comedy with this on-the-nail gift for their father. During an accident involving the Dad falling through their home's ceiling, the gift-giver managed to catch him! We're unsure whether the ordeal produced any injuries, but the light in this story comes with the gift pictured here. The gift-giver collected the debris to create this Pinterest-worthy present. Yes, what you're looking at are bits of the collapsed ceiling!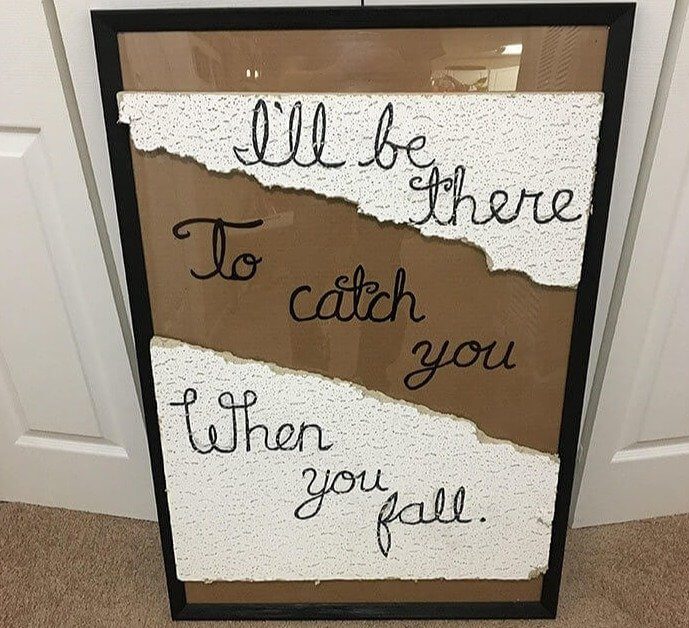 This has to be the ultimate souvenir from a trip to remember. On a different note, we can't help but wonder where in the house the Dad hung this gag gift! Any thoughts?
She Asked for "crappy Earrings"
Those Geo-lovers in our midst will simply adore a piece of stunning fossilized jewelry. Yes, dino poop jewelry is a thing! It's a wearable slice of history that we're sure Paleontologists worldwide will just delight in. So if you have a nerdy-enough pal who would appreciate this jingly-jangly Jurassic gift, take note! Or maybe you're looking to prank your beloved, who has their heart set on something more sparkly.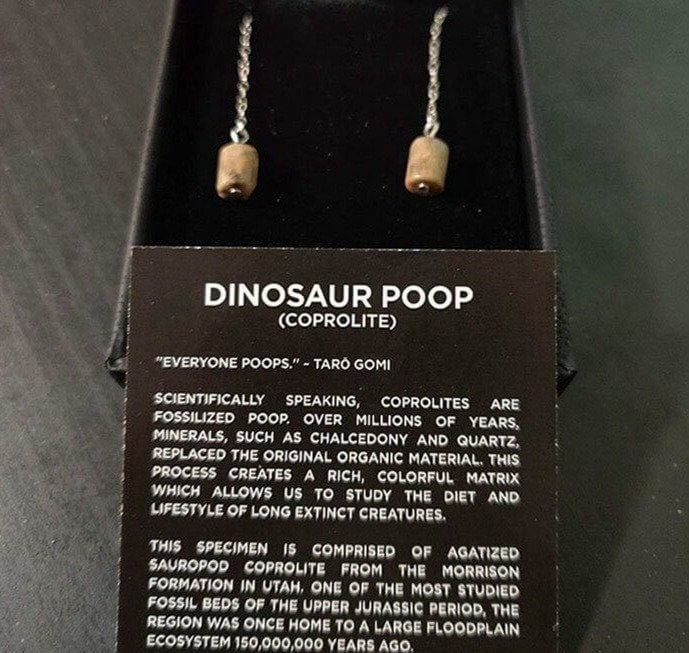 So who exactly was the buyer of this unique gift? A funny boyfriend whose girlfriend said she just wanted "crappy earrings" for Christmas. So he got her literal poo on an earring.
When Your Presence Is the Greatest Present
If you live abroad, your doting family will likely go for lengthy periods without you. This woman told her family she wouldn't make it home for Christmas, only to plan the perfect gift: she had their neighbor deliver her in a box! She secretly traveled 300,000 miles to get home and pull off this adorable prank! If you're thinking of doing something similar, you could upgrade your box by decorating the outside.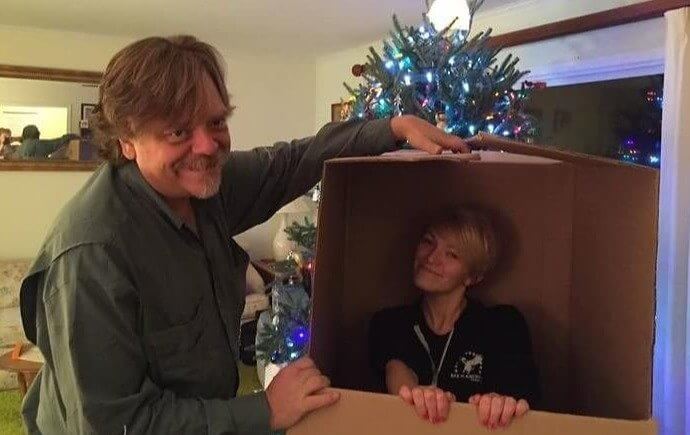 If you surprise a child, dress as their favorite TV character or action figure. Then, when they open it, they will be delighted. Just be sure to give them the real toy as a gift to avoid disappointment!
Gift Not Included
This gift made us laugh out loud. From the word-art label to the sealable food bag, this gift is for someone with a dry sense of humor. How many times have you bought a gift for someone, especially children's electronic toys - only to take a closer look at the packaging to find the label "batteries not included." It's frustrating that the recipient can't use their gift immediately!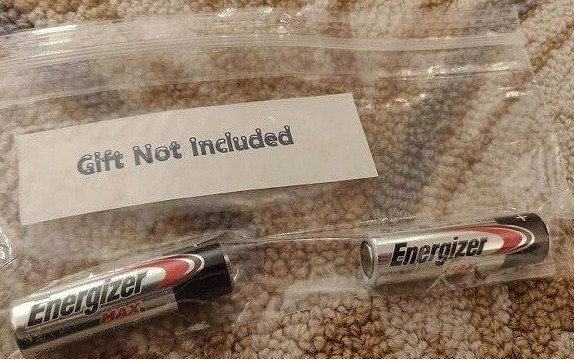 Maybe there's someone in your family who repeatedly gets caught out by this? If so, why don't you do them a favor and turn the tables with this "gift not included" gag?
They'll Turn Anything Into Slippers These Days
We don't know about you, but ​we bet that slipping your toes into these blobfish slippers puts you at the height of fashion. All jokes aside, the recipient of this gift is a marine biology student and was given these blobfish slippers by their hilarious cousins. We love this prank and think they make an excellent addition to the office pictured here. But, we have to wonder, did the cousins have these custom-made?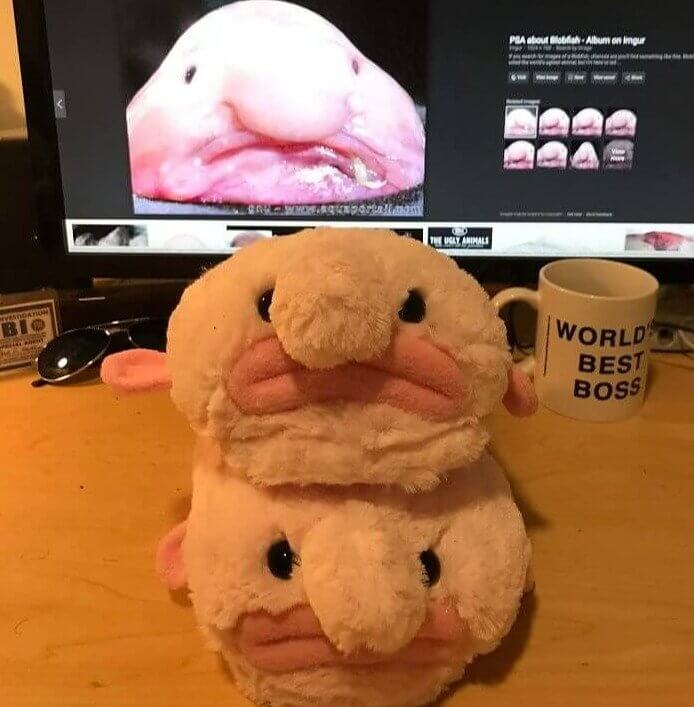 Or did these slippers exist already? Either way, we think it's pretty impressive that these slippers have managed to make the ugliest creature in the world look kind of cute!
Lieutenant Dan
Forrest Gump lovers unite! Just like Gump was at Ping-Pong, Forrest Gump-themed gifts are always a winner. This pal bought his friend a Lt Dan mug on account of him being a wheelchair user, and in true Lt Dan fashion, this guy has got his grump on! We love people that can laugh at themselves, so good on him! Clearly, this must be one of those friendships with banter at its heart.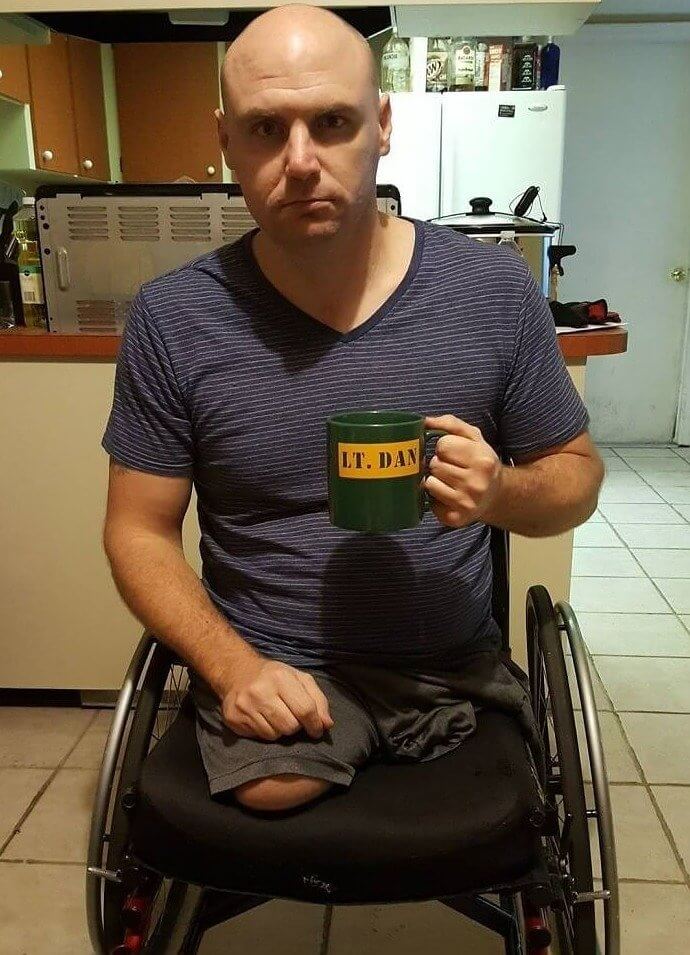 And we're here for it! It makes us wonder whether they have a back and forth where gag gifts are concerned. We'd love to know what else they've gifted each other. 
Spoiler Alert: It's Not a Drill
No, this is not a drill. But you would be forgiven for thinking that it was! Instead, this is a metal straw, mini-board game, moisturizer, and a toilet roll tube. These gag gifts have been dubbed 'what-it's-not' presents. Following in this mastermind's footsteps, here are a couple of other ways to create a similar prank: you could use a piece of cardboard cut out into the shape of a saucepan. Then, fill it with actual presents!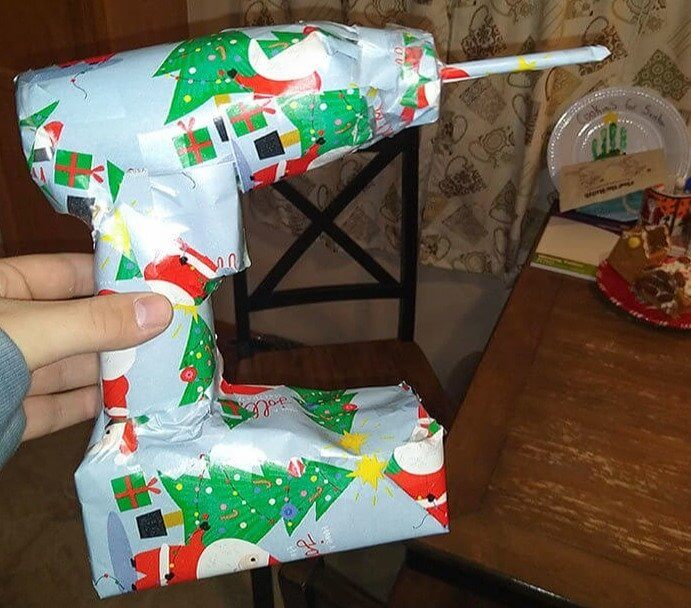 Alternatively, you could find or create a spherical container and fill it with goodies. The recipient is sure to think it's a ball of some kind. Either method is sure to achieve the ultimate shock factor!
The Best Domain Name
This young lady's sister has come up with the ultimate revenge present. This domain name gift is utterly hilarious. Apparently, this woman and her sister call each other "the world's biggest dork," so she bought it as a web domain and plastered a pic of her sister on the homepage to surprise her at Christmas. So, if you're looking to execute your next prank gift, why not take a leaf out of her book?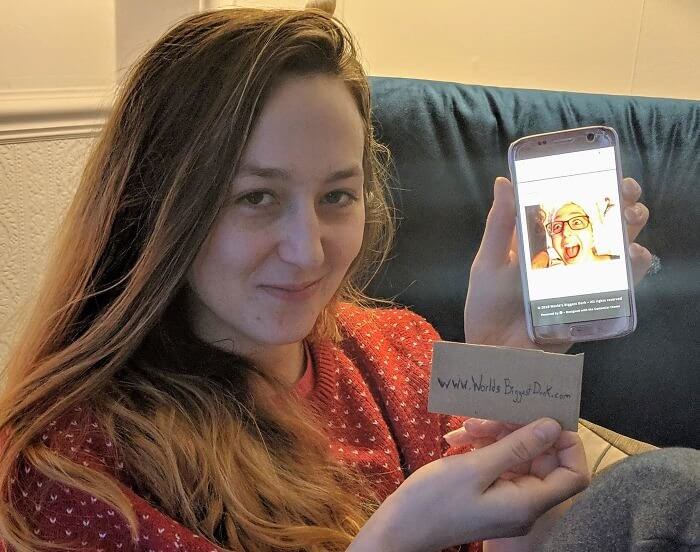 If your friends have hilarious nicknames, why not see if the domain name is available, purchase it, and do your worst? They will hate you; you will laugh. It seems like a winner!
Art Literally Made of Butt Cheeks
You've likely heard of a sponge stamp to make prints. However, here, the artist decided to skip the sponges and instead chose to use their derriere. Yes, what you're looking at are butt prints in a multitude of colors. When this person's family asked her what she wanted for the holidays, she asked for art for her new home. And her nieces delivered this colorful and custom-made painting.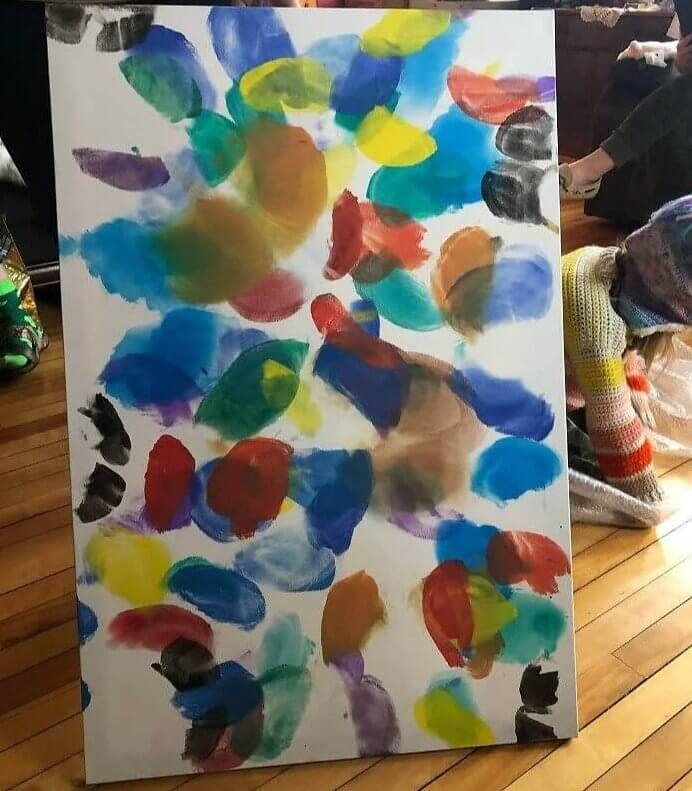 We don't think the recipient will quickly forget this housewarming present. But we can't help but think that we would be very cautious of any brownish paint on this canvas!
Snuff Out Any Expectations
Never have you smelt a candle so mean. This harsh message will surely snuff out any anticipation of a dream present. Written on the candle are the following words: "PS5 CANDLE, SMELLS LIKE YOU'RE NOT GETTING ONE." Let's just hope it smells like sandalwood or pine and not of the tears of a sorry child! This would be a hilarious gift to give a partner who's always gaming.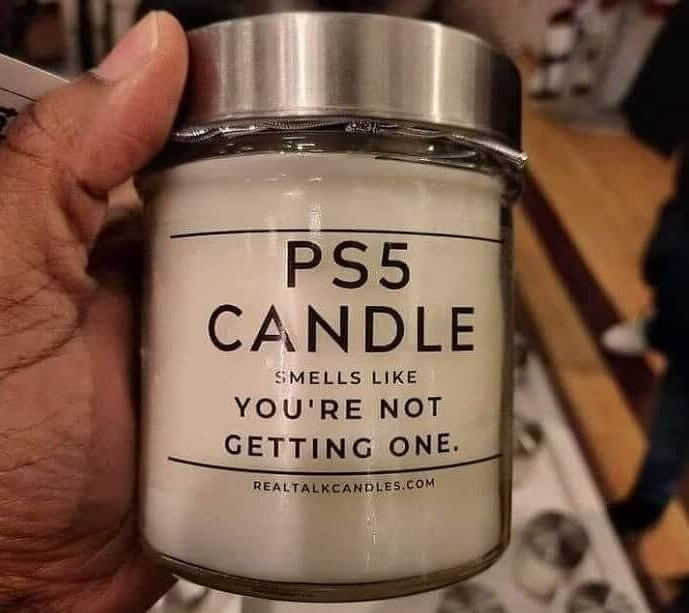 This would be an especially fun gift if you're constantly nagging them to get off their console! However, they must have a good sense of humor - otherwise, this candle probably won't go down too well! 
Don't Touch the Nose
This genius onesie was a fantastic gift from this guy's wife. If someone gave us this for the holidays, we'd crack up as soon as we put it on. However, the recipient in this photo doesn't seem too amused. On a separate note, we can't help but think that this wolfie onesie should come with a warning that says, "Do not touch the nose." Otherwise, it could end very awkwardly for all parties involved if someone tries to get the wolf to sniff them.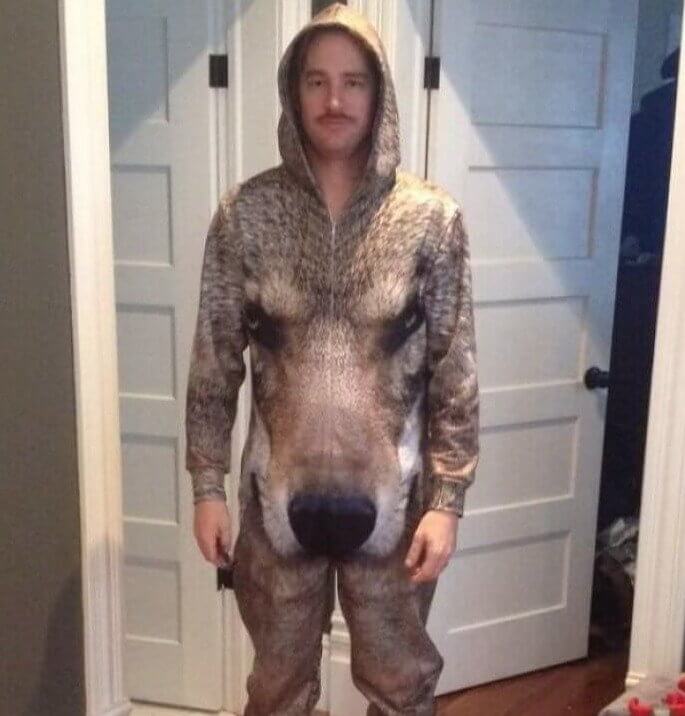 That made us laugh way harder than it should have. Perhaps we are just immature, but we make no apology for that!
Movie Messiahs
These are religious candles with a twist! The recipient of this gift said their Dad gives them weird religious candles each year around the holiday season. But when it came to the beauties pictured here, they said that 'this year he really outdid himself.' As you can see, some of the nation's favorite movie and TV actors have been pasted on as religious figures. This would be the perfect present for a very silly friend who loves Hollywood.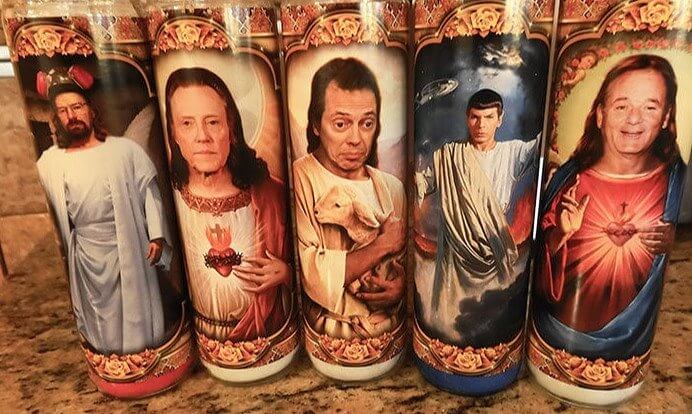 Or give it to your Grandma and see if she notices! However, if the recipient is super religious, perhaps give this gag gift a swerve; you don't want to offend anyone.
Her Husband Travels for Work, so He Got Her This
This pesky husband surprised his wife with this 'gorgeous' custom duvet cover- of his face! We're unsure whether that soft, piercing glare fills us with fear or conjures a sense of safety. Either way, thanks to that beard, the bottom half of the comforter could almost be mistaken for luxurious fur. If you want to recreate something similar for one of your loved ones, we have a word of advice: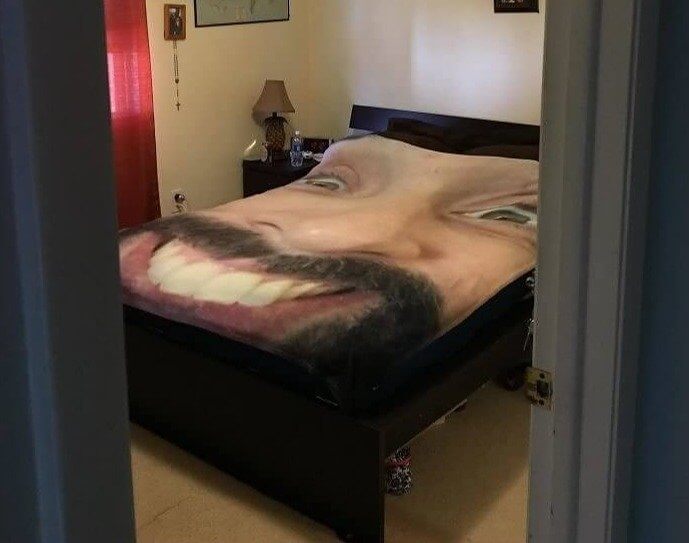 When taking the selfie, the closer up, the better. Make sure you use a photo that is uncomfortably close up to your face. This is crucial for generating that unsettling feeling that this husband has achieved so well! 
Mom Hasn't Noticed These Naughty Reindeer for 2 Years Now
This spicy mug was gifted from a beloved child to their Mom. This troll is clearly pulling their Mom's leg because he writes that they "gave [their] Mom this mug for Christmas two years ago, and she still has no clue." Or, perhaps the Mom in question was just too embarrassed to say anything about the misbehaving reindeer. Either way, we think it's safe to say that this gag gift leaves room for cups of laughter.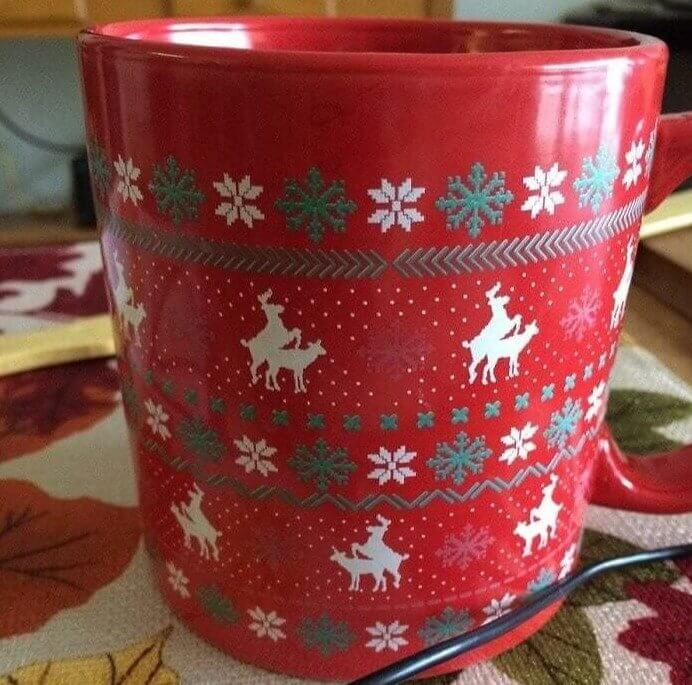 Did you see what we did there? Again, we make no apology for our awful puns! Aside from the inappropriate reindeer, we have to admit this festive mug is pretty cute!
We're Disguising Gifts as Toilets Now, Are We?
Is it the Peppa Pig wrapping paper? Is it the colossal toilet-shaped gift in the center of the living room? Well, something has got us in stitches. This next gift is the creme-de-la-creme of disguised offerings. If it's not mistaken for a piece of fine art, you'll find this gift wedged under someone's tree. Disclaimer: Please do not use your present disguised as a toilet to perform your number two. Things may get messy.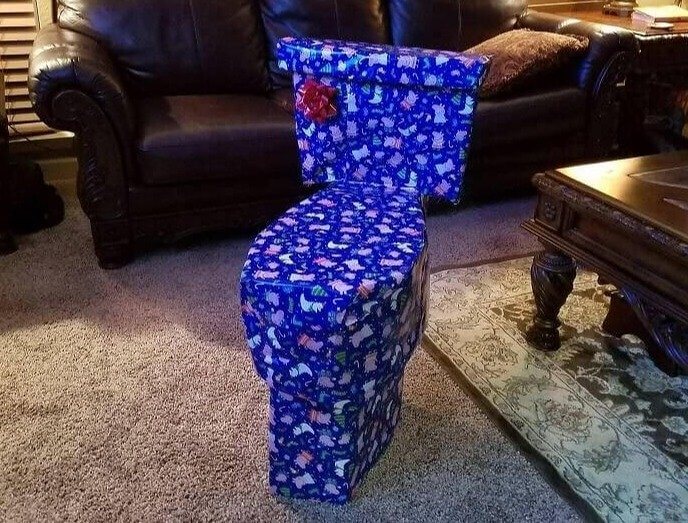 We're not sure how the gift-giver created this toilet shape; we also don't know the actual present. That aside, we're in awe of this person's unbelievable wrapping skills! 
Perfect for the Art Nerd Who Also Loves Pokémon
Nerds from both the art world and the Pokemon universe can unite in this genius take on Edvard Munch's 'The Scream.' The colors are perfect, and the Pikachu we know and love resembles a theme park fanatic riding a rollercoaster. Even just looking at this canvas, we think we're on a pretty wild ride! If we didn't love this gift enough, we adore that the recipient's best friend created this masterpiece for them.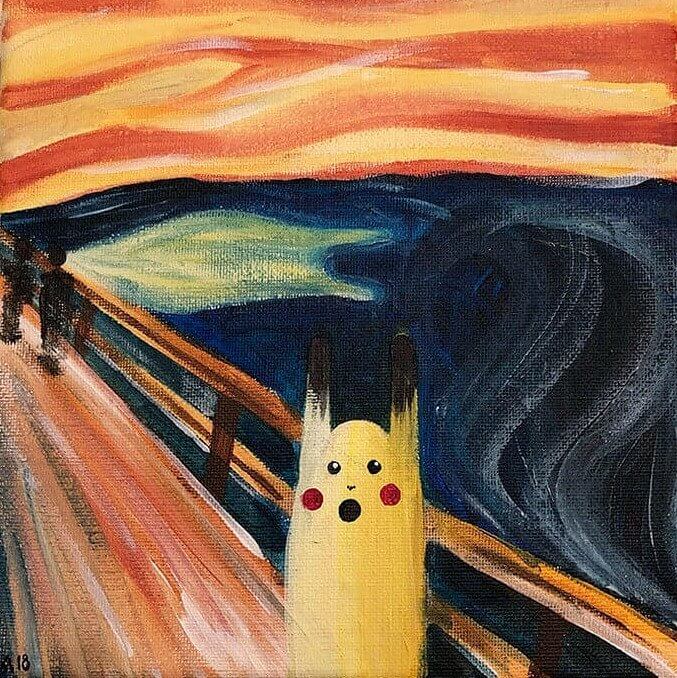 We just have one question for the bestie: did they purposely make the sky look like bacon? Because that's all we can see now.
Bob *The Hunk* Ross
A paint-off between these two gifters became unholy when the finished products revealed themselves. Painter number one opted for a religious take on portrait painting, resulting in a Mother Mary-Esque art piece. Whereas painter number two clearly has an imagination, this Bob Ross soft-p*rn will likely get even the most prudish of relatives hot under the collar! All joking aside, these artists are pretty talented - we bet Bob would be proud!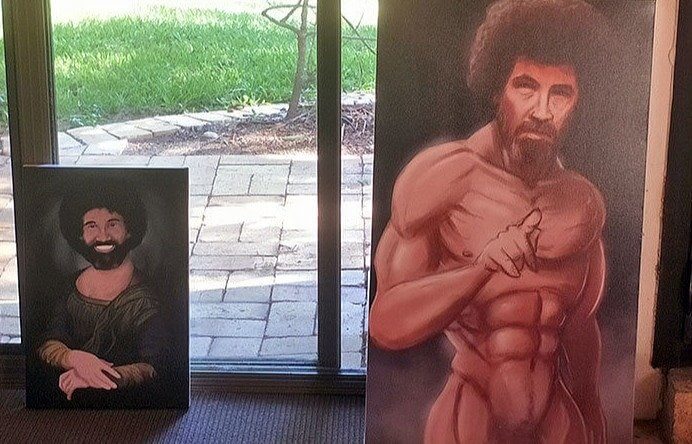 This begs the question, where would you hang up these portraits in your home? Above the bed in the master bedroom, perhaps? Or pride of place above the mantelpiece? Thoughts?
A Misleading Label
We can only imagine that this gift giver's parents were utterly bewildered by this outrageous prank on Christmas day. Using a printout sticker, this prankster has managed to give the illusion that this package is a "fetish love swing." However, it's actually a TV in disguise! We have to admit we were relieved to hear that this person hadn't bought their parents a swing; that would be odd, to say the least!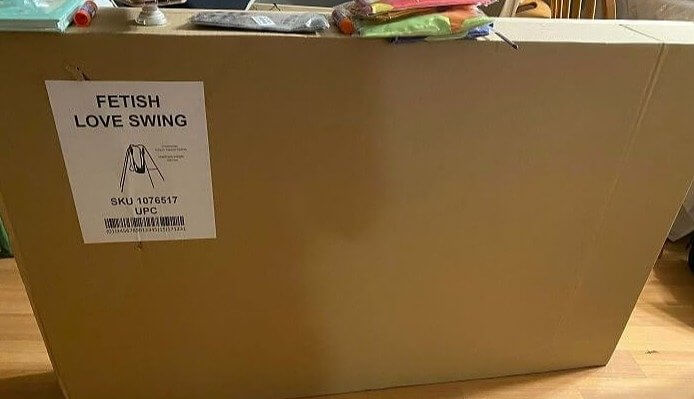 We dare you to try to DIY this sticker prank on those near and dear to you this Christmas. However, we can't promise they'll laugh - be sure to pick victims with a good sense of humor!
Bathroom Décor for the Wicked
Taking a metaphorical whiff of this next gift will leave you heaving. Admittedly, we didn't get this gift when we first saw it. However, after a bit of digging, we realized that this gag was taken from an old computer game called 'The Oregan Trail.' Clearly, the person who received this gift was a massive fan of the game. Apparently, their wife asked them what they wanted for Christmas.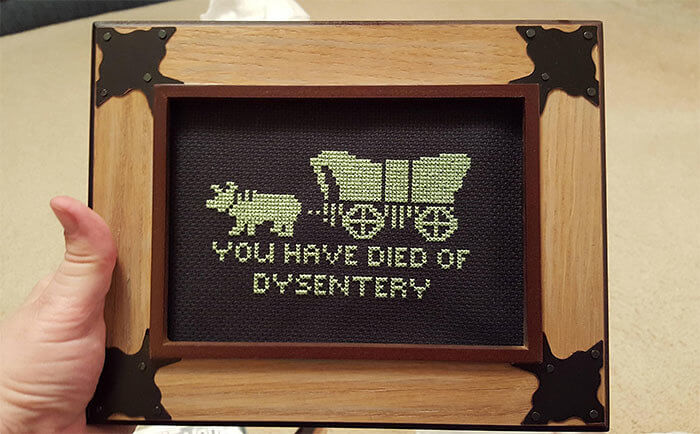 Their wife is crafty (As evidenced by this creative gift!), so they asked her to make them something. His response to this embroidery? 'Couldn't be happier.' One question remains: where do you display artwork like this?
How to Subtly Tell Your Friend They Need a Change in Careers
A lockpicking kit to hide the real present; what a cruel but ingenious gift! Depending on how quickly you master the skill, you could spend hours attempting to reach your real surprise. This truly is an impatient gift recipient's nightmare! Your 'bad influence' friend might be the one to gift you this antisocial skill-builder. After all, when else would you need to pick a lock other than to get in and out of bad situations?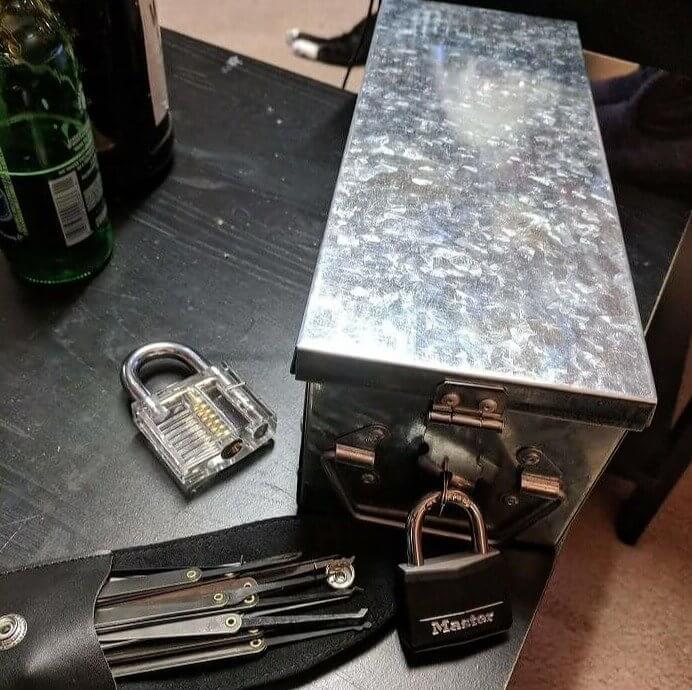 Make sure the present inside is either very silly or a real treat! Don't underwhelm at the final hurdle, or you might have your own lock picked so they can steal a more suitable gift!
One of These Is Not Like the Others
Many families have their own unique Christmas-time traditions. In this case, each year, this gift giver enjoys gifting their family a joke present based on their dog. As you can see, that year, they decided to give them slippers that were the spitting image of their dog! The likeness is as unsettling as it is cute. It took us a while to realize that it wasn't three actual dogs in the photo!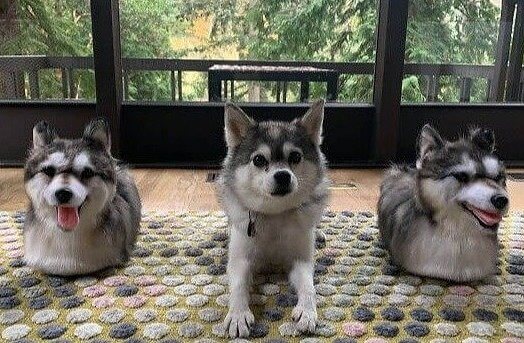 Some might say that this gift is "pawsome!" But all joking aside, those slippers look incredibly cozy! We bet they're perfect for keeping your feet warm on those cold winter nights.
Commemorating the Worst (yet Successful) Pick up Line Ever
We've all been there: you see someone cute, gather the courage to speak to them, and then severely regret the words that come out of your mouth. How could your brain betray you and make you say something so embarrassing? That's what one young woman was thinking after hitting on the guy she was crushing on by asking him, "So, do you like bread?" Luckily for her, he didn't think she was a total weirdo.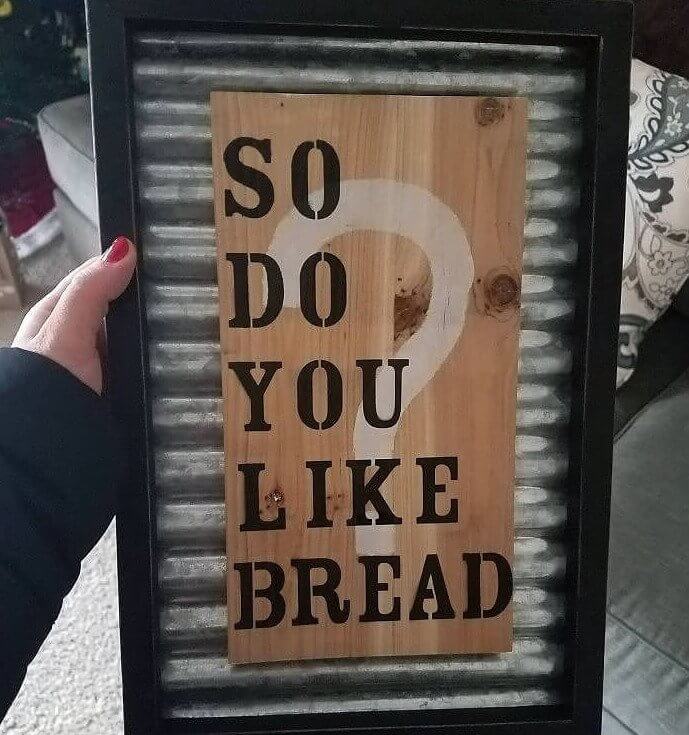 They actually ended up dating and falling in love. So, a year later, he gifted her this sign for Christmas that reads, "So, do you like bread?" Hilarious!
Leaving Our Pets While on Vacation Is Hard
Cat lovers out there, isn't this darling? Dog lovers out there, what the heck! We love that this pet's photo has been blown up onto this luggage. The only concern is that this suitcase will get you stopped at the airport by security wanting to check that you don't have a GIANT cat in your bag. There's a first time for everything. For the feline-obsessed out here, this is as weird as it gets- you must have it!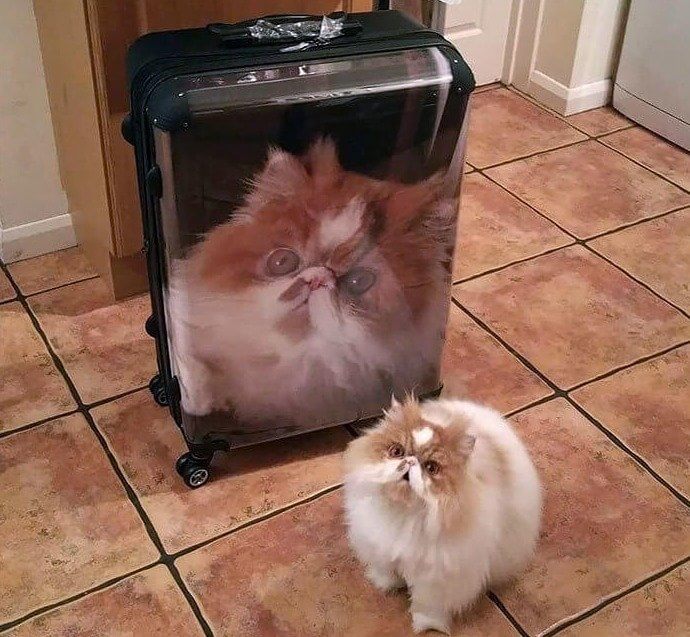 Top Tip: This idea works with any pet, if you have a pet fish, it may be a little wriggly to get a good shot, but you can certainly try! 
A Scent of Porpoise
Apparently, when this guy asked their sister for a "Sense of Purpose" when they were asked what they wanted for Christmas. The sister certainly understood the assignment. The sadness behind this dismissive one-liner has been obliterated with this punny gift. So, instead of "a sense of purpose," they gifted him a "scent or porpoise." A play on words is on the more sophisticated side of pranking, but for some, this just hits the spot.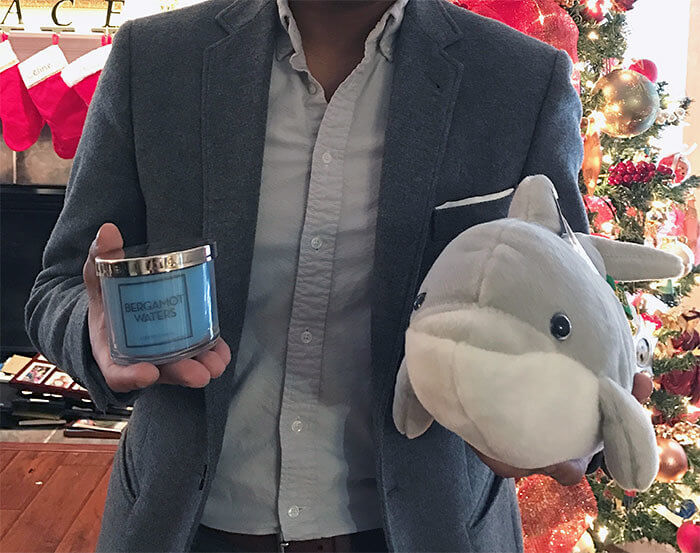 What we're looking at here are a cuddly toy porpoise and a water-themed candle. This certainly brought a smile to our faces; it's such a simple and thoughtful yet hilarious present!
When a Board Game Becomes Reality
This protective sister has kitted out her younger sibling with an arsenal of self-defense, all based on the hit board game Clue. We all battled with this game as kids against our much quicker parents. For many, this board game was the catalyst of many happy family memories and arguments. Let's just hope the gift never has to be used. But how nostalgic, albeit kind of creepy, is it to see all those weapons lined up?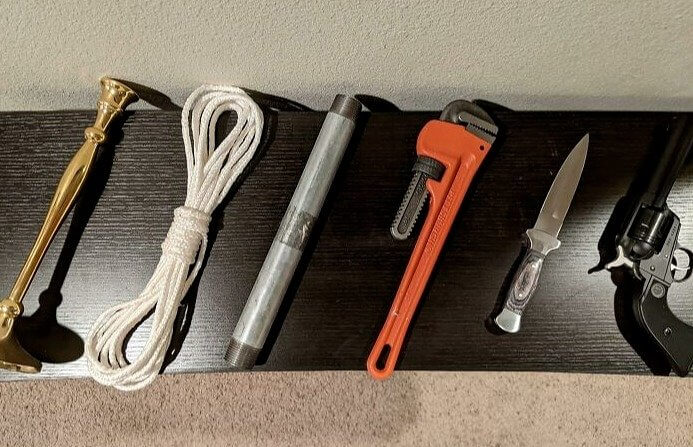 There has got to be a better way to phrase that, but hopefully, you get the gist of what we mean. We're just glad this family's game of choice was Clue and not Operation - we dread to think what that lineup would look like!
The Original Gift Card
If you're in a hurry, take note (literally) of this uncle's fun gift idea. This recipient's uncle has gifted them the same Christmas present for years, and it still makes them chuckle every time - and for a good reason. This hilarious gift certainly made us crack a smile! This uncle has created a 'universal gift card' - which, as you can see, is just a $20 bill taped to a bit of paper.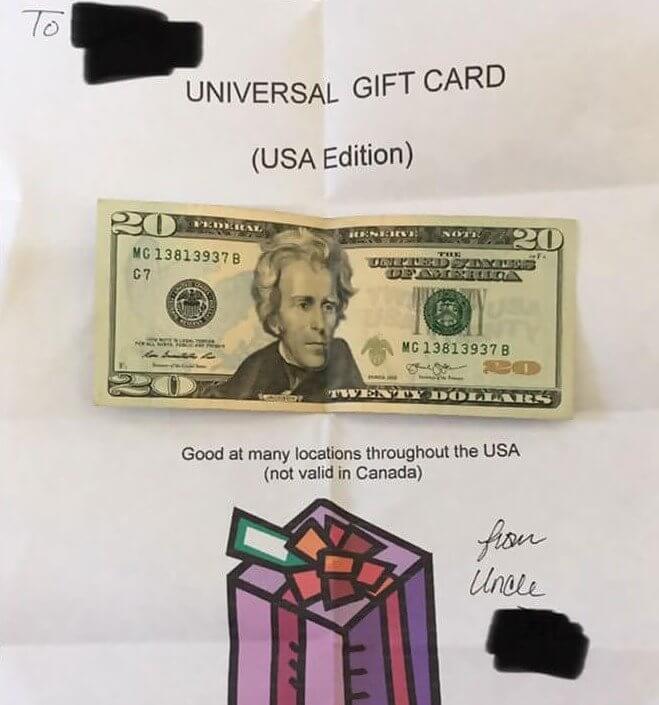 We appreciate the finishing touches - the classic clip art at the bottom of the page and the T's and C's that read: 'Good at many locations throughout the USA (not valid in Canada).
A Gift Your Parents Won't Forget
Part of this 11-year-old child's Christmas present is that they've decided to add one year on to the age they'll put their parents in a nursing home. Let's just hope it isn't a luxury, full-board residential village boasting a pool, gym, and golf buggies; otherwise, we would happily be there tomorrow! For those with a darker sense of humor, this could go down fabulously as a note on a card or gift tag.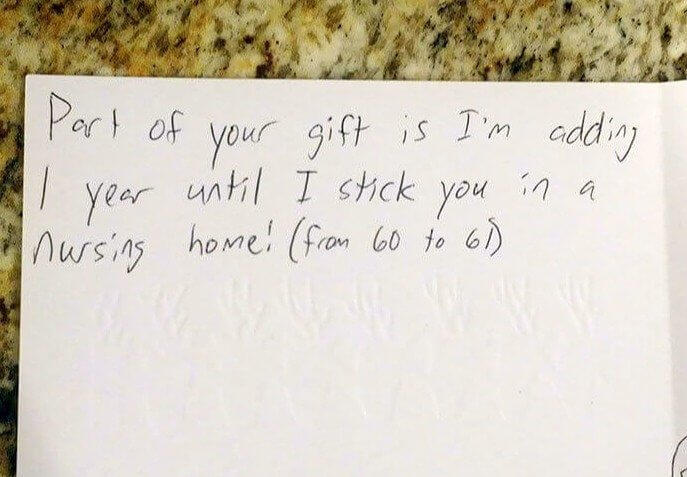 We can't help but wonder what the other part of the Christmas present was and whether it was as savage as the first part! We guess we will never know. 
The What, How, Why Waffle Maker
At first glance, this snowflake waffle maker seems like a cute idea, right? But then, upon closer inspection, you notice that the print on the top of the waffle iron and the snowflake pattern on the waffle in the picture are entirely different. This begs the question: how on earth does that work? Is it a prank present? Is it a merchandising error? We're not sure. Either way, as you go about doing your Xmas shopping this year, be on the lookout for ridiculous mistakes in branding like this one.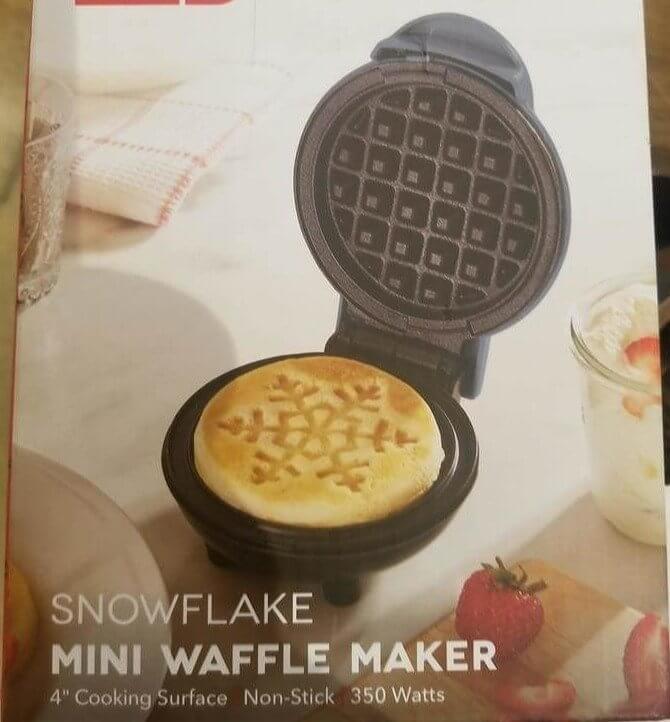 Amazingly these kinds of errors are more common than one might think. But, if you're looking for a chuckle-worthy present that will ultimately have a function and purpose, too, this might do the trick!
Can You Guess What's in There?
There are a few impressive disguise presents on this list. This, however, has to be the most elaborate. Not only does one wonder, 'Where is the real gift?' but 'How many gifts are in there?' also springs to mind. This would make for a brilliant 4th of July present. It would also be a fabulous joke for a history lover. Now, we're just wondering, who will be eating those candy cane wheels? We volunteer!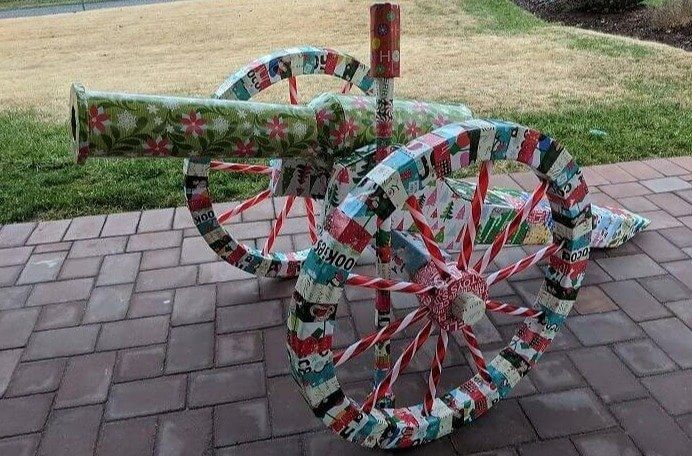 Apparently, this took the gift-giver 80 hours to build this canon out of cardboard and foam. It's actually concealing a golf umbrella, which is hidden in the ramrod. We would never have guessed that an umbrella was lurking in this structure!
A Surprise Hidden in Plain Sight
This cheeky but doting father has hidden his family's Christmas present for all to see! What we are looking at here are tickets to Disneyland encased in a Mickey Mouse-themed Christmas tree decoration, which this Dad has boldly hung on the family Christmas tree! The realization on Christmas day that these are tickets to Disneyland will leave these family members kicking themselves that they didn't realize sooner. Sneaky one Papa!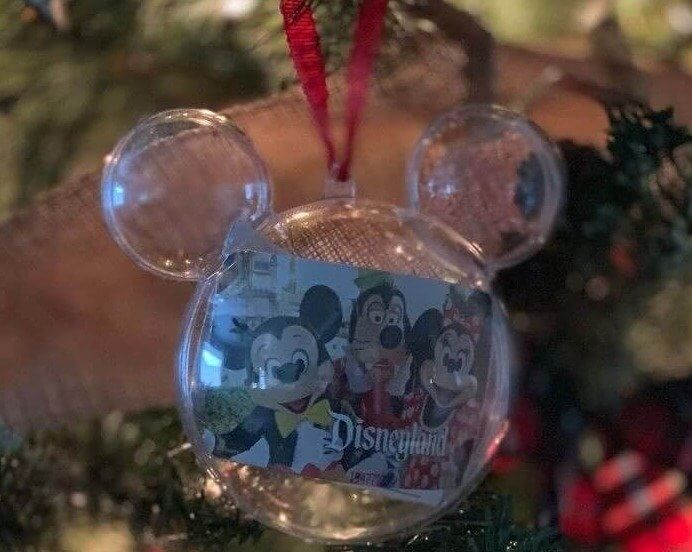 This has to be one of the most expensive Xmas decorations ever, but worth it, right? Hats off to this father; it's arguably one of the best Dad jokes we've come across!
We Had to Either Laugh or Cry Our Way Through 2020
This gift will serve as an adorable piece of decor for those with a dark sense of humor and adoration for embroidery. Just pick and choose wisely to who you present this gift; the more sensitive among us might throw this straight in the trash! There's no denying that this Christmas decoration will serve as a reminder in years to come of one of the weirder Christmas we all experienced in 2020.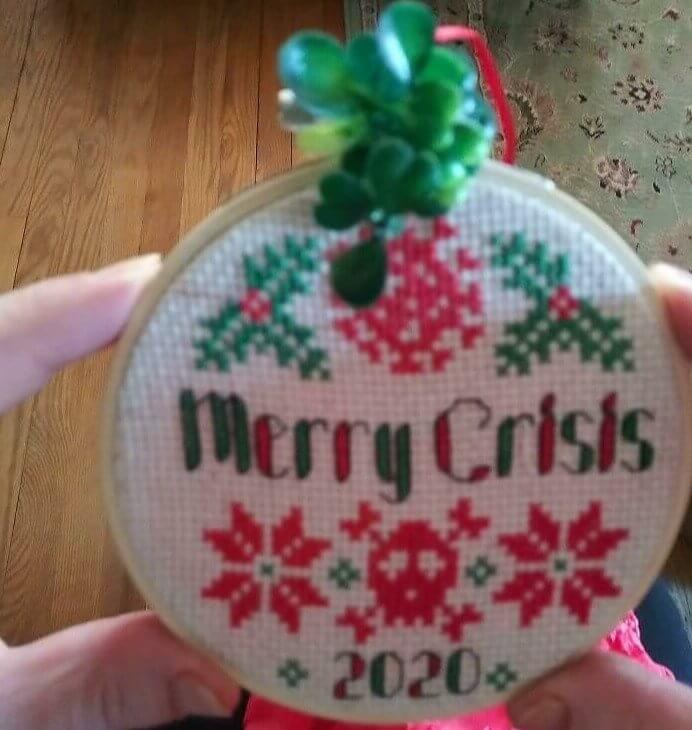 All jokes aside, this hand-crafted gift is pretty impressive. The needlework, dare we say, is on point. Yes, that horrendous pun was intended. No, we make zero apologies for that!
A Blingy Leg for the Holidays
Why do necessary presents have to be dull? Bedazzled and shimmering presents will be sure to turn some heads and leave people smiling. Pictured here is a very blingy prosthetic leg that a wife gifted to her husband one year. We're not sure whether the recipient appreciated their sparkly new limb, found it funny, or was pleased to have a jazzier leg. Either way, we like to think that this husband and wife enjoy gifting each other wacky presents.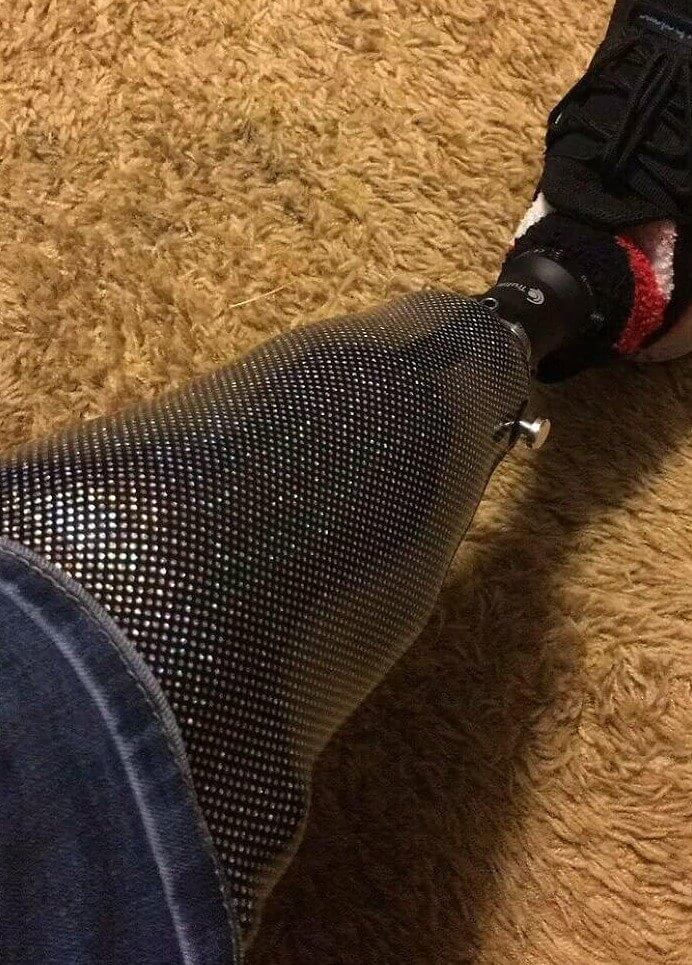 We really hope that this guy is a Saturday Night Fever fan because we think this prosthetic limb would certainly take disco dancing to brand new heights!
The Hottest Wheels
This one isn't very pranky, but it made us smile, so it made it onto the list! The recipient of this gift was a 29-year-old man paralyzed from the waist down. He received it from his nine-year-old nephew. As you can see, instead of the racing car that Hot Wheels is famous for, it's a wheelchair! We're sure that the sweetness and inclusivity of this kind gesture will be one this uncle will never forget.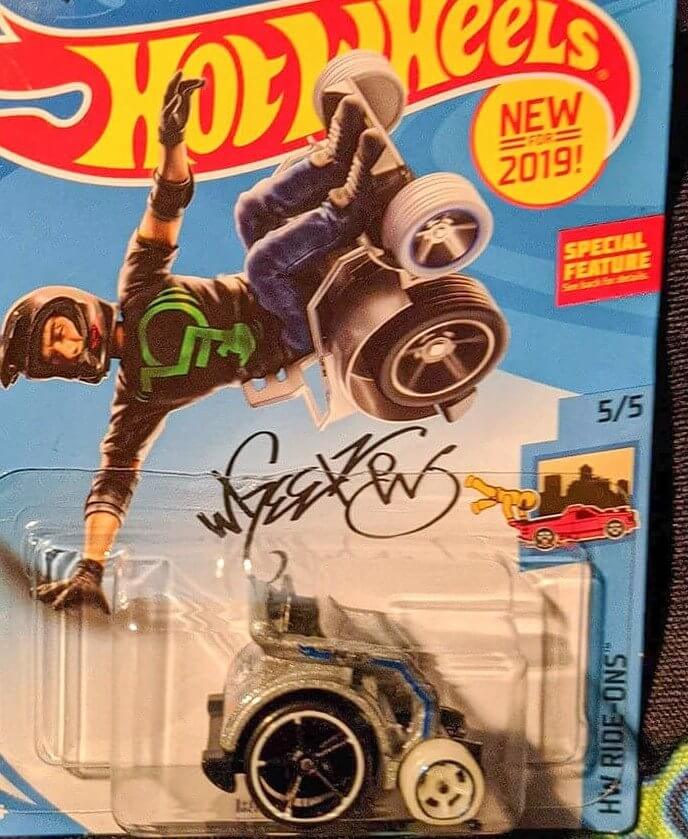 We like to think that this uncle and nephew had a wonderful time playing with this toy that Christmas. Or maybe the uncle never opened the toy so that he could cherish it forever? Either way, this anecdote warmed our hearts.