Some people go years without facing the consequences of their actions, and other times, they face what we like to call instant karma. That's just how the universe rectifies the bad (and good) things people do. And whether you believe in it or not, these real-life moments of people getting what they deserve will have you chuckling - so get ready to see some justice being served with this real-life proof that what goes around comes around.
Don't Mess With a Marine
This young man thought that attacking the home of what seemed like a helpless elderly man would make for easy money. He came in and threatened this 73-year-old man and his wife with a knife. But he didn't know that this man was actually a former marine, boxer, and hand-to-hand combat instructor who was in great physical shape. And you can see from the picture who won this battle.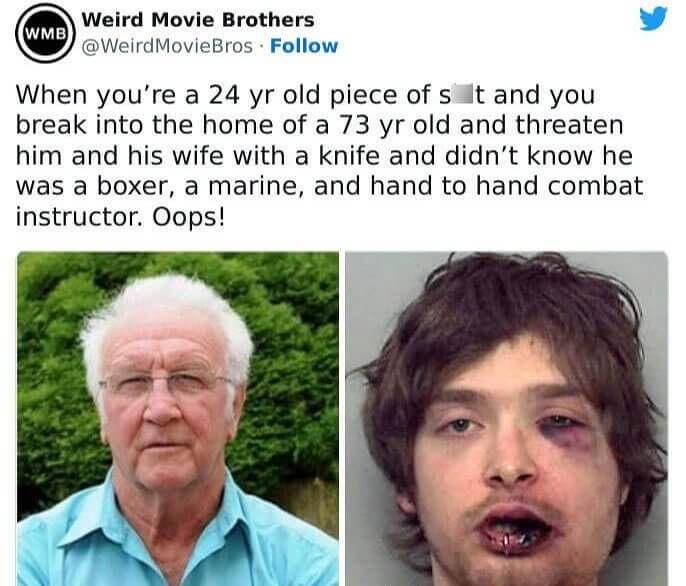 This young man probably never imagined the break-in would end like this, but it shows that some people in life do get what they deserve!
For Her, Karma Was Losing the Election
Nothing is more satisfying than getting a little harmless revenge against people who truly deserve it. Despite gay marriage having already been legalized, Kim Davis once denied a marriage license to David Ermold because he was gay. What was his revenge? Two years later, he decided to run for election against her. This picture shows the two of them sitting together as he signs up to run against her for a Kentucky county clerkship.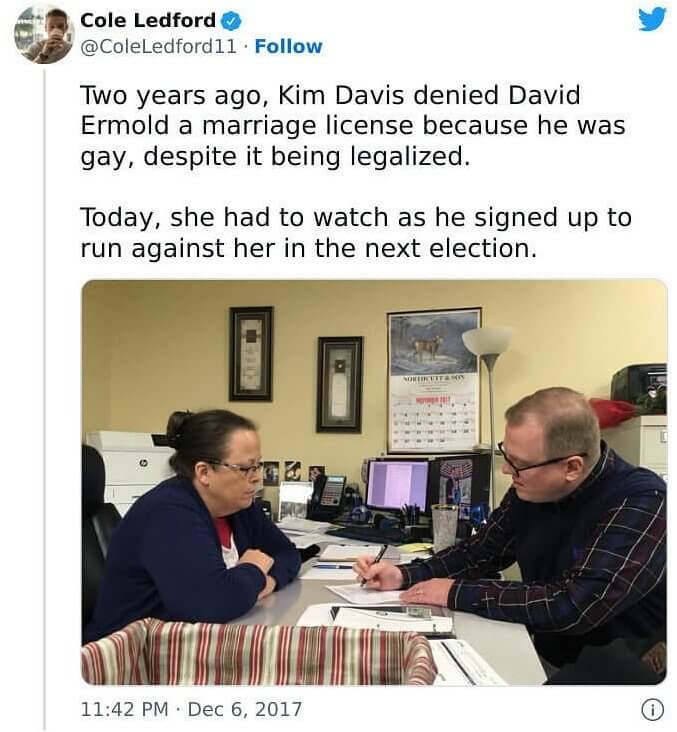 While David did not win the election, but neither did Kim Davis - who was running as the incumbent clerk. This was an example of some very well-deserved karma.
In the Modern World, Karma Is Served Through WiFi
People often try to hide behind masks when they commit a shameful act like the one seen below. These teenagers put masks over their faces as they snuck onto campus and painted swastikas and other hateful slurs all around. However, they were quickly caught when it was found that their phones automatically connected to the Wi-Fi, revealing each and every one of their names so they could be caught and punished.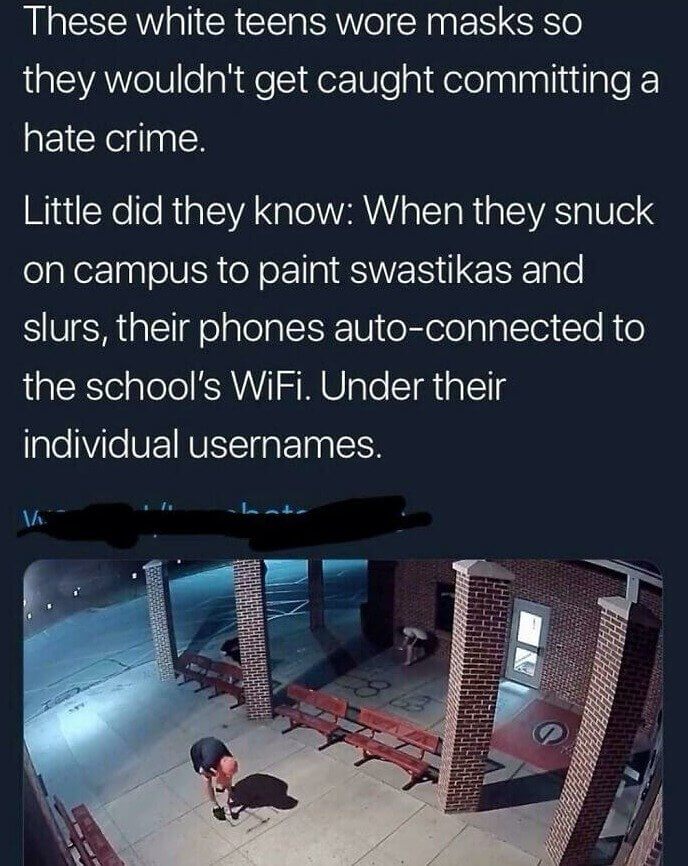 This is just a stupid mistake on their part that ensured that they would have to pay for the hateful actions they committed. At least they were not able to get away with it.
This Bully Didn't See It Coming
This story is a bittersweet one. We never like to hear about anyone being bullied, but it's nice to hear about those who come together to stand up to a bully - especially when it's not who you expect it to be. The person who posted this explained that their dad grew up in a neighborhood surrounded by gangs. In that neighborhood lived an openly gay young man who would tutor gabng leaders for free.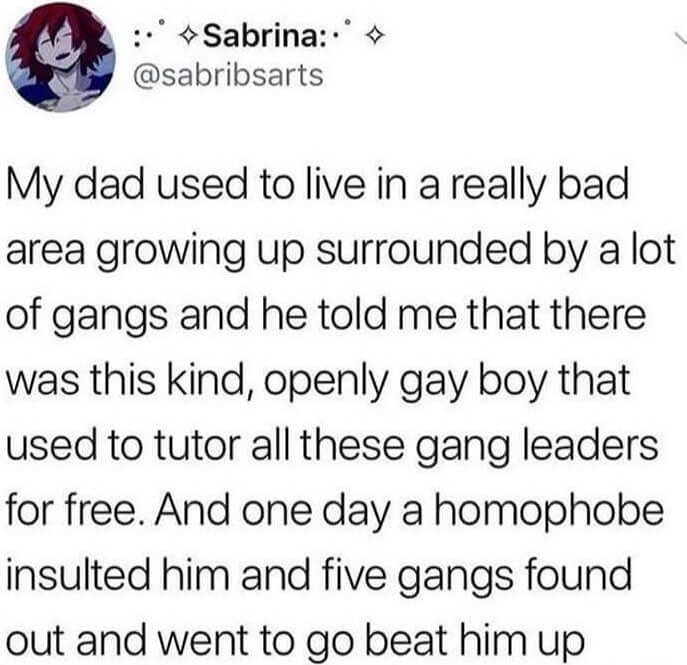 So when someone decided to bully this young man for being gay, all of the gang leaders came together and stood up for him. That's not a story you hear everyday.
There's a Reason You Shouldn't Park in Front of a Fire Hydrant
Have you ever wondered why you shouldn't park in front of a fire hydrant? Well, here is proof that you should follow the rules even if you don't quite understand or care about them. This person illegally parked in front of a fire hydrant and paid the price, not in the form of a ticket. A fire broke out nearby, and the local firefighters needed access to the fire hydrant.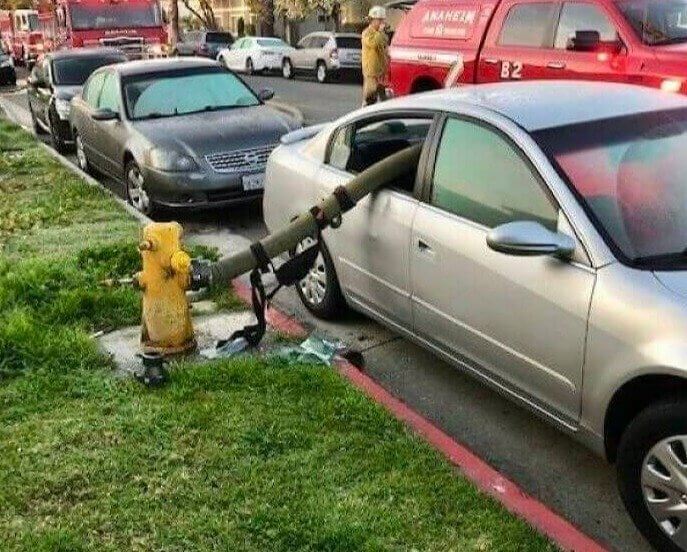 They weren't going to let this illegally parked car stop them from putting out the fire, so they just smashed the windows and ignored their existence to complete their job.
And That Was the Last Time He Didn't Stop for Pedestrians
There is no shortage of horrible drivers who have no patience to follow the traffic rules, even if that means not stopping at a crosswalk to let pedestrians cross. This man was driving and stopped like a responsible and law-abiding driver. But the person behind him got frustrated and started honking and cursing at him for him to move. The rude driver even tried to pass him as he waited for everyone to cross.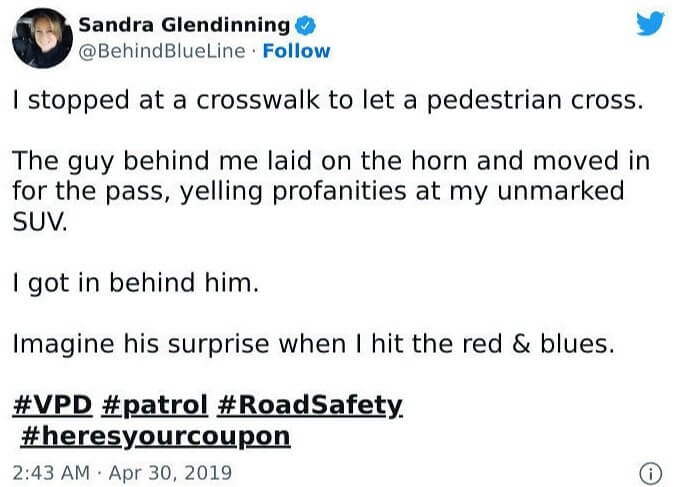 Little did this man know that the person he was trying to pass was actually a police officer. It only took a few moments for this man to get the karma that he deserved.
24 Bars of Chocolate: $24, Price of Karma: Priceless
Sometimes you have to take matters into your own hands and make sure that people get the justice they deserve. This man was waiting in line at the store when a child began to misbehave and tantrum because his mother wouldn't buy him the biggest candy bar instead of the smaller one. The mother didn't have the energy to deal with his temper and said she would buy the bigger bar when they got to the register.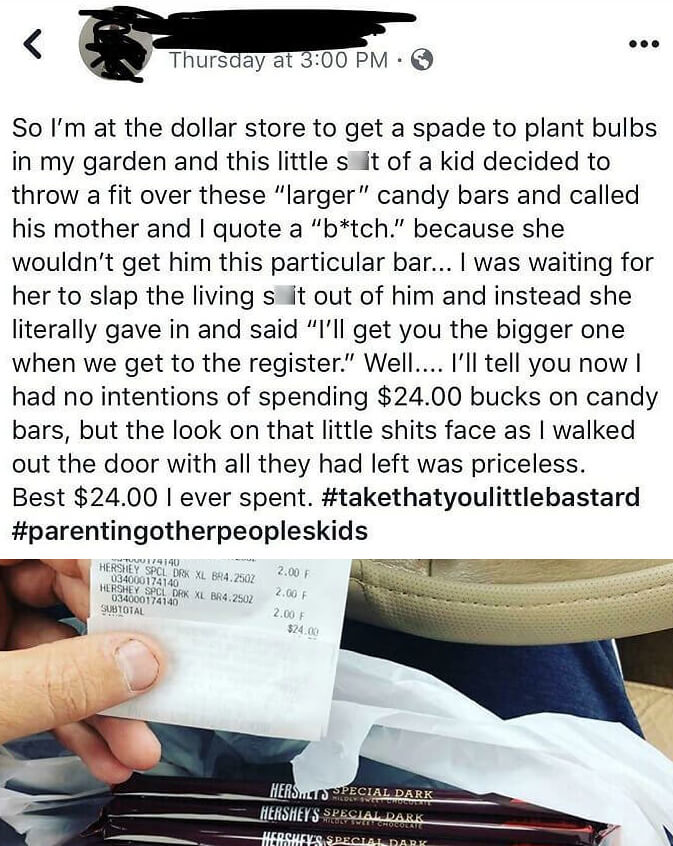 This man couldn't handle the injustice, so, as he was in line before them, he bought every big candy bar in the store so the child couldn't have any. He said it was all worth the $24 dollars when he saw the child's face.
An Unsuccessful Hit and Run
Hit-and-run accidents are just a terrible thing. How can you cause damage to someone's car and life and try to walk away as if nothing happened? Oftentimes people get away with their actions and are never caught despite their mistakes. This person, however, was not able to get away scratch free. They tried to run, but their license plate got stuck in the car they hit, leaving the victim with all of their contact information.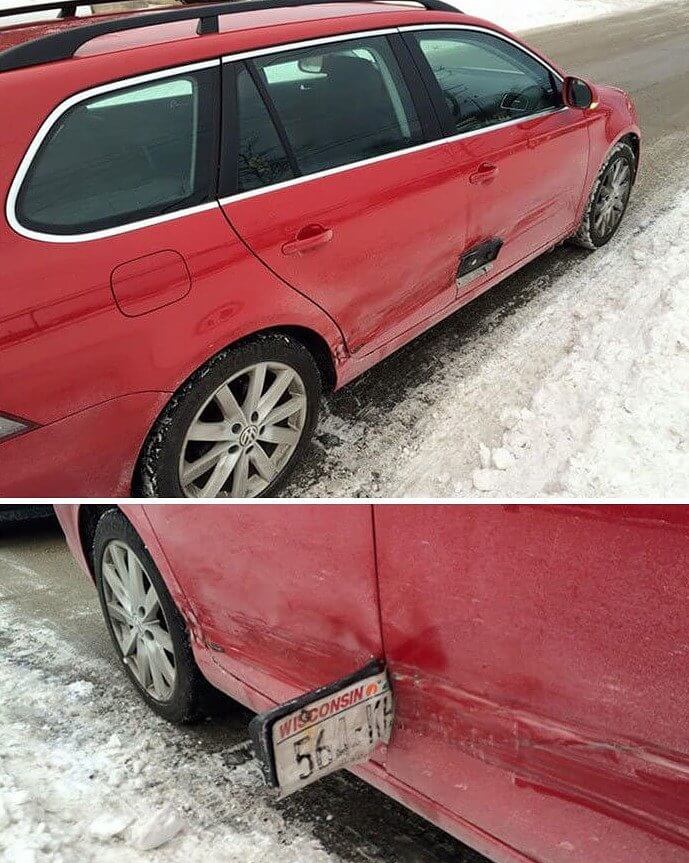 It looks like this red car really had the back of the owner. Although they were not able to get the contact information needed to catch this person, the car made sure they were protected.
When You Slap a Woman Not Knowing That She's a Public Officer and Can Take You to Jail
This lawyer thought he could get away with anything and would never be held accountable for his actions. That is why he didn't think twice before slapping this woman. However, little did he know that she was actually a public officer! He was very soon after arrested for his actions and presented to the court by the same woman - only this time, she was in uniform. Here you can see her leading him to the court in handcuffs.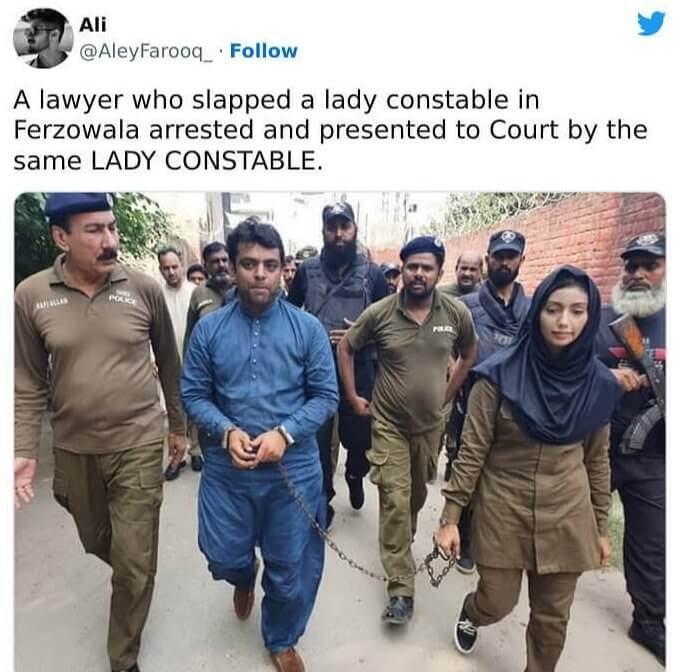 It looks like karma is no joke in Pakistan. This woman seems so proud of herself; she quickly brought justice to this person after he wronged her.
He Better Hope He Doesn't Come Across Any of Her Students
There was a lot of outrage surrounding the case of Brock Turner, a college student who assaulted a female classmate. His sentencing took place in March of 2016, and this professor decided to include him in a textbook she was writing that was published a year later. What section of the textbook did she choose? A paragraph explaining the definition of rape. Turner's face is right there next to it.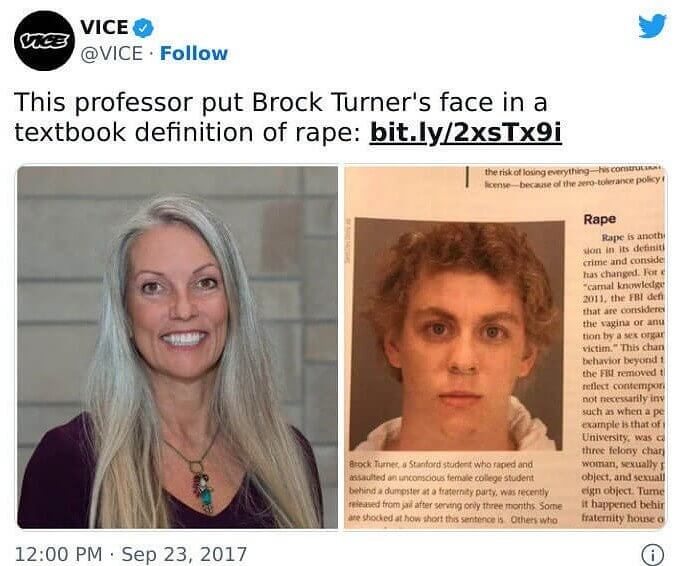 So while many people around the country might have long forgotten about all of this, a specific set of students will remember what he did forever.
This Entitled Parker Faced the Wrath of the Zip Ties
There is nothing worse than looking for parking endlessly, only to see there would be plenty of available parking space if people didn't decide to misuse it selfishly. Take this person, for example, who chose to park recklessly and take up multiple parking spots. But it looks like revenge was in store for this woman as strangers zip-tied shopping carts to her vehicle so she couldn't get out and would be stuck there.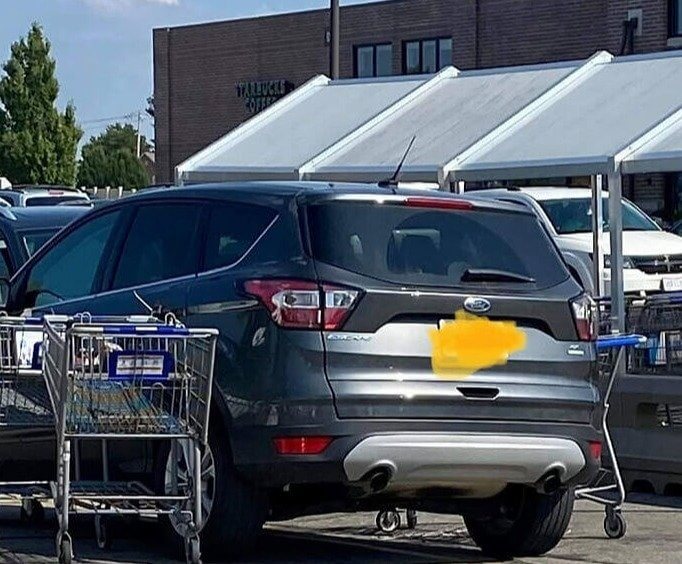 It is so rare to see someone held responsible for their rude and inconsiderate actions. It must have been pretty satisfying to see how upset this woman got.
We Bet the Twins' Mom Has Some Regrets
Racism is terrible, and some people make no attempt to hide how racist and hateful they are. This woman came to the hospital to give birth, and when it was time to get the epidural, she refused it at the hands of the nurse that arrived, claiming that "there is no way she could be her nurse." By the time another nurse came, the time frame for the epidural had passed, and she lost her chance.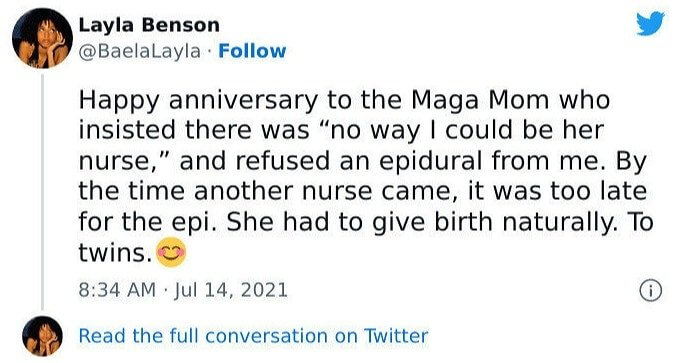 The woman was then stuck giving birth to twins naturally, with no epidural in sight to help relieve the pain. Do you think she thought that it was worth it?
She Tried to Kick Dust Onto Some Cyclists and Then This Happened
There is a reason for the countless signs warning drivers there are cyclists on the road and to share the road properly with them. This woman, however, decided not to listen or care and she accelerated and zoomed past the cyclists, trying to cause a dust storm behind her as she drove away. It looks like she went a little too fast and ended up flipping her car in the process.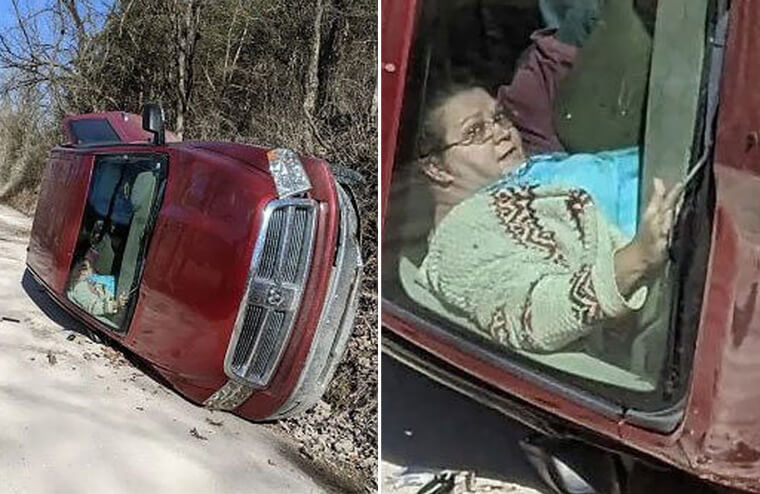 One of the cyclists took this photo as they drove past her. They probably offered to help her despite her terrible actions, but it would be a shame to miss this epic moment and not take a picture.
Let This Serve as a Warning for Any Teenagers Thinking of Doing the Same
Sometimes in life, what goes around really does come around. This woman told her dad that she ran out of drinks and had no money to buy some for the upcoming weekend. He was generous and gave her a large bottle from the kitchen. He thought it was a nice gift, but he didn't know that the girl had stolen the entire bottle when she was 16 and replaced it with water.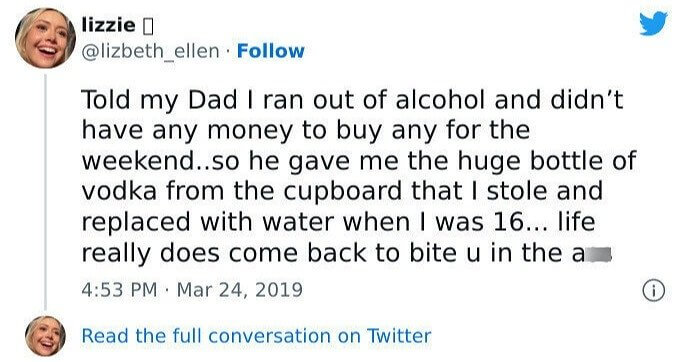 It looks like she still had no money or alcohol that weekend. She was probably stuck pretending that the water bottle actually was alcohol.
This City Mayor Isn't Afraid to Publicly Shame Any Naughty Citizens
Imagine thinking it is perfectly acceptable to throw your trash out the window and litter it on the ground. And then imagine being stupid enough to do that when the mayor is driving behind you. Although this person probably had no way of knowing it was the mayor driving behind him, that just shows how important it is to always do the right thing and behave correctly - even if you think nobody's watching.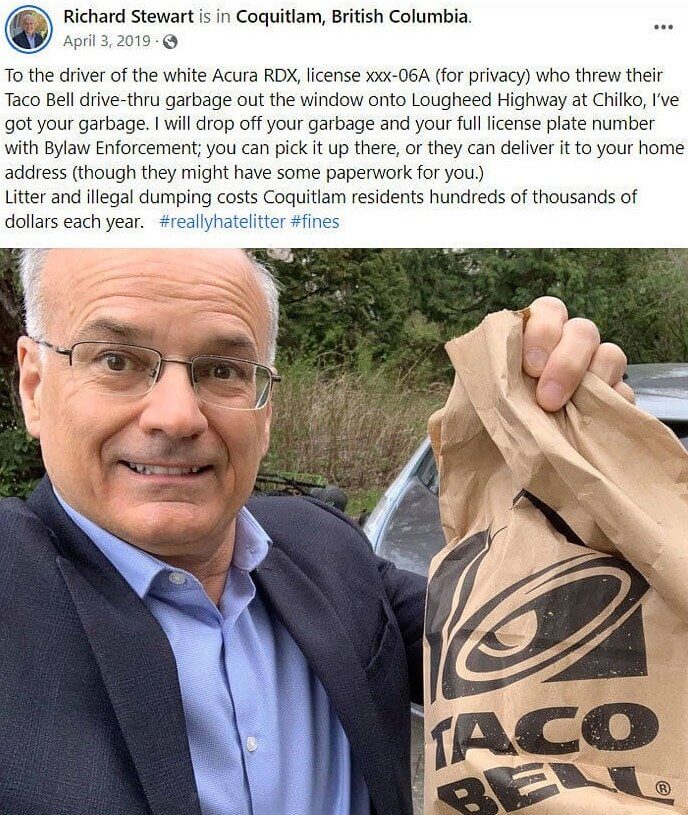 The mayor picked up the trash and delivered it to the local police station so that the person responsible would be fined for their actions.
"And That, Kids, Is How I Met Your Mother"
This is perhaps one of the funniest news titles you will ever read. It almost seems like something out of a storybook and too good to be true! A man in Oregon who was driving a stolen car crashed into a woman who was also driving a stolen car. As if that already wasn't a strange enough coincidence, the two people look exactly alike, almost as if they could be twins.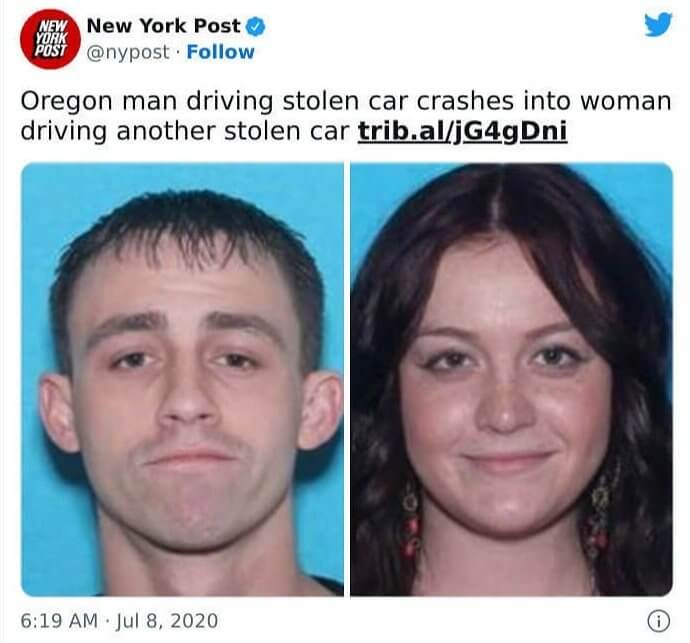 This was either a match made in heaven or a brother-sister duo that knew exactly what they were doing.
When Having a (very) Dirty Car Comes in Handy
Did you ever think the day would come that you would be so so pleased that you did not wash your car? Who would have thought that all that dirt and mess could come in handy? Well, this person certainly saw the benefits of keeping the vehicle a little dirty when someone rear-ended them and fled the scene without providing their information. The dirt revealed their entire license plate.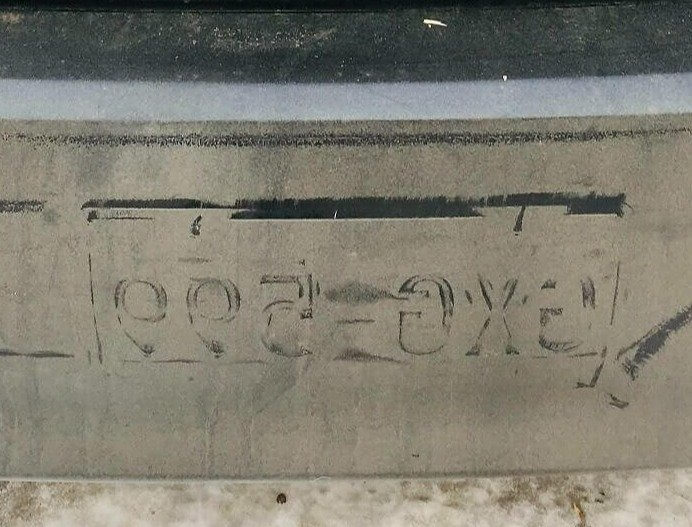 That must have also been a pretty hard hit - it left such a deep engraving. Imagine thinking you were getting off the hook by fleeing and then being held accountable for your actions.
Don't Underestimate the Power of a Nauseous Pregnant Woman
Pregnancy is no joke. It comes with a plethora of discomforts and difficulties, one of the most common and well-known ones being nausea and vomiting. This woman walked onto a bus where there was no seating left. She kindly asked a man if she could have his seat as she was pregnant and felt very sick. His response was very rude, attacking women for wanting equality and telling her to remain standing.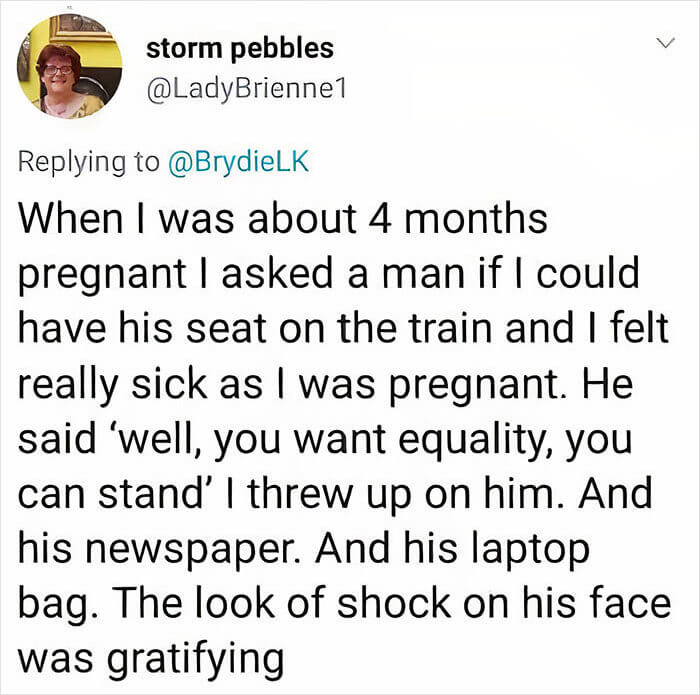 He would live to regret that decision as the woman really was feeling sick and ended up throwing up all over him, his newspaper, and his laptop bag.
Sometimes Honkers Have Good Intentions
People tend to take things the wrong way in life. They are overeager to get upset and frustrated with the people around them. This woman heard the car beside her honking at her, and her reaction was pretty sad. Instead of looking over to see if everything was okay, she gave the middle finger to the woman and drove away. What she would never know is that the woman was trying to help her.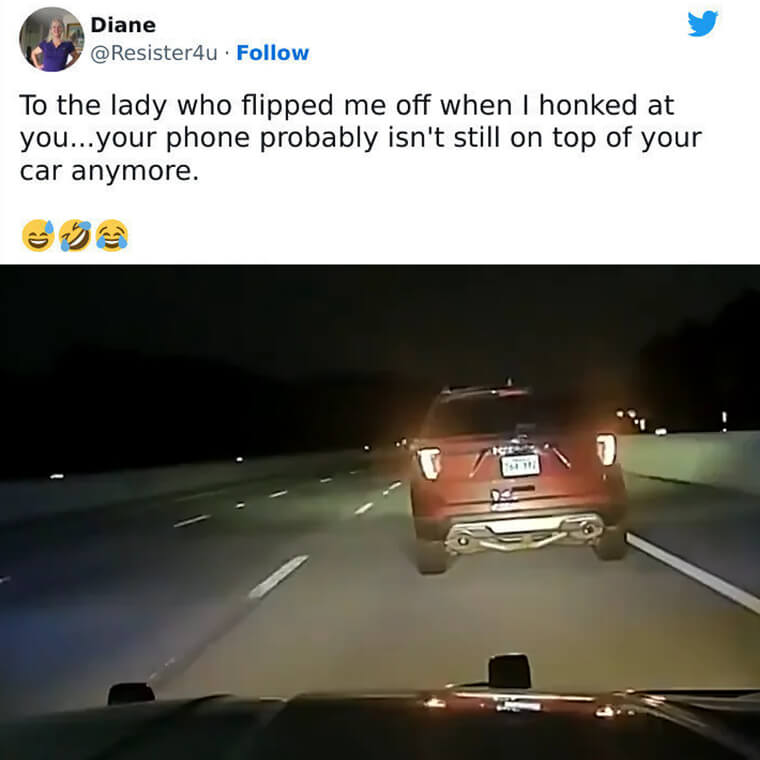 It seemed that she had left her phone on top of her car, and the woman who honked the horn was trying to warn her so that she could get it before it was too late. Her loss!
Have Fun With the Bed Bugs!
Stealing is always bad and wrong, yet some people continue doing it as if it's perfectly fine. This stranger decided to steal the mattress sitting in the back of this person's truck as he went into a restaurant to grab a bite. Little did they know that they had stolen the worst possible mattress. This man had just collected the mattress from a friend to dispose of it...as it was infested with bed bugs.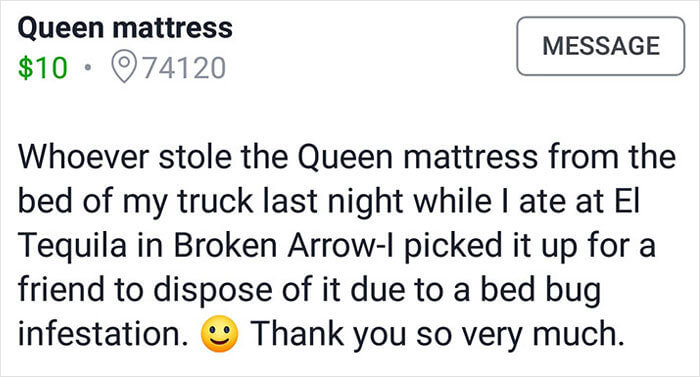 Imagine being so proud of yourself for stealing a mattress and so excited that you don't have to pay for it, only to have karma take control and infest you and your house with bed bugs.
She Shouldn't Have Been Shady
This is perhaps the purest and cutest form of karma that is included in this list. This person was trying to make their friend look silly in this picture by putting bunny ears behind their head in the photo without them noticing. However, due to the shadows and lighting in the room, the girl also ended up with bunny ears behind her head in the photo, making them the bunny ear duo.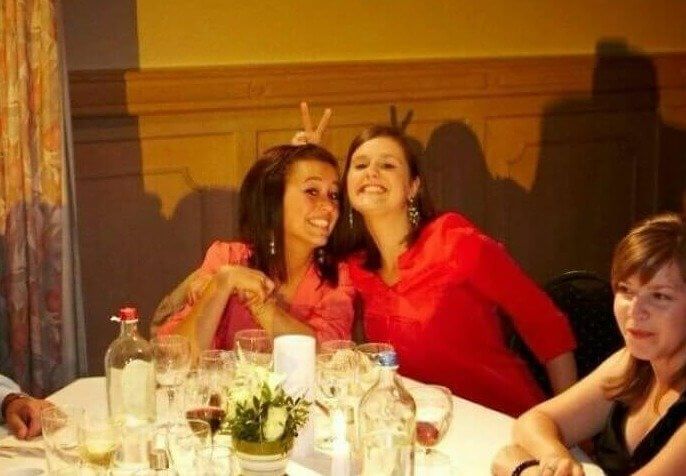 They look so cute and happy, both of them completely oblivious that they both have a set of bunny ear hands behind their heads in the photo.
An Unexpected Alliance Between Uber and Lyft
This woman thought she could get away with anything and never be held responsible for her irresponsible actions. She decided to aggressively cough all over her Uber driver (a move that would have been considered pretty offensive even pre-corona era) and then threatened to sue Uber. Lyft decided to stand up for their competitor and permanently remove the rider from their community. She didn't get away with her actions.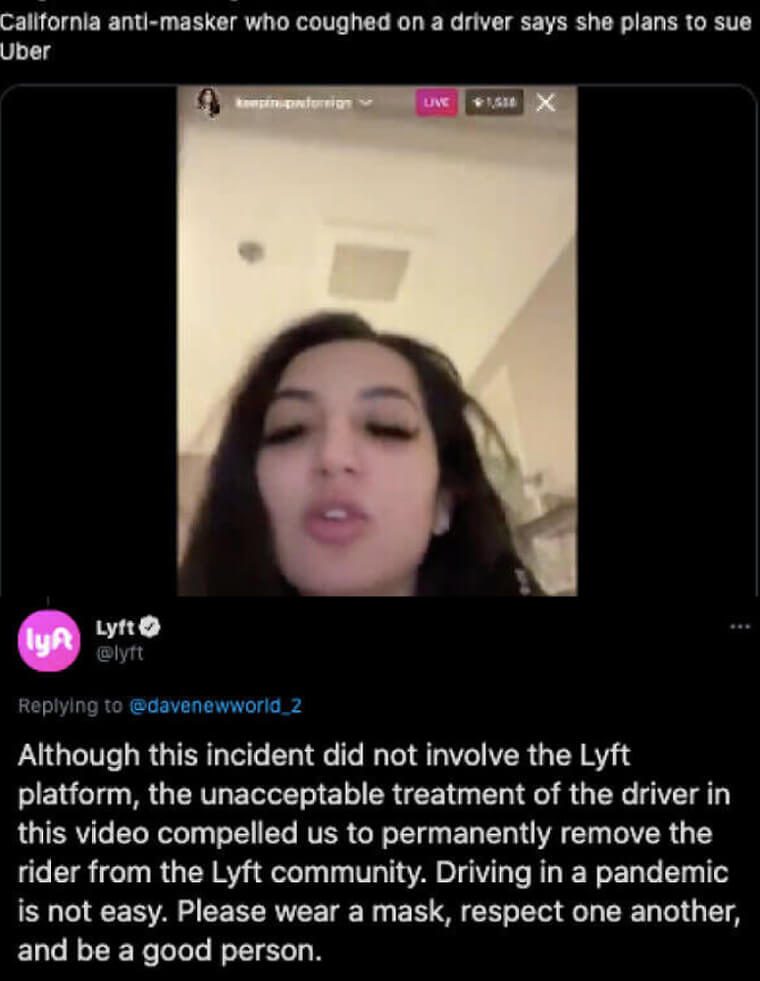 What was she planning to sue uber for? The fact that she decided to cough on the driver? Something isn't making too much sense there.
Good Luck Getting Out of That One
Some people say that this person parked in a medical zone and these buses are blood donation vehicles, which would make this person's parking choice even more disgusting. If that isn't the case, the choice to park so irresponsibly in such a large area is also pretty infuriating. Why can't some people park inside the lines no matter what? At least this person will be forced to consider their actions.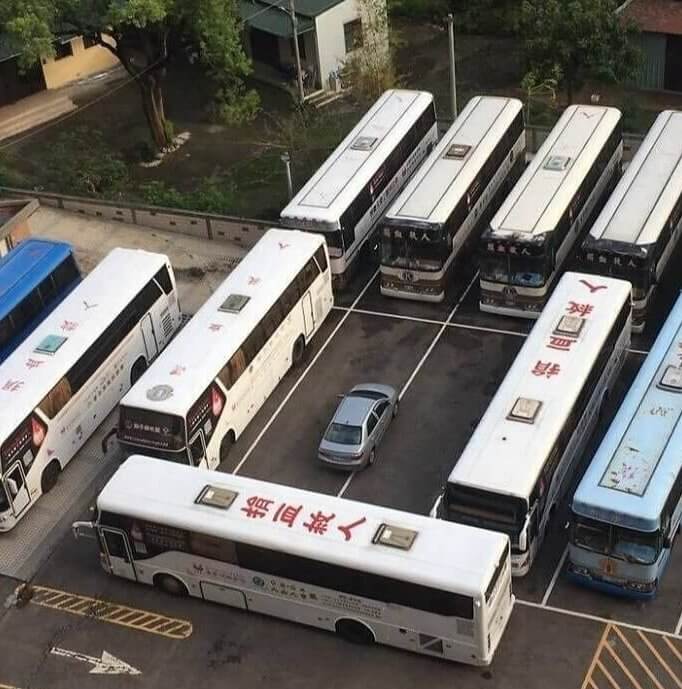 How long do you think it took them to get out of this situation? It would only take one bus moving to free the car, but they probably weren't very eager to help the inconsiderate driver.
Even Chipotle Isn't Exempt From the Laws of the Universe
This is quite the story of how one employee would not be pushed around by big corporations and one of the few stories where a corporation was held accountable for its behaviors. This man was fired for stealing $626, an accusation that was proven false. The most shocking part? It was a framed set-up on the side of the food chain. She sued the company and won $8 million in a lawsuit.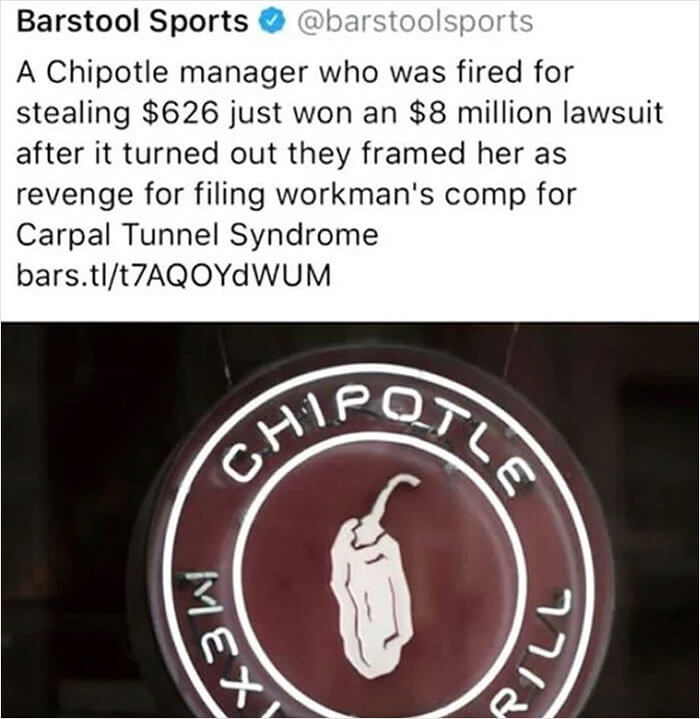 The true story is that they were trying to get rid of her and get revenge for filing a workman's compensation for Carpal Tunnel Syndrome. That is a pretty thing to do.
The Taxi Driver Has Spoken
At first glance, this message might seem a little confusing until you reach the last line where everything starts to make sense. This man left his phone in the car of the taxi that he was riding in and the taxi driver posted this message as a form of comical revenge against the man who was rude to him the entire drive and even refused to pay the fare at the end of the journey.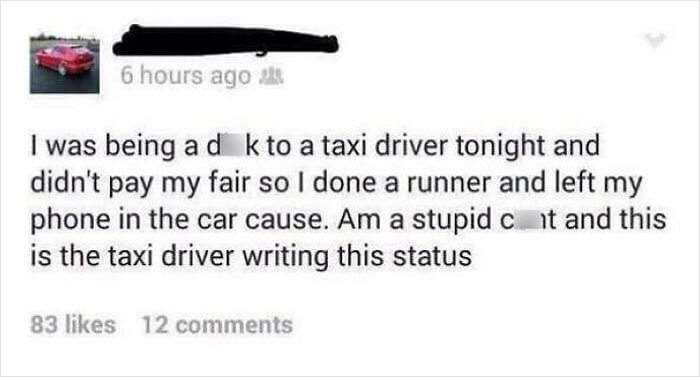 Do you think he ever got his phone back? Or did he just read these updates on his social media later and count it as a loss, a compensation for his behavior?
The Christmas Spirit Will Not Give up so Easily
Who had a vendetta against a snowman? It seems like a pretty strange thing to hate and want to destroy, but some people are just odd like that. A stranger decided to attack the giant snowman in this yard and try to run it over with his car, thinking that with just one motion he would be destroyed. He could not have been more wrong with his calculations.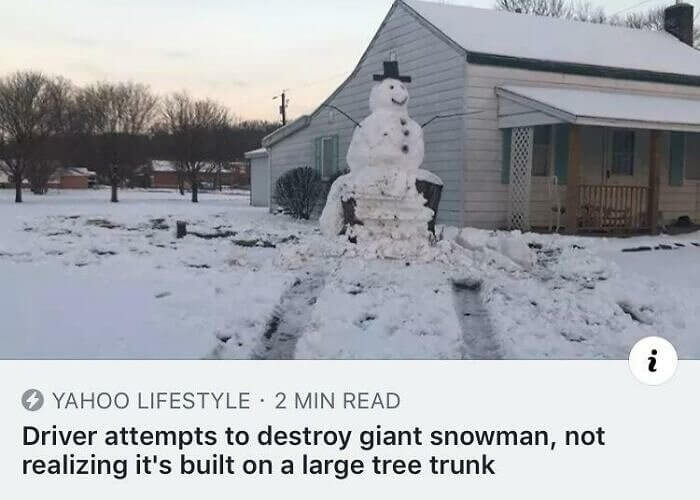 The man did not know that the snowman was not made entirely of snow (but his car was soon to find out). In fact, he was built on top of a tree trunk.
No One Gets Through Wet Cement - Not Even a Fancy Red Jaguar
Some people think that material things make them more worthy of living. This person just bought a new jaguar car and took it out for a ride. In the process, there was traffic. Instead of waiting in the traffic like everyone else, he thought he was above that and tried to zoom past them. It would be to his demise, however, as there was a reason everyone was waiting in traffic.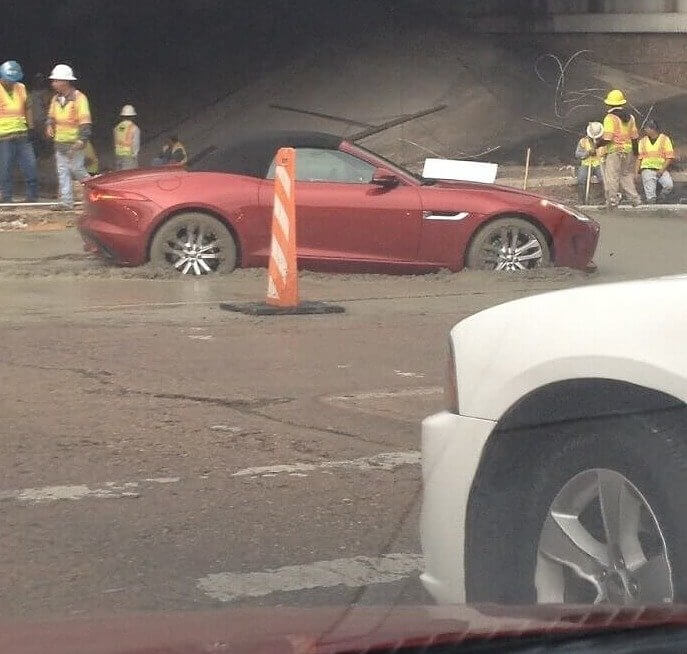 There is probably little to nothing that could be done at that point that could salvage his new car. He would just have to call it a loss as a result of his stupidity.
They Attacked Themselves
This is perhaps the exact definition of karma. There was a gathering of ISIS terrorists in Iraq, and some of them apparently thought it would be a good idea to come wearing weapons. You can probably see where this story is going. That's right: they accidentally detonated all their stuff in the middle of the gathering, killing 21 terrorists. That is karma in its finest and quickest form.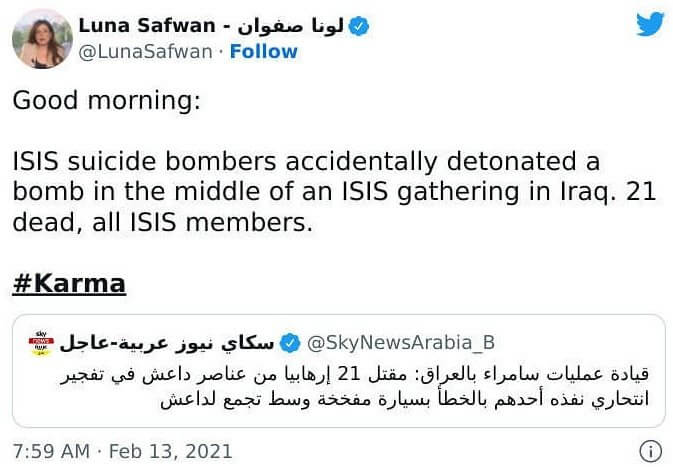 Hopefully, this at least prevented an attack that was going to take place against innocent civilians nearby. Better to destroy themselves than innocent children and adults.
Saved by the Bell
This story looks pretty complicated just from the few lines that this man has used to describe it. The karma that he is explaining is that his baby's mother's family came out to beat him up, but the police showed up at the right time. They found substances in their car and were about to arrest them, saving this man from a seemingly inevitable beating by a large group of people.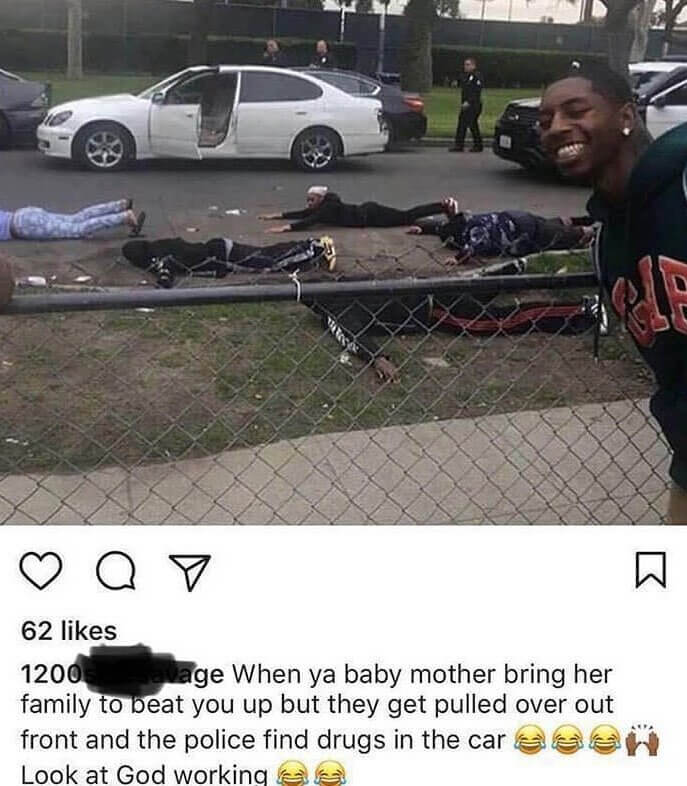 Although this kind of violence should not be condoned, it also makes you wonder what the smiling man did that would cause his baby's mother's family to come out ready to beat him up.
Don't Steal Tea - You Never Know What's Really in There
Some people honestly think that stealing something that doesn't belong to them is perfectly fine. This person, clearly a newbie to the apartment complex, decided that it would be perfectly fine to steal the sun tea sitting on the picnic table. Not only once, but twice they stole it. The owner of the sun tea wanted to make sure that the third time they tried to steal it, things would be different.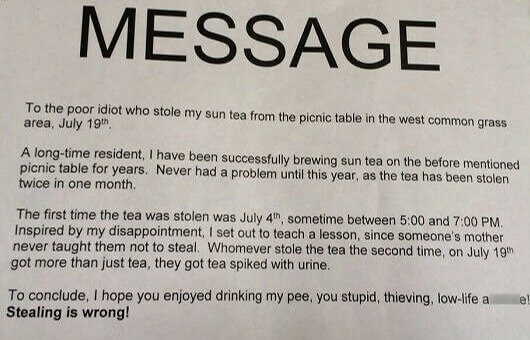 The third time they came for the tea would be different as the person decided to mix the tea with some of his urine as a form of revenge on the tea thief.
Knock, Knock, It's Karma
What happens when you try to get an undocumented classmate deported? Well, perhaps it depends on where you live, but you risk getting expelled in this school. This young man was determined to get his immigrant classmate deported once he learned he didn't have papers to live in the US. However, he ended up paying the price. His classmate stayed where he was, but he was expelled from his school shortly after.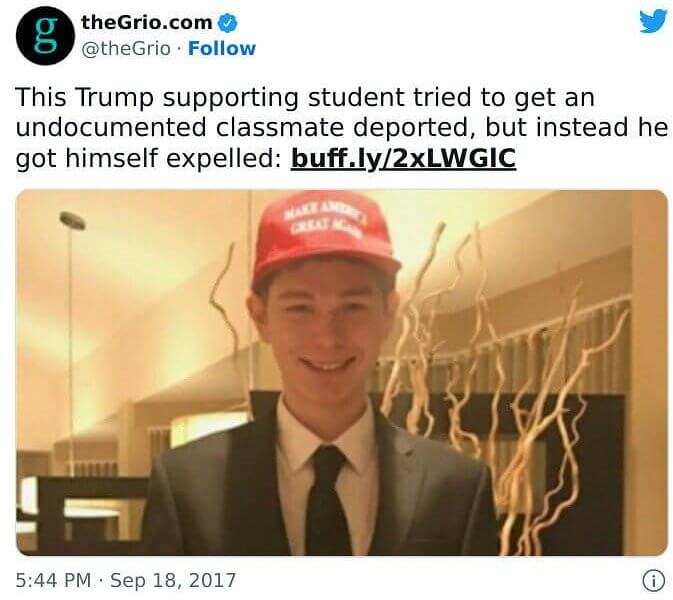 Maybe he'll think twice next time before trying to ruin other people's lives. His plan completely backfired.
Do You Need Some Ice for That Burn?
There is no shortage of people who are extremely frustrated with those who cannot park within the lines and thereby take up multiple parking spaces. Although some people on this list became very aggressive with their attempts at teaching poor parkers a lesson, this one is more innocent and funny while still offensive (in a good way). They compared the poor driver with their three-year-old child who knows how to stay in the lines better than them.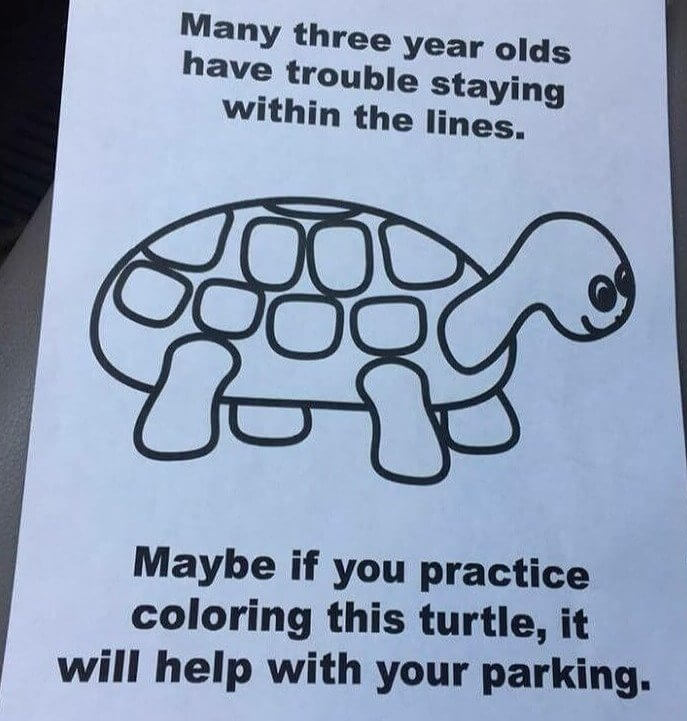 They condescendingly explain that maybe if the person practiced coloring, they could learn a thing or two about parking properly. People need to know not only to think of themselves!
Karma Served With a Sprinkle of Irony
There is a whole roller coaster of emotions when it comes to this story. These two men decided to create a website called Mugshots.com where they would post people's mugshots and then demand payment to take them down. Although this might not seem like too horrible of an idea initially, since mugshots are public knowledge it many places, it should be known that the site's founders were very soon after arrested for extortion.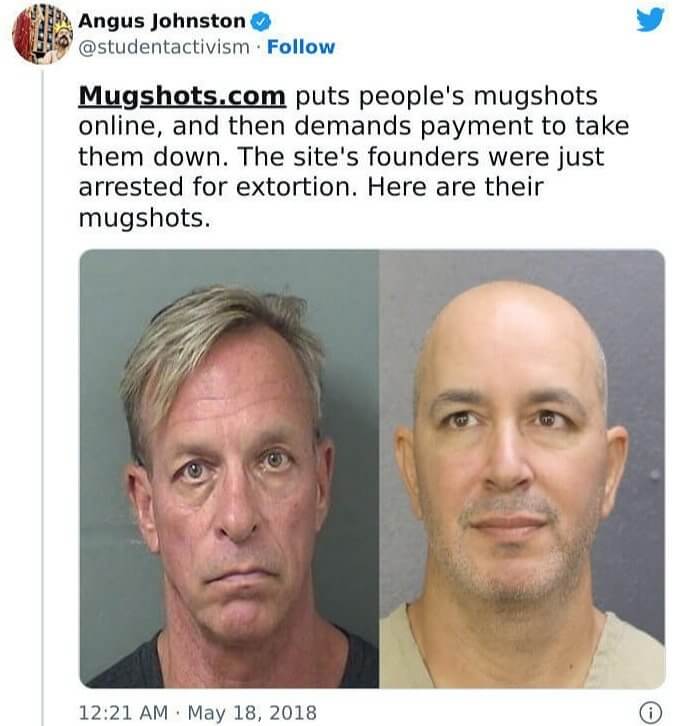 Now the mugshots of these two men are circulating all over the internet, maybe on the same website that they created. Do they have enough money to have the pictures removed?
The Thief Opened up the Wrong Tank
In case you need more proof that stealing is never a good decision, this man's story is ready to tell the tale. A thief went up to the mobile home of an elderly couple in the middle of the night. They heard a noise but ignored it and went back to sleep. Only in the morning did they realize that someone had tried to steal their fuel in the middle of the night.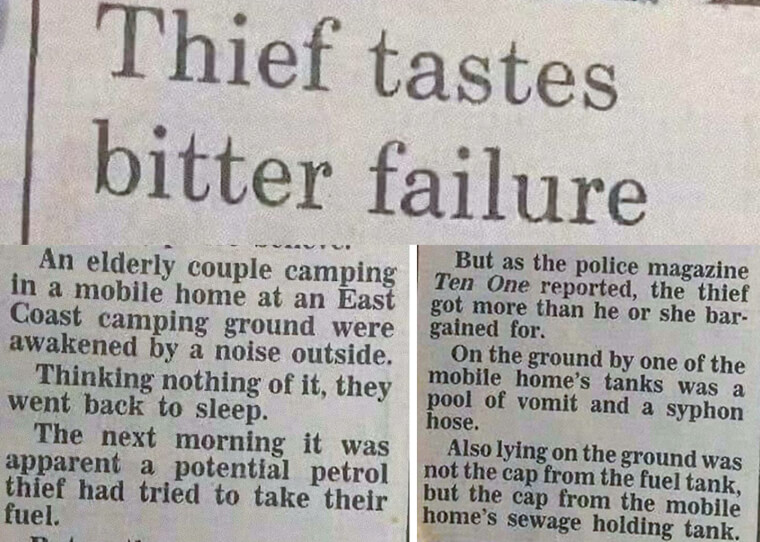 There was a siphon hose and a pool of vomit on the ground. The man had siphoned out of the sewage tank instead of the gas tank.
The Ultimate Punishment for Being a Hypocrite
Now, why on earth would you create a law knowing that the day would come when you would be punished for going against it? Either this man thought he would never get caught, or he had a remarkable lack of foresight. He drafted a law that ordered adulterers to be flogged in public if guilty. As can be seen in the picture, it wouldn't be long before he himself was found guilty of adultery.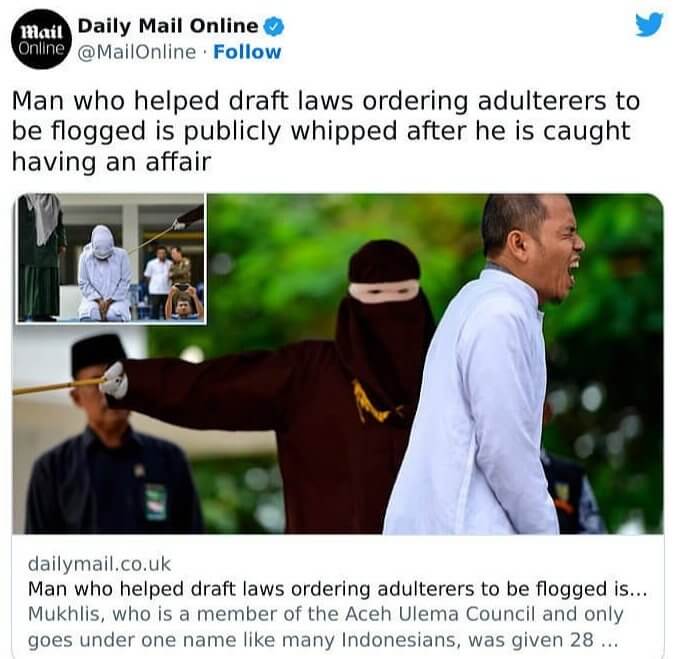 As a result, he had to be flogged in public for his actions, precisely as the law he helped to draft required.
She's Never Showing Her Face at That Nightclub Again
Things can get crazy on a night out at the club. But things should never get so crazy that you end up trying to steal something, like alcohol from the club's bar. This girl thought it would be funny to steal a bottle of alcohol. However, she ended up stealing a bottle of grenadine, a very sugary and sweet liquid used as a flavoring, containing absolutely no alcohol.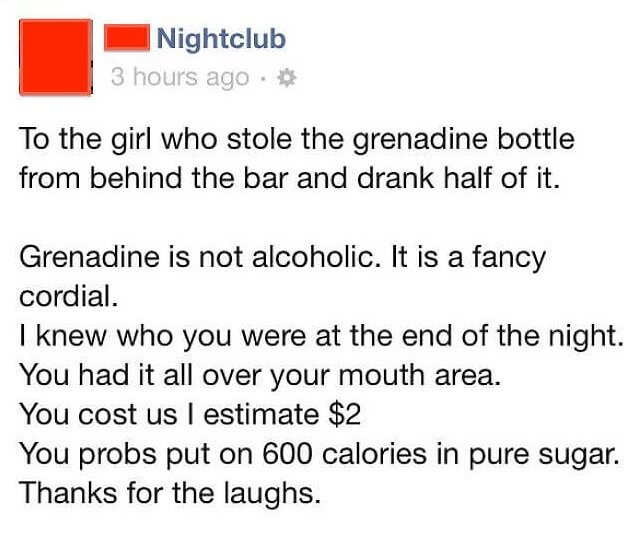 She proceeded to drink the entire bottle of grenadine, and her mouth became covered in red (grenadine is red). Everyone could tell immediately who the grenadine thief was.
Don't Mess With Mother Nature
Sometimes in life, you are given signs that your actions are wrong. Maybe you weren't sure and just made a small mistake, and there is still time to make things right. Hopefully, in Venice, after this blatant warning from Mother Nature, they decided to take back their poor choices and make amends. Right after they passed a bill denying certain protections for nature, Venice City Hall was flooded.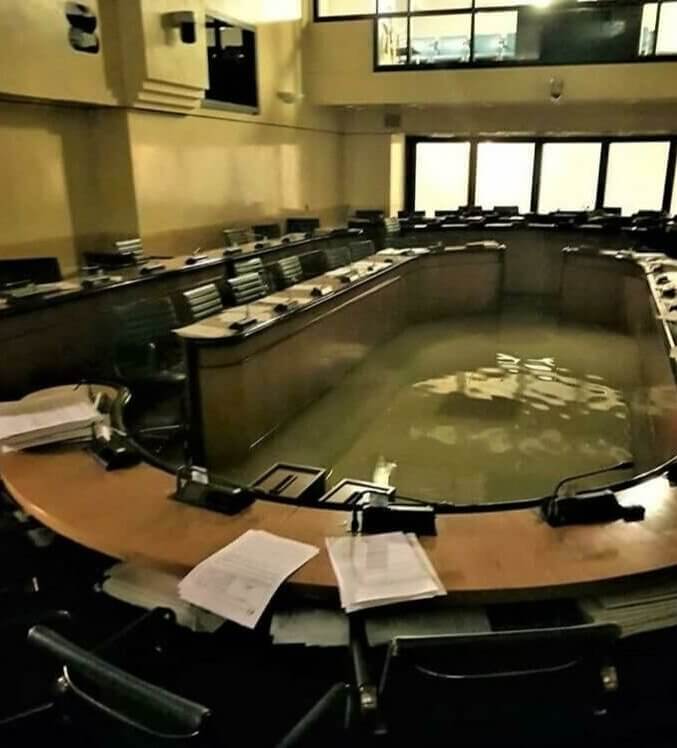 This almost seems too perfect to ignore. Do you think they want back and regretted their decision and tried to make things right after seeing this call from Mother Nature?
No More Unsolicited Photos From You, Sir
The amount of men who think it is perfectly acceptable to send unsolicited pictures to women is shocking. Women, as a result, have decided to get creative with their reactions and responses to such disturbing images. This message exchange is quite comical as it is an automated message threatening to report this person to the police. And we think it might be a sort of prank done by the woman.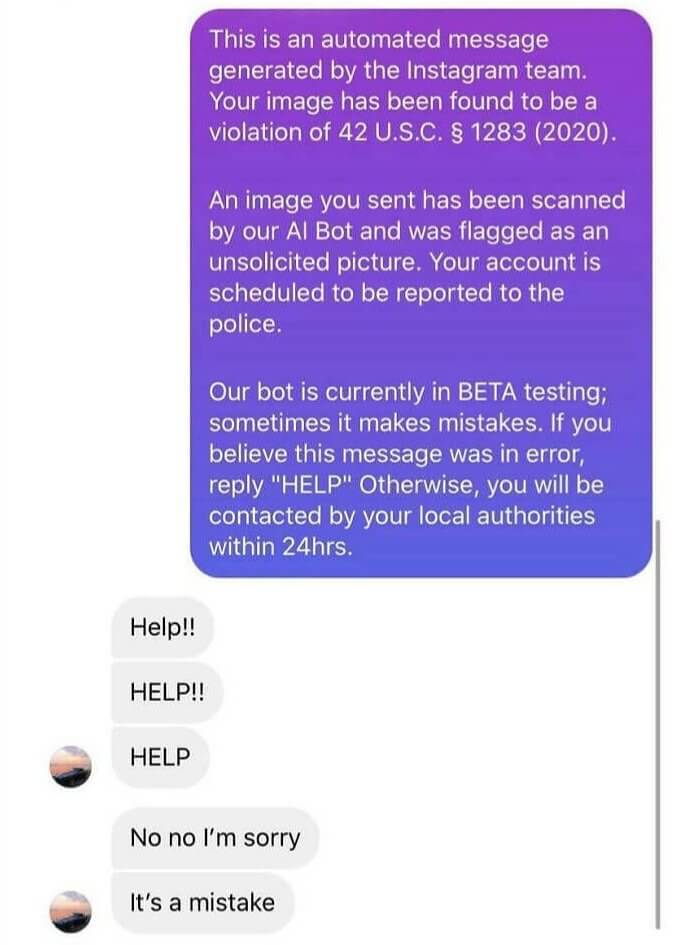 The number of times this person sent the word "HELP" makes this response all worth it. They then tried to claim it was a mistake and apologize for their actions. Hopefully, it taught them a lesson to stop sending pictures like this.
The Farmer Got His Revenge
Sometimes signs and requests to stay off of private property don't do anything, and people think they can go wherever they want and do whatever they want. This farmer's crops and land were ruined by the excessive number of cars going into his fields for mudding. Nothing would stop them except creating this dirt barrier that would cause the vehicles to get stuck and make them unable to move or pass.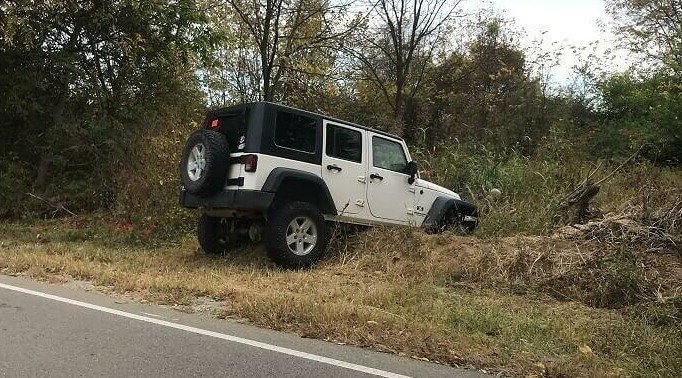 Not only did this prevent people from entering his fields, but it also made them question their actions as they most likely couldn't extradite their cars from this position for a long time.
We're Just Curious What He Thought Would Happen When He Parked in the Electric Charging Spot
Although it certainly would ruin your day to have your car towed, you can't have too much pity on these people who chose to park illegally. What did they expect, to get away with it? That no one would notice? They weren't in luck this day! They chose to park their truck in front of a charging station and had to pay the price for it immediately.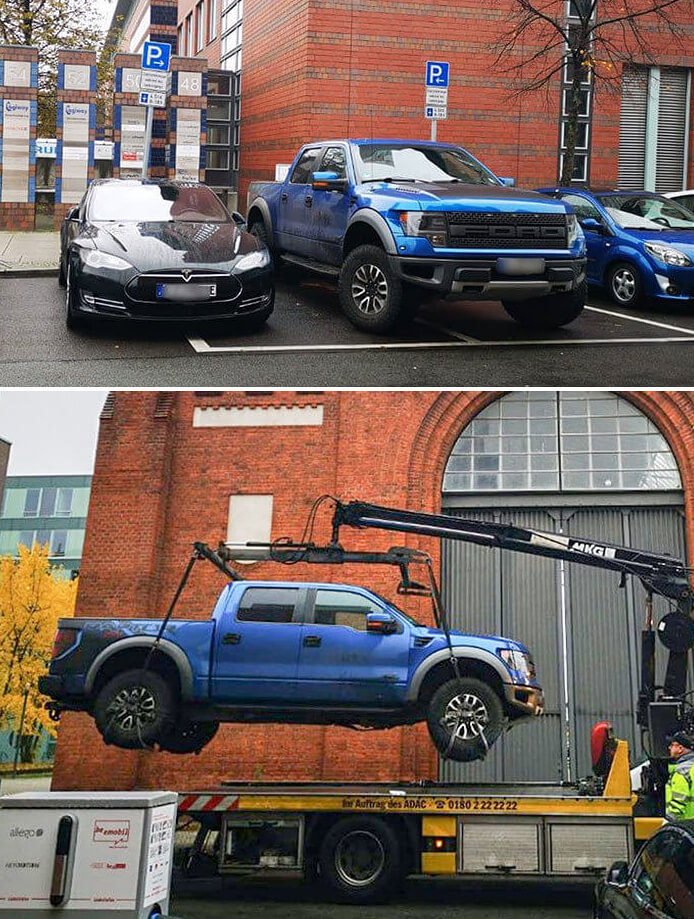 It must be a pretty satisyfing job to tow all the trucks illegally parked. You are singlehandedly making sure that justice is served.