"The gladdest moment in human life is a departure into unknown lands." – Sir Richard Burton. The world is full of beautiful places and life is too short to just spend all your days confined to one city/country. Traveling not only helps you gain a new perspective about life, but it also gives you so many memorable experiences. We have made a list of world's 50 most mesmerizing places that you must visit once in your life. We have divided section in the following way: 1-17 to famous European places, 17-31 is for Americas, and 32-39 is for Asia, 40-45 is to Oceana and 46-50 to Africa.
1. Bora Bora Island, France
This small South Pacific island at the northwest of Tahiti in French Polynesia is a popular luxury resort destination that is famous for its pristine beauty.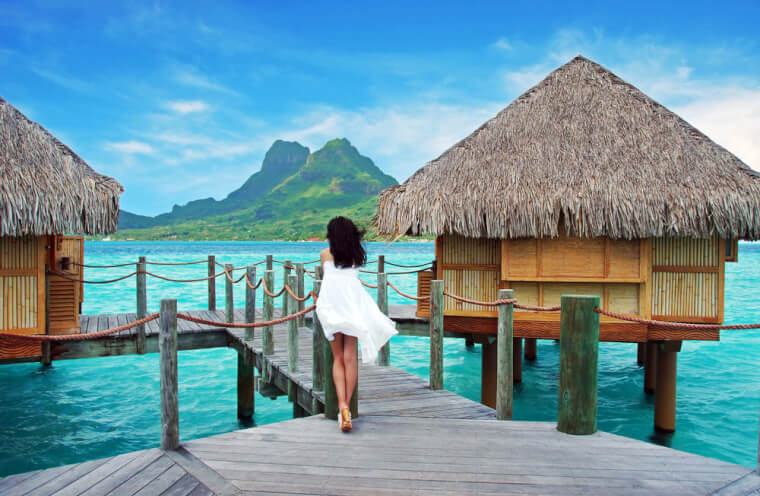 This tropical paradise needs to be on the bucket list of anyone who loves to travel. Apart from its captivating beauty, it also offers numerous activities such as snorkeling and scuba diving.
38. Vaadhoo, Maldives
It seems as if this picture was taken from the movie "Life of Pi," but believe it or not this is a real photo.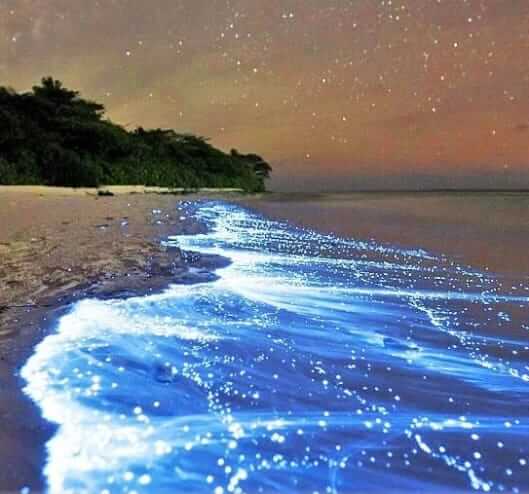 You have to visit the Maldives to look out for glowing blue waves on Vaadhoo Island – this must be your life's mission.
29. Skywalk in the Grand Canyon, United States of America
It is not the place for the faint-hearted. Why is that? Well, thanks for asking because The Skywalk in the Grand Canyon has a glass bottom and is approximately 200 meters above the ground.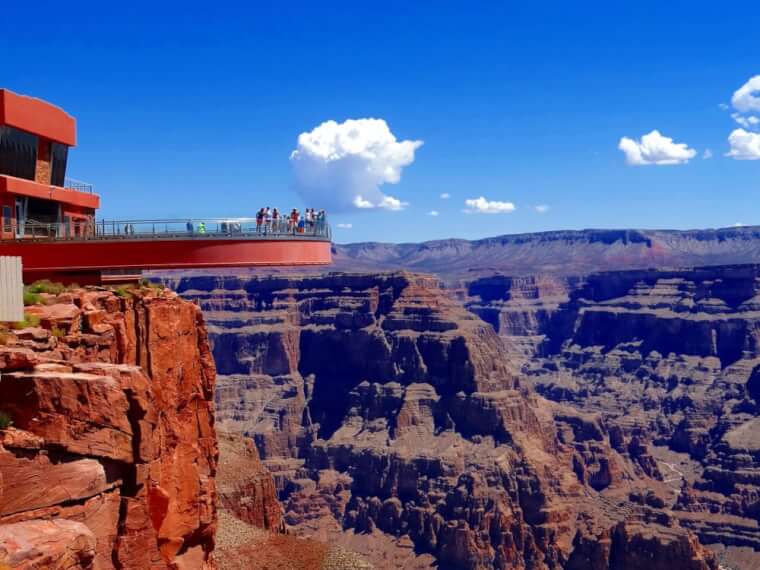 If you embrace fear and love the thrill, you must visit this place. No questions asked!
30. Mount Roraima, Venezuela
Okay, this might look like a mystical place from another planet, but it actually exists. This place shows how beautiful and mystifying this world is and how little we know about it.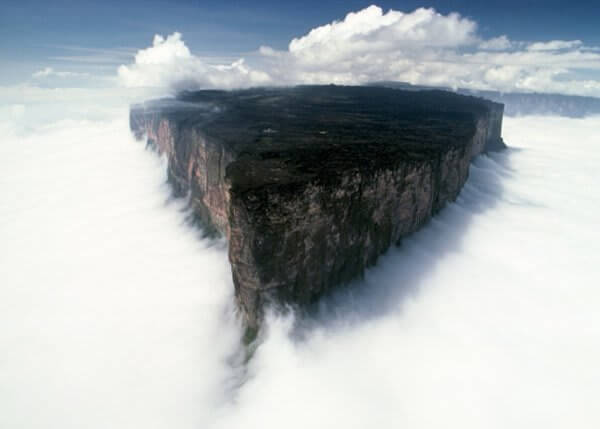 It offers a spectacular view and an unworldly landscape, so do include it in your bucket list.
31. Blue Lagoon Galapagos Island, Ecuador
Some people describe the Blue Lagoon Galapagos Island as the bright blue eye. Does it look like one? it looks more of an egg with a blue yolk.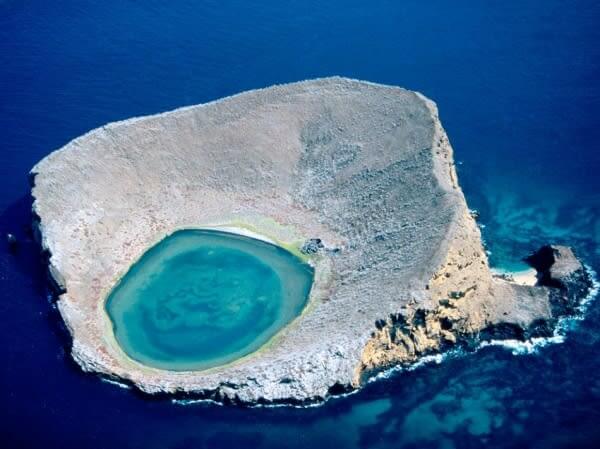 Whether it looks like an eye or not, one thing can be said with certainty that it is a dream-come-true kind of a place you have to visit.
32. Infinity Pool at Marina Bay Sands Resort, Singapore
Located atop the Marina Bay Sands Resort, you should enjoy a swim on top of the iconic infinity pool and look at the bustling city life.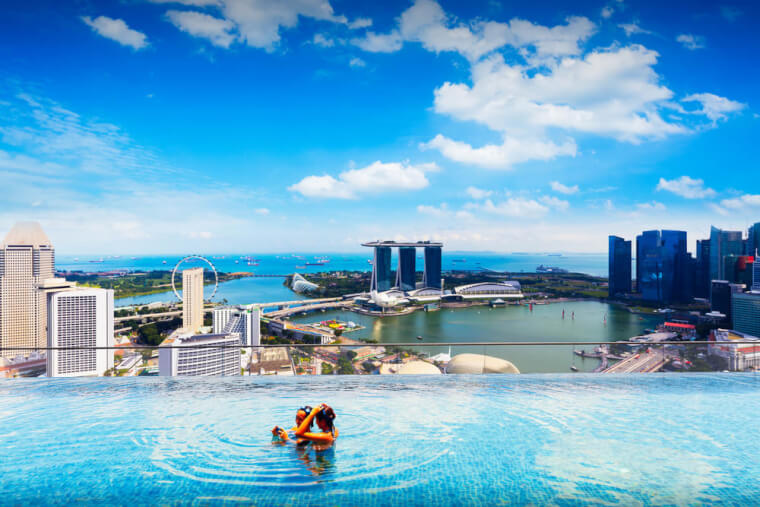 If you get bored with the pool, there is a lot more to enjoy. A walk at the Marina Bay Sands Skypark is one of many things you can do.
33. Sagano Bamboo Forest, Japan
The bamboo forest found in Western Kyoto is one of many reasons why you should strongly consider visiting Japan.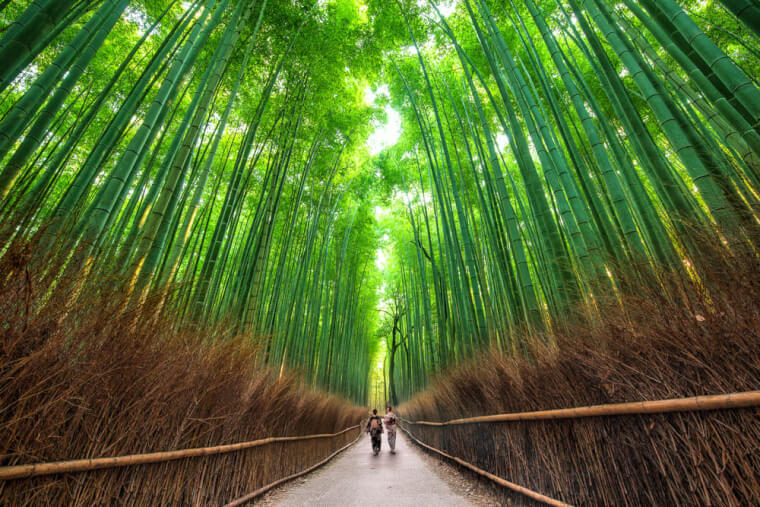 By simply looking at the picture, we can hear the enchanting sound created when the wind blows against the bamboo forest, can you?
34. Wisteria Tunnel, Japan
There is no denying Japan has so many breathtaking places and it is surely among those places that can mesmerize you within seconds.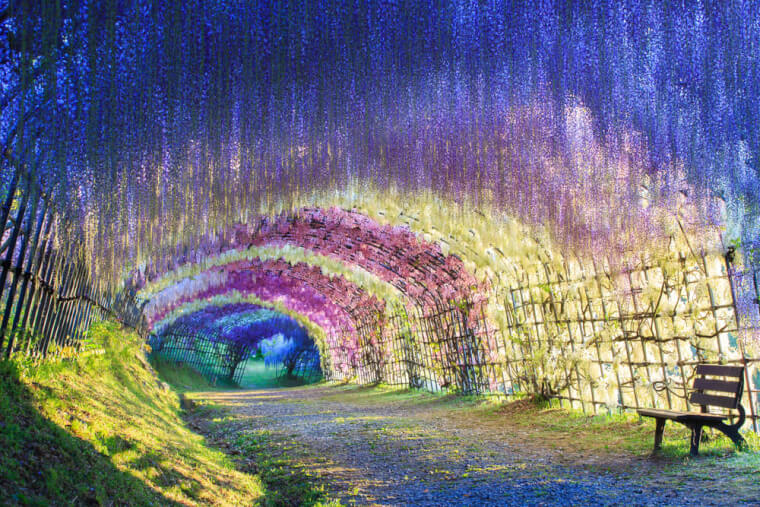 Whether you want wedding shots or just a romantic time with your lover, it is a place for you to go.
35. Zhangjiajie Stone Forest, China
We know you are thinking is this place from the famous movie Avatar? Well, we thought it as well.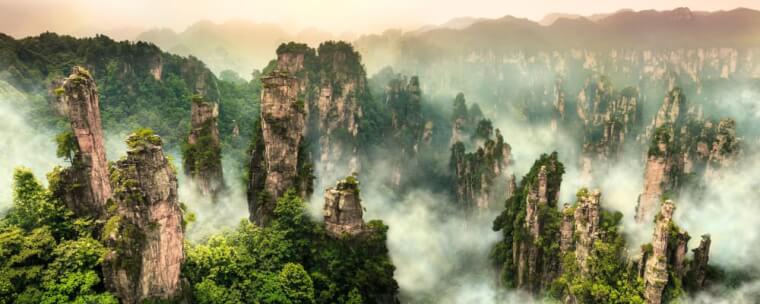 Ever since the release of famous movie Avatar, the Zhangjiajie Stone Forest has become more famous and has been renamed "Avatar Hallelujah Mountain."
36. Pongour Waterfall, Vietnam
Located in a deserted area, approximately 50km south of Dalat, the Pongour Waterfall is known for producing sonorous sounds that could be heard miles away.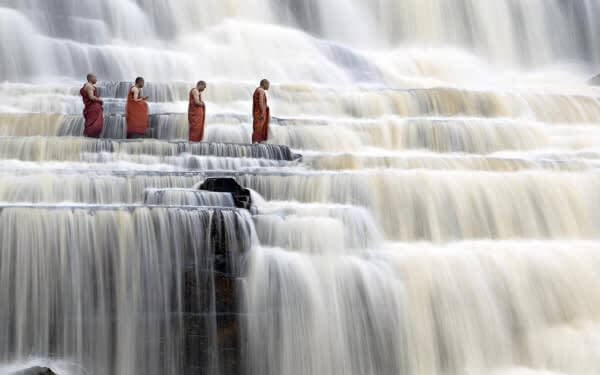 This waterfall is so majestic that you cannot make the mistake of not going to this place. We only live once!
37. Kawasan Falls, The Philippines
As the picture suggests, this is a place to spend quality time with your family and friends. Or you can go there just with your lover.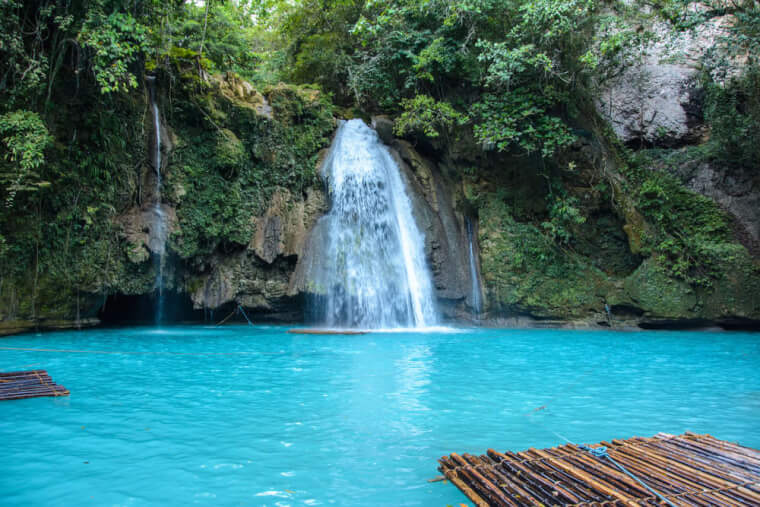 A swim in the crystal clear blue waters can make you think where you have been taking baths all your life.
39. Farm Tomita in Hokkaido, Japan
As shown earlier, we have made it pretty clear that Japan must be on your list of must-visit countries.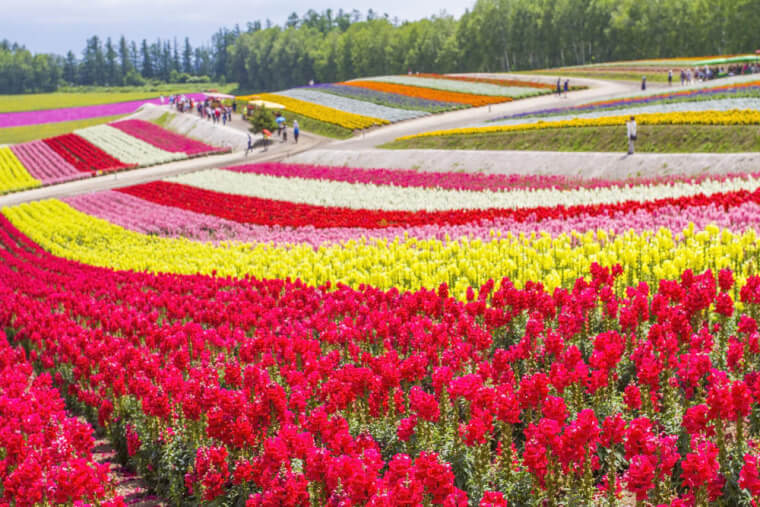 After all, you won't find this type of beauty elsewhere in the world.
27. Grand Prismatic Spring in Yellowstone National Park, United States of America
Visit this place because it is the largest hot spring in the United States and the third largest in the world. That alone is enough to convince anyone, right?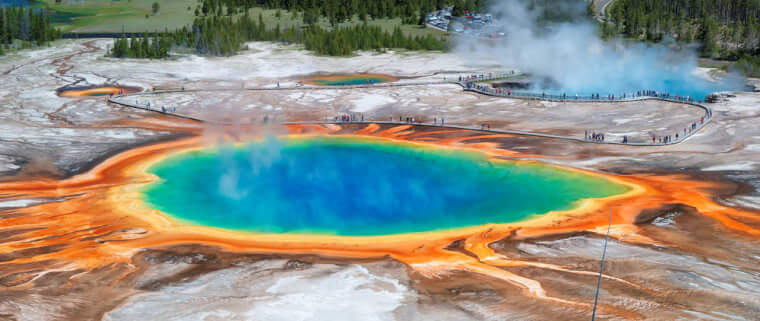 If you are wondering what that yellow and orange color surrounding the blue spring water, then you should know that it is due to pigmented bacteria.
40. Whitehaven Beach, Australia
Although its name is Whitehaven, it looks more like White Heaven. Located along Whitsunday, this gorgeous beach is famous for its white sand.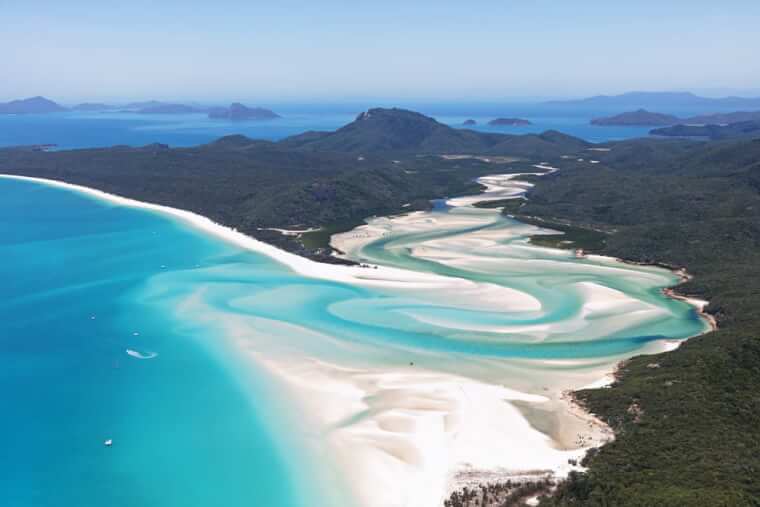 You must visit this pristine beach to enjoy some tranquility – we all need it in our hectic lives.
41. Waitomo Glowworm Caves, New Zealand
The Waitomo Glowworm Caves in this beautiful country are known for attracting thousands of people every year.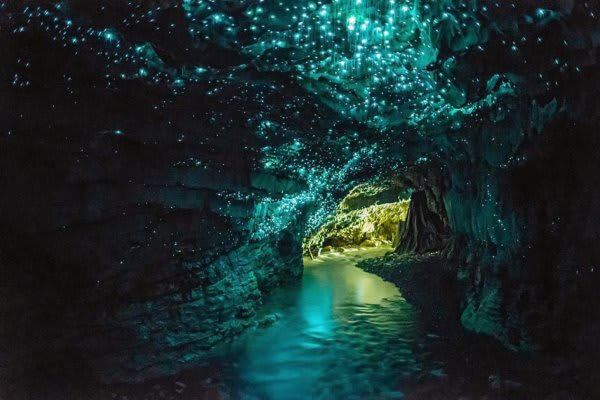 These caves are so mesmerizing that it is hard to imagine they are from this world.
42. Lake Hillier, Australia
Okay, you must be wondering why this lake is pink. We were as interested as you are. Here is a fun fact for you: The source of the color is still unknown but scientists believe that it is caused by the presence of red halophilic bacteria in the salt crust!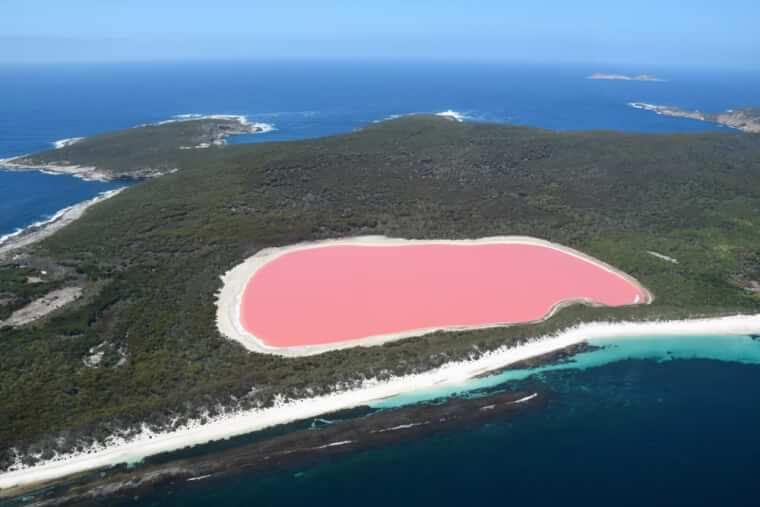 This lake is completely safe for swimming, so go ahead and enjoy the time of your life.
43. Great Barrier Reef, Australia
First of all, it is a beautiful place for you to visit. Secondly, it is the world's largest coral reef system that is home to more than 30 species of whales and dolphins, 1500 fish species, porpoises as well as other living species.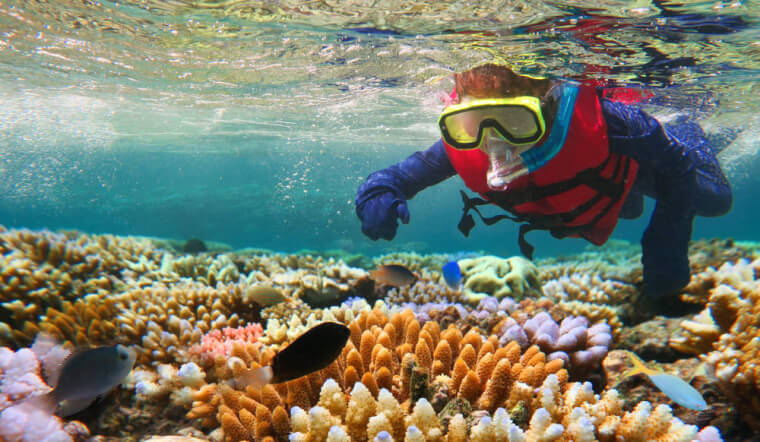 Considered one of the natural wonders of the world, snorkeling there must be on your bucket list.
44. Green Dragon Pub, New Zealand
We can assure you that this picture is not from the sets of Lord of the Rings. You have to visit this place to see for yourself what you've been missing all your life.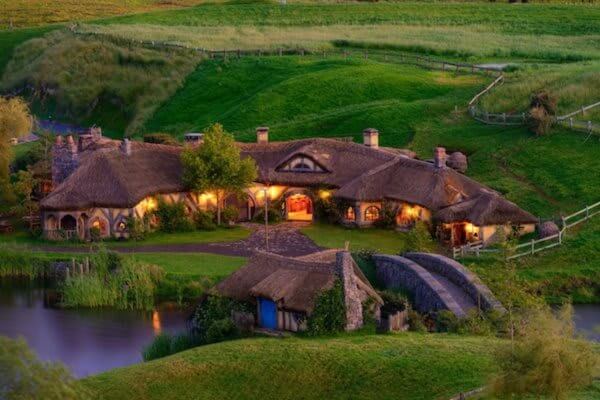 This hobbit-style bar is located at Hobbiton near Matamata where the 'Lord of the Ring' movies were filmed.
45. Homebush Bay, Australia
This is an incredible 102 years old forest that is the result of 40 years mangrove tree growth in Homebush Bay, Sydney.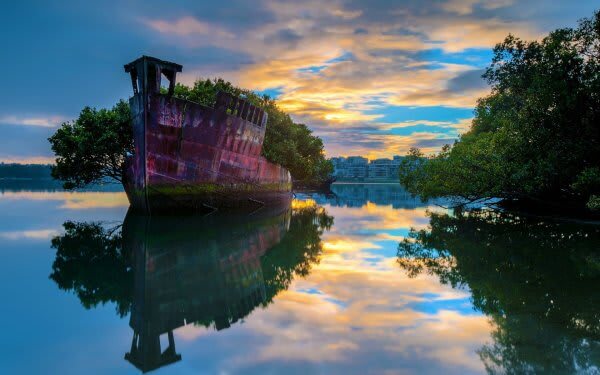 You just have to be there for the incredible sight. It is a truly spectacular sight to behold (you can trust us on it).
46. Victoria Falls, Zambia and Zimbabwe
Located in South Africa, this jaw-dropping waterfall is something that will sweep you off your feet.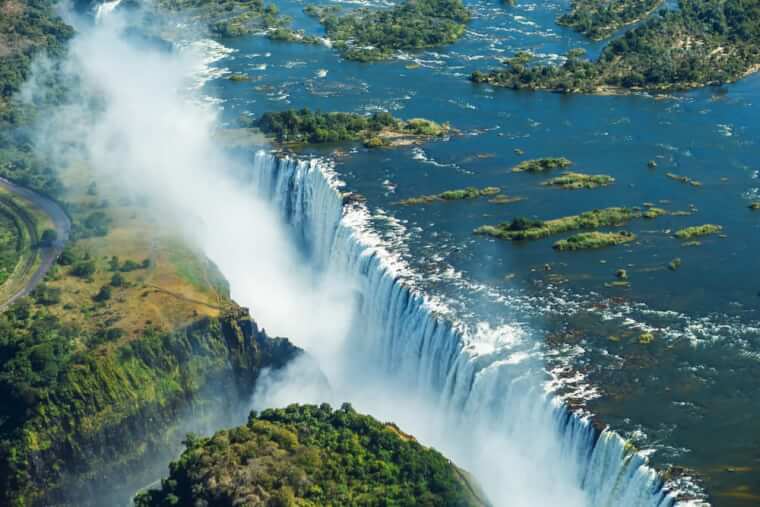 Going to this place is a bit difficult as it is possible through Zambia or Zimbabwe borders, it is best to do your own research before heading to this magnificent waterfall.
47. Sahara Dunes, Morocco
We would highly recommend you to visit Morocco and experience something out of this world at the Sahara Dunes.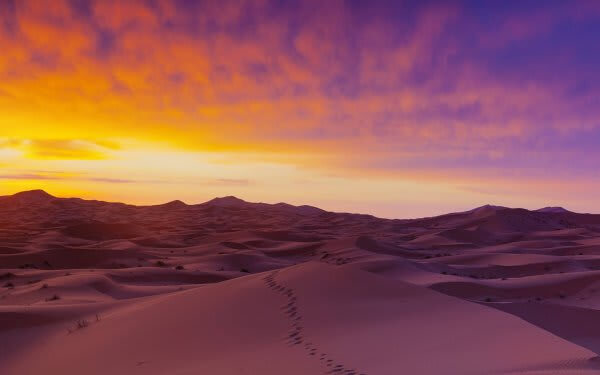 It is because people visit other parts of the world but neglect the Sahara Desert. It will be one memorable experience and we can even bet on that!
48. The Great Pyramid of Giza, Egypt
Ah, The Great Pyramid of Gaza. Our list would be incomplete without including this oldest of the Seven Wonders of the Ancient World.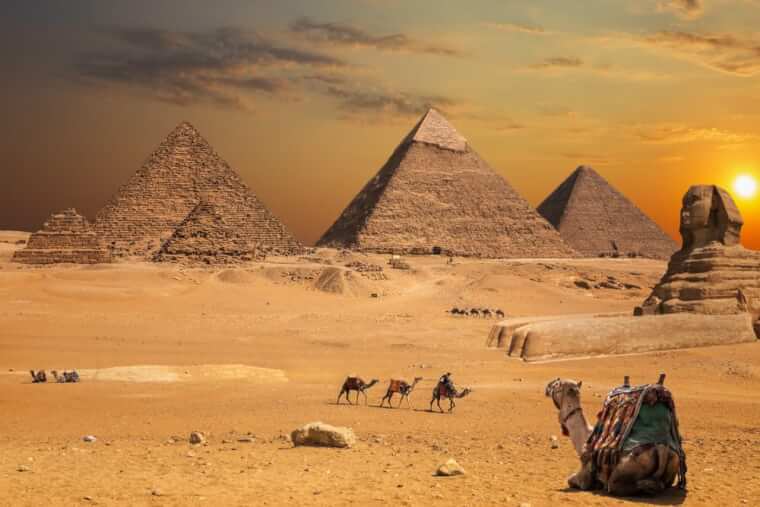 We don't think that mere words are enough to explain why you need to go there. It is best for you to see for yourself. You won't regret it…we repeat…you won't regret it!
49. Jacarandas Walk, South Africa
We can say this with the utmost confidence that you won't find a view like this anywhere else in the world.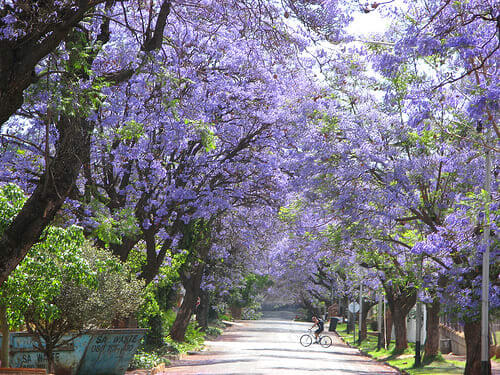 The perfect time to visit Jacarandas Walk is October as it is when the flowers are in full bloom. It will be one of the most memorable trips of yours.
28. Antelope Canyon, United States of America
Located in the American Southwest, it is the most visited and most photographed canyon.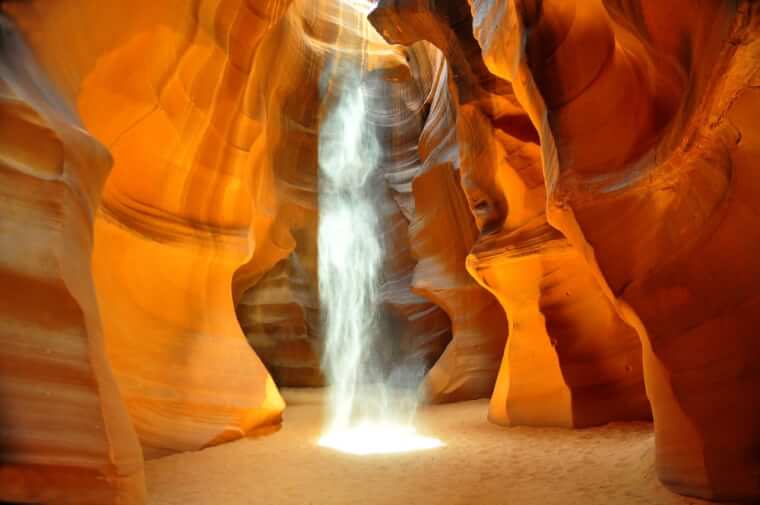 If you like thrilling experiences, you should definitely consider going to this place.
26. Mendenhall Ice Caves in Alaska, United States of America
It is a truly spectacular place, but there is a catch. Mendenhall Glacier is only accessible to those who are willing to kayak there and then ice climb over the glacier.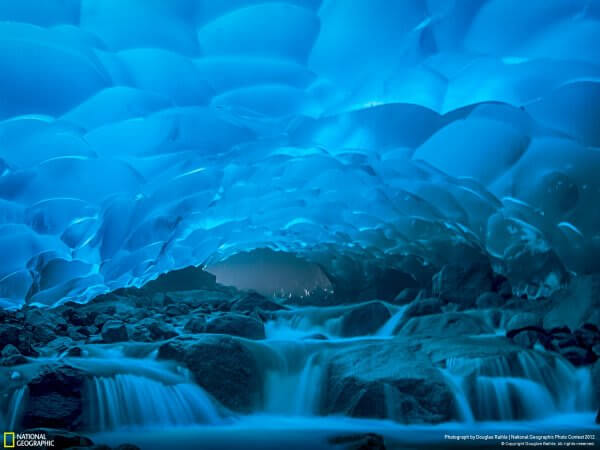 If you are the adventurous type, go on and add this to your bucket list.
2. Skaftafell Ice Cave, Iceland
Located on the frozen lagoon of the Svinafellsjokun glacier in Skaftafell, this ice cave must be visited for an amazing new experience.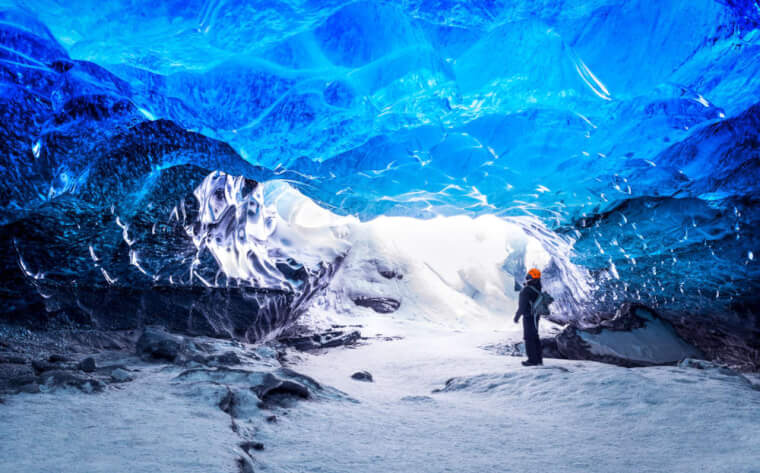 As ice caves are known to collapse easily, it is best to travel to this ice cave in winter when it has fully hardened.
13. Igloo Village, Finland
You must have heard/read about an igloo somewhere, but have you ever been in one? The Igloo Village in Finland is where you should go to experience a different living environment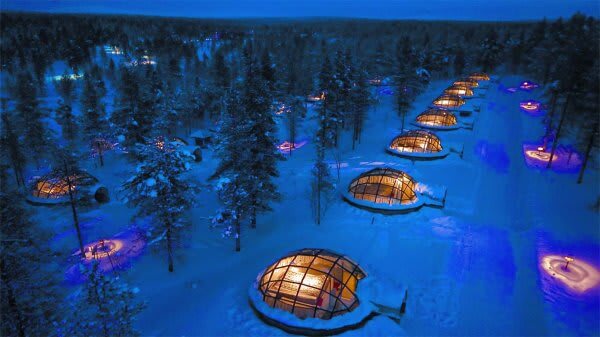 This village enables us to pretend we're Eskimo people living in our cozy little igloo houses without some of the facilities that we have become so much accustomed to.
3. Tunnel of Love in Klevan, Ukraine
This tunnel is dedicated to all the lovebirds in the world. Whether you have started a relationship or have been married, you must go to the Tunnel of Love in Klevan.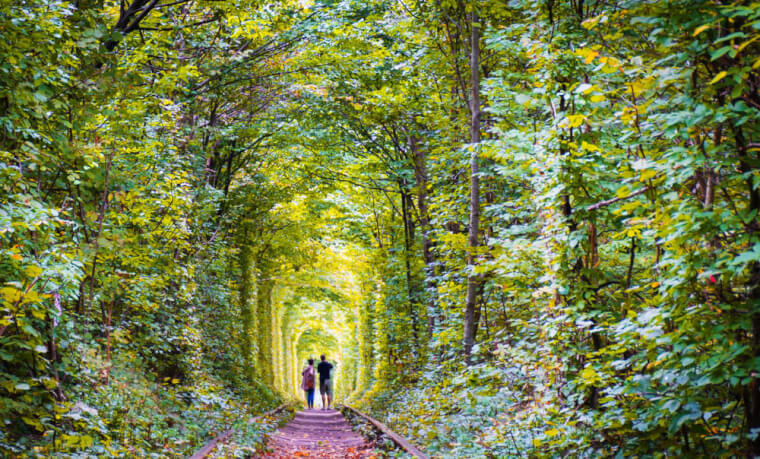 It is believed that when two people who are sincere in their love cross the tunnel while holding each other's hands, their wishes will come true.
4. Northern Lights, Norway
If you love to travel (or don't), you still need to experience the unbelievable colors move across the Arctic sky and the best place to do it is Northern Norway.
The Northern Lights occur as a result of a variety of gas particles colliding in the Earth's atmosphere. Although you will enjoy your visit, the experience will become truly special if you get to witness shades of green, violet, blue and yellow.
5. Plitvice Lakes National Park, Croatia
This 295-sq.-km forest reserve in central Croatia is one of the oldest and largest national parks in the country. It was granted UNESCO World Heritage status in 1979.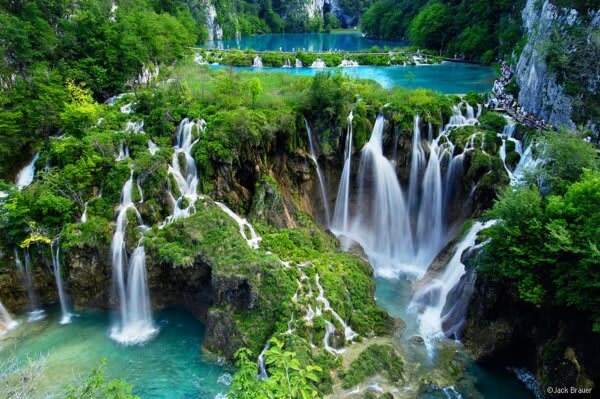 It has beautiful lakes, waterfalls, and caves that'll make you feel like you are in heaven. We can say it with absolute assurance that no words are enough to describe this place.
6. Fairy Pools on the Isle of Skye, Scotland
Located at the Isle of Skye, it is a gorgeous and magical place that has multiple waterfalls. You just cannot miss not coming here.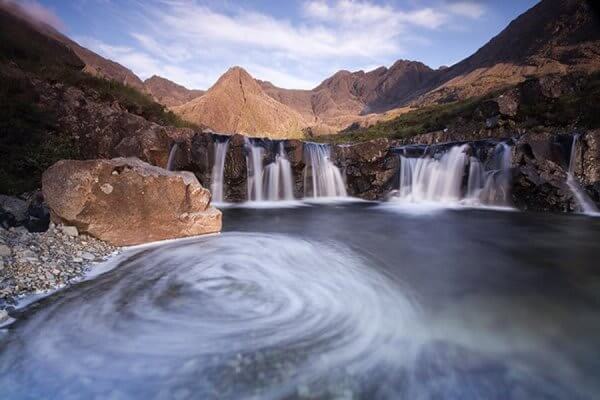 The color of the water is vibrant blue & green which only adds to the beauty of this place. Trust us, you have to visit this place.
7. Fields of Lavender in Provence, France
Famous French author Jean Giono said it well: "Lavender is the soul of Provence." A lavender field is inarguably one of the most beautiful sights in Provence.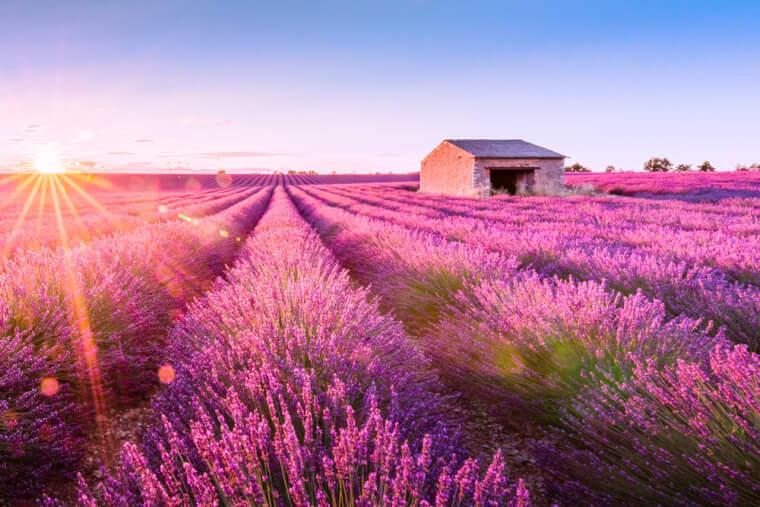 The lavender blooms from around the last week of June to the beginning of August when it is harvested.
8. Triglav National Park, Slovenia
As the Triglav National Park is the country's only national park, it is understandable why it has become so famous among tourists. It can be said without a doubt that it is a magical place that attracts people from all over the world.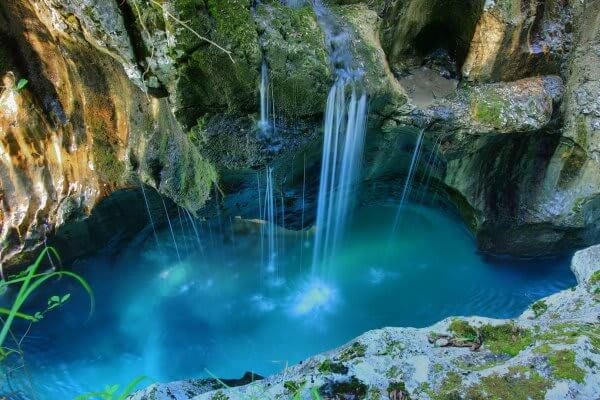 Once you visit this national park, you'll wish to stay here for days. Apart from enjoying its beauty, you can also immerse yourself in activities such as hiking, climbing, and rafting.
9. Keukenhof Garden, The Netherlands
Okay, take a deep breath and pinch yourself. The best part about Keukenhof Garden is that it looks a thousand times more beautiful than its pictures.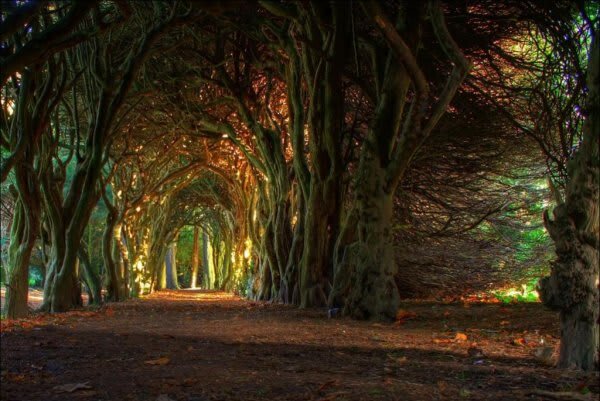 This garden has a variety of flowers and tulip fields that it looks like an imaginative place, but it isn't!
10. Tree Tunnel in Ballynoe, Northern Ireland
If nature amazes you as much as it astonishes us, then you should definitely go this tree tunnel that can be found in Ballynoe, Northern Ireland near the site of the Ballynoe Stone Circle.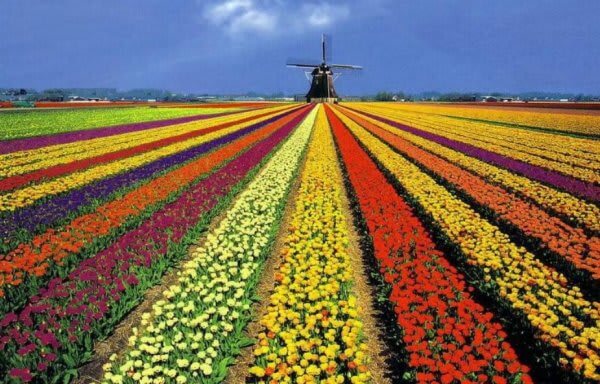 Although it may look like a place that is perfect for a vampire movie, you have to go there to witness the beauty yourself.
11. Lake Misurina, Italy
It is the largest lake of the Cadore and its immense beauty made it a perfect venue for speed skating events during the 1956 Winter Olympics.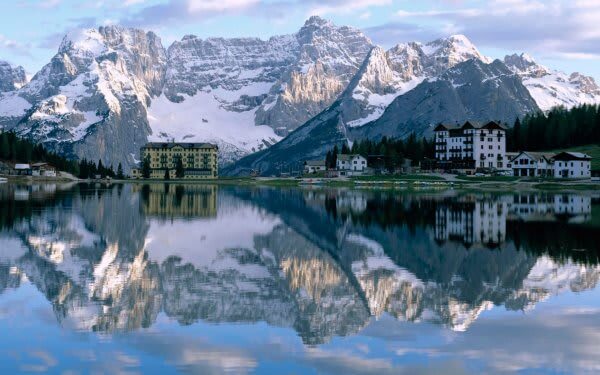 There are two folklores related to the lake. One being that Misurina's tears formed the lake and she lies there with her magic mirror.
12. Stonehenge, United Kingdom
If you haven't seen Stonehenge, what have you been doing all your life? Do include this place in your next travel plans.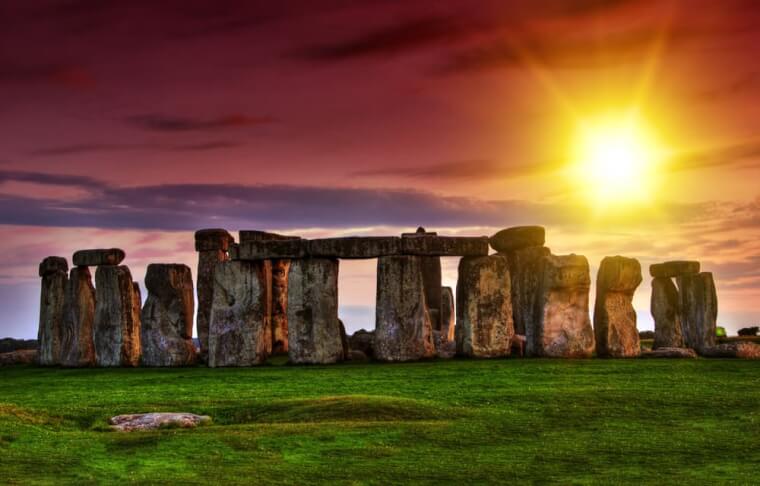 When you visit this place, only then you'll know why it is considered one of the most popular wonders of the world and one of the coolest prehistoric monuments ever!
14. Venice, Italy
Venice – the City of Love. If you are looking for a romantic getaway, why haven't you considered Venice already?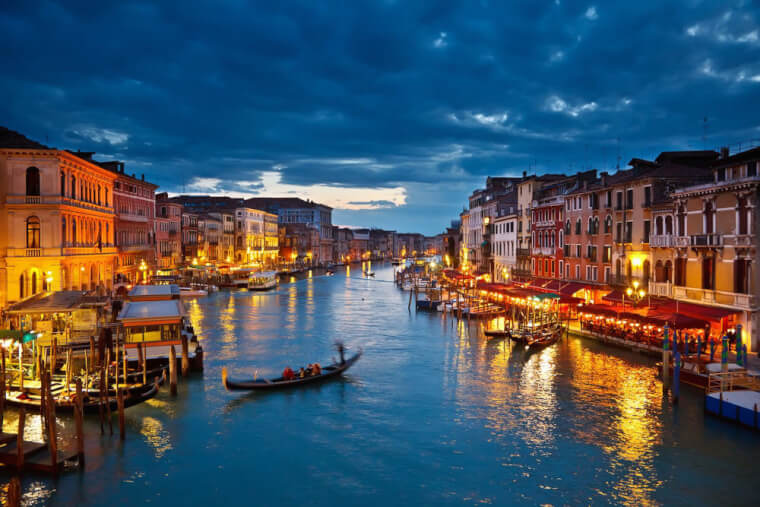 We cannot urge you enough to make plans for Venice. The city is simply breathtaking!
25. Machu Picchu, Peru
Peru's most visited site is Machu Picchu, aka the "Lost Cities." It is one of the wonders of the world that you cannot miss out on at any cost.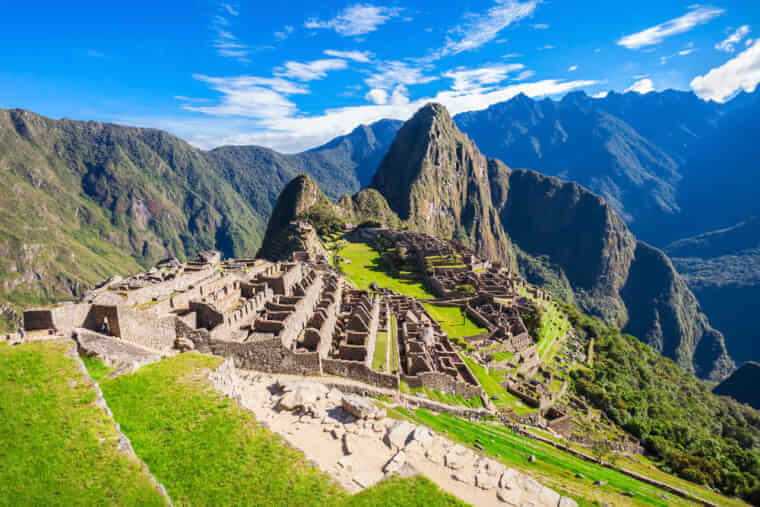 If you are a hiker, try hiking the Inka Trail to explore the magnificent views of Machu Picchu. But do remember that the trail takes about 3 to 5 days to complete and spans for 45km.
15. Benagil Sea Cave in Algarve, Portugal
Benagil beach is one of the most beautiful beaches in the country. What really tops this beach is the Benagol Sea Cave.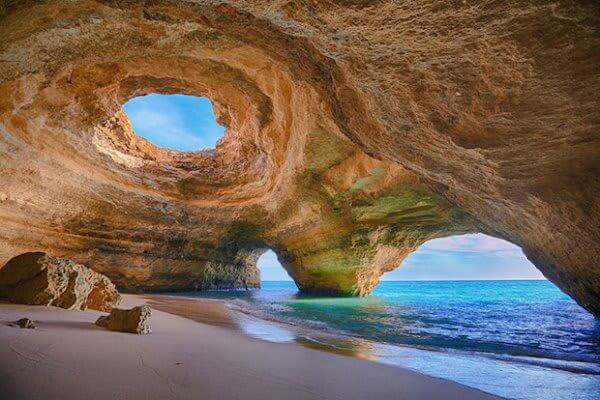 The cave is accessible via rented boats from the beach. It is one of the country's more appealing attractions, so this cave is definitely worth visiting.
16. St Basil's Cathedral, Russia
On Moscow's Red Square, you can find world-famous St Basil's Cathedral that was built between 1555 and 1561.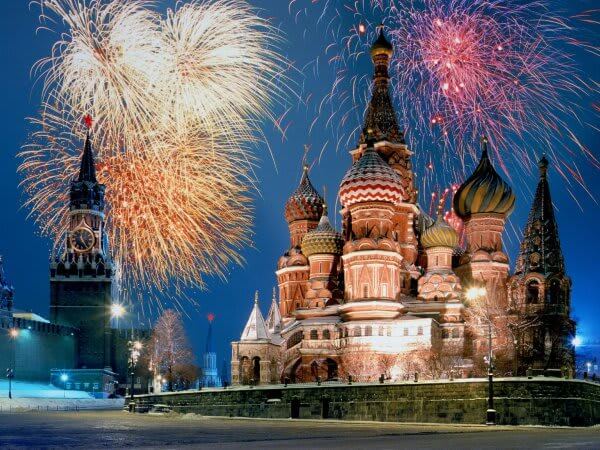 So, you can understand the historical value of this place. Whether you are a history buff or not, just visit this place for the sake of its beauty.
17. Santorini, Greece
Have you seen The Sisterhood of The Travelling Pants 2? Many people develop this desire to visit this place after watching that movie.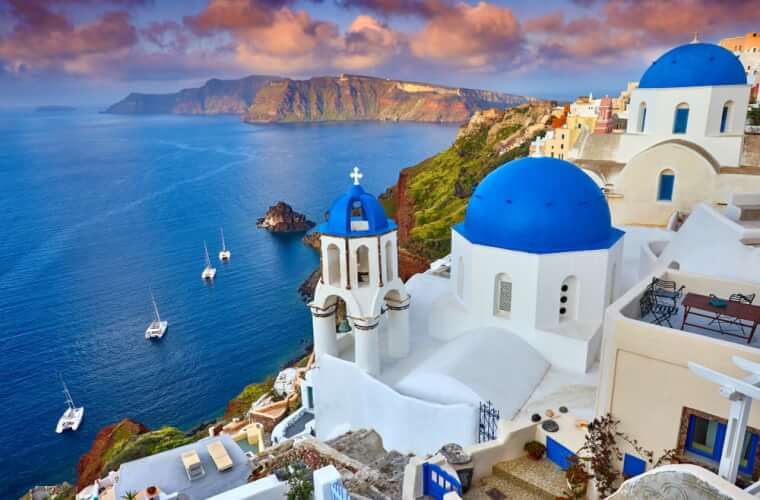 From the eclectic cuisine and wine to the stunning view from sky-high towns, everything about this place makes you fall in love with it.
18. Salar de Uyuni, Bolivia
Located in Southwestern Bolivia, this breathtaking Salar de Uyuni is considered the world's largest salt flat.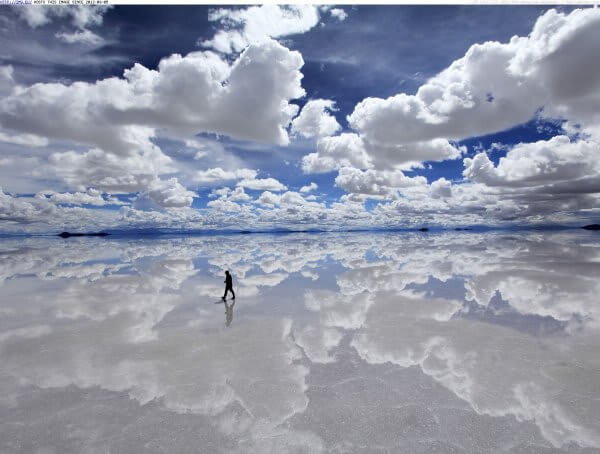 You'd be doing yourself a big favor by bringing a camera to this place. Hopefully, it rains before your visit because it forms a giant mirror and that is just amazing.
19. Ik Kil Cenote, Mexico
Located in Mexico, this natural sinkhole is something that no one should miss. Especially those people who like swimming.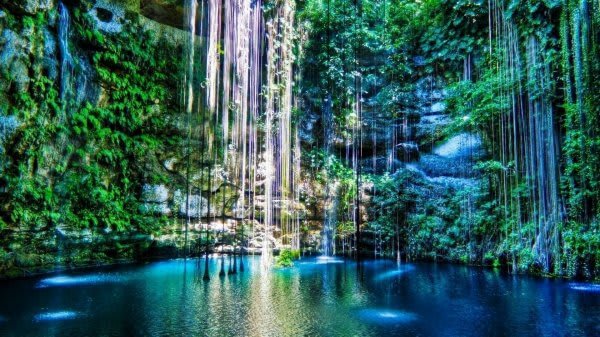 It is because the sunlight lit up the pool's inside and make it even more mesmerizing.
20. The Great Blue Hole, Belize
Located in Belize, the Great Blue Hole is considered one of the Top 10 scuba diving sites in the world.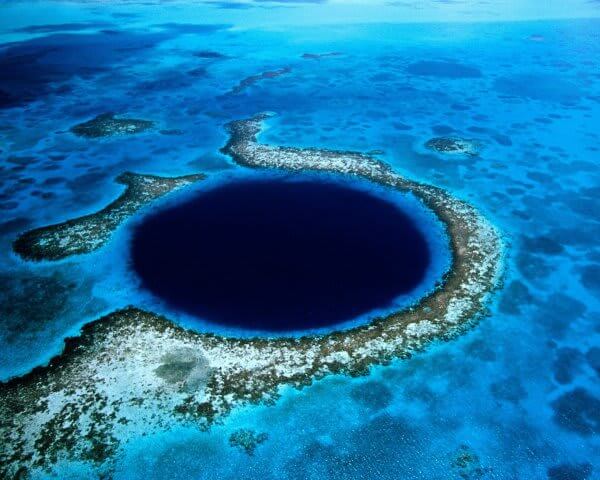 Even the Discovery Channel ranked this beautiful place as number 1 on their list of 'Top 10 Most Amazing Places on Earth'.
21. Marble Caves, Chile
As the name suggests, the caves are truly spectacular. If the water is still and the weather is nice, you must visit this place via boat.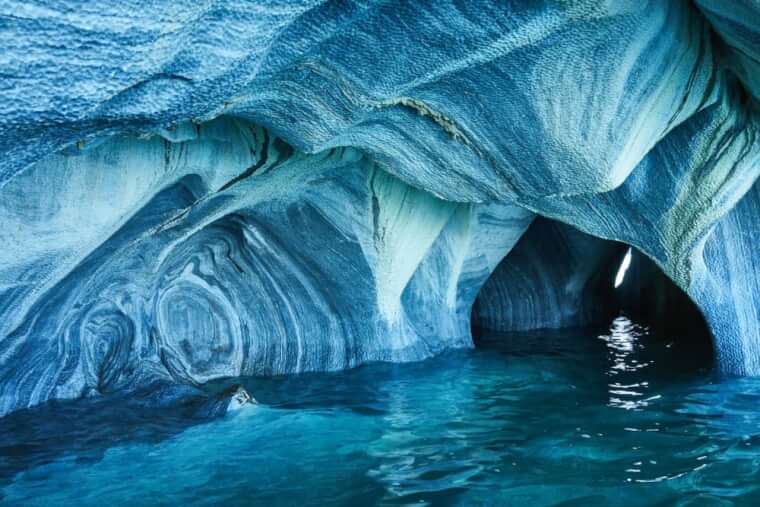 Chile is a beautiful country and this is one of its amazing places that you must visit.
22. Hamilton Pool Preserve in Texas, United States of America
This natural pool was created back when the dome of an underground river collapsed due to erosion.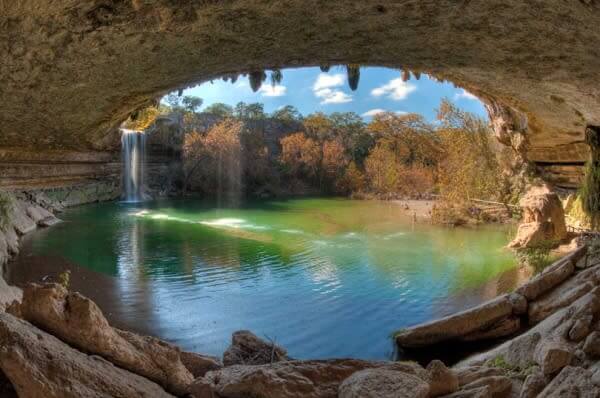 Given that it is a natural pool, it is not chemically treated to maintain the quality of water. Nevertheless, it is still a perfect place to visit.
23. Tree Camping in California, United States of America
Okay, the name itself suggests how much fun this place is going to be. If you haven't visited this place yet, where have you been going?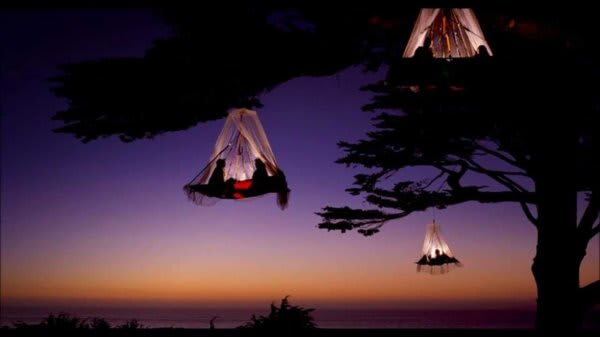 It is considered a perfect romantic getaway and you can also go there with your kids.
24. Hidden Beach on Marietas Islands in Puerto Vallarta, Mexico
It is considered an idyllic paradise because it is hidden (well, that makes a lot of sense).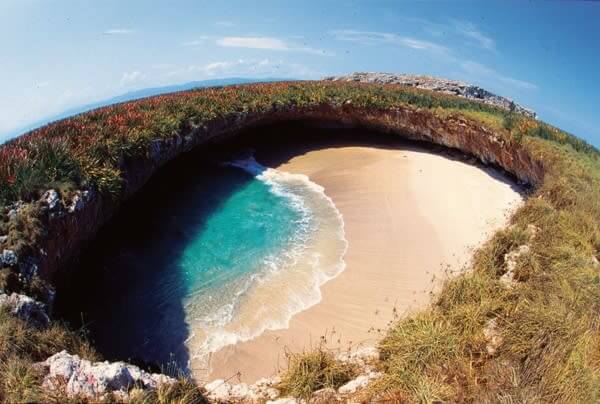 It was formed decades ago when the Mexican Government used it as target practice. If you want to visit it, you would have to swim through a short tunnel.
50. Nsolo Bush Camp in Norman Carr Safaris, Zambia
Renowned as one of the most historic camps in Zambia, Nsolo Bush Camp has to be on your must-visit bucket list.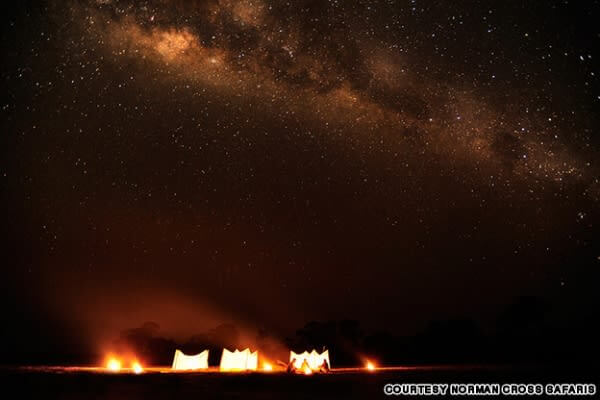 If you head out to the safari at night, you'll get to visit something that we don't normally see (thanks to air pollution). Yes, you will beautiful stars the sky. Sounds like a perfect romantic getaway?