Love it or hate it, Photoshop and other editing programs have become a part of our everyday lives. From real people's social media posts to advertisements made by companies, there's hardly anything left that Photoshop hasn't gotten its paws on. And we know not all edited photos were created equally - some are more well-made than others, to put it lightly. That, however, doesn't mean they're necessarily better - it's the poorly edited stuff that's truly entertaining. You'll see what we mean in just a moment.
So Her Legs Are 25 Meters Long?
So if we are to take this photo seriously, that would mean that this women's legs are abnormally large. Abnormally large, of course, is a huge understatement, given that they should be approximately 25 meters tall if this picture was real. We know models tend to be tall these days, but that's just pushing things a little too far. Sorry guys, you're going to have to try harder to get us to believe this happened.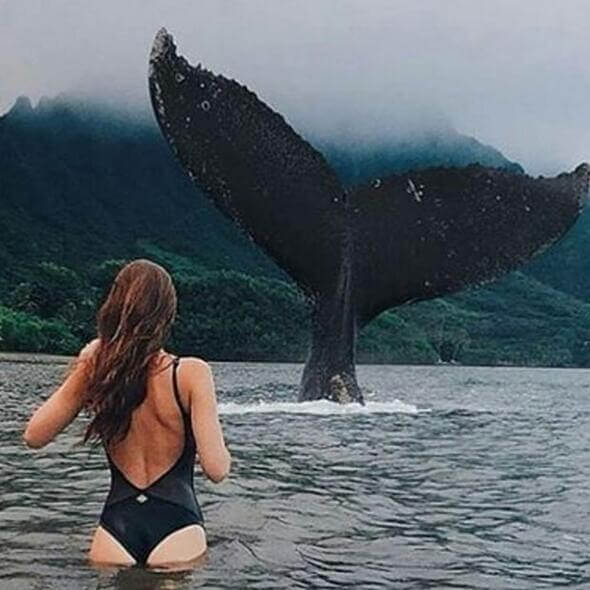 So best of luck to this influencer with her supposedly abnormally 25km long legs. Not sure how one is supposed to go about living life with those bad boys, but we're sure she'll make it work.
The Good Old "Photoshop the Ex Wife Away" Trick
You know, no amount of Photoshopping prowess will ever get rid of that stain in your heart left by your dear old ex-wife. Sorry, that's just the truth about that grim situation. That didn't, however, stop this man from trying to erase her presence from this cool photo of him riding a motorcycle. Yeah, looks like somebody's doing the "Look, mom, I'm riding with no hands!" pose. Funny stuff.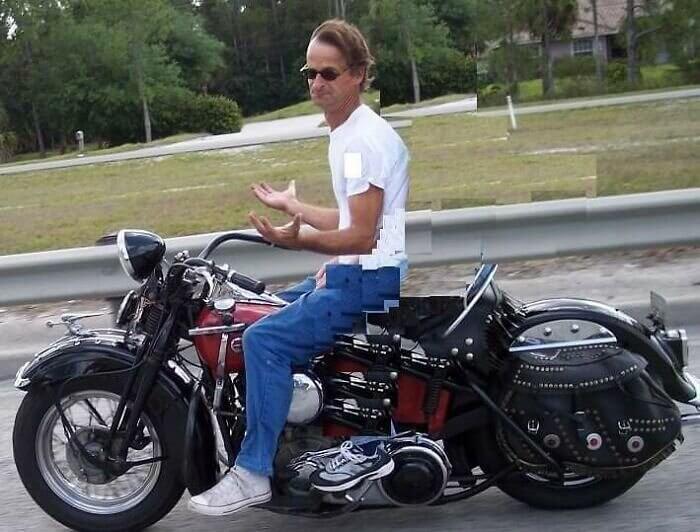 Guess it is pretty funny when you think about it. Like, a guy holding an invisible ex-wife? That sounds like the premise of some failed sitcoms we'd gladly watch over 13 seasons of.
Spotted: Never Before Seen Fish Species
Now, we'll always be the first to state just how huge and terrifying the ocean, and its many different inhabitants, are. There are still so many different kinds of fish species that we have yet to discover, and the ones that we do discover are often terrifying. This, however, is just funny. Sorry guys, the ocean isn't that big - this is obviously photoshopped. Nice try, though; we'll give you that.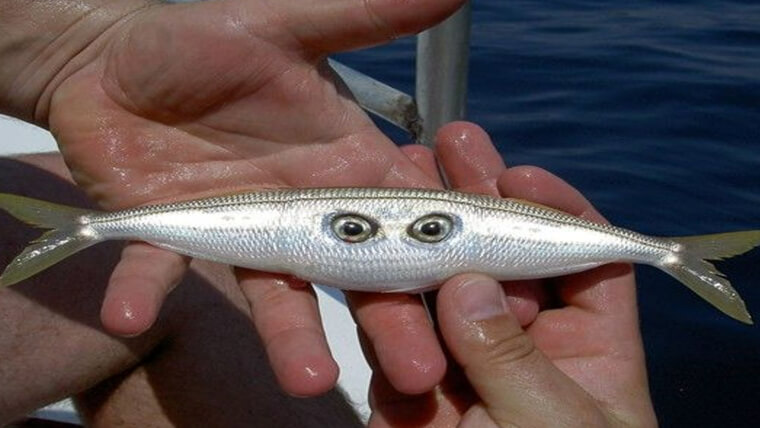 But this is not to say that regular deep sea creatures are actually any better. No, this one is, at the very least, mildly funny. Actual deep sea creatures are terrifying.
Hashtag No Filter
Okay, so we're not sure what was so bad about the members of this family's original faces that the person who edited this photo had to go ahead and blur their faces into Photoshop oblivion, but that's exactly what happened, and we're all the merrier for it. Like, imagine if this was just your regular, run-of-the-mill family photo. Where would we be? Not talking about it; that much is for certain.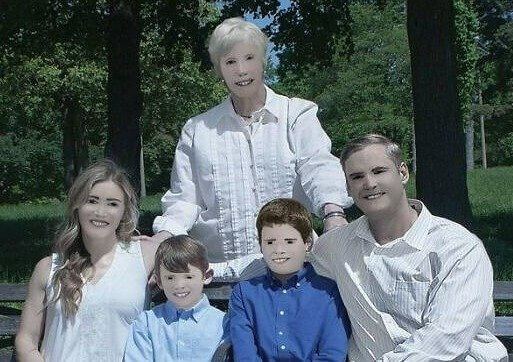 But that isn't what happened. Someone decided to turn this family photo into a blurry demonic affair, and now we all get to laugh at the edit on the internet. Thanks, editor!
The Guy Behind Him Absorbed His Body
So this guy went ahead and skipped on the "actually work out to get fit" part and went straight to the "flex on everyone on social media" part. Now, we don't blame him - that is, after all, the best part. What we do blame him for is this atrocious edit. Come on, man, put in a little bit of effort. If not into the actual workout, then into the deception!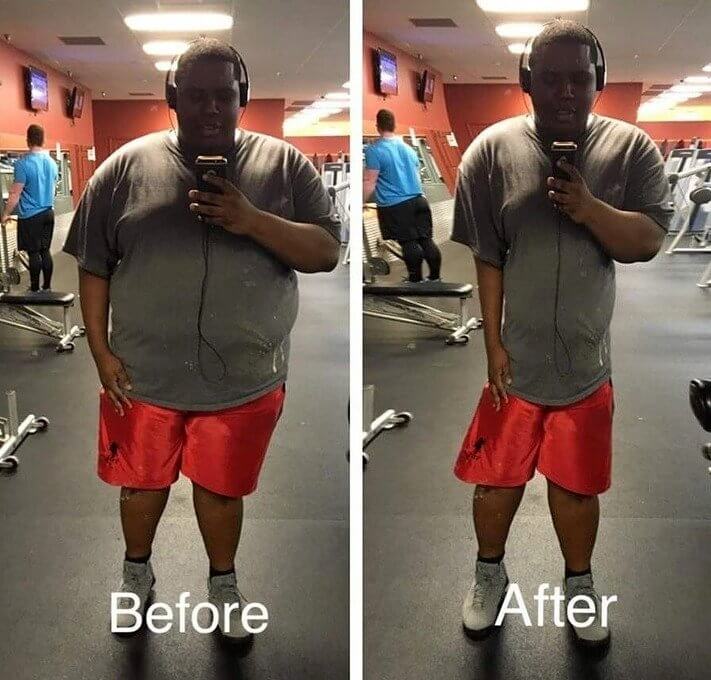 Or maybe this photo is totally real, and that person in the back just happened to be in the exact same spot for the before and after photos. If that's the case - he should probably be working a tiny bit harder at the gym.
We Wouldn't Want This Pup Biting Us
We're not sure what kind of teeth those are, but we can say that those are definitely not dog teeth. Who knows what they are, really? There's probably only one person in this whole wide world that actually knows what went up with this picture, and that would have to be the person that edited it. More importantly, he also knows "why" he did this.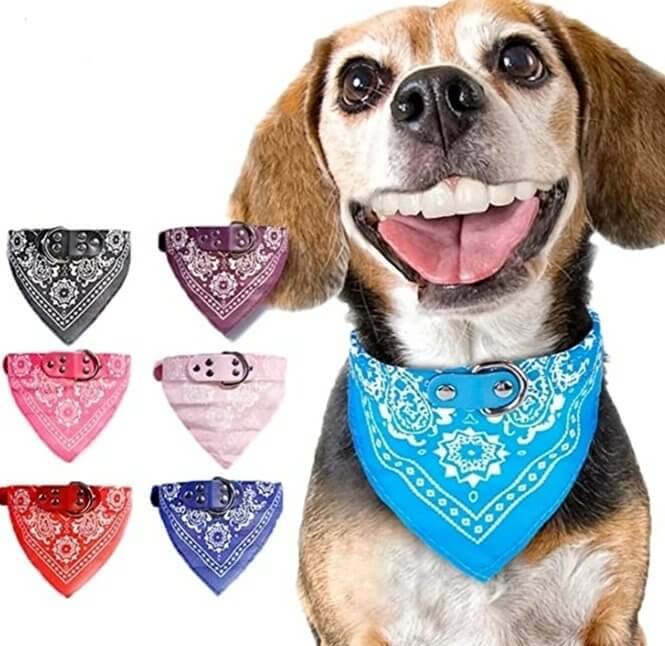 Unless, of course, he went into some kind of manic and hysterical fugue when he made this little edit right here, which is definitely not something we should rule out quite yet.
Nature Does the Most Unexpected Things
So something about this photo right here just seems off to us. Could it be the extremely poorly photoshopped image of a dog - which we can only tell is a dog due to the context of this photo - that somebody just slapped onto this photo of a lion wandering around? Yes, it is exactly that which seems a tiny bit off to us. Good call.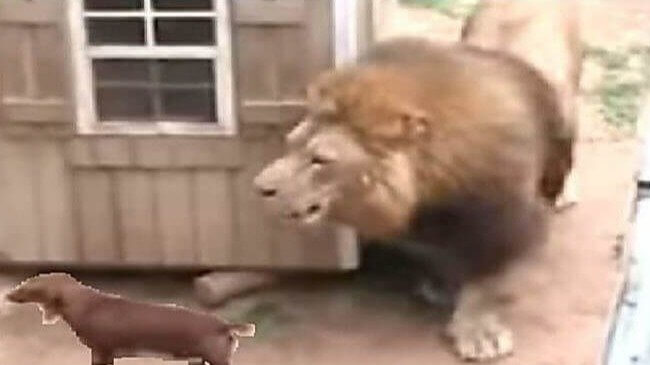 It's pictures such as this that really make us have to admit that sometimes a bad edit is much better than a good edit. That's just the way things are sometimes, we guess.
This Company Claims to Make "Realistic Floor Art"
There are a whole bunch of things we aren't too sure of about that statement. First of all, let's tackle the "realistic" part - yeah, not really, unless we're judging how realistic something is by if it could fool a bunch of seagulls or something. This ain't working on no humans. The art part is pretty questionable for self-explanatory reasons. Finally, the floor part - yeah, we're not totally sure we know where the floor is here.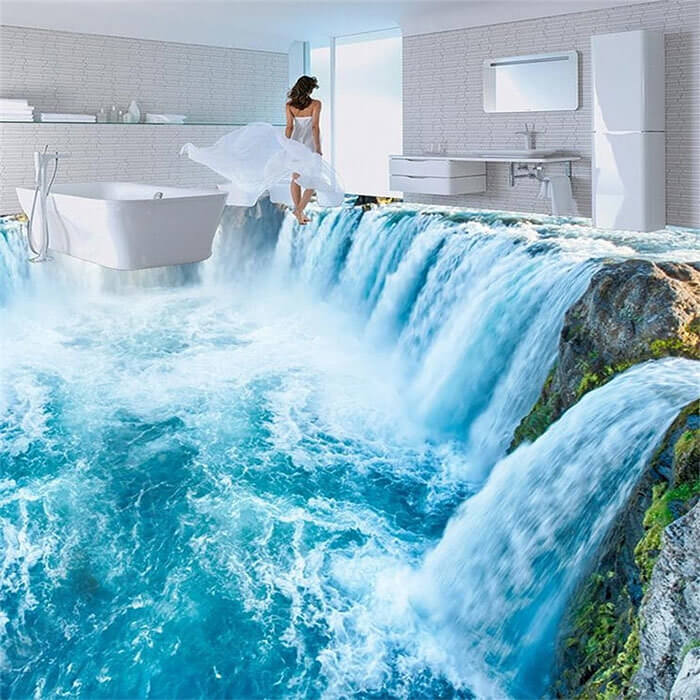 Is it under that photoshopped image of a waterfall? Is the waterfall supposed to be on the floor? Is that woman walking on water? We have so many questions.
It's Amazing How Green the Grass Stays Even When It Snows
This is funny because, at first glance, you may not see anything wrong with this picture right here - and then you start looking around and promptly find out that it is thoroughly winter in every place of this photo save for the actual grass, which is somehow totally green even though everything else is covered in snow and whatnot. Yeah, the person who edited this one should learn from his mistakes.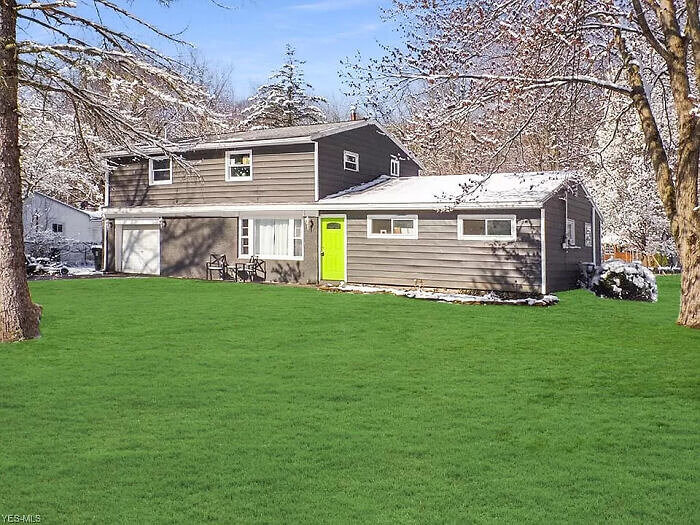 That glaring mistake obviously is the fact that snow is often the first thing to get covered in snow when it starts snowing. Someone here hasn't lived through an actual winter, and it shows.
She Left Us Speechless
Yes. This is exactly how regular people - people you see out on the street, in cars, through windows, on rooftops, holding hands down the street, living their lives - look. If an alien species were to ever come up to us and ask us for a picture that would totally and accurately depict the appearance of the human race, we would probably show them this picture right here.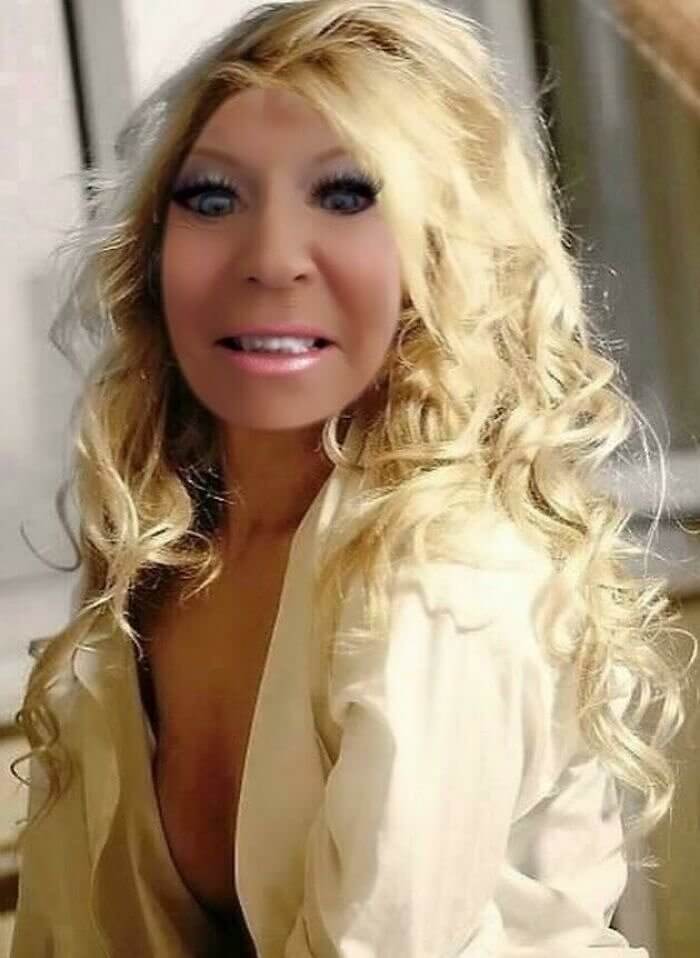 Because this is, after all, how humans look. No doubt about that. Whoever made this picture did an incredible job of creating a perfectly average person.
Straight Out of the Latest Nature Documentary
Now, to the naked eye, it may seem s though these two animals have yet to even strike each other, and yet - they're both sporting a fatal wound (while somehow also being miraculously clean everywhere else). But that just shows how untrained your eyes are; these animals are actually both masters of telekinesis, and they have been attacking each other with their mind waves. Yeah, nature is wild.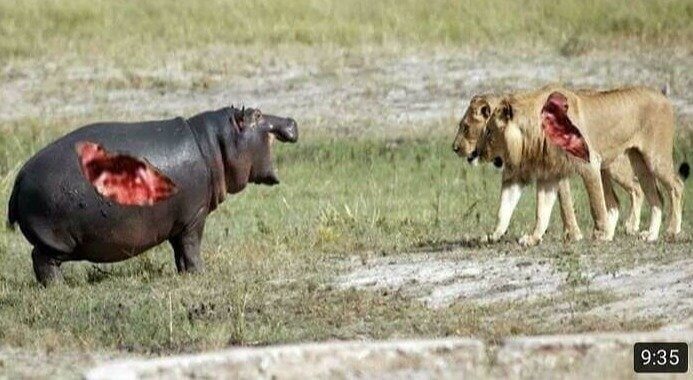 Goes to show what we know about animals. Up until now, we thought that all animals were melee-strikers only. Yeah, guess the world's bigger and crazier than we had previously thought.
We Want Whatever Lipstick This Cat Uses
Look at this fluffy feline. It's got perfectly painted red lips and smoky eyes. Now a cat wearing makeup may sound like a stupid concept, but nothing is more comical than a cat trying to pull off a bold makeup look. Just picture this cat staring at itself in the mirror, trying to smudge that eyeliner to perfection, only to end up with smudged whiskers and a confused expression.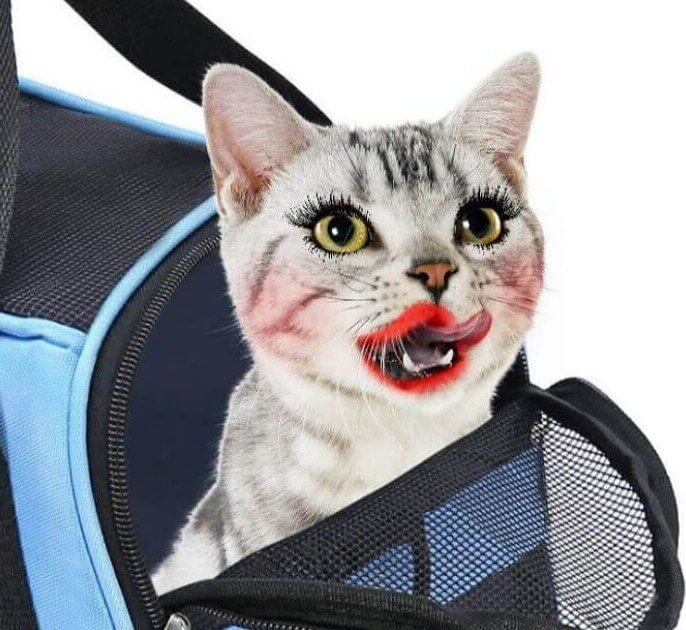 If that isn't enough to make you burst out laughing, you should probably get your mental evaluation, because that should be enough to bring a smile to anybody's face.
Don't Worry - He Doesn't Bite
You know, this snake is getting along pretty well with all those kids considering the fact that it looks like an ancient, mythological god that was probably responsible for holding the world in place or doing some other kind of mythological snake thing. Thank god snakes as big as this don't actually exist. Imagine just how crappy the world would have been if these bad boys were to roam it freely?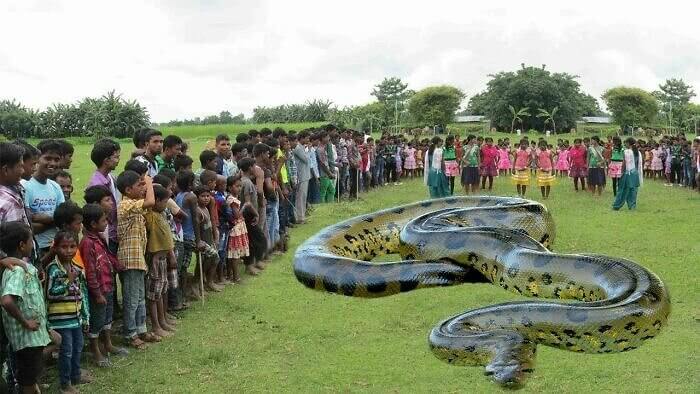 So whoever photoshopped this Jormungandr into this photo of what seems to be some traditional social gathering needs to sharpen his photoshopping skills just a tad. You know, to make things just a bit more believable.
This Is Actually What Our Dreams Look Like
If you have ever wondered what our dreams look like, here you have it. No, it isn't glorious - it's just a huge dog in a kid's pool with someone. That person is usually us, by the way. Some people have dreams about their crushes; others just conjure the most surreal and zany imagery ever. We definitely belong to that second group, and we're proud of it.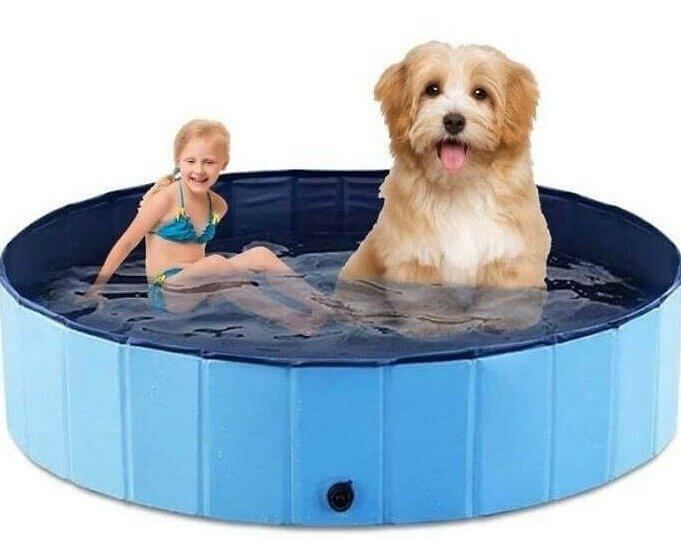 Now, this was originally supposed to be an ad for that inflatable pool, but any kind of marketing was totally overshadowed by that photoshopped dog. Sorry guys, you went overboard.
Caution: Roadwork Ahead
Now, those with sharp eyes may notice that there's something slightly off with this road. Don't see it? Look closer! It seems to be slightly curving downwards towards the end there. That slight error is enough for us to know that this photo was, in fact, photoshopped. Yeah, we know. You're probably thinking: How on Earth did you even notice such a slight defect? Well, that's how good we are at our jobs.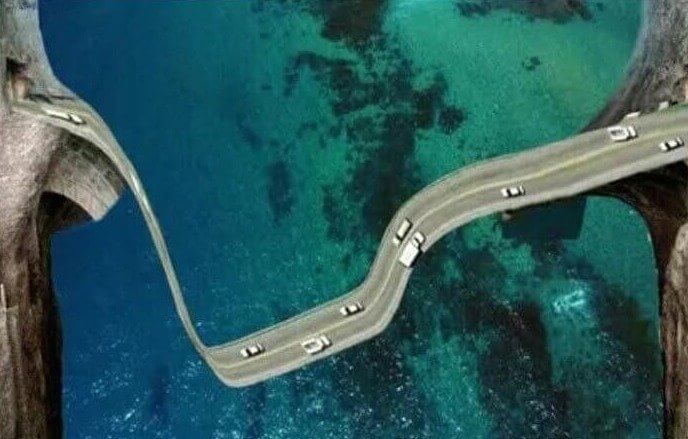 When you've been at it for as long as we have, you can just smell that something's off, even if it's just the slightest, tiniest thing.
Wow, We Can't Believe How Much Gordon Ramsay Loved This M&M Cookie
We've all seen the endless video clips of Gordon Ramsay completely demolishing someone's confidence in their cooking. The man is a harsh critic - but not without good reason; this chef knows what he's talking about, so we couldn't believe it when we saw this photo of him so deeply enjoying an M&M cookie! Where is this cookie shop?! We must go! Anywhere that has Ramnsay's approval is good enough for us.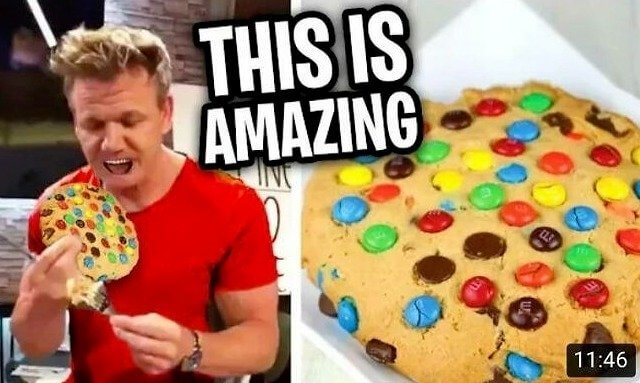 Oh, wait a moment. This is just another poorly photoshopped photo. Gordon Ramsay probably never even tried the cookie pictured here. We've been bamboozled.
Ok But What Happened to Her Body?
We're starting to think that some Amazon sellers are just trolling us with their product photos. Like, did they think we wouldn't notice some of these horrendous edits? Like how this girl's body just magically vanished. But there are much more terrible photoshops out there: T-shirts stretched so wide they're defying the laws of physics, dogs with human teeth, and much more. It's like they're trying to sell us a product and a Photoshop tutorial at the same time.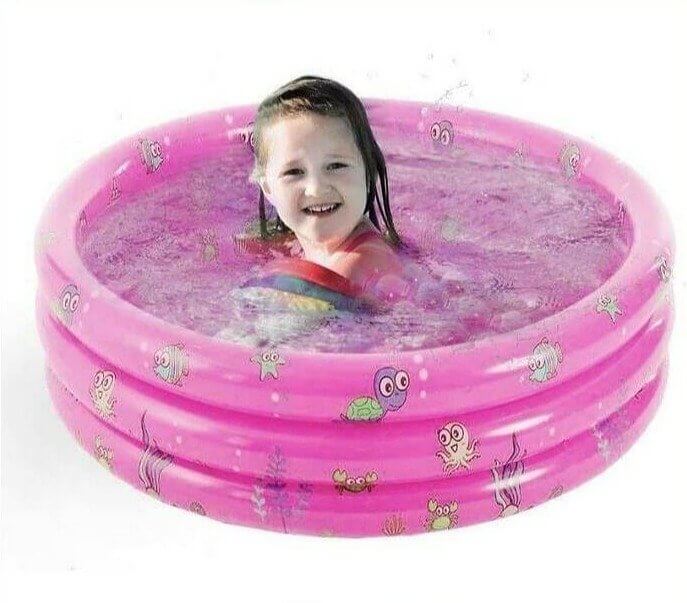 Like, at least this one takes a tiny bit of effort to discern what exactly is wrong with it. Other product ads just make it so glaringly obvious that you can't help but laugh at them.
Better Call Animal Services on Anyone Who Buys This "pet Heating Mat"
Did anybody order a BBQ dog? Because that's probably what you'll get if you order this pet heating mat. At least if we are to go by this photo. Now, we've seen some bad photoshop in our time, but this one takes the cake. Whoever created this image of a dog riding a carpet over pixelated flames clearly had no understanding of basic image editing principles. The dog looks like it's been cut and pasted from another photo, and the carpet looks like a loaf of bread.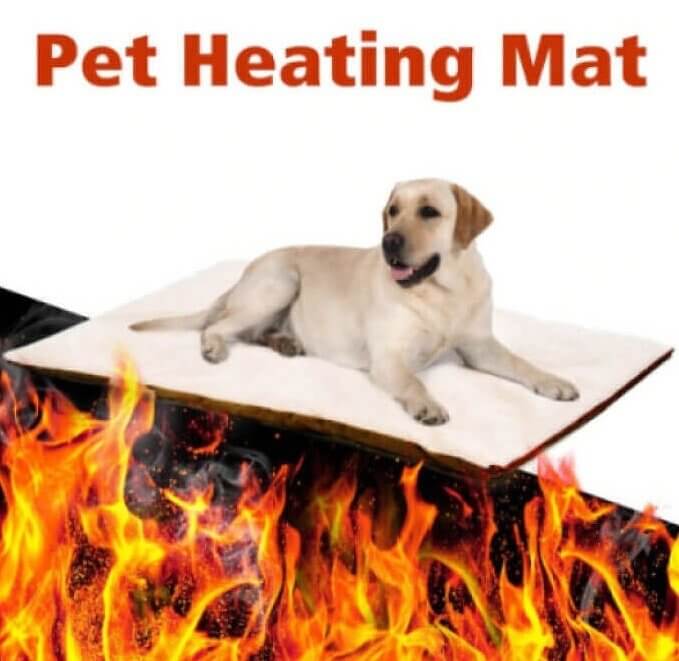 But the flames are the worst. Don't get us started on the flames, which look like they were drawn in Microsoft Paint by a preschooler. This is the epitome of poor photoshopping and is an insult to the art of editing images. We love it.
This Guy Lost His Legs in the Tragic Amazon Bath Tub Incident of 2003
Look, we don't like to talk about the tragic Amazon Seat Bath Tub Incident of 2003. It's just bad memories for all; nobody came out of that one unscathed. This guy, for instance, as you can see - lost his legs. But don't feel bad for him. What doesn't kill you makes you stronger - isn't that what they say? Yes, that is indeed what they say.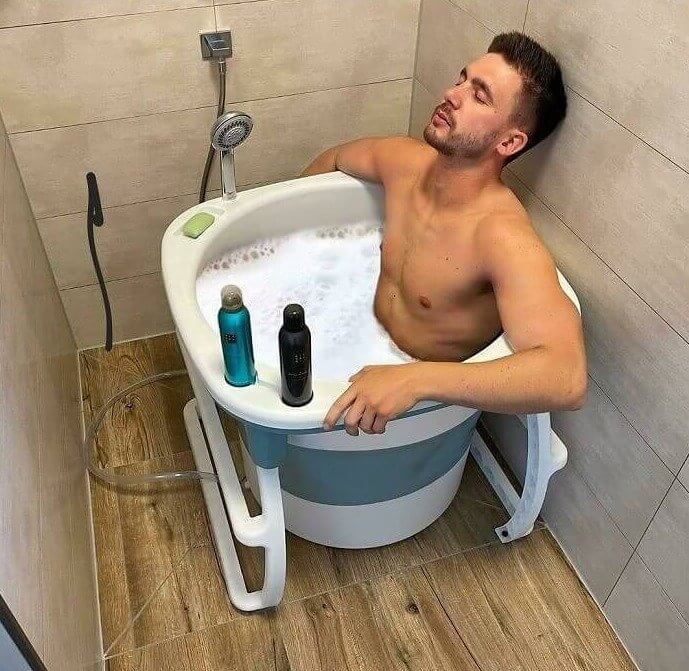 Okay, jokes aside - we're not quite sure what the people who were trying to sell this admittedly strange product were trying to achieve when they edited this man's leg out of the picture, but we can only hope that they got what they wanted.
The Longer We Look, the Worse It Gets
The more you look at this photo right here, the crazier it gets. That much is undeniable. Like, at first, we were like: "This is just a nice little photo of a dog; what's wrong with it?" And then our gaze drifted all the way to its tail, its roughly cut, pixelated tail. Things just went south from there. But we'll let you discover what's wrong with this picture for yourself.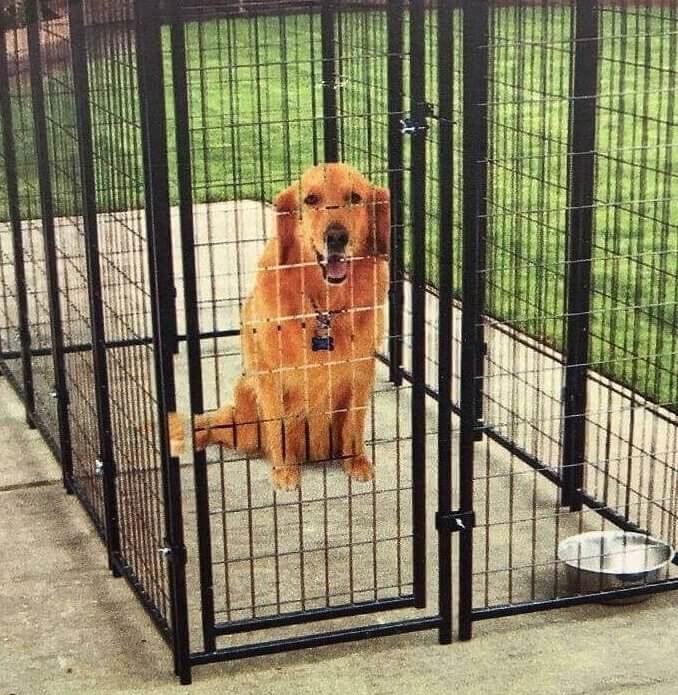 Okay, if we're being fully honest - it's mostly the dog that's wrong with this picture. The rest is pretty normal. Just so you don't end up wasting your time looking for things that aren't there.
Can You Believe He Can Solve This Rubik's Cube in 1.4 Seconds?!
Okay, now forget the fact that this is an obvious clickbait title and that the Rubik's cube in question is abnormally huge; what struck us the most was the fact that the person who wrote this title claimed that this kid solved the infamous Rubik's cube puzzle in only 1.4 seconds. Now, that may sound unbelievable, and it is, but 1.4 seconds isn't that far off from what Rubik's cube experts are capable of.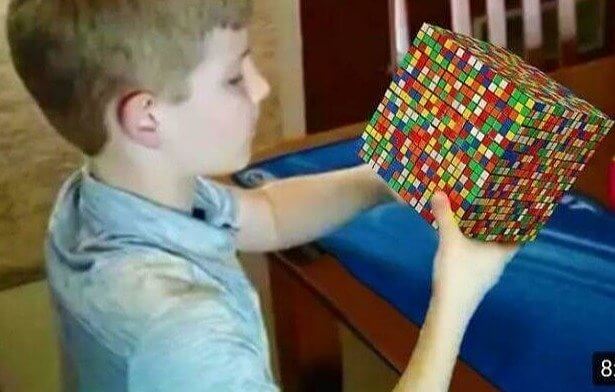 Given that the world record is 3.47 seconds, 1.4 doesn't seem like that much of a stretch. Now sure, when it comes to records, every single millisecond makes a huge difference.
All the Cat Siblings Look Eerily Identical...
Now, we know that the original poster of this photo probably wasn't trying to be funny, but dear lord, is this picture actually hilarious? Like, they accidentally struck comedy gold with this one. It looks like some kind of forgotten meme template from another timeline or something. There's just something about duplicating that one cat that's undeniably and inexplicably funny. That is, at least, what we think.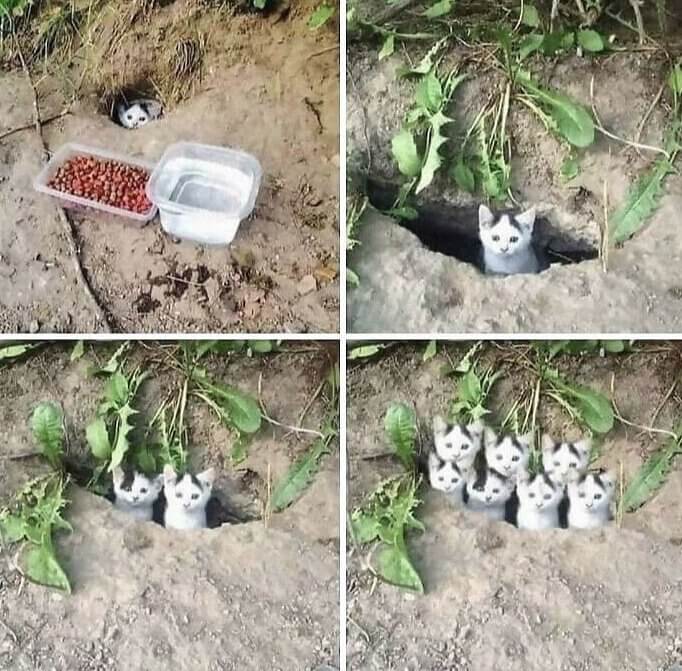 But it might just be us that think that this picture is absolutely hilarious. What about you guys - do you think this photo is as funny as we do?
Dude Absolved Himself of Gravity
Some people were just born with special abilities. This person, for instance, seems to be able to just defy the laws of gravity and jump barefoot up to the sky. Now, his video tutorial of how to seemingly headbutt the clouds may seem tempting, but we're pretty sure he didn't actually achieve such a height and that he just photoshopped himself above ground. Sorry guys, nobody can jump that high.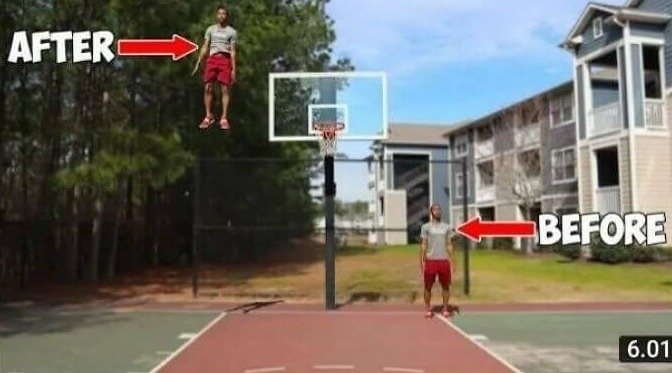 And yet, we have to admire this man's dedication to the content creator grind - he's willing to lie, cheat, and clickbait his way to the top, and we respect him for that.
The Airpods? Maybe. The Plane? Yeah, Right
So forget the fact that whoever made this thumbnail wants us to believe that a multimillion-dollar production such as Game of Thrones somehow let one of the actors go on set with earbuds in their ears and that nobody noticed it or, at the very least, did something about it in post-production. Sure, that maybe, in some kind of alternative universe, could have happened. For the sake of argument, let's pretend it happened.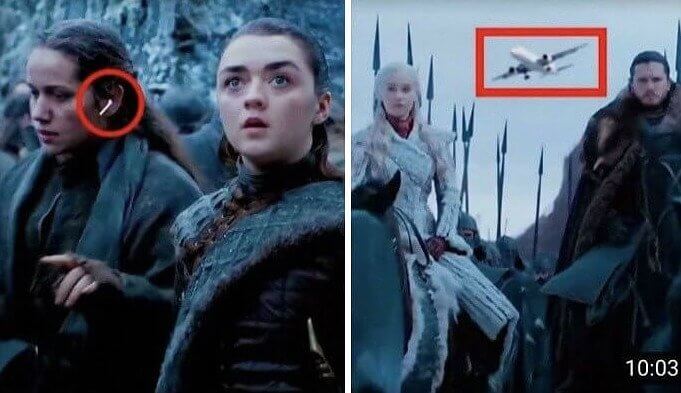 The airplane is just overkill. There is no way in hell the cast would just sit idly by as an airplane flies above them. Those things are pretty noticeable, you know?
They'll Need to Photoshop a Floating Car to Get Into the Garage
Ladies and gentlemen welcome to the world of bad photoshopping. This real estate ad is a true masterpiece in the art of terrible editing. The bushes are so poorly edited they look like they're trying to escape from the property. One can only imagine the confusion of potential buyers as they try to figure out if they're looking at a real house or a scene from a horror movie.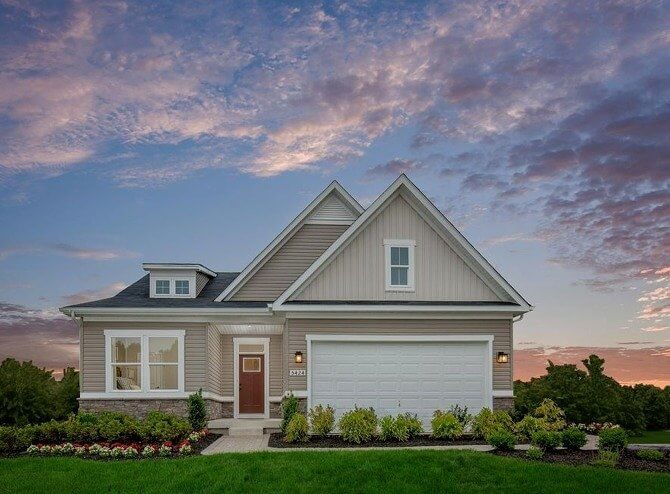 The thing is, is that these bushes were obviously Photoshopped because they're blocking the garage door, thereby making the driveway useless. So yeah, not the best bush positioning out there.
Poor Guy Lost His Whole Chin
Everyone has their go-to sexy face; you know, that one face you make when you're really trying to feel yourself. Unfortunately, not all sexy faces were made equally, and this is pretty much how we look when we give it a go. Now, the person in this photo can blame the poor editing and the fact that the lower half of his face was totally desecrated in Photoshop.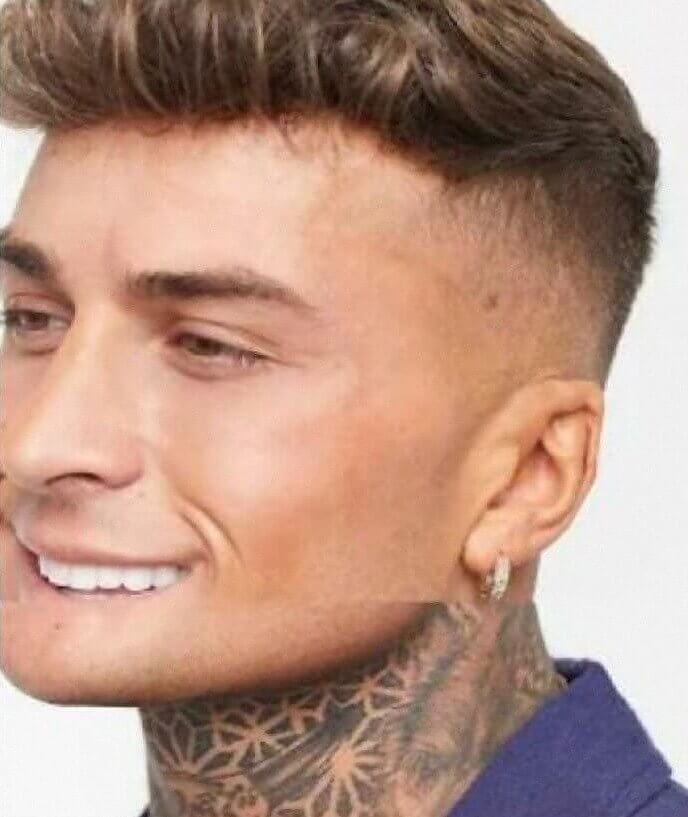 We, on the other hand, only have our poor genetics and subpar body language to blame. Sucks to be us, but at least it doesn't suck as bad as this Photoshop.
We're Seeing Double
Oh no. Don't look down. Whatever you do - do not, for the love of God, look down. But if you already have looked down - welcome to our suffering; let's talk about it. What in the world is going there? It's obvious that whoever did this photoshoot only took one photo of the model and just duplicated him a few times without bothering to cut his other leg properly.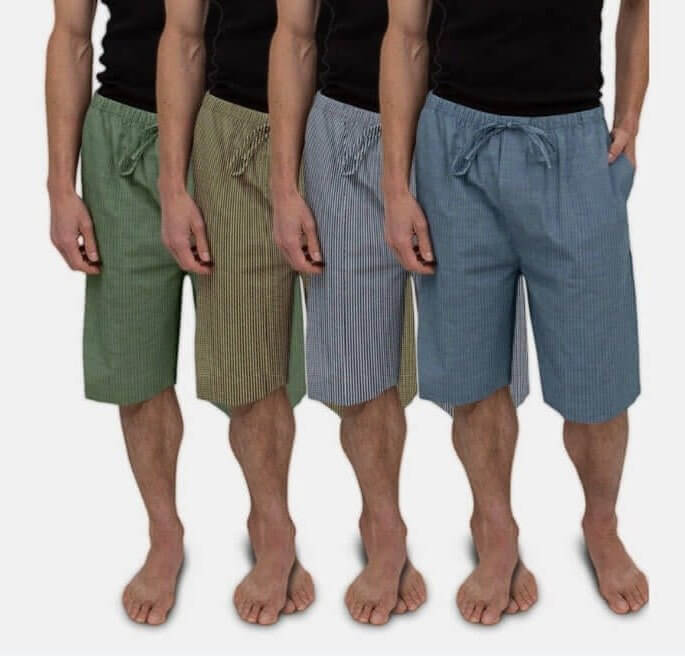 But what's strange is that it seems as though there's a third leg just peeking out of the two legs on top of each other. That, we say, demands an explanation.
A Bad Case of Bunions
So forget about the fact that this article is just slowly becoming a collection of poorly photoshopped legs - what the hell is going on here? Like, with the other bad edits, we could at least tell what they were trying to do, but we have absolutely no idea what's going on here. No idea at all. So if somebody out there have any food ideas - we'd love to hear them.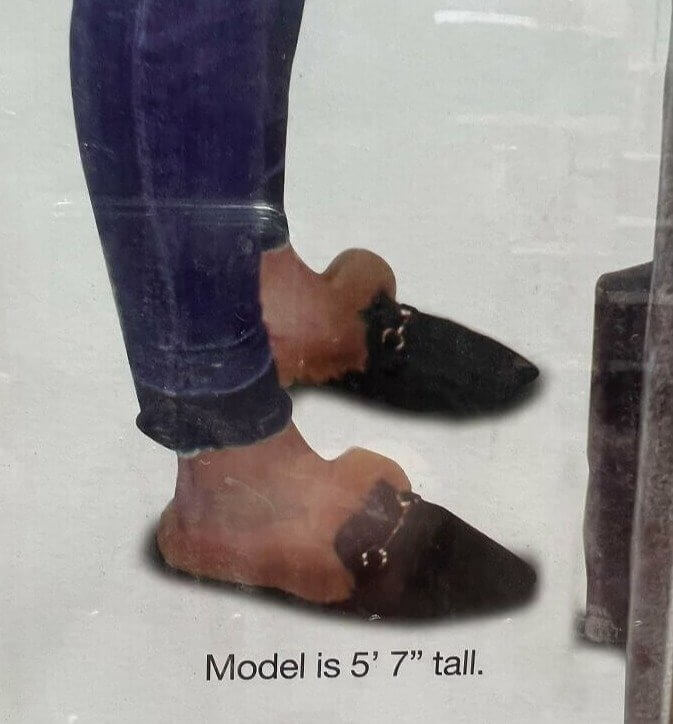 Like, we're not even sure what these feet look like. It's like someone just stuck a picture of Minecraft feet on top of regular feet or something like that. Definitely one of the weirder edits on this list.
The Spots on the Dog Really Pushed Things Overboard
So one looks at this photograph right here, and you can instantly tell - this picture is hilarious. First of all - the whole edit of that dog walking up the ramp is just funny. But, more importantly, those spots are fake. Now, that isn't a deal-breaker when it comes to bad photoshops, but we do have to ask - why bother even adding those spots if this is going to be the end result?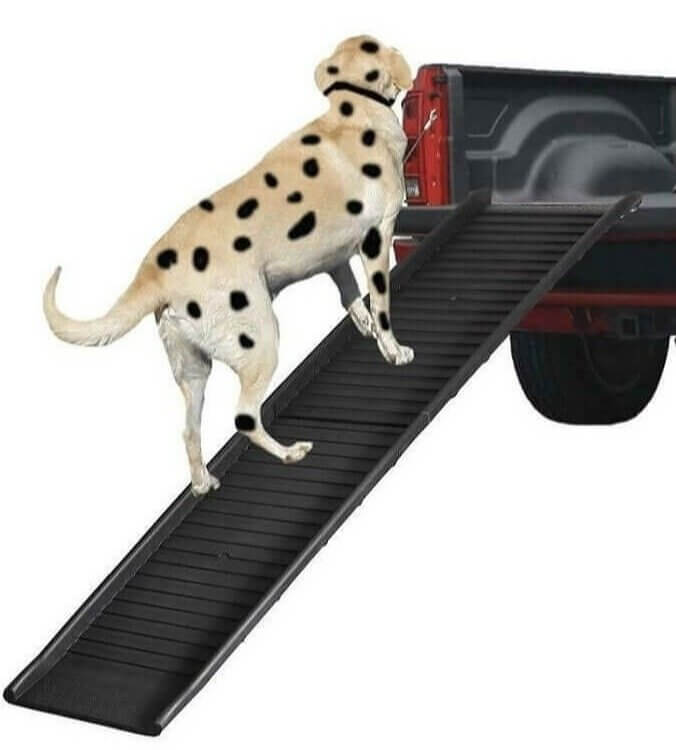 Like, what do those spots even add to the photo? The ad would have been pretty much the same with or without them, so why bother doing this? Guess that's just the wacky world of marketing.
Little Man's Got It Made
Ah, the classic tale of a kid living his best life in front of a private jet he can only dream of affording. This photoshopped masterpiece is a true testament to the power of imagination and terrible editing skills. The jet looks like it's been pasted in from a stock photo, and the kid looks like he's trying to act nonchalant about it, but we all know he's just a few clicks away from reality.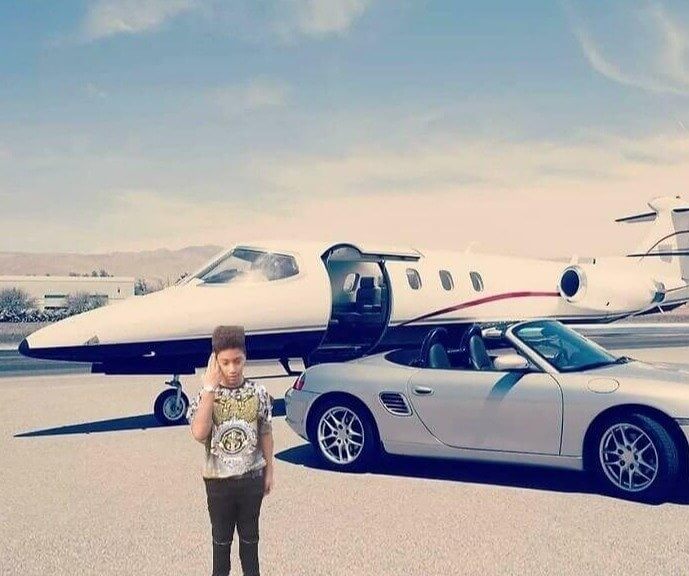 But hey, at least he's got a nice background for his TikTok videos, right? We can only hope that this photo serves as inspiration for us all to reach for the skies, both literally and figuratively. We must learn to ball as hard as this kid right here. A true role model.
Nice Vase
Ladies and gentlemen, we present to you the Mona Lisa of terrible photoshopping. This vase is so poorly edited it looks like it's made out of Jell-O and was molded by an alien. We can only imagine the confusion of art collectors as they try to figure out if this is an ancient artifact or a science experiment gone wrong. But let's be real; this vase is not going to fool anyone unless you're trying to pass it off as a modern art installation from the planet Zog.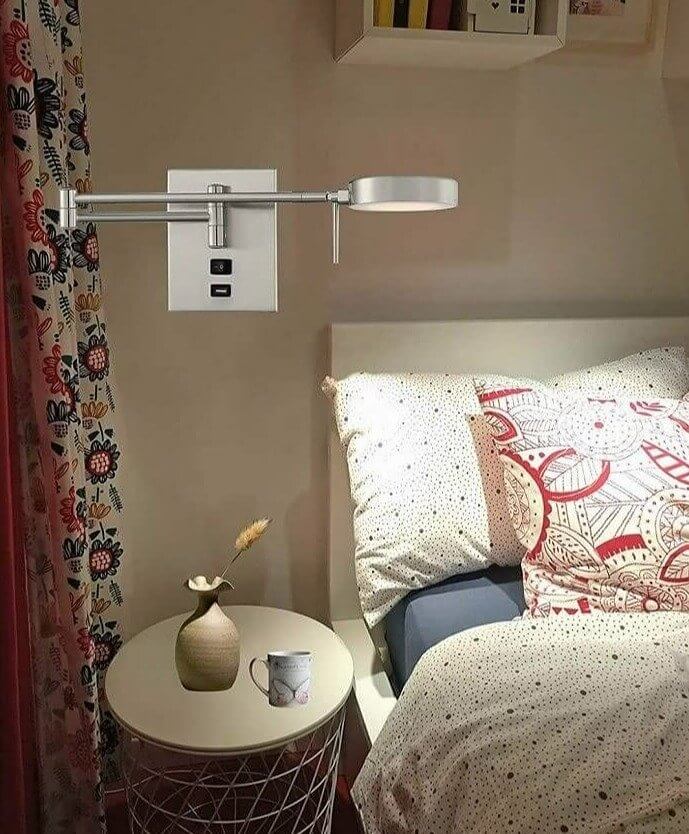 All jokes aside, we think we can all agree that this vase needs some serious editing help or just a good old-fashioned trip to the trashcan. And don't get us started on that cup right beside it.
Great Concept, Horrible Photoshop
Uh... this gives us the creeps. Like, it's almost in "Uncanny Valley" territories of creepy. Now forget the fact that wearing this would make you look like a total freak; why would anyone on Earth even need a mask like this? Like, the whole point of the mask is to cover the mouth, not to have some weird, pseudo-beard pattern around it. So, again we ask - why would anyone need this?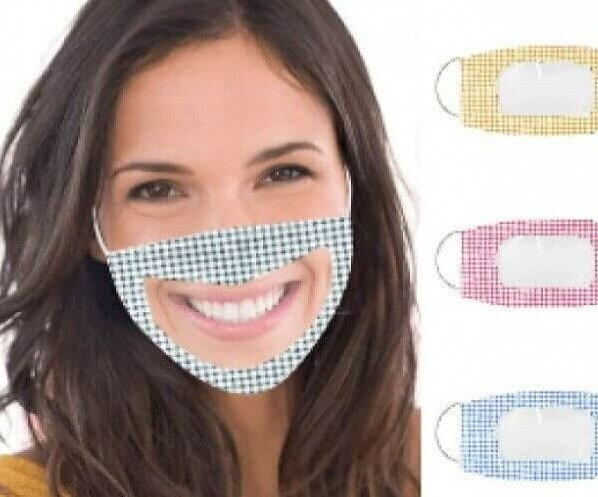 Whoever made this has got a lot of explaining to do not just to us, but to the entire world. We deserve to know what went through their heads when they considered this one.
That's One Well-Traveled Pup
That dog has seen quite a bit, hasn't he? He's seen the big world; he's seen the small; he's been to the beach, to the subway, to the supermarket, all from the comfort of that little pouch. Except this dog hasn't been anywhere; he was just poorly photoshopped into that pouch. Not that we're complaining; this edit is truly and genuinely wholesome. Sometimes the bad edits are better than the good ones.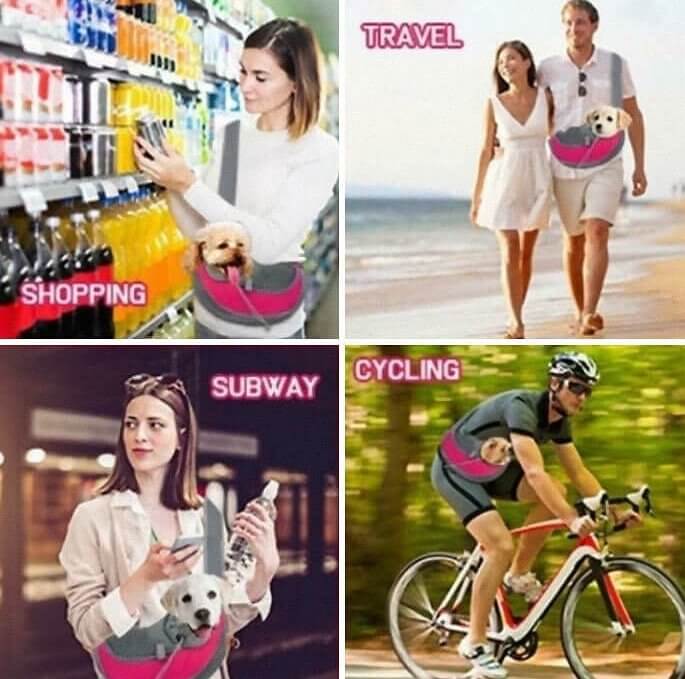 On a totally different note: we would totally kill to be that dog. Imagine a life of total tranquility, just being taken from place to place in a neat little pouch. One can only dream.
It's Literally Bigger Than Him
Even if the baby somehow had the mental capacity to solve a ginormous Rubix cube in under one second (which is in and of itself a task that makes absolutely zero sense), he wouldn't have the physical prowess to do so, given that the cube is actually huge. It's, like, double the height of the baby. So yeah, we're pretty sure he didn't solve it in under a second.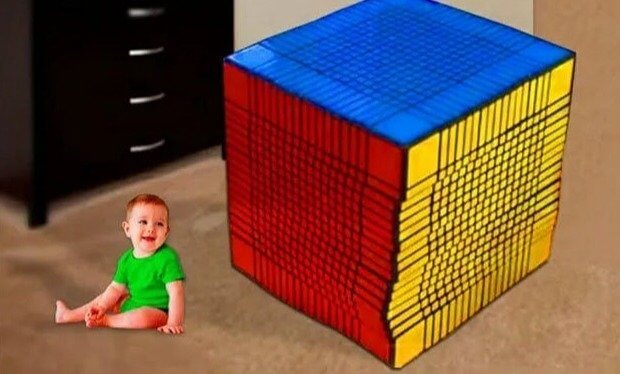 The thing is, is that the actual world record for solving a Rubik's cube s approximately 3.47 seconds, which isn't that far off from 1.4. Pretty wild, isn't it?
At Least They Aren't Lying About the Depth
Usually, when you get these photoshopped product ads, you'd often see the marketing totally exaggerate the features of their product and blow it out of proportion to make it seem better than it is. So, we would have expected this edit to make it seem as though the pool would be really, really deep. This isn't the case with this edit right here, and we commend the editors for it. Good job being honest, guys.
Now, we don't know if this was a conscious decision on their part or just a side-effect of them not knowing how to edit the pool to make it look deeper, but nevertheless - the result is the same.
That Chicken Is From Another Dimension
Man, this air fryer looks straight out of Rick and Morty or some other kind of sci-fi show that involves parallel universes and infinite timelines and whatnot. Just look at that chicken - it looks as though it just spawned through a portal to another dimension, straight into that air fryer. Wouldn't it be simpler to just take a photo of the air fryer with some food in it? We would think so.
But no, that apparently isn't the case, given that they didn't do that. They opted to go for the poorly-edited chicken instead. To be fair, that is the funnier option of the two, and we commend them for following their comedic intuition.
Someone Was Selling Seeds for This "blue" Tree
Behold the world's most psychedelic tree. This tree's leaves have been so poorly photoshopped purple it looks like it's been hit by a rainbow-colored storm. We can only imagine the confusion of nature enthusiasts as they try to figure out if this is a new species or just a bad editing job. But let's be real; this tree is not going to fool anyone unless you're trying to pass it off as a tree from the land of Oz.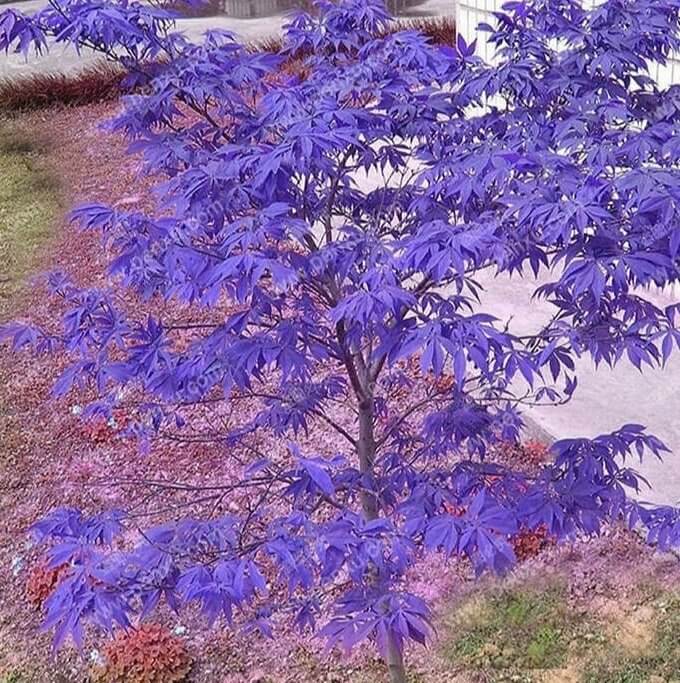 You know, if you're going to Photoshop your tree a certain color, at least own up to the color. Like, in no way in hell is this tree blue. Just call it a purple Maple tree!
"Here's Me and My Pro Second Amendment Wife Kaitlin Bennett"
This guy claimed to have married Kaitlin Bennett, a well-known second amendment activist. We do have to give this guy props for the hilarious edit he has so generously and gracefully provided the internet with. Thanks, dude. We'll be sure to make the most out of this one. Our favorite part is how he had so many outfit changes throughout their special day. Man, the internet can be so entertaining sometimes - people just make the wackiest things.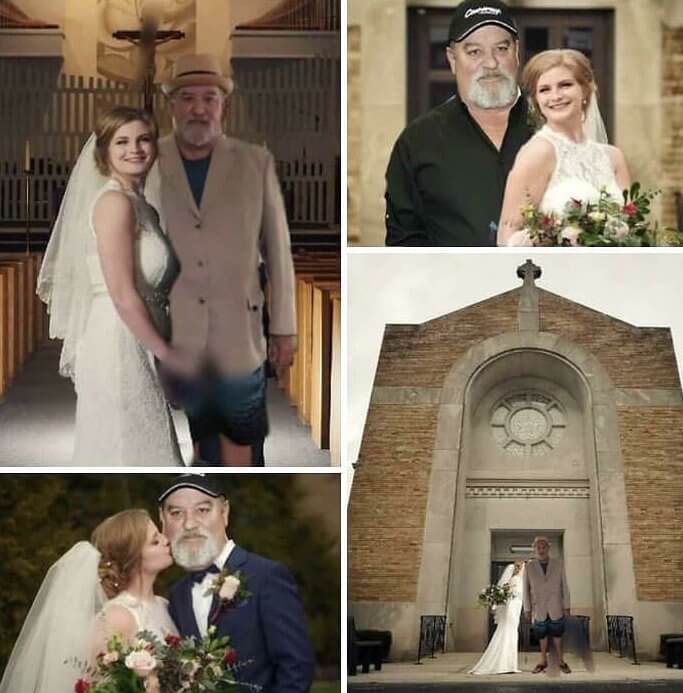 Somebody should really make an archive of the best things people have uploaded to the web. Then again, somebody probably already has, knowing how the internet works. We should check that out.
Taking His Dating Profile to the Next Level
It doesn't take a lot of scrolling through Miguel's Tinder profile to feel a bit confused. On the one hand, the dude is trying to flex on us with these pictures of himself in front of some fly whips, but on the other hand, it's clear that he didn't put much effort into editing them. Like, the cars look way too rare to be true, and Miguel just looks like he's been pasted on from another pic.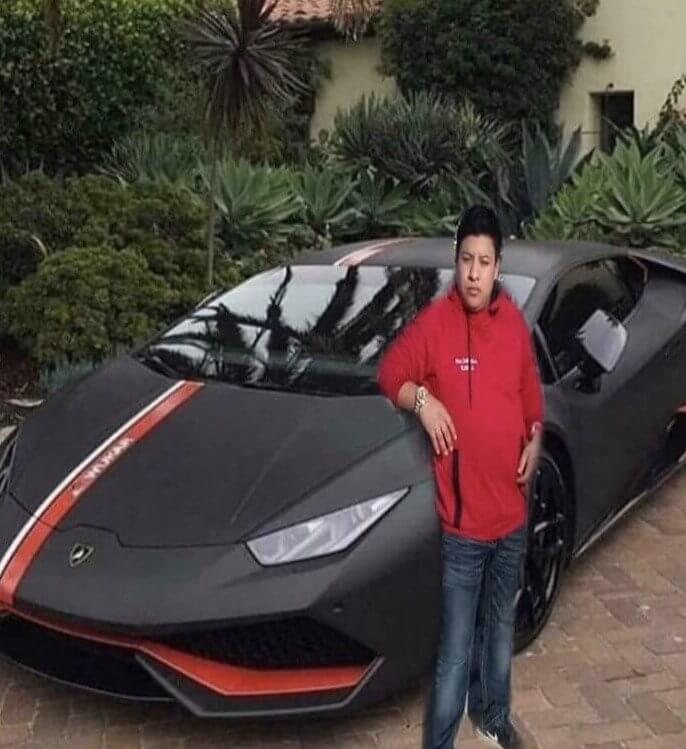 But that won't stop Miguel. No, you already know he's popular with the ladies. After all, they know that it's what's on the inside that counts - Miguel's generous heart.
Wow, This Product Really Helped Fix That Bad Photoshop Job!
So this photo was supposedly taken from an advertisement for back-straightening. Now, strictly speaking, that's exactly what's going on in this photo - this woman just straightened her back. In the photo on the left, she's slouching, and then in the one on the right, she just straightened her back. Well, either that or she was poorly photoshopped into a back-slouching position on the first photo. We're not sure, but something about that left photo just seems unnatural.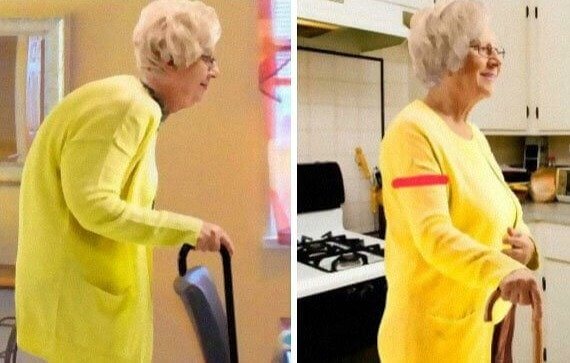 Guess that's the world of advertisements for you - just another reason to never believe anyone who's trying to actively sell you something. They aren't reliable sources!