Anyone who has spent an ungodly amount of time browsing the World Wide Web knows there comes a moment when you have to raise your head and say: "Alright, that's enough internet for today." Sometimes that happens after we scroll through too many funny memes, and other times, that happens because there are so many unexpected and unsettling photos. So rather than have you surf the web for the strangest images of them all, we've put some of the most disturbing photos out there all in one place. That way, you can get your daily dose of weirdness in one go. You're welcome.
What's Going on Here
What in the world is going on in this picture? Is that a fish sucking on someone's hand?! Is this some kind of weird aquatic massage technique that we've never heard of before? And why is the fish so happy about it? Is it because the hand tastes like fish food or because it's just really into this bizarre hand-sucking thing? We have so many questions and no answers.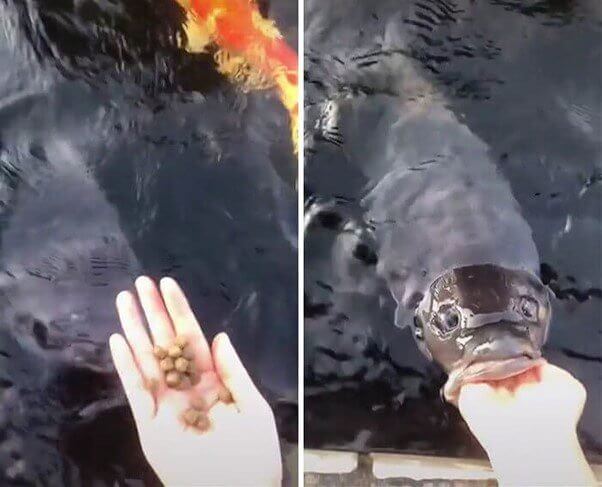 This is the most confusing and perplexing image we've seen in a long time. We really need to go lie down and try to process what we've just witnessed.
This Bee-Infested Statue Is Nightmare Fuel
Yeah, sorry to break it to you, but this world in which we were all thrown into and where we have to spend the rest of our days is just one big nightmare we're all forced to suffer through, and it's things such as this photo that prove that. Seriously, look at this thing. Even Hollywood's most talented horror-flick writers couldn't make this one up.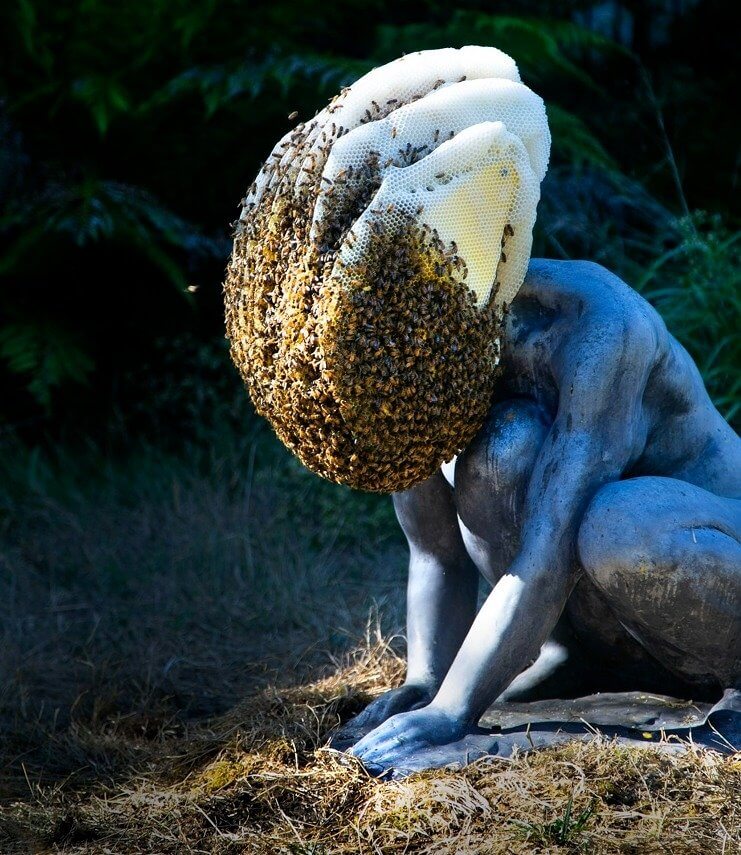 Now, we know bees are incredibly important to nature and the environment, and the world at large, but could they just avoid creating their beehives around statues' heads from now on?
Friendly Reminder That This Is What Your Cat's Toes Look Like
We definitely need someone to create a time machine and take us to approximately two minutes ago before we read this terrible fact about furless cats. Seriously, why on Earth are the world's most adorable and beautiful creatures, such monsters under their fur? We've been lied to; we've been bamboozled; we've been, in a word, tricked. We're just going to pretend we never saw this.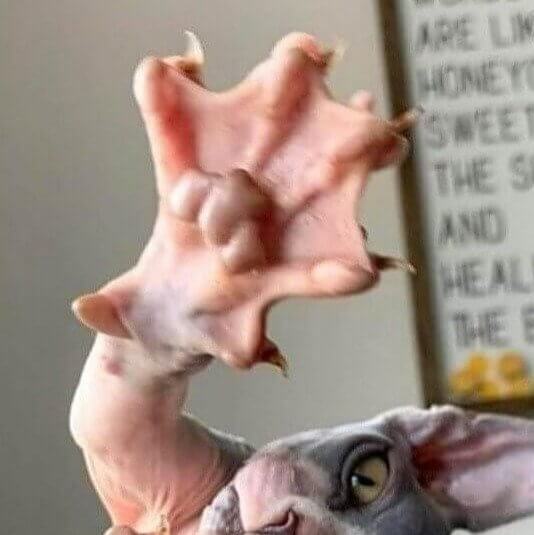 Facing up to this requires more strength than we actually have. We're not ready for it; we'd have to change our whole attitude toward cats and the world at large. It's too tall of an order.
Putting Beans Inside a Donut Is a Crime Against Humanity
Alright, this has taken things too far. We know some people pair beans with foods that others wouldn't expect them to; take, for example, the British, who like to put beans on toast. But beans inside a donut? This is where we draw the line. Beans should be nowhere near our precious donuts. The only thing inside of them should be cream, jelly, and other sugary goodness. Are we right, or are we right?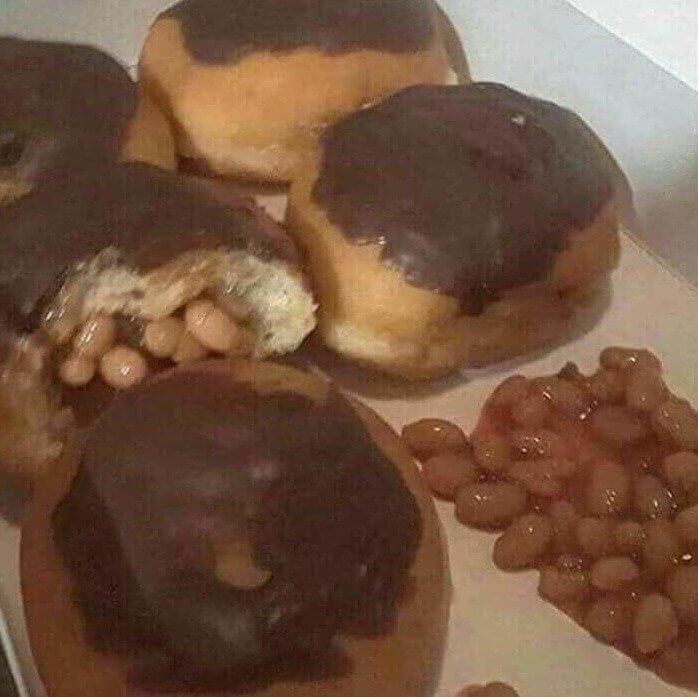 Just imagine taking a bite into a chocolate-covered donut, expecting sweetness to ooze out, but getting beans instead. Sounds like a bad omen to us.
Michael Myers With a Wig Turns Into Mariah Carey
So apparently, if you photoshop a wig onto the head of horror film icon Michael Myers, you get Mariah Carey. We're not sure why someone did this, but that's something we all have to live with now. This is definitely the kind of thing that you can never unknow, which leads us to think that it was probably better left unsaid in the first place. But alas, here we are - fully aware of this unfortunate fun fact.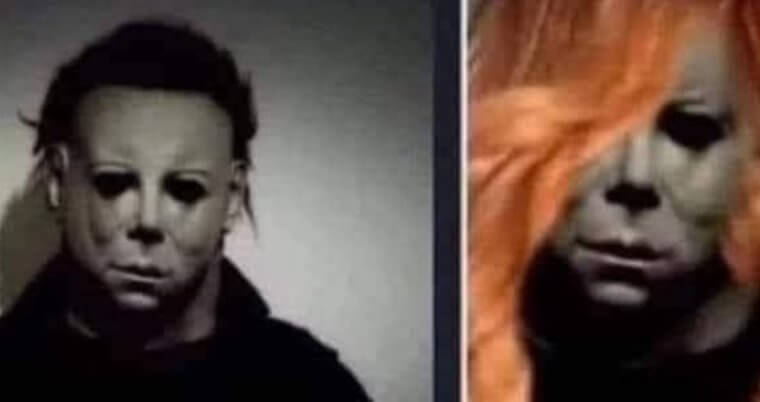 We feel bad for the person who actually took the time to find this out. He was probably scarred for life. He's probably never been the same since.
Posessed Reindeers
We love our Scandinavian friends, but they might've taken this too far. To avoid traffic accidents involving reindeer, the Finnish people used reflective paint on their antlers to make them visible at night. The result? The creepy image below. This is undoubtedly a solution to the problem of running over reindeer - but couldn't they think of a less creepy-looking solution? There had to be a better, less frightening way to tackle this one.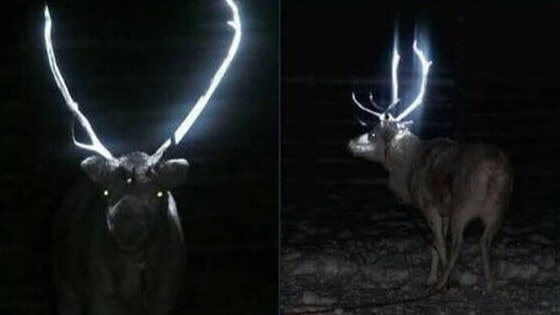 The original poster of this photo said the reflective paint sprayed on these reindeer's antlers leads to some surreal and scary pictures. And he is certainly right.
These Dutch Toilets Gave Us Culture Shock Just From Staring at Them
Okay, we have to vent about something that's been bugging us for a while now: the weird and wacky world of toilets. We mean, have you seen some of the crazy variations out there? There are squat toilets, which require you to balance precariously while hovering over a porcelain hole. There are bidets, which are essentially like tiny water fountains for your nether regions. And now, we can add to that problematic list the toilet featured below: the Dutch toilet.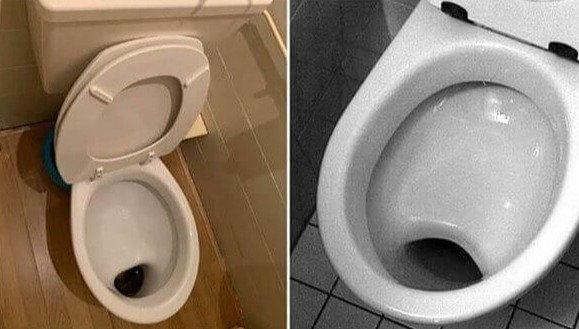 Can't we just stick with the good old-fashioned sit-down toilet that we all know and love? Why did the Netherlands have to go and make the inside of their toilet so strange? Can't we just have one universal toilet design that everyone can agree on? Is that too much to ask for? Rant over.
But Why Are The Peas Upside Down?
Give us one good reason why these peas are upside down. Go ahead; we'll wait. That's right - you can't. There's no good reason for these peas to be upside down. That's just the ugly truth. The grim reality of our situation. Someone should definitely teach the people who designed this thing just how to use Photoshop because this truly isn't it. Sorry to say it.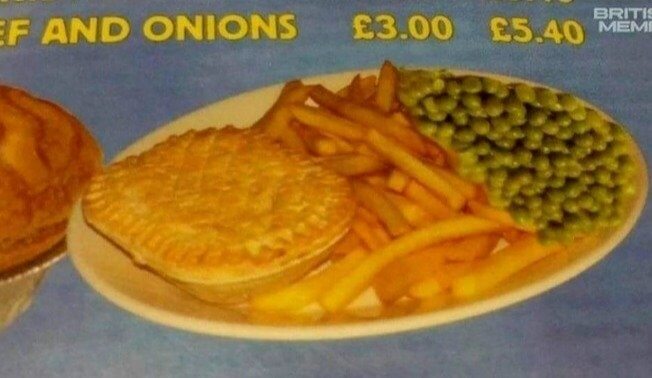 It also doesn't help that the entire meal doesn't look that appetizing. And yet, we would definitely still eat it. What does that say about us, you ask? We're not quite sure, but it can't be good.
He Skipped Leg Day One Too Many Times
This is the type of thing that we'd probably encounter in the real world and just stare at for a really long time only to feel really bad for staring and then promptly realizing that this guy doesn't actually have chicken legs and that those are just his socks. In fact, he probably wanted people to stare at them, given just how deceptive they are. Oh, that little trickster, making us feel bad for nothing.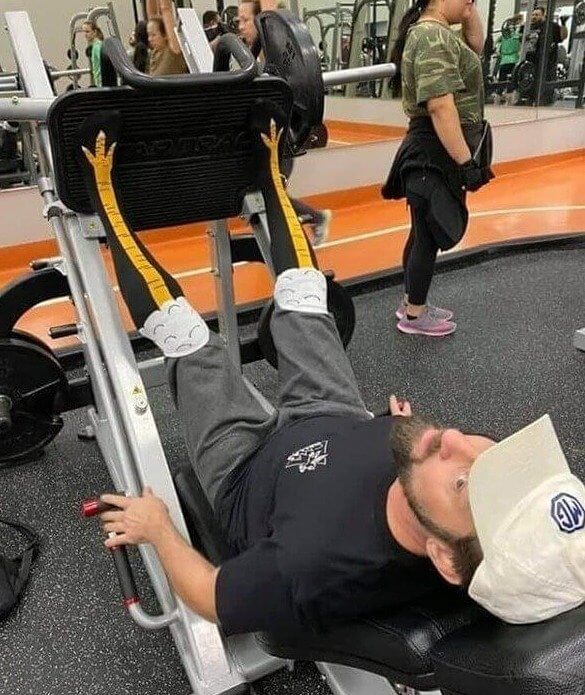 So basically, if you ever see someone trying to pull such a prank in the gym, be sure to make him feel uncomfortable. Or just completely ignore him so that he won't get any satisfaction out of the whole deal.
Grandpa's Dentures Look Different
Science is scary, and there are definitely a few scientific fields that have been making great advances in the past few years that will surely shake things up for us. We may not feel them now, but we certainly will in the near future. These fields, to name a few, are AI technology, nanotechnology, quantum computing, and, of course, 3D printing. People are going to be printing all kinds of crazy stuff.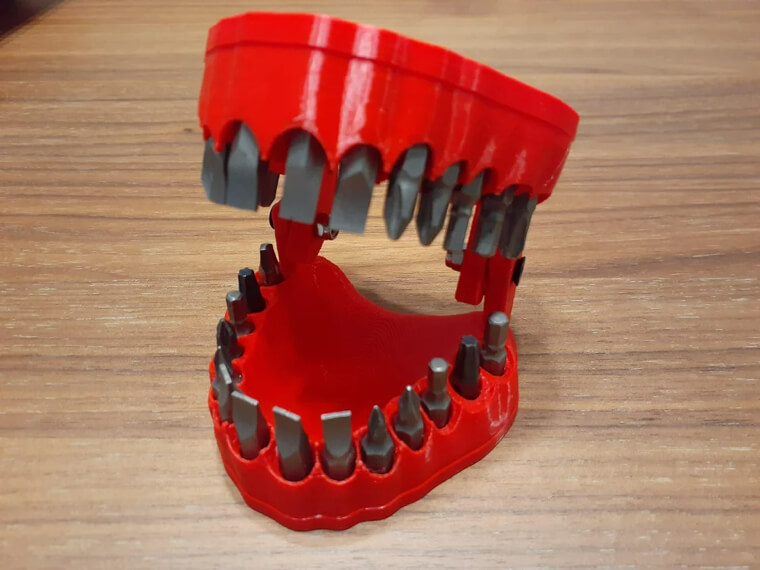 Think of it this way: people will basically be able to spawn any kind of wacky item they feel like making. Imagine all the different possibilities. Things are going to get lit.
Russian Cows Get Virtual Reality Goggles - Yes You Read That Right
Apparently, farmers in Russia have started to use virtual reality on their cows. The result? The cows think they're somewhere else, feel more relaxed, and produce more milk. Does a superior life species using futuristic technology to make an inferior species believe they live in a different world, while in reality, they're being sucked dry for their energy and life source sound familiar to you? Yeah, that's the plot of the Matrix. Who said farmers had nothing to learn from Hollywood?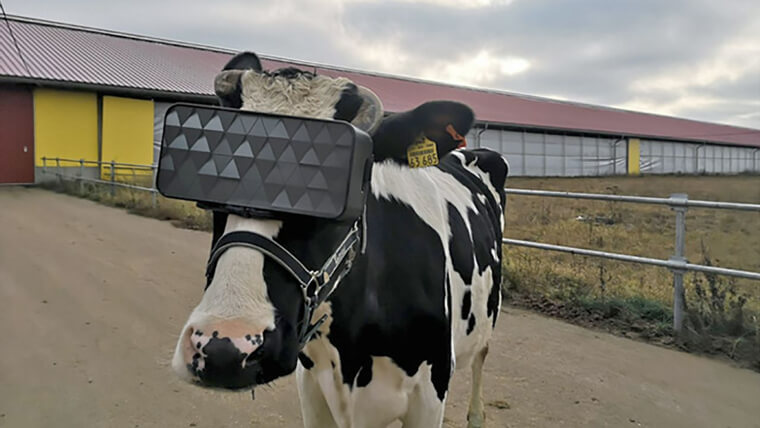 Now, are we saying that there's going to be a cow who can bend the very fabric of time and space and do all kinds of superhuman, Matrix-like stuff? Well, we're not not saying that.
If You Put Nicolas Cages' Face on Friends' Ross, He Just Looks More Like Ross
It's a well-known fact that David Schwimmer (otherwise known as Ross from Friends) and Nicolas Cage look quite alike. For years people have mistaken the two on more than one occasion. The two actors share the same angular jawline and intense gaze, and both have a penchant for over-the-top performances. Some people even say that Ross could pass for a younger version of Nicholas Cage if he had a motorcycle and a leather jacket.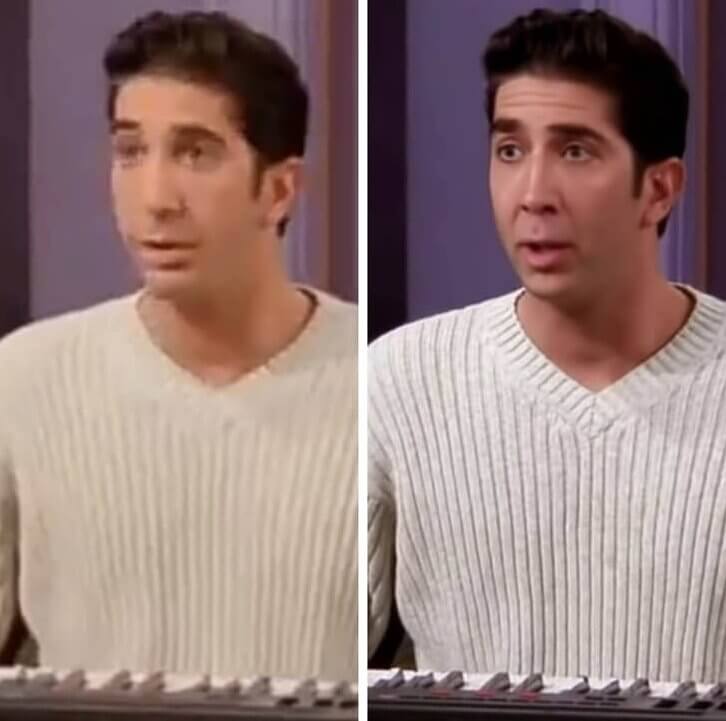 It seems as though the internet can't seem to get enough of the Ross/Cage doppelganger theory, and memes and fan art of the two actors side by side continue to circulate online. But this one took things to another level: they put Cage's face on Ross, and guess what? He just looks more Ross-like!
Handshakes Are Out, Feetshakes Are in
Nobody can deny that this photo of two feet shaking toes is one of the most despicable things two people could ever do with their bodies. On the other hand, being able to share such disgusting matters with your significant other is what makes intimacy so incredible. So yeah, like it or not - this is totally couple goals. Sorry, we were the ones that had to break it to you.
We wonder how long it took these two feet-people to orchestrate such a photo. We're willing to bet that it took more than just a few tries to get this right.
Everyone Knows Good Cheese Is a Religious Experience
Think about it - "Je-sus," "cheese-us." They're pretty much the same word! And let's be real, who doesn't love cheese? It's creamy; it's gooey; it's delicious. In fact, some people might even say that cheese is a gift from the heavens. And if you think about it, isn't that kind of what Jesus is - a gift from above? So maybe there's some divine connection between cheese and Jesus, after all. Or maybe it's just a weird coincidence.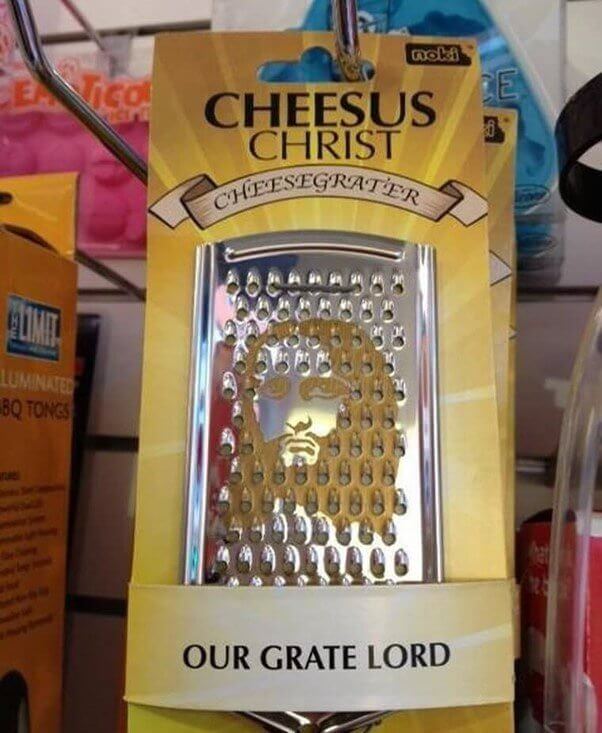 Either way, the next time you enjoy a nice, cheesy snack, just remember: you're practically eating a little bit of Jesus. (Disclaimer: do not actually eat Jesus. That would be sacrilegious.)
Giving Mac and Cheese a Whole New Meaning
People in Italy who are reading this must be like: "Huh? What's the problem here? This is just your regular, run-of-the-mill USB port. What's so wrong about this?" Get it? Because Italians have an obsessive-compulsive need for cheese; like, they're totally infatuated with that dairy goodness. Okay, we'll be the first to admit that there was probably a better joke to make about this picture.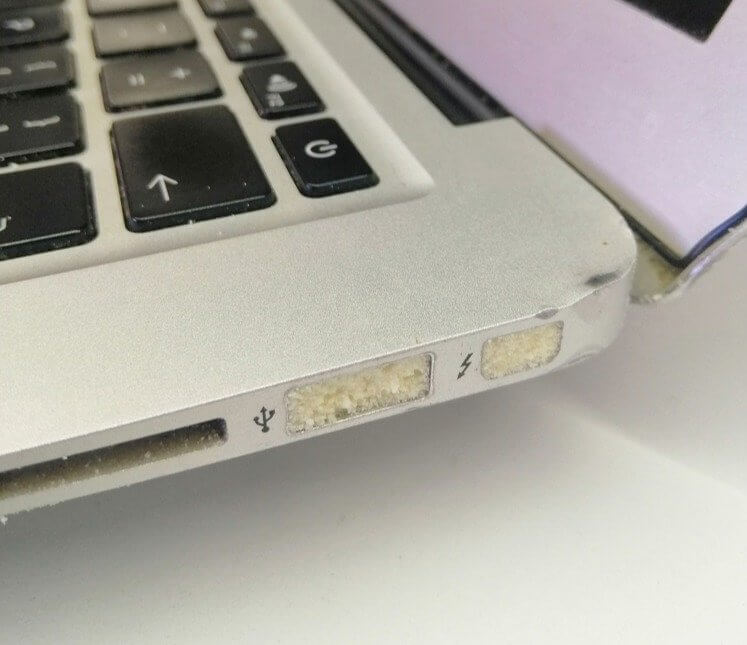 Butt this is the one joke we came up with, so it looks like we're all just going to have to sit here and pretend it's funny. Now, let's all laugh together at our ingenious joke: ha ha! Isn't this fun?
Boots Without Socks Should Be Illegal
This is actually a war crime in some countries. Now, we know that isn't true, but it definitely should be true. There's just no way this kind of thing should be legal; somebody needs to step up and fight for what's right, which is obviously non-transparent boots and also people wearing socks under their boots. Like seriously, who doesn't wear socks under their boots? That's just messed up.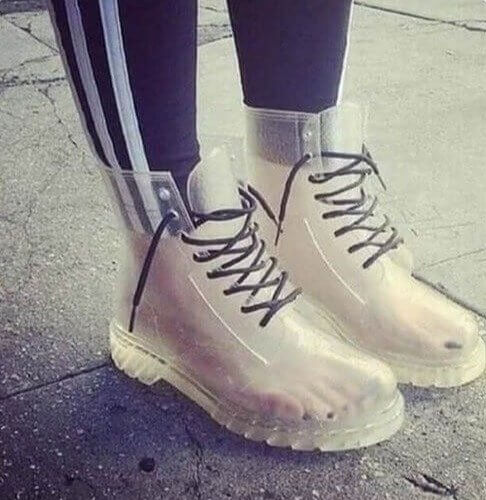 Those transparent boots really are something, though. It's almost sad to think that people bundled together and came up with this idea. People actually worked hard to make them real.
So We Shouldn't Worry About the Leopards?
So while the prospect of half-rotting deer bodies falling on you from the trees is indeed frightening (and not just in an "eww, that's gross" way - imagine getting smacked on the head by a freefalling deer carcass; yeah, that's going to be a first-class ticket to the emergency room), what's truly scary about this sign is the fact that there are leopards. Like, shouldn't there also be a sign for them?
So basically, what's going on here is that the real sign you're supposed to take heed of is what the sign doesn't say. Or, more accurately, what the sign mentions in passing.
It'd Be a Scary World if People With Curly Hair Also Had Curly Eyelashes
Curly eyelashes? Yikes! Imagine trying to blink with those. And forget about winking - you'd end up poking your eye out with a stray lash. And don't even think about fluttering those lashes to get someone's attention. You'd be better off just waving a giant flag. No, thank goodness we don't have to deal with those pesky curly lashes. Imagine the constant tangles and knots, not to mention the endless eye-poking.
Seriously, these make us cringe and not in an "oh, that's so embarrassing" way but in a "dear Lord, make it stop" kind of way (which is famously the worst type of cringe).
"if Friends Aired Today"
We're not sure what it is about the Friends fanbase that makes them so productive when it comes to making incredible memes and edits about them, but they certainly are prolific. In fact, they're downright preaching that show to almost everyone; we're sure the show wouldn't have attained such an acclaimed status without its passionate fans telling everyone and their mother that they should be watching it. Ok, we get it.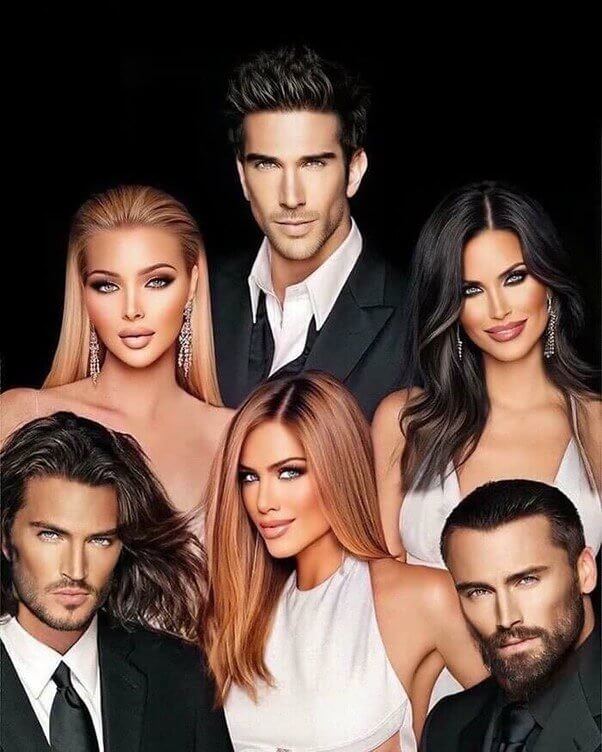 We do have to say, though, that as far as Friends edits go - this one is pretty nice. These guys look as though they married into the Kardashian family.
We Don't Even Like Making Eye Contact With People, Now We Have to Do It With Cars?!
This car brand found out that self-driving vehicles make people feel uncomfortable. So what did they do? They added eyes to the cars to make them feel more trustworthy to humans. We do not like this; we do not like this at all. We're not sure what it is about putting human faces on inhuman things that give off such a creepy vibe, but that's exactly what's going on here. Like, how could anyone ever think that this was a cute idea? It's terrifying!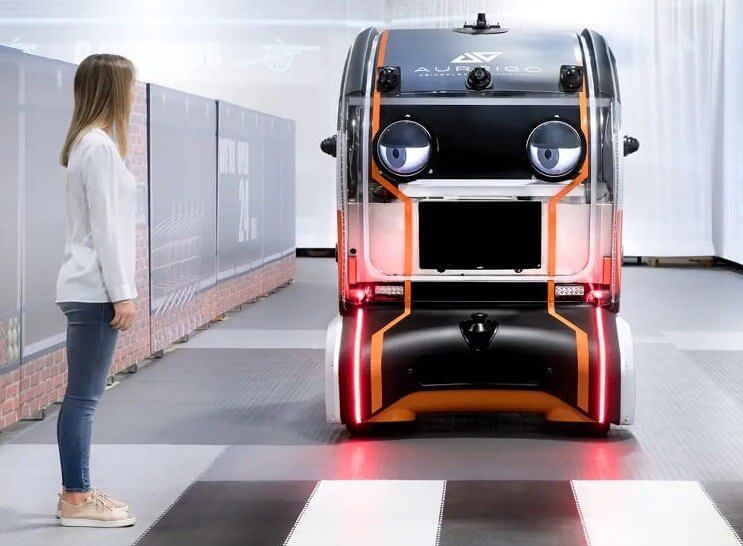 Also, why does the car look so unimpressed? Like, okay, sorry we didn't live up to your sentient motor-vehicle expectations. Sheesh, everyone's a critic these days.
This Isn't A Horror Film It's Just A Hairless Cat
Uhh... somebody should definitely do something about this cat. We're not sure what there is to do about it, but someone should really step up and do it. Like, there's no way this thing should be allowed to roam free. It almost looks like the grim incarnation of some kind of twisted fairy tale monster. That being said, it also looks like something straight out of a high-art exhibition.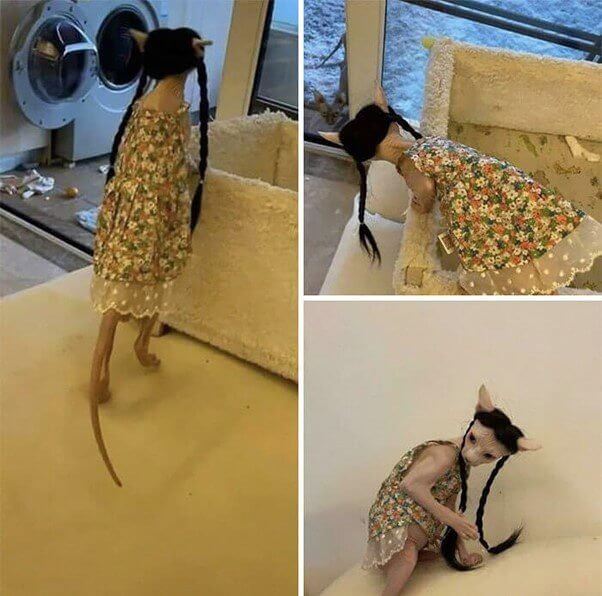 Or perhaps even a designer fashion show showcasing the latest trends in avant-garde fashion. There's something strangely beautiful about it; that's what we're trying to say.
The Easiest Banana Bread Recipe You'll Find
This may just be the most peculiar sandwich on the internet - it's just a bun with a banana in it. Talk about a "bready" situation! But seriously, we can't even begin to imagine what this tastes like. Is it sweet like banana bread or savory like a regular sandwich? Either way, we are not quite sure if we're brave enough to try one of these things.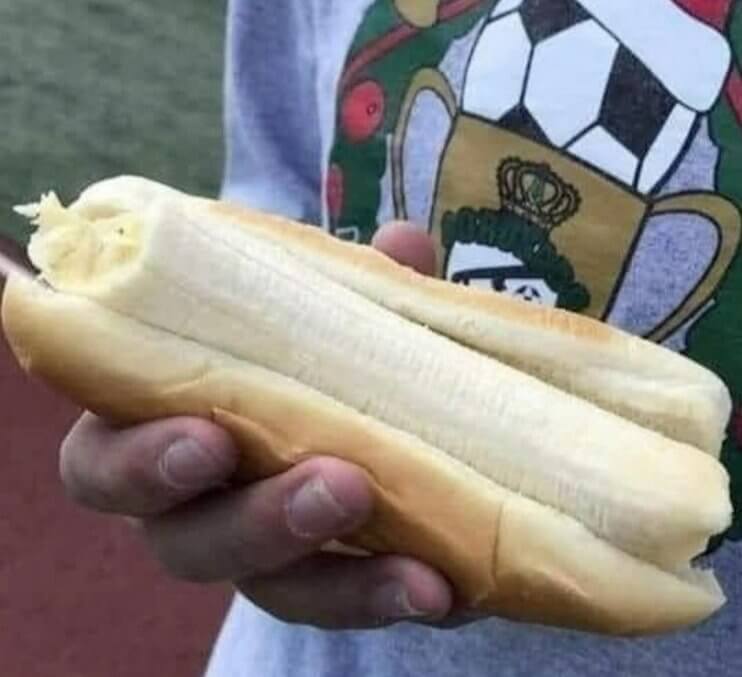 Look at that man, who rightfully obfuscated his identity so that people wouldn't hunt him down on the streets - he's just clutching that bun like there's no tomorrow.
"if Women Paint Their Eyebrows, We Can Paint Our Beards"
This is actually a fairly good point. Makeup and painting beards - It's like they're two sides of the same weird coin! On the one hand, you have women carefully applying foundation, blush, and eyeliner. On the other hand, you have men smearing brown paint all over their faces and pretending they're grizzled lumberjacks. It's like they're both trying to convince the world that they have something on their faces that they really don't.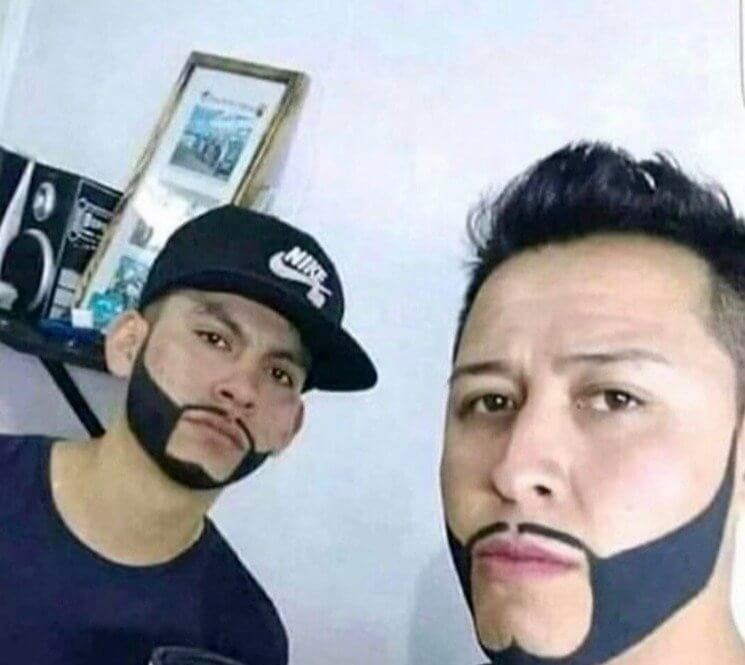 And you know what? It's hilarious. Like, who wouldn't laugh at the sight of a guy with a beard that's clearly been painted on? It's like a kids' craft project gone rogue.
Who Lives in a Pineapple Under the Sea? Not This Spongebob
Spongebob is more than just a curious little sponge - he's a calculating and sinister force who is always watching you. And he knows exactly what you're up to, no matter how hard you try to hide it. It's like he can see right into your soul, uncovering your deepest and darkest secrets and desires. And who knows what he'll do with that knowledge? Will he use it to help you or twist it to his own wicked ends?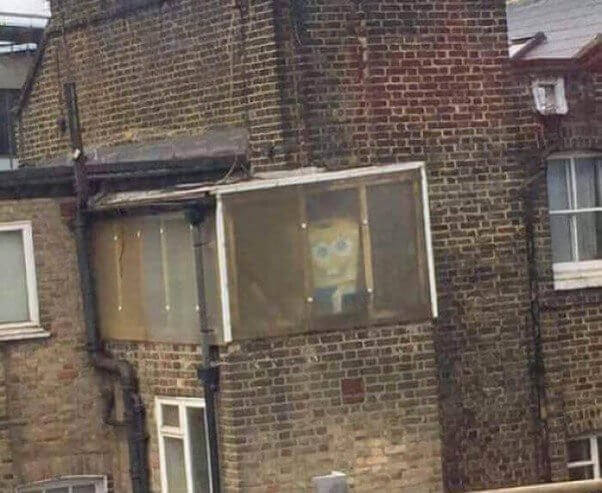 One thing is certain: you can never be too sure with Spongebob around. He's always lurking in the shadows, waiting for the perfect moment to strike. So be careful what you think around him - you never know who (or what) might be listening.
This Can't Be Good for You
You know, when the guy doing the narration for the Skittles commercials said: "Taste the rainbow," we're pretty sure this isn't what he meant. Like, this woman went ahead and made herself a living, breathing rainbow. In a way, it's almost respectable. But then again, she's probably going to have a hard time finding a normal office job like that. Can you imagine how funny her interviews would be? They'd be hilarious.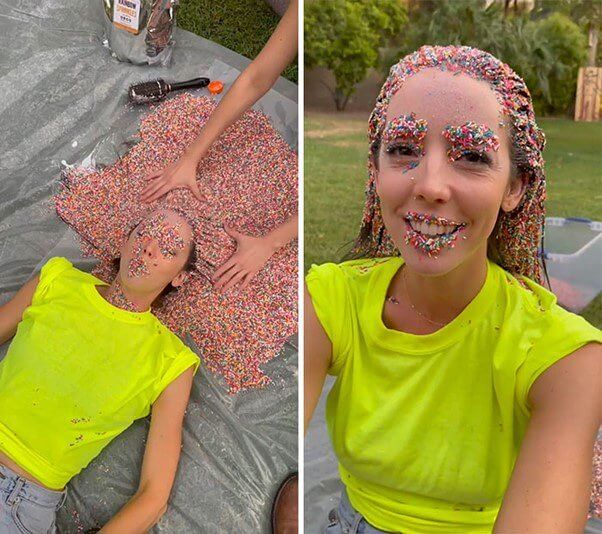 That said, we guess we should give her credit for staying loyal to her own aesthetic. Nothing in this world quite beats expressing yourself, even if that does come at the price of an office job.
Oh Good, We Always Wondered What a Cow X-Ray Would Look Like
We're not sure why the good people at the advertising and marketing departments of Mercedez Benz decided that we all need to see the x-rayed insides of a cow, but that's what they all agreed on, and now we're going to have to live our lives with this image burned into our unconscious. Now, sure, we'll probably forget about it. But that's only our conscious psyche. Who knows how this image will reshape the structure of our psyche?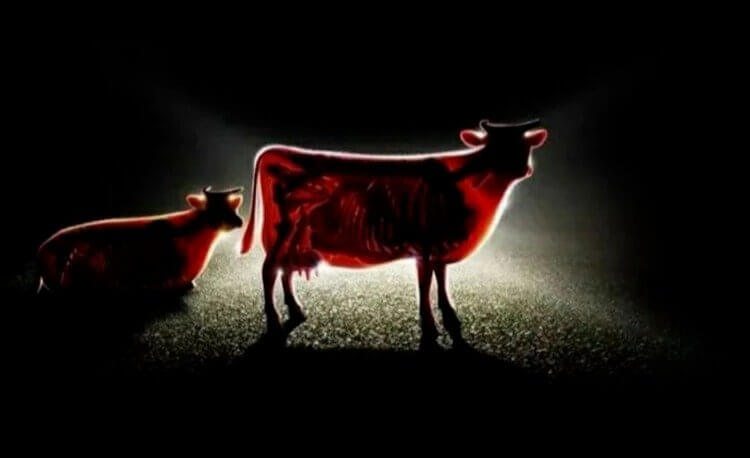 So we should all take a moment to thank Mercedez Benz for showing this to us. Thanks, Mercedez, for permanently altering the very fabric of our being with this one.
Don't Knock It Before You Try It
Now, you may look at this and feel a fiery need to put it down to make sure everyone knows just how much you hate this grotesque piece of fashion, but you really shouldn't be so critical of something you've never tried before. And if you have tried rocking a pair of cowboy Crocs before, we have this to ask you: how on Earth did you get into that situation?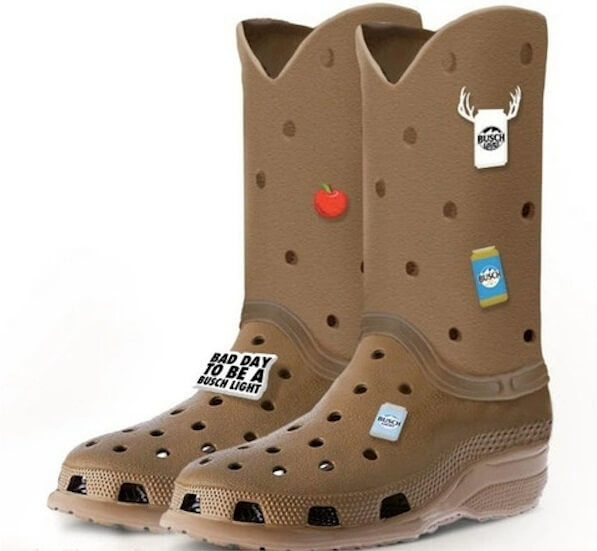 We, for one, love these. We would sell our souls to the devil just to own a pair of these bad boys. Imagine roaming Californian deserts with a pair of these.
Elon Musk, Matrix Audition
It's good to know that this billionaire rockstar turned Twitter CEO was always the edgy meme lord that he is today. Now, we're no Elon Musk experts, as some people definitely are, but we definitely get why he would want this picture off the web. It isn't very flattering. So let's all just take a second to appreciate just how funny this photo of him is.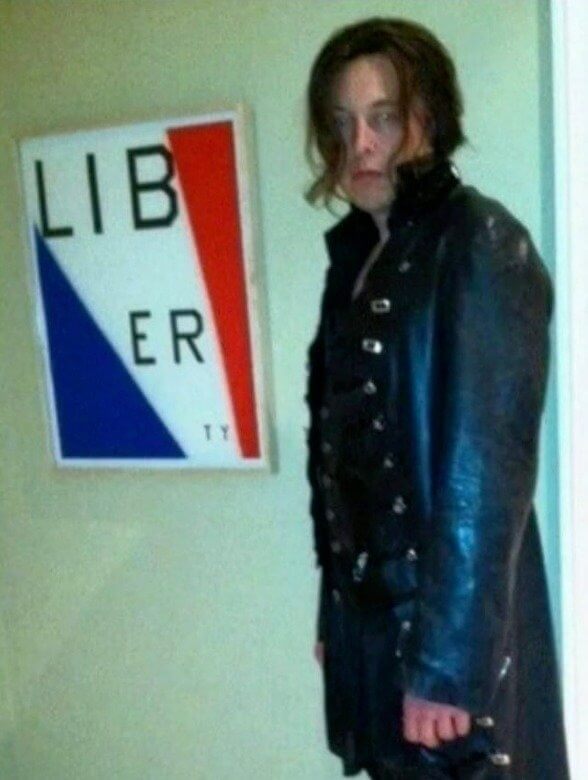 So, did we all get a nice look at it? A long, hard look at this totally unflattering picture of Elon Musk. Great, now we can move on with our lives.
One Possessed Nun Is Enough for Us, Thank You
There's nothing scarier than waking up in the middle of the night, somnambulating around your house in search of whatever (it's usually a toilet or a cup of water), only to be rudely awoken from your evening haze by the sight of something totally terrifying - a human figure, where one shouldn't be. Oh, but what's this? It was only your reflection. Thank god. But also - what the hell; how does this keep happening?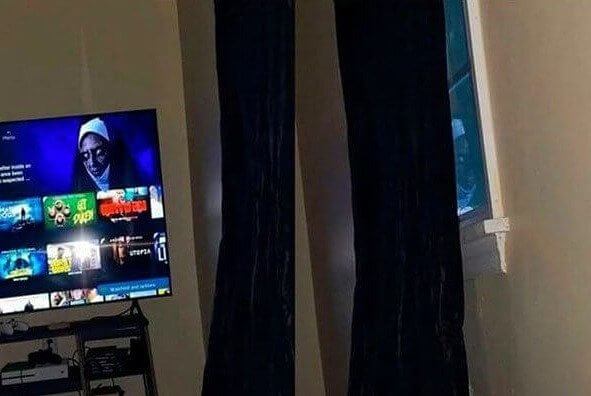 It's always terrifying. We're pretty sure god just made reflections in order to mess with all the different living beings in the world. Like, 60 percent sure.
Candle + Air Freshener = DIY Fireballs
If you've ever thought to yourself, "Gee, I really wish I could set something on fire with my Glade air freshener," then boy, have we got the solution for you! All you have to do is grab a candle and set it up right in front of your Glade air freshener. Voila! Instant fire! Now, you may be thinking, "But won't that cause the air freshener to release harmful chemicals into the air?"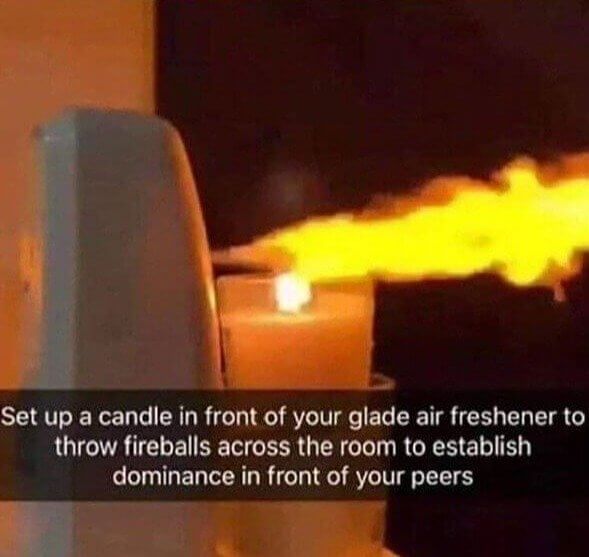 To that, we say, "Who cares? We're talking about fire here! The most dangerous and exciting element on the periodic table!" Just be sure to keep a fire extinguisher nearby because you never know when things might get out of hand (which, let's be real, is pretty much always when a fire is involved). Happy lighting!
Italians, Close Your Eyes
There's a new sheriff in town: and you're looking right at him. This revolutionary dish takes the traditional recipe and flips it on its head by using meatballs as the spaghetti and spaghetti as the meatballs. It's like something out of a sci-fi movie, where up is down and left is right. We can't even begin to wrap our heads around how this thing is made, but we're told that it involves ground beef, breadcrumbs, spaghetti, and a whole lot of black magic.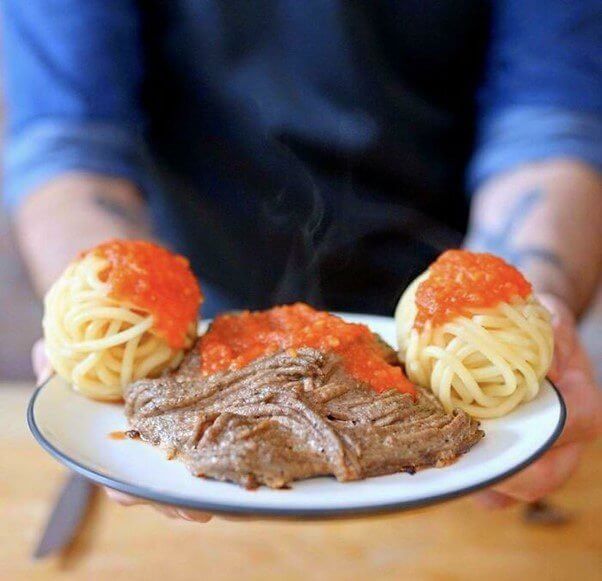 The end result is a bizarre but delicious creation that has gained a cult following among foodies. It's the kind of dish that you have to see (and taste) to believe. Trust me, your taste buds will thank you. Or maybe it won't.
It Turns Out This University's Emotional Support Geese Weren't a Good Idea
This university brought "Wellness Geese" to campus to help students stress levels during exams. But things didn't go as planned. You don't want to be there when the wellness geese attain class consciousness and start fighting for the universal rights of all geese, and if we are to go by the looks of this picture, it seems as though the revolution has begun. And the first to go down are the students.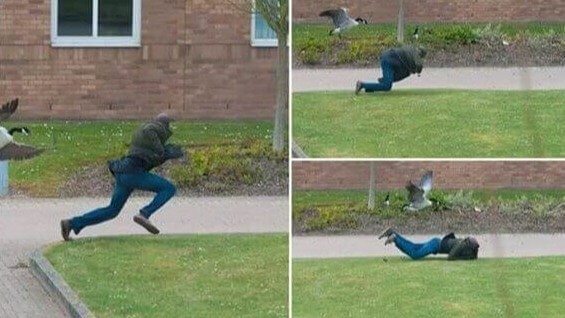 Now, though the revolution may not be televised, it sure as hell may be photographed and uploaded to the internet as a meme.
This Mars Bar Is a Crime Against Mars Bar
A veinless Mars bar? What's next? Supriseless Kinder Surprise Eggs? Flakeless Lion Bars? Single-sided Kit Kat bars? Seriously, this is a total travesty, a crime against the culinary capital of the world - chocolate bars. Which also makes it a crime against humanity at large. We demand an explanation - someone needs to take responsibility for this; we will not just stand here while this veinless Mars bar roams free.
At this point, it might as well just be a Snickers bar. That's just how bad this situation is; there's no use in a veinless Mars bar. It's just sad to see.
Picking the First Place Winner Was Clearly an Easy Call
The world of art is truly incredible. Some people spend years perfecting their craft, honing their skills, and working both day and night tirelessly just to get every single detail of their beloved work right. Others, however, have a much more casual relationship with their work. Sometimes, they don't even put that much effort into it at all. What's funny is that none of these approaches is inherently better than the other.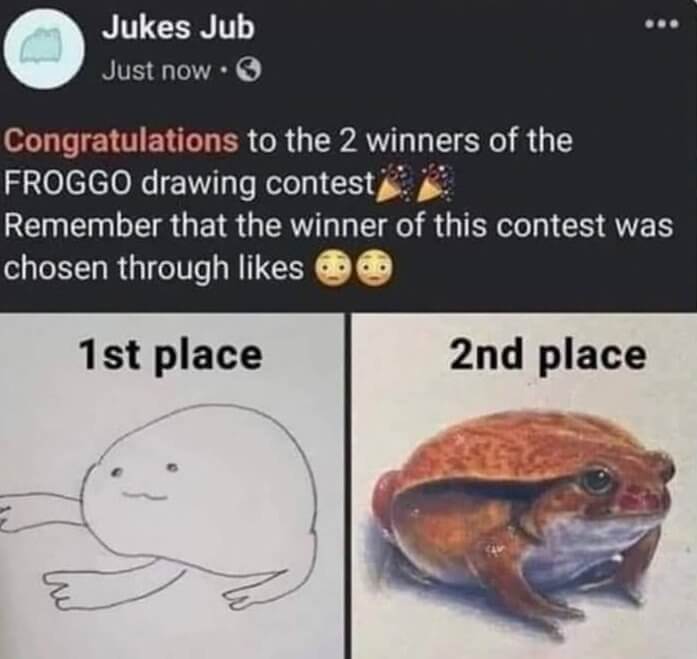 This photo right here of the two frogs that were entered into the FROGGO drawing contest is proof of just that: sometimes, the really goofy and basic thing resonates more with people.
A New Master Race Would Ensue
What we hate the most about this is that the person who commented that the two (as in, every creature in Australia and every Florida Man) would breed may just be right. That's just how incredibly screwed up all the Florida Men are. Like, what's going on there? Is it something in their water that's making them act out in such a headline-breaking fashion? Can't the people of Florida just be normal?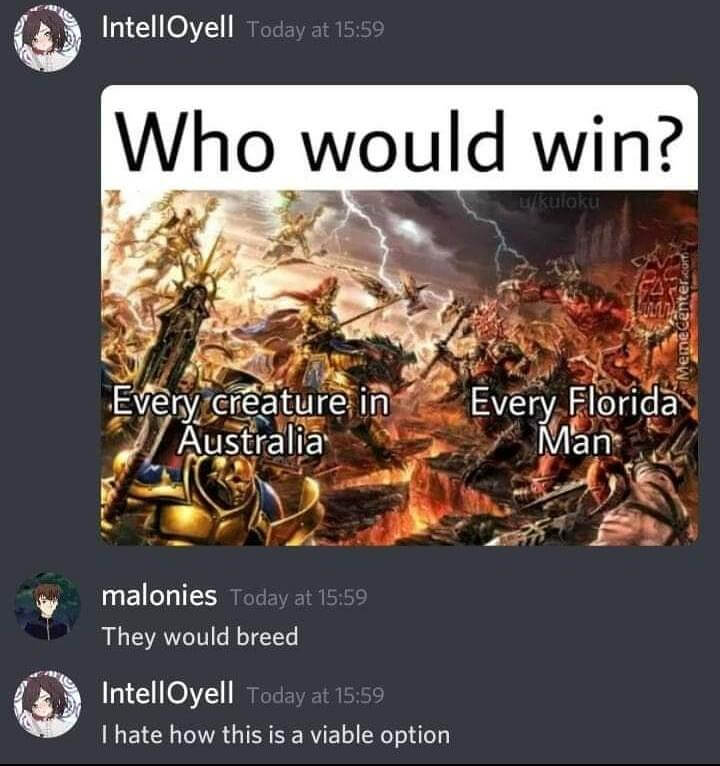 Whatever it is, if you didn't know, now you know: keep away from Florida if you're not the type of person who can stomach some incredibly strange stuff.
This Feels so Wrong
Uhh, this makes us feel as though we're having a stroke or something. The combination of familiar logos that just don't add up because they're all representing the wrong brands is definitely enough to make us feel as though we were going insane. That Ikea-Nike one, in particular, has got us feeling all types of ways. We're pretty sure that if we were to look at this long enough, we'd achieve some sort of Zen enlightenment or something.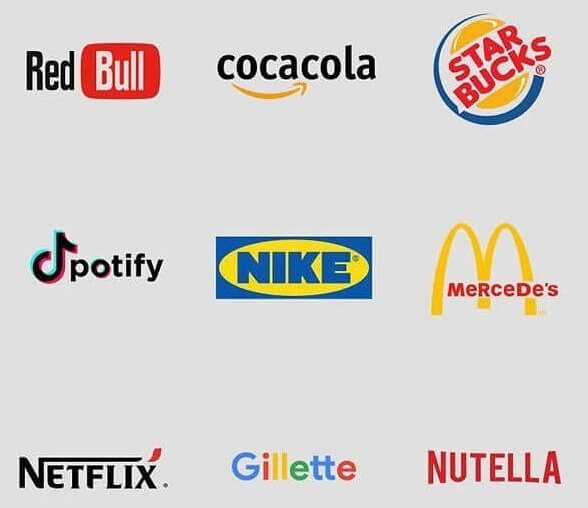 This is the kind of image one meditates on until attaining holy insanity too. That's just how hard this picture goes.
Your Blind Date Brings 23 Family Members With Her - What Do You Do?
Listen, we understand that for some people, being in a relationship with them also means being in a relationship with the entire family. But you got to take things one step at a time! This woman learned that the hard way after showing up to a blind date with 23 of her closest family members. Not surprisingly, the bill added up to a total of $3,100. Also, not surprisingly, her date refused to pay for it.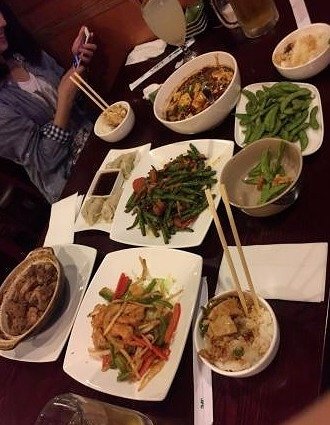 Looks like you reap what you sow, and in this case, it seems as though this woman sowed approximately 3,100 bucks worth of food. Good luck reaping that.
Yes, This Is Photoshopped - But It Still Freaks Us Out
Click baits - whether you love them or hate them, you can't deny their effectiveness. What's truly strange about click baits are, however, just how bad they are. Like, one prolonged look at this image, and you can tell that it's clearly photoshopped. It might even be a photoshopped image of Niagara Falls. And yet, in the heat of the moment, something like this would totally work for us. But that just might be us.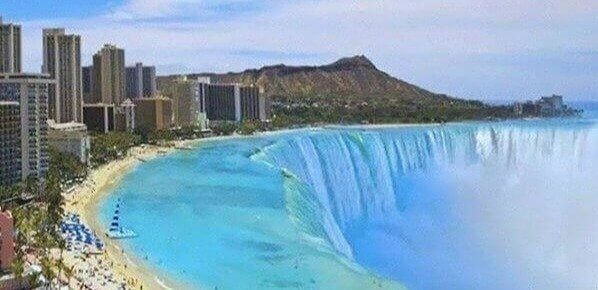 So we have got to hand it to the person who made this. Sure, he may have done a bad job, but he certainly did enough to get us.
Can't Argue With That Logic
It's strange how people can make such little sense and yet, at the exact same moment, be totally right. This poster is obviously wrong - in no hypothetical timeline is a coconut a mammal. And yet, he's also totally correct - coconuts do give off very strong and intense hamster vibes. That much isn't up for debate at this point. Guess this is what your brain is like when you're terminally online.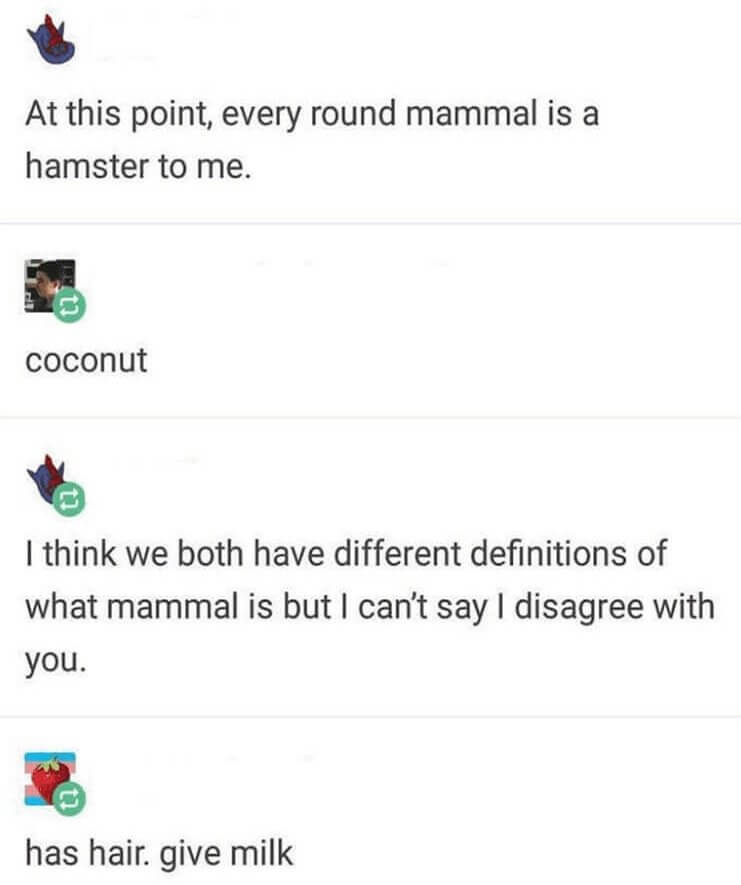 But the funniest thing about this picture is the closing argument: Has hair? Give Milk? Yeah, we guess there's no arguing with that, is there? Not from our standpoint, there isn't.
One of the World's Most Pressing Issues
Wars, national tensions, recessions, an energy crisis, inflation, social atomization, the fragmentation of culture - all these don't matter when you compare them to this. This has got to be the most urgent dispute of our time, and the thing is, is that we weren't even aware of its existence until but a moment ago. Truly, our entire world has been shaken upside down. Who knew such newsworthy drama was taking place right under our noses?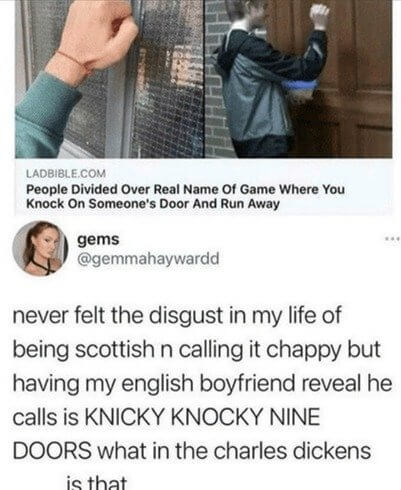 Who even knew that this game had so many names? Guess that makes sense, though - it's just one of those games that every group of kids just kind of comes up with on their own, so it having a bunch of different names makes sense.