Have you ever experienced something incredible in which the actual chances of that happening were slim to none? Believe it or not, amazingly rare encounters have been captured and shared across the internet, including those moments of pure luck. Some of these people have experienced the unbelievable while surviving inconceivable odds and have even shared those stories online. Keep reading to see rare occurrences that were near impossible, where a combination of coincidence, chance, and luck created the rarest circumstances.
She Found Her Cat After a Tragic Tornado
This woman lost her cat after a big tornado destroyed her home. They likely lost hope when it came to searching for the furry one, but thankfully, it was found by its very own owner sixteen days later. You can almost feel the relief for both the owner and the cat. It must have been traumatic, but the cat was hopefully able to get back to full health a short time after the rescue.
The tornado was a strong one and left destruction in its path. This cat was so lucky to have survived the event, only to be found more than two weeks later. Her face practically says it all.
Man Saves a Woman With His Own Invention
By using The Heimlich maneuver, a ninety-six-year-old man amazingly saved an eighty-seven-year-old woman from choking to death. If that miracle wasn't incredible enough, it turns out that the hero's name was doctor Henry Heimlich. That's right, the inventor of the Heimlich technique. He may have saved this woman's life, but his incredible technique has truly rescued so many people all around the world. Someone was even there to capture the moment.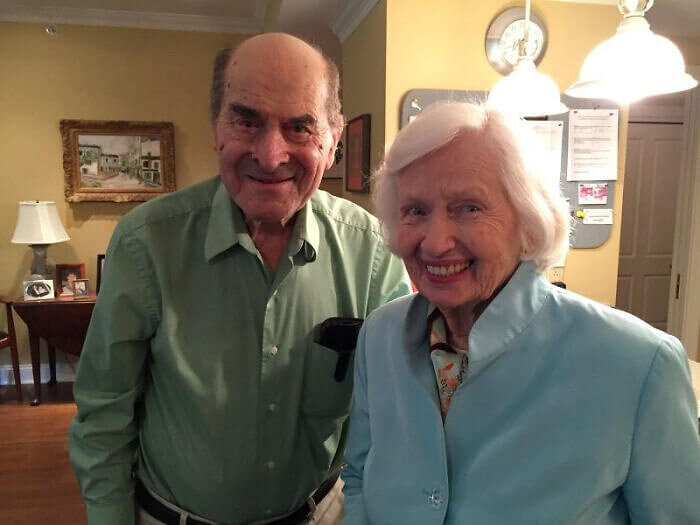 To make the matter even more astonishing, this was reportedly the first time that doctor Henry Heimlich used his own technique during an actual emergency situation. Needless to say, they both look relieved.
Man Narrowly Avoids Being Crushed
This man was driving down a street in his car during an intense thunder and lightning storm. A tree in front of him was suddenly struck by lighting. This caused the tree to collapse onto his oncoming car, which ended up being completely destroyed. He was so lucky to have survived as the tree just missed the driver's seat. This person was seriously given an incredible gift of luck that can barely be explained.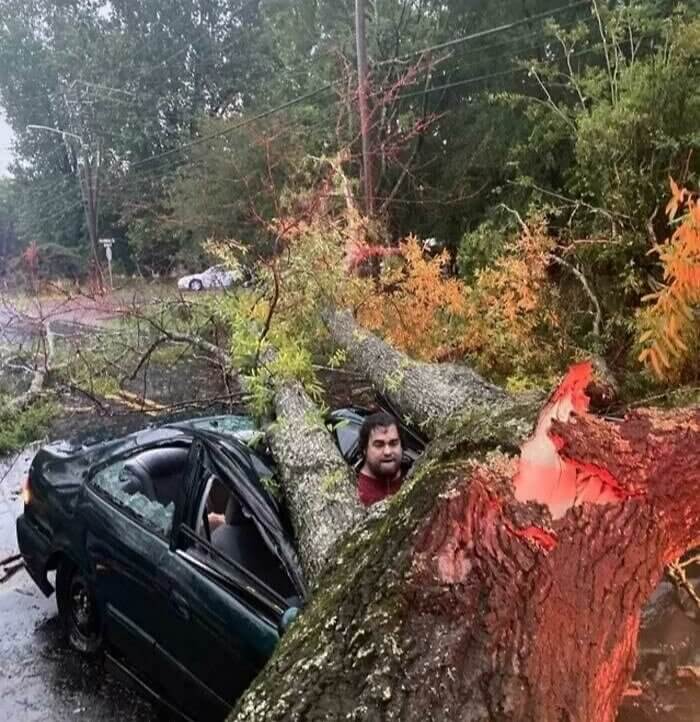 Car accidents are scary events that unfortunately happen way too often. This guy was so incredibly lucky to have come out of this insane situation and lived to tell the story.
Proof That Good Deeds Always Bring Good Things
A premature baby boy was saved by a pediatrician names Dr. Shannon back in 1981. He only had a fifty percent chance of survival and was born weighing about three pounds while having to be cared for by the doctor around the clock. Years later, that same doctor was involved in a serious car crash, resulting in him being stuck inside a burning vehicle, where a paramedic rushed to his rescue. The life-saving paramedic turned out to be Chris Trokey, the baby the pediatrician saved in 1981.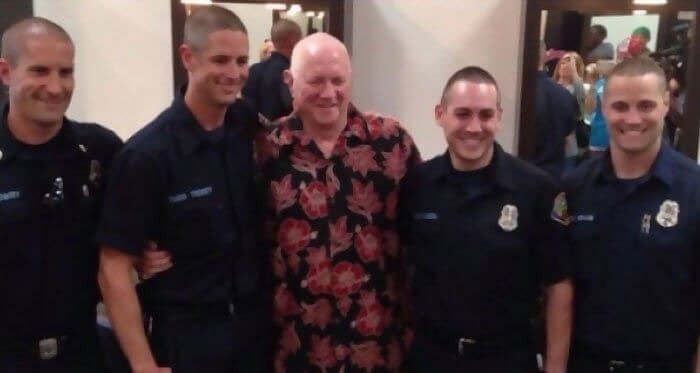 Stories like can this one truly make anyone believe that everything happens for a reason, at least for a moment. Both fate and good karma seriously worked together to save these two lives. 
This Reunion Was Accidental
in 2013, A woman named Anais Bordier saw a Youtube video where another woman named Samantha Futernamn was acting. Anais suddenly realized that Samantha looked just like her. She decided to message her personally and soon discovered that there were both born in South Korea on the same exact day and were even adopted around the same young age. After the meeting, they both decided to take a DNA test.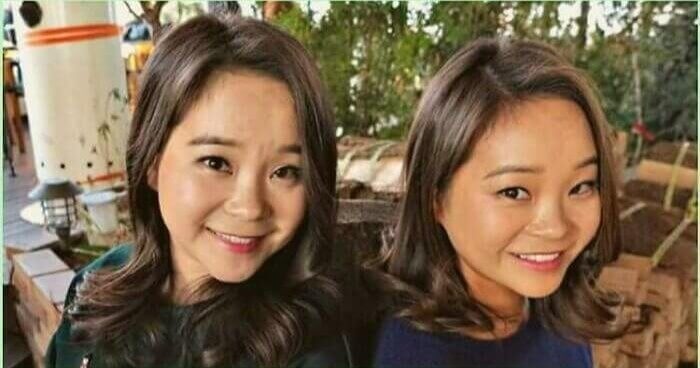 The genetic tests later revealed that the two were, in fact, identical twins. They were separated at birth and simply found each other through sheer coincidence.
A Mullet Fish Wrapped in Gold
A snorkeller was on a standard dive and was taking pictures of the wildlife below when he found this. A lost wedding ring was wrapped around a mullet fish. This was taken off the coast of Northfolk Island, where these types of fish typically pass through. It even seems like the fish kind of grew around the ring, which potentially could have been there for quite some time without anyone actually knowing.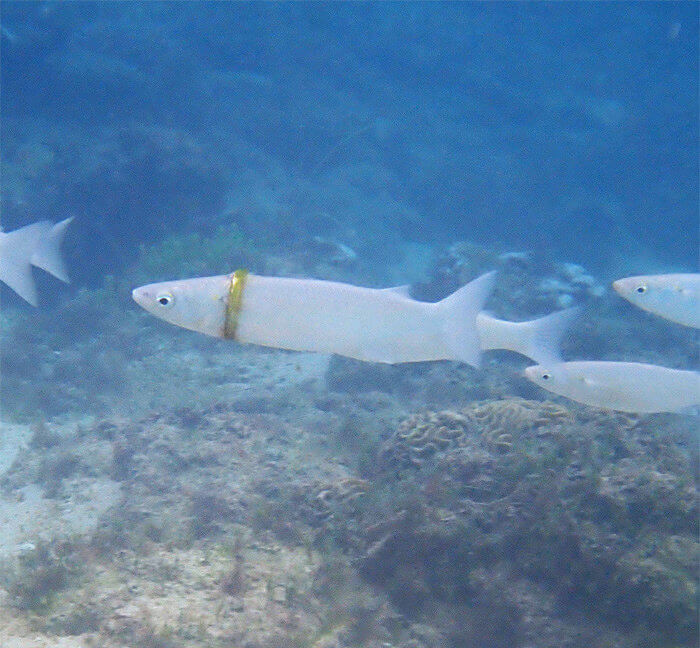 Maybe this scaley guy and ringmaster knew exactly what he was doing and was simply on his way to propose as a random diver took this picture. 
Fisherman's Random Find Makes Him Rich
A fisherman in the Philippines got stuck on a rock when a random storm hit as he was fishing. He thought that the rock was pretty unique and decided to bring it home as a good luck charm and then stored it underneath his bed for the next ten years. Unfortunately, he lost his house in a massive fire and the only thing that survived was his very special rock.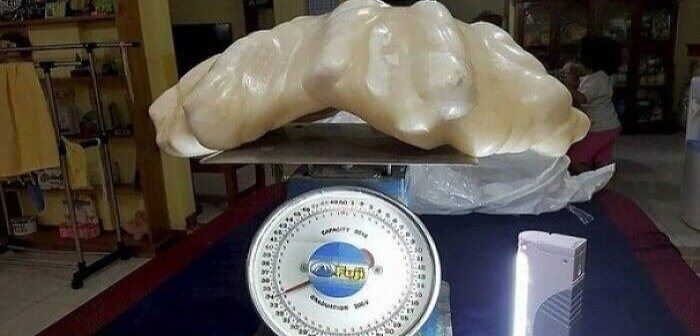 The rock was actually the largest pearl ever found. It turned out to be valued at one hundred million dollars. Surely, he was able to quickly build a new home with his newfound fortune.
Shark Helps Solve a Murder
This one is just unreal. A Tiger shark was put up on display in Sydney, Australia, after it was caught by a group of fishermen where it vomited an entire human arm. After a shark expert examined the limb, it was discovered that the shark didn't bite it off itself. Due to the evidence, it seemed that the arm was cleaning removed with a blade before being consumed by the shark. The arm also had a unique tattoo on it.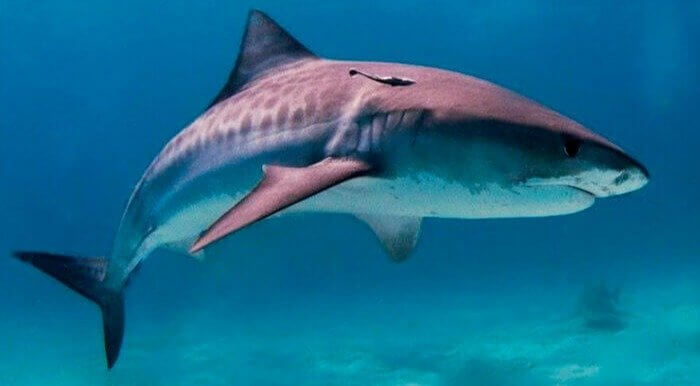 The tattoo revealed that it belonged to a man who actually went missing a few weeks earlier. This resulted in a murder investigation being solved, and the criminals were arrested a short while later.
Man Survived Being Stuck to a Truck
A disabled carpenter experienced a traumatic situation when his electric wheelchair got stuck on a trailer truck. He was lodged into the vehicle's grill and was accidentally pushed down a highway for several kilometers. The truck was even going at a speed of eighty kilometers per hour. Somebody eventually noticed and called authorities for help, who then rescued the guy by removing his wheelchair from the front of it. He made it out without a scratch.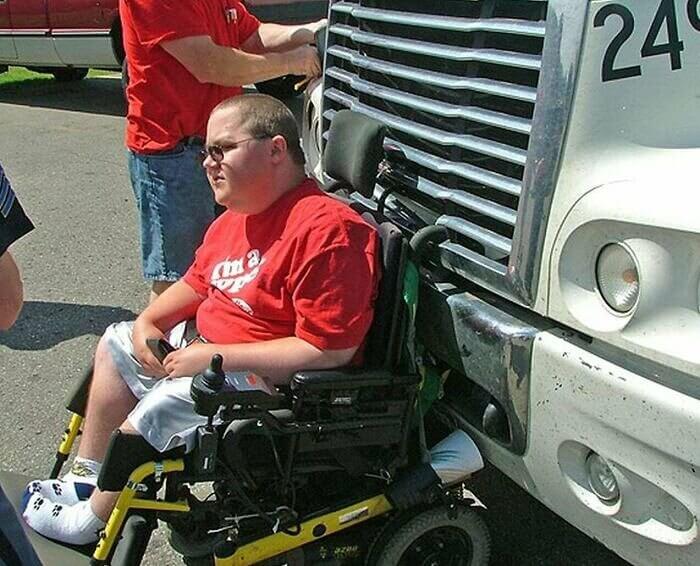 Amazingly, this guy survived the incident completely unharmed and ended up being okay. He's so lucky because that could have truly ended badly for both him and the driver of the semi-trailer.
The World's First Hero Bird
Often, we don't really tend to see birds as heroes. Typically, they're annoying, and the only relationship they have with cars is when they decided to use our windshields as a toilet. Especially seagulls, they're the worst and have no issue with stealing your food, but this one is different. He happened to fly in front of the traffic light camera at the perfect time, saving this driver from getting a three hundred dollar fine. This person has some thanking to do.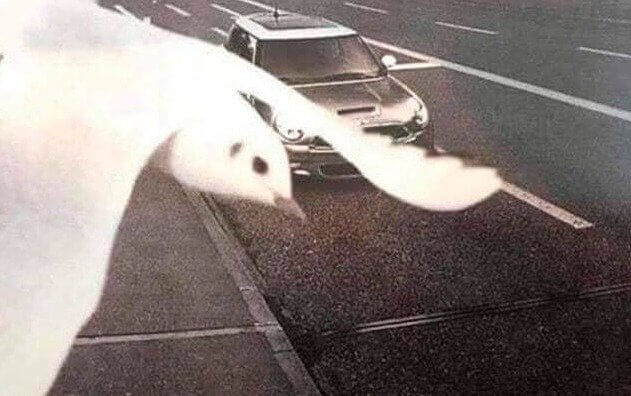 Sometimes, something incredible happens just because everything seems to be at the right time and place. That's also how disasters can occur, but this potential one ended up working out just fine.
This Cat Is Knew Exactly Where to Sit
The chances of coming across something like this and being able to capture it while sharing it with the rest of the internet are slim to none. Everything about this cat is on point, with the lion that represents the bank. It even has the orange tail to prove it. The animal also seems to be almost as prideful as the lion as he sits up there and represents the bank.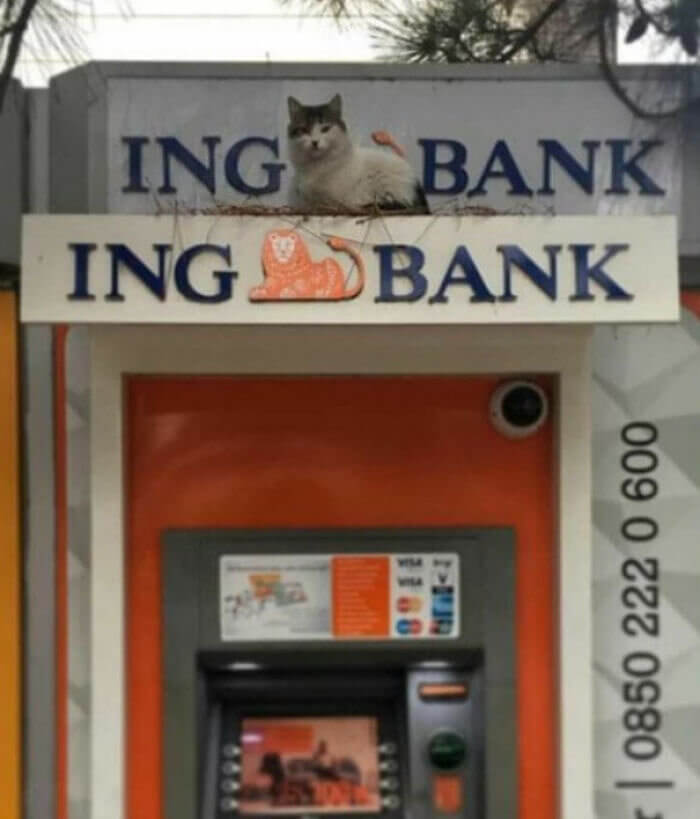 This cat might be a paid actor and seems to be doing an excellent job as he has practically been hired for the role. It's not a lion, but close enough.
Owner Sees Their Cat on Television
A cat owner was watching television when there was a program playing about their local animal shelter. The focus of the show was on a cat named Alys, who they actually adopted event months before the story aired. Thanks to the show, Alys' new owners were actually able to discover where their beloved pet came from for the very first time. Which isn't something most owners actually get to discover.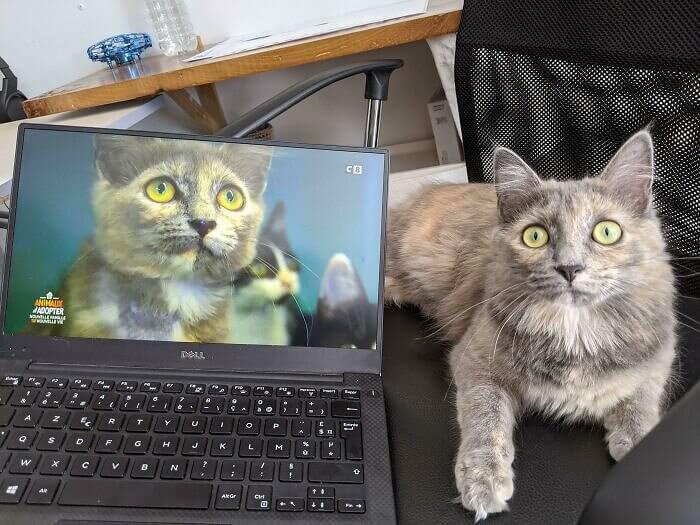 Of course, these new cat owners were utterly in awe of what they were watching, and Alyse even sat right next to them the entire time that the show was playing.
The Same Whale, Thirty-Five Years Later
This whale was captured thirty-five years apart in the exact same location, which was off the coast of Mexico. The first picture was taken in 1985, and although it's in black and white, experts were still able to determine that the whale was injured. The second picture was taken in 2020, where it was swimming in the same exact location. This is incredible, primarily due to the fact that whales are famously big travelers.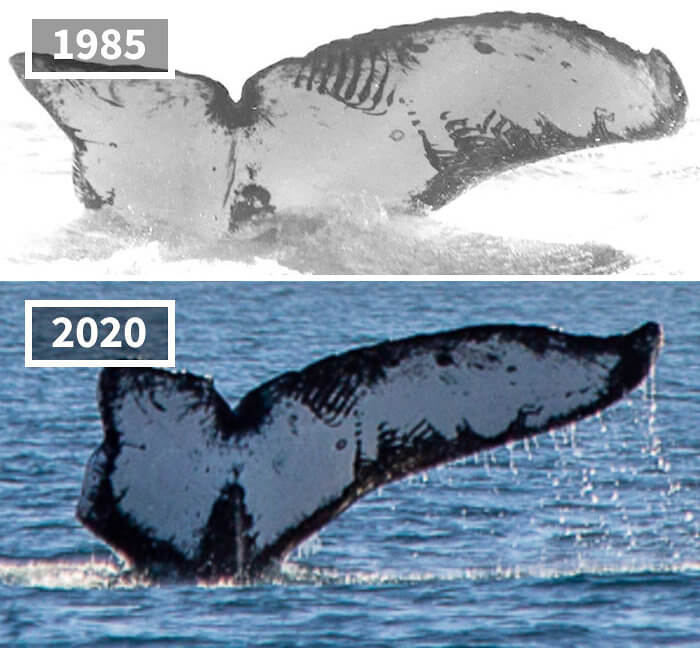 Photographers and scientists were able to realize that this was the exact same whale after analyzing the markings on its tail. This is truly astonishing; it's almost like fingerprint identification.
Most Survived Lightning Strikes
The record holder for the most survived lightning strikes ever is Roy Sullivan. He was struck countless times. Once in a fire lookout tower, in his truck, in his front yard, and in a ranger station. Also, twice while he was driving away from the storm and while fishing in a freshwater pool. Right after the eleventh time he was struck, he had to fight off a bear with a tree branch.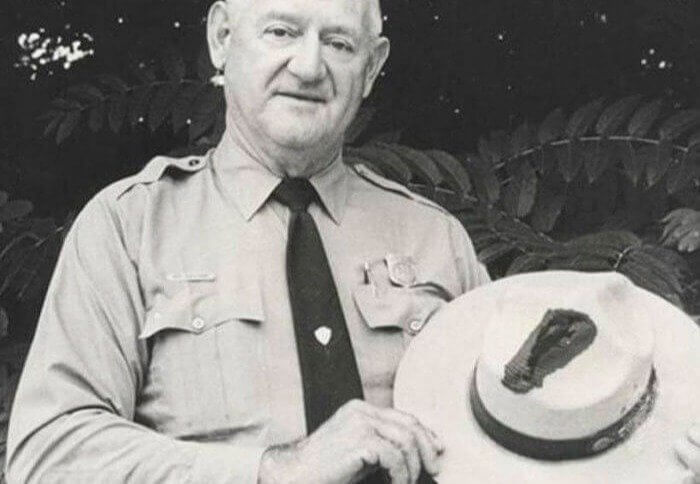 This guy must basically be lighting proof, but the universe really seemed like it wanted to test him. Honestly, he might be the only actual superhero that exists outside of Hollywood.
A Cat and It's Secret Life
This cat owner went to feed their cat and a surprise came when they went to turn the can around and soon found a picture of a cat that seriously looked identical to theirs. Maybe it's simply chance, or perhaps this cat has a complete other secret life that its owner just knows nothing about. Only one of those options is likely, but we'll go with the second one for laughing purposes.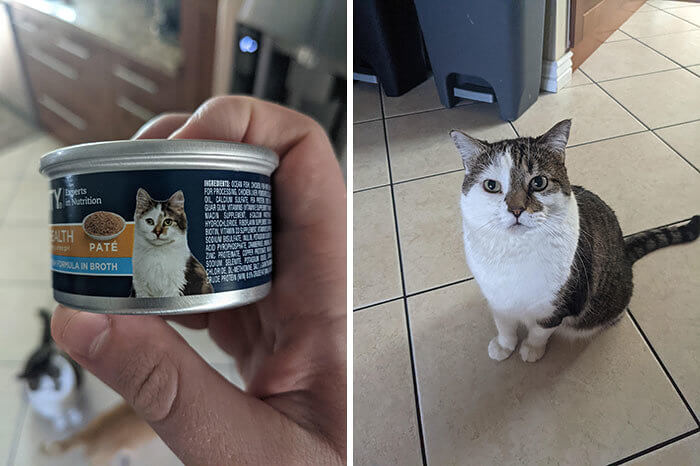 This cat has some very special and unique markings on its face, so it's super coincidental and funny that there was an exact copy of it pasted onto the can of food.
Similar but Separate Twins
These men are known as the Jim twins; they're identical but were separated at birth. They were both adopted by families and went on to live their lives. Both were named James by their parents, and divorced women named Linda. Both remarried women named Betty, and each had a dog named Toy. To make things even more incredible, both named their son James Allen. They weren't reunited until they were thirty-nine.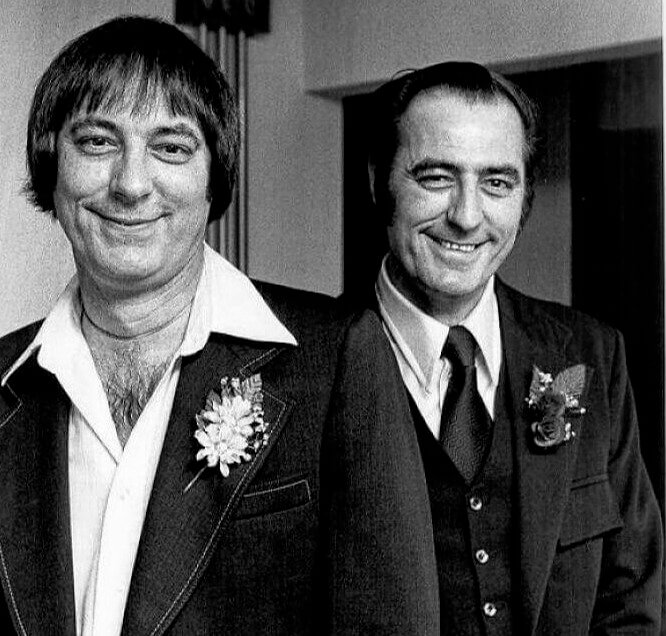 There is no question here that nature simply ruled over nurture in their situation. This is truly a mind-blowing story that would seriously be the perfect movie plot.
What Are the Odds
Someone happened to walk outside following a storm and captured this astonishing and beautiful image. The rainbow is gorgeous in itself, and it even looks like a flash of lightning is striking it. Nature truly works in wondrous ways which we'll never be able to understand, and this picture is genuinely representing that. It's not hard to imagine the amazed look on this photographer's face after they saw this.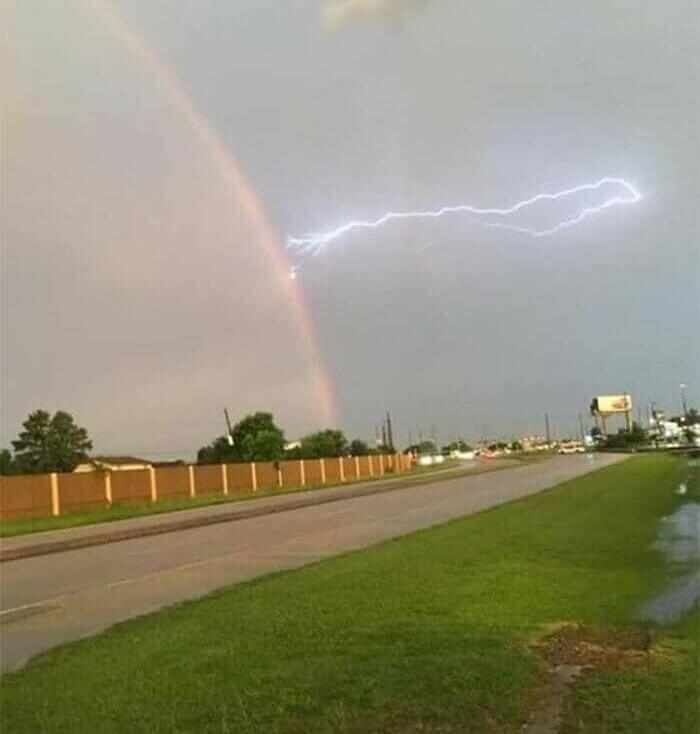 The chances of capturing a rainbow and lighting on its own are super rare, so we're not even going to try to figure out the statistical relevance of this picture.
The Most Photogenic Fish
Someone was out on a boat and wanted to take a picture of the beautiful landscape. That picture didn't actually turn out as initially intended; in fact, it came out better. The fish jumped out directly in front of the camera and created this funny image. This truly might be the first fish selfie to ever exist on the planet and deserves to be both hanged and framed for everyone to see.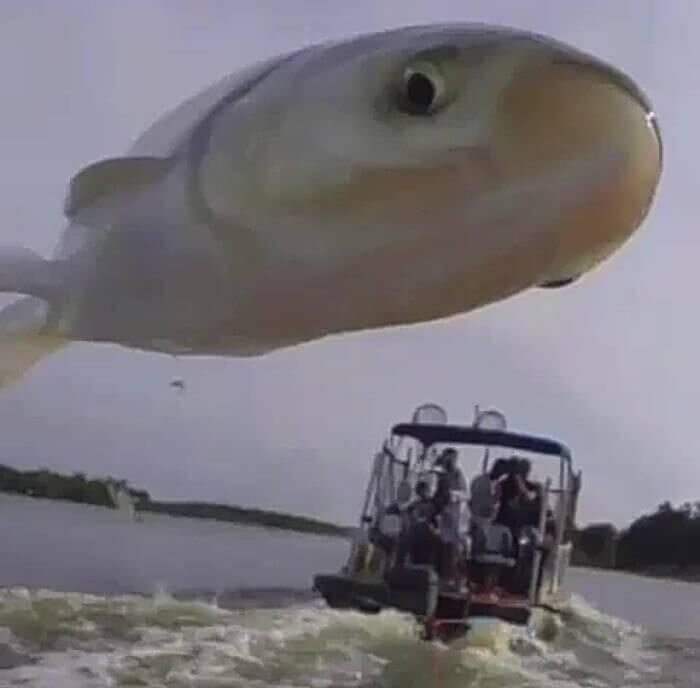 We all know about photobombing people and, of course, animals, but a fish is certainly a new and unexpected added addition. He just wanted to be part of the picture.
An Unexpected Reunion
These two women lived utterly different lives, and happened to both be looking for a nursing job. They were hired within months of each other to work the same shift, on the same floor, and at the same hospital in Florida. Just a short time later, they realized that they were long-lost sisters from Korea who had been separated for nearly forty years. Sometimes, fate works in mysterious and beautiful ways.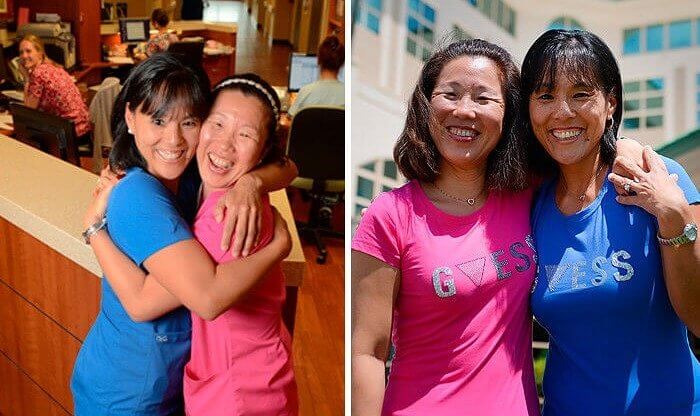 The story of these long-lost sisters randomly reuniting at their place of work is a sweet one. You can seriously feel their happiness shine through as you look at these pictures.
Keanu Reeves Wore the Same Shirt
Actor Keanu Reeves is seen with the same fans in two different pictures that are three years apart. Things almost look the same, mostly because he's wearing the same exact shirt. It's possible that this was a total accident, or the actor might have repeatedly worn the red-hearted shirt intentionally. Either way, it still makes for a really cool pair of pictures for these Keanu Reave fans. So cool that they went ahead and shared it on the internet.
Sometimes, actors will wear the same clothing in order to throw off the paparazzi. It's a popular and common tactic in Hollywood. Or Keanu just simply really loved that shirt.
They Got Photobombed by a Bee
This group of friends simply wanted to take a beautiful picture by the water and didn't necessarily know that a bumble bee was going to be part of it. They can be pesky creatures that love to get in the way of things, but not often do they show up in the middle of a photo. Truthfully, this picture is adorable, and we're glad that the little guy got to be a part of it.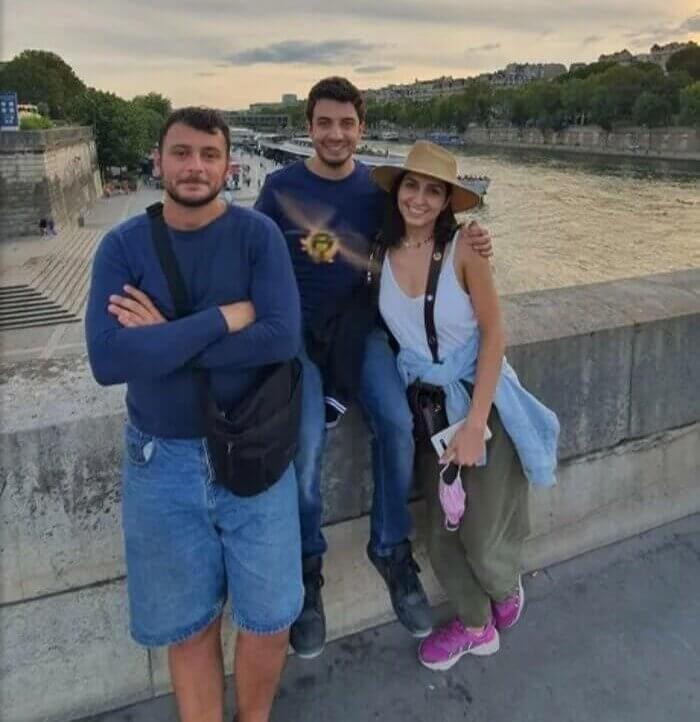 We're not going to lie; this bee seems super proud to be part of this group photo and pretty much has no shame. He even appears to be posing in the perfect position.
A Perfectly Lined up Rainbow
The sun shined and created a rainbow through the kitchen window, which then lined up perfectly on the stove. It was so perfect, in fact, that each knob of the gas stove was glowing in different colors. It's almost created an illusion where it looks like the knobs were painted that way, but it's actually just the incredible work of the sun. It's common for light to create cool things, but a perfect rainbow is rare.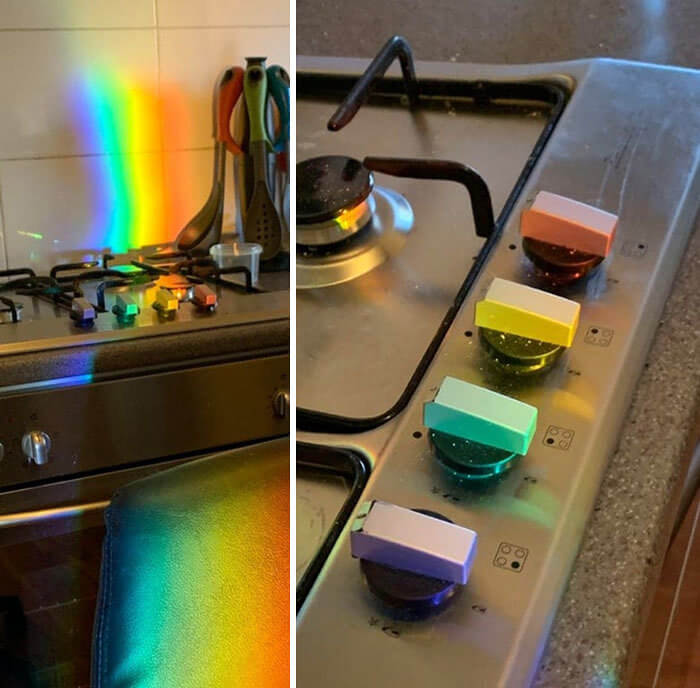 Rainbows are beautiful, and the fact that it's shining on a stove makes this picture even better. This is surely a really great view to come home to after a day at work.
Three Generations of Twins
Twins are generally a rarity, but it is a genetic trait that can be passed down through the bloodline. This family photo of three generations of twins is evidence of that. They even all happen to be identical, if you couldn't tell. Most of us would have to look into the mirror to see an exact version of ourselves staring back at us; these guys certainly don't have to do that.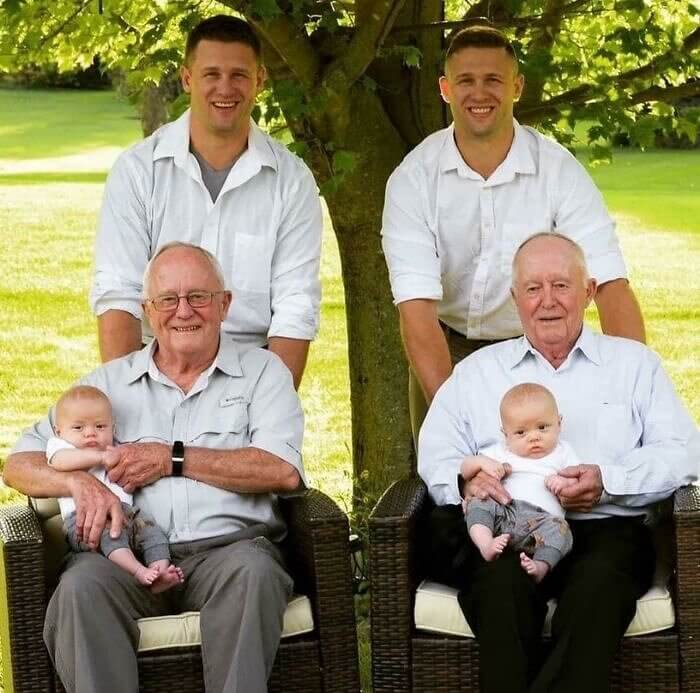 This picture is so unbelievable that it almost looks like it's the result of photoshop. We can confirm that this is, in fact, real and that these guys do happen to be one big happy family.
This Building Fell Fully Intact
An apartment building in Shanghai, China, suddenly fell over and seemed to remain mostly intact. It was actually a building that was still under construction, and something clearly went wrong when it came to building the foundation. From up above, where this picture was taken, it does look like it simply tipped over while remaining fully put-together. It's almost as if a big gust of wind hit and just entirely knocked it over.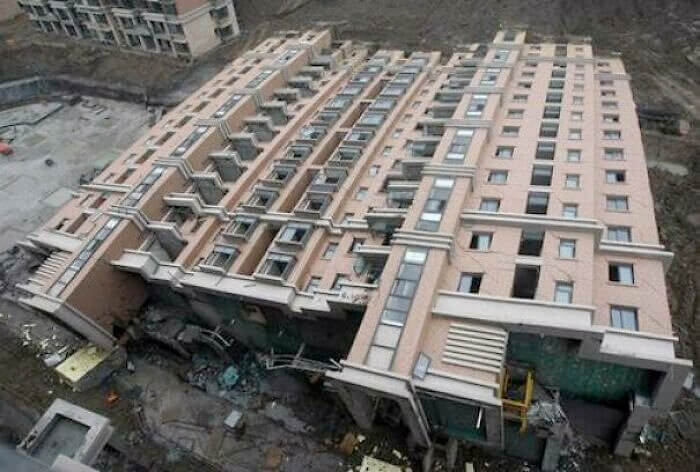 Sure, this building remained primarily intact, but that's at least from the outside. Inside is likely nothing less than a disaster. Hopefully, nobody ended up getting hurt from this unfortunate event.
A Bubble Looks Like It's Floating
Bubbles are fun things to look at on their own, from the way the light shines through them and then, of course, being able to pop them ultimately. This is a bubble that got stuck on a strand of spiderweb that was hanging from someone's ceiling, and it looks really cool. It's almost like this bubble is floating in one place or that a spider simply built its web through it.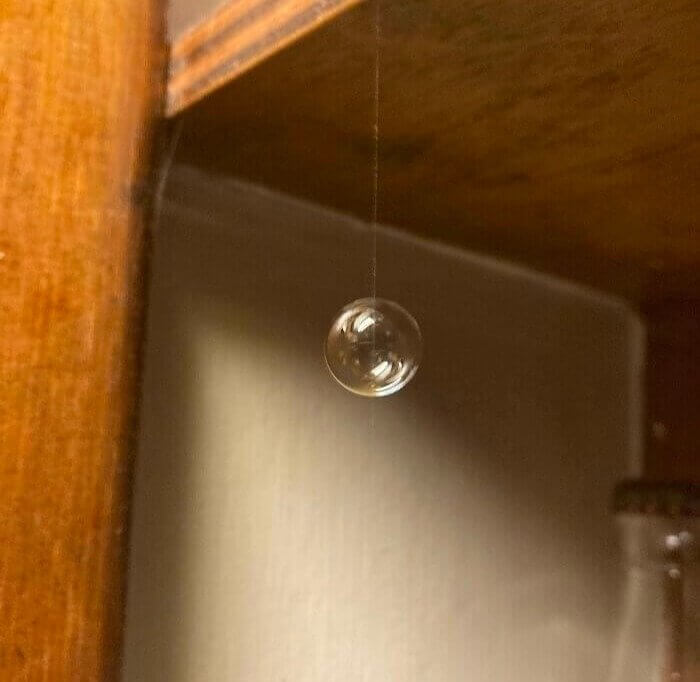 This bubble happened to fall into a perfect position where a string spider-web was hanging. Finding this was surely some kind of magical moment, and we're glad it was shared on the internet.
This Couple Was Simply Meant to Be
Years before these two were married, they were actually at the same beach at the same time. They happened to show up in the same photo and realized that only many years later, following their marriage. They lived three hundred miles apart and were only on the same beach because the boy's family was vacationing there. They never even interacted there; this happened much later in life when they found each other again.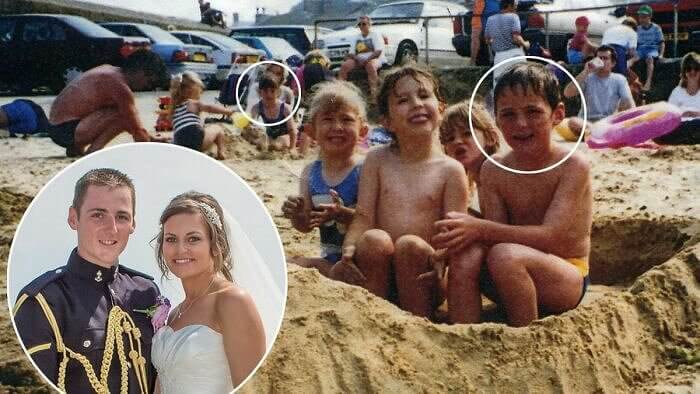 Not many married couples can find each other in the same childhood photo taken years before their wedding ceremony. The chances of this are probably close to one in a million.
Guy Survives the Unthinkable Twice
This man is actually a modern-day mystery because he survived two extremely deadly incidents where many people have unfortunately lost their lives. He lived through the Chapecoense flight accident, where a total of seventy-one people were killed. If this wasn't miraculous on its own, more recently, had has survived a terrible bus accident. Over twenty people were killed when the bus crashed and ended up flipping over into a ditch. We think the title of "unbreakable" fits well for this man.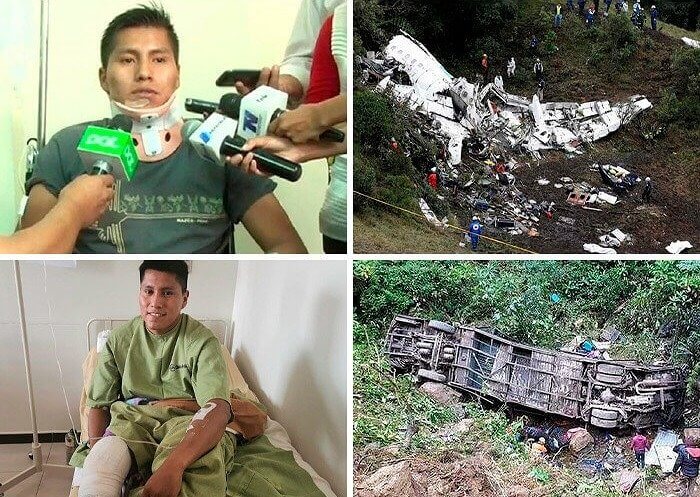 There is no way to understand how this man has survived two tragic accidents; all we know is that we seriously don't recommend getting into any kind of moving vehicle with him.
Two Brothers, Two Lotteries, One Day
Bob and James Stocklas are brothers, and both of them played the lottery on the same day. As you can tell, both of them also won, but obviously, James won a lot more than seven dollars. In fact, he won a heft amount of over two hundred and ninety-one million. That's honestly an incredible amount of money, and we do hope that he shared some of it with his poor brother Bob.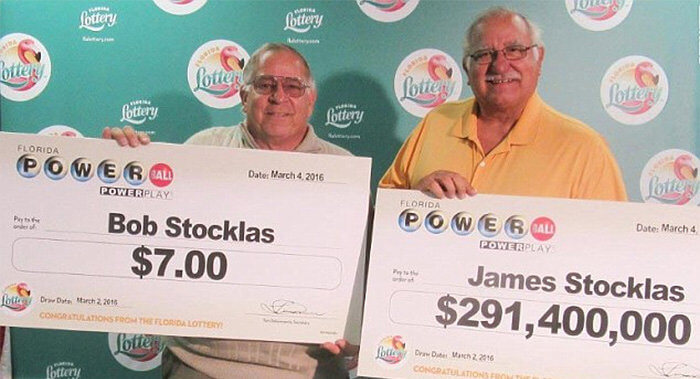 Regardless of the fact that bob won seven bucks, he still seems to be happy when posing with his check. This could be because he is thrilled for his brother and is looking forward to his cut.
A Pilot Survived a Big Fall
A pilot and ball turret gunner named Alan Magee's B-17 bomber plane was hit and began to spin out of control in 1943. Alan fell out of the plane and was falling for over four miles without a parachute. He ended up crashing through the glass roof of a nearby railroad station and completely survived the accident with absolutely minimal injuries. Alan eventually lived to the age of eighty-four years old.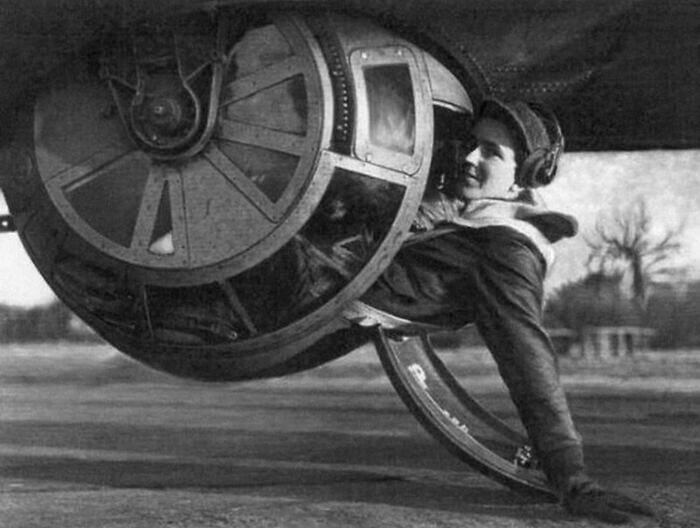 His story was so bizarre that many didn't believe him as he was recovering in hospital. He was truly so lucky to survive an incident that would have killed most people.
This Web Was Perfectly Placed
This picture can be interpreted in several ways, the first being that this spiderman figurine might have come to life when nobody was watching. The second is a bit more down-to-earth, in which a spider just happened to build a web in a perfect place. As much as we would like to believe the first possibility, the second one is probably what happened here. That was some smart thinking on the spider's part.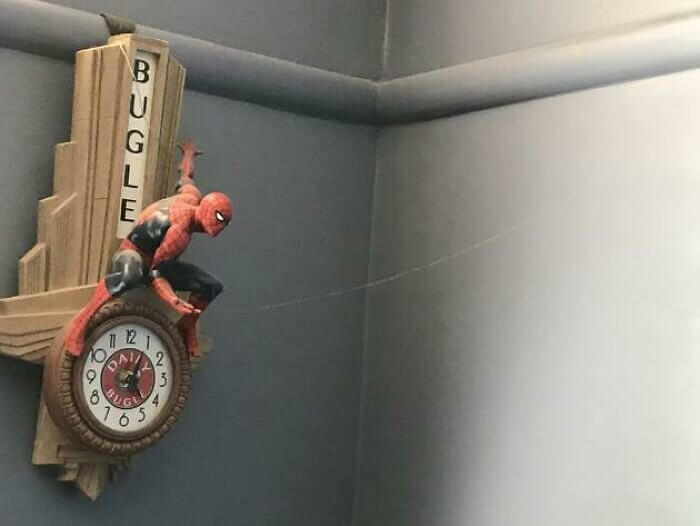 Clearly, this wasn't done on purpose, but the local neighborhood spider must have become aware of spiderman and decided to help him with his superhero duties. He was starting with web shooting.
A Bad Place for a Wasp Nest
Wasps decided to make a nest on this person's ant-wasp spray bottle. They're pesky creatures and clearly, aren't too smart since they couldn't detect that their new home was centimeters away from potential demolition. This bottle must have been kept in that storage facility for quite a while since the bugs had time to build this home. Thankfully, this person will have absolutely no problems when it comes to removing the nest.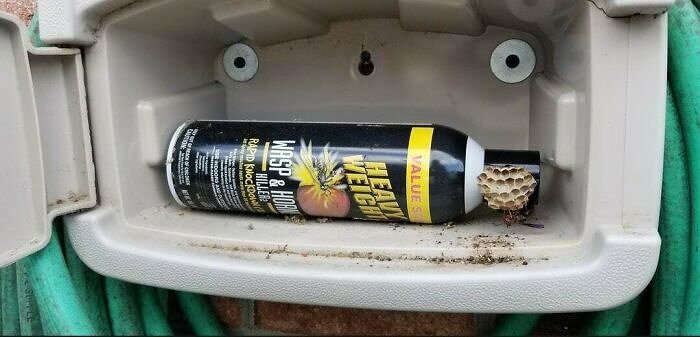 There is just so much irony packed into this photo. The wasps simply wanted to build a nest in order to continue living, but with one spray, that would end in an instant.
The First Fortunate Hit and Run
A Reddit user was involved in a hit and run and soon realized that the other party left their license plate inside of their car's back wheel. The tables have truly turned after snapping this photo, and this person will surely have no problem finding and catching whoever almost totaled their car. This was seriously a stroke of luck as most people aren't so fortunate after a hit-and-run car accident.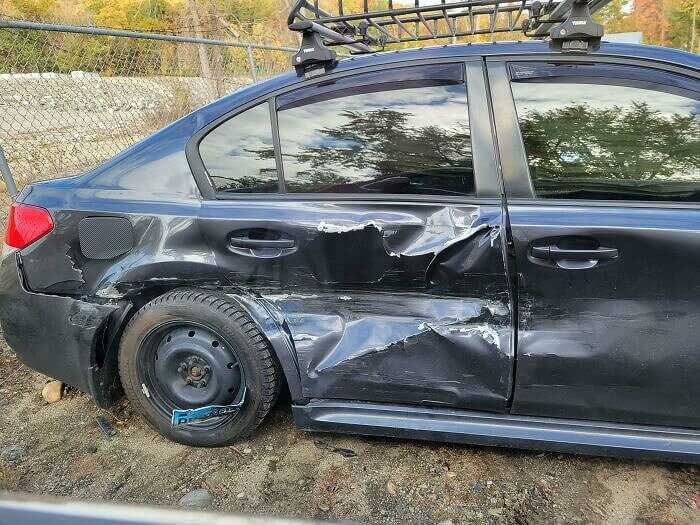 Hit and runs notoriously get their name based on the fact that the perpetrator simply disappears after committing the crime. Clearly, that doesn't apply here, and they will have to pay for this.
One Picture, Two Falls
A girl took a picture of her boyfriend falling off of a water float on a Summer's day. She then realized that she had also captured another guy falling off of a nearby boat at the same exact time. These two tumbles were simply synchronized, and she happened to pull her camera out at the perfect moment. Hopefully, the guy who fell off that boat ended up with no injuries.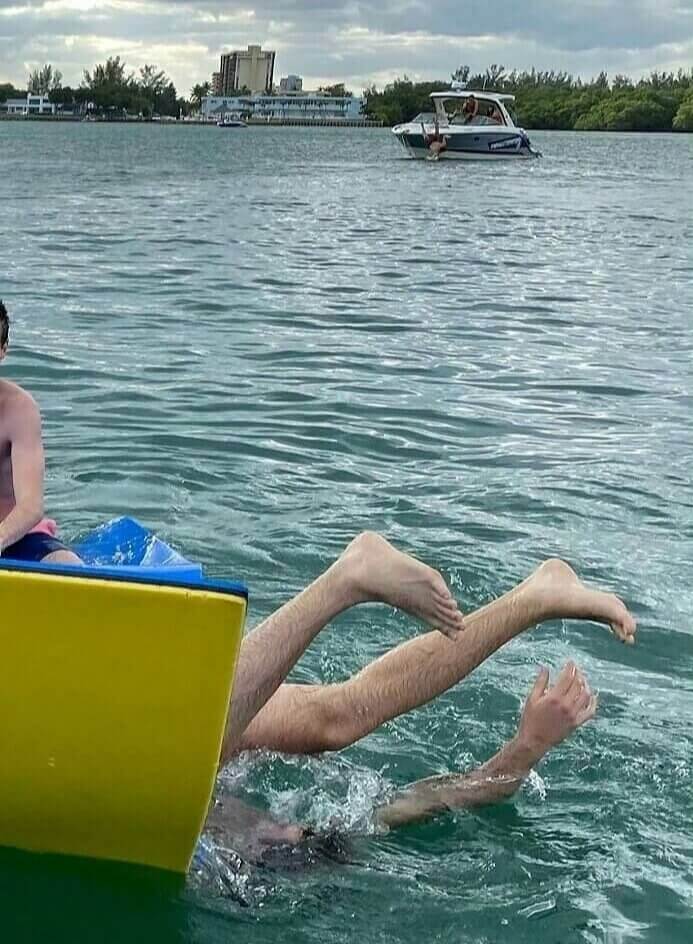 All that this woman wanted to do was simply take a picture of her boyfriend on a day out on the water. Instead, she captured one image with two things to laugh about.
A Fish That Fell Out of the Sky
Apparently, this fish just fell out of the sky at a dog park and was dropped at this person's feet by a bald eagle. The dog in the background seems to be just as surprised and confused as his owner right after it hits the ground. For some reason, a bird lost its meal, and a random fish probably fell for a solid twelve minutes before eventually hitting the ground.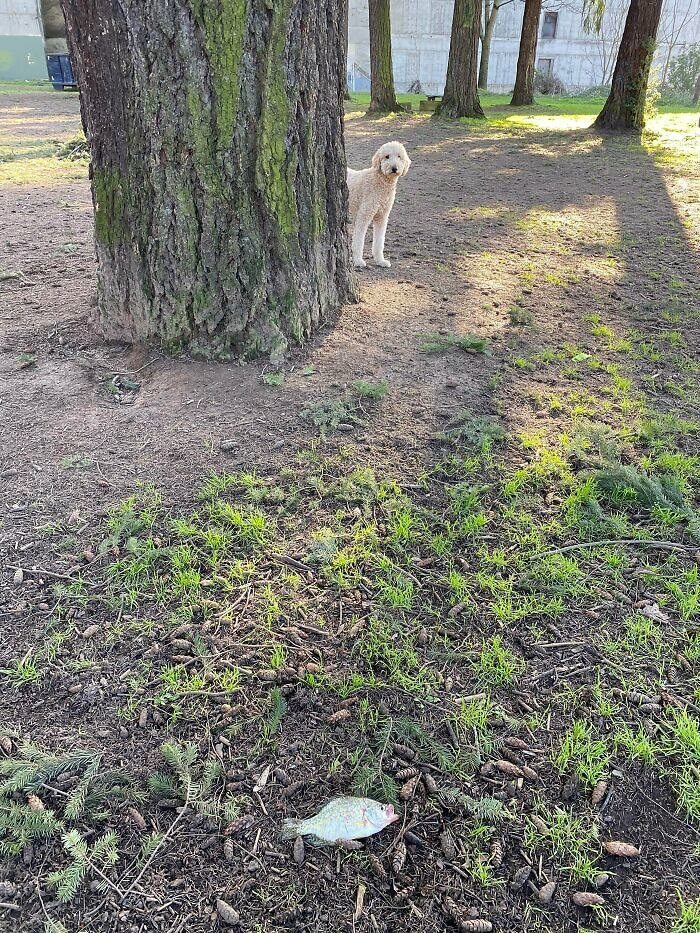 A dog park is a strange place for a fish to be, and this person knows how it got there. What we also know is that the fish isn't happy about it based on his facial expression.
One Jumbo Double Chicken Egg
This person owns a chicken and regularly goes to collect its eggs. This time was a bit different when they discovered a very odd and enormously shaped one. After cracking it open, the surprise was even more extraordinary than they thought. They discovered that their chicken had laid a really strange jumbo egg with another egg inside. The second egg was sitting right next to the yolk of the first; hopefully, this chicken is feeling okay.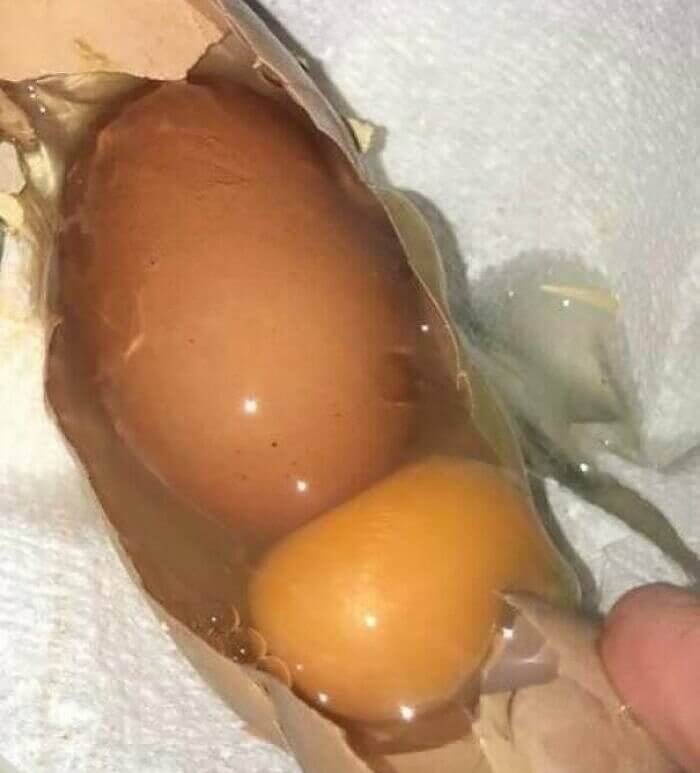 Either this chicken wanted to show off her skills as she was laying this egg, or she was just having some kind of strange off day because this goes beyond unusual.
This Truck Went Over a Bridge
A truck was connected to an RV which then seemed to have rolled over. The truck then went over the bridge but didn't fall simply because it was saved by safety chains that were hooked up to the camper. These two vehicles were so lucky that proper safety precautions were taken before they got onto the road. Or else, this could have become a totally different situation involving potential rescue.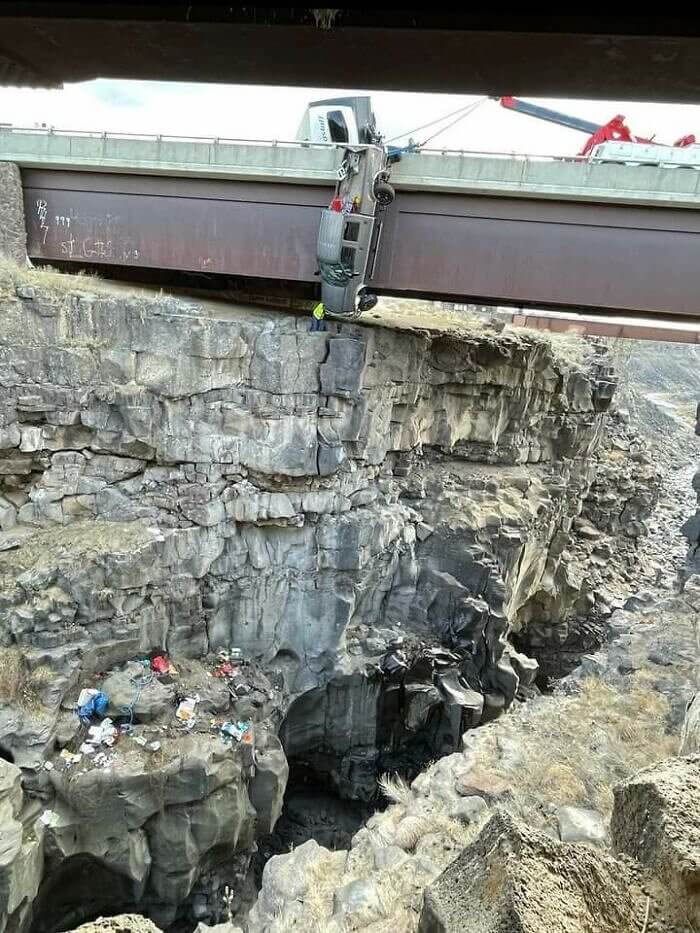 This event seriously could have ended in disaster if it wasn't for the safety chains that were there. The driver was surely shocked after realizing what could have possibly happened.
Grease on a Receipt Did This
A customer accidentally smudged KFC grease onto their paper receipt, which then revealed what seemed to be a real-life redback spider. It was actually from an advertisement on the other side, thankfully. This person said that their heart felt like it missed a beat when they pulled this thing out from inside of their wallet. It's not hard to imagine the initial panic that anyone would feel when seeing this.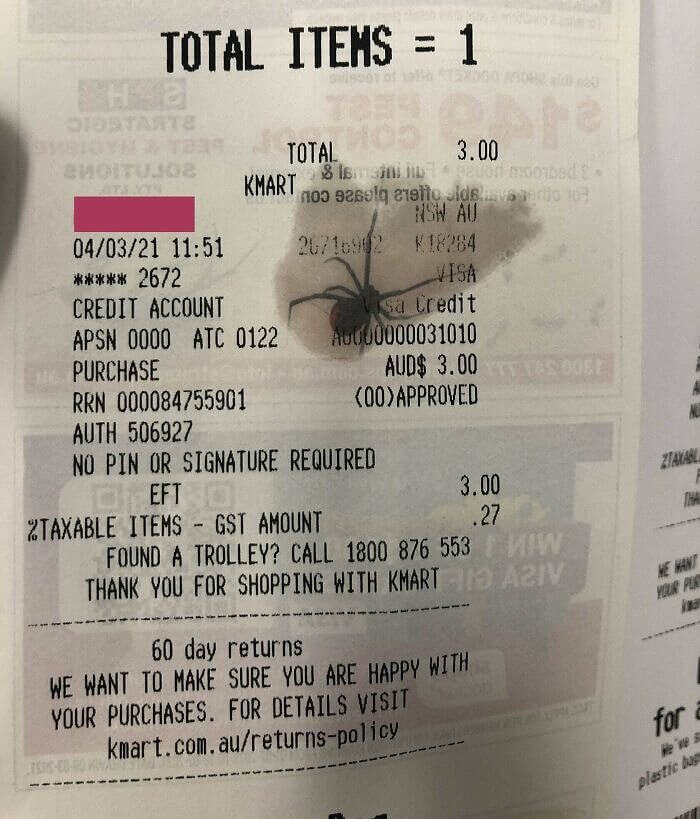 This spider looks so life-like that it sends shivers down our spine even though we know it isn't real.
A Stuck Truck Looks Too Familiar
An Evergreen truck got stuck on a highway in China, which exactly resembled what happened to a ship that became trapped in the Suez Canal. This company seems to have had bad luck when it came to transporting their cargo across various channels, where moving forward obviously became a challenge for several different reasons. Hopefully, this doesn't happen again for them anytime in the near future, for the company's sake.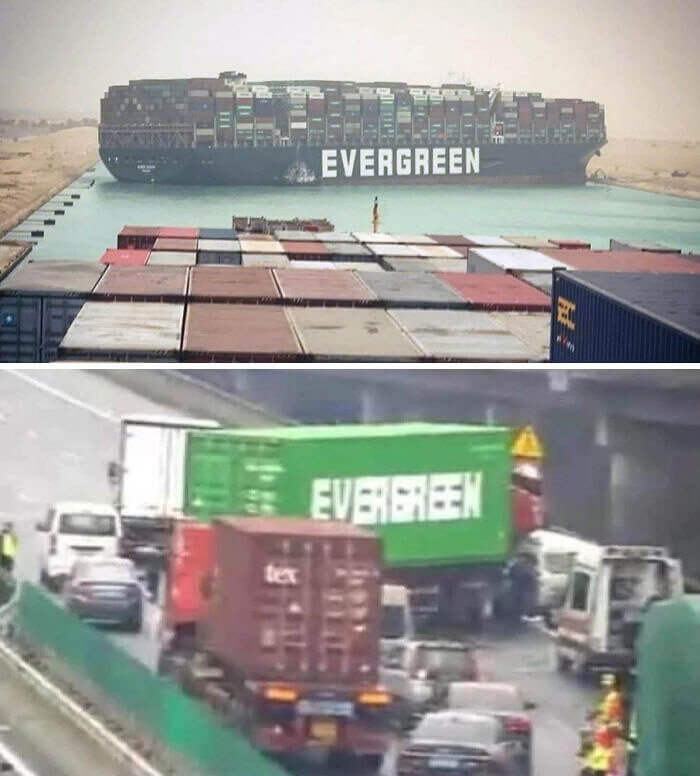 The universe truly didn't want Evergreen to pass on land or sea, but the truck situation was likely resolved way faster than the events that happened in the Suez canal.
A Cute and Confused Couple
This girl is reminiscing back to four years ago when she flew to Edinburgh to surprise her boyfriend. Ironically, he flew to Paris at the exact same time, which is where she lives. They literally just missed each other, and their surprise meet-up became a total failure when they were both in opposite countries. This is exactly the reason why they don't do surprises anymore and should probably swear off romance forever.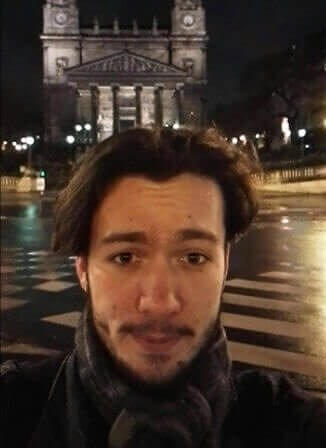 We just hope their plane tickets weren't so expensive and that they managed to see each other in the end!