This article was originally published on
24/7Mirror
Have you ever been at the grocery store and you saw something so bizarre that you had to take a picture and share it with your friends. Everyone has to go to the grocery store, which makes it the best place to see all kinds of people. We have gathered the strangest people and scenarios that have been encountered at the store. Get ready to laugh at these bizarre situations. 
"Push Me!"
These two prove that age is just a number, and we are all kids at heart. When you were younger you probably asked your parents to push you like this on the grocery cart, and that desire never goes away.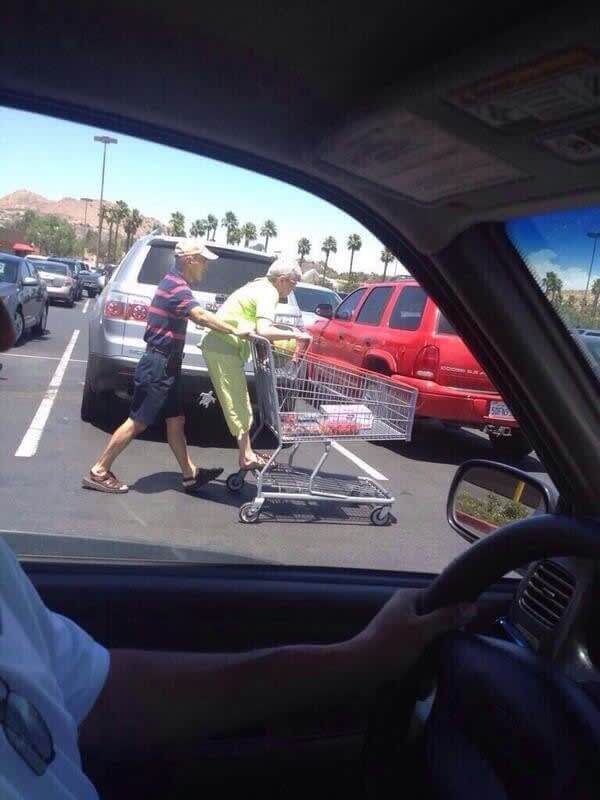 Who wouldn't want to feel like they are flying through the parking lot? 
Going To Target For Just A Few Things
Target is one of those stores that you go into to buy batteries, and somehow come out with all new bedding and decorations for your bedroom.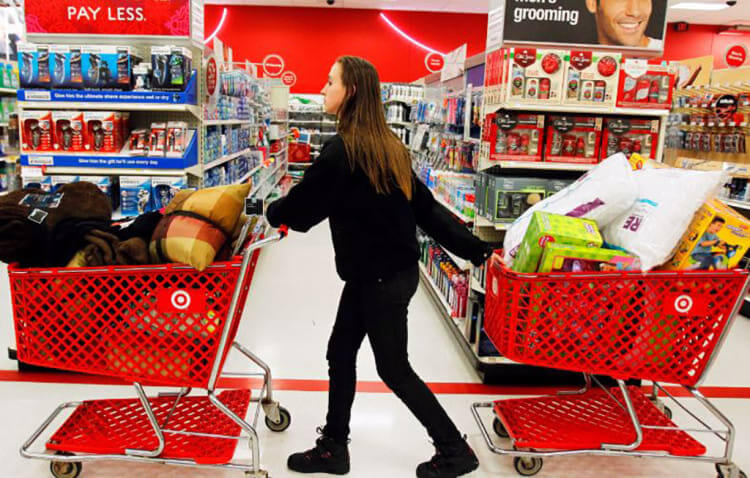 This girl took the "I just need a few things" to the next level. She looks like she is starting her life over after one trip to the store. 
Diving In Head First
When you are really short, you not only struggle with reaching things that are up high but also things they are insides a deep container.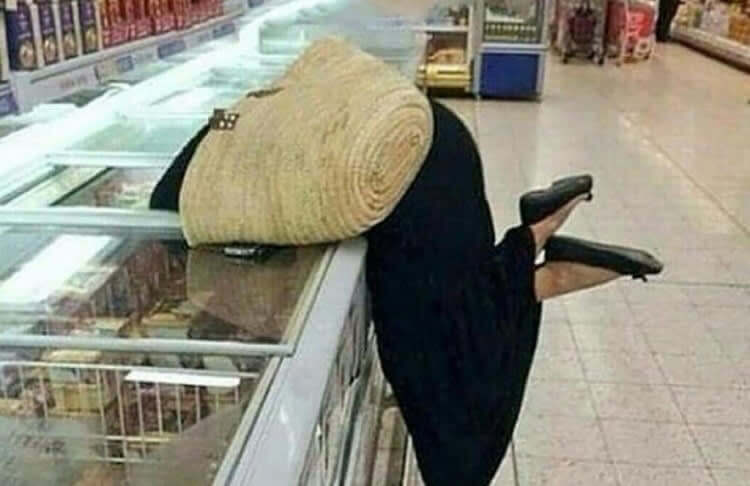 She must really want the one ice cream that is at the bottom of this freezer. Sometimes it is worth risking it all to get exactly what you want. 
Rare Dog Breed
This picture frame is 50 percent off for a good reason. When you have a frame that is for dogs, the photo insert should probably be a dog.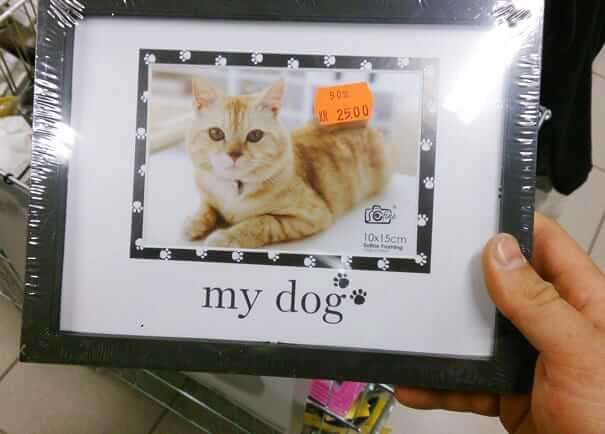 Maybe this is a rare dog breed that no one has seen before, cat lovers might turn to dog lovers if they saw this dog frame. 
What Do You Mean This Contains Peanuts?!
This may be obvious, but these peanuts contain peanuts. Mind-blowing, right? We guess you can never be too sure about what is inside a peanut shell.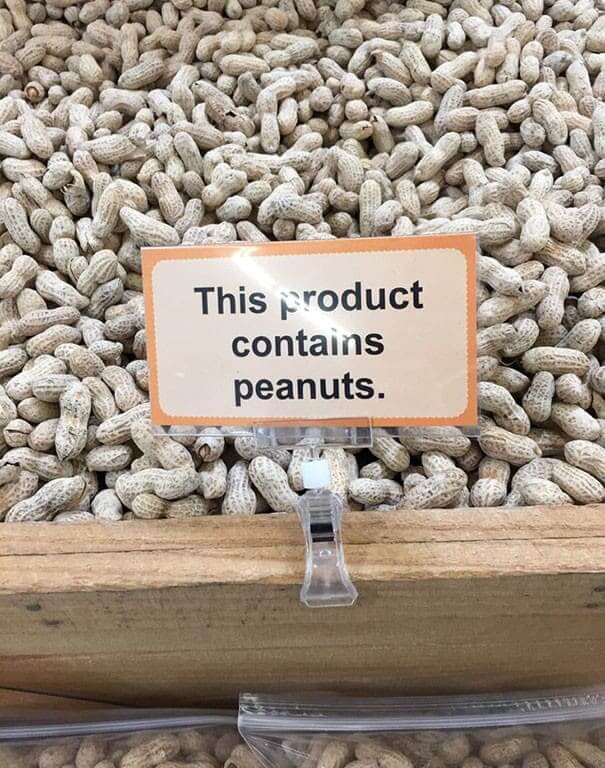 The store probably wanted to avoid a lawsuit from an ignorant shopper. But seriously, who would think that these are anything other than peanuts? 
Rough Night?
Grocery shopping can be tedious, especially when you go to the store after a night out. This girl needed a nap mid-shop because she was taking too long to decide what juice to buy.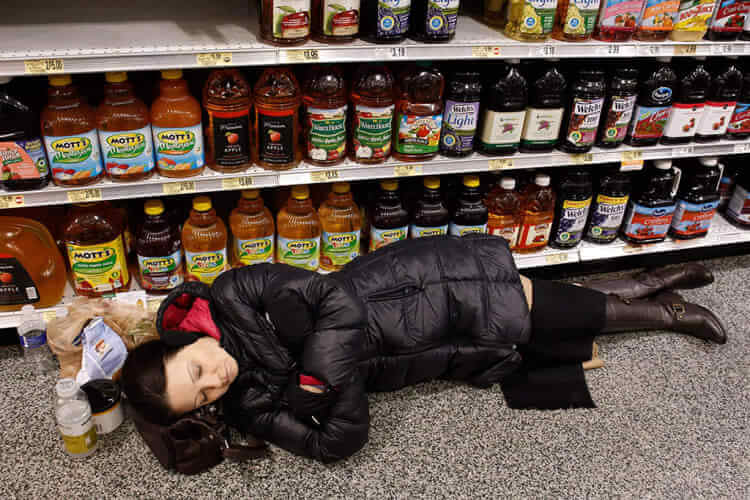 Hopefully, she will be able to decide what juice she wants after her quick siesta. 
Deeply Disturbing
So this sign might be for canned cat food, but it is still strange to think about canned cats. Why wouldn't they just add the word food? It is not that many extra letters.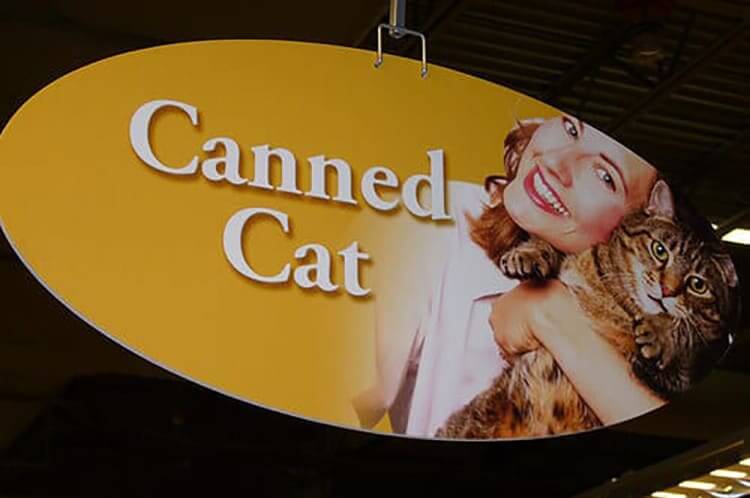 What makes it worse is the creepy smile the woman has and the way she is squeezing that cat. The cat looks like he knows he is about to be canned. 
They See Me Rollin'
Taking your kids to the grocery store can be a hassle. They cry and scream when you won't let them have candy or junk food, and this dad had enough of that. 
He gave up trying to please his son, so he decided to drag him along through the grocery store instead. At least the floors are getting a good cleaning.
What Does The Fox Buy
"But there's one thing that no one knows, what does that fox buy?" This guy must have been on his way to a Halloween party or else this would be really bizarre, right?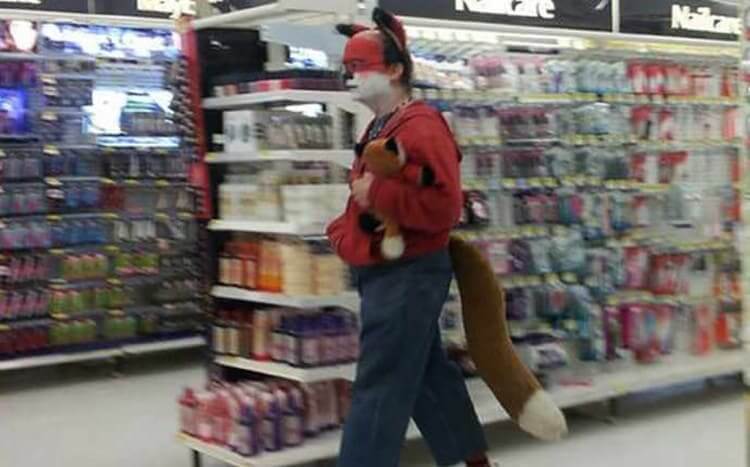 He wanted to make sure everyone knew he was a fox, so he carried around a stuffed fox to top off his outfit. 
"Me And All My Children"
You have probably heard about crazy cat ladies before, and this woman brings that stereotype to life. Her cats are her children and she can't go anywhere without them.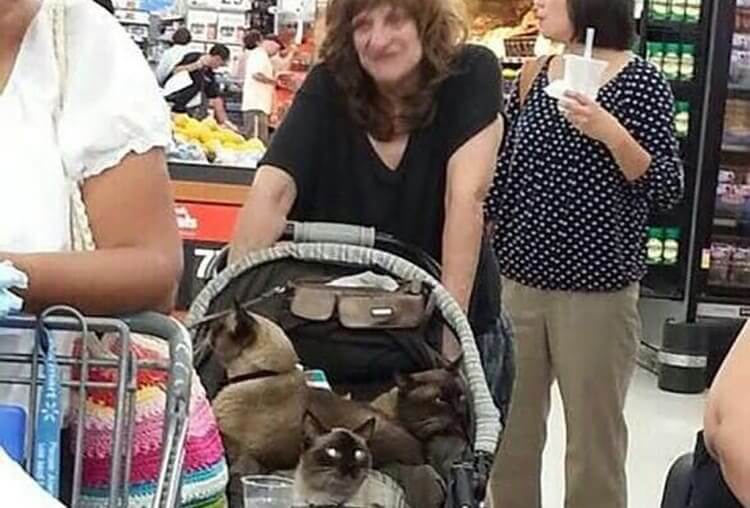 Surprisingly, she was able to bring them into the store, considering most grocery stores have a no pet policy because it is unsanitary to have animals around food. 
Simply Impossible
We have seen stores open 24 hours a day, seven days a week, but never nine days a week. Where did the other two days of the week come from?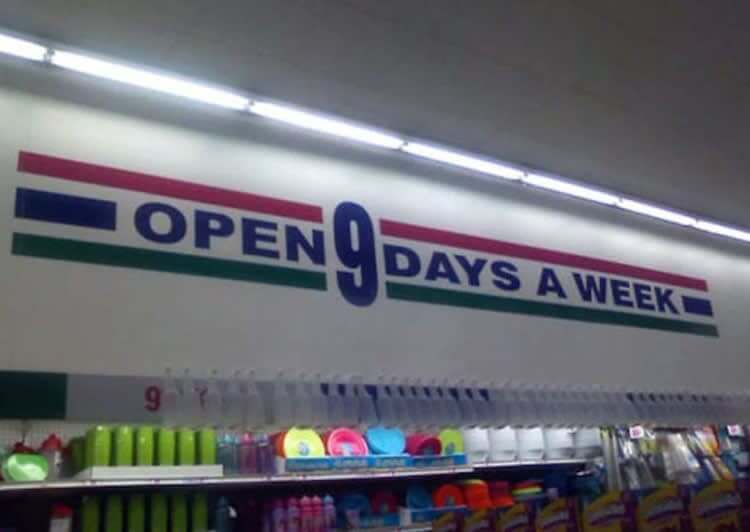 The store must have wanted to emphasize that they are genuinely open all the time, although writing "24/7" would have sufficed. 
Special Lunch Date
When your friends say they are too busy to meet you for lunch, so you have to improvise. Instead of eating lunch alone, why not bring a Pikachu stuffed animal.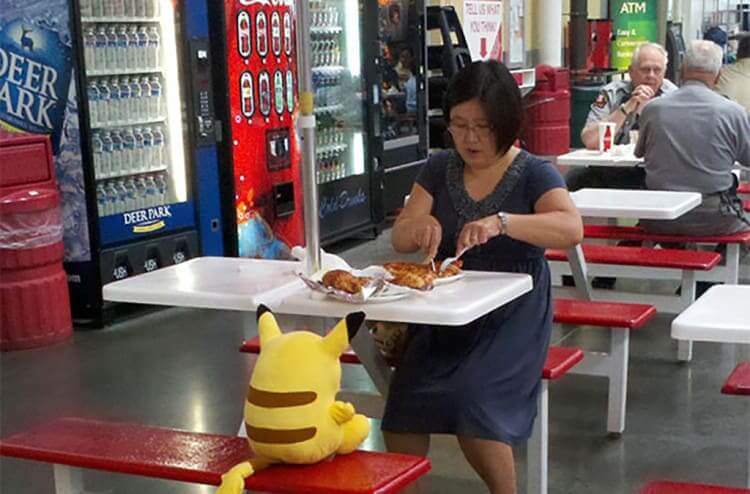 She seems pretty satisfied with her lunch date. She can have her pizza and eat Pikachu's slice too. That's a win-win in our book. 
Mayo Is Life
This woman must really love mayonnaise to need that industrial-sized jar of it. By the looks of it, she was on her way to a formal event and stopped to pick up her favorite condiment at the store.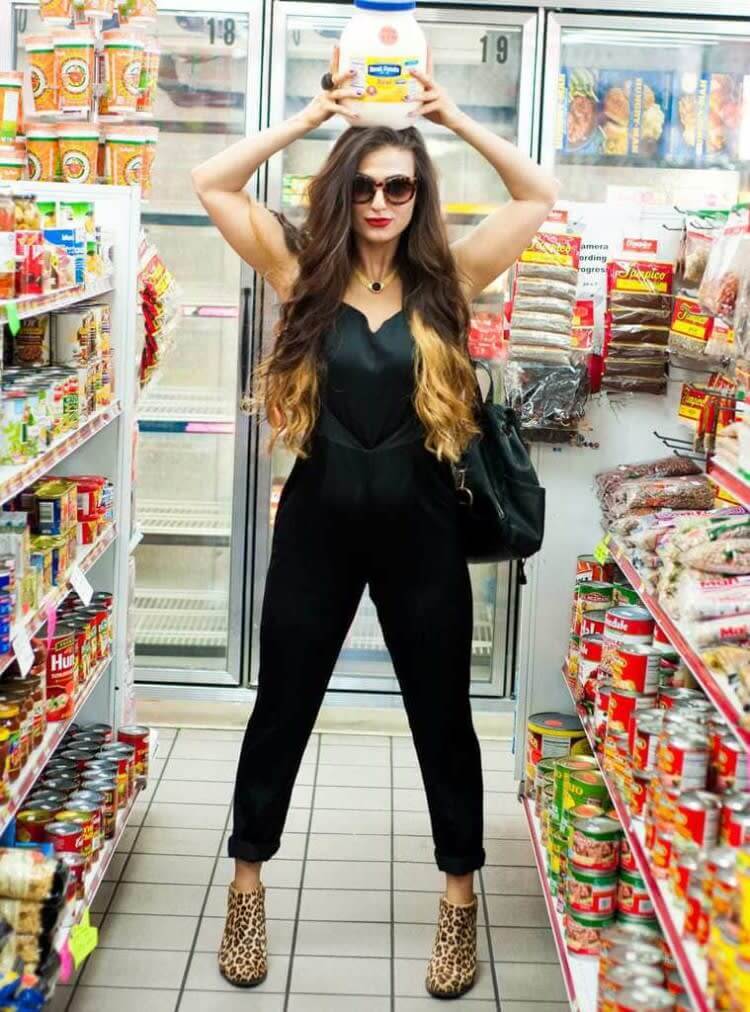 Are you a lover of mayonnaise? Would you buy a jar that size? We need to know who else would do this or if it was just for a weird picture. 
Product Testing In Progress
Plungers are a good item to have in your house in case of a clogged toilet or sink. Usually, you wouldn't put one of these anywhere near your face, considering the gross places they touch.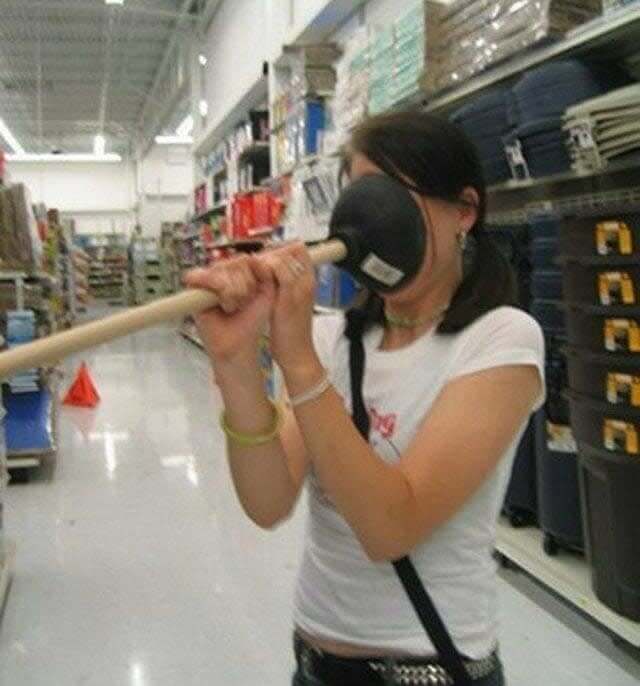 She is probably the only person to test plungers this way. How do you think she tests other products? Maybe she has a special check-list before she purchases something. 
Cereal Aisle Romance
Many people would want to take their wedding photos in a scenic location with a beautiful backdrop. This couple had other ideas that they felt would better represent their relationship.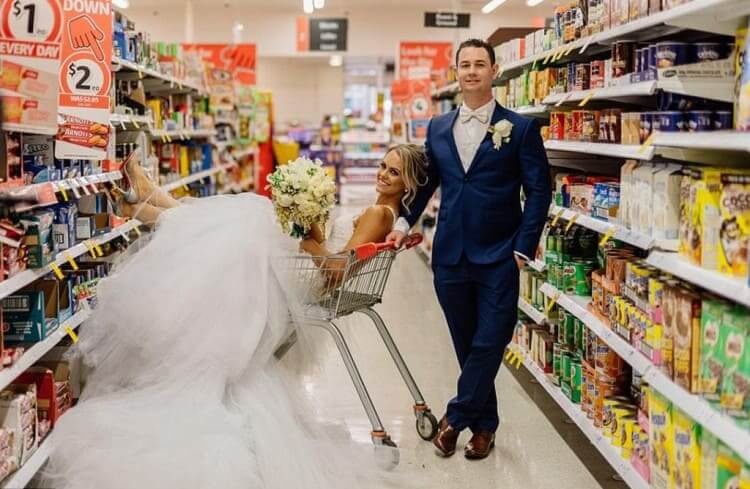 Maybe they met in a cereal aisle, or they were both "cereal" daters before they met each other. It must be weird to be at the grocery store and see a wedding shoot. Not your average trip for milk. 
Interesting Employee Dress Code
When you work at a store like Walmart, there is usually a dress code that needs to be followed. Walmart employees usually have to wear khakis and a Walmart shirt, but this girl is breaking all the dress codes.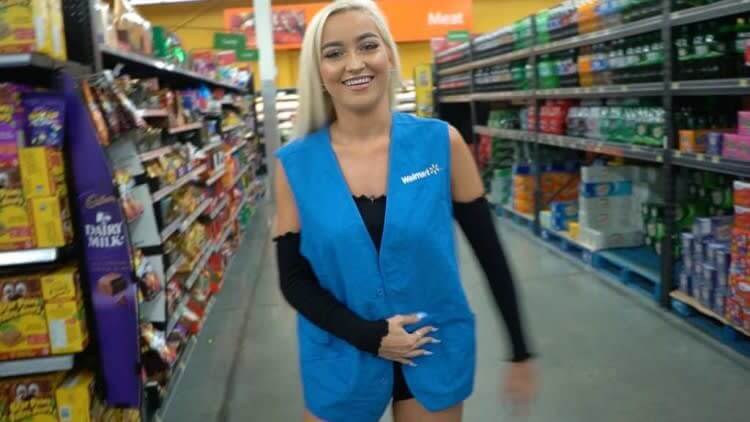 Maybe she was out and got called into work last minute for a shift. It is definitely an interesting look to see from a Walmart employee. 
Casual Grocery Store Outfit
"Just going to the store to pick up a few things for my newborn baby in this casual ensemble." It is hard to believe that this woman recently had a baby.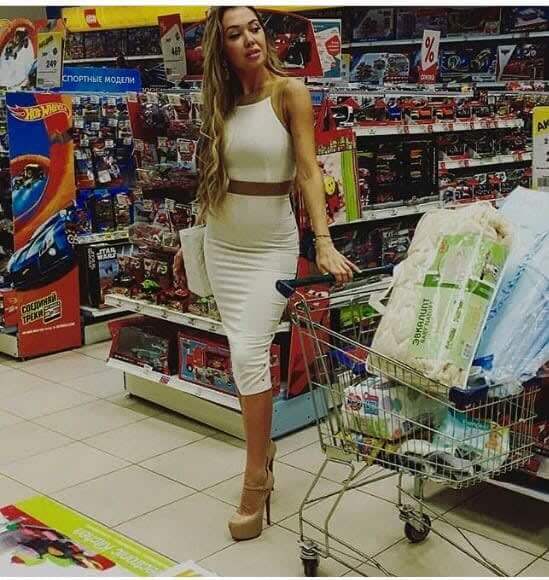 She is every pregnant woman's goal of having a quick snapback after giving birth. Also, how does she walk around in heels that high? 
Fresh Out Of The Shower
The wet hair look was a major trend last year, and this woman took it to the extreme. She went beyond the wet hair look to fresh out of the shower.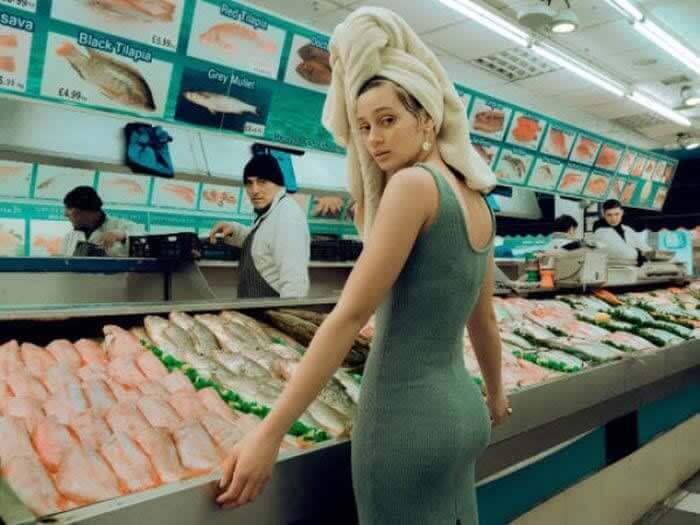 Going to the fish counter right after taking a shower is a bold choice because the smell of raw fish would ruin your freshly cleaned smell. 
To Each Their Own
This man put on his best dress and flats to take a trip to the store, and he did not think twice about what anyone would think of this interesting outfit.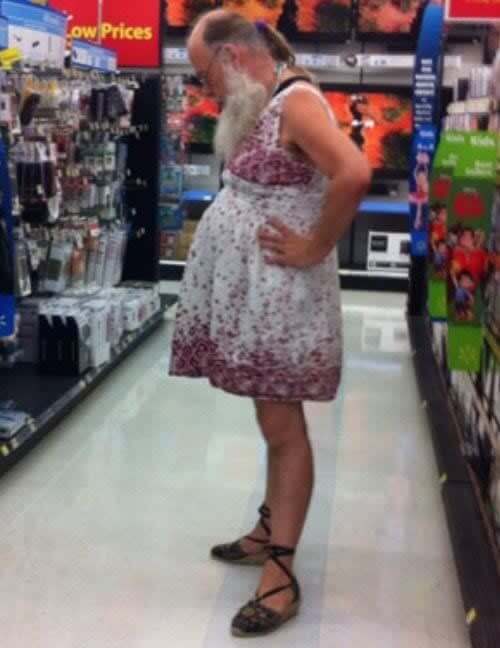 If he has the confidence to rock this look, then who are we to say anything against it. 
Grocery Insta
When you go to the store because you think it would be a cute place to get a good Instagram photo. Instead of the usual picture on a tropical vacation, this person went for a unique setting.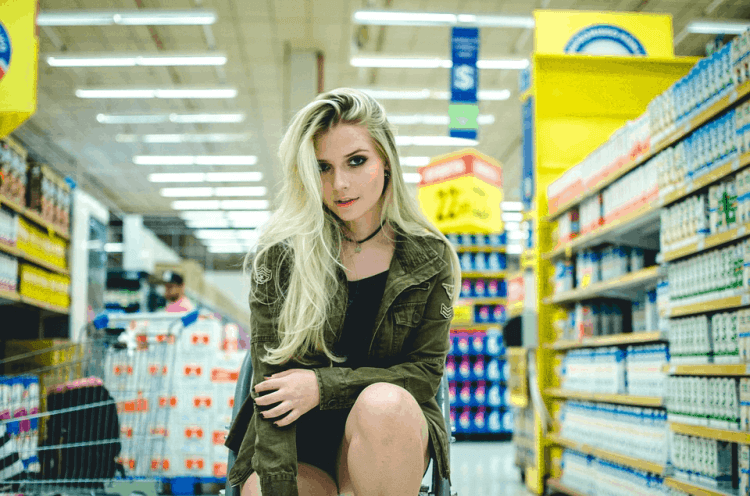 She was trying to be cool and different, probably. Even influencers go grocery shopping; they are ordinary people too. 
She Must Really Love Cupcakes
This woman must have come from working at a bakery because why else would you be wearing an outfit like that in public.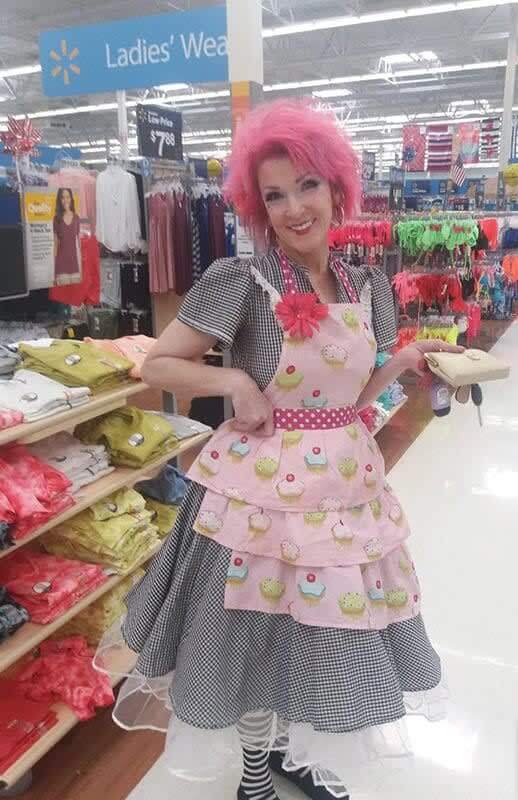 She looks ready to compete on an episode of Cupcake Wars. What if she actually was terrible at baking in reality. That would be a major letdown. 
When They Run Out Of Electrical Scooters
When you need an electric scooter to get around the grocery store but all the hooligan kids took them to ride as a joke. Sometimes you have to improvise.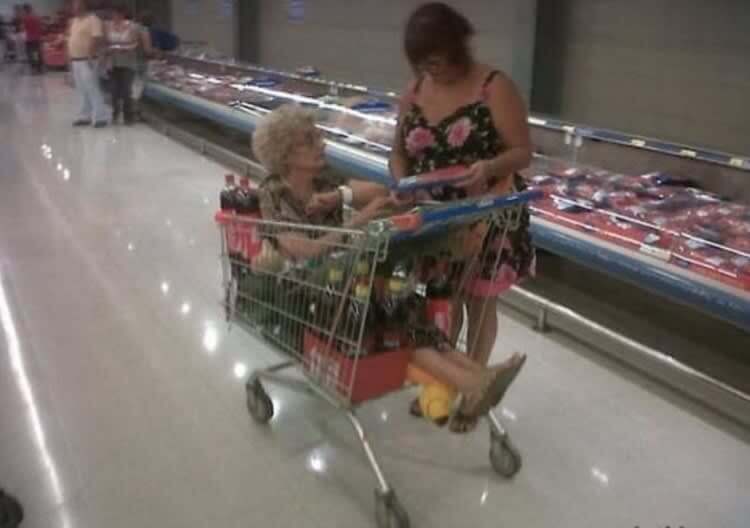 This does not look comfortable to sit like this for more than a minute especially when you start to pile groceries into the cart. 
When You Dye Your Hair At Home
When you decide to dye your hair, especially bleaching it, you are making a big decision. Most people choose to go to a trained professional, but some people try to dye their hair at home.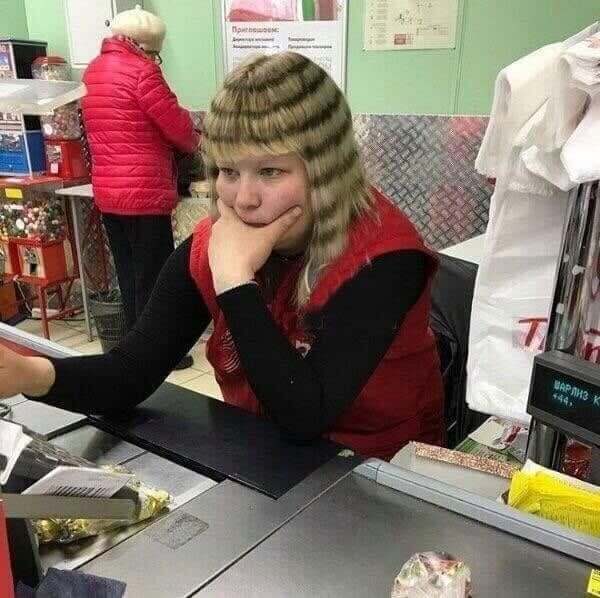 She looks like she was trying to either tie-dye her hair or copy a raccoon's tail pattern. Whatever she was trying to achieve, she does not look happy with the results. 
Emotional Support Llama
Today, people have all kinds of exotic animals as pets, not just cats and dogs. Also, more people are starting to register their pets as emotional support animals so they can take them everywhere.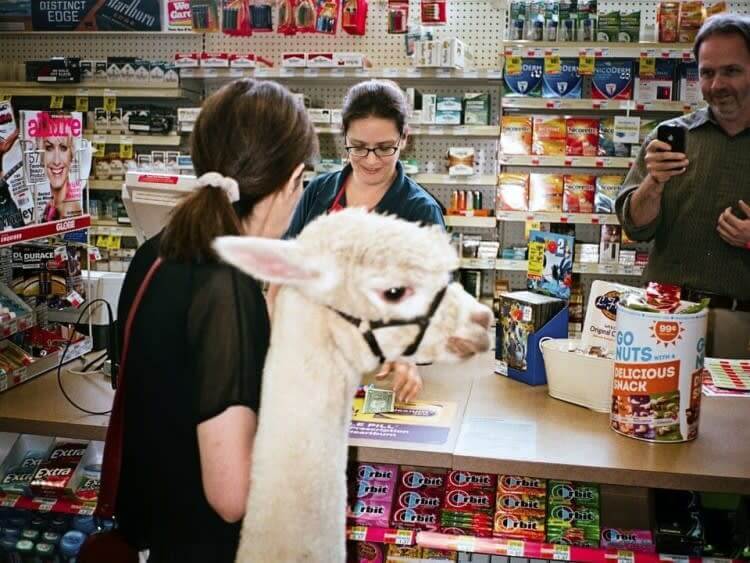 This person appears to have an emotional support llama, and her choice of animal amuses the people in the store. 
Say Cheese!
When you take a picture for a dating profile, you want it to not only look good but also show people who you are. This picture says that this woman is funny and cheesy.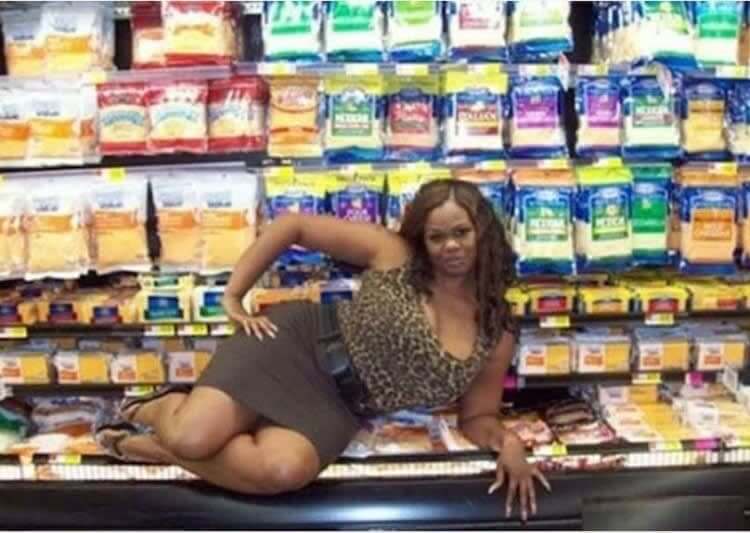 What would you do if you saw someone climb into the cheese section at the grocery store for a picture?
Orange You Glad They Have Lemons
Usually, lemons are used to make lemonade, but this store is trying to convince you that lemons are perfect for orange juice.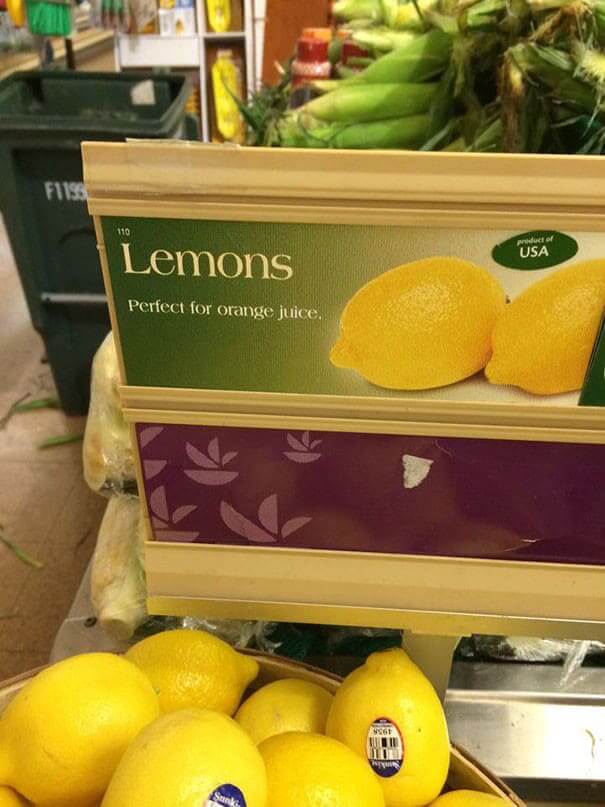 Either the person who made the sign was confused as to what a lemon was, or they are trying to tell us the secret ingredient for the perfect orange juice. 
Toilet Paper But Make It Fashion
Whoever made this toilet paper gown is working in the wrong place; the person should be a fashion designer based on how amazing this dress looks.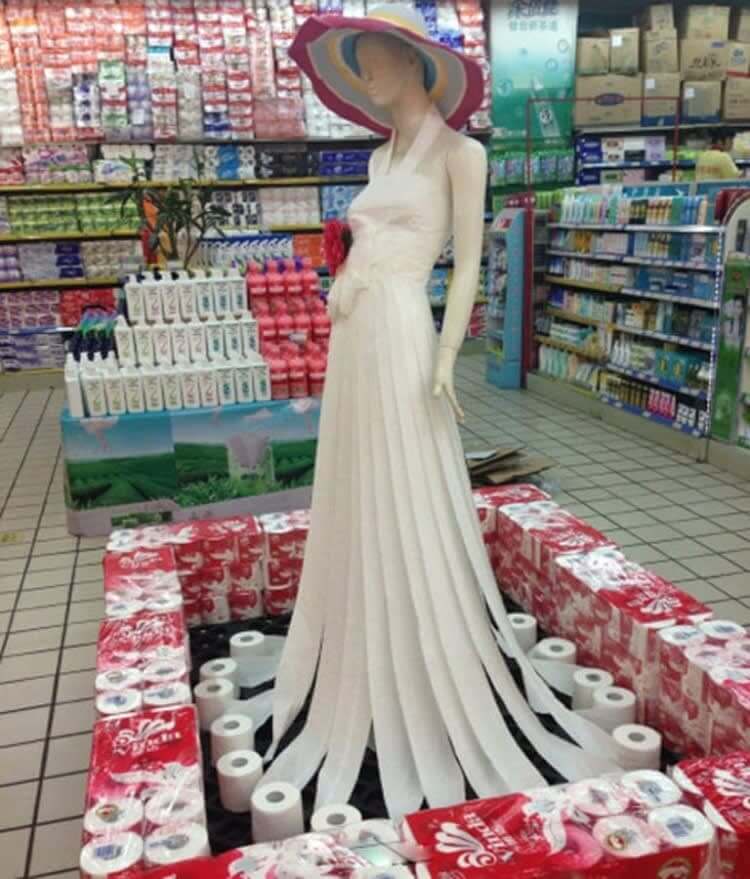 Just look at the intricate details on the top of the dress and the pleating work on the bottom. How long did it take them to create this detailed display to sell a product that everyone uses regardlessly? 
A Princess Outing
This little girl wanted to wear her new princess dress to the store, and she wanted her uncle to dress up like a princess with her.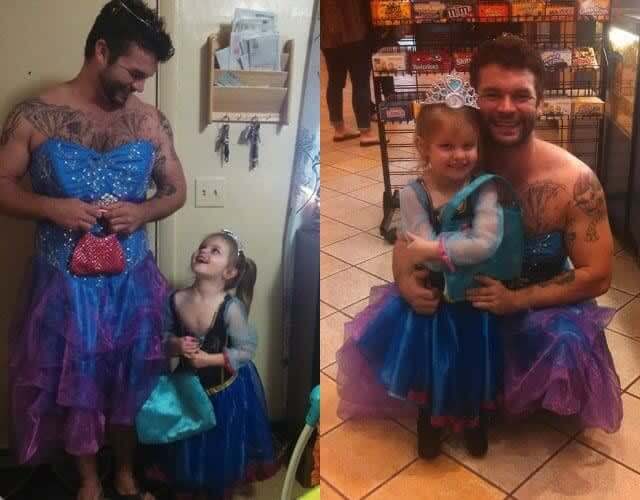 They both look adorable, and he has one the award of the world's best uncle for wearing a dress in public. 
She Can Walk!!
For some reason, this woman needs a wheelchair to get around the grocery store, but when it comes to reaching the best alcohol, she has no problem standing up.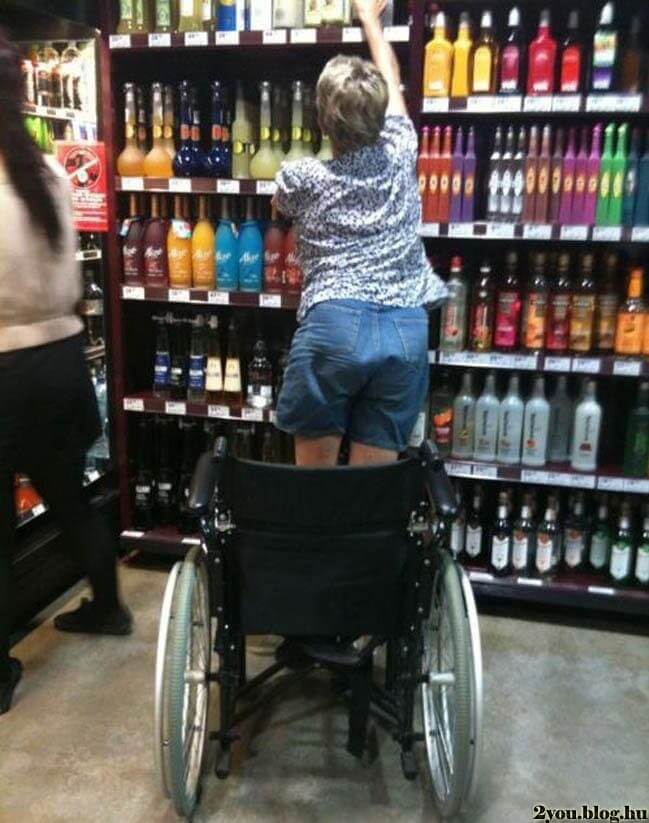 We are not denying that she probably does need the wheelchair, but how is she suddenly fine to stand up on her toes and reach the top shelf? 
When You Eat So Many Hot Cheetos You Become One
You have probably heard the saying, "You are what you eat." This girl took that saying seriously and became a Hot Cheeto.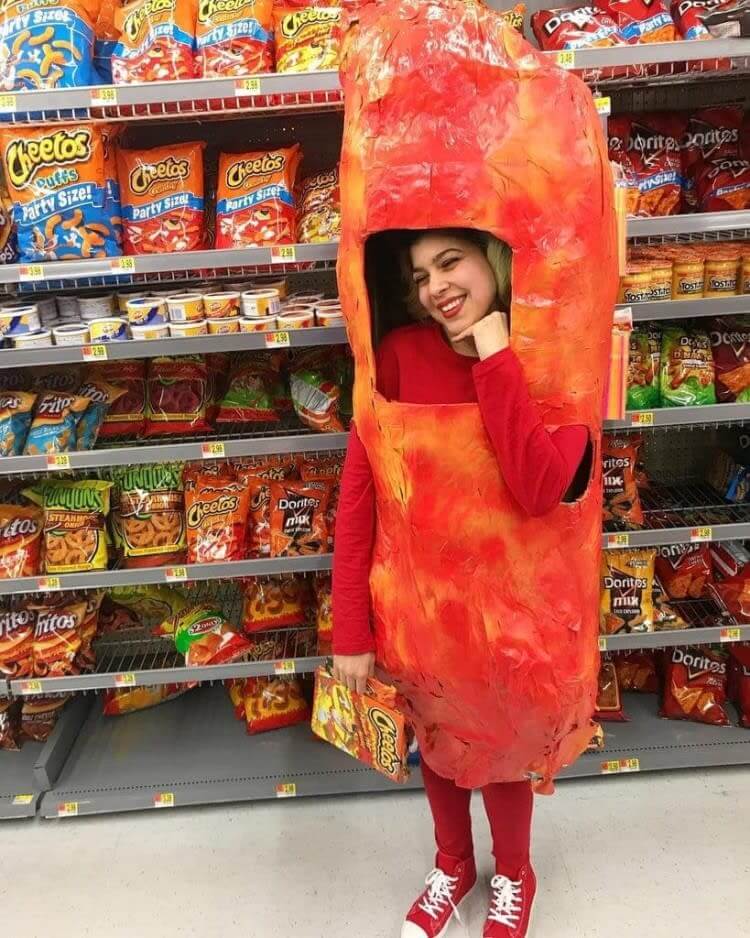 While hot Cheetos are one of the best snacks, it is also harmful to your stomach to eat too many because they can cause ulcers when overeaten. 
Ikea Exhaustion
Going to Ikea is a whole process. First, you have to find your way through the maze-like setup and when you find an item you like, then you have to figure out how to find it in the warehouse.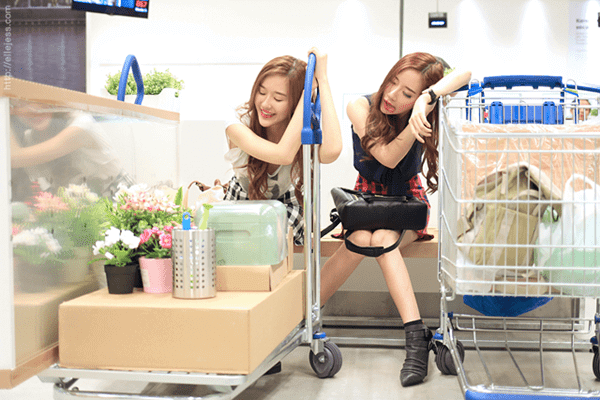 These girls know the Ikea struggle. It is at least a three-hour process, and it is exhausting. 
When You Need A Specifc Brand Of Sugar
Kids, do not try this at home; it is not safe. This girl must have really wanted that specific brand of sugar on the very top shelf.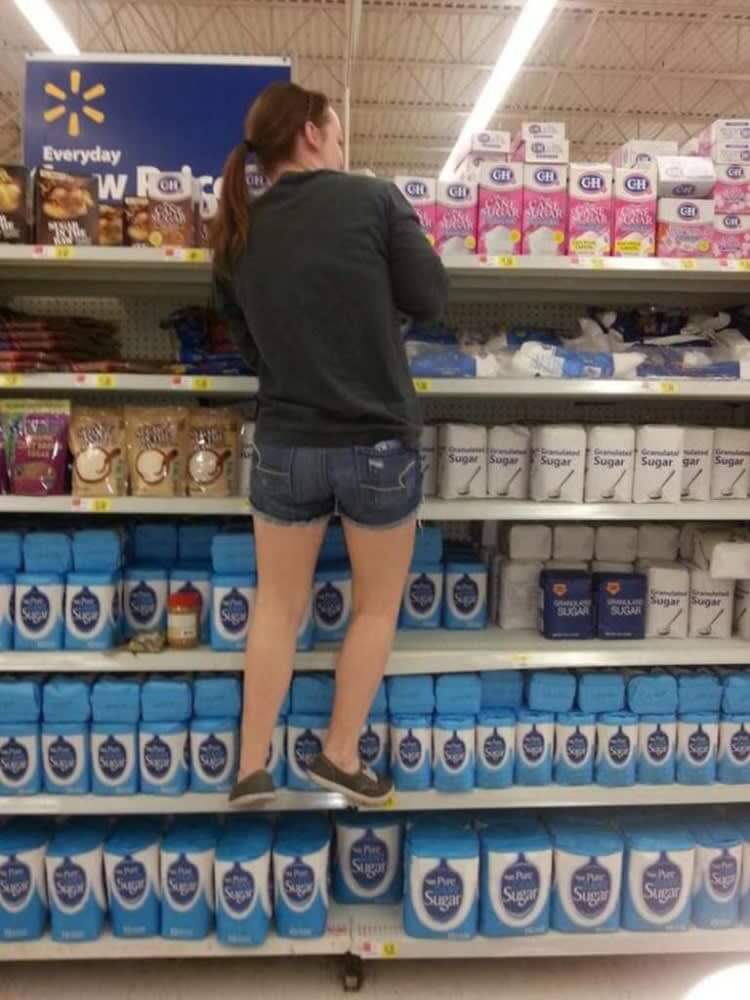 There are clearly many different brands of the same sugar, but she had to scale the shelves to get the pink box at the top. 
Up, Up, And Away
When you have a Halloween party in a few hours but forgot you needed to make a dessert to bring.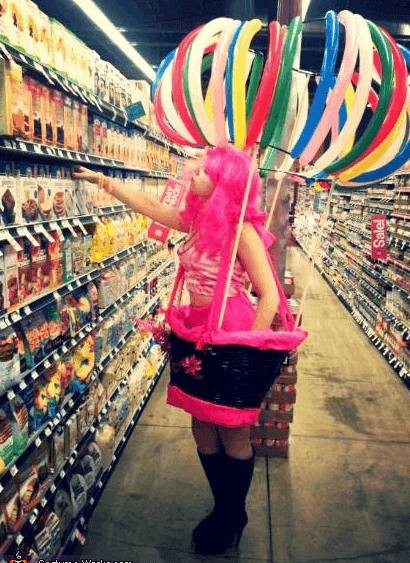 The convenient thing about this costume is that it has a basket to hold all her groceries built-in. 
Practice Makes Perfect
When you are a gymnast, the training is intense, and you need to take any opportunity you have to practice your skills. That means practicing even when you are in the grocery store.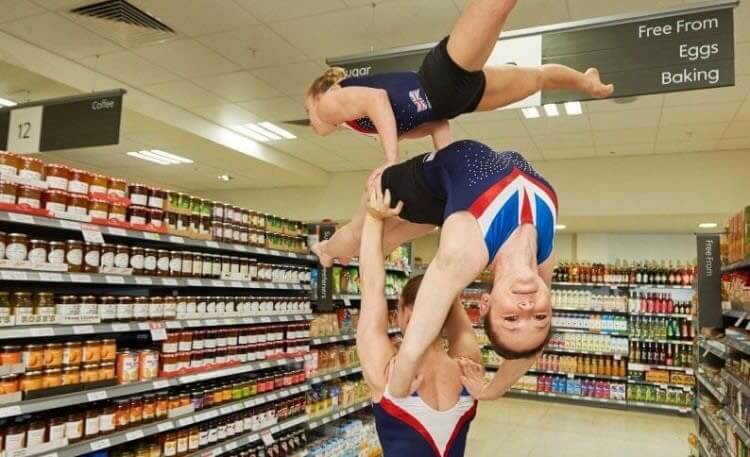 Instead of climbing the shelves, maybe they were trying to think of a better way to get the jelly on the top shelf. 
Taking Taco Tuesday To The Extreme
Taco Tuesday is the best day of the week, and you have to give her props for going all out to get in the taco spirit.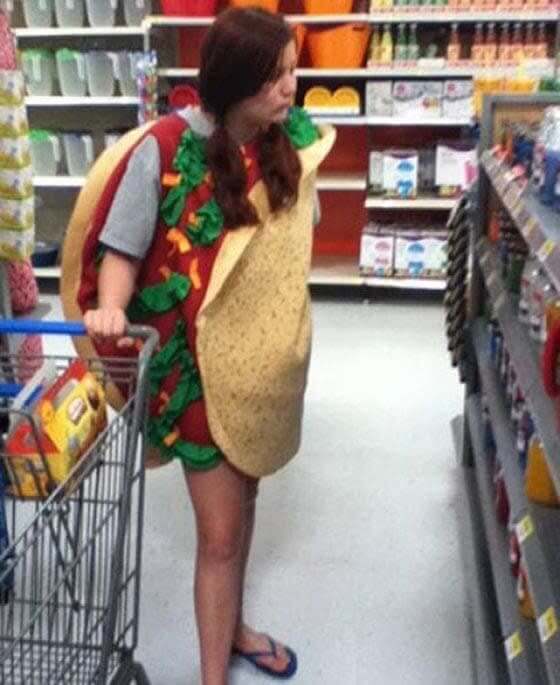 Maybe if you dress up like a taco and walking into Taco Bell, you will get a free taco. Who knows? 
What Is It Made From?
When you see a product called cat milk, where do you assume the milk comes from? Cats, right? Well, apparently that is not correct.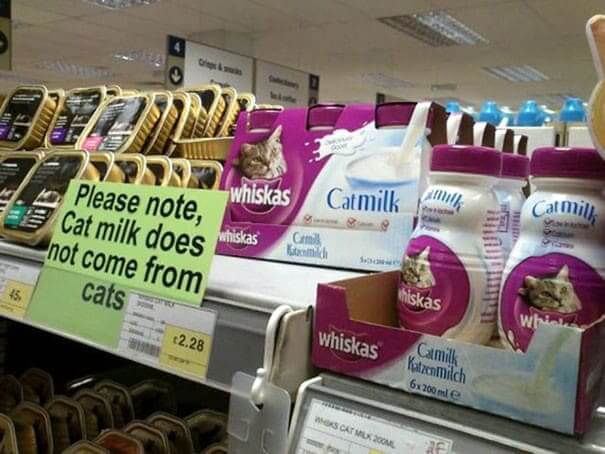 The product cat milk does not come from cats, but it is still unclear where the milk is sourced from. 
What Back To School Feels Like
When you are enjoying summer and having no responsibilities, back to school displays are the last thing you want to see.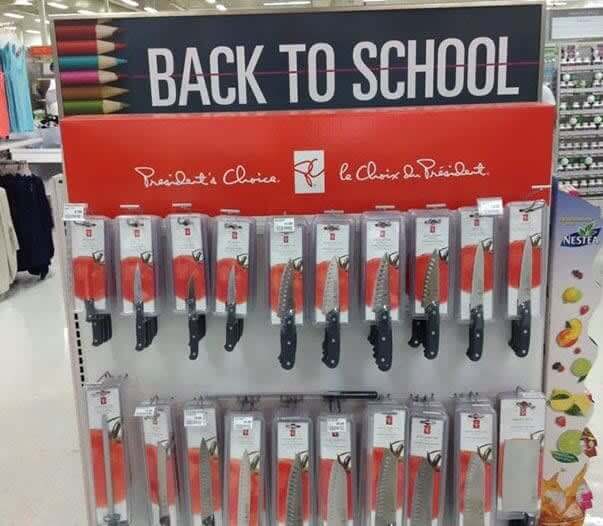 Sometimes back to school season can feel like a bunch of knives stabbing you. We get it. 
Well, They Aren't Wrong
Eggs are technically chicken embryos, therefore they are boneless chickens at the moment.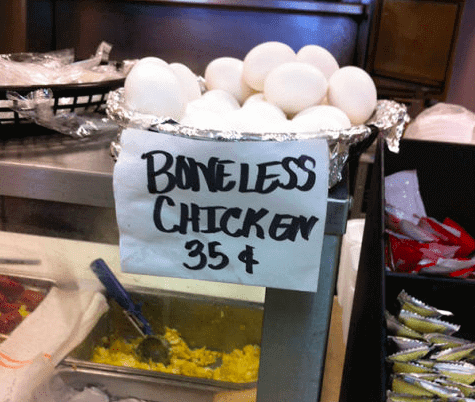 This is a funny and weird way to advertise hard-boiled eggs. Some people might be turned off by the thought of boneless chickens. 
A New Marketing Strategy
That's an interesting place to put a sign about diabetes. Let's get people to buy cakes and think about how unhealthy cakes are for their health.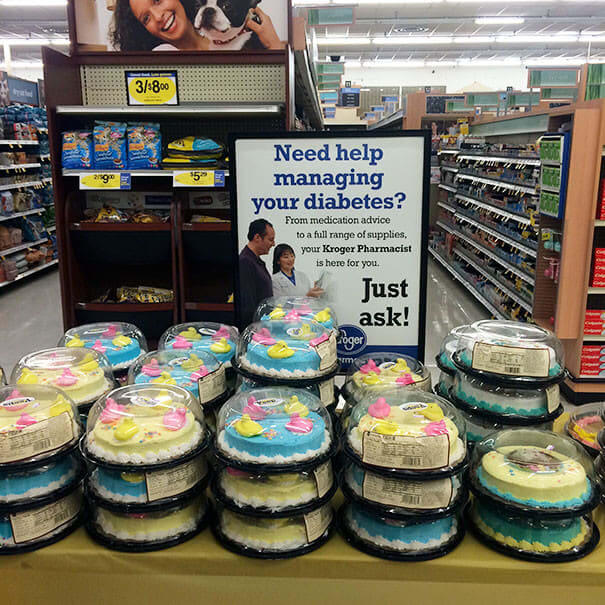 It is a great marketing tactic if you want to really get in people's faces about their diabetes.