Special effects have become the holy grail of Hollywood movies; credit has to be given to the advancements made in technology such as the CGI and green screens. Have you ever wondered what it looks like in reality when these films are being made? Trust us, seeing this will change the way you watch movies. So, feed your eyes on these behind-the-scenes photos of Hollywood at its best and enjoy laughing at how bizarre some of the actors look.
1. Titanic
For me, I have the feeling that a great number of scenes in the movie Titanic should have had more green scene than this. From the picture, all that is needed to reenact this scene is to grab a small boat and you are good to go, a huge ocean liner is not really needed.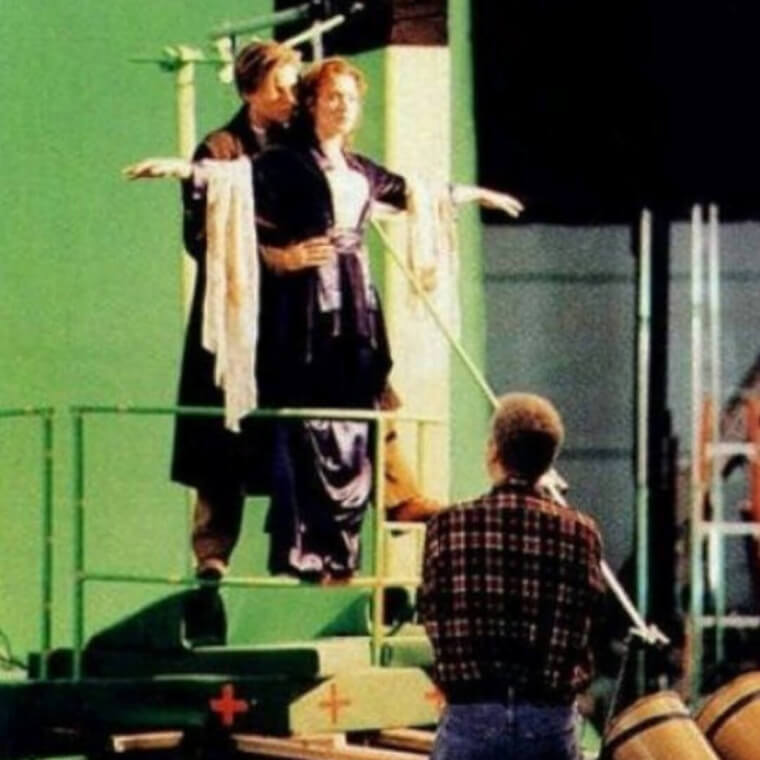 First, "rose" was not so impressed with the space on the door, and yet, this comes up.
2. Harry Potter And The Order Of The Phoenix
I'm sorry to say this but I refuse to be swayed into believing that this picture is real. Where is my letter to Hogwarts? Did it get lost when Voldemort destroyed the Ministry of Magic's records, I thought in my head that Harry Potter world of wizarding was a real place and I didn't just get an invite to this other dimension because I obviously lost my letter which I mentioned above.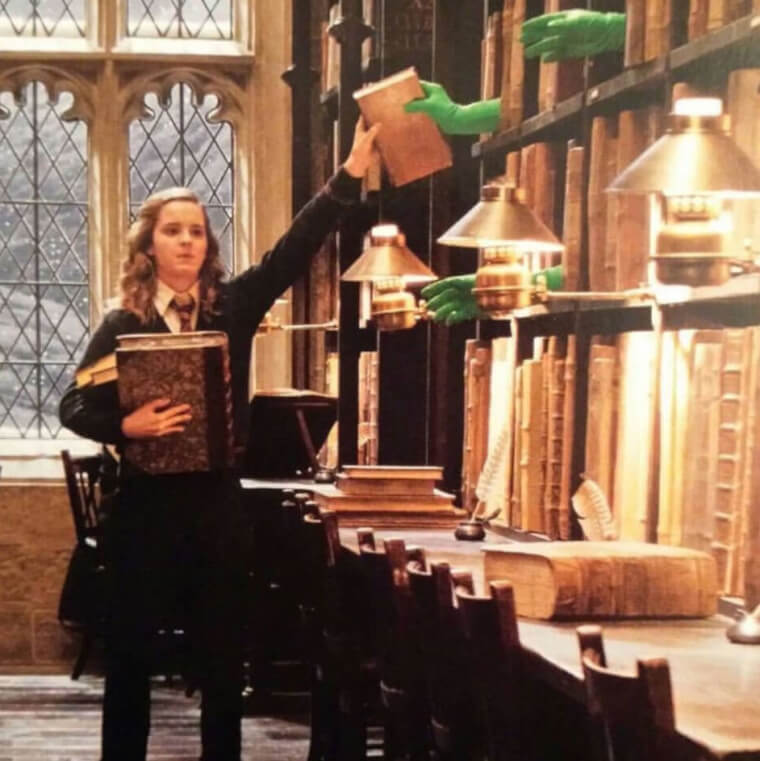 Those magical creatures with the green screen hands must be mythical creatures that live in the library. Next: Matrix, behind the scenes …
3. Game Of Thrones
I will be truthful here, I was hoping for something a little bit scarier and intimidating to have been used as a dragon. I get it, CGI was deployed using a green stick but come on, the dragon should have been accorded more respect, they are huge and terrifying creatures.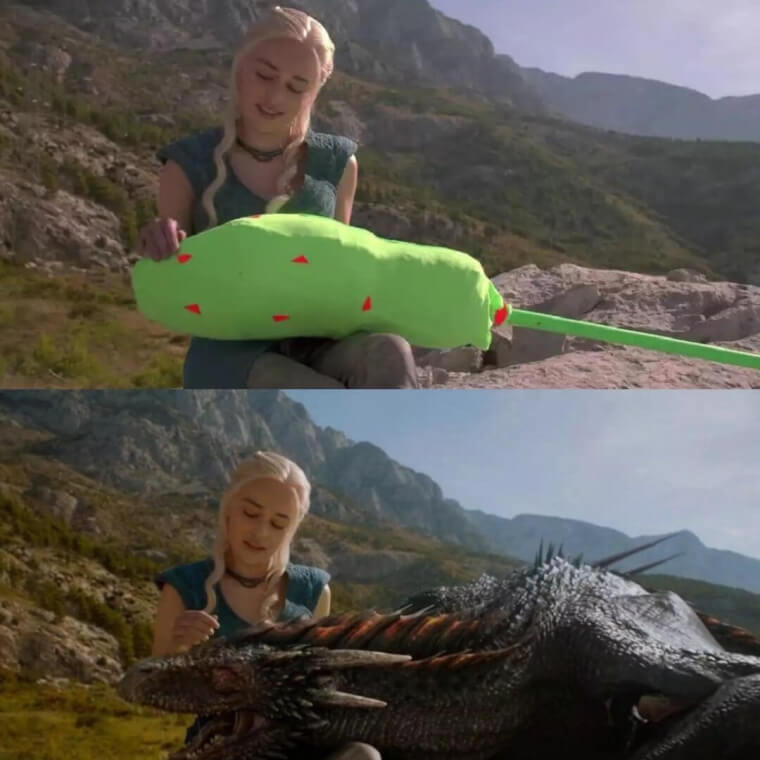 Grabbing some fabric and wrapping it around a stick and calling it quit makes me feel no serious attempts were made by the production team to make "Clarke Emilia" job easier. Check further to view the ways your favorite animated '90s film was brought to life.
4. Beauty And The Beast
Isn't this sweet, if you have ever felt Emma Watson's is not a great actor, this photo will most certainly prove you wrong. You can see Dan Stevens walking in a big padded suit and yet, Watson face expression didn't crack into a smile, she actually danced with him in this suit.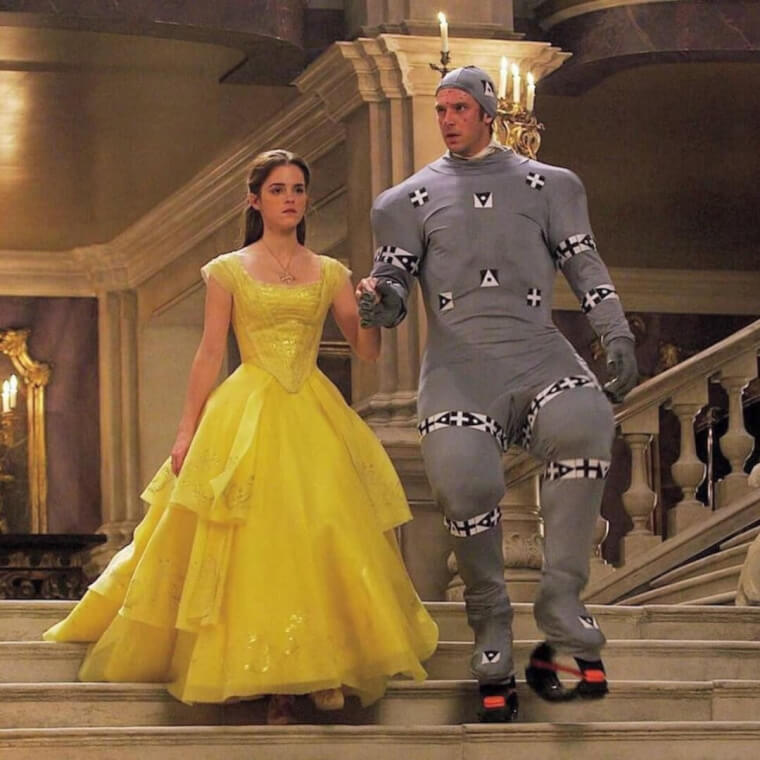 The ability she showcased in this movie by keeping a straight face with Stevens deserves an Oscar nomination.
5. Game Of Thrones
Our sincere appreciation goes to HBO'S big budget that gave us the opportunity to watch the wildlings and Jon climb the wall in season three. There are two things in this series that definitely require a green screen, the wall and the dragons.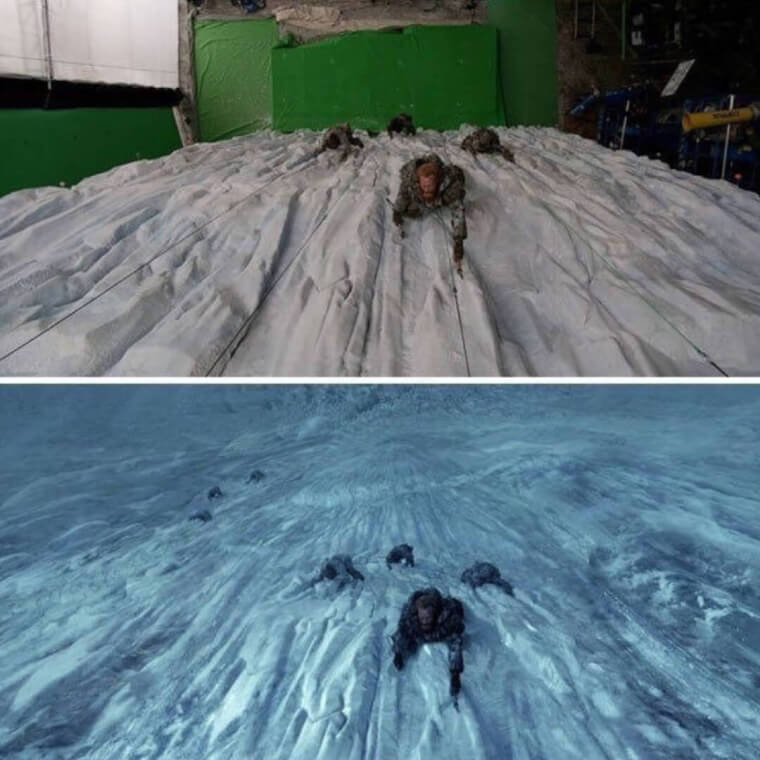 It seems a vertical wall was actually made use of, but on a closer look, the ground seems to be around 30 and not 300 feet below.
6. The Avengers
Mark Ruffalo's is the man behind the CGI Hulk; he has also been amazing playing the role of Bruce Banner in The Avengers franchise.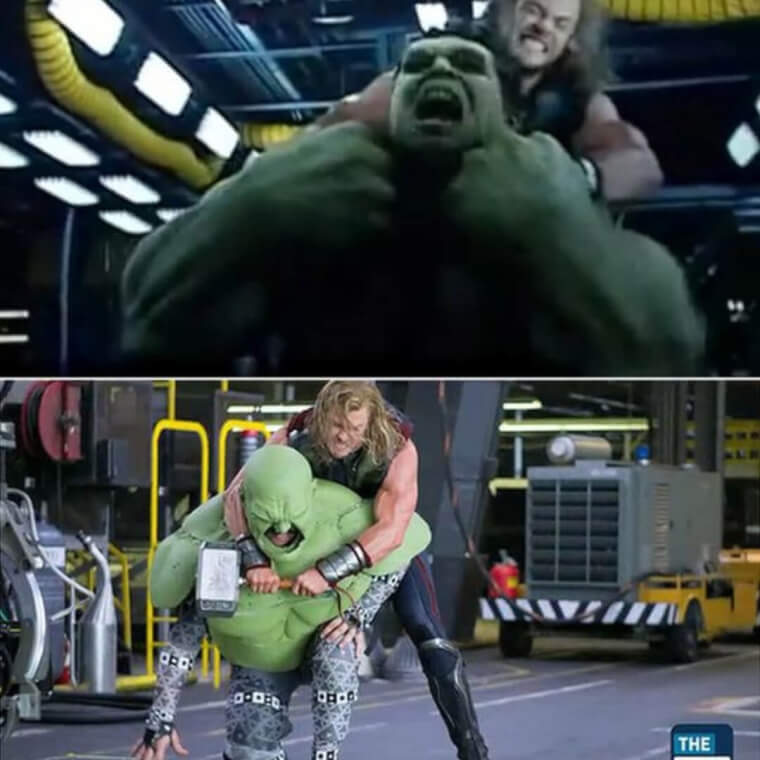 Keep in mind that whenever Banner transforms, Ruffalo also gets to transform. How? A quick outfit change into the now-famous but hidden CGI-suit and he is set to take on Chris Hemsworth like he owns him a million buck.
7. Life Of Pi
What! It dampens one's feeling to see this, even though we never got fooled and considered the tiger in Life of Pi to be real, but yet, seeing the proof really knocks the icing off the cake.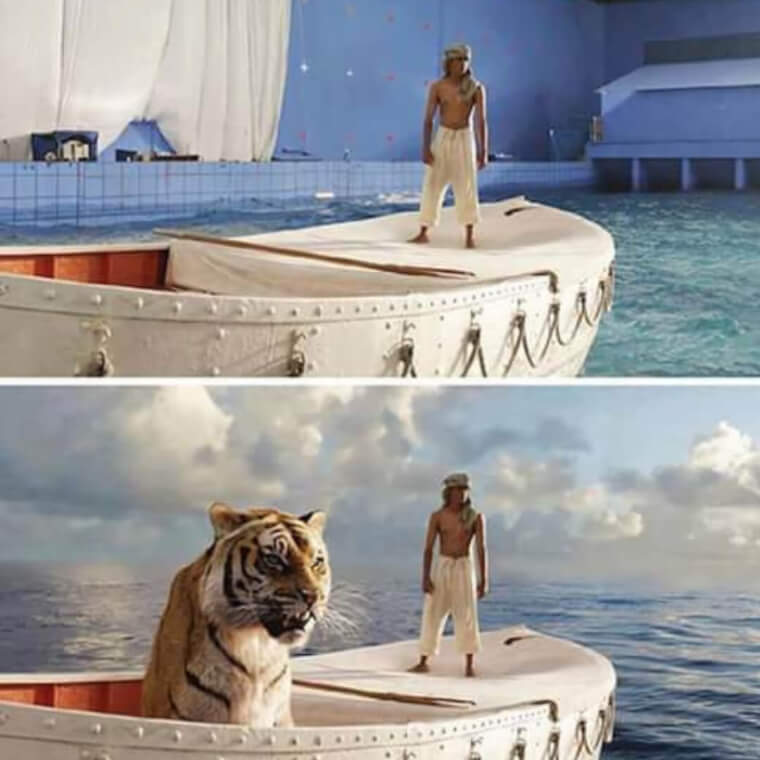 It's still awesome to see Suraj Sharma floating and acting on water undeterred by the CGI and special effects.
8. I Am Legend
We all cried while watching this scene and it still hurts, Robert is being attacked by a mutant dog, his dogs defends him but unfortunately, the dog got infected in the process. This has to be the most intense and emotional scene in the movie and we all ended up shedding tears.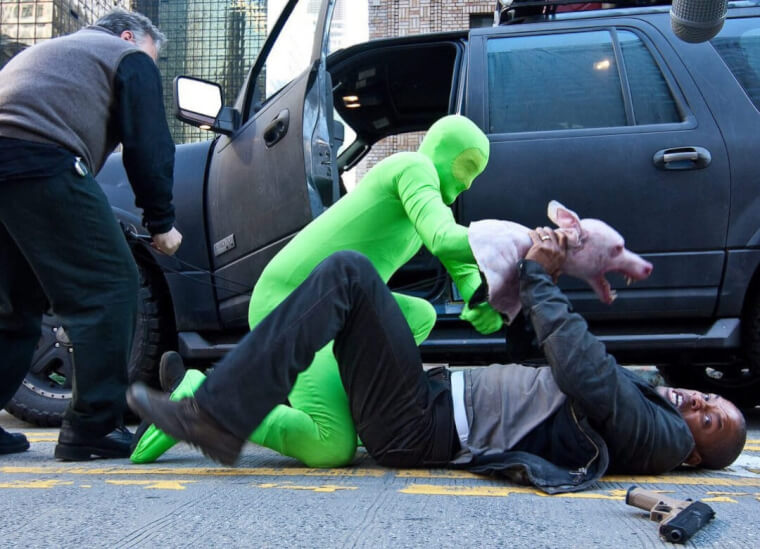 Right now, looking at this bizarre man wearing a green morph suit and playing the role of the infected dog actually makes me feel a whole lot better.
9. Space Jam
Grab your basketball and duck with CGI and special effects. You just got tuned in to the greatest bust of your childhood! Michael Jordan was actually acting with cartoon characters in this movie, ok, but in reality, he cannot actually do this. But when you think of the kids, their imagination run's faster than a cheetah and I guess they won't care any less to know things like this are not real.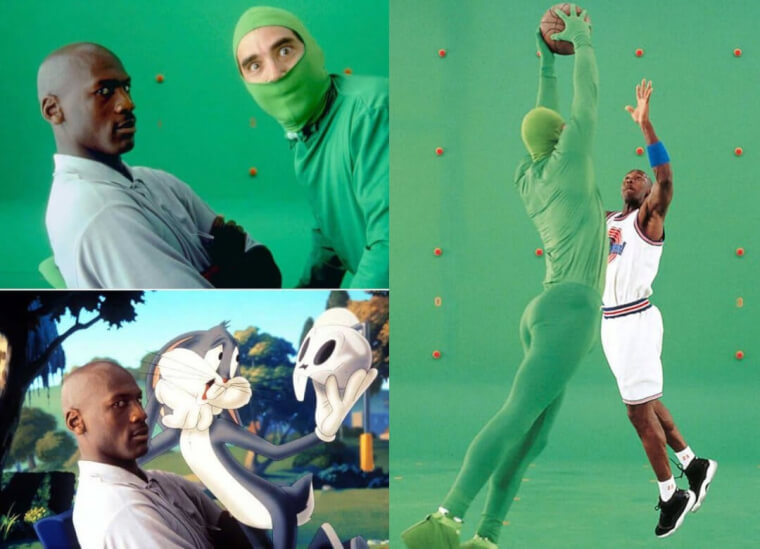 This proves by the way that MJ is an underrated actor. The next movie is a sequel to an "80s original", the effects of both films are different.
10. Harry Potter And The Half-Blood Prince
Obviously, if Hollywood doesn't feature a flying scene, it won't be an exclusive behind the scenes peek. Daniel Radcliffe must have enjoyed pretending to glide and swipe through the air.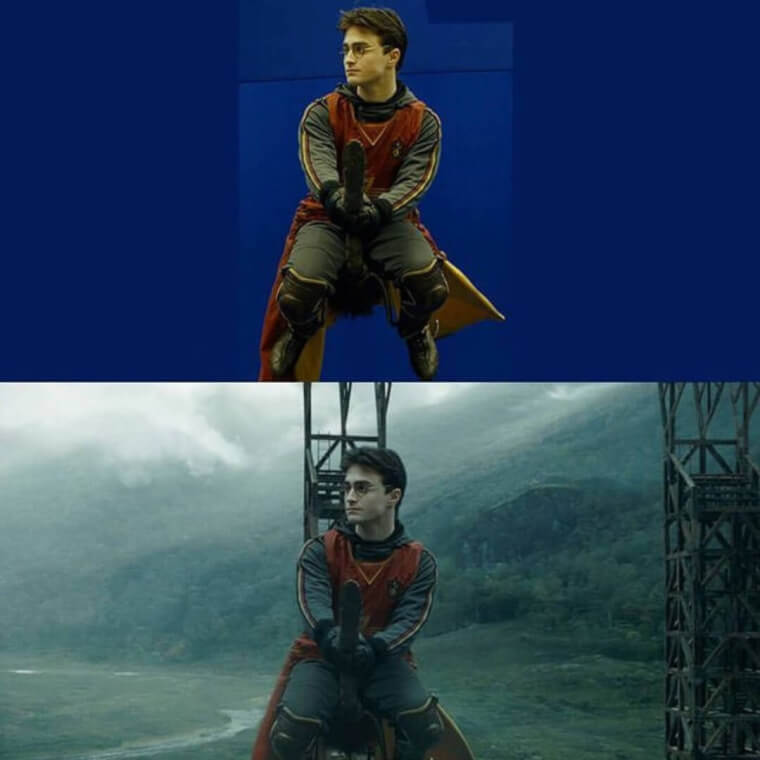 I figure the experience must have been close to riding some of the coin-operated rides that you will find outside a convenience store but with more machine blowing wind around. Coming Up: Matrix
11. Pirates Of The Caribbean: Dead Man's Chest
Busted! Remember Pirates of the Caribbean: Dead Man's Chest movie, kudos to Bill Nighy, I will have to say that he played the role of the ghost captain "Davy Jones" perfectly well, we couldn't be more pleased even though we never expected his character to have such a "snake-like" kind of moustache.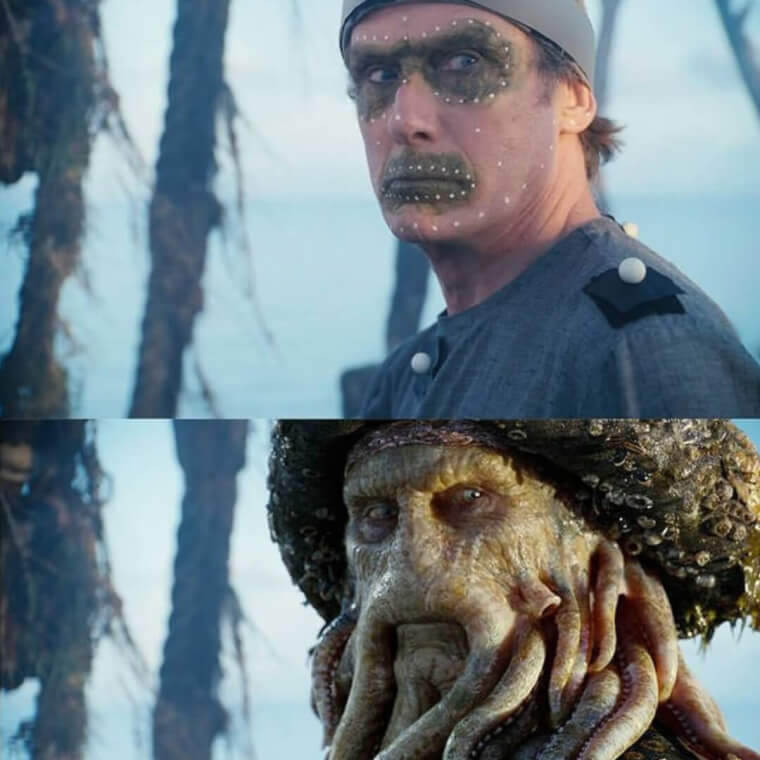 In my head, I was thinking maybe some prosthetics or even a wig was deployed but guess what? This picture proves without a doubt that CGI was used.
12. The Matrix
What did I just see? I can remember trying to make all these dodging moves on my own and feeling invincible. Oh well, news flash, this is added proof that shows The Matrix movie as a whole was all done using a green screen designed soundstage. As you can see, the mystery behind how they achieved the scene where they dodge bullets by leaning back in slow motion has been solved.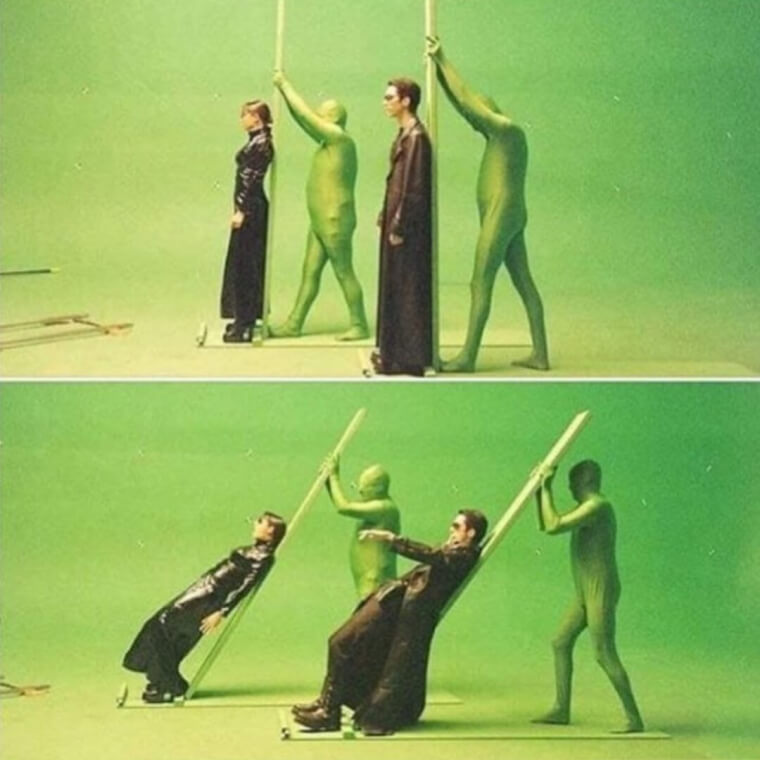 The magic of Hollywood is at full force here.
13. Mad Max: Fury Road
You don't want to drive on the same road with these guys. This film was lauded to be in its own class and this is largely due to the role that special effects played. Yes, the cars might be real, looking rugged and authentic but do you remember the explosions, flips and dystopian desert? Yeah, all those in your head right now, they were all fake.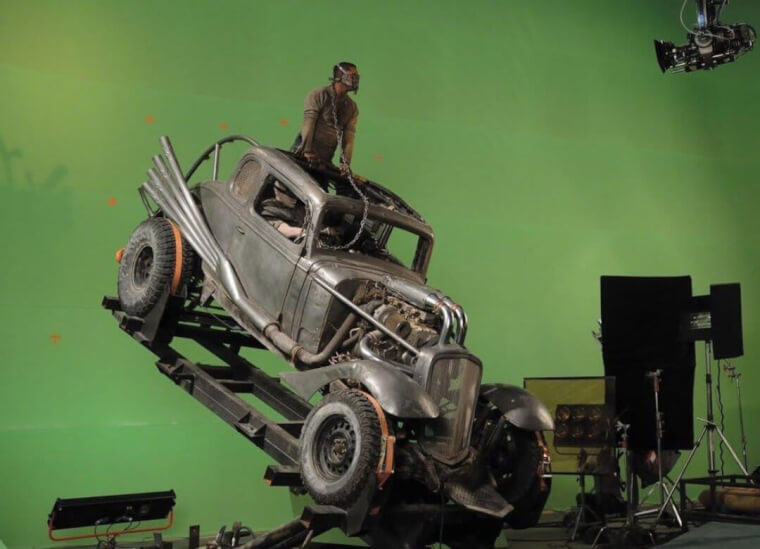 To put the record straight, Green screen or not, the original Mad Max action scenes in comparison to the New Mad Max can be likened to a little child playing in a big man's game, the new Mad Max is on steroids compared to the old movie. Keep scrolling through and you will see Will Smith showing off his action chops against a dog that is not scary one bit.
14. The Avengers
Here, we can see Mark Ruffalo at his best again. For Chris Evans and Chris Hemsworth, they had it easy wearing those boring super warrior costumes.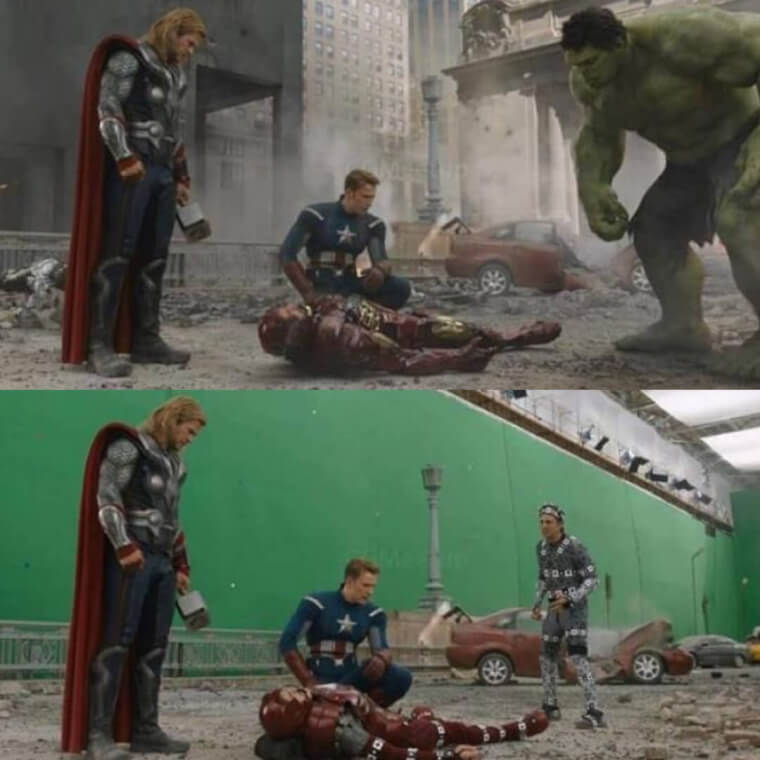 But as for Mark, he had to consistently switch roles from playing the shy, awkward scientist to the 1400 pound, 8- foot tall monster who ends up with no short on. Can I have a round of applaud, he deserves it.
15. Guardians Of The Galaxy
I apologize but to be honest, I'm a little unhappy that I didn't get to see Bradley Cooper who was credited for playing the role of Rocket in Guardians of the Galaxy in that green morph suit.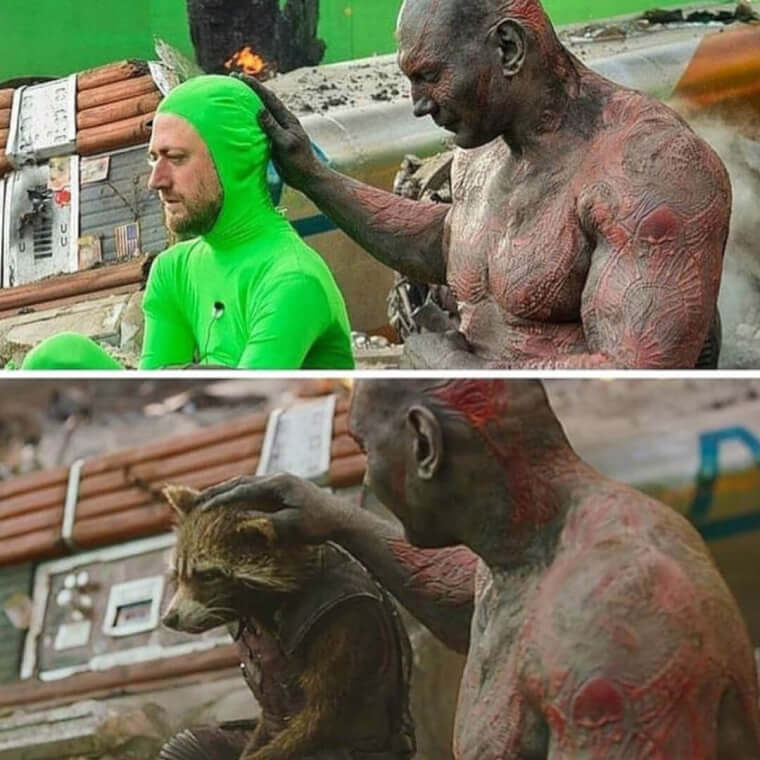 Replacing him in the suit is the effect actor Gunn Sean who had to keep a low stance for a prolonged period of time in order to pull off the role.
16. The Dark Knight
While Harvey Dent was having issues with his identity crisis, Aaron Eckhart was kicking ass with his perfect acting. Even though Credit needs to be given to CGI for doing all the heavy lifting for Eckhart, his attempt at making the half part of his face look more frightening than the other was quite good.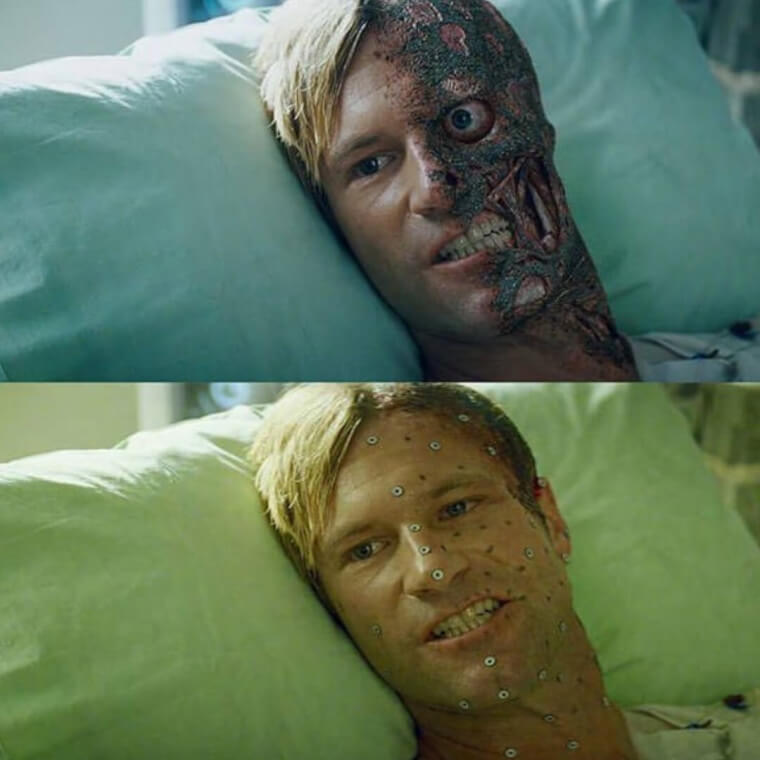 Throw in some prosthetics in the mix and he won't even need special effect, well-done Eckhart.
17. Boardwalk Empire
A few strips of green screen can be seen deployed here in the movie Boardwalk Empire and it goes to show how this can remodel an entire scene, amazing effects right?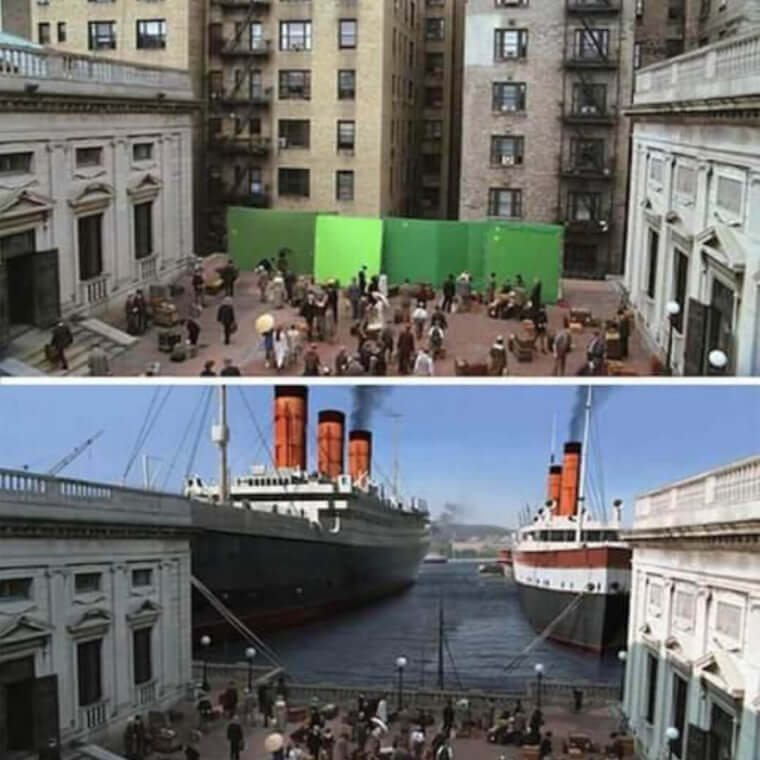 A few decades ago, making a film like this will require a large body of water and the dated ocean liners would have to be omitted. This goes to show how far we have gone in the movie industry.
18. Gravity
Are you a big fan of movies made in outer space, such movies are bound to have some CGI action and screen in them, and it goes to show how much efforts was put into the movie Gravity.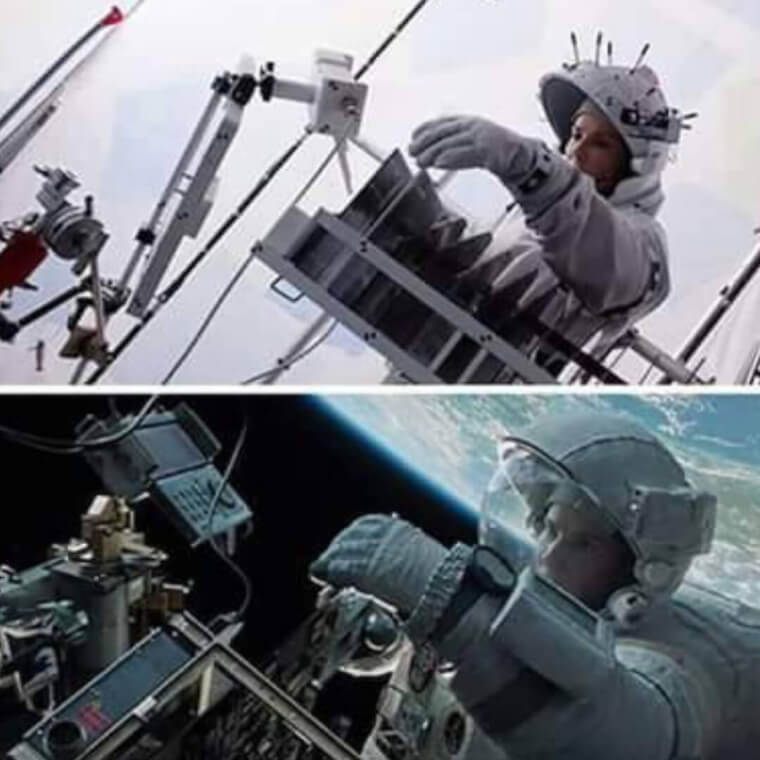 The actress Sandra Bullock didn't even have anything close to the actual equipment deployed in the studio and yet, everything turned out fine, kudos to the muscle power of CGI.
19. The Avengers
I think there's a saying that a little bit of fire won't hurt anybody. Well, no way Marvel is taking any chances here, green screen to the rescue. These movies by Marvel are filled with action scenes with various explosions flying around here and there.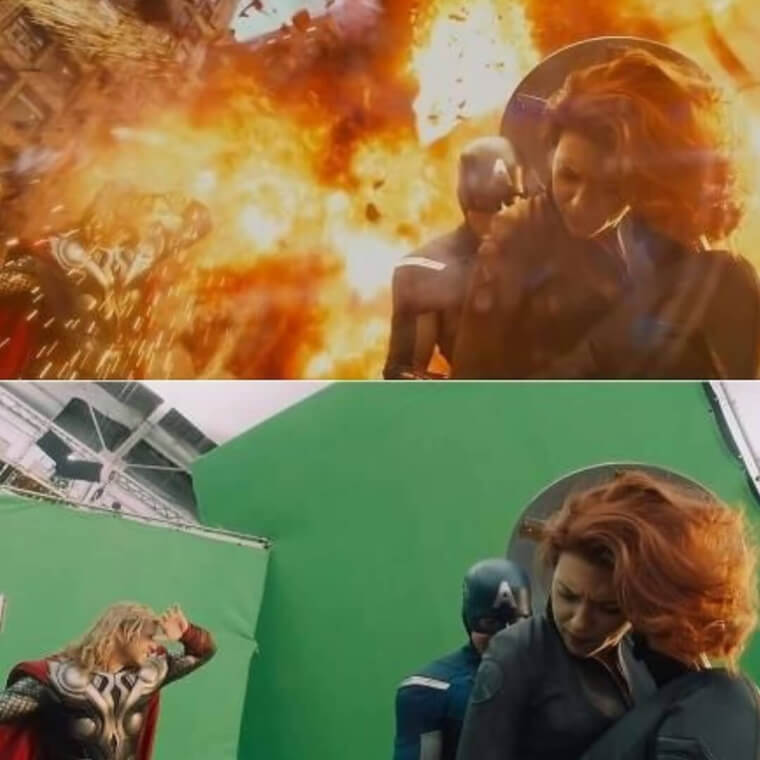 Decades ago, this probably won't have even been possible. Ok, maybe it might have been achievable but they will have had to use real explosions which will have been unsafe. Once more, green screen to the rescue.
20. The Matrix
Back to showcasing The Matrix movie again, the above scene was set up in a storehouse and green screen was still deployed in the entire background. Taking into account that half of this movie plot revolves around the character "Neo" doing his thing while inside The Matrix, a great deal of CGI needed to be used.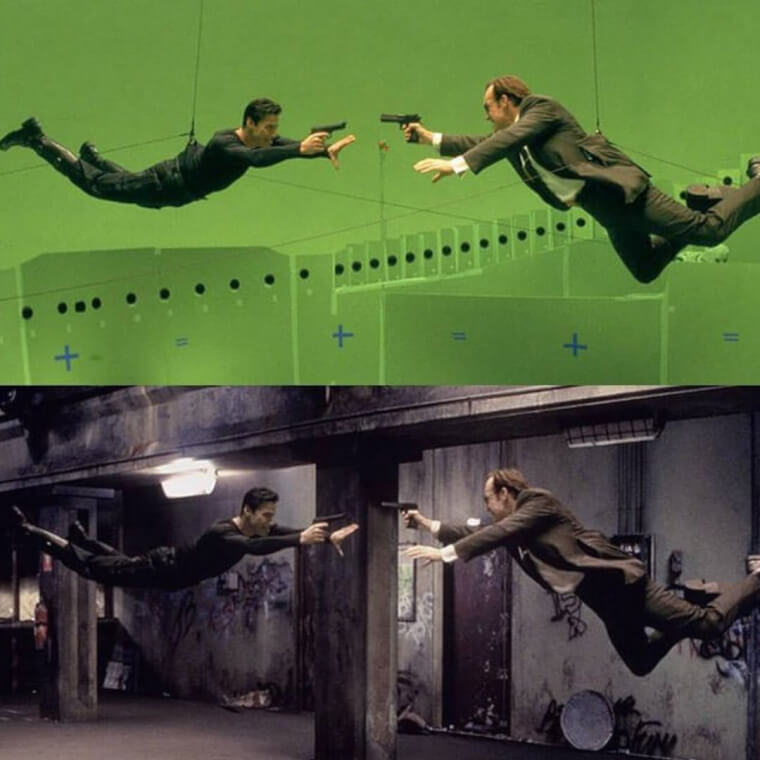 I get the feeling that Keanu Reeves basically played his role in this entire movie using his own wits and imagination, I must say this is quite amazing and remarkable.
21. X-Men
Is Wolverine really smiling here? I bet he won't be if he had actual metal rods sticking right inside of him. He is basically the mutant that can regenerate after any type of damage is dealt to his body. It doesn't matter if it's a blade slicing right into him or a gunshot aimed right at him with the bullet going right into his body, he always manages to come back and not only that, he comes back angrier than ever. Little kids should wonder no more about how he does it.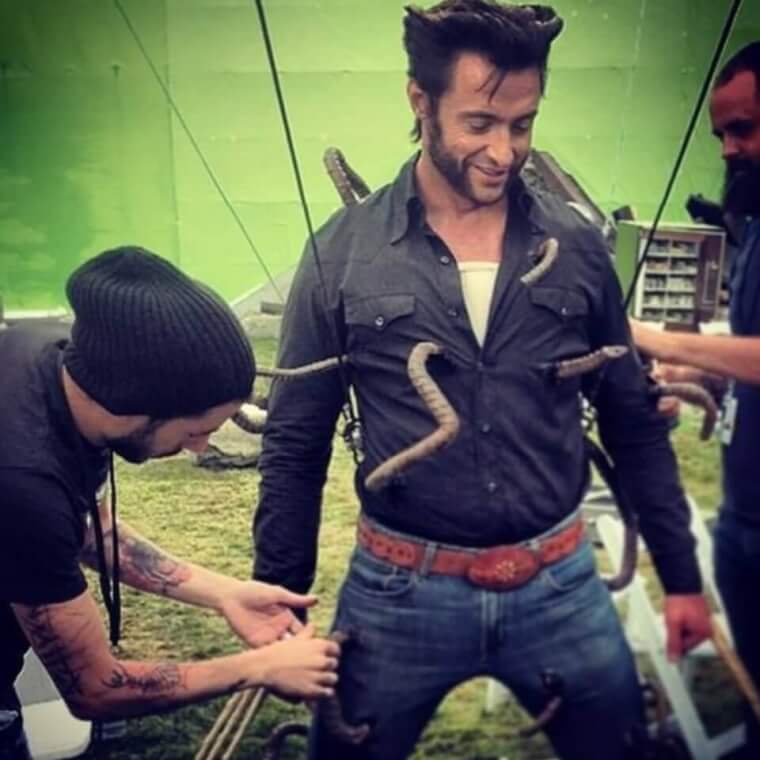 In this scene, cast members are setting him up for success, even though the metal rods look like it is going right through him, they are only attached to the exterior part of his body.
22. Infinity War
No one is smiling with you "Thanos", introducing the most ruthless villain in the Marvel Universe. He never disappointed after making his full-length movie appearance around early 2018 playing the character in Avengers: Infinity War. How was this actor remodeled?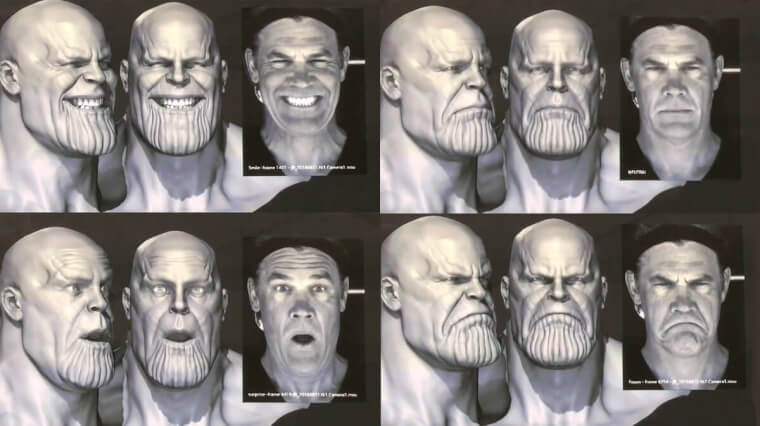 Well, it looks to me like facial scans were taken and matched with CGI. This means that any facial expression that Brolin Josh makes in the computer will be also be projected on the big screen for us to see.
23. Godzilla
Come on, giant lizards waiting to attack after laying dormant in unknown and secluded places. If the case was this, the world as we know it is doomed. Probably, a nuke might stop it but this is also dangerous to the civilian population.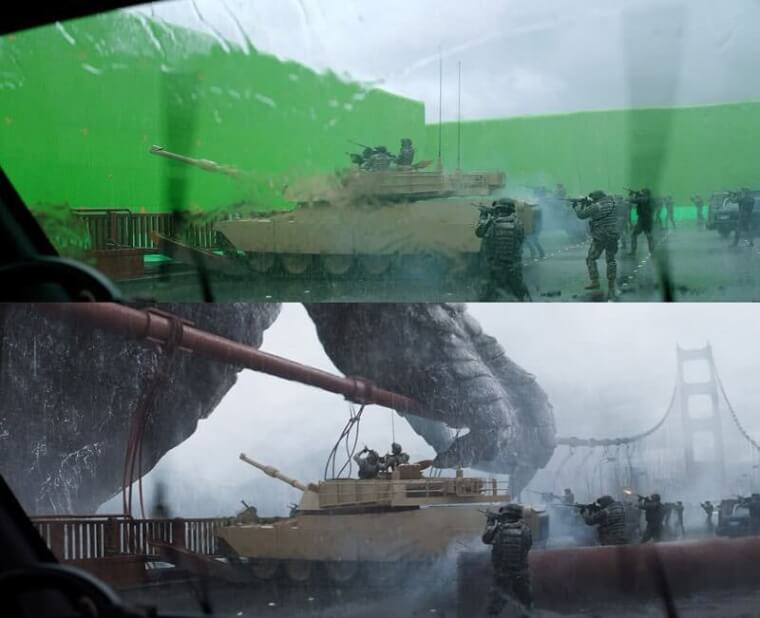 Looks to me like a giant screen was deployed in front of breathing and living actors and Godzilla was slipped through using impressive CGI effects.
24. Rise Of The Planet Of The Apes
Lots of us wish to believe that Ceasar was real and a revolution could be led by a group of monkeys, this is just not the case in reality but it will be fun to find out how this bold and powerful lead character was brought to life.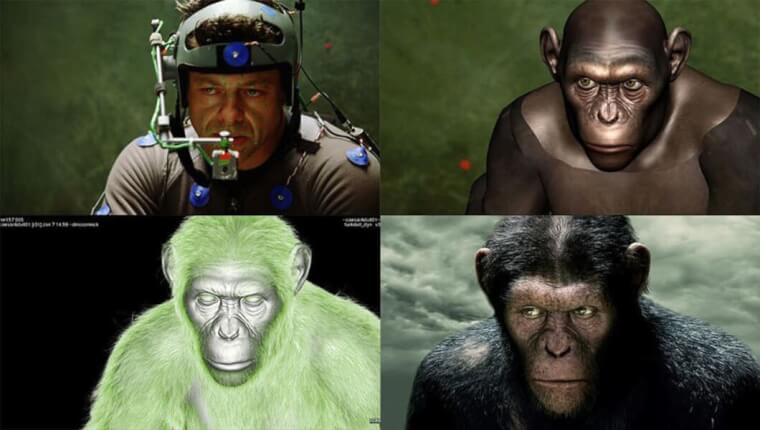 Turns out that the filmmakers used a similar approach to that of "Thanos" from the infinity movie. Grab something and place it on his head and leave the rest of the work to CGI. Smooth right?
25. Kill Bill
As regards the stunts Uma Thurman pulled off in this movie, it's probably very few people that will be capable of it; of course, a little bit of Hollywood magic came to her rescue.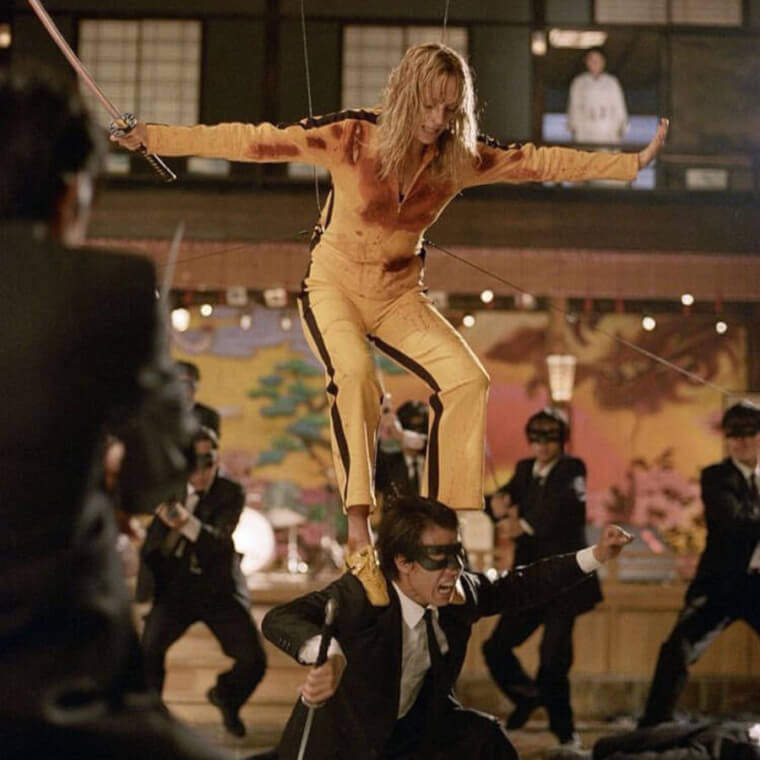 For balance, a couple of wires were attached to her to keep her safe in case she falls off this poor fellow (I hope he was paid enough for this). I am looking forward to "part three" of this movie by the way.
26. Infinity War
Quite a number of people often wonder how realistic buildings often get destroyed while making these movies. Maybe they visit the city's mayor and request for old buildings to use in their movies but we all know that's not the case.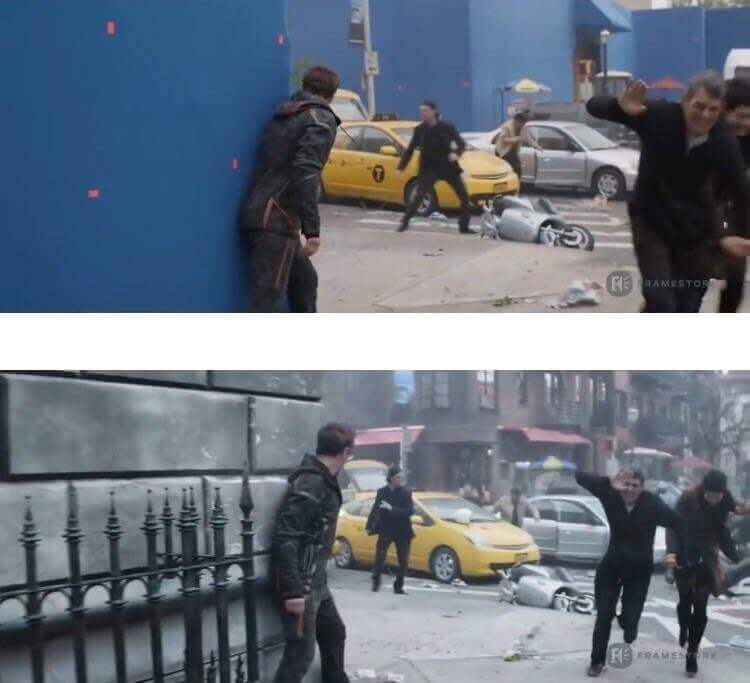 There was a lot of destruction in Infinity War. In the above scene, the iron man played by Tony Stark is getting ready for battle, the damage done so far is minor and instead of using our now-classic green screen, the buildings were covered in blue and will be edited afterwards.
27. Life Of Pi
After the wrapped stick Emily used for CGI in Games of Thrones, we are now having this, someone should please throw me inside a bottle of water, lol. Life will have actually been a blast if tigers could willingly sleep on our laps instead of seeing us as a potential meal.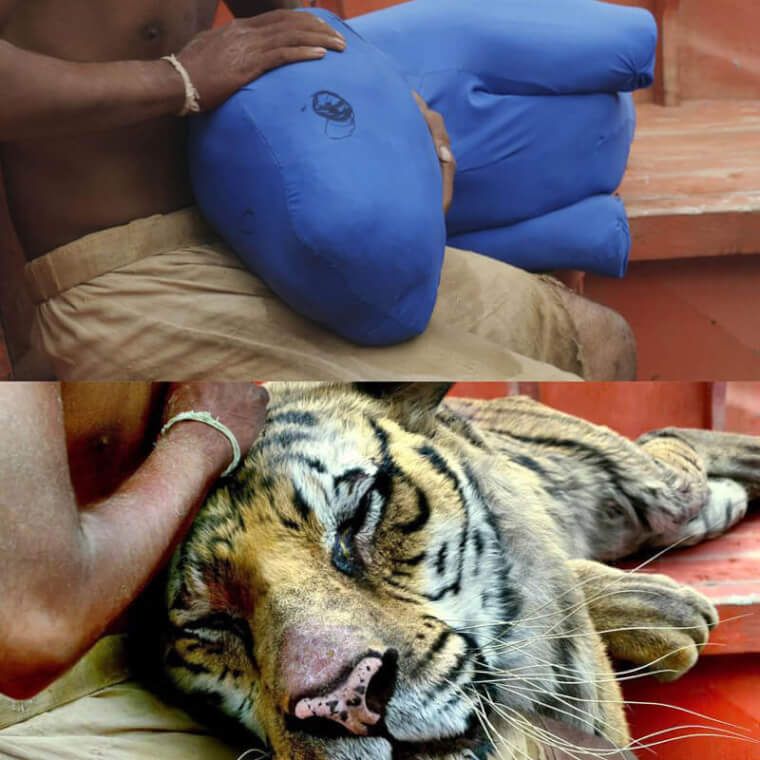 Looks to me like he was just holding a stuffed animal with an eye drawn on it. Definitely not scary at all and I must add that the tiger actually looks cute.
28. 300
Before going any further on this one, this film took place in the past which means it's fake. These scenes took place at a time period and in places that just do not exist anymore and a solution had to surface.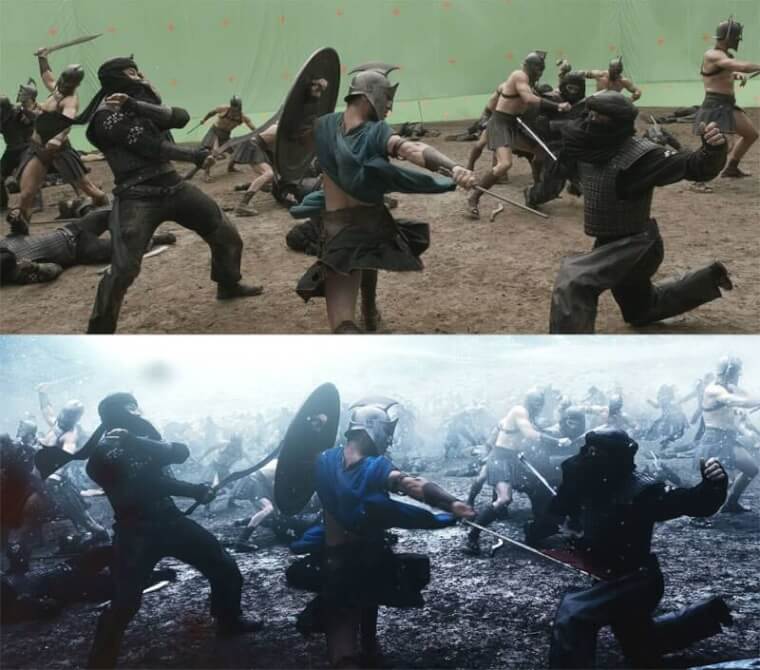 Making this movie in the open will have been classic but unfortunately, this was not the case.
29. Tron
This movie contains tons of special effects. If the world displayed in this movie actually exists, we will all be queuing for tickets to go there right now.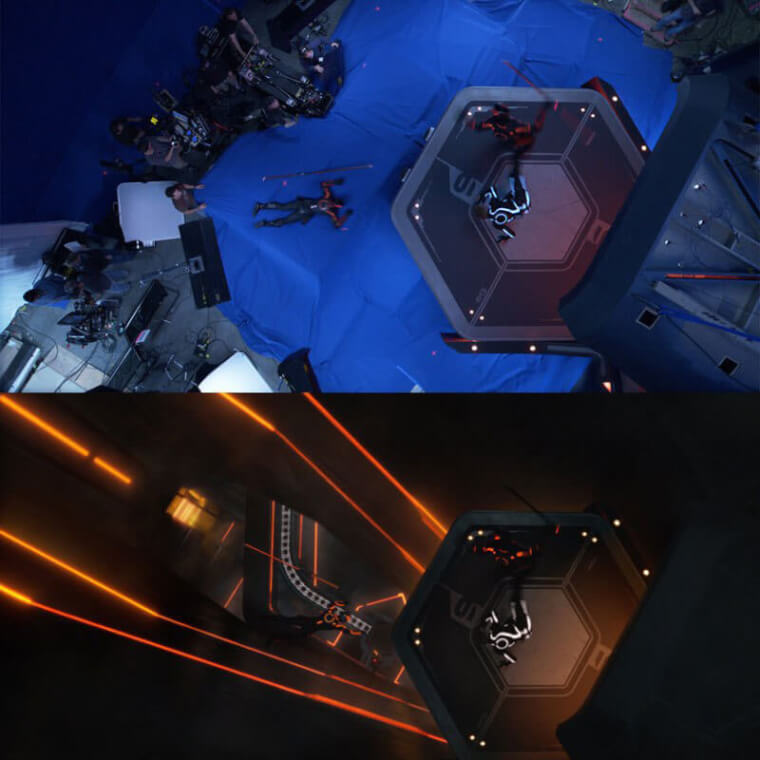 Cool lights and amazing themes can be seen here and this all suggests that a heavy quantity of various color screens must have been deployed to pull this movie off.
30. Robocop
So it was only a sweet regular guy playing this terrifying cop role with some cool head gear on him.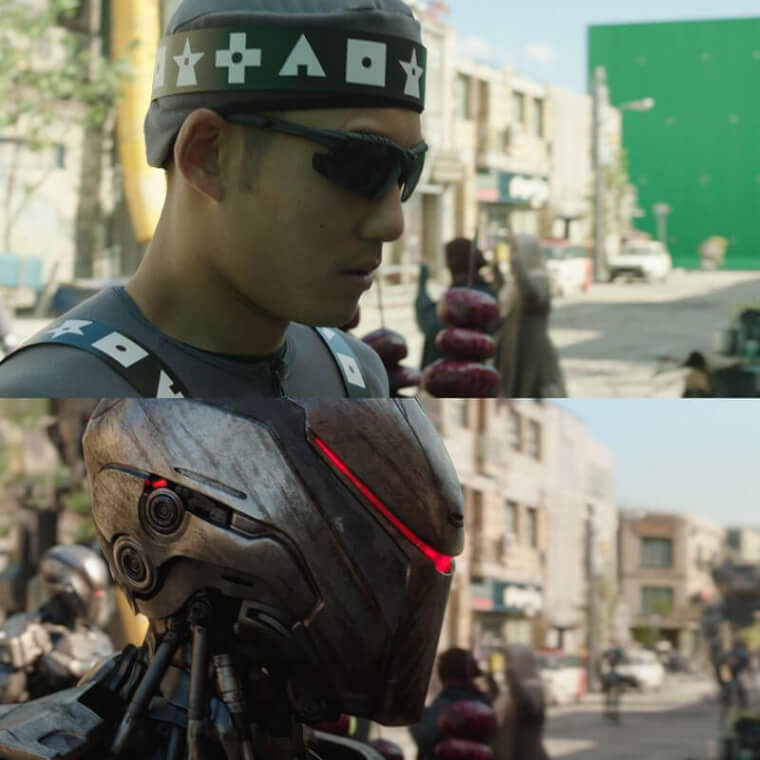 Giant robocops roaming the streets will have been a little frightening. Although things look like they will turn out this way in our own realistic future, there was no way it will be possible when this movie came out.
31. Superman
We have all imagined having super powers and having the ability to fly will probably top the list. Imagine flying over airports, it will make all the airport security obsolete. Fortunately, in the case of Clark Kent, he isn't of this world.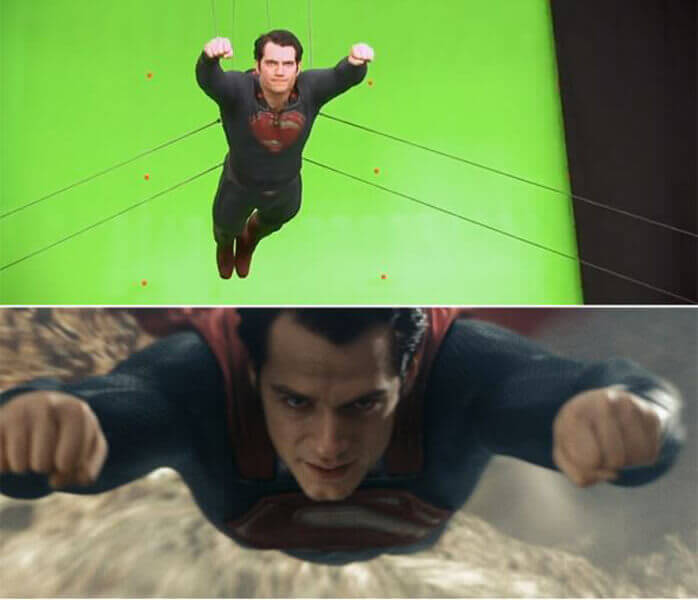 It's not really difficult to make him look like he is flying, all you need to do is suspect him in the air, grab some screen and throw this right behind him.
32. Hunger Games
Is that tech looking table just a wrap of green long table? That didn't just happen. Put some monitor screen on the table at least.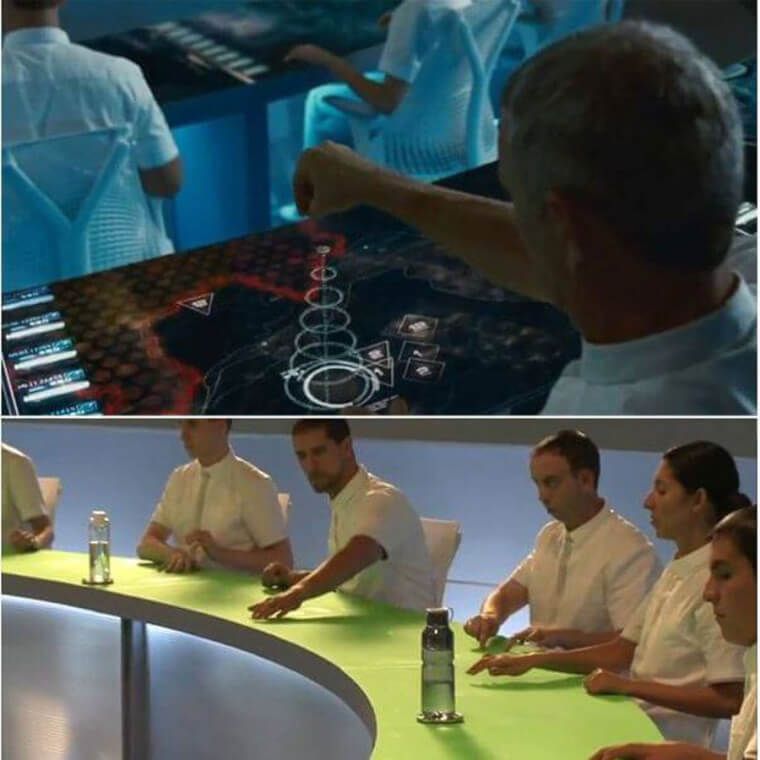 Actors playing these roles don't get paid enough to pretend they are doing something which they are really not doing. It's kind of an art from my point of view.
33. Narnia
What were you expecting it? A real beautiful mansion off the coast of some beautiful island? Well, good luck with that. While Narnia is a beautiful book that sparks imagination, it does not exist, unfortunately.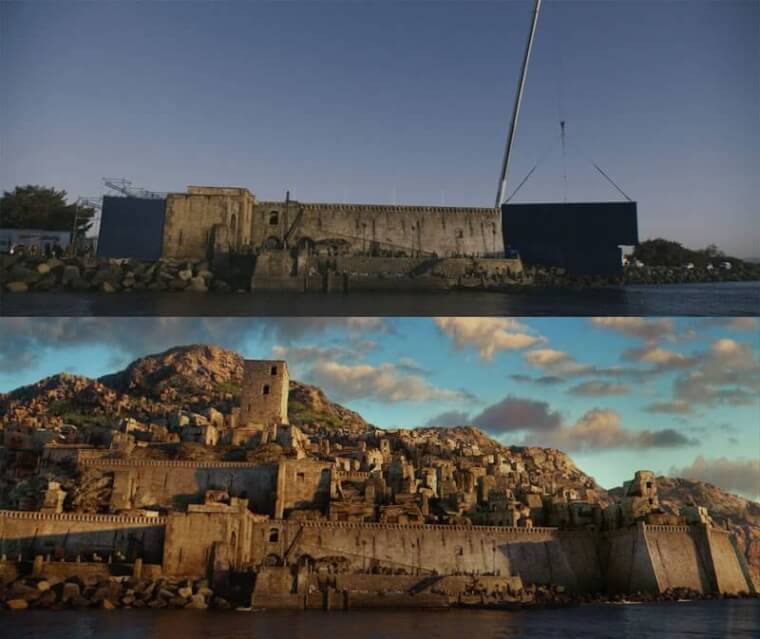 In spite of this, the people that made the movie did a great job at replicating what Narnia should look like on the big screen. It certainly looks like somewhere a lot of people will love to visit.
34. A Good Day To Die Hard
Yes, Bruce Willis might be hardcore but it is impossible for him to be really out there staring at death in the face without the computers helping out.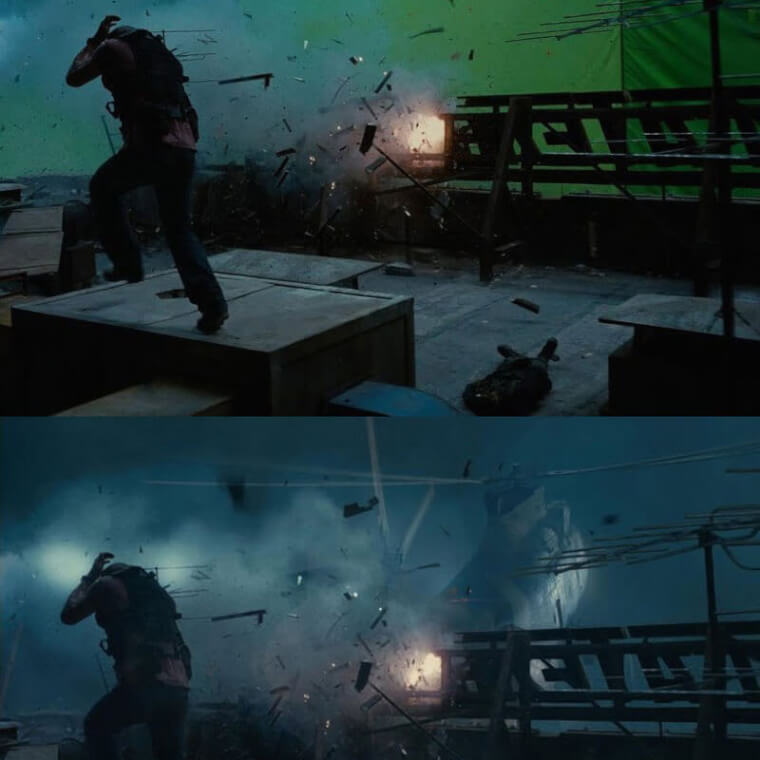 In this scene, he is seen escaping from a chopper that will have slapped him hard with death if it was real. There is news of him doing some of his stunts.
35. 300
A large statue and a bed fit for a king, this fascinating scene from this movie captures the core of what it feels like to be king at this point in time.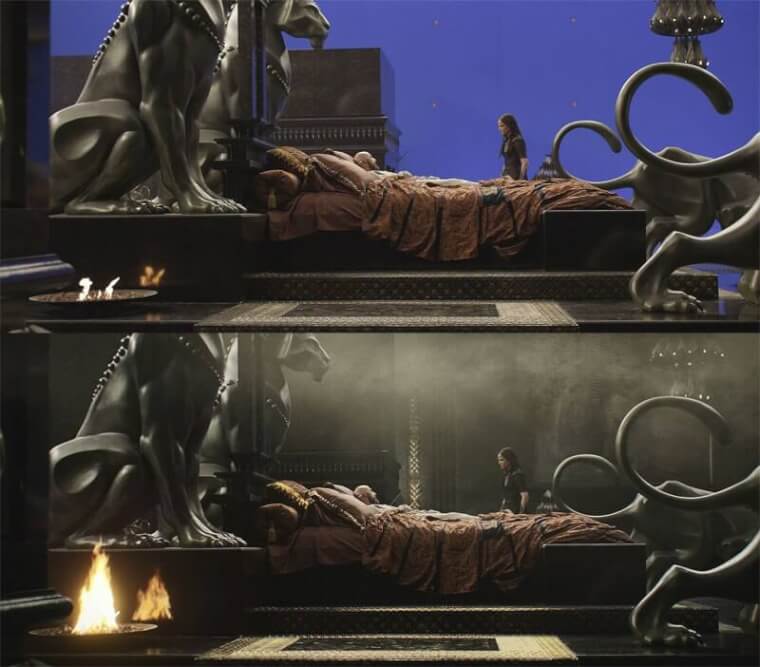 Large animal statues can probably still be found but placing them at your "palace" (that's if you have one) is going to be quite difficult.
36. Iron Man
Robert Downey Jr. must really enjoy playing the role of iron man, he has been playing this role in over ten (10) years. We are hoping that one day, the technology that will enable someone to have a real Iron Man suit will be developed but until this becomes a reality, we can as well keep enjoying his movies.
Who knows, Robert Downey Jr. might be searching for ways to develop a real suit when no one least expects it.
37. Iron Man
Marvel studio has consistently found ways to improve the manner in which Iron man will be projected on screen, by the time War machine came into the picture; they had kind of figure out ways of perfecting this.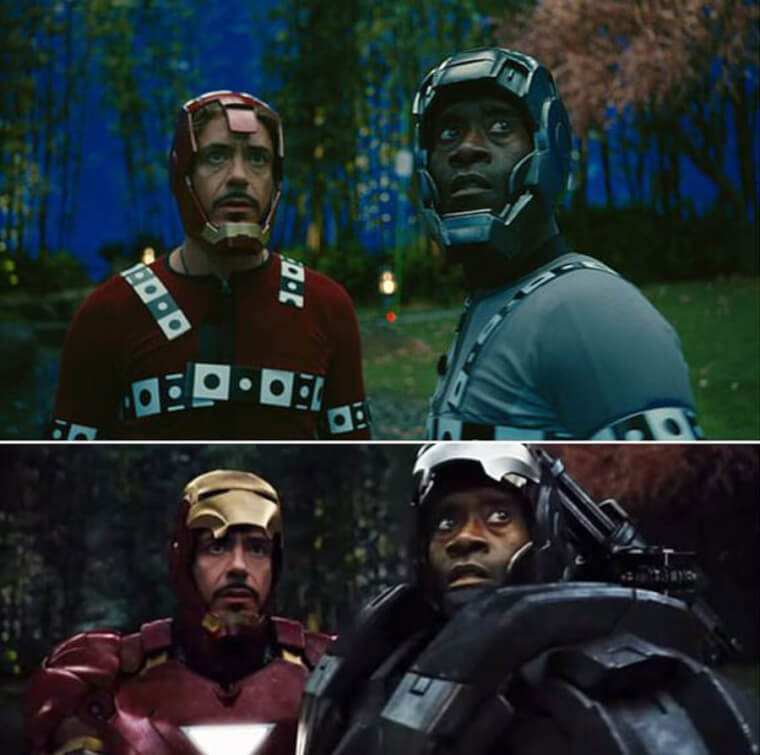 But there is still room for improvement that is guaranteed to make the future of super hero films look and feel much better.
38. Walking Dead
You can't find Zombies in the actual world, no complaints on this one. It's amazing to note that one of TV's most popular shows has some green screen used in it. Desolate cities for filming are not so readily available.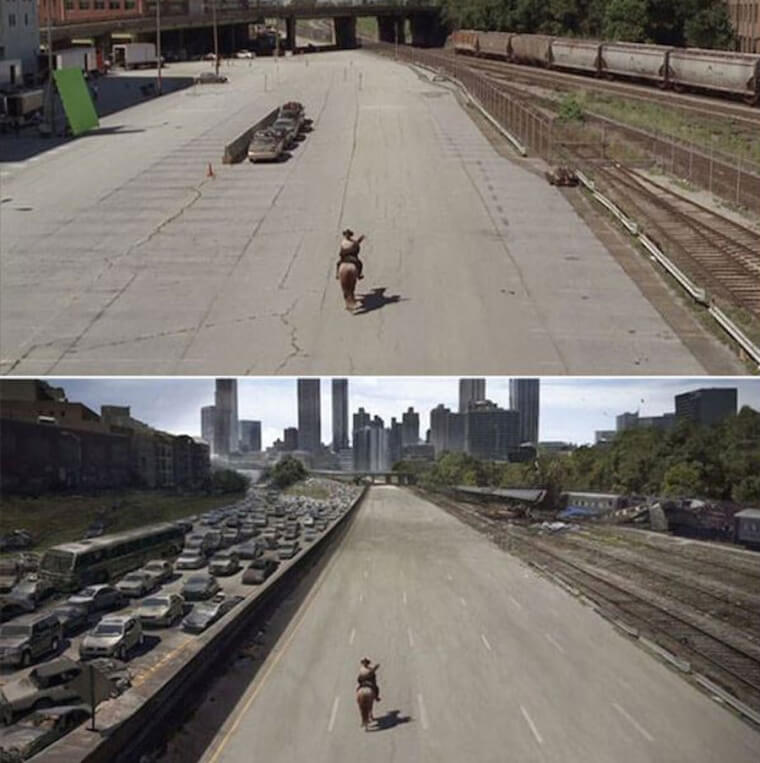 This is the reason why this scene had to be done this way; the scene probably took place in the film studio.
39. Wolf Of Wall Street
When your movie budget is quite stiff, grab some green screen and throw at it. These actors seem to be heading out for the time of their lives right inside a mock-up studio.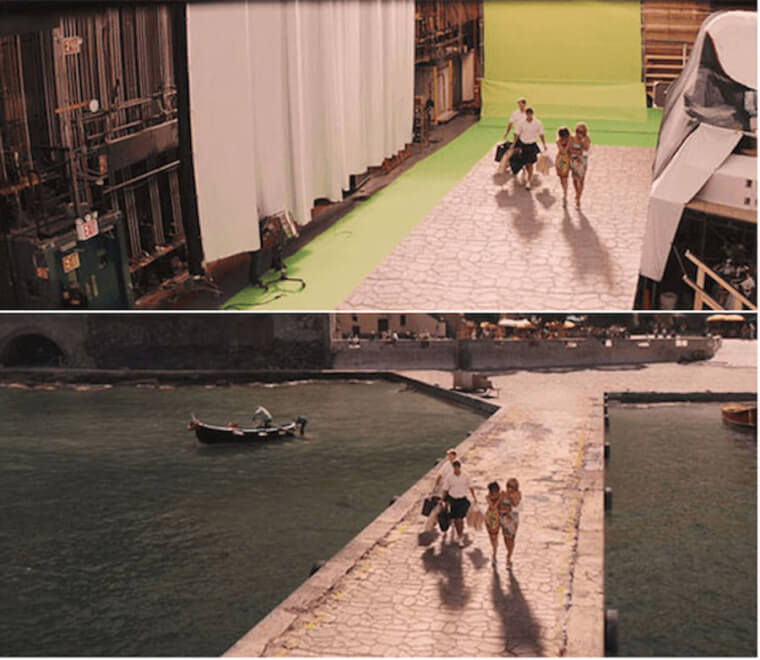 No one will have thought that this kind of simple scene will require a green screen especially since you could fly them out to places that look like this, perhaps, this was a simpler solution.
40. THE Wolverine
Hugh Jackman character as wolverine grew on us and many thought he could really take lots of smashing and come out of it blazing for more. Fans are quite sad that he is out of their lives and won't be taking this role again, he was what I will call a perfect Wolverine.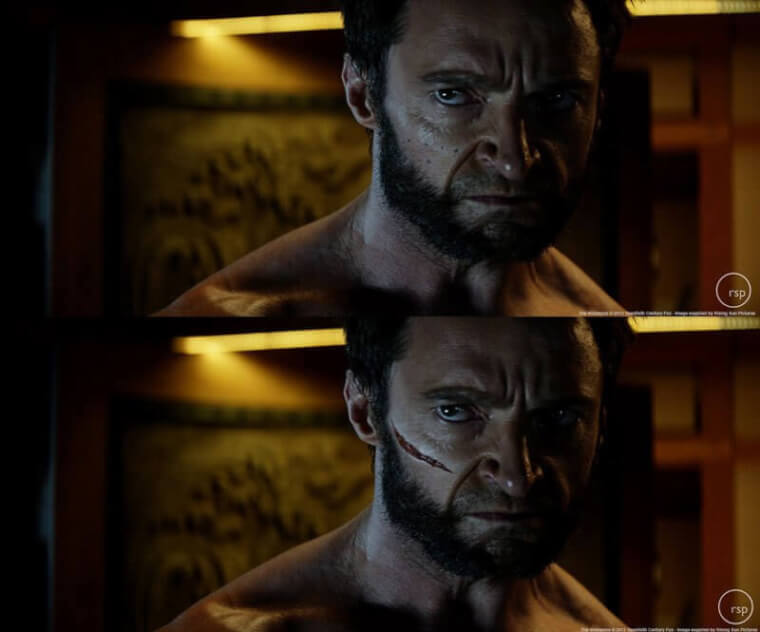 But even a scar as big as that had to be edited using CGI.