We don't blame you if you've started to feel hopeless about true love after seeing many idealistic Hollywood couple break up in the past few years. If you've started to lose your faith in "true real-life love stories," then we are here to help regain that diminishing faith. Here are some amazing couples from around the world who have recreated their old photos and given us a beautiful reminder that "don't worry, true love still exists."
1. Cake Smashing Tradition
If you think cake smashing became a common thing in the past few decades or so, have a look at this picture. In fact, this tradition is longer than this couple.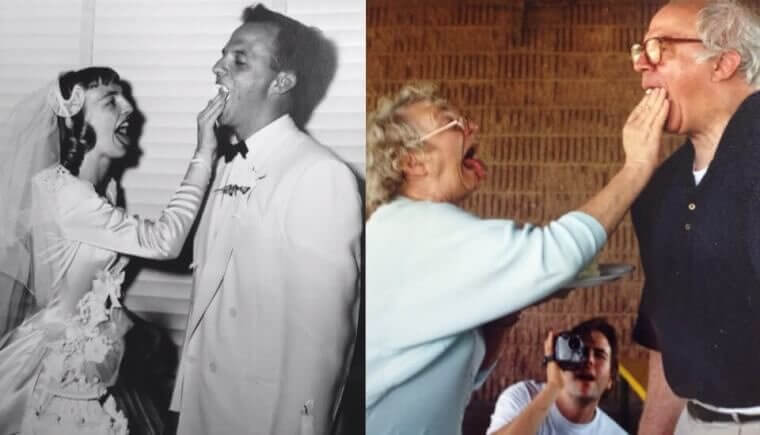 In the past, there was a weird tradition of husband breaking bread over wife as a form of male dominance. This wife decided to show who the real boss is and it looks like she has been doing it for years.
2. Recreating a Photo With '56 Chevrolet
We are not sure what's more impressive here; the fact that they have so impeccably recreated an old photo or their '56 Chevrolet is still in a pristine condition.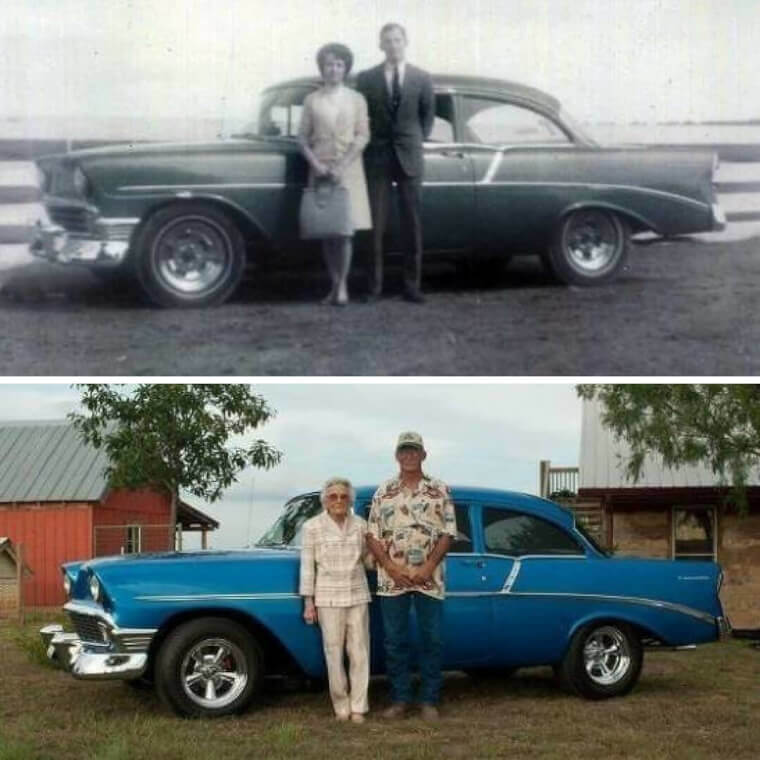 If you look closely, the husband has the same height but his wife has slowly shrunk over the years.
3. More of An Upgrade
This beautiful couple decided to have their photo taken in Old Western-style and they recreated it after 20 years.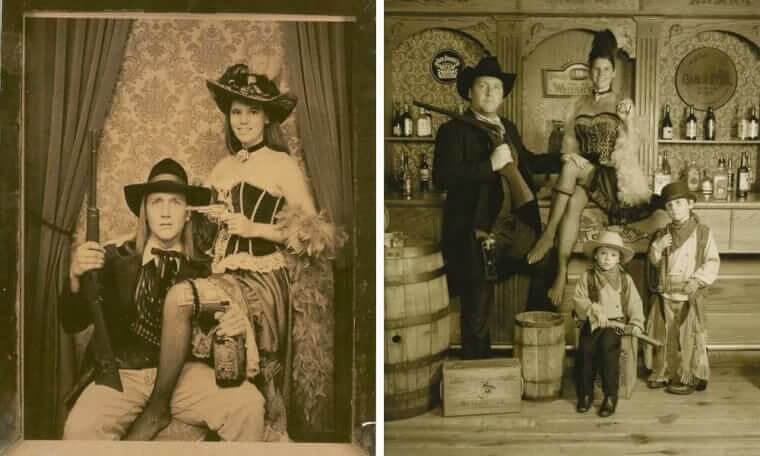 But this time, they recreated their photo with two delightful additions.
4. From Flower Girl and Ring Bearer to a Newly Wedded Couple
They were only 3-years-old when they were brought together to be the flower girl and ring bearer. And they married each other twenty years later.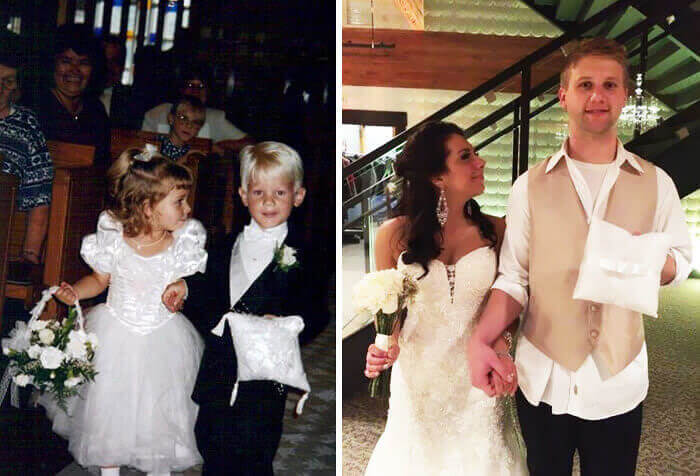 They don't remember their interaction at the wedding. Luckily, they met at the high school after years and she said to him that, "I think I have a picture of you on my wall at home."
5. Ride with Me for Life
This is such a beautiful photo because she decided to ride with her husband on her wedding day and she got back on the motorbike 40 years later as well.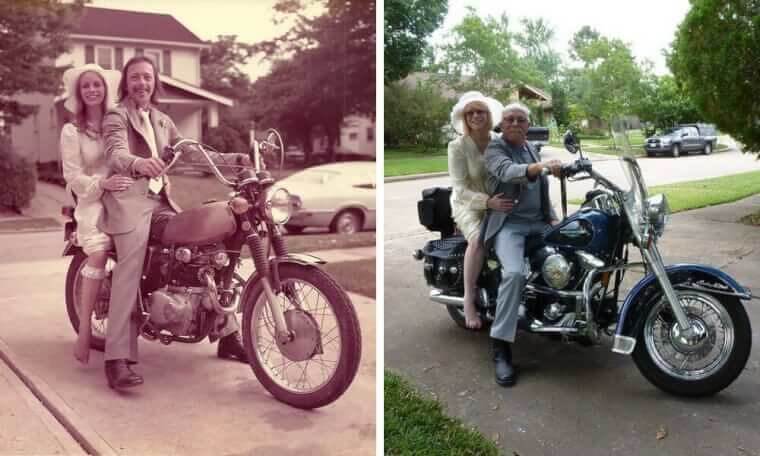 From the look on husband's face in both photos, it is quite obvious that he knows he got himself a great partner.
6. Traditional Hora Dance
Someone who has attended all kinds of weddings will tell you that there's no wedding like a Jewish wedding. Among all the other fun things, traditional Hora dance is the highlight which involves lifting people above your head on chairs.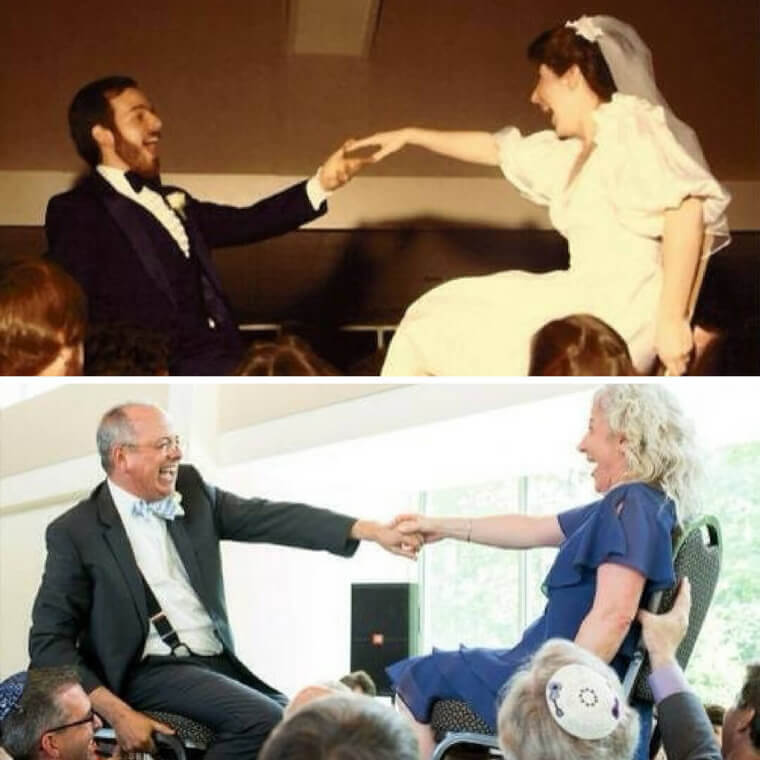 This couple was lifted during the Hora at their wedding and they got to relive that same experience at their daughter's wedding as well.
7. The Look in Her Eyes Says It All
As a little girl, she knew what she wanted and we can tell from the second picture that she feels blessed to have him.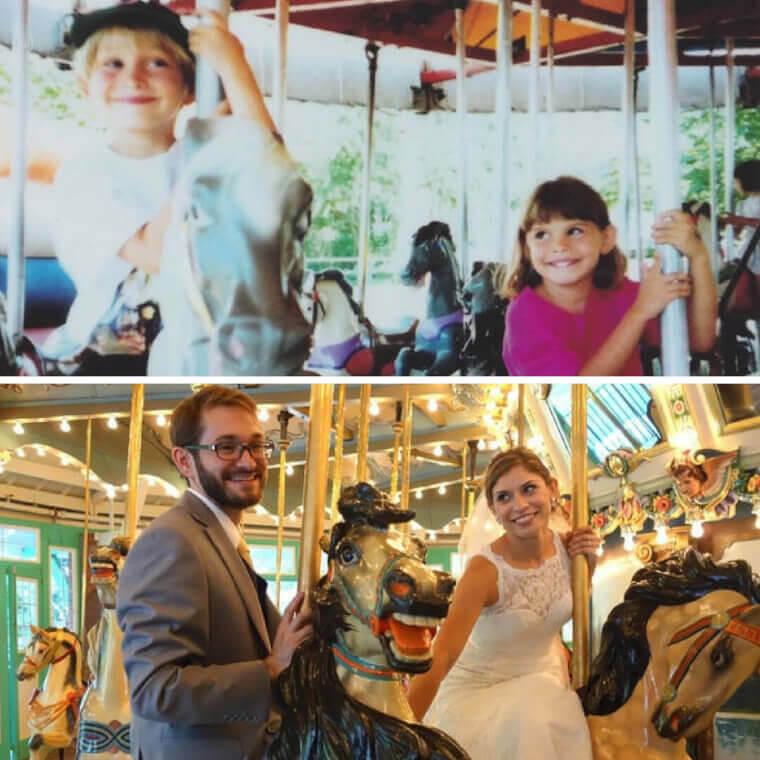 We are not certain if they are related or not, but even if they are then still it doesn't matter. Let's just enjoy true love here.
8. She Kept that Dress for Years
It is an adorable photo that shows no matter how mature you get, there's a part in you that always remains a child.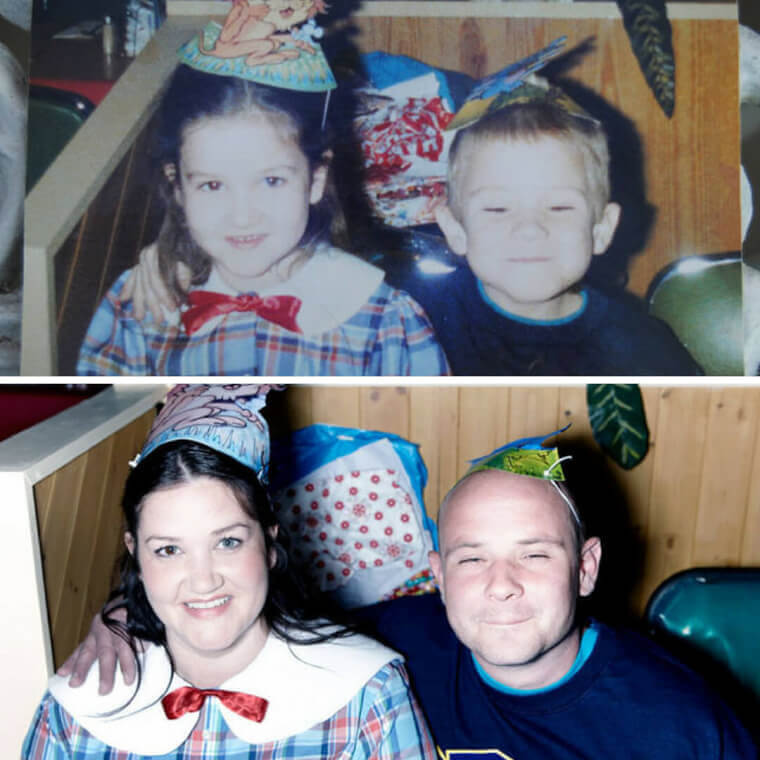 This photo was taken at his sixth birthday party. We are surprised that she kept that dress for years and look at the hilarious facial expression of her partner.
9. Nothing Has Changed Except for One Thing
It seems pretty obvious that this couple is still slaying it with their amazing looks and chemistry, but one thing has changed over the years.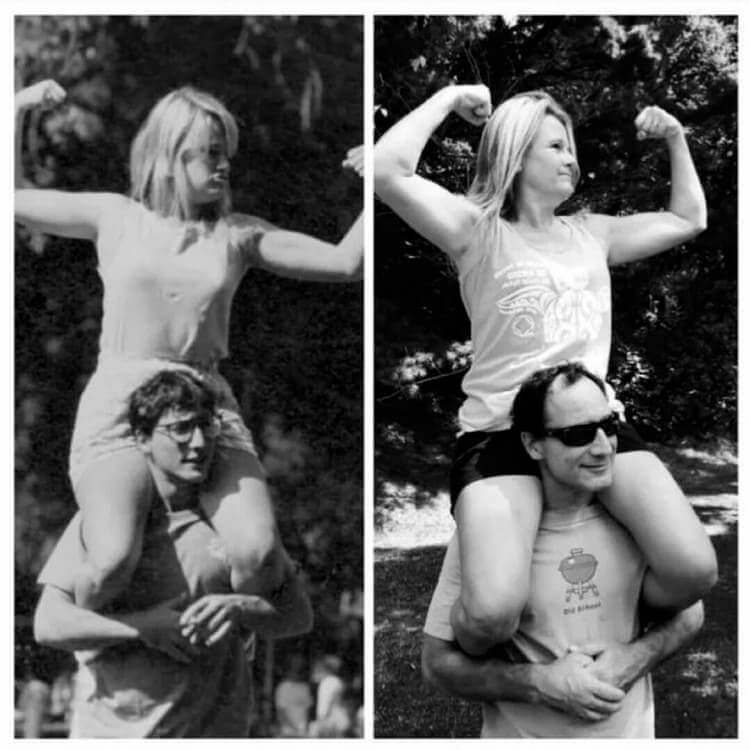 He has transformed himself from '80s glasses and puffy hairstyle to an ultimate dad. We are sure he loves to grill absolute killer burgers.
10. Still Going Strong as A Rock
Who said true love doesn't exist. If you have any doubt, just look at this lovely couple from China who returned to the Northern Hot Springs Park for their 70th anniversary.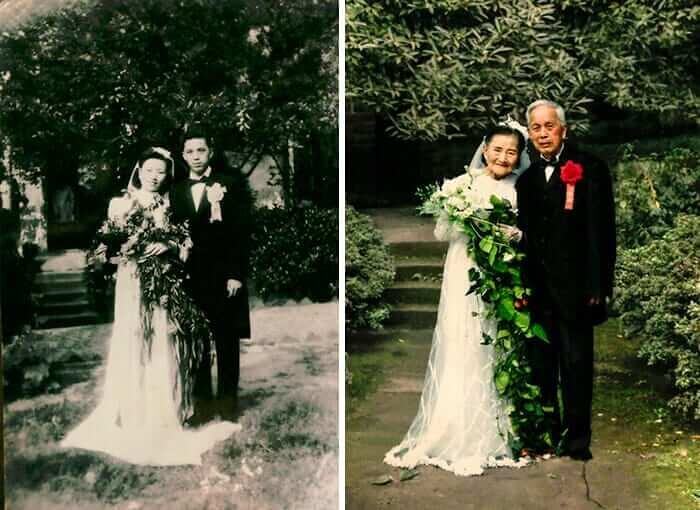 They were married at this park and they wanted to keep those memories alive. So, their kids helped them recreate their wedding photo.
11. Tree That Grew Like Their Love
Yes, there is the same tree in both pictures. The tree in the first picture was young; just the couple.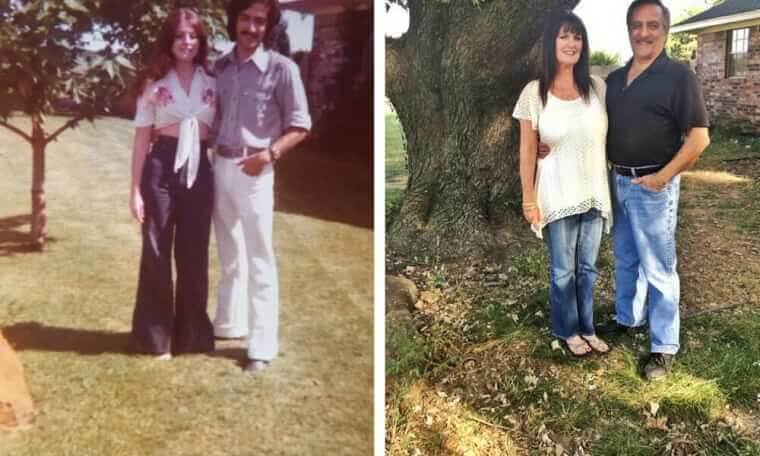 30 years later, the tree and the couple have grown stronger than before. And hey, the husband has been rocking that same mustache for years as well.
12. Not Much Has Changed
This couple enjoyed a great life together and their son convinced them to recreate their 1968's wedding photo.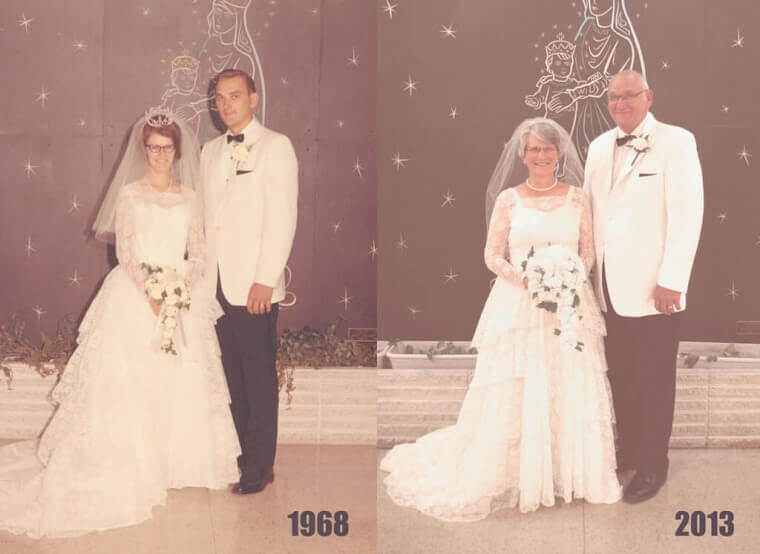 We are amazed at the attention to detail and everything looks unchanged, except for the hair. But the smile is there and that's what matters the most.
13. She Still Fits Into Junior Prom Dress After 20 Years
The husband wanted to show the world that he believes his wife is not human. He posted this recreated photo with a caption: "my wife might be a vampire."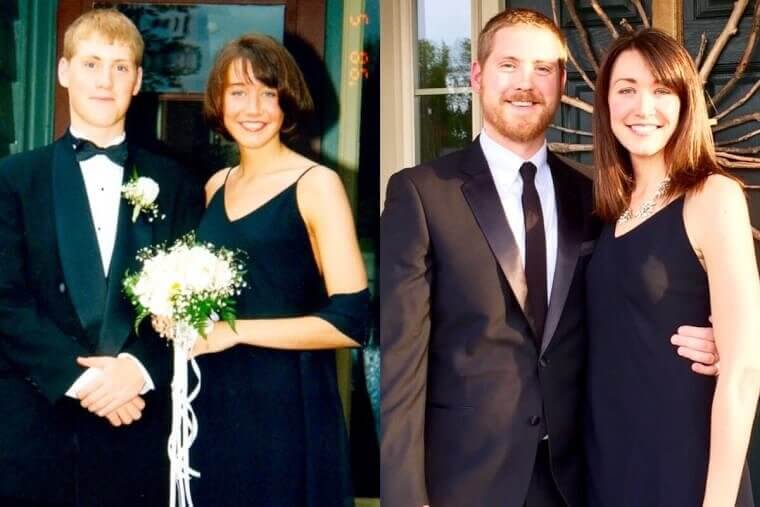 After looking at this picture, we do believe that his wife can be a vampire. She hasn't changed at all and she perfectly fits into her junior prom dress as well.
14. The Ultimate Couple Goals
First of all, we can't control ourselves from saying 'aww this is so cute.' Secondly, this photo will get way cuter for you when you find out that this whole photo recreation was entirely their idea.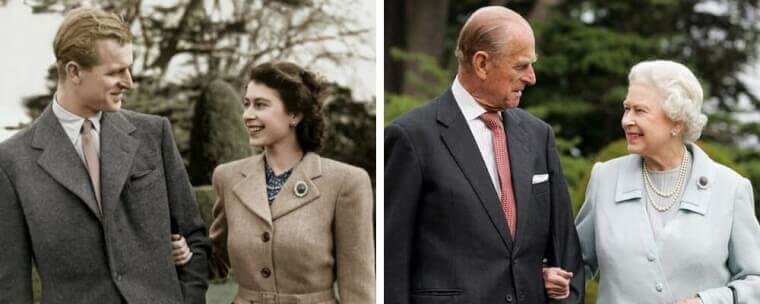 The photo on the left was from their honeymoon in 1947 and they perfectly recreated it on their 70th anniversary in 2007.
15. Meant To Be Together
Aubrey and Mike didn't know at that time that they would start a new life together. They were born 11 days apart and this first picture was taken because their parents were friends.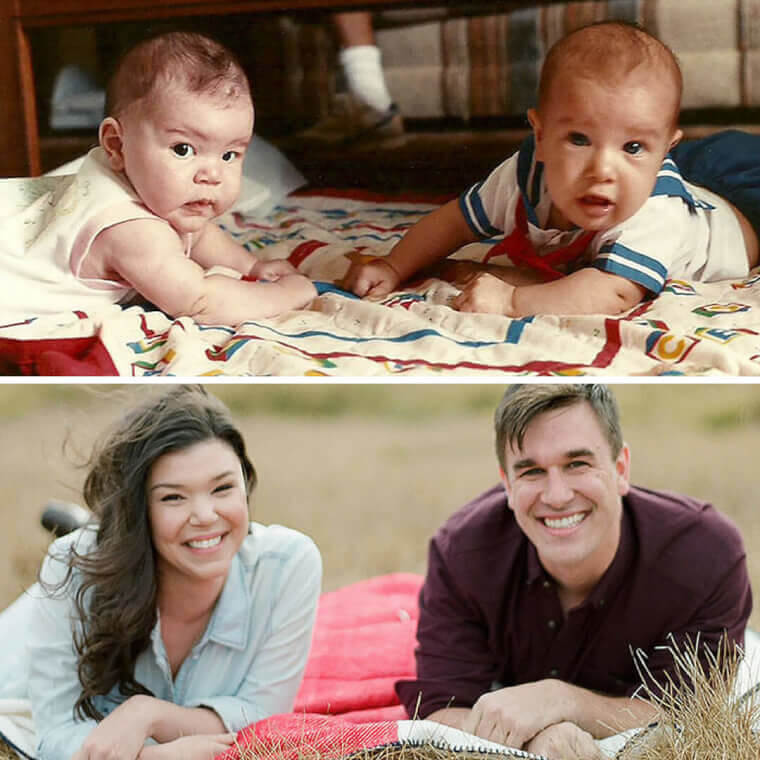 They started dating each other after college and decided to get married after 3 years of dating.
16. Fun-loving Couple
This photo shows age is just a number and you don't need to become all serious and boring with age.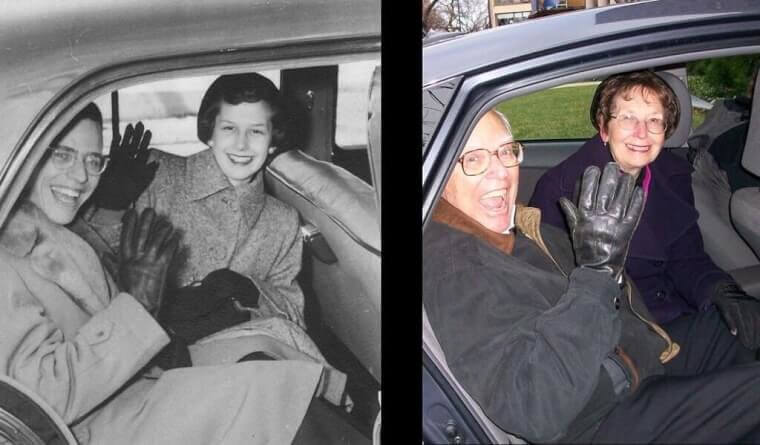 This couple's grandchild posted the picture online with a caption that states this adorable couple is in their 80s.
17. They Look Happy
Can someone please pass a tissue paper? We have tears in our eyes at seeing this couple all happy and smiling.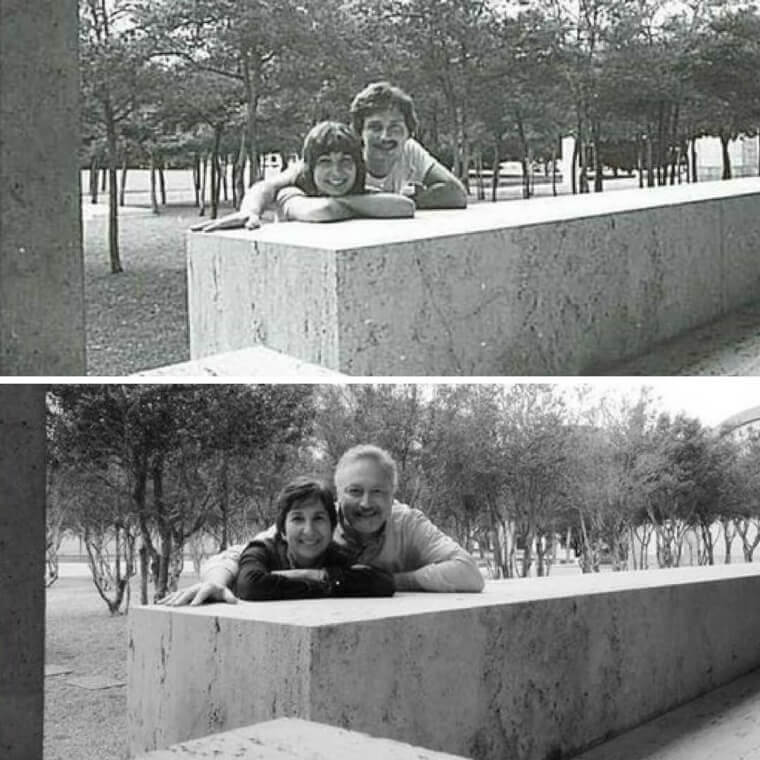 It's been 30 years since they got married and it looks quite evident that she isn't tired of him. The couple returned to Dallas, Texas just to take this photo.
18. From Being Forced to Walk Down The Aisle To Doing It By Choice
We are tempted to give 10/10 marks for their accurate facial expressions. It is a photo that gave us a good laugh.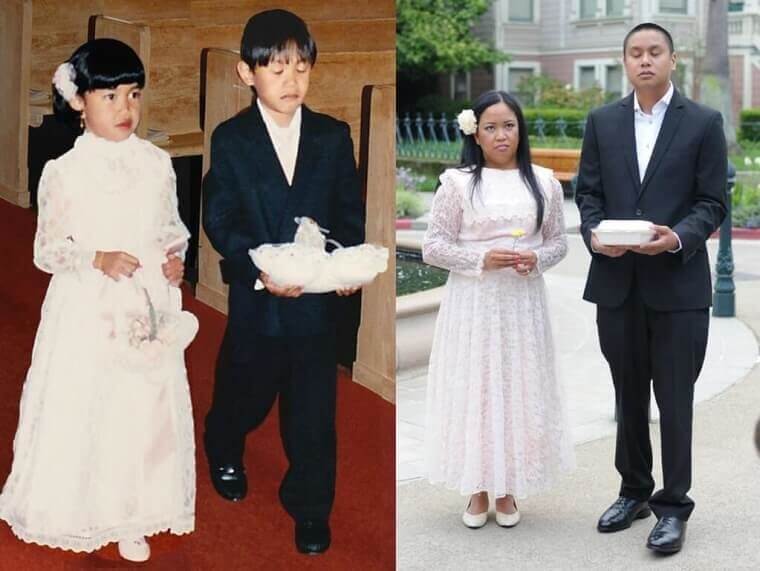 They were forced to walk down the aisle as kids and 23 years later they did the same thing but this time they had a say in this decision.
19. Revisiting Beach Memories
This couple clearly loves beaches and they thought there would be no better option for recreating a photo than the beach they love to visit. 10/10 marks for their decision.

They look absolutely stunning in this picture and it seems like they still enjoy spending time together.
20. He Still Doesn't Know She Loves Him
This is a cute photo for two reasons: firstly their facial expressions are precise and secondly the look in her eyes says it all.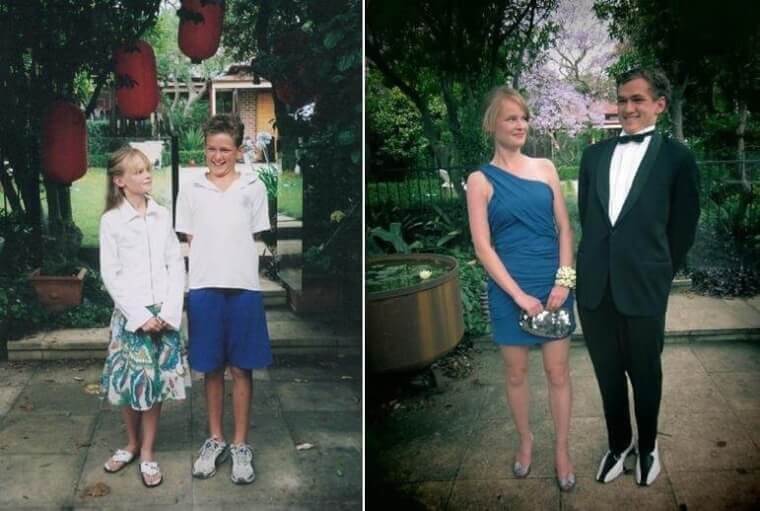 Even after all these years, he hasn't realized that she is completely in love with him. But that's what they are trying to tell us, in reality, he loves her as well.
21. Legendary Hockey Coach Scotty Bowman And His Wife With The Stanley Cup
The legendary hockey coach Scotty Bowman and his wife took the photo with the Stanley Cup in 1977 when he coached the Montreal Canadiens.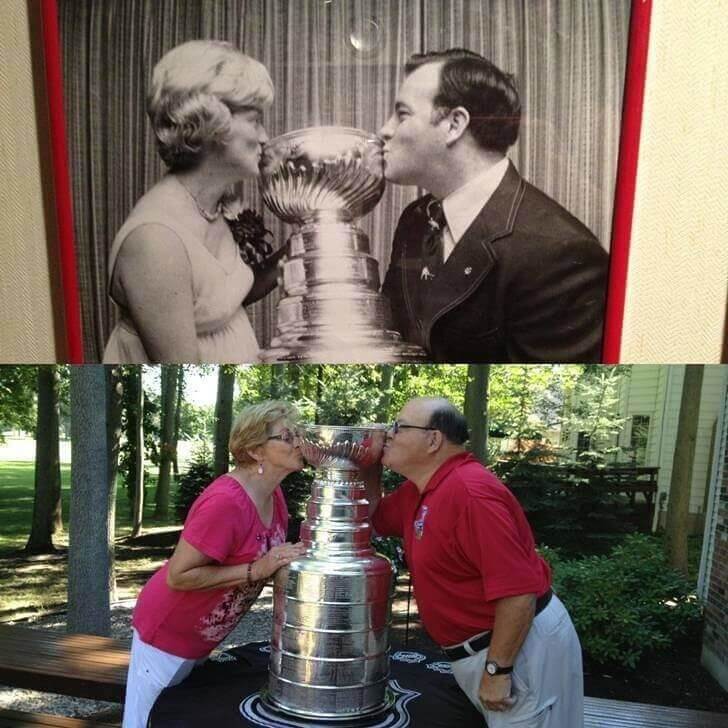 He then worked for Chicago Blackhawks as a consultant and took this second photo with Stanly Cup in 2013. They still look adorable together after all these years.
22. Such a Passionate, Intense Photo
If you find the true love of your life, time will only make your love stronger and more powerful.
This is one of the steamiest photos of our list and it shows how much they love each other even after decades.
23. Sticking with The Hat
The couple looks like they are still head over heels for each other and this is making us feel so happy for them.

They wanted to recreate their decades-old photo and they did it with perfection.
24. The Smirk Stays No Matter What Happens
We cannot actually pinpoint one particular thing that is making this picture so adorable.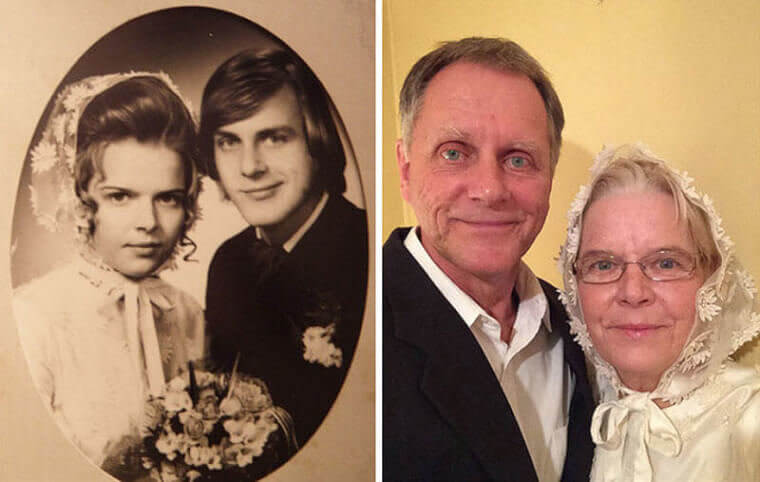 From the delightful bonnet of this woman to the smirk on the husband's face, everything is pure gold.
25. A Special, Special Photo
Okay, this is a really special photo on our list because it shows the journey of two lovebirds.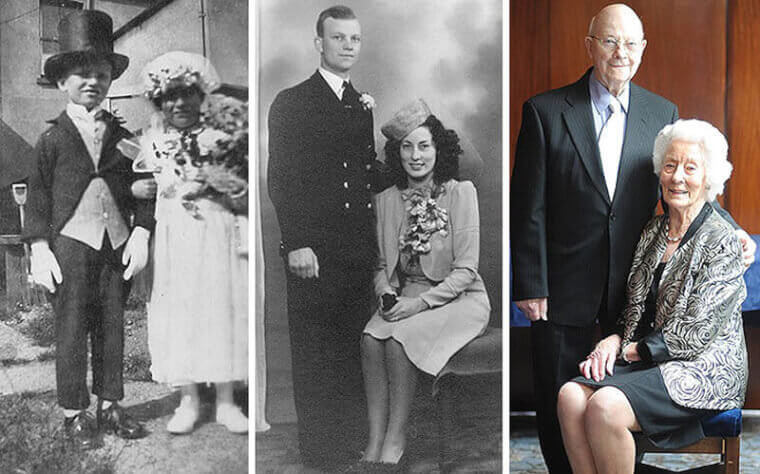 It shows three phases of the couple's life: (1) their childhood (2) when they fell in love with each other (3) a satisfied smile on their faces that says we have successfully lived our lives together.
26. An Adorable Couple
This photo shows that the love between the couple has only intensified with time. It looks like the man worships his wife and it is just beautiful.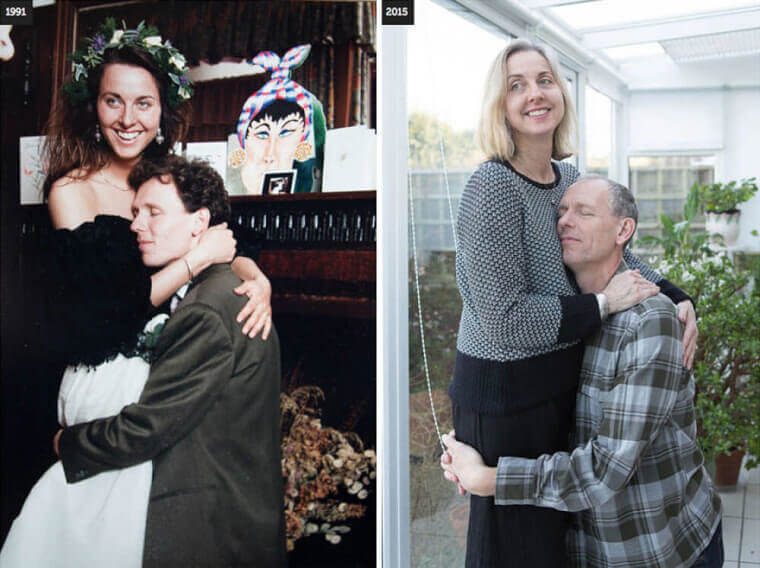 The first photo was taken in 1991 and the second one in 2015. We wish them a happy life ahead.
27. Beach Lovers
This photo shows that the couple shares a mutual love for beaches and they might have created a lot of memories there as well.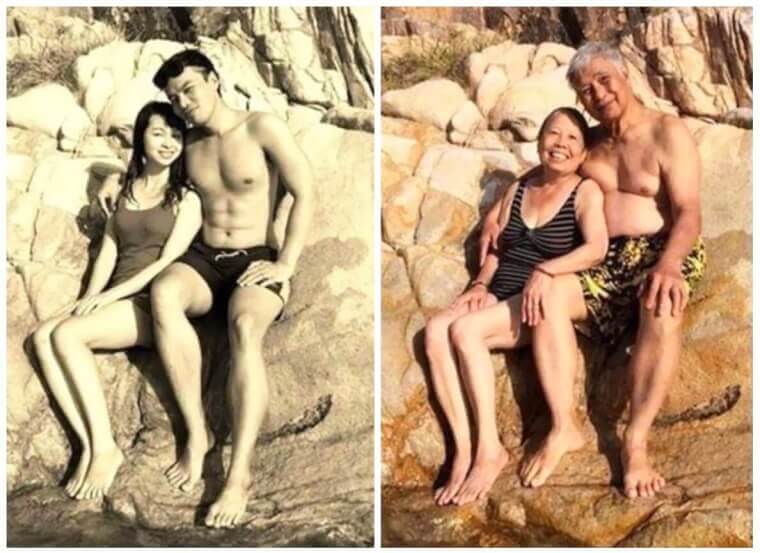 Although they look bit grayer and softer in the second picture, their bond seems stronger than ever.
28. A Photo Worth A Thousand Words
We've already emptied one tissue box and these amazing photos just keep coming up.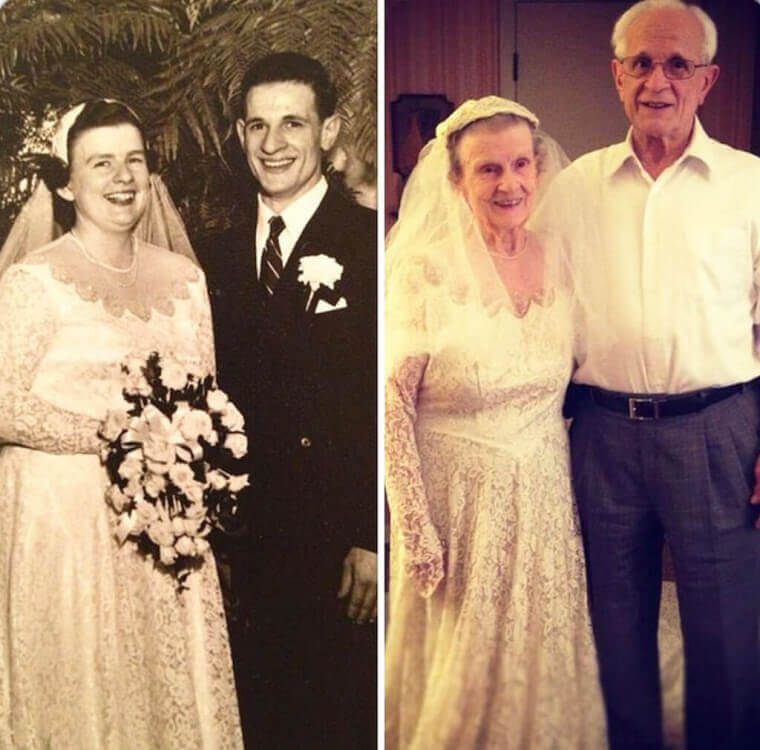 Seeing such adorable couples recreate their wedding photos really melts our hearts. Want to see what happiness is, just look at the happiness on their faces.
29. Their Love Hasn't Changed in Forty Years
A woman shared this photo online and wrote that these two adorable people are her parents.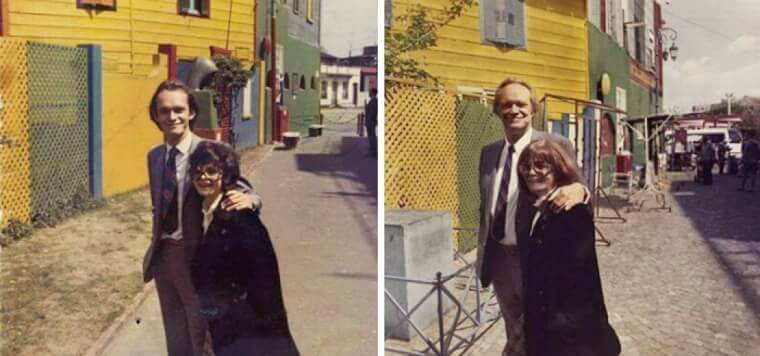 The first photo was taken in 1970 while the second photo was taken in 2010. We just hope that they keep on smiling like this forever.
30. Kids Recreating Only Wedding Photo of Their Parents
A woman shared this picture on the internet and wrote that the picture on the left was the only picture her parents had of their wedding day. So, the kids recreated it years later.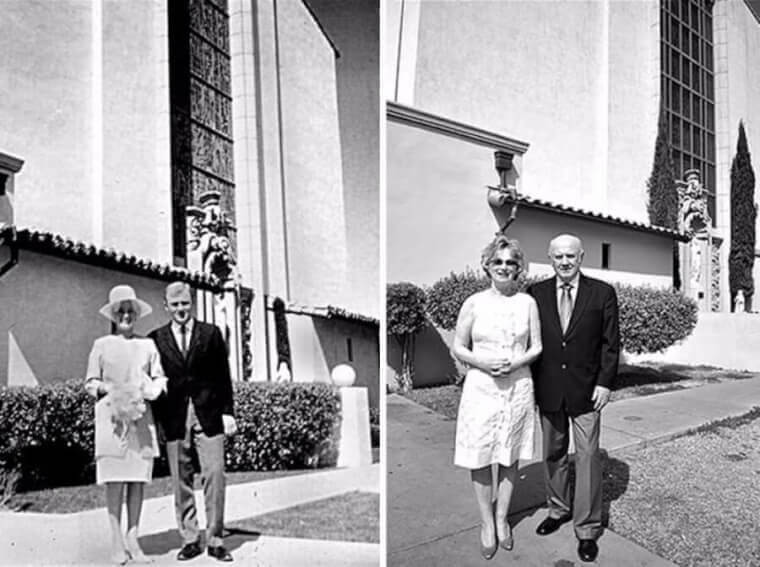 We can say with certainty that the kids did a fabulous job at recreating their parents' wedding photo.
31. Life Well Spent
This couple showed us the value of this quote: "A life spent loving, is a life well spent."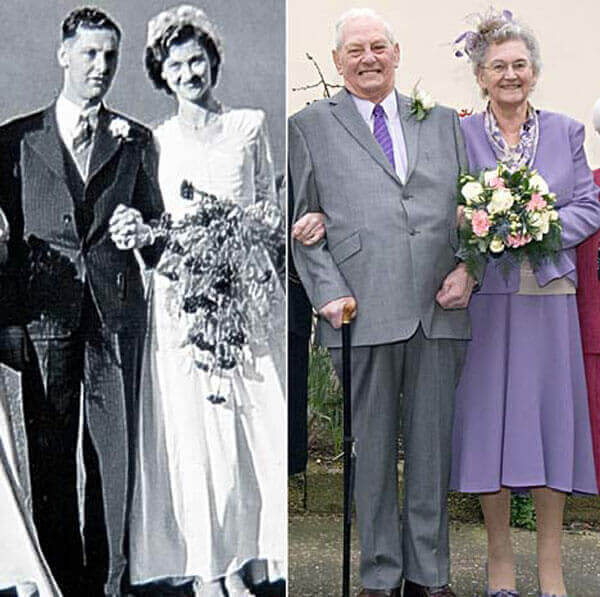 Although this couple isn't wearing the same wedding dress, they have still made it super cute with their smiles.
32. Paying Attention to Small Details
This before and after picture shows how much attention was paid to small details. The man was only 13 years old in the top picture.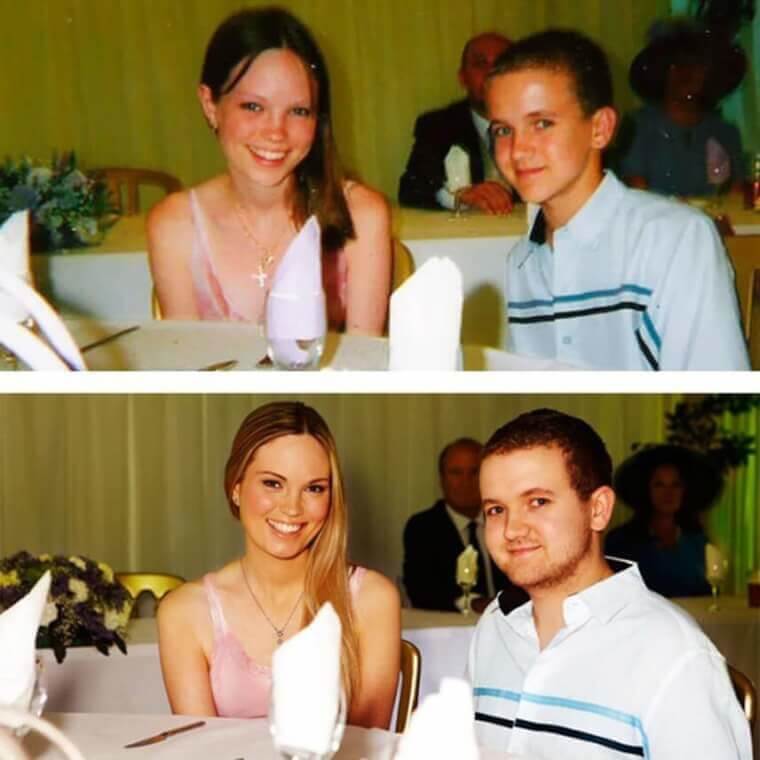 What's really special about this picture is that they have managed to get similar looking people to pose in the background.
33. A Long Drive with Your Lover
Many couples love recreating photos of themselves in cars or with their cars, and we love every one of them. This is also one of those couples that managed to take a cute photo to bring tears of joy in our eyes.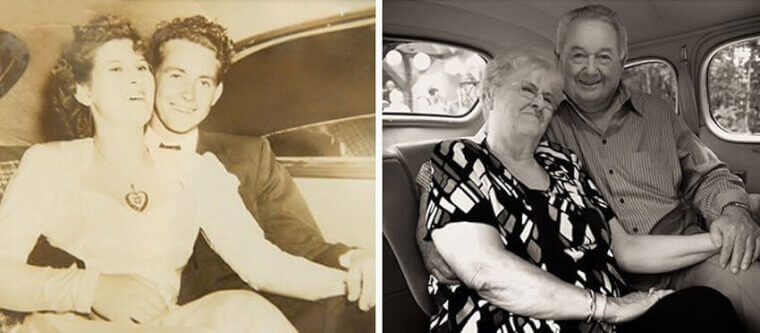 Although they are not in the exact car as the first photo, they have nailed it with their poses.
34. They Haven't Aged At All
In an interview before recreating their wedding photos, the husband said: "I love her more than I ever have, I could not live my life without her."
Conrad Gonzales met his wife Louise Gonzales in their accounting class and they have been happily married to each other for over 44 years.
35. Buried Neck Deep in Love
Although it isn't clear whether they are related or not, but they have set major recreation goals for us with this photo.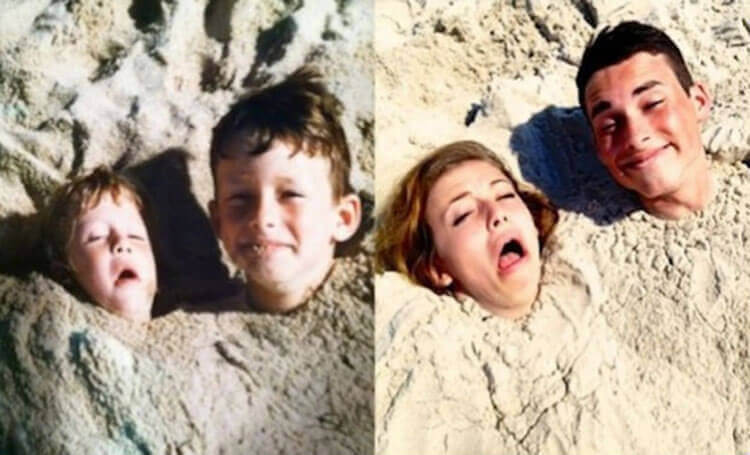 Instead of recreating an easier photo, they decided to go with a different approach. The photo obviously shows that these two really love each other.
36. Recreating a Photo on Golden Gate Bridge
Although San Francisco is filled with many romantic places, this couple has a special connection with the Golden Gate Bridge.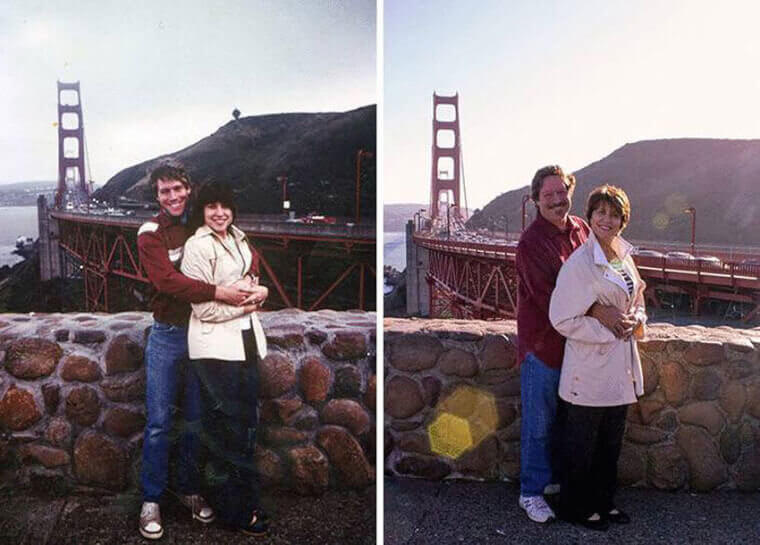 The couple perfectly recreated the photo with her in a beige coat and him in a burgundy shirt.
37. Photo Booth Memories
We are not sure when the first photo was taken, but the overall effects of the photo are quite good.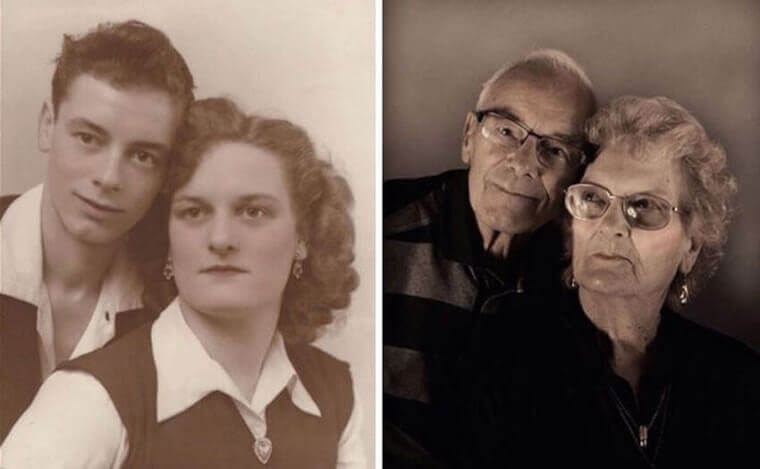 The couple ensured that the recreated photo has the right lighting used and they also nailed their original pose as well.
38. They Have Come a Long Way
In 1993, this couple first marched for LGBTQ+ rights and took the photo on the left. 24 years later this beautiful couple participated in the Equality March for Unity and Pride and recreated their original photo.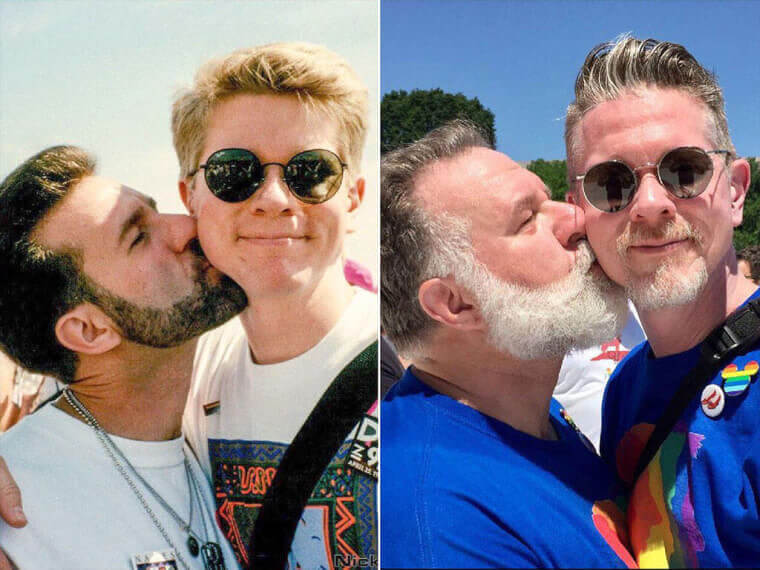 One Twitter user wrote: "They've been marching for so long they actually witnessed gay marriage being legalized in all states."
39. Brother and Sister Bond is Special As Well
Although this is not a couple, these two are related by blood and have a really beautiful relationship. Their recreated photo had to be in our list.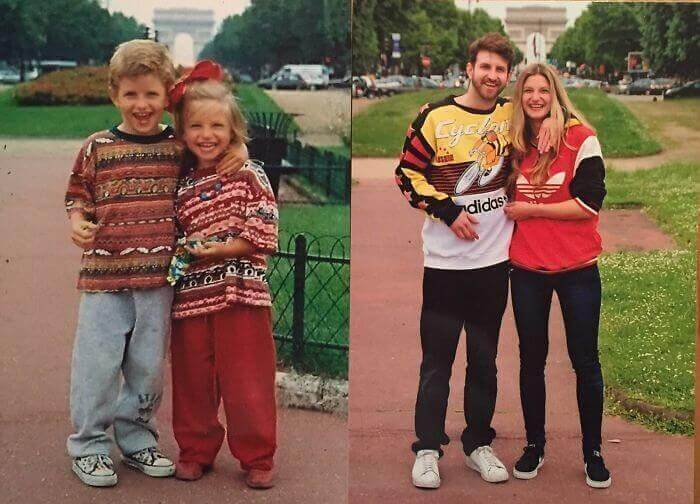 The first photo was taken on their family trip to Paris in 1995 and the second photo was taken a decade later in 2005 in Paris as well. They have all grown up now, but they clearly love each other.